If you're in the market for a new set of earbuds, the sheer number of options can be overwhelming. This is understandable. Unless you're already an expert, it can be tough to narrow down thousands of choices to a handful. That said, there are a few easy ways to cut down your options. One is to consider your price point. How much are you willing to pay? This will immediately weed out all the earbuds that are too expensive.
Beyond that, think about how you're going to use your earbuds. Are you looking mostly for something to wear during your workout? In that case, you'll want a pair with punchier bass and a bare minimum of water-resistance. Are you an audiophile? Look for a pair with a good pair of drivers. Need something to wear on mass transit? Consider a pair with good noise isolation. And if you're gaming, there are few features more important than low latency.
Note: At no extra cost to you, we may earn a commission for purchases using our links. Learn more.
We're about to review the EarFun Free 2 wireless earbuds. These buds are designed for minimal latency, so they're more or less purpose-built for gaming. EarFun has made some quality earbuds in the past, including some reasonably well-engineered Bluetooth speakers. In terms of value, the EarFun Free 2 is geared towards the budget market. So if you need some low-latency buds for a reasonable price, you should continue reading!
There's one other thing we should mention before we begin. These earbuds are currently in "coming soon" status. We had the opportunity to review an early model, but the general public will have to wait a bit longer.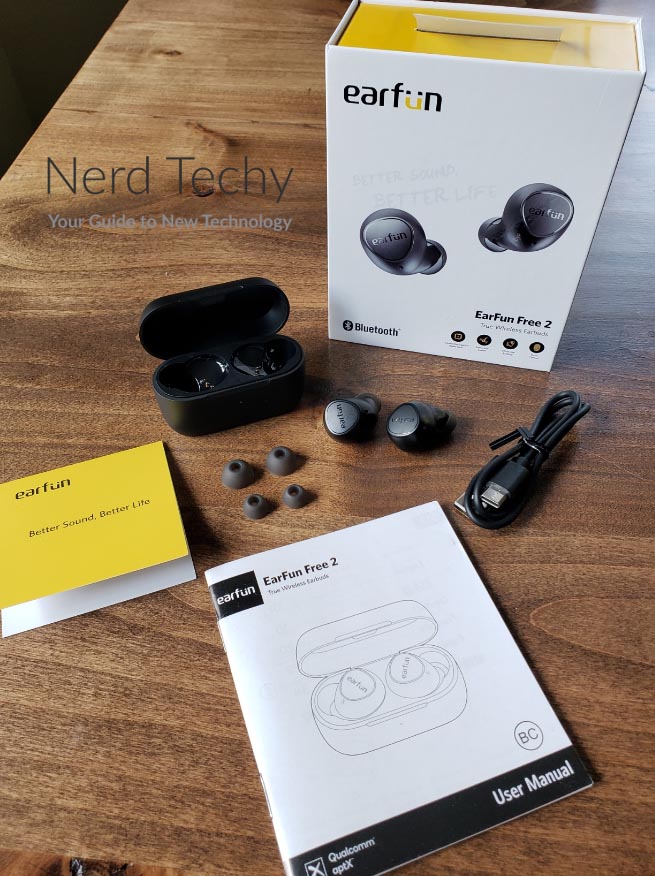 Overall Design
The EarFun Free 2 wireless earbuds have a compact design that's meant to fit discreetly in your ear. The advantage of this design is that there are no hanging battery studs, and an overall flatter profile. The disadvantage is that you need a secure fit if you want the earbuds to stay in place. To this end, EarFun includes large and small silicone ear tips in the package, along with the standard medium tips. All the sizes are soft and supple, with just enough stiffness to stay in place when properly fitted. Keep in mind that a snug fit won't just keep your earbuds in place. It will also help to block outside noise, at least to a moderate level.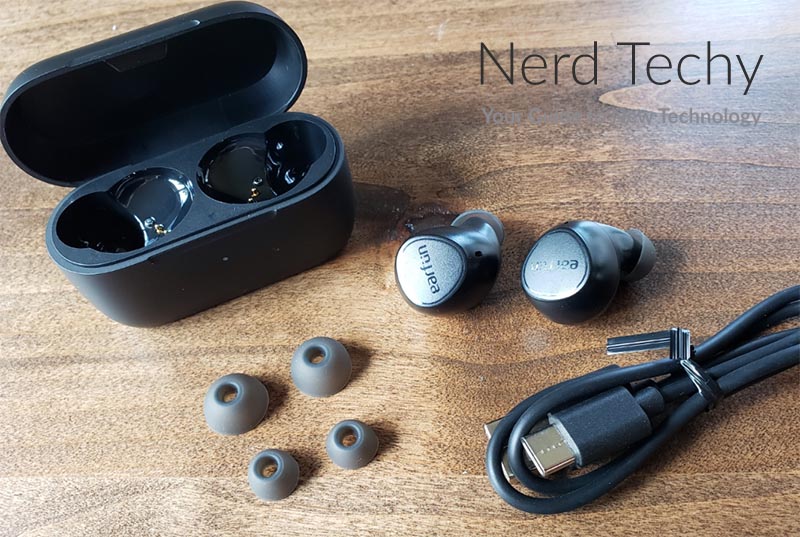 The earbud shells themselves have a satin black finish, which strikes a nice balance. It's dull enough not to collect fingerprints, but smooth enough that it's reasonably easy to wipe clean. The general profile is smooth and rounded to fit comfortably in your outer ear. However, the backs of the buds are flattened, with a recessed EarFun logo. These flattened areas function as touch controls for adjusting the volume, taking phone calls, and so on. You can also activate your voice assistant from here, allowing you to access your phone's other functions. A soft touch design ensures that you don't have to press uncomfortably hard to activate your controls.
If you prefer a different form factor, EarFun has several other offerings. One of these, the EarFun Air, has a vertical-style profile not unlike the Apple AirPods. They allow for mono mode – listening in one ear – so they're great for workouts. But their range is only about 16 feet.
The EarFun Free 2 earbuds come with a water-resistance rating of IPX7. This means they're capable of withstanding full submersion at depths of up to a meter, for at least 30 minutes. Now, we're not saying you should tempt fate and take these earbuds in the pool with you. But for workout sweat, rain, or even showering, you won't have to worry about water damage.
As with most wireless earbuds, the Free 2 buds come with a carrying case that doubles as a charger. The case has an oval profile, and is constructed from a similar black plastic to the earbud shells. The lid has a clamshell style design, and snaps easily open and shut as needed. Inside, each earbud sits in a molded well, ensuring that there's good contact with the copper charging pins.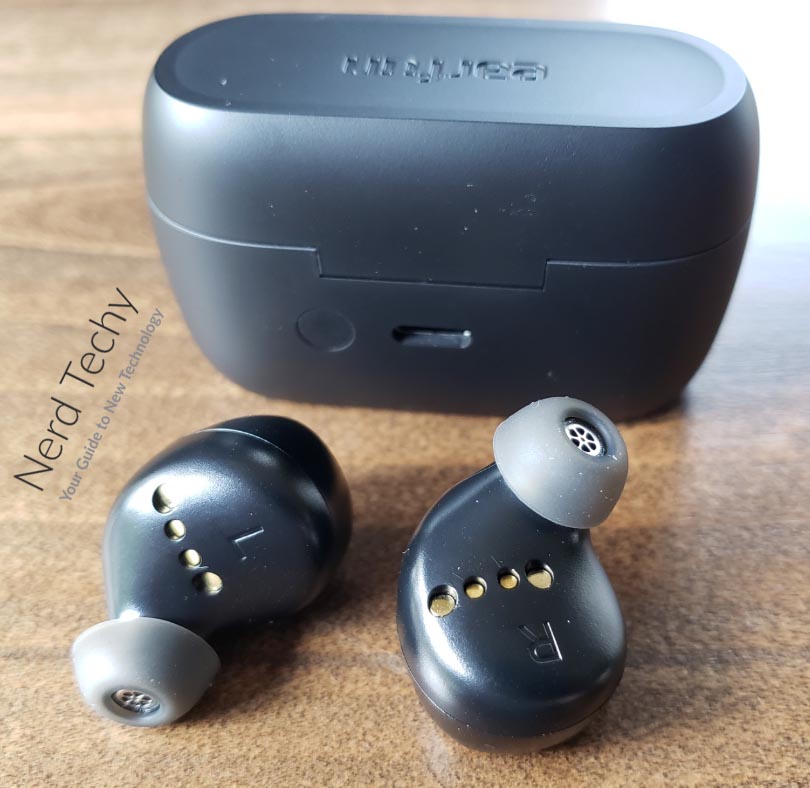 On the front of the case, you'll notice a single LED. This light illuminates when the case is charging, and otherwise remains off to save power. The USB Type-C charging port is located on the back, tucked beneath the lid hinge. A short charging cable is included in the kit, so all you need is a USB outlet or adapter.
Battery & Connectivity
Of course, even the best wireless earbuds won't do you much good without some power. The EarFun Free 2 buds' internal batteries come with a manufacturer's rating of seven hours per charge. However, these kind of manufacturers ratings are based on playback at half volume. If you want to know how the batteries perform for you, you'll have to try them at your personal settings. That said, at full volume, you can expect around five hours of playback, give or take a little.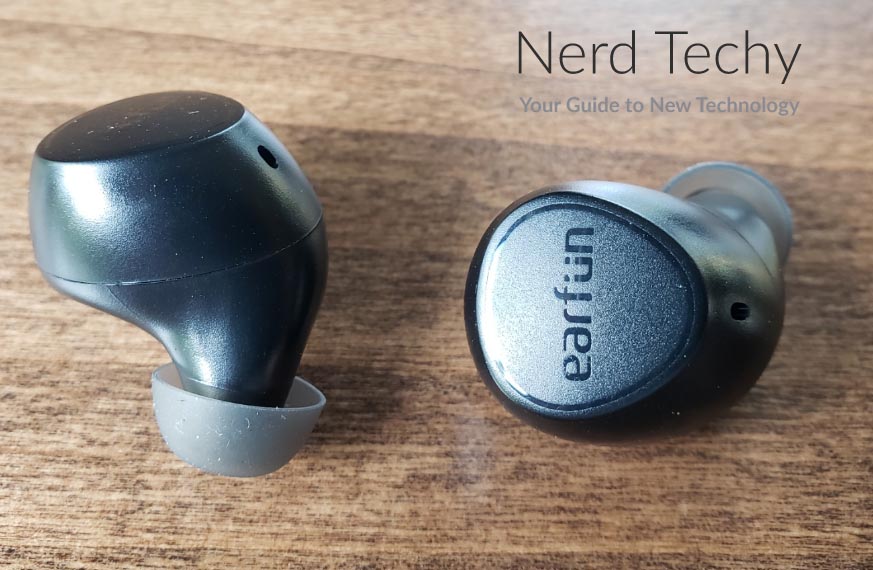 In addition to the batteries in the earbuds, the charging case also carries a fair bit of juice in its own right. It provides a little more than three additional charges, or an extra 20 to 23 hours. This gets you a total playtime of about 25 to 30 hours, depending on your settings. That's enough to get most people through several days without ever having to approach a power outlet.
As far as charging goes, you have two options. The default option is simply to use USB Type-C. With this method, you can charge the case fully in about 90 minutes, which isn't half bad. If you prefer wireless charging, you can simply set the case on any Qi wireless pad. This will take a bit longer to charge, but you also won't have to mess around with any cables. We should also note that the case itself is capable of providing a 10-minute quick charge to your earbuds. Pop a drained pair of buds inside for 10 minutes, and you'll have enough power for two hours of playtime. If nothing else, you'll be able to quickly get enough charge to power through your morning workout.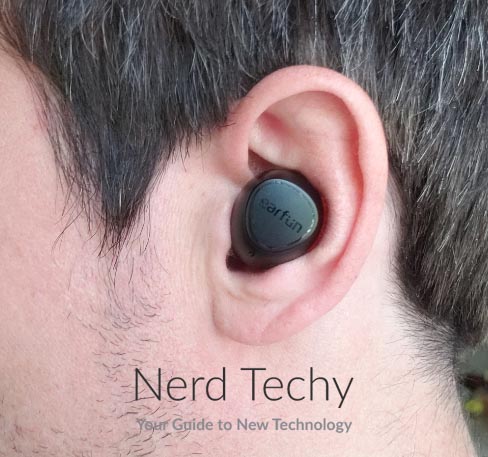 The EarFun Free 2 earbuds use the Bluetooth 5.2 wireless protocol. This is the latest, updated version of the current Bluetooth 5.0 standard, and offers a couple of additional benefits. To begin with, you get the higher-bitrate audio of Bluetooth 5. But you also get a true, dual-band connection. This means that instead of a single signal, both the right and left channels have their own connection. As a result, you have even lower latency than an ordinary Bluetooth 5.0 connection. This alone would make the Free 2 buds a solid choice for gamers. But as we'll see, there are some additional low-latency features worth mentioning.
In addition to all that, the Bluetooth chip allows for a longer-range connection than ordinary Bluetooth 5.0. You can connect to your phone or MP3 player from up to 15 meters away, or about 48 feet. That's roughly 50 percent further than ordinary Bluetooth 5.0.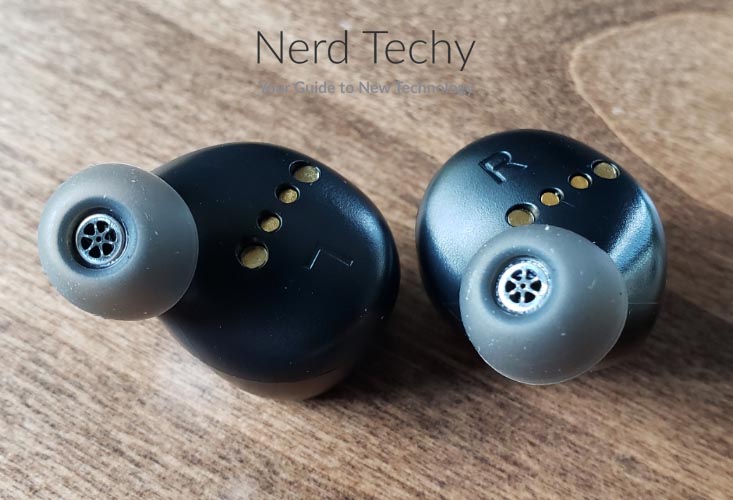 Audio Quality
The EarFun Free 2 earbuds sport 6mm composite dynamic drivers. These are around average in size for compact buds, and can move a reasonable amount of air. We're not saying they'll blow your eardrums out, but they can get pretty loud if you want them to. That said, the audio quality itself feels hollow. There's not a ton of dynamic range, and the sense of space is minimal at best. That said, these are affordable earbuds, and they're not made with audiophiles in mind.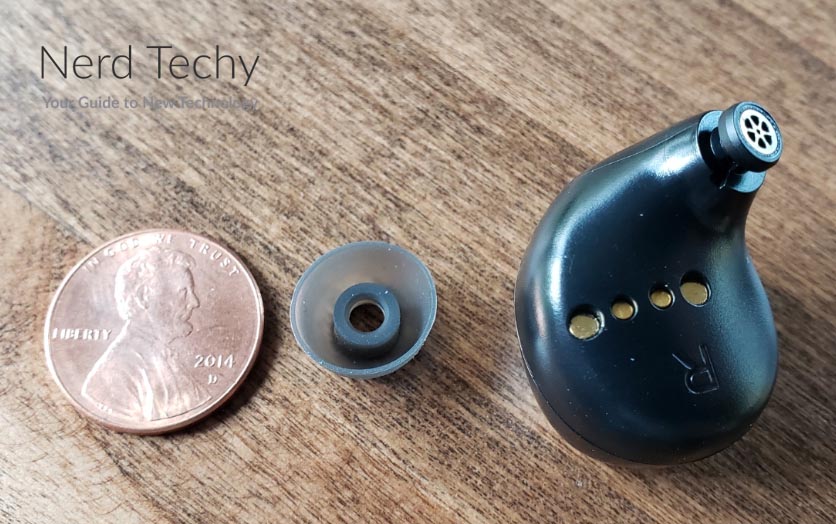 They are, on the other hand, most certainly made for gamers. The internal Qualcomm QCC3040 SoC chips are the latest aptX technology, providing very minimal latency. Combined with the Bluetooth 5.2 connection the result is an average latency of 60ms. Now, that's still not as low as a wired headset. But it's lower latency than over 98 percent of wireless earbuds. In other words, for a very reasonable price, you're getting some of the fastest gaming buds around.
Another useful feature for gamers is the CVC 8.0 chipset. This technology is designed for phone calls, and uses multiple external mics. By combining multiple signals, it can isolate your voice and help reduce background noise. The original idea was to help you have phone conversations in traffic or a crowded airport. But the same noise-isolation technology can be equally useful for gamers who do a lot of team chat.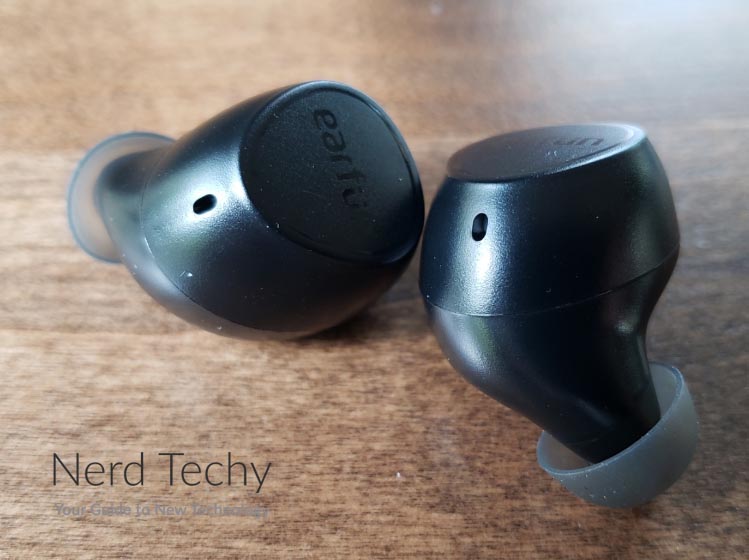 One interesting alternative to the EarFun Free 2 is the EarFun Free Pro. These earbuds have a similar battery life, and many other similar features. However, instead of low latency, they're designed with active noise cancellation (ANC). This makes them better for commuters than for gamers.
Final Verdict
So, how do the EarFun Free 2 earbuds compare to some of the others we've reviewed? In large part, it depends on what you want. Let's start with the physical design. These are in-ear buds designed for a snug fit and a discreet appearance. That's a popular choice, to be sure. But if you prefer an AirPod-like fit, you might be disappointed. That said, the case is compact and easy to carry. But it lacks the magnetic ear wells and multiple indicator LEDs of some more expensive models.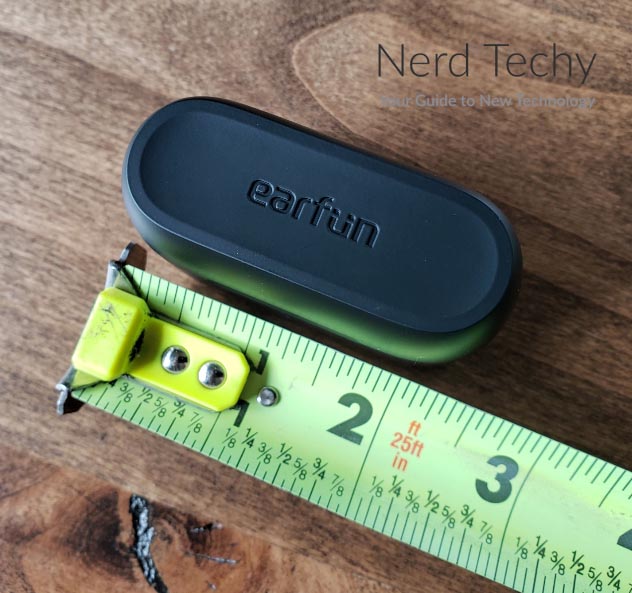 The biggest weakness of these earbuds is the audio quality. While you can certainly make out noises just fine, there's not a ton of depth or richness. Audiophiles will want to look elsewhere. That said, the EarFun Free 2 earbuds aren't designed for audiophiles. They're designed for gamers, and in that regard, they're some of the best on the market.
Their biggest benefit is the 60ms average latency. That puts them in the top 2 percent of earbuds, and is a great value at this price point. You also get reasonably long-lasting batteries and wireless charging capability. If you want a great pair of budget gaming earbuds, you're looking in the right place.
Please consider sharing:
Note: At no extra cost to you, we may earn a commission for purchases using our links. Learn more.