Choosing a good pair of wireless earbuds isn't easy. You need to find good audio, a comfortable fit, and a reasonably long-lasting battery. And you need to find all of that at the right price point. These days, you get a truly absurd number of choices. A simple online search will reveal thousands of earbud models, each of them touting its own suite of features. To the casual buyer, this can be overwhelming. With so many choices, it's impossible to look at every single one. How do you know what to buy? No worries. We're here to help you sort out which buds are worth your investment.
Today, we're going to review two of the best inexpensive wireless earbuds on the market. The first pair is the SuperX True Wireless Bluetooth Earbuds. These buds come with soft silicone tips, allowing for a customizable fit and good passive noise isolation. The second pair is the MIFA True Wireless Bluetooth Earbuds. These earbuds have solid tips, similar to the original Apple AirPods. The result is less noise isolation, but better environmental awareness. Of course, there are other differences between these two pairs of earbuds. Let's dig a little deeper, and see how they compare!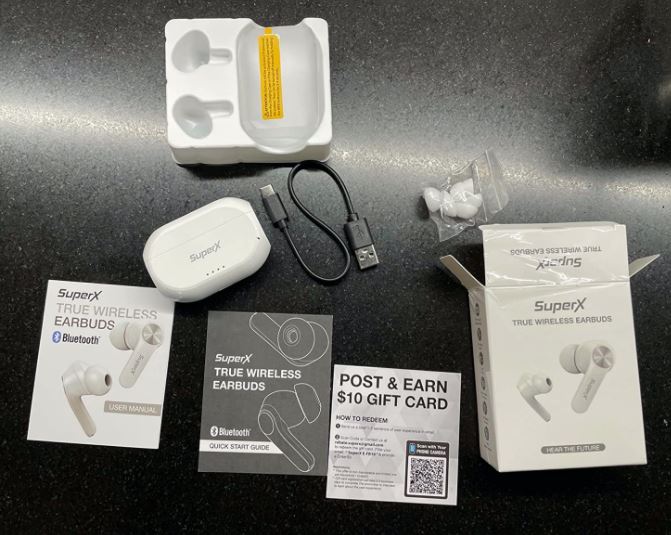 SuperX True Wireless Bluetooth Earbuds
The SuperX True Wireless Bluetooth Earbuds are a vertical-style earbud with stems on the bottom. These stems serve two purposes. First, they contain the batteries, allowing for the rest of the shells to be consequently smaller. Second, because the batteries are the heaviest part of the bud, the stems make the earbuds bottom-heavy. This ensures a secure fit, so they won't pop out easily even during intense physical activity.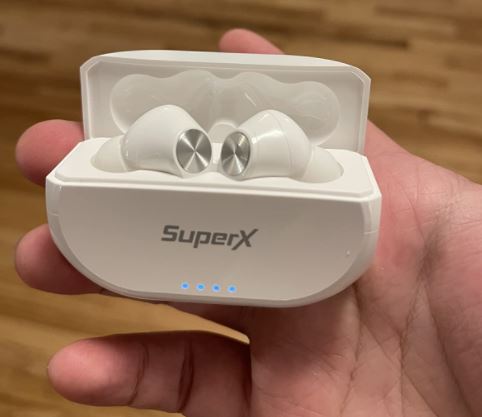 A well-fitted ear tip can also go a long way towards providing a secure, comfortable fit. In addition to the base tips, there are three extra sets in small, medium, and large. Not only do these tips provide ergonomics; they block out some ambient noise. Again, though, fit is key. In order to block noise out, the tips need to form a seal around your air, so they need to be the right size.
If you prefer a different design altogether, consider the Mpow MDots. These are compact, in-ear earbuds with surprisingly powerful bass. They're a bit pricier than the SuperX buds, but you get a bit more for your money.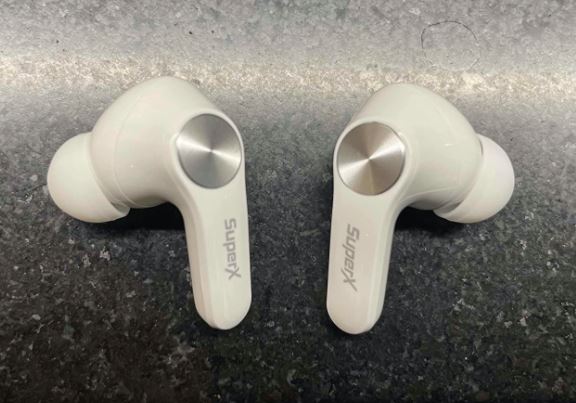 The shells of the SuperX buds are a plain satin white, with silver discs on the backs. These discs aren't just for show. They function as soft touch controls, so you can perform a variety of functions. You can skip tracks, adjust the volume, or answer and end calls with a tap or a hold. You can also activate your phone's voice assistant, allowing for more complex commands.
These earbuds have a water-resistance rating of IPX5. Without going too far into detail, this is basically a rating of "sweat-proof." They'll be just fine during a sweaty workout or even in the rain. But they're liable to get damaged in the shower, or by any kind of submersion. Use ordinary common sense, and you shouldn't have any issues.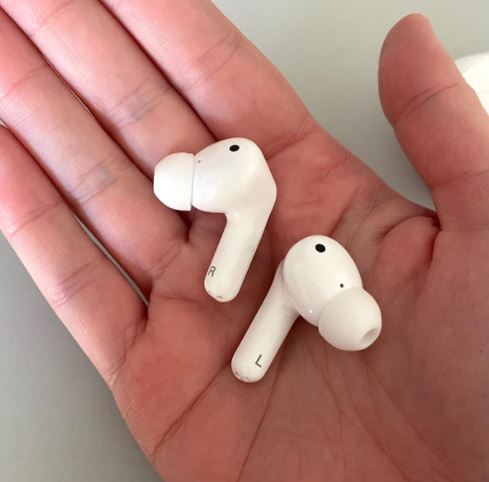 The charging case has a similar vertical design to the earbuds, so they can simply be dropped in. It's constructed from the same white plastic as the buds themselves, providing a unified design. The lid has a clamshell-style design, and is easy to open, so accessing your earbuds is easy. On the front of the unit, just beneath the lid, you'll see a row of four LEDs. These light up when the case is opened or plugged in, and tell you the current battery charge level.
Both the earbuds and the case come with a 12-month manufacturer's warranty. This will cover you from any defects in materials or workmanship. If the buds fail, simply file a claim for a full refund or replacement.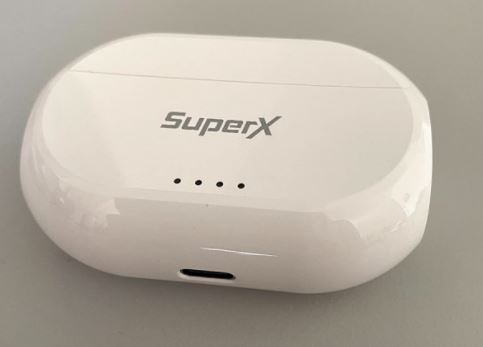 Battery & Connectivity
The SuperX earbud batteries each have enough juice for four hours of continuous playtime. This is on the short side, especially when you consider that testing is performed at medium volume. At full volume, three to 3 ½ hours is more realistic. Even so, most people will have plenty of power to get through a single day. In addition, the charging case carries enough power to charge the batteries 4 ½ additional times. This means you get a total of 18 hours of playback before you need to plug in. The buds charge in about 90 minutes, and the case itself will charge in about the same time via USB.
If maximum battery life is your number one requirement, there are better options. For instance, take a look at the Tribit Flybuds 3. Not only do they have enough battery life for 100 hours of playback, but the case doubles as a power bank.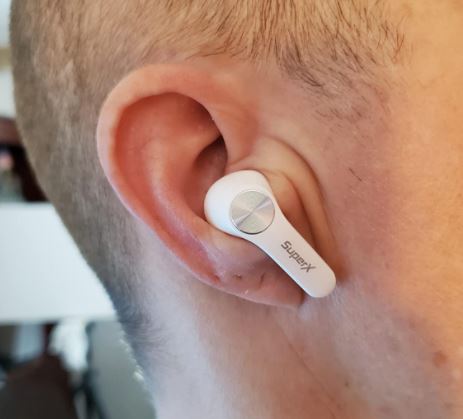 The SuperX earbuds connect via the Bluetooth 5.0 protocol. This is the latest Bluetooth standard, and works best with most modern devices. Bluetooth 5.0 allows for lower latency, higher bitrates, and a more stable signal than older protocols. In addition, these buds are backwards-compatible with Bluetooth 4.2 and earlier protocols. So if you're still rocking an old iPod, you'll be able to use it without any issues.
Audio Quality
The SuperX True Wireless Bluetooth Earbuds offer reasonably good audio quality for the price. The EQ is actually reasonably well-balanced, which we appreciated. A lot of cheap earbuds try to add a ton of bass, and it just ends up sounding muddy. SuperX knows their limitations, and builds a pair of earbuds that works.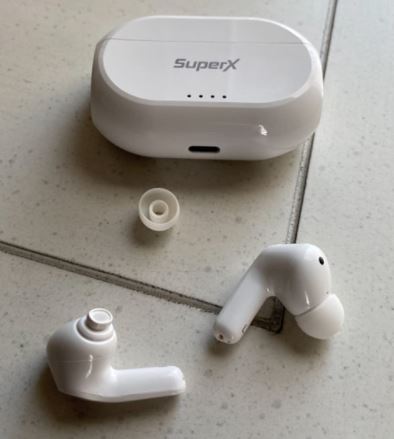 That said, the audio is far from audiophile-quality. While all frequencies are present, the sound lacks the depth and richness of better-tuned earbuds. In addition, the soundstage is only moderately wide. It's not that the sound feels squished, per se – again, SuperX avoided this mistake. It's just that they're not able to create the same sense of space as a more robust pair of earbuds.
For hands-free calling, the quality is acceptable. On the one hand, there are no advanced features or noise cancellation to actually improve the audio quality. If you're in a crowded area, the other person can and will hear the background noise. On the other hand, the mics actually sound good, so your voice is accurately reproduced.
MIFA True Wireless Bluetooth Earbuds
The MIFA True Wireless Bluetooth Earbuds have a superficially similar design to the SuperX buds. The white shells are a bit glossier, but they share the same overall vertical profile. The first difference you'll notice is in the tips. While the SuperX earbuds have silicone tips, the MIFA earbuds have solid plastic tips that fit loosely in your ears. These don't provide passive noise isolation. However, they do allow for better situational awareness.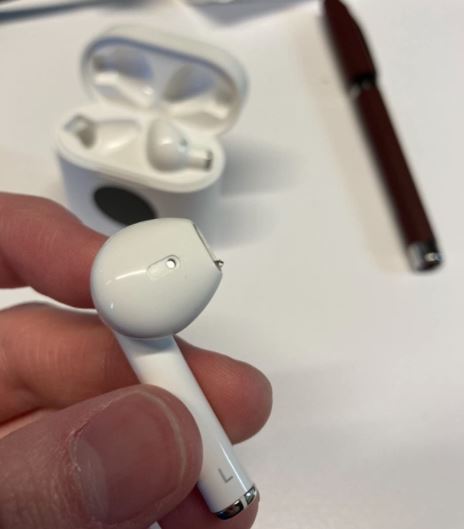 The backs of the earbud shells have silver soft touch controls, the same as the SuperX. Also identical is the water-resistance rating of IPX5. Sweat and rain are no obstacle, so you can work out without any reservations.
The main cosmetic difference between the two earbuds is the case itself. The MIFA case has a slick design, a vertical oval with a slightly tapered lid. The front sports a small, round LCD display that shows the charging case's charge level as a percentage. On either side of the display, there's a separate green battery meter for each individual earbud. This gives you a convenient visual indication of how the charging process is progressing.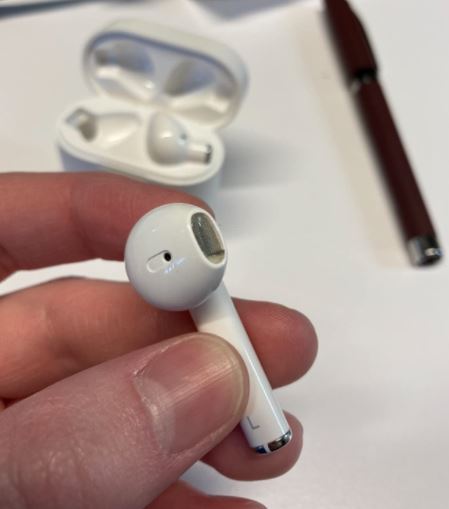 Battery & Connectivity
The MIFA earbuds will provide about five hours of playback per charge. Even at full volume, they'll last longer than the SuperX buds will at half volume, which is a significant difference. Not only that, but the charging case is similarly more powerful. It can recharge your buds five times, for a total of up to 30 hours of playback. Recharging can be performed in two ways: first, via USB Type-C, which takes about 90 minutes. Second, the case can be charged wirelessly. This takes a bit longer, and requires a Qi charging pad. That said, many people find it more convenient than traditional wired charging.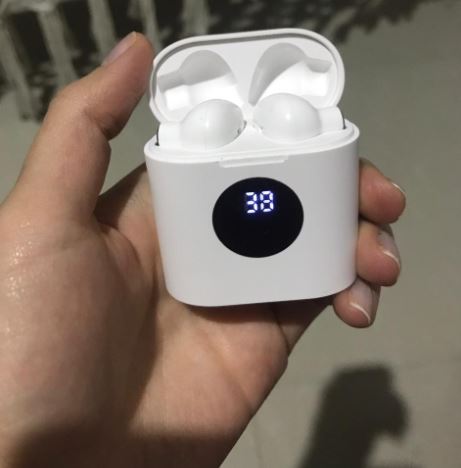 One area where the two earbuds are more or less the same is connection type. In fact, the MIFA buds use the identical Bluetooth 5.0 protocol to the SuperX buds. There's nothing spectacular here, but it's nice to see some budget-priced buds using the latest wireless format.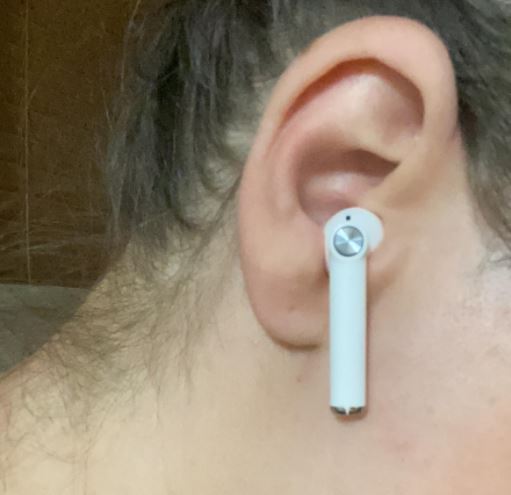 Audio Quality
The MIFA earbuds advertise their 10mm speaker driver, which is larger than the average earbud driver. However, these earbuds are a reminder of the truth that bigger is not always better. Despite their large size, the drivers hardly produce any bass at all. We're not that picky – we actually prefer that cheaper earbuds stay away from bass-heavy design. But if you have a hard time hearing the bassline in Under Pressure, something is seriously off. We're exaggerating slightly, but you get the picture. That said, the soundstage is quite good, so you do get a decent sense of space. Call quality is about the same as the SuperX buds; not spectacular, but passable.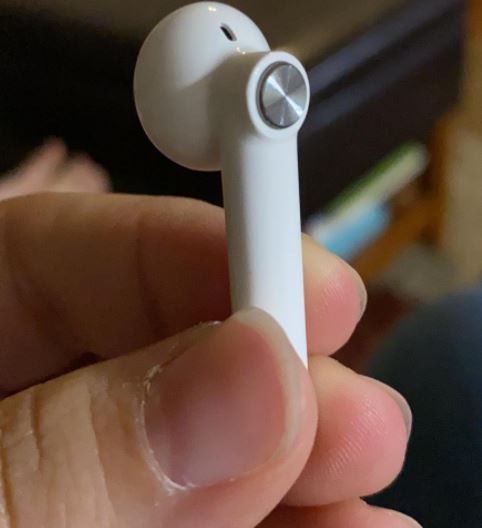 For better audio, you'll ultimately need to pay more. That said, there are plenty of excellent choices, such as the Enacfire G10. Not only do they provide an even EQ and wide soundstage, but they offer ultra low latency for gamers.
Final Verdict
So, which pair of affordable earbuds is the best? It largely depends on what you're looking for. The SuperX True Wireless Bluetooth Earbuds have a tight, secure fit with silicone tips. This provides good passive noise isolation and some room for customization. These buds also offer reasonably good audio for the price, with a balanced EQ and good clarity. That said, the battery life is a bit lackluster, and the overall design is fairly bland.
The MIFA True Wireless Bluetooth Earbuds, on the other hand, are more or less the opposite. Instead of a tight fit and noise isolation, these earbuds prioritize comfort and being aware of your environment. The case is a bit more flashy, with colorful battery meters, and the batteries allow for more playback. On the other hand, they have weaker overall audio than the SuperX buds, with less bass than we would prefer.