ENACFIRE G10
Pros
Decent sound quality with nice mids and highs
Ultra-low latency is ideal for fast paced gaming.
Compatible with wireless charging.
Battery life is good and charging is quick.
Very affordable considering the amount of features you get.
Cons
Bass is somewhat lacking.
Only available in black.
No active noise cancellation.
Wireless earbuds have come a long way over the past few years. So much so that we now have "gaming-specific" earbuds that excel in certain areas that your typical earbuds simply can't compete with. Clunky, over-ear gaming headsets still exist, but they're no longer the norm. In fact, earbuds are now often preferred by many gamers with their compact form-factor and portability.
Not all manufacturers have released earbuds that are meant for gaming. However, Enacfire is one such brand that recently released their G10 earbuds. These gaming-oriented earbuds promise low-latency, realistic sound and plenty of battery life. But in all reality, are they truly what they're cracked out to be? Or are they simply a marketing gimmick trying to lure-in gamers with false hope? Today we're going to find out.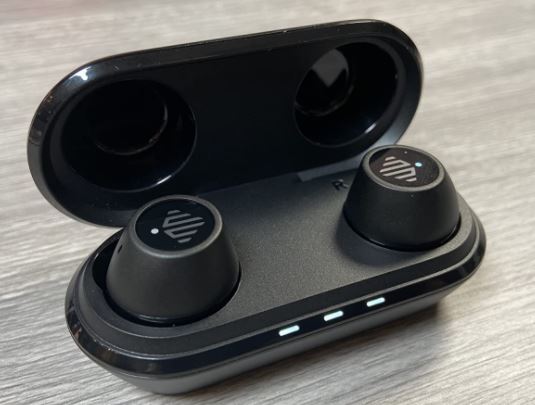 First Look
The Enacfire G10 True Wireless Earbuds have a basic appearance that don't really stand out; plain black with a logo on the outside. In fact, they're quite small. Enacfire calls them "mini but mighty", claiming they're 20% lighter than 99% of other earbuds on the market. Our first impression is right inline with their claims; they're small, likely perfect for those with small ears.
They G10 come included with their very own charging case. It boasts a standard clamshell design with three tiny LEDs on the front and two internal charging cradles for each bud. Close the lid, flip it around, and you'll see a USB-C port. This offers a standardized way to refill the internal battery with the including charging cable.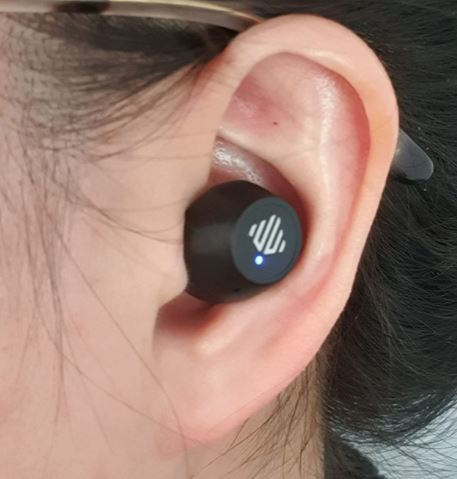 Comfort
Placing the G10 earbuds into your ear canal for the first time is easy. Simply press each earbud into your ears making sure the tip is forward facing. There's no "wing" or clasp that keeps them in position. Instead, you're going to want to utilize the included small, medium or large-sized eartips to your advantage. Take a minute to swap-out whichever set seems to provide the snuggest fit without causing unwanted pressure.
When we placed them in our ears, they seemed to fit quite well. Without wiggle-room, the G10's stay securely within your ear canal. Even with vigorous movement, running and/or jumping, they don't move around. We tested them on a bike ride, three gym sessions and a jog around the neighborhood. There wasn't one instance that we felt them move around or fall out. Best of all, they left our ears feeling fine – no pain or pressure at any point.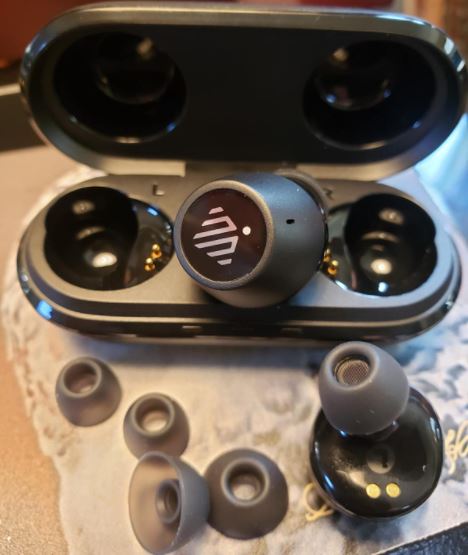 Sound Quality
Unlike other earbuds, the Enacfire G10 are specifically geared towards gaming. You can set them into "game mode" which utilizes ultra low latency to accelerate audio processing. Standard earbuds without low latency have a higher transmission delay.
Basically, the amount of time between what happens on-screen and what you hear is incredibly minimal. In fact, Enacfire claims the actual delay is 70 milliseconds; which is so fast that your game should never lag behind what you're hearing. To put this into perspective, the human eye takes 100-400 milliseconds to blink. Typical earbuds often have a delay of 200-500 millseconds, making them less-ideal for gaming.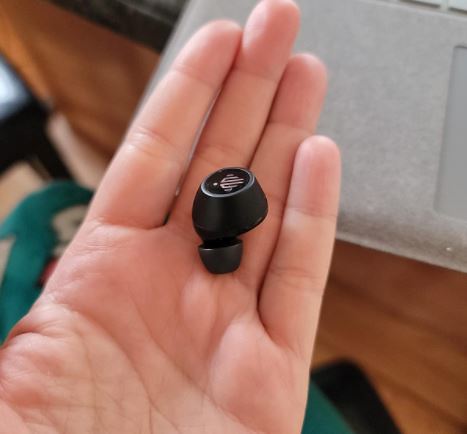 We used the Enacfire G10's while playing Fortnite and Call of Duty Mobile and were quite impressed with the experience. The sound seemed accurate, vivid and realistic. Thanks to the 3-layer composite diaphragms and a 30% lighter dynamic driver, we felt like the sound quality was incredible nice. The mids and highs were very clear with excellent distinction between sound effects. The low-end bass was adequate but not quite as powerful as we had hoped. We think it's sufficient enough, but not as impressive as most standard over-ear headphones offer. Although there's no real way to be certain, we believe the small size of the earbuds limited the bass a bit.
When we turned on some music, the sound was great. The clear highs and mids gave songs excellent clarity that we enjoyed. Bass was still lacking a little, but that's OK with us. They can't be 100% perfect!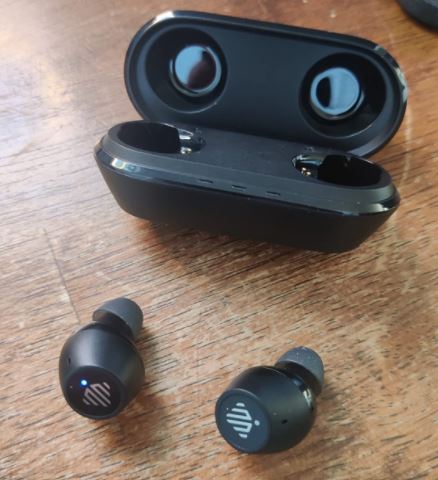 Battery Life
Like many other earbuds with a charging case, you don't need to plug the individual earbuds into a charging cable. Simply place them into the charging case whenever you're not using them. It not only keeps them safe but it keeps both earbuds' internal batteries topped off and ready for listening.
The pair of buds are rated to last around 6 hours per full charge. In reality, this is completely dependent on multiple factors; volume, ambient temperature, listening mode, etc. If you're using them in a cold environment or playing them at a loud volume, you're probably only going to experience around 4 hours per charge. In our testing, this was the case. Whenever we cranked up the volume close to 100%, the battery level seemed to diminish much quicker.
On the back of the case is a USB-C charging input. As an alternative way to replenish the battery inside the case, you can set it on a wireless charger. The bottom of the case offers inductive charging so you don't have to physically plug it in to charge. It's a bit slower to use wireless charging, but it offers a simple way to "set it and forget it".
Enacfire claims the charging case can replenish the earbuds around six times, offering up to 36 hours of listening when you add it all up. However, we found that the case replenished the earbuds around 4-5 times with the way we liked our sound – loud and heavy. So to put it into other terms, we experienced around 25-30 hours of listening before the internal batteries were completely drained.
Touch Controls
On the outside of each earbud is a smooth finish. However, touch controls are incorporated that offer all the functionality that you need. With a series of various "taps" you're given the ability to play, pause, skip tracks, answer calls, etc. Refer to the instruction manual for more specifics.
The touch controls are nice to have, but they can get in the way when you're removing them or placing them in your ears.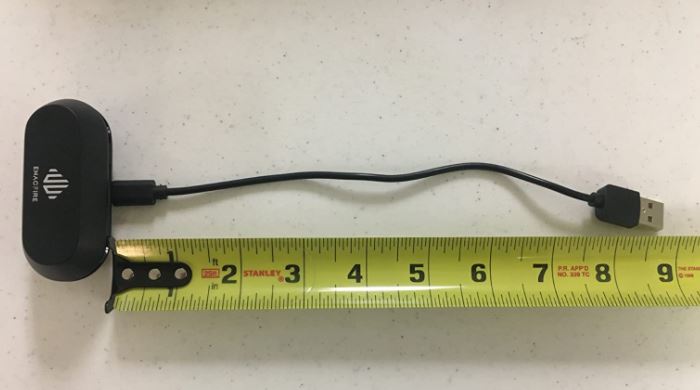 Durability
One nice thing about the Enacfire G10 earbuds is the lack of moving parts. There's nothing that rattles, wiggles or moves when you're using them. Because of this, it adds a bit of durability since moving parts, physical buttons and hinges seem to wear-out over time. Simply put, holding them in your hands, they feel "solid" and well-made.
Enacfire built the G10's with an IPX8 water resistance rating. This IP rating simply means that they can be submerged into water over 1 meter deep. How deep? Well, that hasn't been fully tested. Knowing this, you can rest assured knowing that rain, snow, puddles and dirt won't have any negative effects on the earbuds. In fact, you can even use them for swimming – just make sure they don't fall out and sink to the bottom!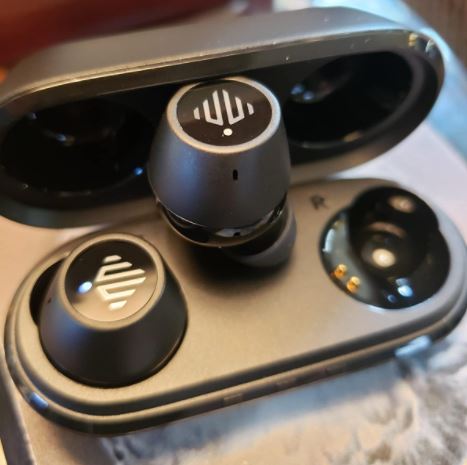 Call Quality
If you look close, you can clearly see a tiny pinhole in each; these are the microphones. There's a dedicated internal microphone and two different external microphones that work in conjunction to pick up your voice but isolate it from unwanted ambient noises. The G10's are equipped with noise cancellation for phone calls and voice chat, but there's no active noise cancellation for listening. If you truly need ANC, we recommend looking into the Enacfire A9.
Moving on, testing the microphone quality was easy. We voice-chatted on discord, made two phone calls through skype, and three actual phone calls through an iPhone. We didn't have any complaints about how the microphone picked up our voice. Background noise didn't seem to cause any negative effects; a snug fit also helps. Voice came across nicely without any distortion or grey noise interfering with the conversation. Nice!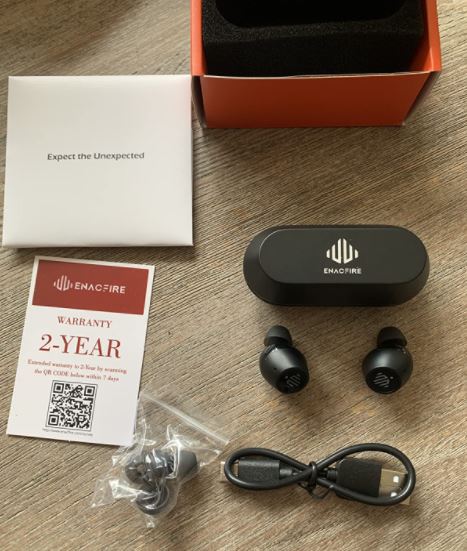 Final Words
As you can see, the Enacfire G10 Wireless Earbuds have plenty of features to keep both games and music-listeners happy. With their low-latency mode, they excel for gaming but also double as an excellent choice for everyday music listening. You're not going to get audiophile clarity that some of us crave, but at this price-point, you truly can't expect everything. The mids and highs offer nice clarity while the low end is sufficient, but not overly impressive.
Battery life is decent, and provides enough for most scenarios. The USB-C and inductive wireless charging give plenty of flexibility for topping off the internal battery when you need to. We think Enacfire's 36 hour estimate is a bit overzealous, but that's pretty standard marketing practices these days.
The built-in microphones do a great job. Whether you're voice chatting or talking on the phone, the clarity is right where you want it. There's no ANC or a variety of color-choices, but the G10 offer a whole lot of value for the price that they come in at. All in all, we wouldn't hesitate to recommend them to anyone looking for a nice balance of value and quality.