Wireless earbuds are becoming more and more popular, and for good reason. When modern wireless earbuds can provide quality sound, maintain a consistent connection even over long distances, and can function as receivers or speakers for a phone call with your friends, why would you ever bother with the hassle of a cord, particularly when you're doing a physical activity like a workout?
But while wireless earbuds are fantastic, the industry is also flat-out inundated with models that all look relatively the same and that all claim to be the best of the best. This logically can't be true – some earbuds have to be better than their competitors by definition. But it's tricky to know which earbuds are really worth your time and money when they all ostensibly provide the same benefits and results.
Take the EarFun Air True Wireless Earbuds. Like the rest, they have a plethora of innovative and advanced features that make them good competitors on the market, including advanced sound chipsets, in-ear detectors, high playtime when combined with their mobile charging case, and high-tech touch controls that make utilizing the earbuds to their fullest extent relatively easy compared to their wired counterparts.
But are they really worthwhile, considering that they also charge a generally higher asking price compared to many cheaper earbuds on the market? The real way to find out is to examine the earbuds in-depth, which is what we did. Below, you'll find a deep breakdown of every aspect of the EarFun Airs, including their design, how well they play sound, whether or not they have connectivity issues, and how long you can expect them to last with a full charge. Let's get to it!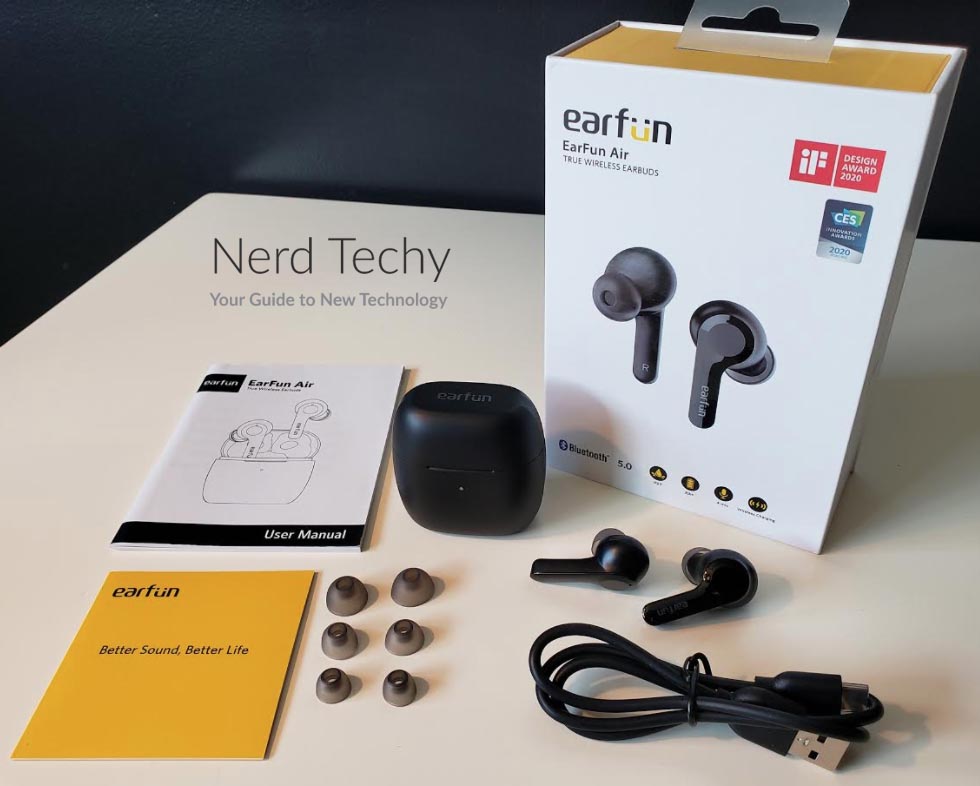 Design
Practically all modern "true" wireless earphones are designed to work in conjunction with one another, and most buds are also constructed with a focus on comfort. The EarFun Airs, to this end, are designed to fit snugly inside your ears. The buds are each 3-D printed and every purchase comes with four pairs of ear tips – you can swap these out where you like and find the tips that work best for the shape of your inner ears. In this way, you can customize the fit of the EarFun Airs to your liking.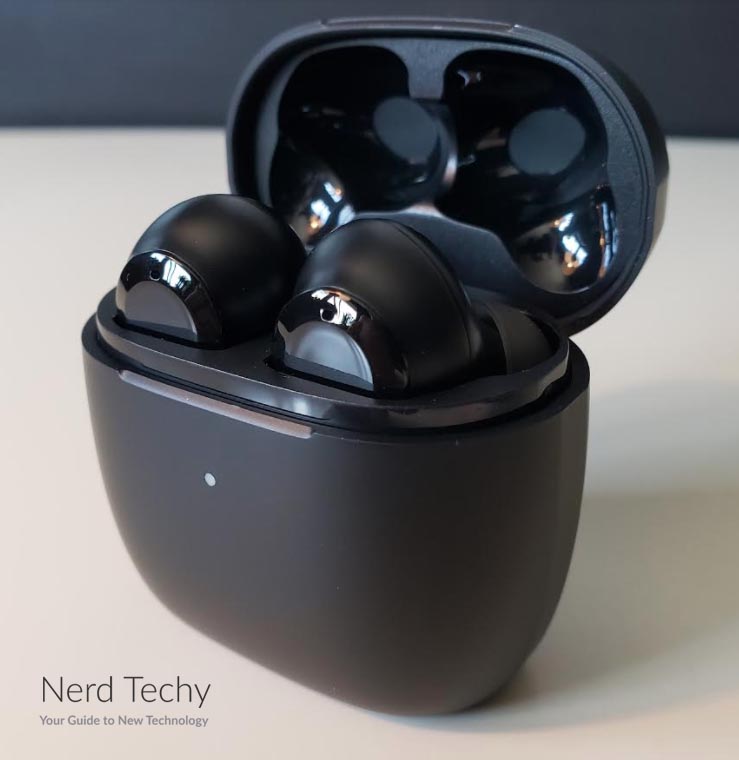 More interestingly, the EarFun Airs come with in-ear detection technology. This is connected to their ability to work separately or together depending on your needs. As an example, each individual earbud can be paired to your device for independent listening or call placing, meaning you don't need both buds in your ears to make maximum use of their functionality. This can be very effective if you need to pay attention to your ambient environment while using the earbuds – for instance, maybe you're running and want to listen to your music in one ear while also listening to traffic.
However, the buds will also automatically pause music playback when you remove one of the earbuds from your ears. Even cooler, music playback automatically resumes when you place the bud back inside. It's very intuitive and quite user-friendly, although this does mean you need to decide ahead of time if you're planning to listen with both earphones or just one. The buds are furthermore designed with two microphones apiece, totaling four overall. These provide noise-canceling technology to block out up to 80% of the background noise and to improve the clarity and quality of your voice for anyone on the other side of a phone call. The only downside is that you can't disengage the noise-canceling tech, so use it sparingly or make use of the single-bud listening style if you need to pay attention to your surroundings.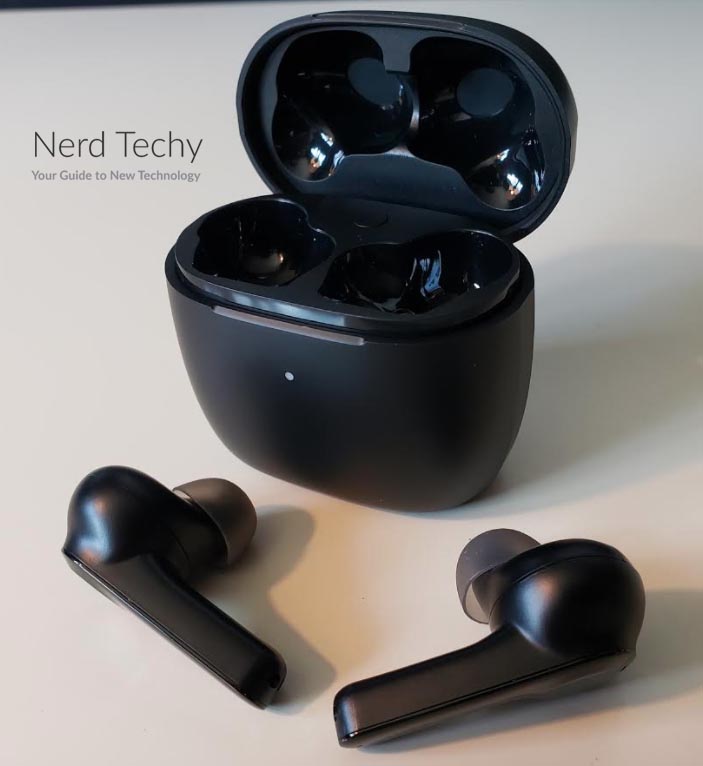 Aside from all these aspects, the buds feature fingertip volume control. This allows you to control your calls, voice assistant connectivity (more on that below), and music playback all through touching the earbuds with short taps or motions. It takes a little while to get used to all these commands and memorize them properly, but it ends up being quite a functional design choice and it's far superior to fumbling with your phone to control the earbuds. For instance, you can turn the volume up or down by tapping once on the left or right earbud.
The buds are also rated as IPX7 sweat-proof and waterproof. The internal circuits are protected from all kinds of moisture, so feel free to use these earbuds while you exercise or go on a run, even in inclement weather.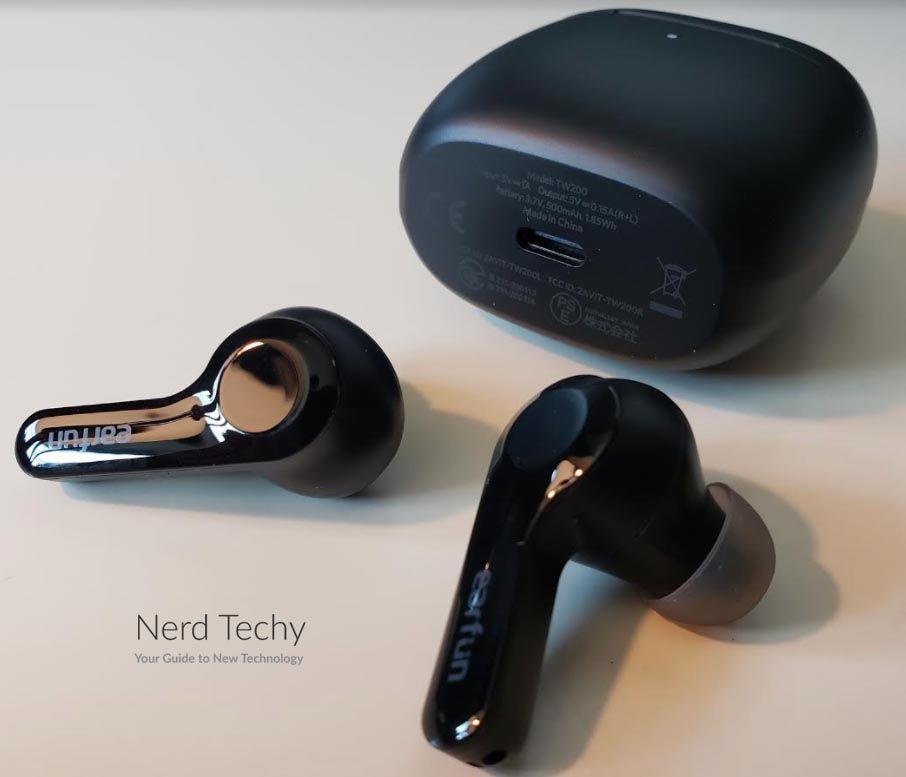 Sound Quality
The EarFun Airs do a fantastic job when it comes to sound quality, partly because of the noise-canceling technology described above. This has the passive effect of increasing the sound quality of any music or phone calls you make.
The buds also come with 6 mm competent drivers on either side. These can produce rich and immersive sound, plus resonant bass. This is particularly notable since many true wireless earbuds struggle to create good bass sounds (it's just more difficult compared to high or mid sounds given the smaller amount of space in a small earbud device compared to headphones). This is a great thing for those who enjoy music with lots of bass elements. But it has the added benefit of making phone calls to or receiving phone calls from those with deep voices much more manageable.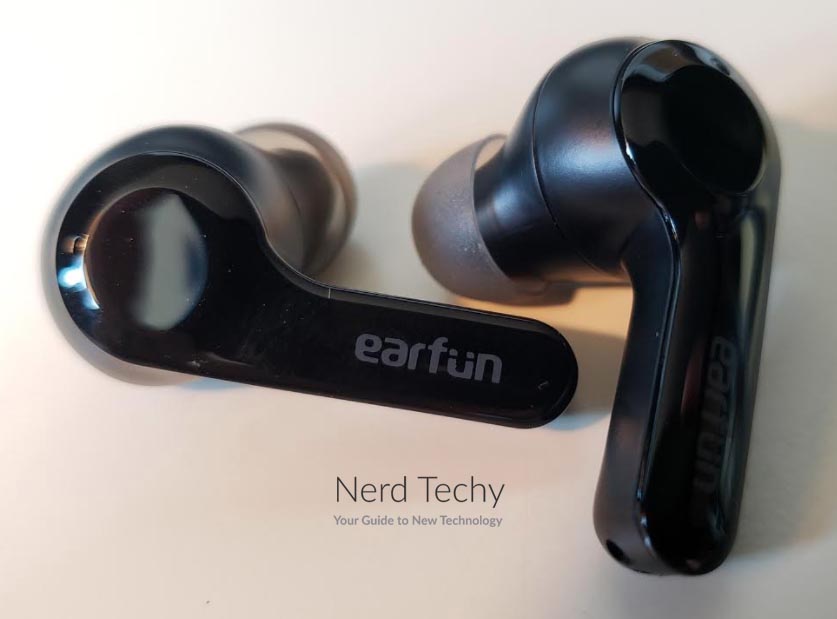 Connectivity
Good wireless earbuds these days should also make connecting a snap for their users. The EarFun Airs use Bluetooth technology to accomplish this – they can connect seamlessly to one another and to any mobile device you want to pair with them almost instantaneously. The more impressive aspect of these buds is that they automatically pair to any memorized Bluetooth-compatible device whenever you open the carrying case lid.
For instance, if you pair the earbuds to your mobile phone the first time to listen to your favorite tunes while at the gym, the buds will automatically remember that phone. The next time you take them out of the carrying case, they'll pair automatically.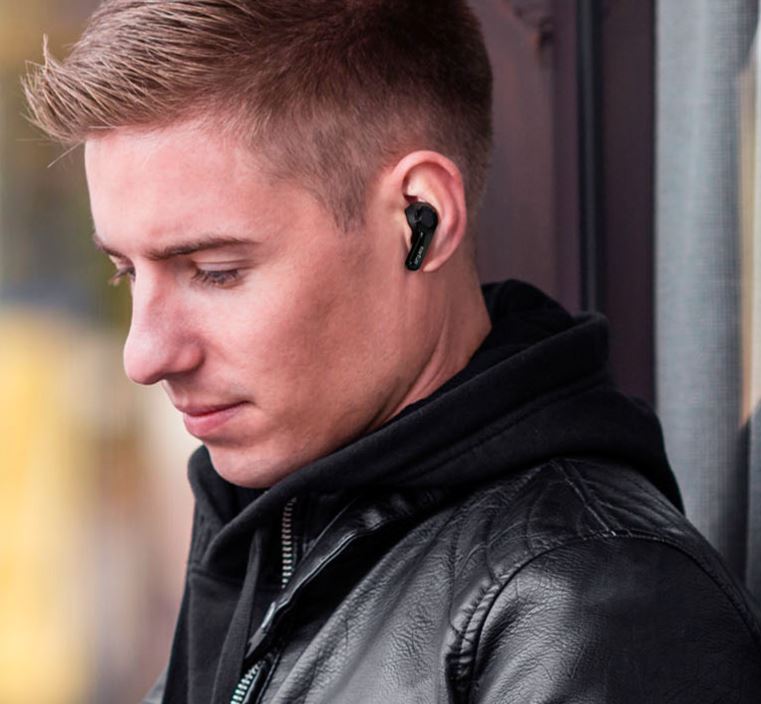 However, this does present a minor quibble in terms of full functionality. If you never put the buds back into the carrying case, the electric trigger that starts this pairing process doesn't trip. So those who have trouble remembering to put the earbuds back in the case to be recharged will have to manually re-pair the earbuds every time they want to listen to their music. It's a minor downside, but the EarFun Airs would be even better if they would reconnect to your mobile device every time you turn them on.
In terms of distance, the EarFun Airs can maintain a connection for up to around 10 m if they aren't interrupted by a barrier (like a wall). However, the connection is spotty beyond 5-6 m, and there are plenty of other true wireless earbuds that do better on this point.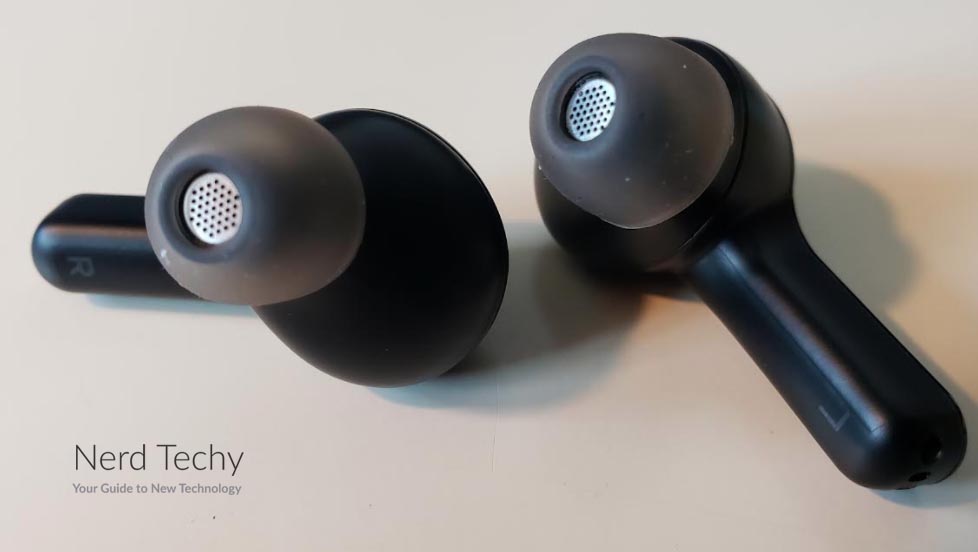 Battery Life
The last big thing to consider is battery life, and the EarFun Airs shine here as well. The charging case overall can hold up to 35 hours of playtime when fully charged. The buds themselves can hold between four and five hours on a single charge depending on the volume of your music and how far you use them from their paired mobile device.
The more impressive aspect in this metric is the charging case itself. Not only is it small and compact (making it perfect for storage or for traveling), but it's also rechargeable with either USB-C cables or with wireless chargers. This is particularly nice since many other true wireless earbud cases can't recharge with wireless chargers.
The charger only needs 1.5 hours to recharge from no power to full power: this is relatively fast compared to many other wireless earbud charges on the market. Keep in mind that a wireless charger can only refill the case's batteries over 3.5 hours instead, but this is to be expected given the additional challenges inherent in transmitting power without a wire.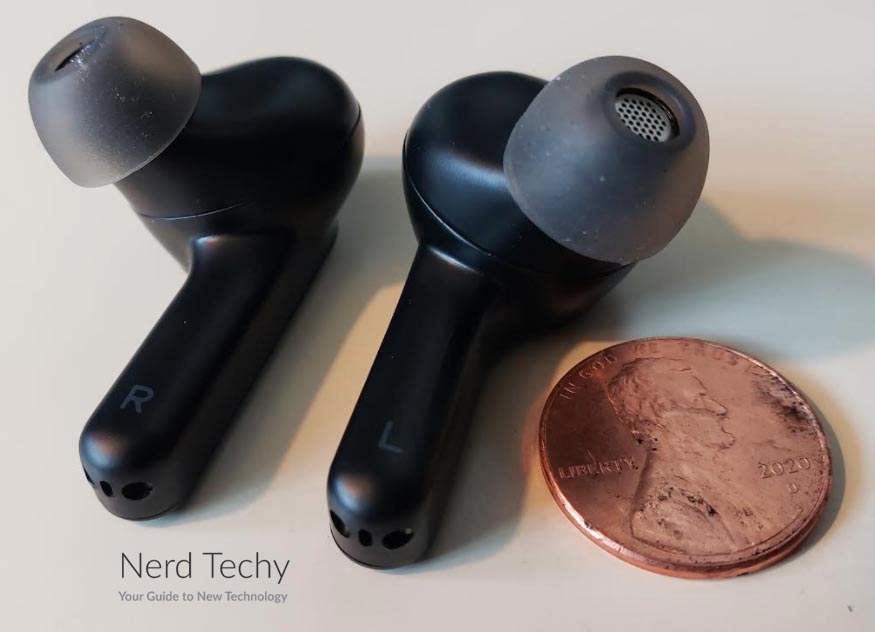 More importantly, you can charge the case for 10 minutes and get up to two hours of playtime with the buds. This is a really nice feature if you tend to forget to recharge your earbuds or plug the charging case in, particularly when you're on a trip. This way, you don't have to wait for over an hour to get your earbuds recharged. Even if they're empty, you can charge them for 10 minutes and walk out the door, then give them a full charging sequence when you return home.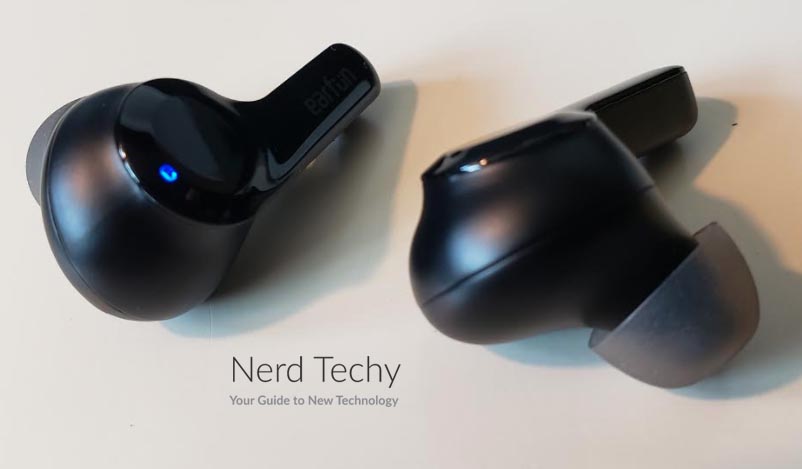 Final Verdict
Overall, the EarFun Airs manage to pack a ton of value into their small frames and charging case. Some wireless earbuds do a better job with some aspects – for instance, overall connection consistency could be better beyond 5 m, but the available connection quality is still great for the majority of uses. How often is it that you really leave your phone 10 m away while listening to your music, anyway?
The noise-canceling tech, sound quality, and innovative fingertip controls all combine to make a high-tech wireless earbud pair. The earbud controls aren't too difficult to learn and aren't so sensitive that you'll accidentally change the song you're listening to when you use your finger to scratch your ear. Furthermore, the buds' durability, and waterproof and sweat-proof functionality, mean these are great choices for exercisers.
The charging case is particularly nice, especially since it has the quick charging feature that will allow you to enjoy your earbuds even if you tend to forget to recharge them properly. The buds are most noteworthy perhaps for their ability to play independent of one another, which overcomes the minor downside of not being able to turn off the noise-canceling function. All in all, they're a solid pair of listening devices that can be purchased for a decent asking price. They're a good choice if you aren't working with a really tight budget but don't want to pay more than $100 for decent true wireless earphones.