Quick Analysis
Pros
Impressive sound quality with powerful bass and perfect mids and highs.
Sleek, lightweight design that fits comfortably.
ANC works well to drown-out background noise.
Call quality is good. No issues with lag or noisy backgrounds.
Comes included with plenty of extra ear hooks and tips.
Cons
Only available in black.
Functionality may take some learning to master.
No matter what kind of music you're into, owning your own pair of quality wireless earbuds can be a real game-changer. Gone are the days of clunky, wired earbuds that fall short on their promises of perfect comfort and sound. In fact, it seems like every other week there's a new release to talk about. Take the popular brand-name EarFun, for example. Although some consumers may have not heard of them, we're actually quite familiar with them.
This past August, we tested out thes EarFun Air and experienced good sound quality but somewhat spotty connectivity. Before that in October 2019, we reviewed the original EarFun Free and fell in love overall, but unfortunately discovered a lack of bass and low tones that persuaded some to look elsewhere. We're now here in December 2020 and have taken advantage of the opportunity to review the new-released EarFun Free Pro. On paper, they seem to offer a lot; ANC, Bluetooth 5.2 transparency mode and an enhanced, lightweight form-factor. But in reality, do they deliver? How do they sound, feel and actually function? Today we're here to find out.
We'll take a deep dive into this new model and ultimately decide whether you should give them a go or pass them up for something better. Let's get to it!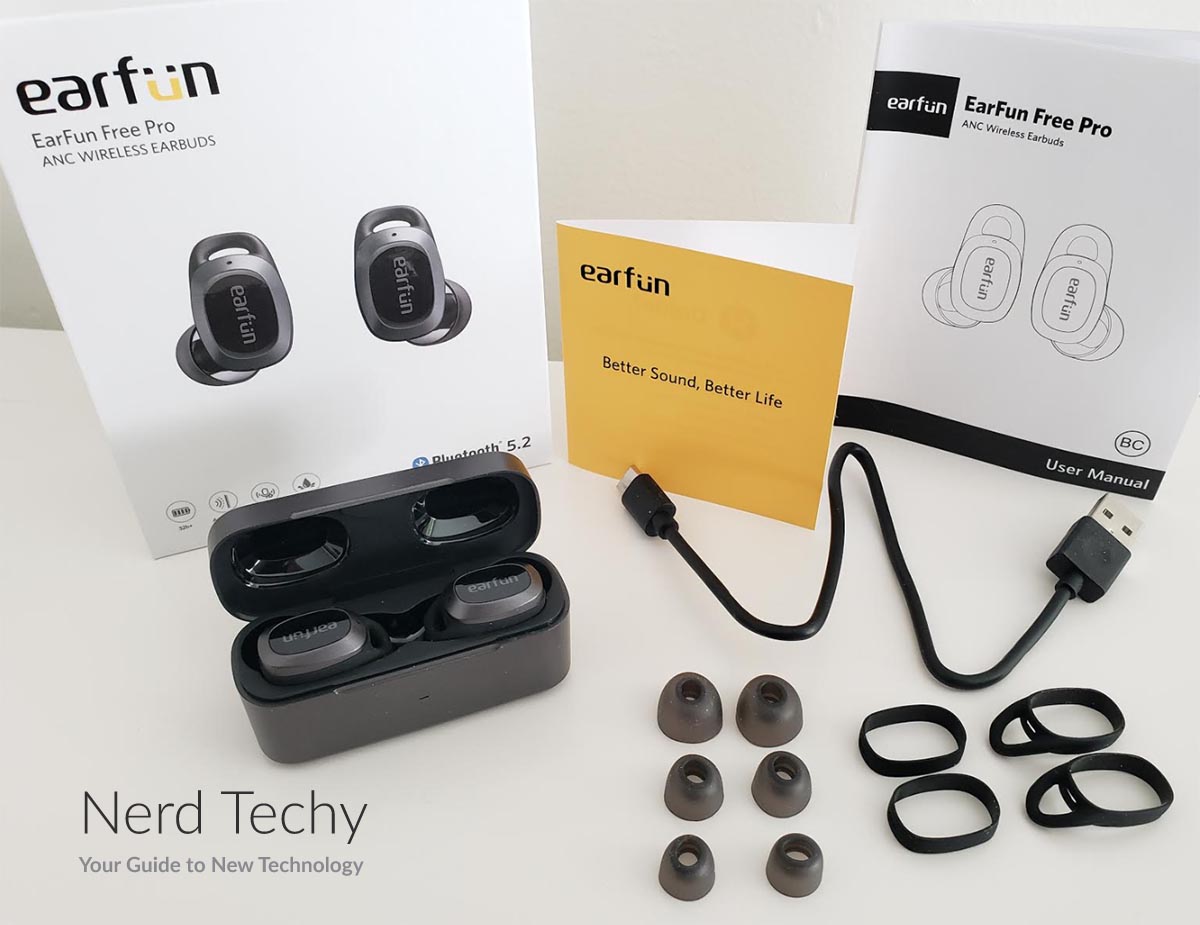 First Look
Taking the EarFun Free Pro out of the box for the first time, you'll immediately notice their compact form-factor. The charging case carries a standard clamshell design with a magnetically clasped lid. Measuring in at 2.75″ wide, 1″ deep and 1″ tall with a total weight of 41 grams (case + earbuds included), it's about the same size and weight as a stick of lipstick.
Use code "FREEPRO20" to save 20% when you buy on Amazon
The case is comprised of a matte black plastic finish with a glossy lid. Boasting a sleek yet durable appearance, our only complaint is the use of a glossy finish on the lid and exterior of each earbud. It looks nice, but this glossy finish attracts fingerprints like no other. Not a big deal, but definitely worth mentioning.
Opening up the charging case, you'll find the earbuds resting within. When you open the lid, you'll "wake up" the earbuds once you remove all of the plastic film that's blocking the charging contacts. It's put their for shipping purposes, so be sure to remove it when we initially use them.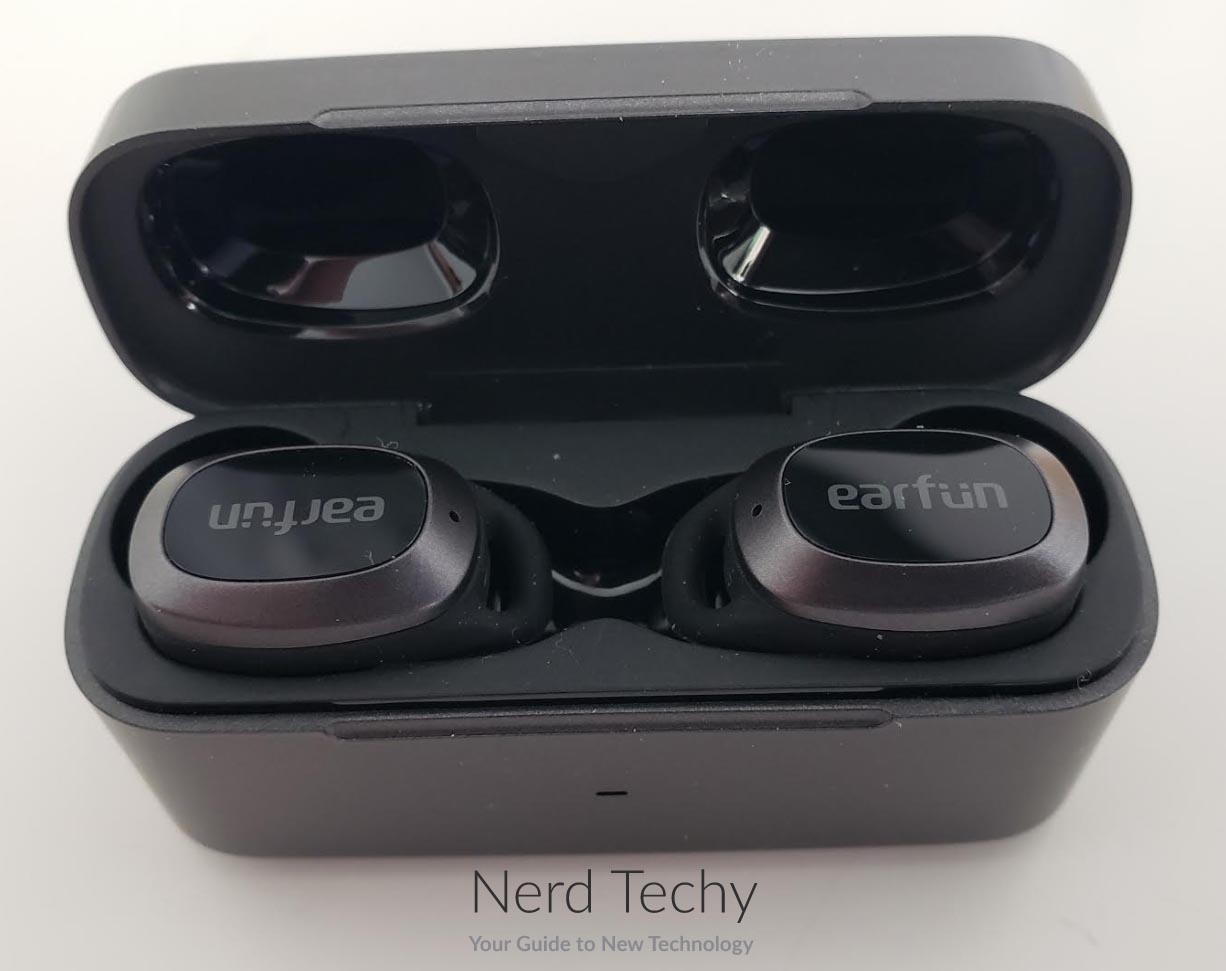 Inside the box, you get a wide assortment of accessories including extra ear hooks, tips, USB-C charging cable, instruction manual and of course the charging case and earbuds themselves. Essentially, it's everything you need and nothing more.
Pairing
The first thing you'll need to do is pair the EarFun Free Pro earbuds to your Bluetooth-enabled device. Whether it's your smartphone, laptop or tablet, the process is virtually the same. Initially, open up the case and it will automatically power-on each of the earbuds and put them into "pairing" mode. Next, you'll need to activate your Bluetooth setting on your smartphone or other supported device. Once you do that, select "EarFun Free Pro" from the list of nearby Bluetooth devices shown. You shouldn't need one, but if it asks for a password, simply type '0000'.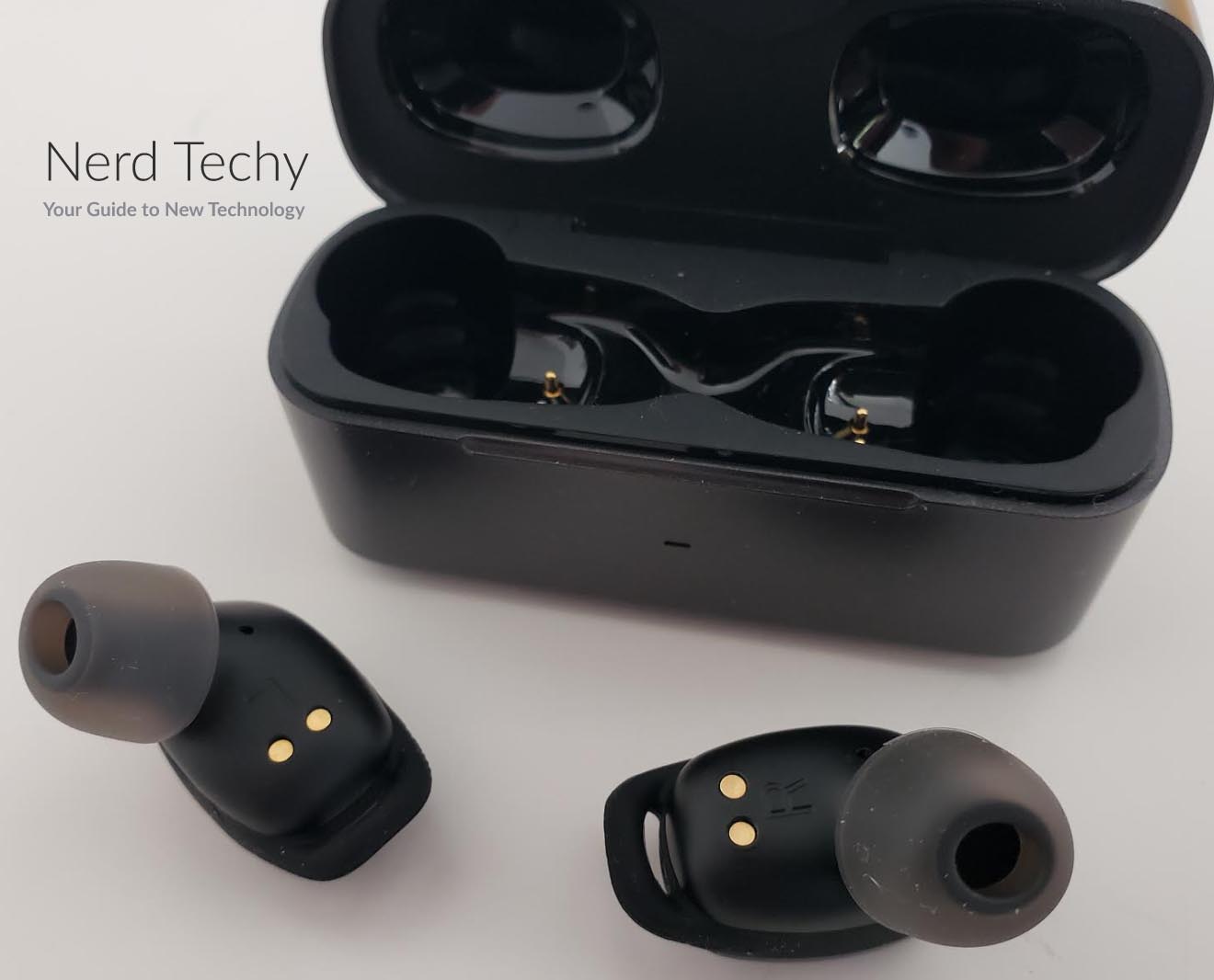 Once you perform these steps, the earbuds will be paired and ready to go. However, it's important to understand that the earbuds will automatically connect to the device they were last paired to. This means this set of steps only needs to be performed one time, unless you want to use them with a variety of devices. Either way, the pairing procedure is very simple and doesn't cause a headache.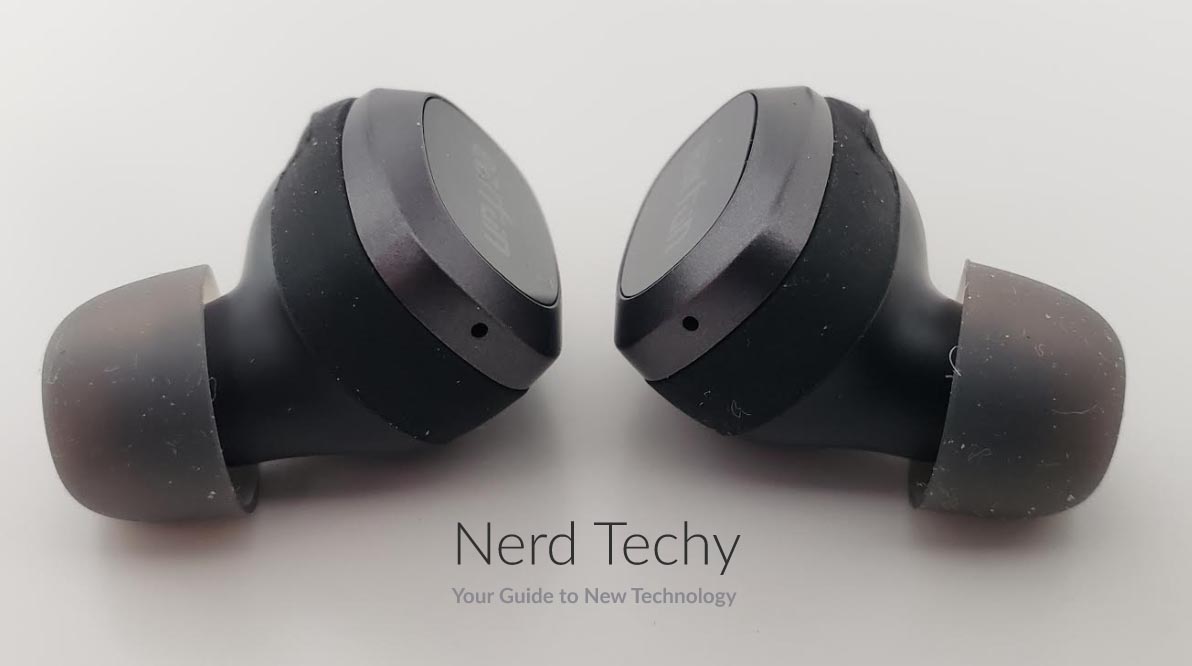 Comfort
Now that we've paired the earbuds, it's time to place them in your ears to start listening with them. Take note, however, that you'll want to assure you achieve a proper fit. As previously mentioned, EarFun includes a variety of different sized ear hooks and tips. Take a second to swap to the correct combination of hooks/tips so you achieve a snug fit that isn't too tight. Too loose and they'll wiggle out of your ear canal. Too tight and they'll potentially cause pressure points.
We found that the standard pre-installed hooks/tips felt like the best option for us. Obviously this will vary, but they come pre-installed with the medium-size of each.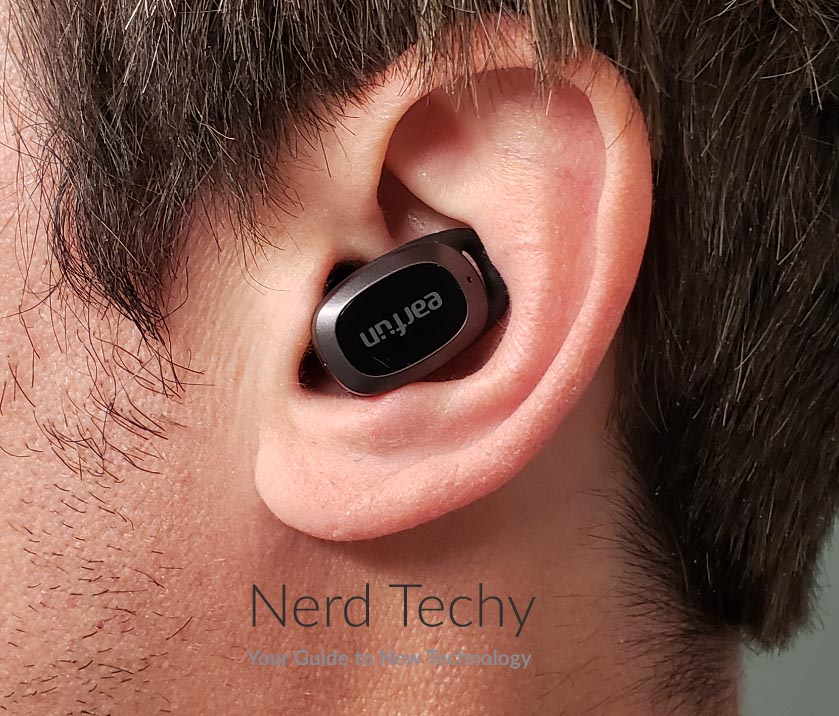 The way that the Free Pro earbuds fit into your ear canal is nice. The hooks have a small rubber wedge-like piece that rests behind the cartilage of your inner-ear to keep them from moving. Even with running and jumping, we never experienced movement once they were properly seated into our ears. Additionally, the physical size of the earbuds are on the smaller side. That said, they don't protrude out of your ears and look/feel too big or bulky. We really like the ergonomic fit as they seem to provide a soft yet snug fit that seals outside distractions and noises.
In fact, each earbud weighs only 4.1 grams, meaning they're not only small in size but miniature in weight. These are probably the most lightweight earbuds we've had the pleasure of trying over the past few years.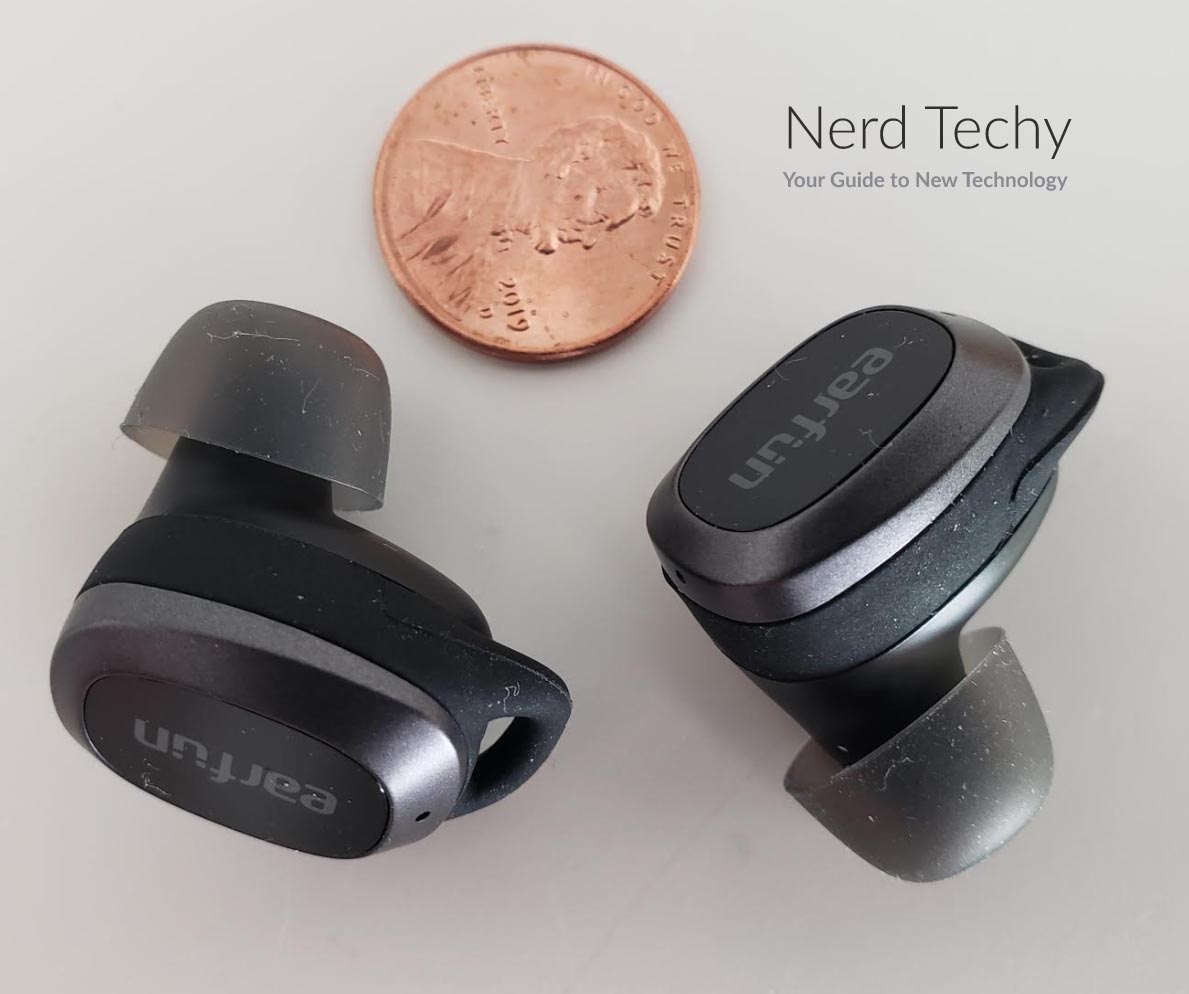 Sound Quality
Inside each of the EarFun Free Pro earbuds is a dual composite dynamic driver accompanied with the latest Bluetooth 5.2 protocol. What this translates to is premium sound with dynamic bass. On paper it looks promising; in reality they sound incredible. The dynamic driver really seems to make the music "thump" and come alive when you hit the low and deep bass tones. It's the first thing that really stood out to us when we started listening with them. To be honest, it's not all that often that we encounter a pair of earbuds that provide actual, distortion-free bass and not simply a short-lived promise of it. Rap, hip hop and dubstep music were definitely our favorite genres to show off the bass effects.
The mids and highs sounded very nice as well. Rhythmic verses and harmonic climaxes were very enjoyable with vocals coming through without any muffled or fuzzy effects. We were happy how EarFun tuned them to balance out the powerful bass. We're happy to see that the bass didn't drown-out or over-power the main melodies of the music. Of course, this may also depend on the specific track you're playing, but we never once experienced negative effects from them.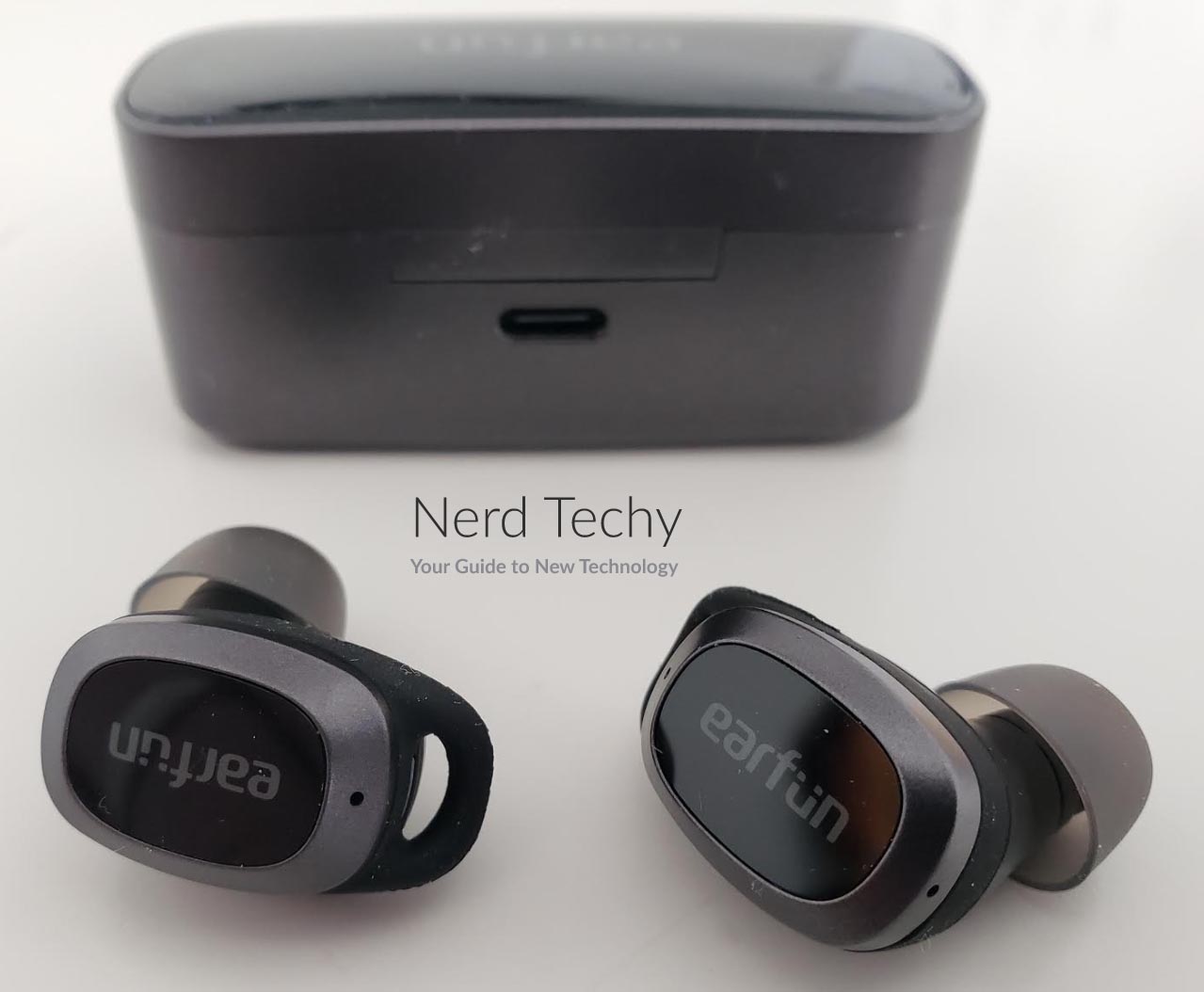 Noise Cancelling, Transparency Mode & Low Latency Controls
When we first learned about the new EarFun Free Pro wireless earbuds, we were happy to see they included ANC for their noise-control. If you look close at the physical design of each earbud you'll notice a few tiny pinholes on the exterior. These are the integrated microphones that work to eliminate background noise up to 28 decibels. They intelligently listen to your surroundings and cancel out any noise except for the tunes that are emitting from the earbuds.
To toggle between noise cancel, ambient sound (transparency mode) and normal, simply triple-tap the left earbud to easily switch between each one. We often kept ours set to ANC, since it gave the best music-listening experience. ANC works very well and effectively drowns-out any background noise so it's just you and your music. Keep in mind, however, that ANC will have a slightly higher draw on the internal batteries. But rest assured, only about a 10-20% loss in battery life is to be expected over the course of time.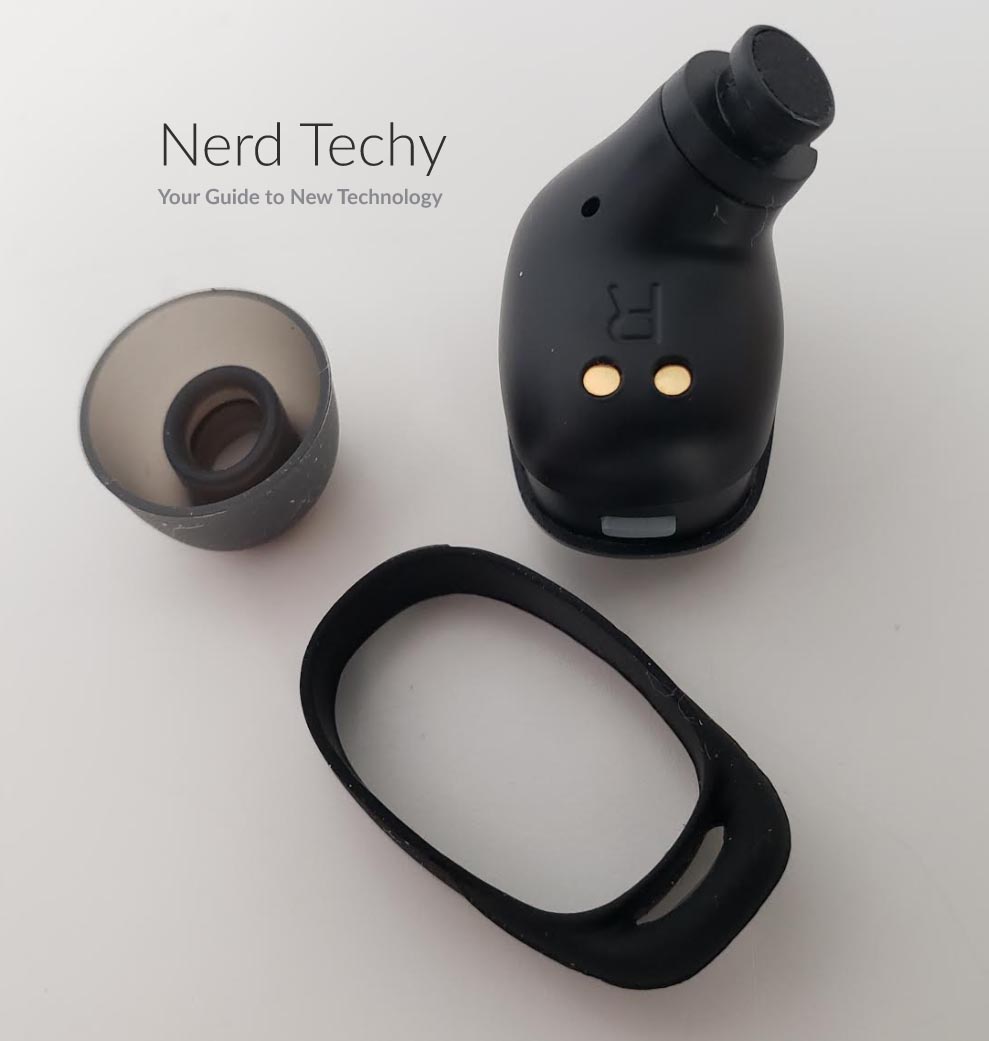 Ambient sound (aka transparency mode) is ideal for those situations where you need to hear around you without physically removing the earbuds from your ears. Perfect for scenarios where you're in a public setting and still need to hear your surroundings.
Normal mode is ideal for getting the most battery life but not necessarily the best "noise cancelled" listening experience. There's a slight difference in overall sound quality in normal mode, which is why we found ourselves almost exclusively using ANC mode.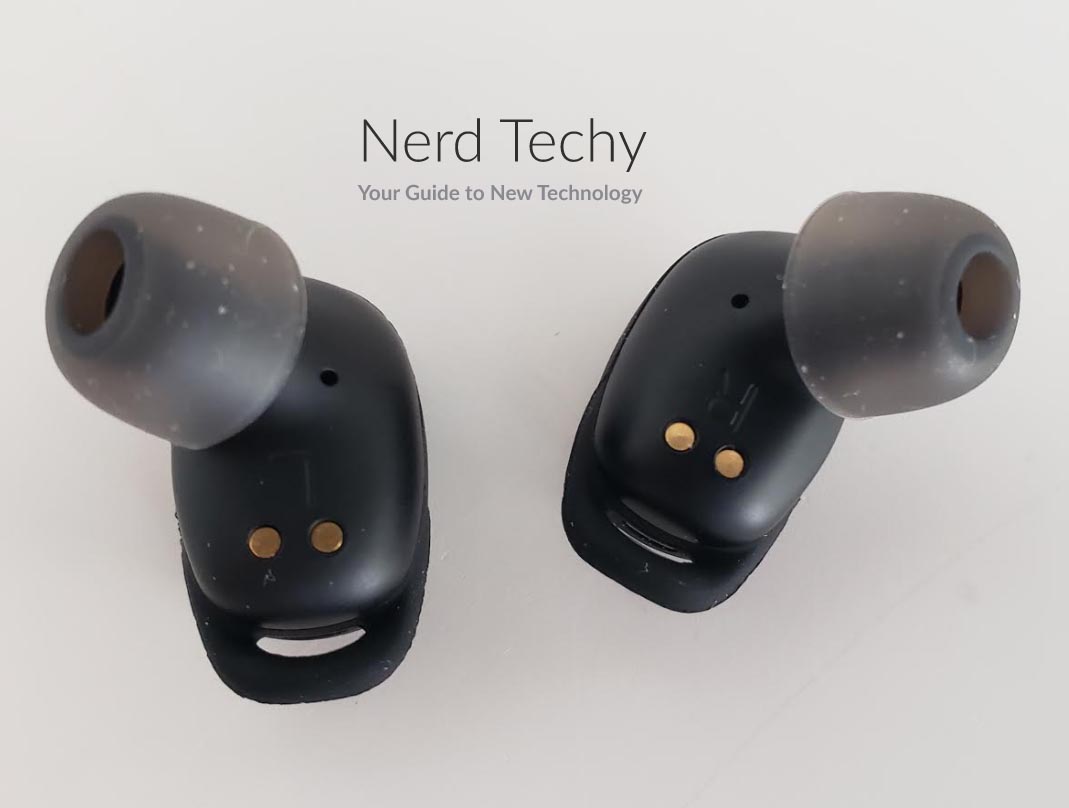 Last but not least, it's worth mentioning the low latency feature. By tapping and holding the left earbud for 2 seconds, you can toggle between low latency on or off. When it's turned on, this mode will provide a latency within 100ms to improve the effects of movies and videos. However, it will shorten the connection distance a bit. It's ideal for movie-goers who want to watch a film with the sound matching fast-motion video. We recommend keeping it turned off for music-listening and only turning it on for watching video clips and movies.
Call Quality
Thanks to the two integrated microphones on each earbud, we found the call quality to be excellent. Although we only tried two outgoing calls and one incoming phone call, we must say that we have no complaints. The built-in noise cancelling technology works very well and does everything it promises to do. One microphone on each earbud will detect external sounds while each second one monitors internal sounds.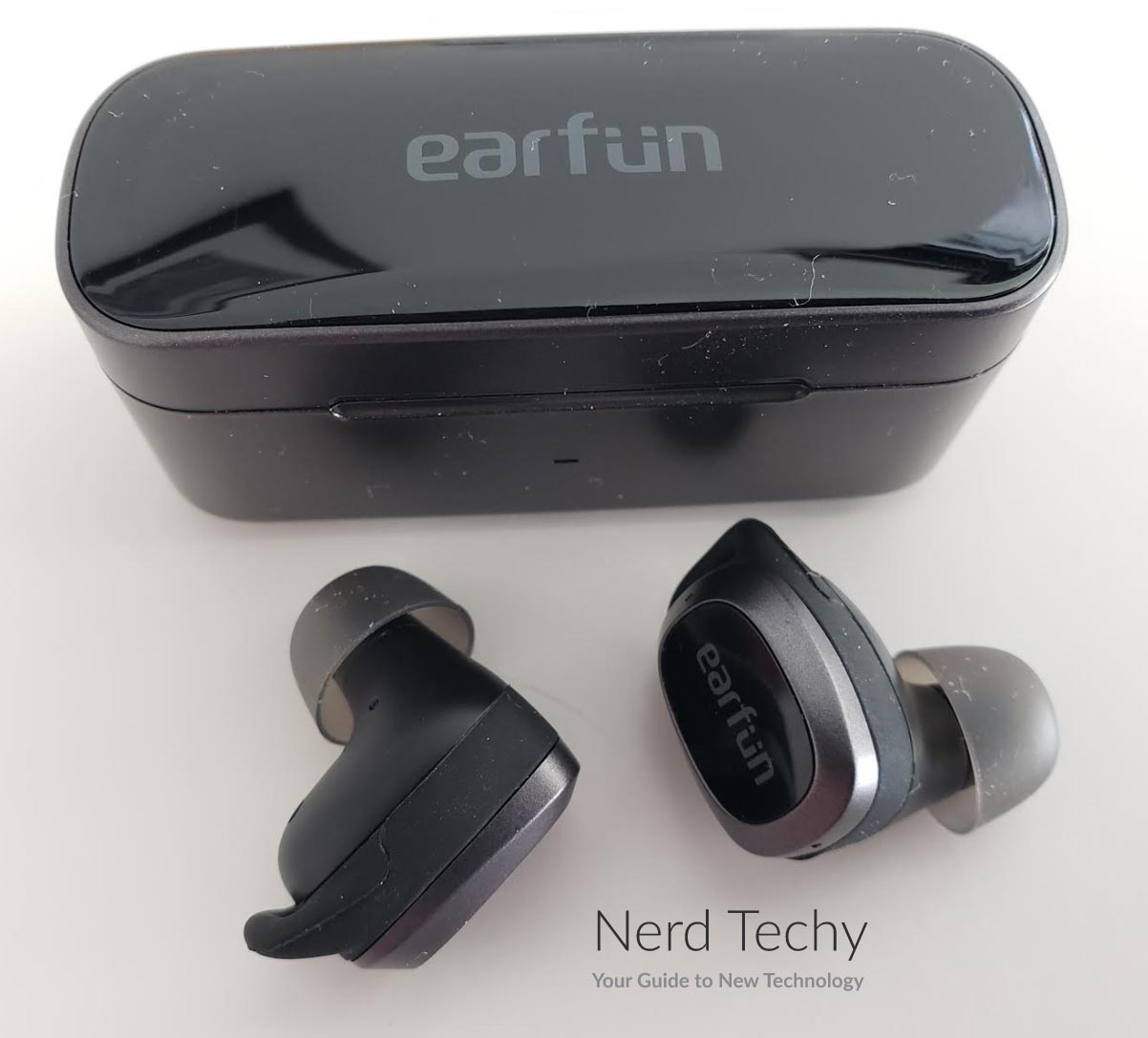 Although this might sound a bit confusing to some, they work in conjunction by ingeniously figuring out which sounds are unwanted and which sounds need to be intelligently altered to tune the voice so it's always crisp and clear. Phone calls aren't all too common for us, but it's nice to see EarFun put a little more effort into assuring they go smoothly with excellent sound quality.
Charging & Battery Life
Taking a look at the marketing material for the Free Pro earbuds, you'll likely notice the "32 hour playtime". It's an important feature to clarify since you should not expect a full 32 hours of music listening on a single charge. What they mean by this is that (in a perfect scenario) you can get 4 full charges of 7 hours each with ANC turned off. With ANC turned on, the earbuds can last up to 6 hours each. However, many factors are at-play here such as ambient temperature, operating distance, etc.
We typically saw about 5.5 hours of battery life for each earbud when utilizing the ANC feature. Meaning one could potentially get 20-24 hours or playtime when the case is fully charged. After each earbud battery gets low, simply rest them within the charging case and it'll automatically "top off" each battery within about an hour and a half. The charge-time is pretty impressive and can be done via the included USB-C charging cable or wirelessly on a charging pad.
Wireless Range
Thanks to the inclusion of Bluetooth 5.2, the EarFun Free Pro are capable of an impressive, stable 50 foot wireless range. This means, 50 feet between your paired device and the earbuds, but only in perfect conditions. Ideal conditions would be line-of-sight without any obstructions, walls, ceilings, etc. Once you put a barrier in-between, you can expect the wireless range to take a bit of a nose dive. Not to the point where they're unusable, but either way, less than the 50 ft. advertised range. In most scenarios you'll likely never even need the 50 ft. range, so even 30 ft. or less will likely be suitable for most listeners.
Durability
Although these earbuds are comprised of lightweight plastic, they feel sturdy, sealed and solid. Don't let the ultra-lightweight design totally throw you off since they're actually IPX5 rated for waterproofing on the IP scale. What this means is that they can withstand water and dirt but cannot be submerged in water. In other words, they can easily withstand rain, snow and sweat, but you can't swim with them or drop them in a puddle. This is likely enough durability for most situations so we're happy to see that EarFun provided actual testing to rate them in this way.
Although the IP rating is apparent with each of the earbuds, it's important to know that the charging case is not rated in the same way. Don't get it wet or expose it to the elements. Keep the case in your pocket or anywhere it'll stay clean and dry.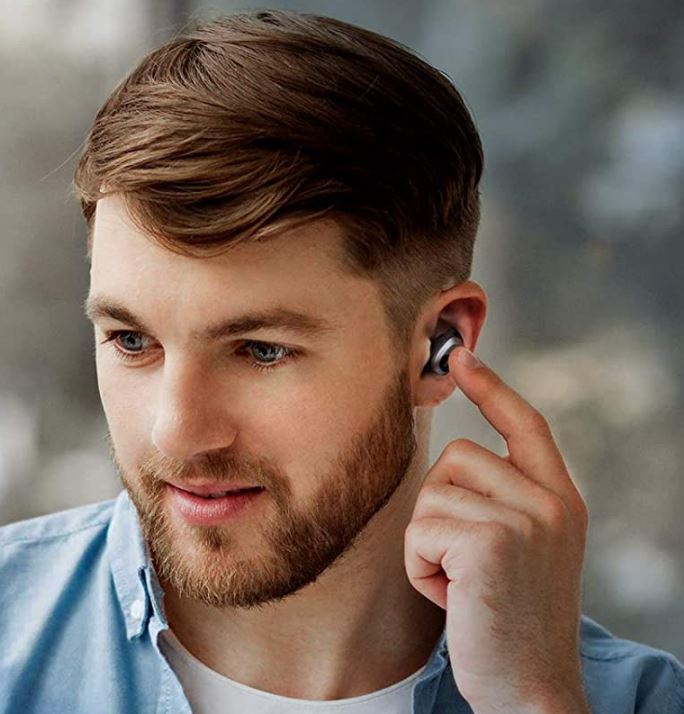 Final Thoughts
As you can see, the EarFun Free Pro Wireless Earbuds provide a multitude of impressive features. They're comfortable, form-fitting and have the battery life to provide hours of continuous listening and enjoyment. The ANC feature works very well and makes the sound quality even better. For earbuds, we're confident that the bass and sound quality is superb. In fact, we must say that the sound is some of the nicest we've experienced over the past couple of years reviewing budget-friendly options like the Free Pro earbuds.
Use code "FREEPRO20" to save 20% when you buy on Amazon
They're sleek, attractive and built to impress. EarFun did a fantastic job releasing some of the most promising earbuds of 2020, going into 2021.