Quick Analysis
Pros
Fantastic sound quality with deep bass and no distortion.
ANC feature works very well.
Minimalist design with matte white finish that doesn't attract fingerprints.
Case is compatible with Qi wireless charging.
Sufficient battery life with quick recharging.
Cons
No official waterproof or durability rating.
We wish there were more color options available.
Listening to your favorite music provides plenty of enjoyment. There's really no debating that. However, the means you go through to tune-in is highly debatable. Headphones, earbuds or a portable speaker; each one provides an important role for a different scenario. For example, if you're sitting cozy in the studio or home office, you may choose a set of over-ear headphones. Out in the backyard near the pool with friends? A Bluetooth speaker might be your best bet. Working out or taking a jog? In-ear earbuds are the ideal choice.
Whichever method of listening you decide, you'll likely consider factors such as sound quality, battery life, durability, noise cancelling or deep bass are all worth considering. Typically, over-ear headphones and large speakers are ideal for superb audio quality. But that doesn't mean you can't achieve beautiful sound only through headphones or a high-end speaker. Earbuds have evolved over the past couple of years to sound just as good, if not, better than your standard set of cans. Yes, it's true, but it really depends on which set of earbuds you're using.
Note: At no extra cost to you, we may earn a commission for purchases using our links. Learn more.
We recently had the opportunity to receive a new-release pair of earbuds; the dyplay ANC Pods. Although you may have not heard of dyplay, rest assured, we've had good luck with this brand in the past. Last year we took a close look at the ANC 30 neckband headphones and a couple months ago, the Urban Traveler over-ear headphones. Although these options aren't specifically earbuds, they're two choices that surprised us in the end.
The new ANC pods from dyplay look great on paper, but how are they in reality? Today we're going to test them out in their entirety and ultimately decide whether or not they're worthwhile. We'll test out each of their features and showcase them from head to toe.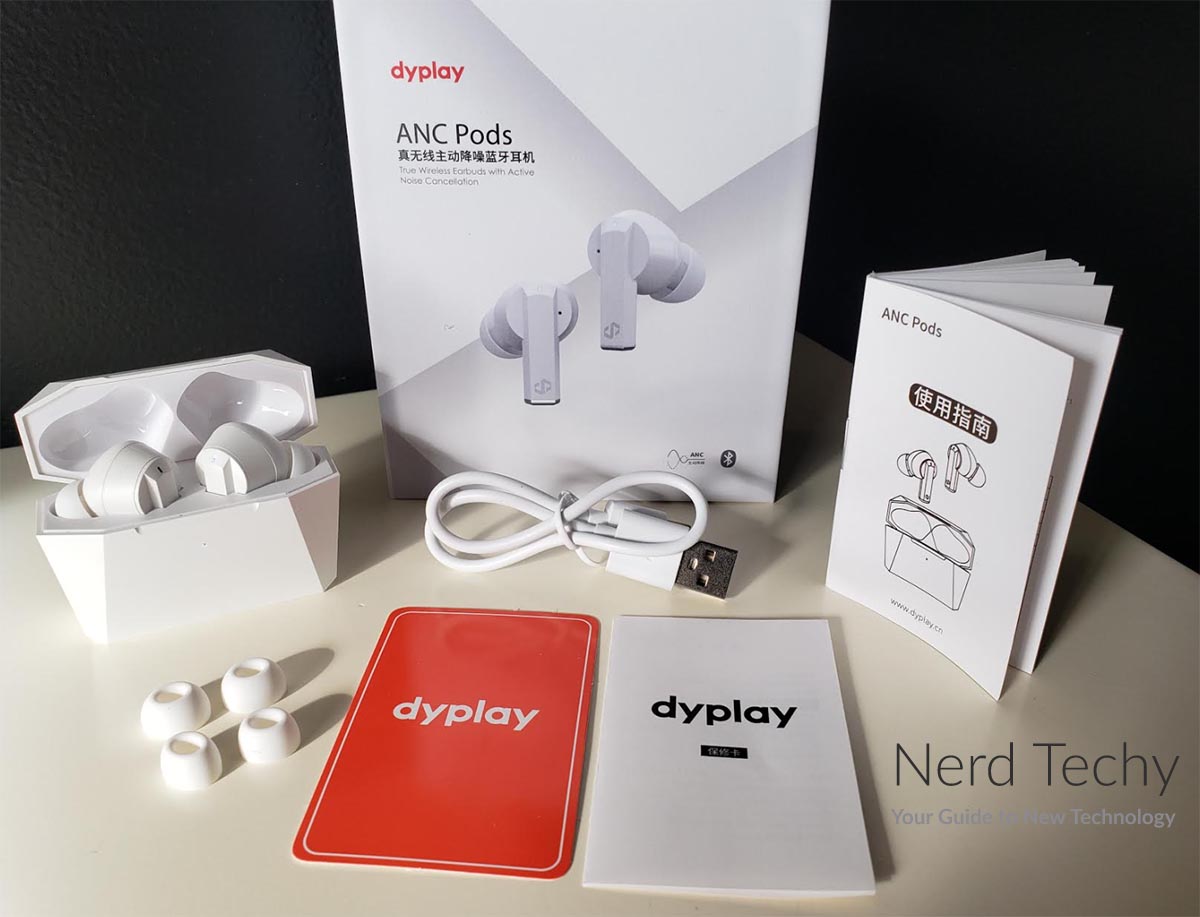 First Look
Taking a glance at the dyplay ANC pods for the first time, you'll notice they look quite similar to Apple's AirPods. However, it's also apparent that they're quite small and form-fitting. When we opened up the box for the first time, we immediately realized how compact and miniature these buds really are.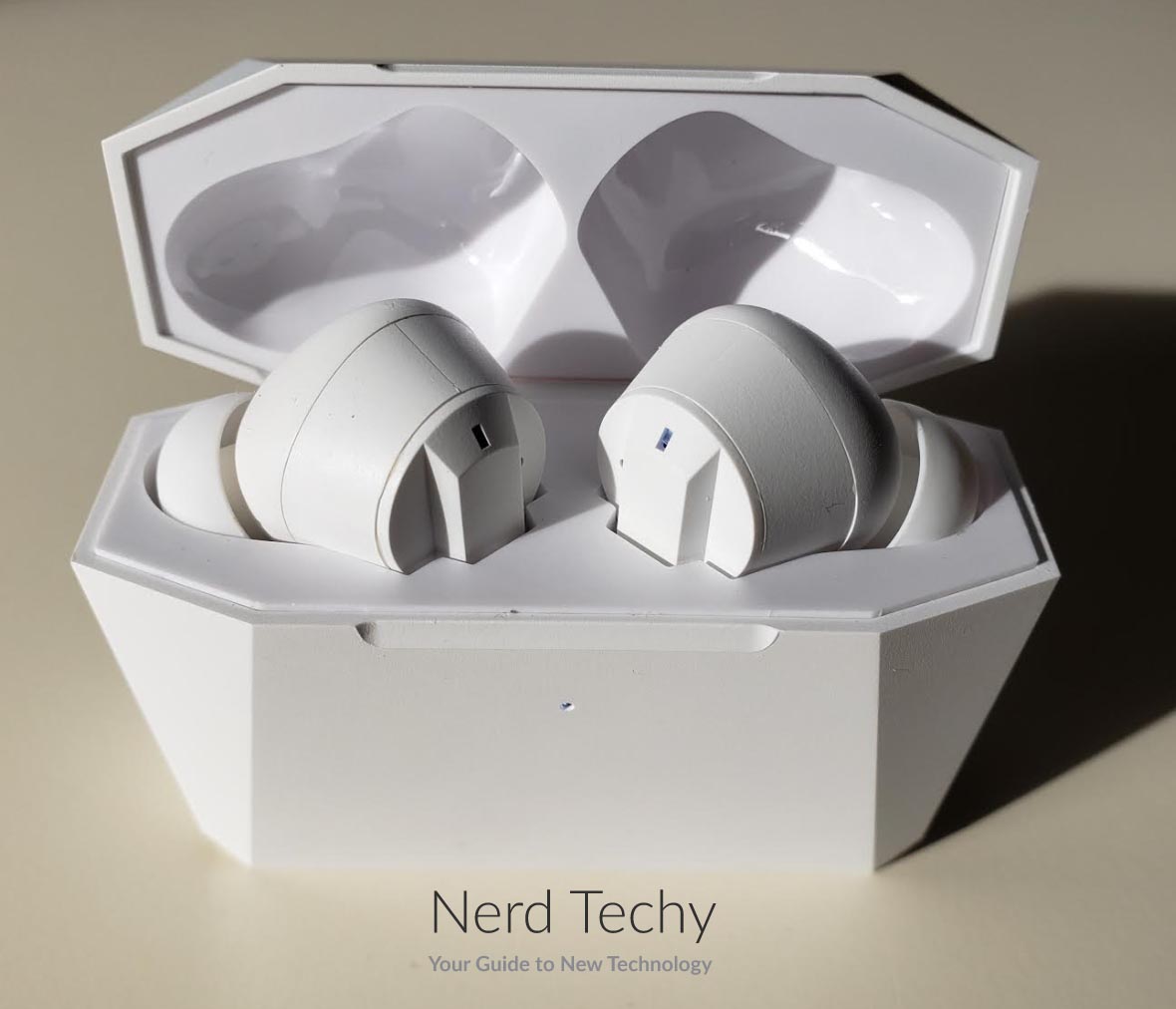 The matte-white charging case opens up like a clamshell to expose both the right and left earbuds resting in their charging ports. Pick each one up and the buds will immediately go into their "pairing" phase. At this time, make sure Bluetooth is enabled on your smartphone or other compatible device and select "dyplay ANC pods" from the list of available nearby Bluetooth connections. Once you perform the pairing process, you're ready to go for continuous listening.
The case boasts a sleek, octagon-like shape with several stylistic edges, just as the earbuds do. They lack any glossy or rounded edges in favor of a unique and bold approach that visually sets them apart from any other earbuds we've tried in the past.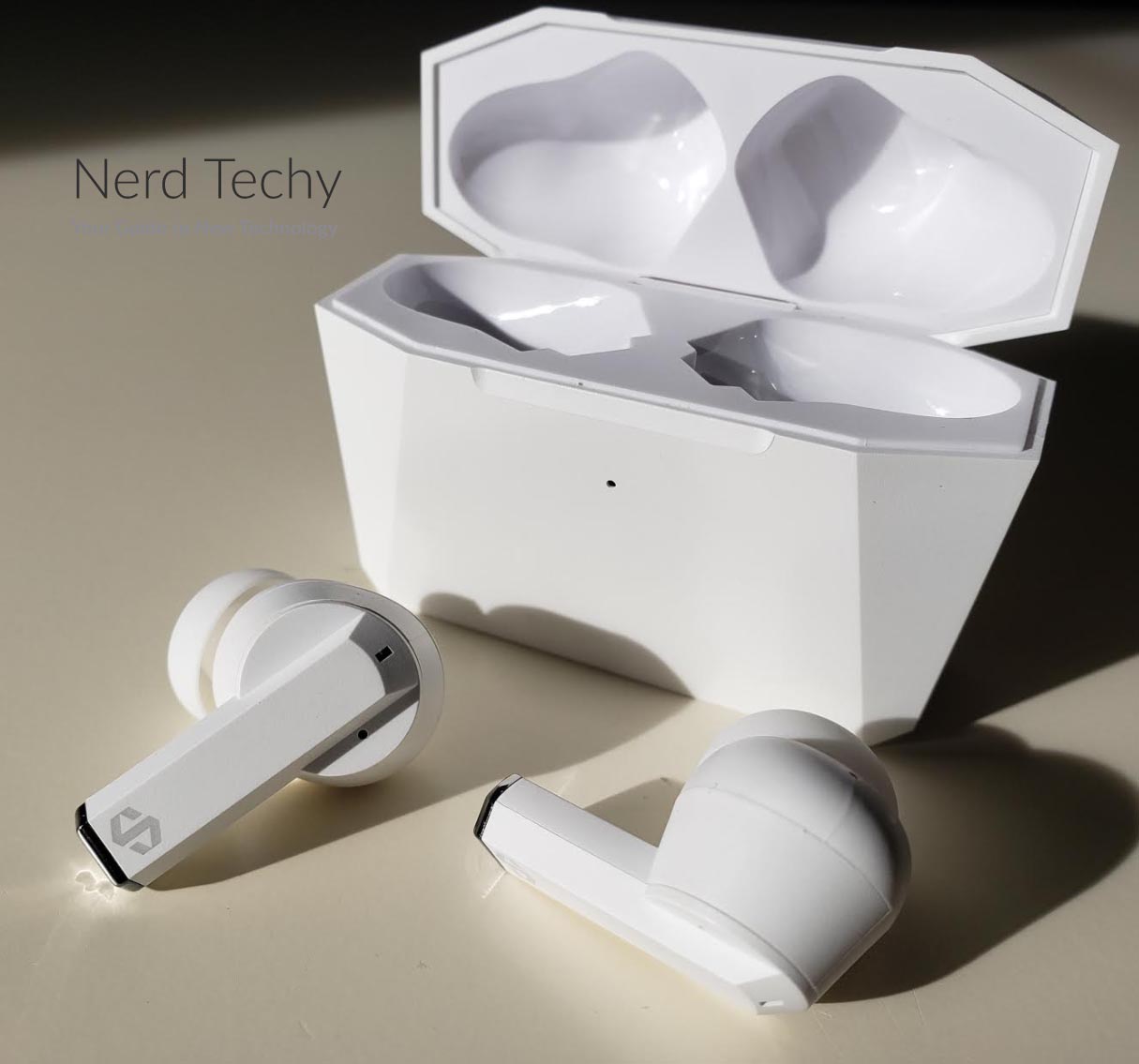 Comfort and Fit
Inside the box you'll find an instruction manual, USB-C charging cable and a couple pairs of extra ear tips. One of the first things you'll need to do is achieve a proper fit. Although we were happy with the way they fit right out of the box, it all depends on the size and shape of your ears. Take a minute to swap out the included eartips to see which pair fits you best. It'll be the ideal way to provide yourself with the best possible isolation from background noise.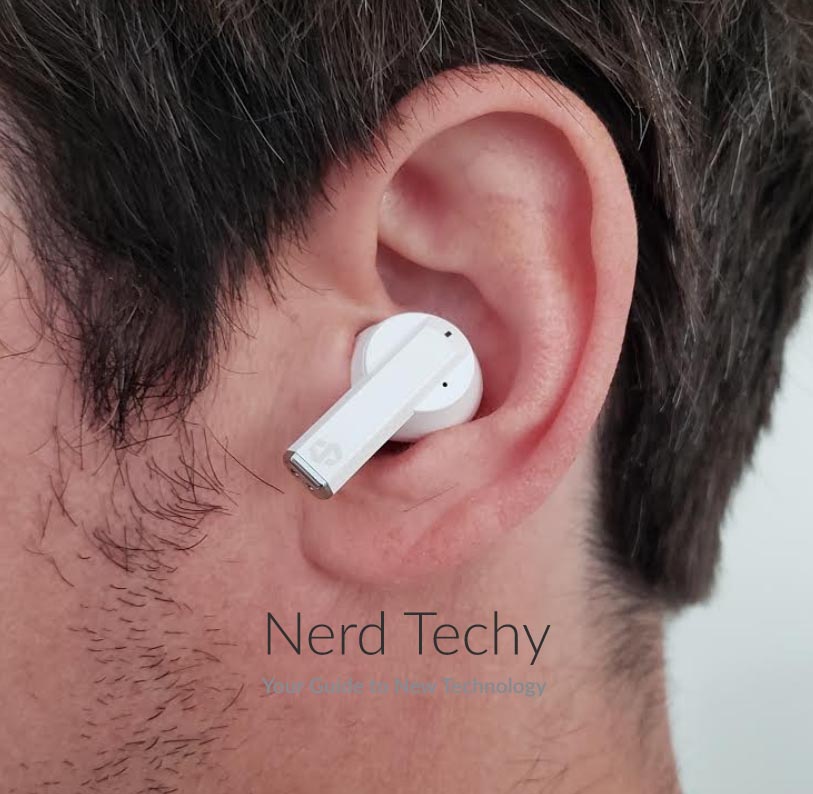 When you place the buds in your ears, you'll want to point the shaft downward, just like the Apple AirPods. They actually fit quite nice since they boast a minimalist design without any over-the-top aesthetics. Simply put, we're a fan of the way they look and feel.
Wearing them for continuous hours is easy. They don't seem to create any pressure points and actually feel very nice. You'll notice a slimmed-down appearance so they don't protrude too far out of your ears and eventually become a nuisance. In fact, we must say that they're some of the more-comfortable in-ear "pods" that we've tried in the past year.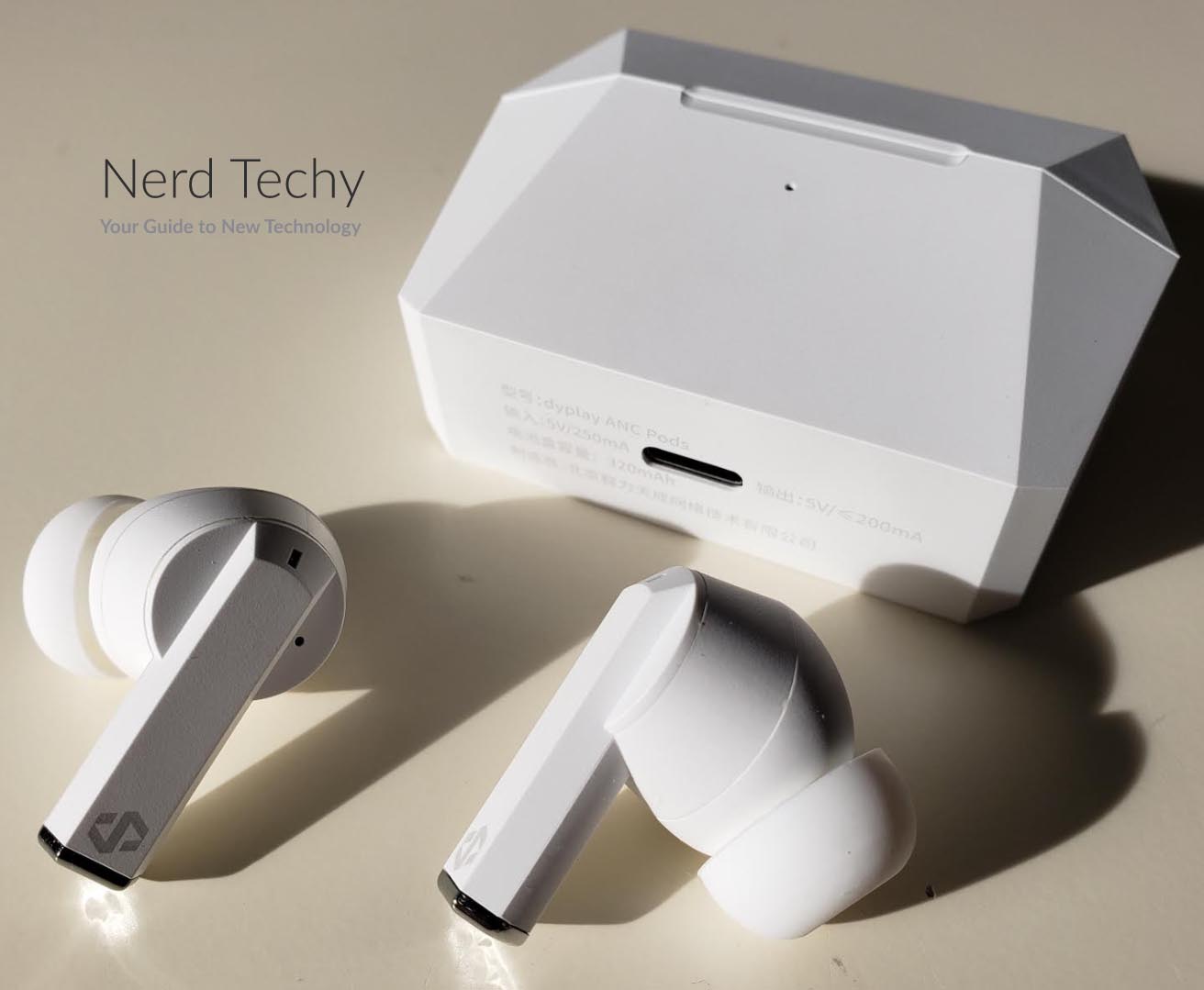 Sound Quality
The dyplay ANC pods are equipped with a 10mm dynamic drivers comprised of both PU and cashmere diaphragms. What this means is that they're capable of producing high quality audio with deep, vivid bass. In reality, they seem to shine bright – the music is rich, vivid and full of life. We're not just saying that, we're actually quite impressed with how they sound. Any style or genre of music that we threw at them were replicated in the best way possible. The only downfall seemed to be when we adjusted the volume to 100%. In this case, you'll notice a very slight fuzziness in the background. However, no distortion was apparent.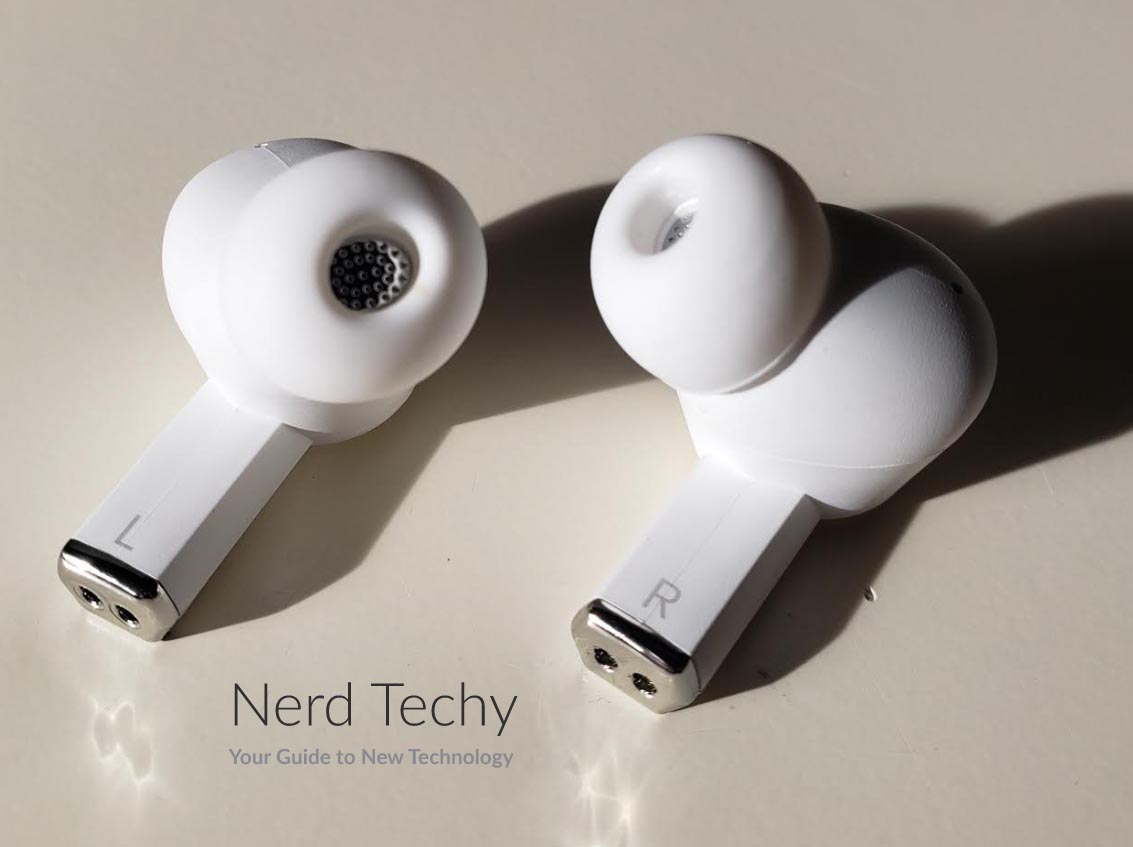 What sets the dyplay ANC pods apart from others is the ANC and Transparency modes. To toggle between the two modes, simply double-tap either earbud. When you do, you'll receive an audible notification that says "ANC off", "ANC mode" or "Transparency mode".
ANC is the ideal feature for those that want to cancel out unwanted background noise to assure a isolated and vivid soundstage. It works by cancelling out low-frequency noise waves around you, making for best possible way to zone-in on your favorite tunes. It's the kind of feature we tend to leave on, although it drains the battery about 10% quicker.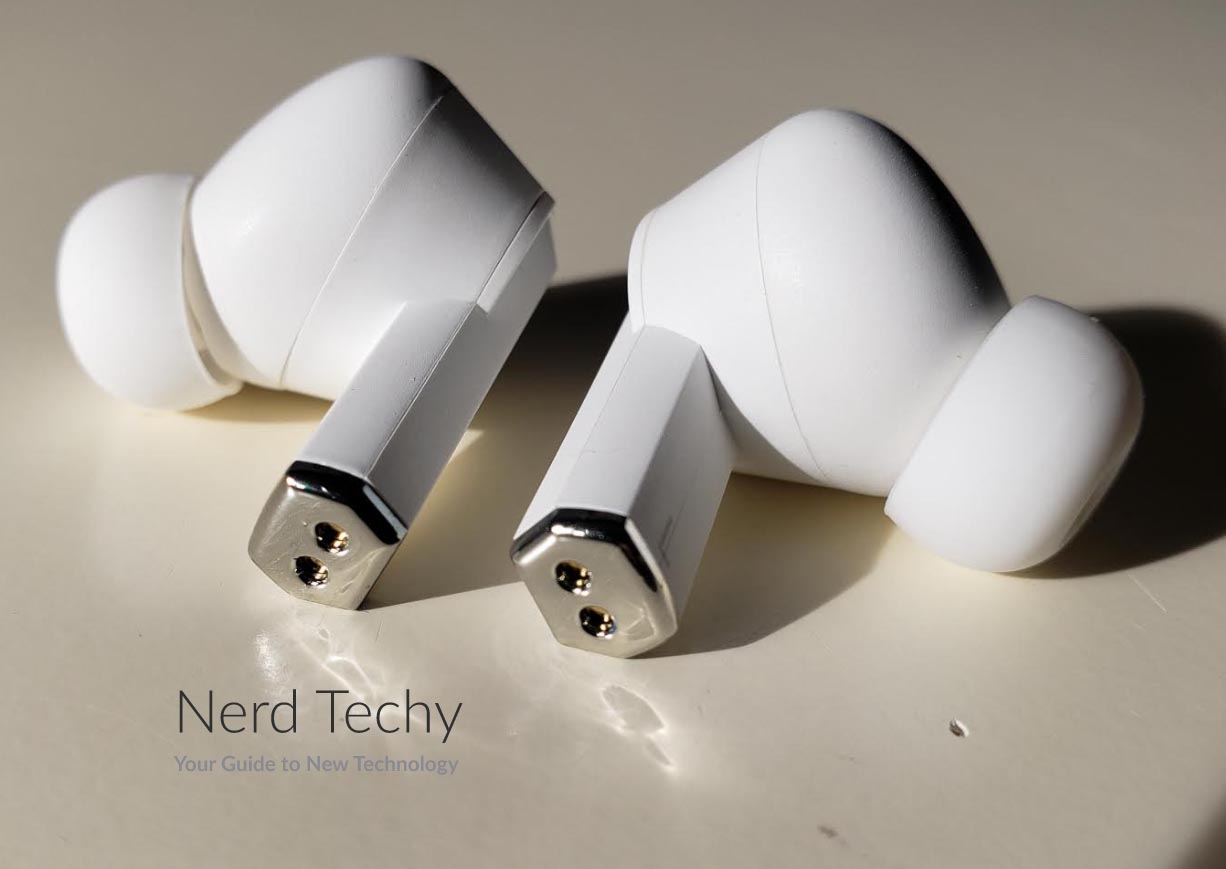 Transparency mode is also known as a "pass through mode" that allows outside sounds to enter. It's ideal for situations where you'll want to be more aware of your surroundings while still playing music with the earbuds. Ideal for public listening or when you're nearby friends or family that you still want to communicate with. Rest assured, this mode has no negative effect on the battery life.
It's nice to see that dyplay included Bluetooth 5.0 to assure that the sound transmission is always as smooth and error-free as possible. It gives each earbud clear communication between each other so there's zero lag. Additionally, this latest version of Bluetooth assures the lowest latency possible, without any delay between the music you're playing and the music you're hearing.
Battery Life
One thing we really love seeing included with the dyplay ANC pods is the charging case. It provides a way for you to store and protect the earbuds while not in use while simultaneously charging up the earbuds' internal batteries. Inside the case is a 320 mAh lithium-ion battery that holds over 20 hours of battery life that can be transferred to the earbuds.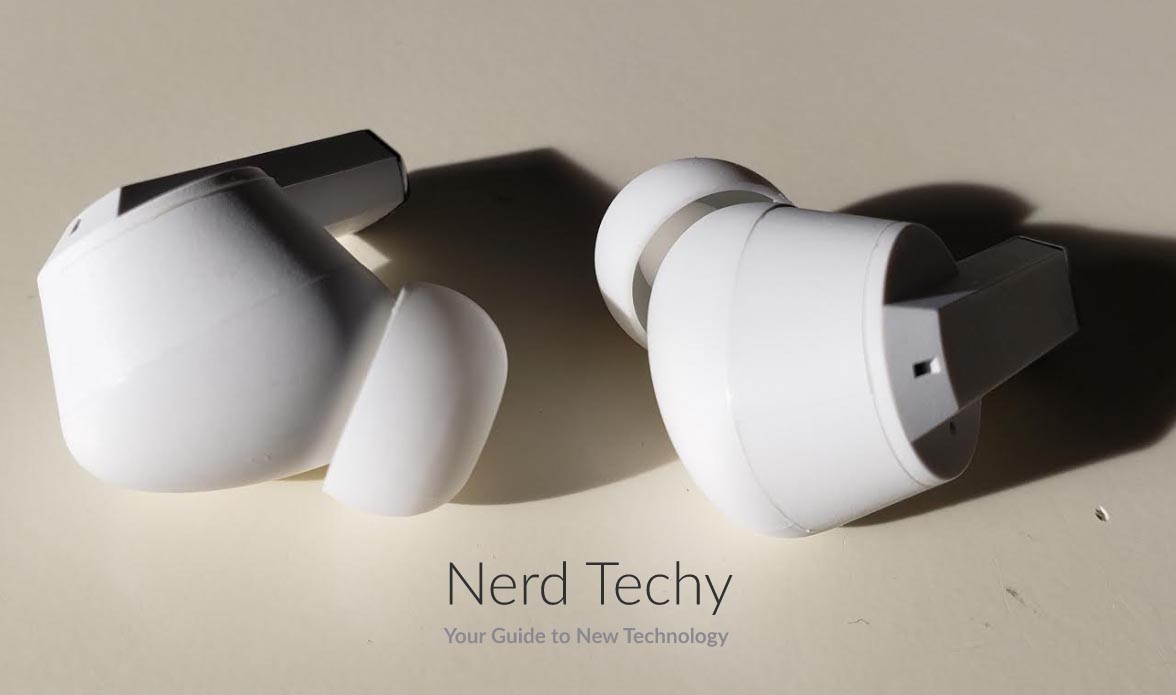 Each earbud is equipped with a small but mighty 40 mAh internal lithium-ion battery that's capable of providing over 4 hours of battery life. We found the battery life to be true to real world and not just an advertising gimmick. In fact, in multiple occasions, we achieved 5.5 hours with ANC turned off, and just over 4.5 hours with ANC off. These estimates vary based on a few factors such as ambient temperature, volume and the amount of bass/response your music has. However, it's good to see battery life estimates that are actually accurate.
Best of all, dyplay equipped the case with USB-C, one of the latest charging technologies for portable electronics. In fact, within just an hour and a half, you can plug-in the USB-C cable to the case and completely top off the case's battery. Additionally, Qi wireless charging is support. Simply place the case on a wireless charging pad and you'll never even need to plug-in the USB-C cable. Sweet!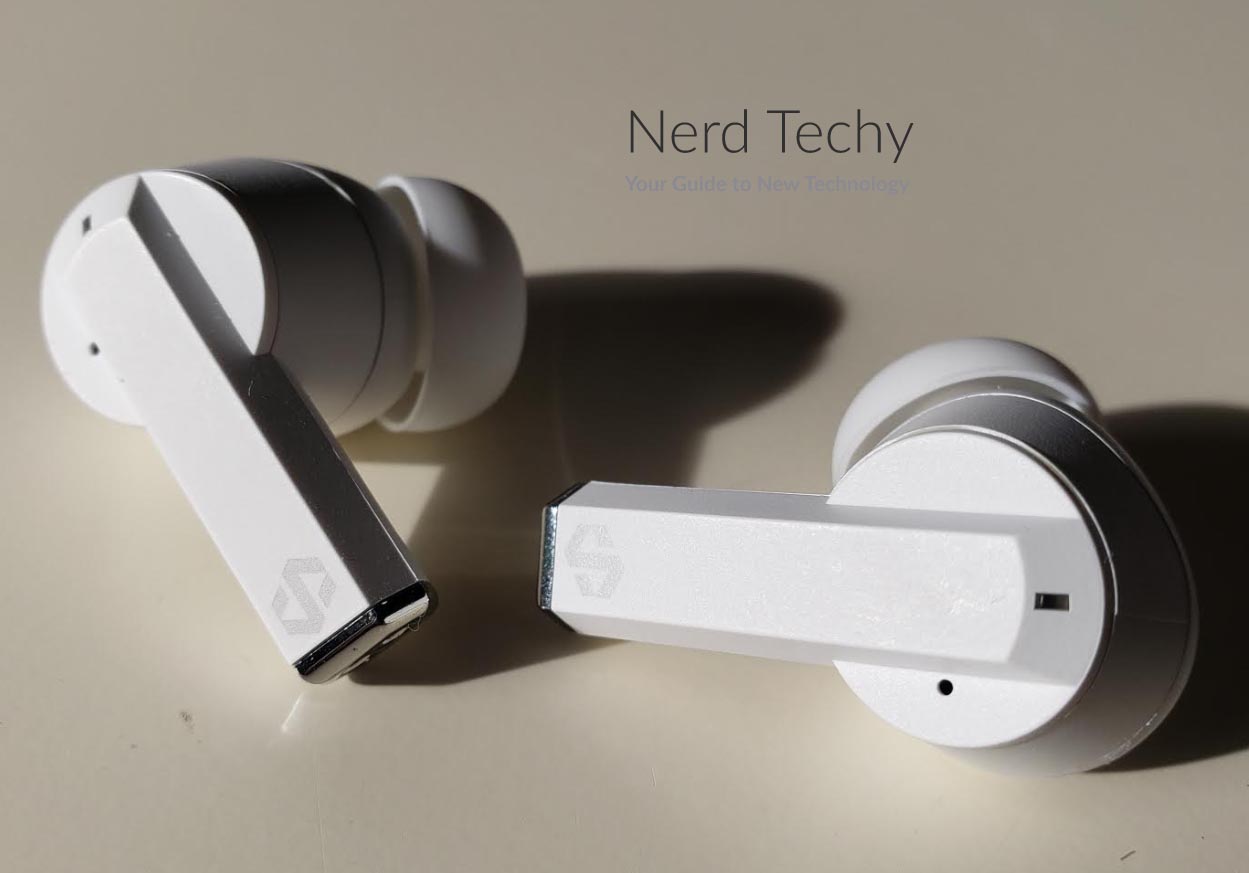 Durability
The dyplay ANC pods are small yet they feel solid and quite durable. Now, we're not saying you should carelessly toss them around, but you can likely rest assured knowing that they're built well. There's no moving parts to break and a minimalist design that we all can appreciate. However, we're a bit disappointed that there's no mention of water-resistance or actual an durability rating. We're always fans of earbuds that are IP rated since you know for sure what they're able to withstand.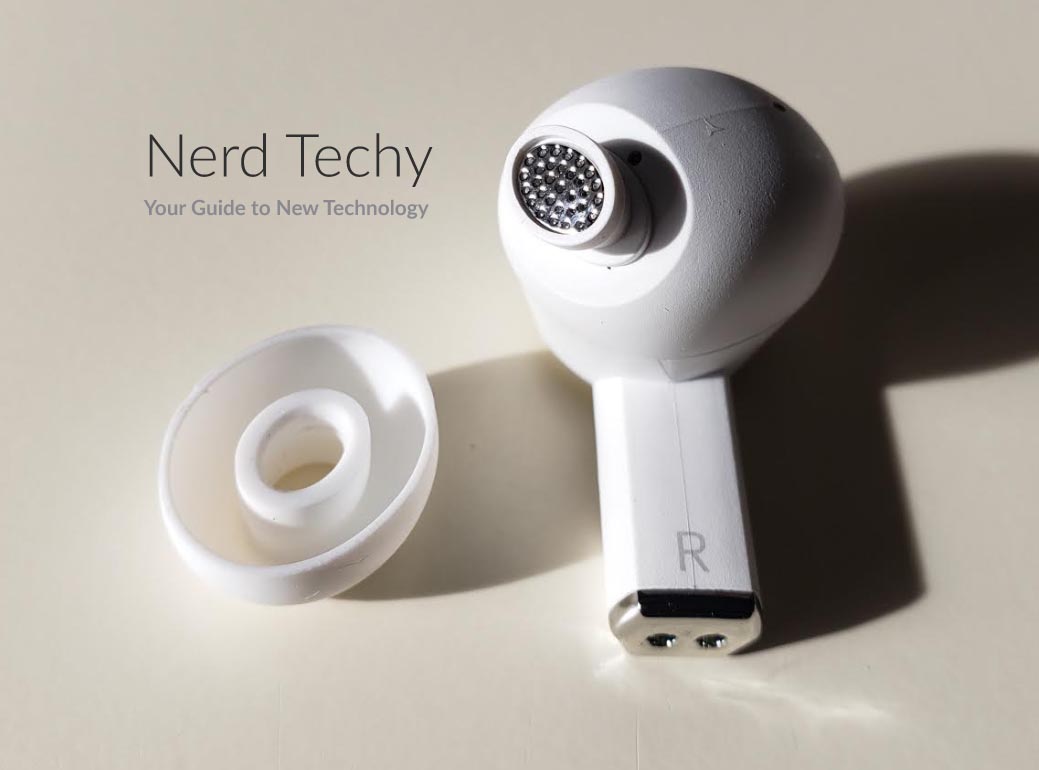 That being said, we're confident that they're at least somewhat water-resistant since on more than one occasion we exposed them to rain and sweat. We went on a jog with them in the rain one day, and wore them through a sweaty gym session the next day. In that time, they never failed or seemed to care. The moisture never actually entered the internals and actually seemed to "bead" off in an effective way. Although it's only been a few weeks since we started using them, we're pretty confident that they're quite water resistant.
Speaking of durability, we want to mention one of the most aesthetically pleasing attrubutes of the ANC pods. Although these aren't available in a variety of color schemes, the matte white finish is beautiful. The lack of glossiness is a good thing; it means zero fingerprints and smudges from oily hands. It's a definite bonus in our opinion – we're never fans of headphones or earbuds that could be credited as "fingerprint magnets".
Final Thoughts
It can be difficult to find a good pair of earbuds – you're probably aware of that. With the dyplay ANC pods you're getting a decent amount of value, especially considering the low price-point that they come in at.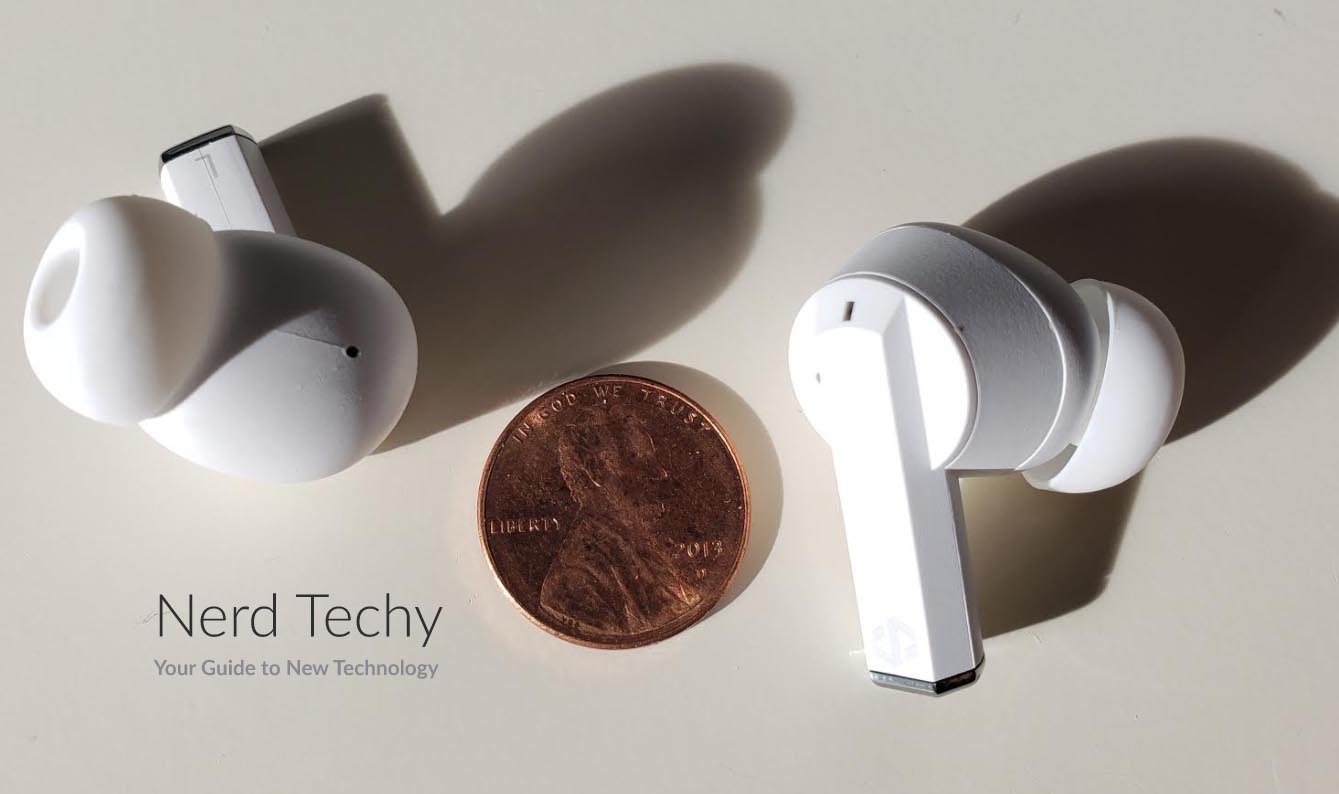 Ultimately, the sound quality is superb. Deep, vivid bass and accompanying mid and high tones that seem to stay true to form. The 10mm drivers really resonate sound and replicate it in the best way possible. Additionally, the ANC feature works incredibly well. We actually never turned it off throughout our lengthy listening sessions since we felt it gave the music a much more memorable experience that made the music come to life. We like to compare the sound capabilities of these earbuds to a set of over-ear headphones – quite impressive actually. Having transparency mode is nice, although we never found much use for it.
The small form-factor and unique style is attractive. The use of fine lines and a matte finish is ideal in our opinion. Not only are the earbuds minimal in size, the case is incredibly compact and easy to stow. On top of that, it's wireless charging capable and integrated with USB-C rather than outdated Micro-USB that we still see some manufacturers include.
Although the durability is somewhat questionable, we found them to be water resistant enough to readily repel light moisture that sweat and rain brings the the table. All in all, you're getting a lot of value for your investment. Coming in at a fraction of the price one would expect to pay for noise cancelling, form-fitting earbuds, we're a big fan of the dyplay ANC pods. All day long we'll recommend them to virtually anyone looking for value.
Please consider sharing:
Note: At no extra cost to you, we may earn a commission for purchases using our links. Learn more.