When it comes to cleaning up the worst messes, a shop vacuum is the best tool for the job. But a shop vac requires power, which means you at least have to be in the vicinity of a power outlet. Depending on where you're working, this could be a problem. If you're cleaning a car, a backyard shed, or an off-grid cabin, an ordinary plug-in vacuum might not work. Long extension cords aren't always practical and, if they're longer than 50 feet, aren't always safe. Portable power stations can work, but then you're lugging along yet another piece of equipment. Far better just to use a portable, battery-powered shop vac.
Now, a portable shop vac might not sound as powerful as one you plug into the wall. And, depending on what you're looking for, you might be right. A battery-powered vacuum isn't going to pull 120 cubic feet per minute like some heavy-duty plug-in vacs. But with modern battery technology, a battery-powered shop vac can keep up with a similarly-sized AC-powered vacuum. So in the one to two gallon range, you can actually get pretty good performance from a portable vacuum.
Today, we're going to review three of the best cordless, battery-powered shop vacuums that money can buy. We'll start out with the Makita XCV11Z. This is a powerful shop vac that works with Makita's 18V LXT battery system. Next, we'll review the DEWALT DCV580H. This is a medium-powered unit that's designed to work with DEWALT's 20-volt batteries. Last, we'll look at the MOOSOO M7. This is a standalone shop vacuum that uses its own internal battery. But which one is the right choice for you? Let's take a closer look at each individual vacuum, and see how well they perform.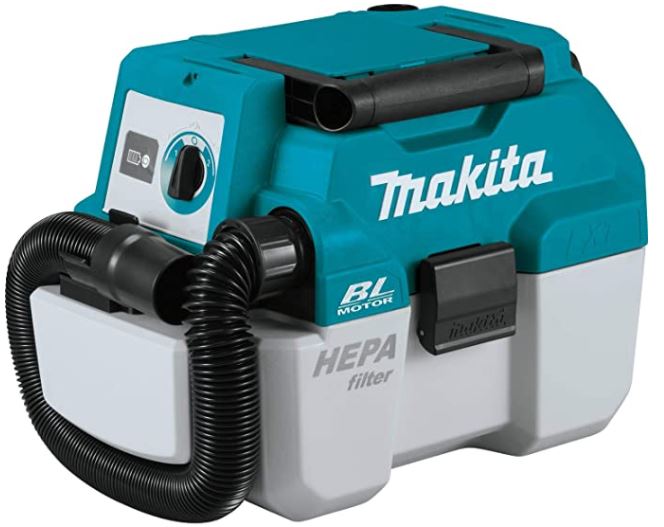 Makita XCV11Z
If you're at all interested in power tools, Makita should already be a familiar brand. The XCV11Z Portable Vacuum is part of their 18-volt LXT line of tools. With its green-blue top and grey bottom half, it has the same aesthetic as Makita's other offerings. It's also sturdily built, with a softer plastic that's designed to give rather than cracking. With the brushless motor, it weighs just a touch over 10 pounds, and has a 2-gallon capacity. Assuming it's full of water, it would weigh 26 pounds. Since this is a bit heavy, there's a sturdy plastic handle built into the lid. There are also a pair of tethering hooks where you can attach a carrying strap.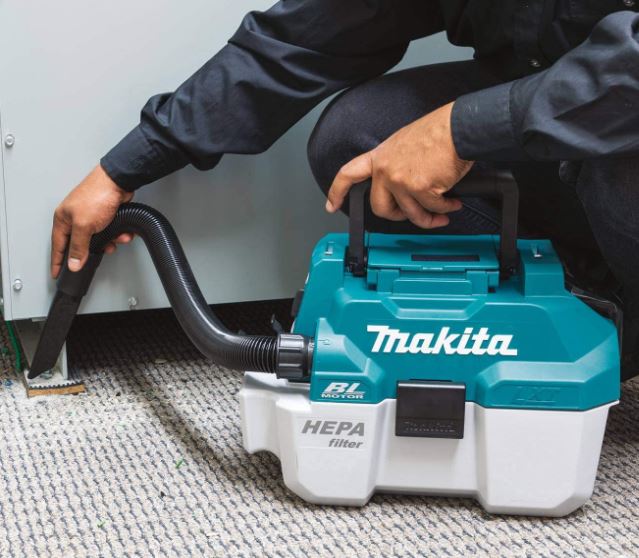 The flexible hose is stored in the side of the vacuum housing, which also has storage for the attachments. These consist of a short plastic extension rod and a simple V-shaped brush-tipped attachment. You'll be taken care of whether your mess is wet or dry.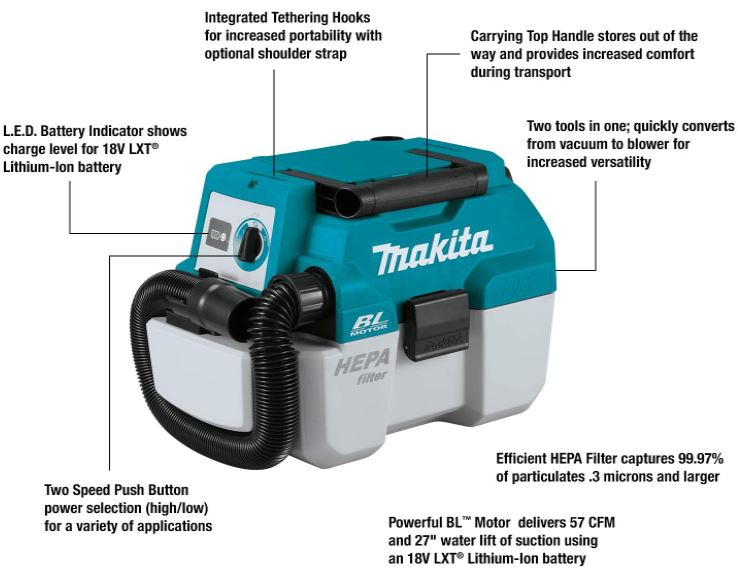 As part of the LXT tool line, the XCV11Z requires a Makita 18V LXT Lithium Ion battery and charger. This is sold separately. That said, if you already use Makita 18V LXT tools, you'll already have a battery and charger. Problem solved! These are high-quality batteries that offer up to 60 minutes of operation. They also sport built-in LED meters so you'll always know how much juice you have.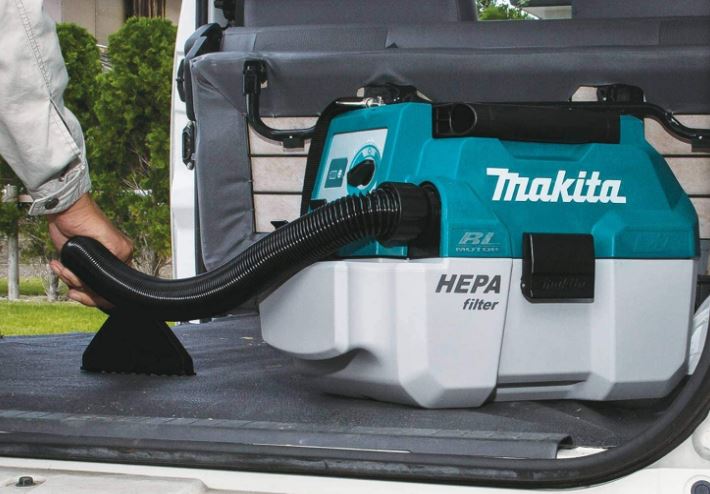 Suction Power and Performance
The Makita XCV11z has two suction settings. On the higher setting, it can pull up to 57 cubic feet per minute of air (CFM). This is roughly equivalent to a traditional plug-in shop vac of the same size. It's enough to provide 27 inches of water lift suction, so you can vacuum out sump pumps, for example. If you need the most powerful possible battery-operated vac, you're looking at it.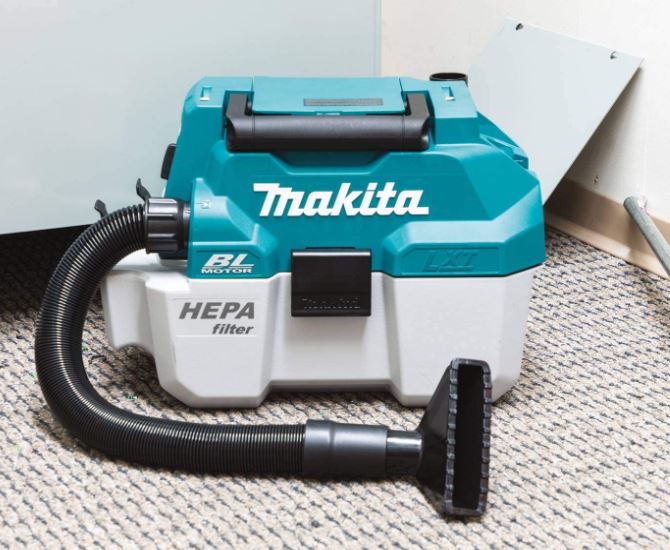 Keep in mind, though, that operating the vacuum at full power is a double-edged sword. It's powerful, but it will also drain your battery in less than 20 minutes. For less demanding messes, it makes more sense to use the lower setting. You can easily collect sawdust and other light debris without using absurd amounts of electricity.
The built-in filter is HEPA grade, which means it removes 99.97 percent of particles as small as 0.3 microns. You can suck up ultra-fine dust without it getting blown right out the back of the vacuum. You also don't have to worry about spreading allergens around. They'll be trapped in the filter and removed from circulation.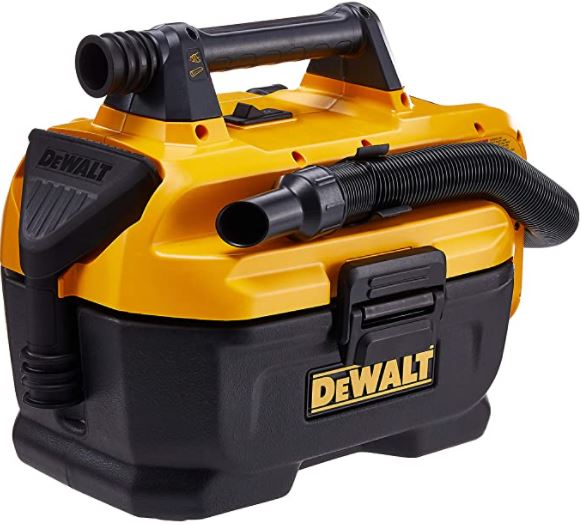 DEWALT DCV580H
Anyone who knows tools knows DEWALT. They make everything from powerful cordless drills to advanced self-leveling cross-line lasers. So when we saw they made a portable shop vacuum, we were eager to get a look.
The DEWALT DCV580H is engineered like any signature DEWALT tool, with a rugged polymer black-and-yellow housing. A handle is molded directly into the lid, which makes it easy to carry. The overall capacity is two gallons, and the empty weight is eight pounds. Filled with water, it weighs about 24 pounds, so it's a good thing you've got that handle.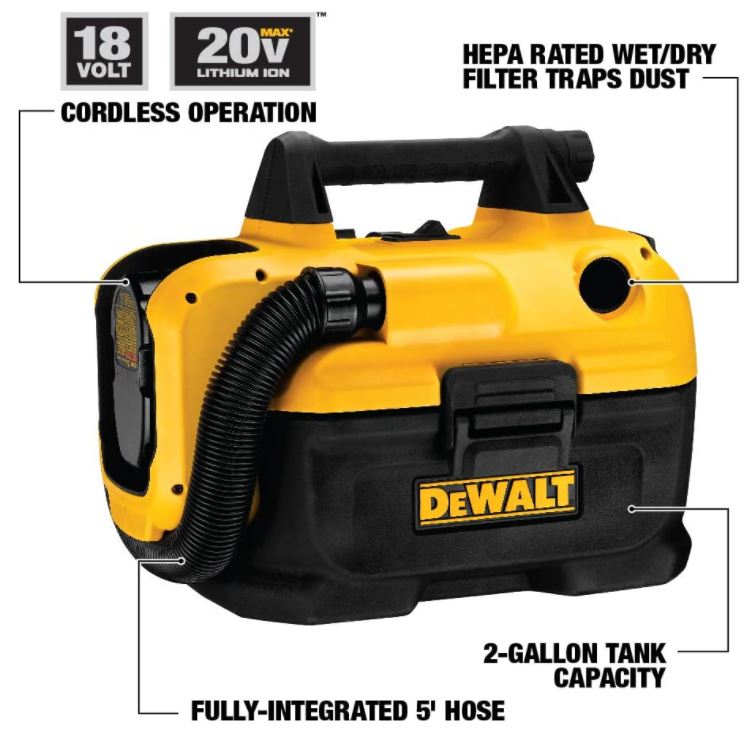 The handle also serves as storage for the vacuum's crevice tool, which slides in from the side. The V-shaped brush attachment and hose are also stored on-board, so you've got everything you need. We particularly appreciated the design of the hose, which is very strong and crush-resistant.
Like the Makita vacuum, the DCV580H is made to work with an existing tool line. In this case, it's compatible with DEWALT's 20V MAX battery, which is sold separately. The basic 2Ah battery lasts for about 20 minutes. However, you can get up to an hour of use if you upgrade to the larger, 5Ah battery.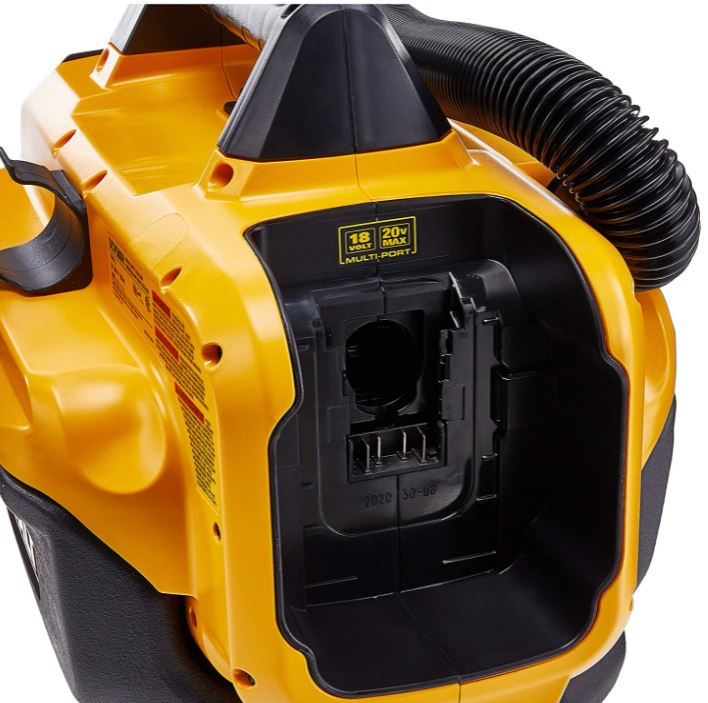 Suction Power and Performance
This battery-powered vacuum has a power rating of 31 CFM. This makes it just over half as powerful as the Makita vacuum. We should also point out that it's a bit cheaper, so you can save money with the DEWALT. However, the net result is a shop vac that's only slightly more powerful than your average household vacuum. Whether or not this is a serious problem depends on what kinds of messes you're trying to clean up.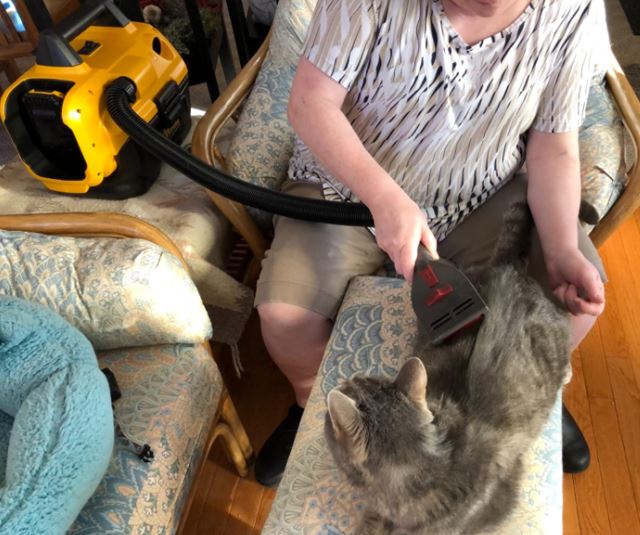 There is one major drawback we should point out about the DCV580H. The blower hole and the vacuum hole are both located on the same side of the vacuum. This means that if you need to fully extend the hose, the blower will be pointed at your mess! Honestly, this is a silly design decision, and we're surprised a company like DEWALT went this route.
Like the Makita vacuum, the DEWALT ships with a wet/dry HEPA filter. You don't have to worry about spreading dust or allergens around while you're cleaning. This filter is also easily washable by running water through it in reverse. Let it air dry, and it can be reused several times before needing a replacement.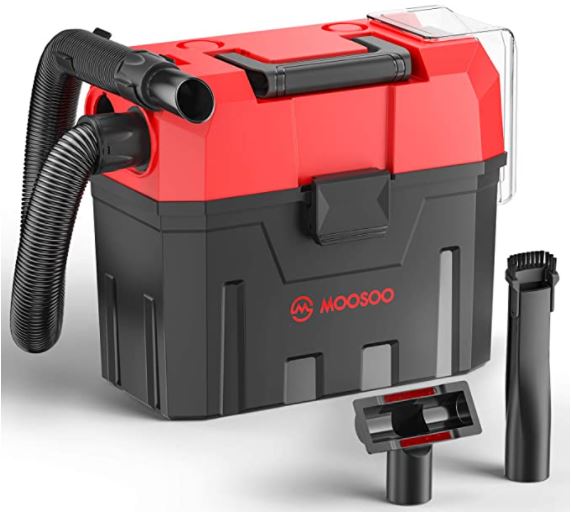 MOOSOO M7
MOOSOO is another brand we've reviewed in the past. While not known for power tools, they're instead famous for producing quality vacuum cleaners. We've reviewed their R3 Robot Vacuum, so it made sense to see how their shop vac performs.
The MOOSOO M7 is a compact, two-gallon shop vacuum with a two-tone red and black design. The top has a folding black handle similar to the Makita's, which makes it easy to carry. And at only six pounds – 22 pounds full of water – it's the lightest of today's three offerings. It also has the most attachments. In addition to the small brush tool, it also comes with a crevice tool with a brushed tip. This makes it easy to clean both large and small areas, without damaging whatever your tip is touching.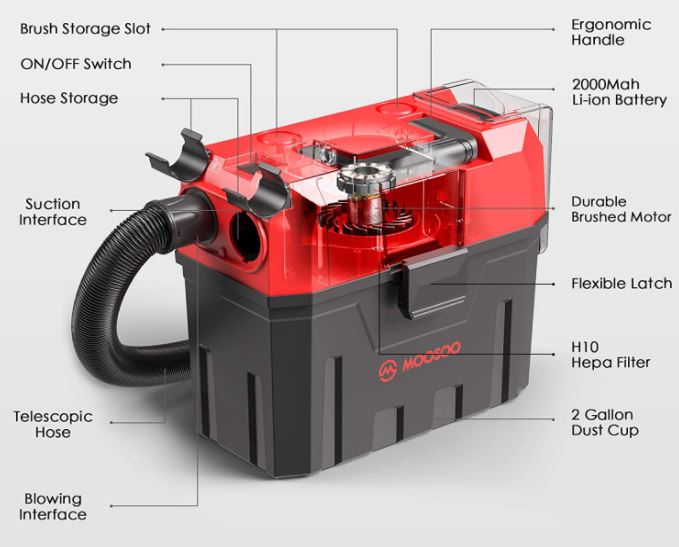 The M7's most attractive feature is its 2,000mAh internal battery. It lasts for about 35 minutes on low power, which isn't bad, but isn't terribly impressive either. That said, because it's an internal battery, you don't have to go buy batteries and a charger. Everything is already included in the kit. As a result, the M7 is the most affordable of our three shop vacs. There's also a visible battery meter, so you always know how much juice is left.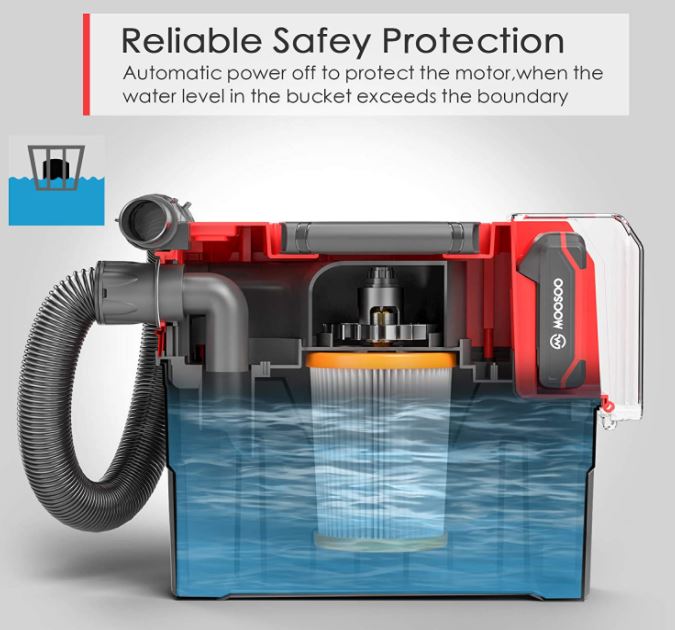 Suction Power and Performance
As a manufacturer of mostly residential vacuums, MOOSOO provides their power rating in kilopascals (kPa). At 17kPa, the M7 is more powerful than your average upright or canister vacuum, but not by much. We're not sure what the power is in CFM, but from some basic testing it seems similar to the DEWALT. This makes it weaker than your average shop vacuum, but still capable of cleaning up most messes. It also runs quiet, producing only 70dB of sound at maximum power.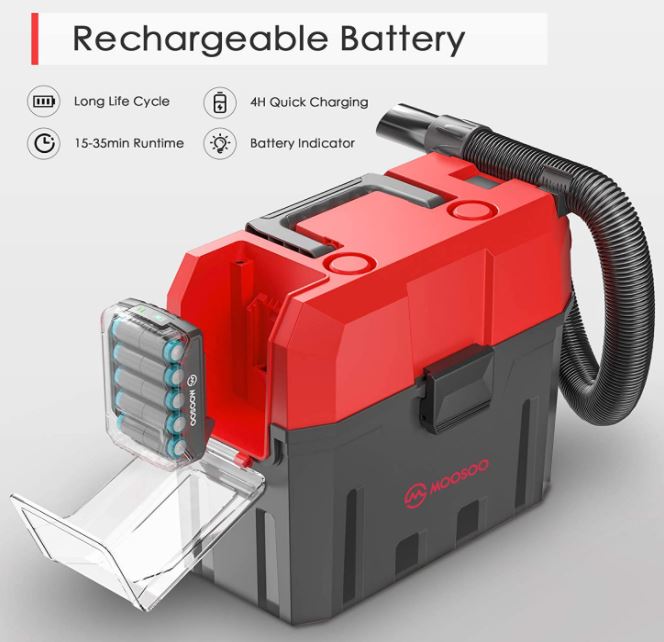 The MOOSOO M7 comes with an H10 HEPA filter, which removes almost all particles from your air. It's suitable for wet or dry use, and can be washed when it gets clogged. When it comes to filtration, the M7 is on par with any professional shop vac on today's market.
Final Verdict
As you can see, there are two primary differences between these shop vacs: the battery and the suction power. The Makita XCV11Z is the most powerful option by far, with 57 CFM of suction. This makes it an obvious choice if you're willing to pay more to get the most power possible. It's also an obvious choice if you already own other Makita 18V LXT tools and batteries. That said, it's a bit pricey, and the cost goes up if you don't already own the battery and charger.
The DEWALT DCV580H is a bit more affordable, but the batteries put you in a similar situation. If you already use DEWALT 20V MAX tools, you'll already have the ones you need. If not, you'll need to buy batteries and a charger. This shop vac is also a bit weaker. It can still handle household messes, sawdust, and other light debris. But it isn't the ultra-powerful workhorse that the Makita is.
The MOOSOO M7 is tough to rank exactly in terms of power. The rating is given in kPa instead of CFM, but we'd say it's roughly equivalent to the DEWALT. However, the battery is already built into the housing, so you don't have to pay extra for one. If you don't already use Makita or DEWALT tools, this is going to be your most affordable option.