BenQ Trevolo 2
Pros
Excellent clarity and balance.
Near-zero latency.
Bluetooth, USB, and 3.5mm aux connectivity.
Attractive design.
Optional wooden speaker stand.
Cons
Not very loud.
Charges via Micro-USB, not USB Type-C.
No carrying case or storage pouch included.
A Bluetooth speaker has a number of benefits over a traditional wired speaker. First and foremost, a small Bluetooth speaker is easily portable. A wired speaker can be a pain to move around, if only because you've got to mess around with cables. The same goes for switching between devices. On a wired speaker, you'd have to switch the cords over. Either that, or wire everything into a control station or similar device. Point being, for anything other than continuous use with one input, wired speakers are inconvenient.
But Bluetooth speakers are also surprisingly versatile. Take, for instance, the BenQ Trevolo 2, which we're about to review. This is an electrostatic speaker, a unique design that eschews traditional drivers. Instead, it utilizes a thin, polarized membrane that's suspended in an electrostatic field. As the field changes, the membrane vibrates, moving air and producing sound. BenQ has produced a handful of successes over the years, with audio equipment as well as projectors. Now, let's find out how these new electrostatic speakers perform.
What's an Electrostatic Speaker?
Because of their design, electrostatic speakers have different benefits and drawbacks than ordinary speakers. Let's take a look at a few of these, so we can better understand what we're looking at.
To begin with, electrostatic speakers are thin and flat. In many ways, they're similar to flat screen TVs as opposed to an old-school CRT. You're getting a slimmer form factor, so you can use the same speaker in more places.
This comes at the same time as objectively better audio quality. Because they have fewer mechanical parts, electrostatic speakers are less prone to distortion or rattling. This allows for much more accurate sound reproduction, especially for genres such as classical music. You just won't get that kind of clarity from a traditional speaker, even a premium brand like Bose.
That said, this design is not without its downsides. The electric field is very wide, and the gap between the membrane and the housing is small. This makes electrostatic speakers a bit finicky in high humidity. Along the same lines, the spacing does not allow for a ton of movement. The result is that these speakers will often struggle to produce loud bass. The most common solution to this problem is to pair electrostatic speakers with a traditional subwoofer. That way, you get the best of both worlds.
One thing that's harder to compensate for is the loss in volume. Again, because of the spacing, it's tough for electrostatic speakers to produce loud volumes. For this reason, they're better for quiet solo listening than they are for parties or outdoor use. Last but not least, the static electric field can tend to attract dust and bugs. You'll need to dust your speakers off more than you would with a traditional model.
As a side note, the Trevolo 2 is the upgraded version of the original Trevolo S electrostatic speaker. The main upgrade is in the bass performance and overall volume. The original speaker was also only available in copper, while the Trevolo 2 comes with white or black options.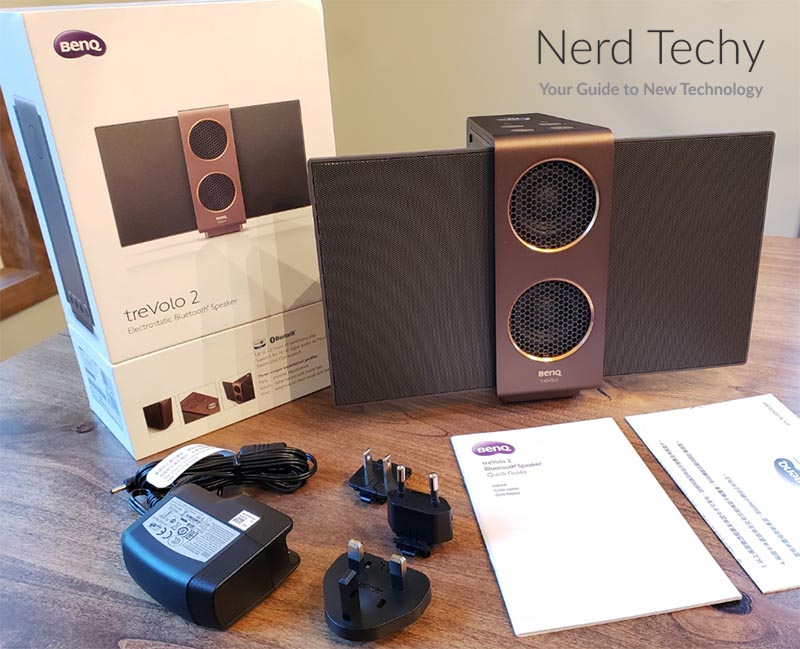 Design & Construction
Besides having a fun, rhyming name, the BenQ Trevolo 2 is also attractive. You can order it in white or black, but we chose the copper version with its classic finish. Of course, the "copper" is just molded plastic, but it's attractive to look at, and it's reasonably sturdy. This isn't to say it's built like a brick, but it's not going to crack just because you knocked it over.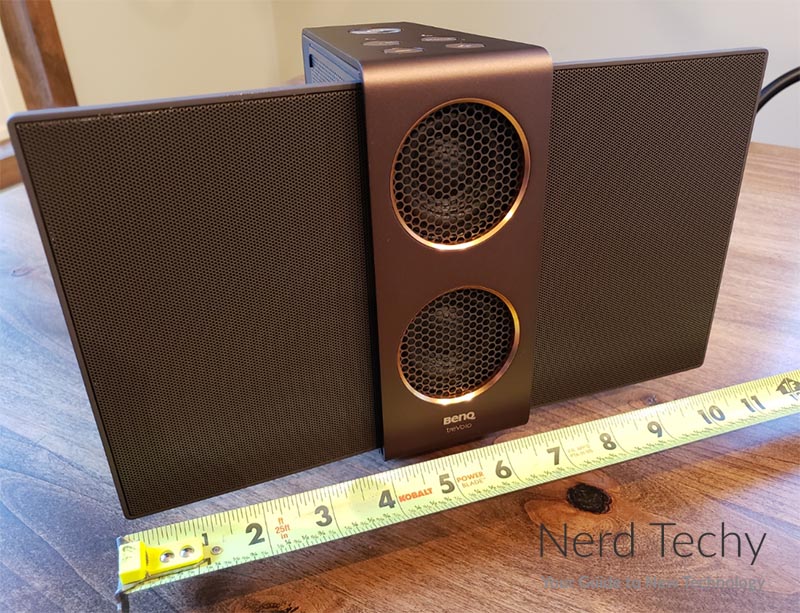 The overall size of the housing is 3.1 inches in width, 6.9 inches in depth, and 5.3 inches in height. The front sports a pair of subwoofers, stacked one above the other. The rest of the sound comes from a pair of electrostatic panels, located on either side. The dimensions we just gave are the "official" dimensions, with the panels folded flat. However, they're designed to swing forward, car door-style, to face forward. In this configuration, they add about six inches to the width of the speaker on either side.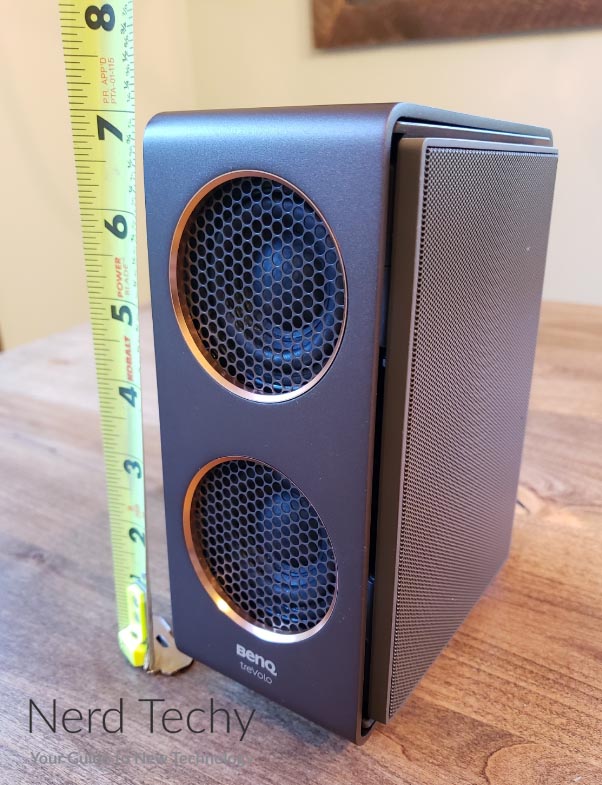 As you can see, the Trevolo 2 is nice and portable, but there's always a more compact option. If you want an even smaller speaker, consider the Tribit StormBox Micro. It's barely larger than your smartphone, but only has about six to seven hours of battery life.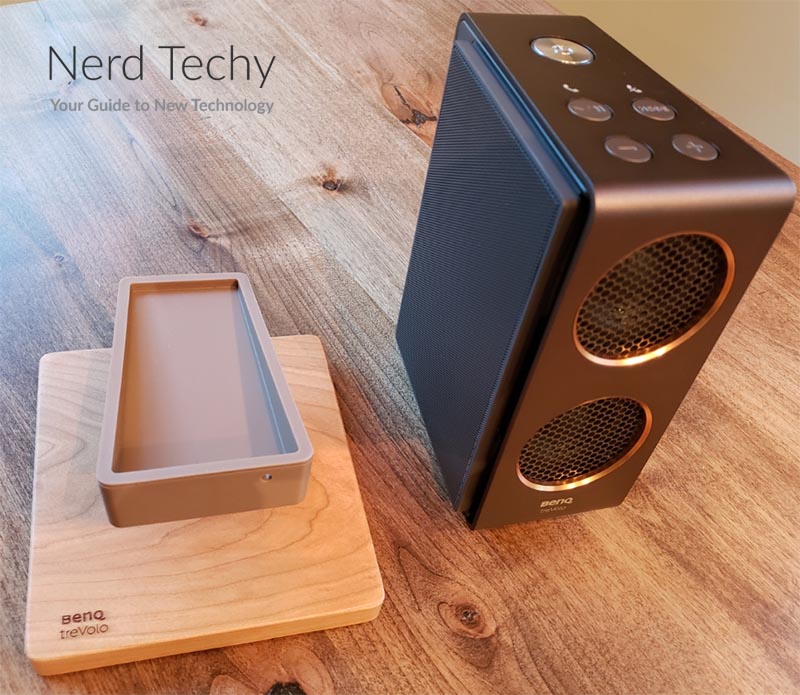 The Trevolo 2's controls are located in the top of the housing, with a big silver power button towards the back. The other four buttons are in front of the power button, and are the same color as the housing. They're clearly marked, and should be easy enough to understand. The top left button plays and pauses your music, while the top right switches between speaker modes. We'll talk about those more in a second. The bottom left and bottom right buttons adjust the volume down and up respectively. That's about it. Everything else can be done from your smartphone or other audio source.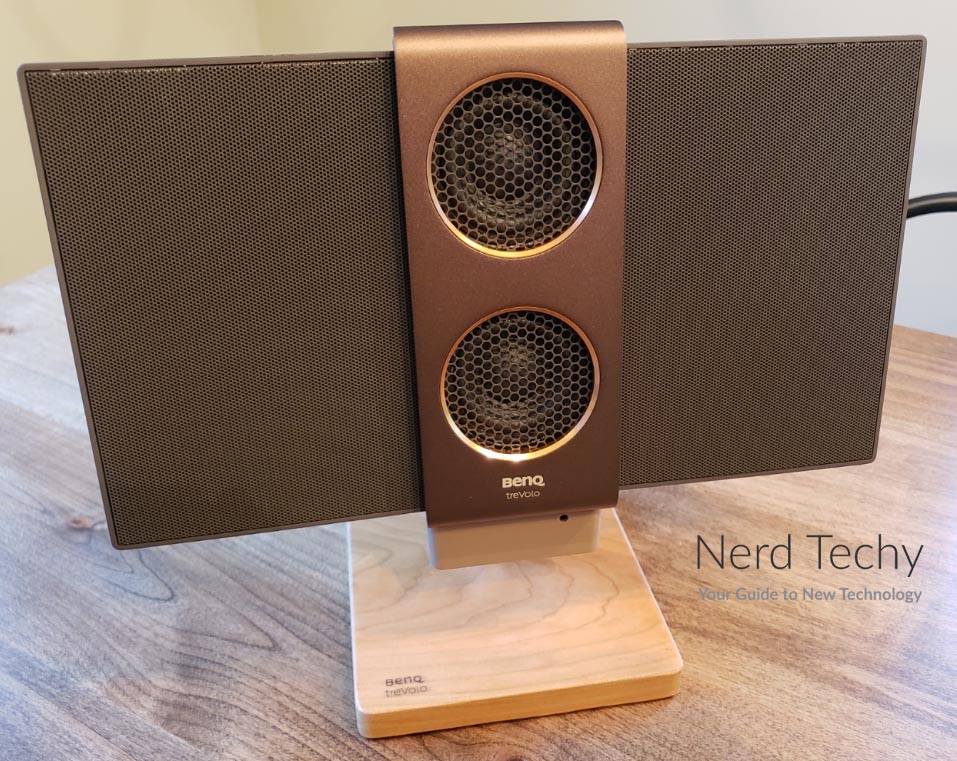 One last thing we should note about the design is that the wooden stand from the advertising is not included. That's a separate BenQ product that they put in some of their marketing images. That said, the speaker housing does have little rubber feet on the bottom. These do a good job of eliminating vibration and keeping your speaker from sliding around.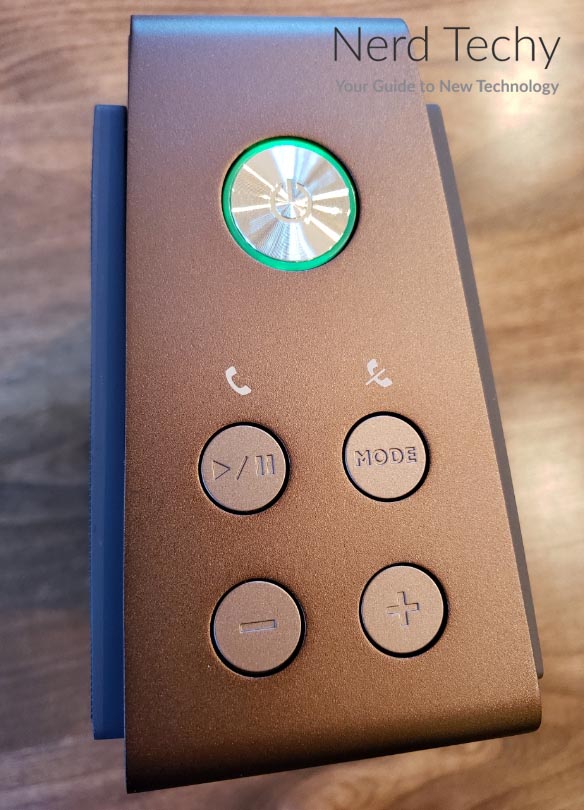 Battery Life & Connectivity
The Trevolo 2's internal battery has enough of a charge to provide 12 hours of playing time. As with the battery ratings for wireless earbuds, this should come with a huge asterisk at the end. Manufacturer ratings are based on medium-volume playback, not on playback at full volume. At higher volumes, your battery will drain faster, and you can expect more in the neighborhood of 9-10 hours. That's still reasonably long for a Bluetooth speaker, albeit not terribly impressive either. Charging takes a little over three hours via Micro-USB. We would have liked to see faster USB Type-C charging here. That said, the Micro-USB connection still provides enough power to use your speaker while it's charging.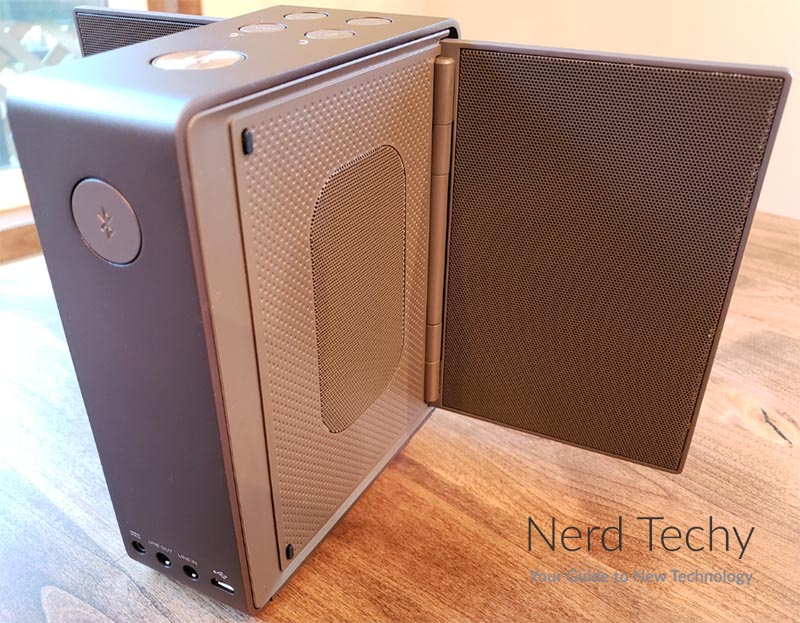 The Bluetooth connection is Bluetooth 5.0, the latest variant of the protocol. It allows for higher bitrates, lower latency, and an all-around more stable signal than older Bluetooth versions. In addition to that, the Trevolo 2 utilizes the aptX protocol. This is an ultra low-latency protocol designed to further reduce the lag between your device and the speakers. On the one hand, this is a nice feature to have for gaming and movies, since the audio syncs up better. On the other hand, these speakers are mostly designed for music, so the feature seems like an odd choice.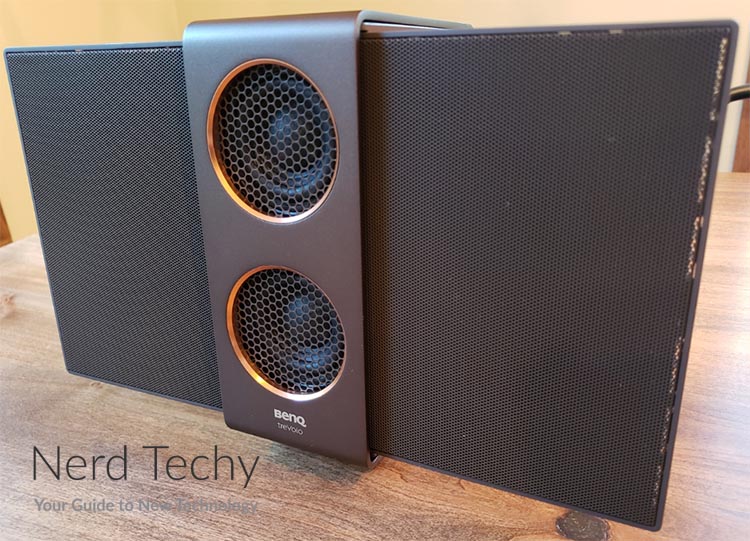 One very useful feature is the ability to switch between stereo mode and party mode. In stereo mode, you can use two speakers together. One will take the role of the right channel, and the other will take the role of the left. In party mode, each speaker acts as its own self-contained stereo music. However, you can still pair multiple speakers simultaneously, to fill an entire room with sound.
If you prefer a wired connection, you can also do that. Via USB, you can connect thumb drives, external hard drives, or even a home media PC. Via the 3.5mm aux channel, you can run a wired connection for semi-permanent installation. You can even daisy chain more than one speaker to use party mode without any Bluetooth.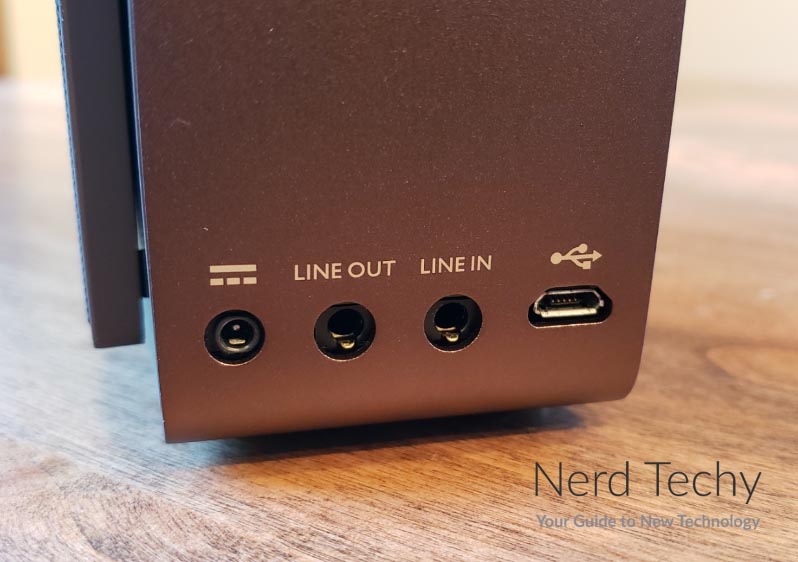 Audio Quality
We've already discussed how electrostatic speakers work, as well as their costs and benefits. As a result, you probably already know what to expect. The sound quality is excellent, with virtually zero vibration or distortion. You can hear very fine details in classical music, providing a "live" texture even very expensive traditional speakers can't match. With panels on both sides of the unit, you get stereo sound even with a single speaker. And with traditional subwoofers, there's no fall-off on the low end like you'll hear with many electrostatic speakers.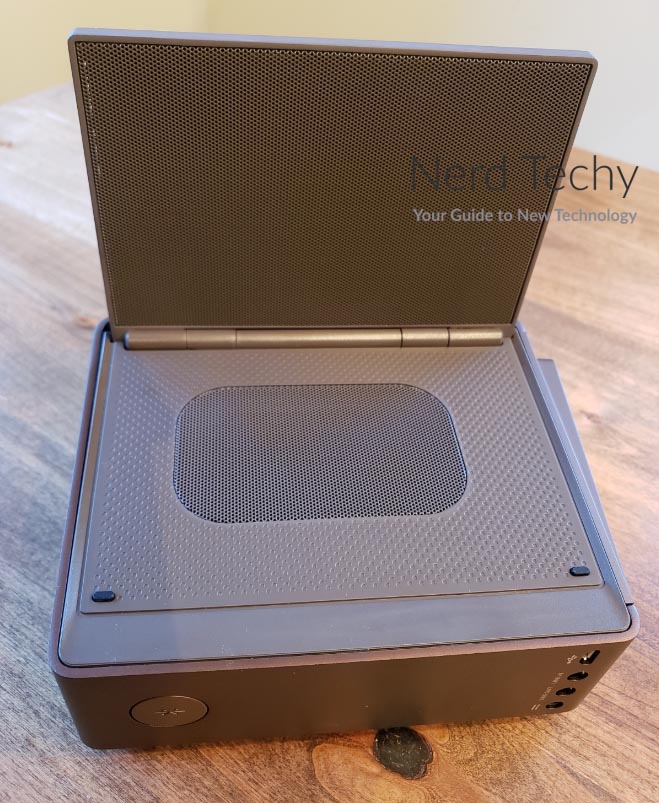 The sense of space is excellent, as is the EQ. You can hear each individual instrument in its own space, without a lot of crossover. For less complex audio like spoken word podcasts and audiobooks, the effect is less noticeable. Still, if you're listening to a high bitrate file, you'll notice more texture in the speaker's voice.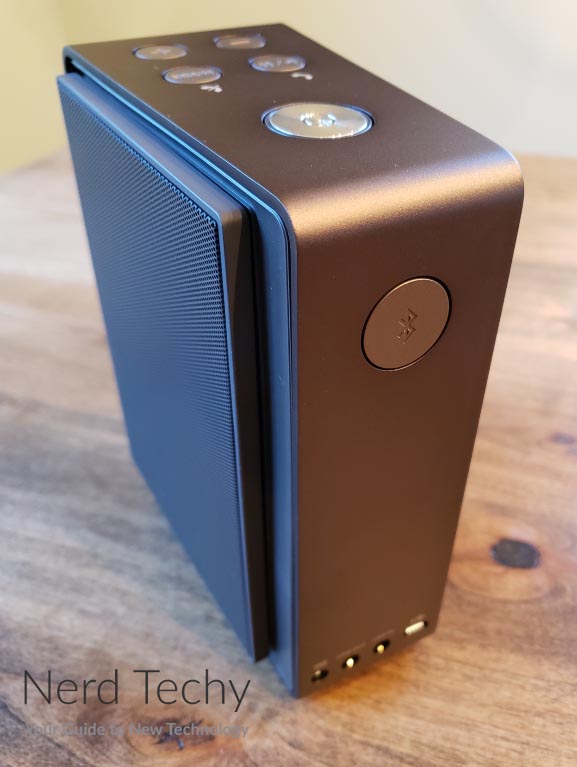 That said, there are still inherent limitations to electrostatic technology. Yes, we're talking about the volume. As great as the audio sounds, it will barely fill a small bedroom, and even then, only at top volume. These speakers are ill-suited for parties, or even for watching movies with chatty family members. This isn't to say they're so low that you'll have trouble hearing them in a quiet environment. They're simply best suited for listening to music by yourself, or watching a movie with one or two people.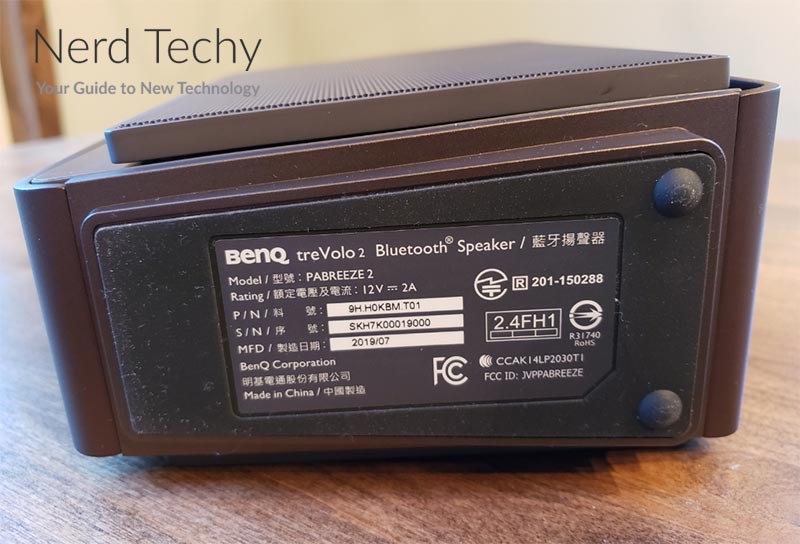 Final Verdict
Electrostatic speakers are one of those technological innovations that's still on the bleeding edge. Much like with early flat screen TVs, you can get fantastic quality, but not without some major drawbacks. We've already beaten this halfway to death, but you just can't get enough volume for a lot of applications. If you need more than a modest amount of sound, you're going to need some chunkier speakers.
That said, BenQ is producing one of the only Bluetooth electrostatic speakers on the market. Most electrostatic speakers are still of the larger, wired variety, which makes them ill-suited for many applications. So it's nice to see them stepping up to the plate and producing a compact Bluetooth speaker that sounds amazing. The low latency is another much-appreciated feature. We doubt many people will use the Trevolo 2 for gaming, but it's perfectly suitable for watching movies.
Finally, let's not overlook the physical design. Most Bluetooth speakers are built to look either like tactical-grade military gear or colorful toys. The BenQ Trevolo 2, on the other hand, won't be out of place even in the most formal of settings. If you prefer electronics with a more upscale aesthetic, you'll be very pleased.