Instant print cameras can be very cool, but they can also be more hassle than they're worth. It really depends on a number of different things. The kind of shots you're trying to take, how you want to share those shots, how you'd like to edit them, and so forth. With the wrong camera, you may as well stick to using a smartphone.
Because unless a digital print camera can deliver on a full set of photo features in one place, you would probably be better off working with something like a smartphone and a separate printer. But with the right instant print camera, you can actually end up outperforming a separate combination of devices like that. Whether or not you really need advanced editing features is another question entirely.
KODAK Smile Instant Print Digital Camera
The Kodak Smile Instant Print is not the first instant print Kodak camera, and it won't be the last. This camera appears to draw from a long legacy of similar devices from Kodak. And to great effect. But it might actually be difficult to understand this camera immediately, especially if you have some preconceptions about what makes a good digital camera.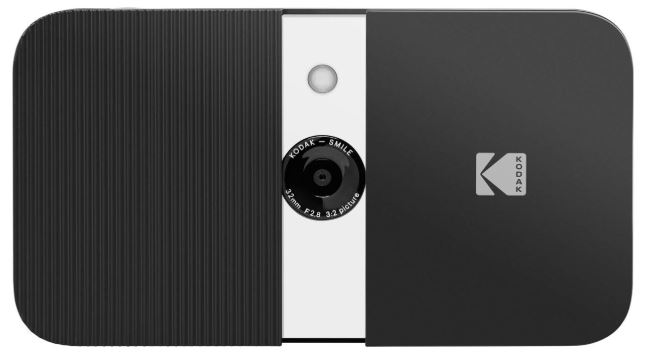 For instance, these days many people have enormously powerful 20-megapixel sensors packed into their smartphones. As a camera, the Smile Instant Print Camera only delivers 10-megapixels. But that's not something that actually ends up undercutting its performance in any palatable way, for a number of different reasons.
Though again, there are a number of places where this hardware falls short when compared to an ordinary compact camera. But that's sort of to be expected, it's what you get in exchange for the ability to print your shots, essentially. However, the Kodak Smile does reasonably well under most circumstances. If you approach it with the right expectations, it can be an impressive little machine. But with the wrong expectations, it's easy to see how this camera might disappoint someone.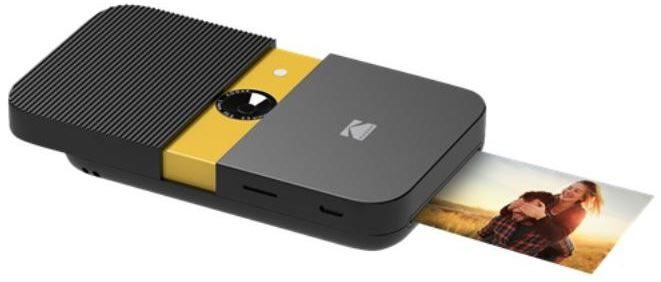 Design & Configuration
From an aesthetic perspective, it's easy to like this camera. The Smile Instant Print Digital Camera has a highly stylish and unique exterior, with one side of the device being covered with a linear grated surface, and the other covered in a smooth and flat surface. The flat surface is highlighted only by the Kodak logo, while the smooth surface is positioned to help you get a firm grip against the base of the camera.
In addition to the generally cool design, this camera is available in three color types: blue, black/white, and white/yellow. All of them essentially look the same, but Kodak did use some interesting high contrast colors that really help these cameras stand out.
The chassis measures 4.8 x 3.1 x 0.9 inches, making actually a bit smaller than the average smartphone, but still in line with the size of most similar compact cameras. Though it's actually slightly heavier than a smartphone, and heavier than similar compact cameras, once you've got a bunch of paper loaded inside of it. Nevertheless, none of this gets in the way of the device maintaining a fairly portable nature. It's quite easy to shove into your pocket, purse, or bag.
Additionally, the design does a number of different things to aid in the overall portability of the camera. For starters, the outside of the case was constructed with a durable poly resin casing. It's reasonably impact-resistant. And that casing can glide open to reveal the lens siting inside, or be shut to help protect the lens during transportation.
It's easy to miss, but there's also a small spacing for a built-in strap on the back corner of the camera. That allows you to attach a lanyard to maintain the camera around your wrist, or hang it up in some manner. Very handy for ensuring you don't drop the camera.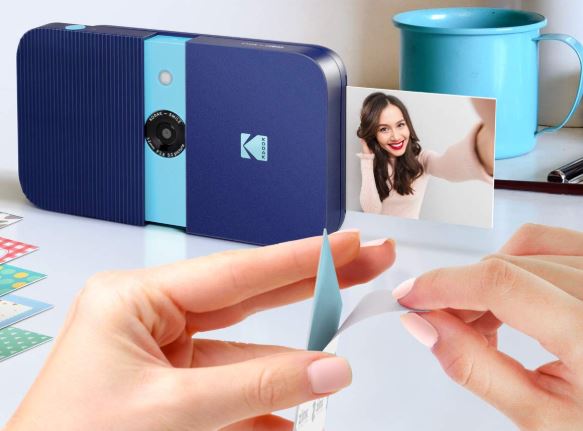 Print Paper
Like most similar cameras, the Smile Instant Print Digital Camera makes use of zero ink technology. That basically means your prints come out on HD quality photo paper, which measures 2" x 3". For those who are not familiar with it, this zero ink paper is quite resilient. It holds up well to water, sunlight, smudging, and so forth. Moreover, it's actually sticky-backed photo paper. You have the option of peeling away the backside of each picture to then stick the photo in place.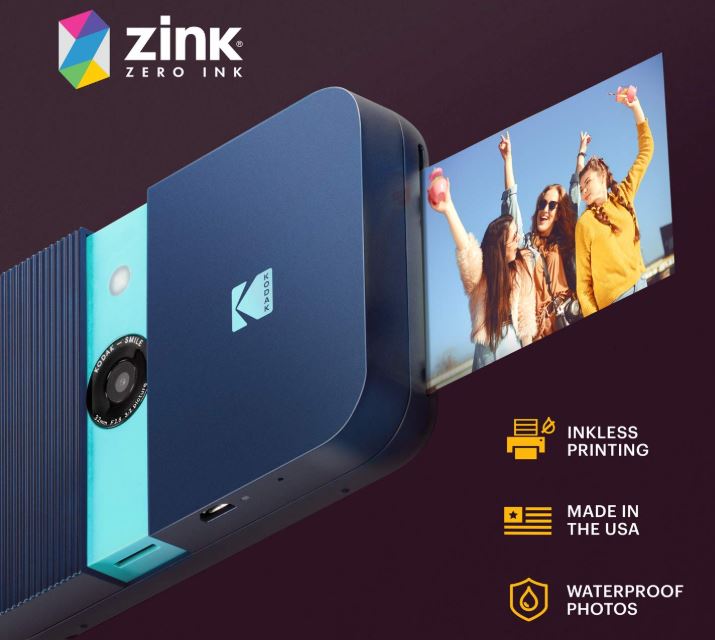 If you've never worked with it before, suffice to say, ZINK paper looks pretty good. Shots comes out glossy and bright. However, there's one downside. The fact you're dependent on one type of paper really means you're locked inside one product ecosystem. And though the cost of this photo paper isn't terribly expensive, it does add up over time.
Camera Hardware
Putting aside concerns of style, inside the chassis you'll find some fairly competent camera equipment. As you're probably aware, Kodak isn't exactly a stranger to making cameras. Here they've used a compact 8mm lens that's capable of quite a bit. Mostly because it's so well supported by Kodak's software features.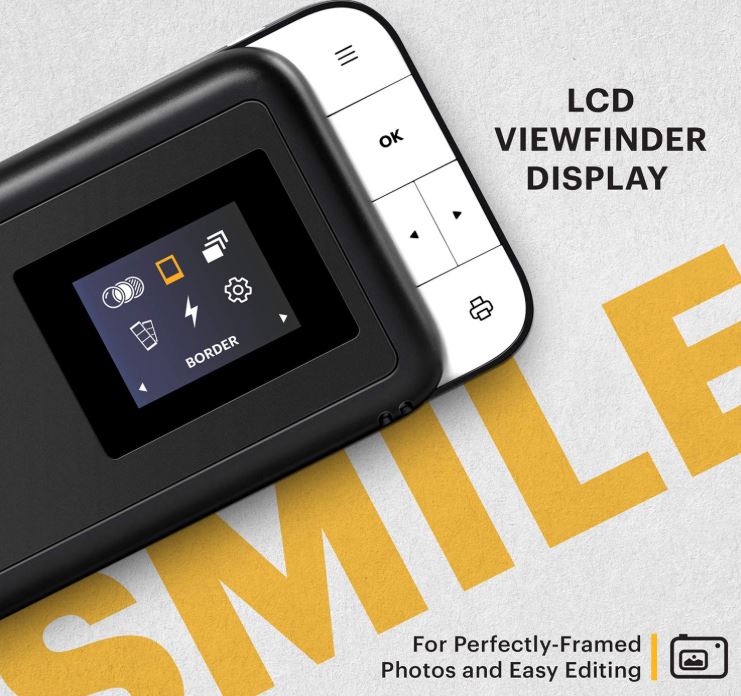 For instance, the lens provides the ability to use automatic focus. And this lens does fantastic in a variety of different lighting conditions, requiring very little micromanagement for you to really get the kind of shots you want to get. If you do enter very poor lighting conditions, or very intense lighting conditions, there are a couple of things you can do to help even things out. But we'll get into that a bit later.
Now admittedly, having a 10-megapixel sensor don't sound like you're working with cutting edge photo equipment. But you have to remember that these shots are supposed to get printed on relatively small 2" x 3" photo sheets. That means a 10mp resolution is basically going to look indistinguishable from a 50mp resolution printed in the same space. So the hardware inside the Smile Instant Print Camera is actually pretty appropriate for the kind of tasks it's supposed to help you achieve.
Of course, it's not all hardware that helps you get good shots. Here you'll find Kodak remembered to include an automatic flash feature. They also provide you with an LCD viewfinder that you can use to help frame your shots properly before you've taken them. Being able to check your shots before printing them is great, too. If nothing else, you'll save a bit of printing paper in the long run.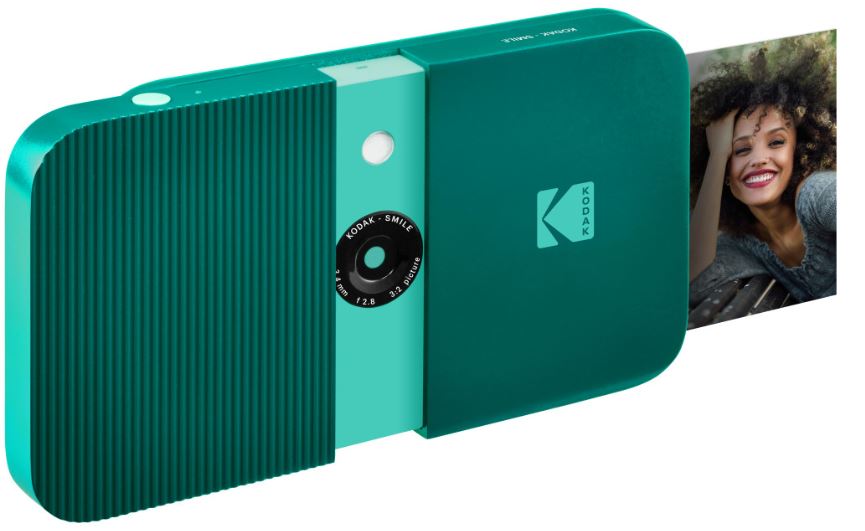 Additional Features
Like most similar digital-based instant print cameras, this device makes it easy to capture, edit, and share your photos from wherever you happen to be. If you're familiar with similar devices, then the editing features are nothing that will surprise you. It's possible to try and reduce redeye, frame shots a little differently, apply some color filters to shots, and so forth.
There are actually two separate picture modes, mostly allowing you to adjust the camera to different light settings. Compared to a regular compact digital camera, without all the printing features, having only two modes is actually a little bit limiting. But most amateur photographers aren't really going to need a dozen different settings, anyway. Having two modes keeps things simple, yet highly functional as you move from one environment to the next.
As far as more advanced features are concerned, you'll notice there's a fixed focus mode. That makes it just a little bit easier to take a number of different shots where you're having a hard time finding the right focus.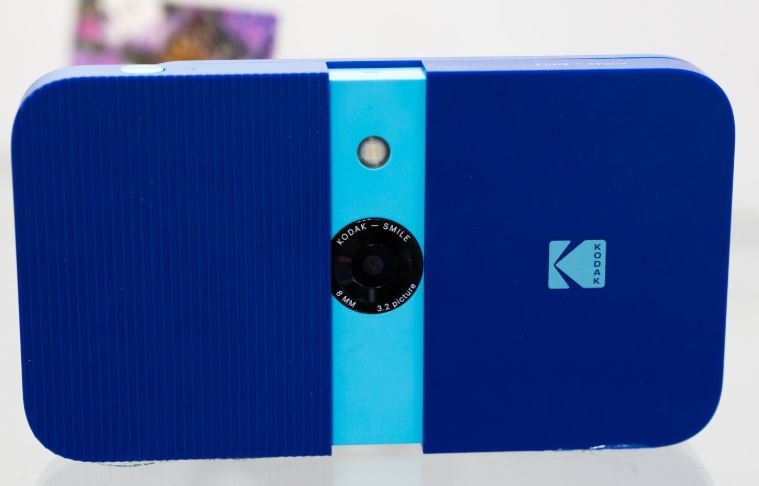 Battery Charge
This camera is powered by a reasonably strong rechargeable lithium-ion battery. It's recharged with the aid of the included mini USB cable, which keeps things nice and simple. Once you've got the camera supported by a full battery, you can get about 40 prints from one charge.
Since you can fit around ten sheets in the camera at one time, that provides you with far more printing capability than you're likely to ever need in a single sitting. Actually recharging the camera does take a moment because of the size of the battery. With the included cable, you can generally expect it to take about three hours to refill an empty battery.
Other Considerations
The Smile Instant Print Digital Camera includes a USB cable for recharging the camera, a quick start guide, and a starter pack of ZINK paper. It's basically just enough paper to help you fill up the camera once. If you plan on taking more than a couple of shots, you'll probably want to get another set of paper alongside the camera.
There isn't anything resembling a bag or case included with this camera. That's understandable given the generally rugged nature of this device, you probably won't have to concern yourself with using a case. But it's not hard to find a case you can use, if you really feel like you need one.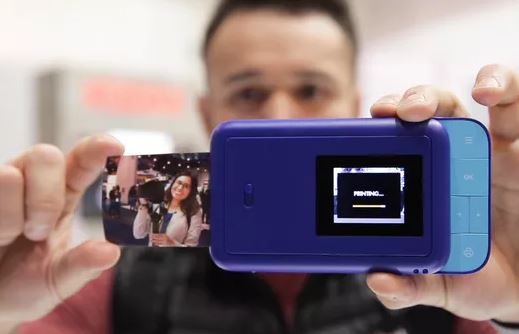 Who Should Choose KODAK Smile Instant Print Digital Camera?
The KODAK Smile Instant Print has a number of different things that are easy to like. It provides two highly functional and simple to use picture modes. It delivers on basic features like having an automatic flash, and it delivers on things that are less basic for instant print cameras, like having a formidable LCD viewfinder.
The editing features aren't going to blow you away with their originality. But they do let you apply a variety of attractive features and effects. The array of effects your disposal are essentially the same effects you'll find on Kodak's high-end cameras. So if you're a fan of one of the filters used by another Kodak camera, then you'll probably be pleased to find the same digital filters available through this device.
There are a few things that might be improved about this camera. The lanyard hole doesn't come with a strap. It would've been nice to have Kodak include one. It also would be nice if you could fit more photo paper inside this device, but ultimately that would just get in the way of its portability. But for people who are looking for a high mixture of portability and adaptability, the Smile Instant Print Digital Camera is probably worth picking up.
Meet Derek, "TechGuru," a 34-year-old technology enthusiast with a deep passion for tech innovations. With extensive experience, he specializes in gaming hardware and software, and has expertise in gadgets, custom PCs, and audio.
Besides writing about tech and reviewing new products, Derek enjoys traveling, hiking, and photography. Committed to keeping up with the latest industry trends, he aims to guide readers in making informed tech decisions.