There's a lot of cool potential to having a dash camera at your side. Having footage of the road around you can be great for insurance claims, or inside of courts. It's actually why nations like Russia have mandated the use of dash cameras inside of cars. The information is just incredibly useful if something should happen.
Of course, accidents aren't the only thing you might want to capture. Whether you're protecting your vehicle from crime, or you just want to take shots of the road as you travel, picking an appropriate dash cam can help. And knowing what kind of camera is appropriate is really about understanding your own use case.
Note: At no extra cost to you, we may earn a commission for purchases using our links. Learn more.
Viofo A129 Duo Dual Dash Cam
When it comes to brand names, Viofo isn't a big player. Nevertheless, the A129 Duo actually compares pretty favorably to some of the bigger names in the industry. Many of these cameras bear an uncanny resemblance to the Thinkware line of dash cams, both in feature and in design.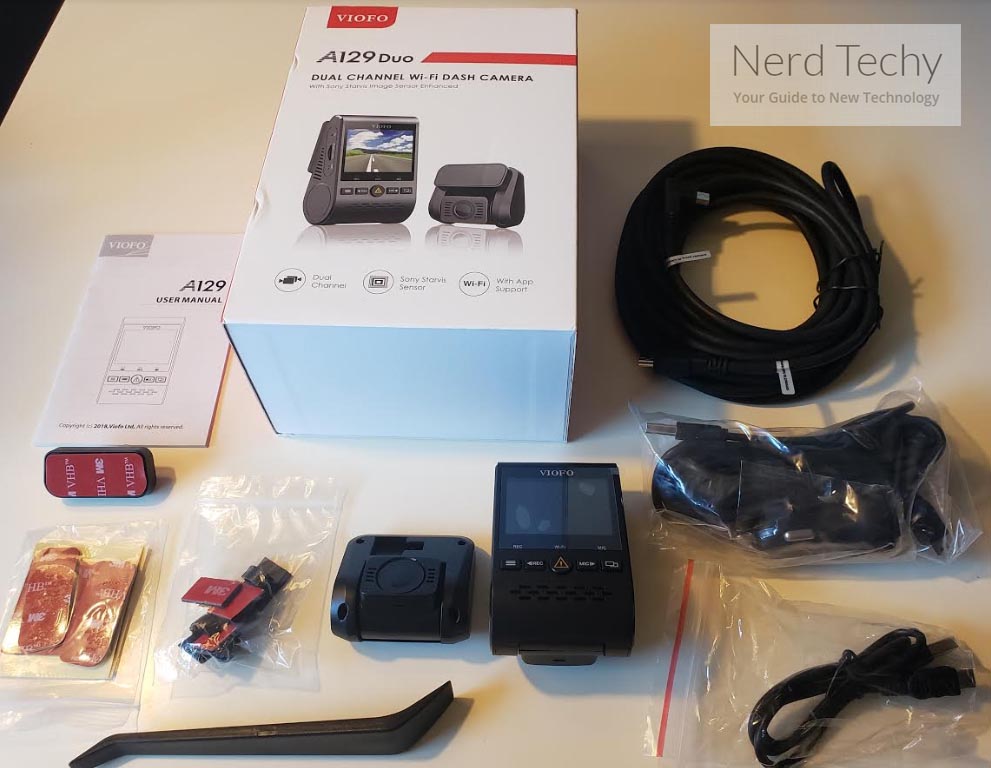 Like its name suggests, the A129 Duo Dual Dash Cam actually offers you two separate cameras. One of those cameras is pointed forward at the road ahead, while one is positioned near the rear of your vehicle. In combination with each other, this allows you to record an almost totally perfect 360-degree view of the road around you.
Of course, the A129 has limitations. It doesn't have the same sort of Wi-Fi support that certain types of users might be anticipating. And when it comes to optional accessories, there are a number of small complaints to be had, especially if you're someone who plans on expanding your dash cam at some point.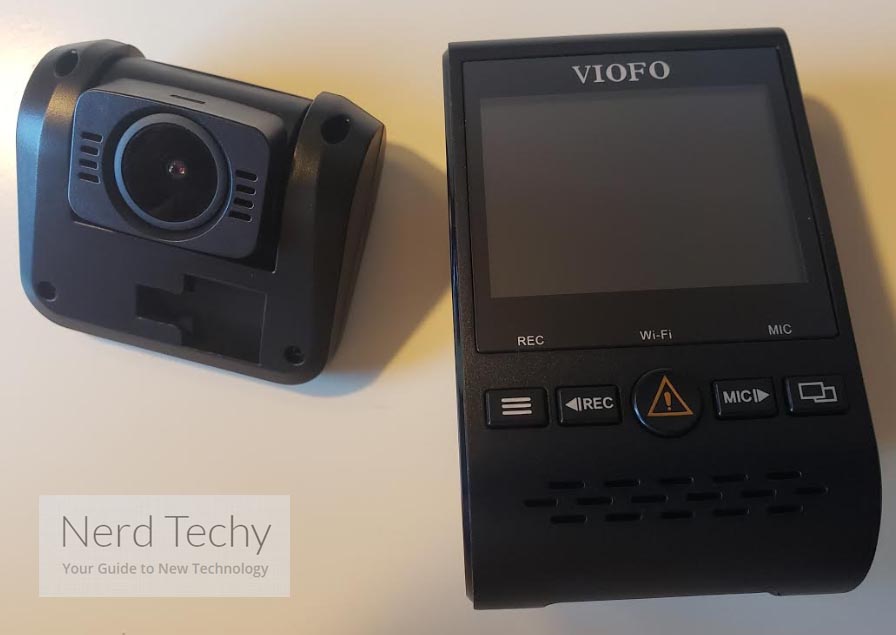 Design & Layout
Still, it's not tough to see how the A129 is going to be able to please a lot of different people. As mentioned before, there are actually two distinct units as part of this kit. The first is the front facing camera, which is easy to identify because it's got a large LCD on the front side. It measures roughly 6.1 x 4.3 x 3.4 inches, and weighs around half a pound.
Meanwhile, the second camera is basically half of the size. It's equally easy to identify, because it lacks any interface or screen to distinguish it. By contrast, the front face of the primary camera is almost entirely consumed by the 2" HD display. Beneath the display, there is just a little more space for the placement of five analogue buttons, and a small speaker for audio playback.
All in all, this interface is not terribly complicated. It's even pretty approachable for people who aren't familiar with using a dash cam. To make things even more approachable, having a screen onboard the primary camera provides a much easier setup process. After the physical setup is complete, the screen can then allow you to see the content you've captured without having to resort to using an app.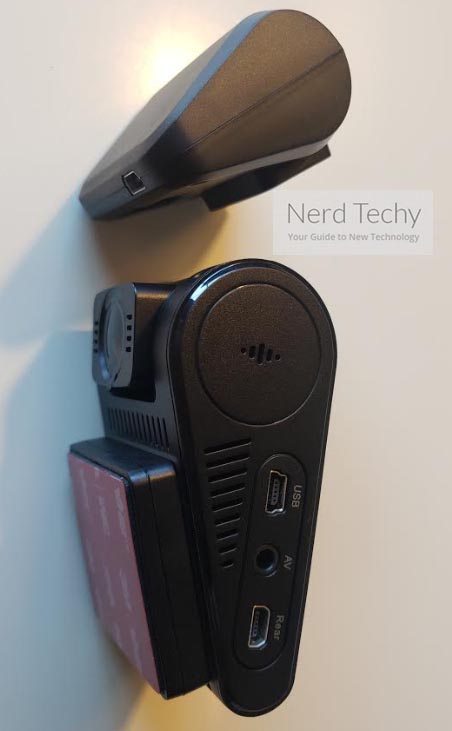 Ports & Cables
But how about hard wired connections? On the right side of the chassis, you'll find a microSD card port, and a hidden pair of microphones. On the left side of the chassis, you'll find a micro USB charging port, AV jack, and a micro USB connection marked "rear."
That's pretty much everything you need to haul around your data between devices, and it provides you with a couple of nice options for expansion. Audio doesn't tend to be a big component for these types of recordings, but having the option to make it a more important part of your recordings is nice.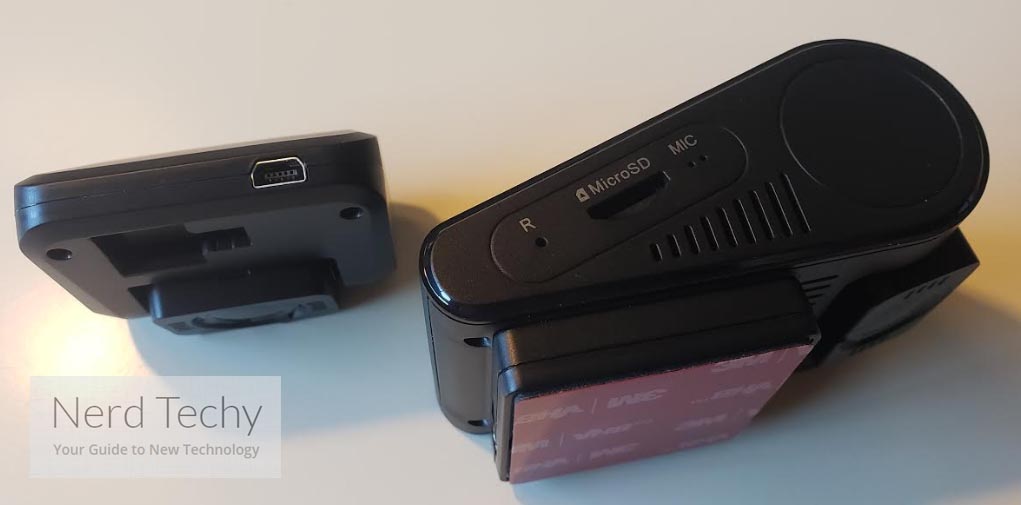 The built-in microphones do reasonably well in noisy conditions, like when you have your window rolled down as you're going down the road. But there's only so much you can do with a couple of small microphones like this, so if audio is truly important to you, you'd be better off keeping those windows rolled up.
How about that port marked as "rear?" As you can probably guess, it helps connect the front and rear cameras with the add-on of an included USB cable. The included USB cable runs around eight feet, which should make it lengthy enough for most people who anticipate ordinary installation circumstances.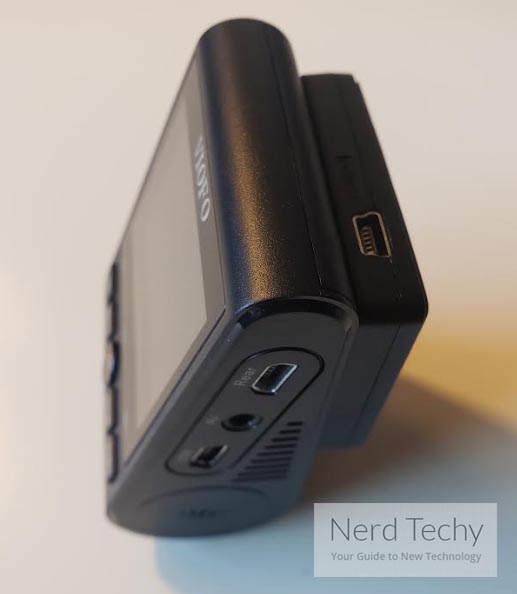 You might need to get a longer cable if you're trying to do certain types of more advanced installations. But for the most part, people should be able to use the included clips to help run that cable along the interior of their vehicle. And working with the clips isn't tough to do.
Installation Process
Largely because this kit is constructed to use 3M sticky pads at basically every juncture, from the sticky clips to the pads that help keep the dash cam on your windshield. These kind of adhesive pads work pretty well for a semi-permanent installation. But if you were worried about parking your car with the camera inside, it's not at all easy to remove this camera without breaking out some new 3M sticky pads.
It would've been nice if they'd included some suction cups as an alternative mounting solution. They do include a GPS mounting dock, which can be used alongside the A129 for people who plan on implementing a separate GPS into their camera setup.
From a software perspective, the built-in LCD makes things run pretty smoothly. You basically just have to choose between a couple of recording options in order to get the A129 ready for capture. Nothing that's too complicated, and nothing that will require you break out the user manual.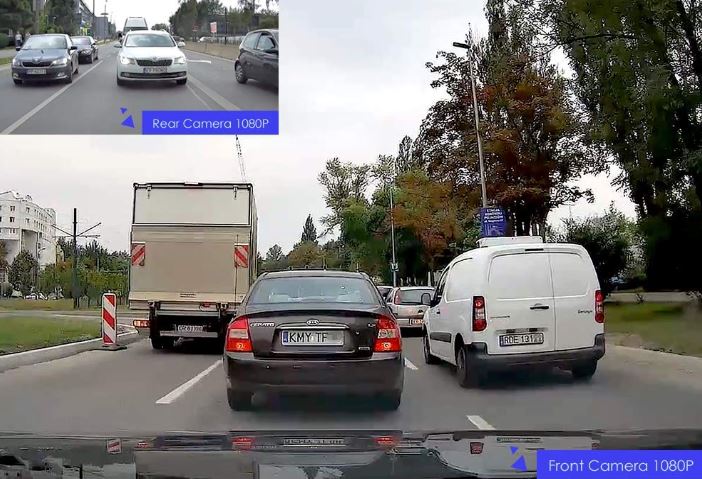 Recording Video
The Viofo A129 Duo Dual Dash Cam was constructed to capture full 1080p HD content at 30 frames per second. It does so with both the rear and front camera, capturing in a wide angle. That's ideal for getting wide moving scenes on the road while maintaining clear definition in your shots.
For the same reasons, the Viofo A129 Duo Dual Dash Cam is made with support for wide dynamic range technology. More specifically, its glass lens was specially constructed to support that wide dynamic range technology, helping to provide a clear view that exceeds most other car cameras in and out of low lighting conditions.
For people who are interested in capturing with wide dynamic range support, that can be a pretty big deal. Of course if you're not specifically looking for those kinds of features, then you'll find they're really more like a cherry on top. Likewise, the A129 is constructed with a Sony STAVIS IMX291 sensor, allowing it to deliver night vision that's truly much better than many similar dash cameras can hope to provide. For people who are planning on getting nighttime video capture, having a high-end night vision sensor like this can really make a big difference.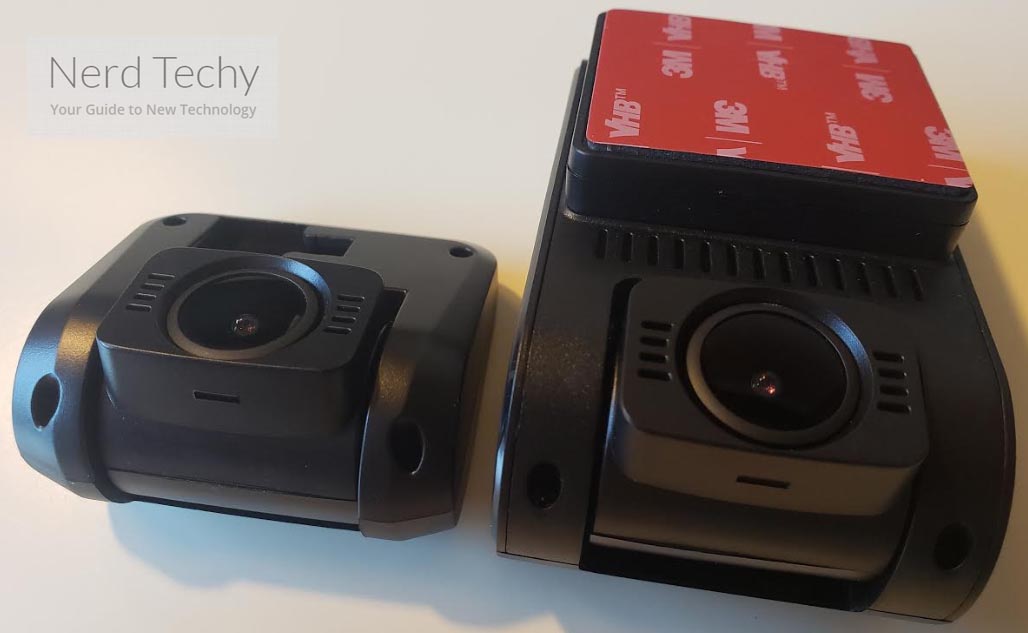 Wireless Connectivity
As mentioned earlier, the Viofo A129 Duo Dual Dash Cam connects with the assistance of dual band Wi-Fi. That means you can use either 2.4GHz or 5GHz connections, which also allows this camera to utilize the 5G band when you're trying to move lots of data in one pass. Or the 2.4G band when you're trying to get a connection in your vehicle while it's parked out in-front of your place.
When you're using a Wi-Fi connection to operate or interact with the A129, you're going to be doing that through the Viofo user app. It's fair to say their smartphone app is rudimentary. It delivers on the sorts of things you expect similar programs to do, but it's also quite clear they're not anticipating you to want truly deep customization options. That's understandable given this isn't exactly a top-shelf camera, but what's harder to forgive is the app isn't always intuitive. It takes a little trial and error to get used to it.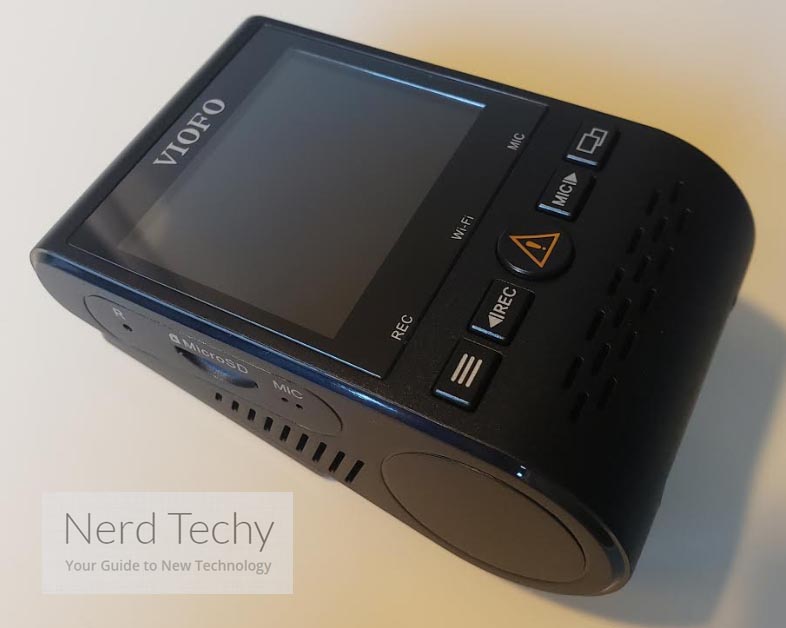 Additional Features
The A129 supports a GPS logger, which allows the camera to log the GPS location and current speed of your vehicle at any given moment. It also notes the time in an accurate by synchronizing with satellites. The display speed which can be run over your content may present information in either kilometer per hour or miles per hour, depending on how you choose to setup the camera.
For basic security features, you'll find the A129 doesn't disappoint. There's a G-sensor which can allow the camera to flick online if someone happens to strike your car while you're not around. There's a PIR motion detection sensor that can be used to look in an almost complete 360-degree radius around your vehicle. You'll also find the A129 can deliver some common sense start/stop recording features that ensure you don't end up recording anything apart from the stuff that you want to actually see.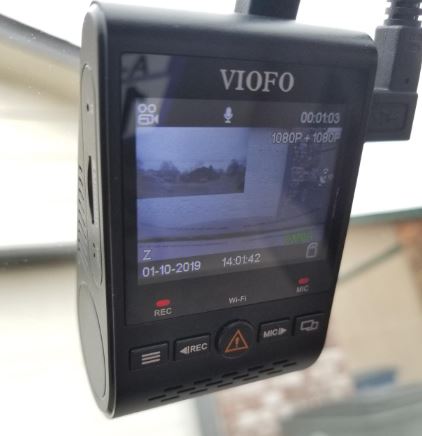 Run out of space on your dash cam? The A129 supports loop recording. That will automatically go back to your oldest files and begin overwriting them should you run out of storage space. For someone who wants to be totally hands-off with their camera unless there's some kind of incident, that's fantastic. Worried about losing some of your older files that you've recorded? There's actually no need for worry, it's possible to lock them so they don't get overwritten by the loop recording feature.
Other Considerations
This kit includes a pair of adhesive sticker mounts, cable, GPS mount, mini USB cable, and docking clips attached to 3M sticky pads. That's basically all of the things you need to start getting your installation underway, and even a couple of extra parts if you happen to need a do-over. Viofo includes a one-year warranty with the A129 as well.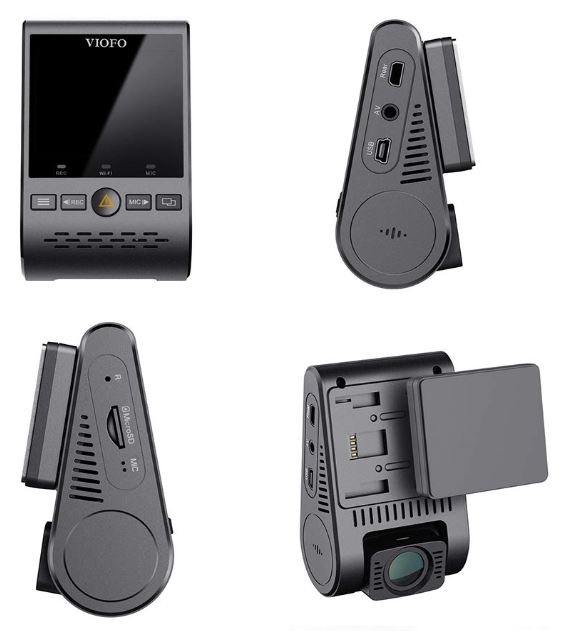 Viofo A129 Duo Dual Dash Cam
If it hasn't been made clear enough, the Viofo A129 Duo Dual Dash Cam has a lot of different things working in its favor. The installation process is about as smooth as you could expect from a dash camera like this one. The front and rear cameras work equally well, both capable of providing smooth 30FPS footage running in full 1080p. That's actually a little uncommon, even around this price range. More often than not, the rear camera ends up running at 720p.
Having wireless connectivity options isn't terribly innovative, but it's nice they've included support for both the 2.4G and 5G band. Someone who's trying to move lots of data will probably want to make use of the 5G band, anyway. Though the A129 doesn't provide every feature you'd get from a top-end dash camera, it doesn't skimp on the features that count the most. Which makes it a good choice for someone looking for a dash cam with a strong price to performance ratio.
Please consider sharing:
Note: At no extra cost to you, we may earn a commission for purchases using our links. Learn more.