We've all seen 3D printers and have a pretty good idea of what they do. Once they're set up, you load your design, press print, and hope that your project comes out the other end a few hours later without any issues. They're a great piece of technology for bringing ideas from concept to reality relatively quickly.
However, one issue that they have is that if you want to create your own designs, you'll have to have some knowledge of creating the designs on a computer in some way. But what if you could have models instantly created with AI 3D modeling? If that sounds like an interesting concept, you may want to learn more about the KOKONI EC1 3D Printer.
Back to School Savings – ACT NOW!

Order between August 15th and 30th for your chance to obtain one of 8 free gifts during the Gearberry Back to School Promotion. Valued up to $1499, save 50% during the flash sale or save up to $249 on a first come, first served basis. Enjoy free shipping and no tax from the US-based, local warehouse. Participants can also obtain a laptop or 3D printer for as low as $199 – Don't miss out!
State of the Art 3D Modeling
The coolest feature of this 3D printer is the included instant AI 3D modeling. It allows you to film any object in your surroundings and turn that footage into a model. Once you have captured the full size of the model on your smartphone, the artificial intelligence will create it into an editable model to work from. You can then adjust the size and other smaller design accuracies in order to make it exactly how you want it.
Once that's complete, all you have to do is save it and start printing. Once it's done, you have a complete replica of whatever it was that you scanned in the first place. This type of technology removes a ton of barriers for people so that they don't have to learn different modeling software in order to start using a 3D printer.
Empowered by a Powerful Companion App
To further enable the capabilities of this printer for everyone, you can utilize the KOKONI 3D App. This is easy to download on your phone, tablet, computer, and other devices in order to control the printer. All you have to do is connect it via WiFi to the printer rather than having to use multiple cables or flash drives. The app also allows you to shoot your own photos and videos for printing models, as well as providing you with plenty of pre-made in-app models to choose from.
Print Your Own Designs
If you are someone who wants to completely design their own projects, you can do that with the KOKONI as well. Once you have created your designs, you can upload them online via the web or the KOKONI website homepage. Once uploaded, your designs will show up as saved in your account center, and you can print them from there. To use your own designs, you'll have to have them saved as either STL or OBJ file types.

Plenty of Pre-Made Designs to Choose From
As referenced above, there are premade models available from KOKONI to begin printing right away. Their library includes over 2000 different models and designs, all online. They also continuously update these with their design team to further improve them and add more to their selection. Best of all, there's no charge for this. All models provided by KOKONI are free of charge when printing on the KOKONI-EC1.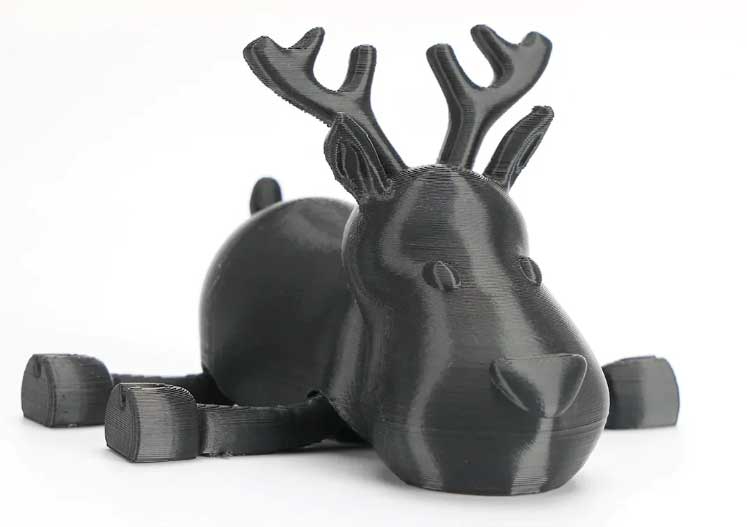 KOKONI 0.4mm Nozzle
The EC1 is a pretty small 3D printer, and to still provide high-quality prints at this size, KOKONI developed their own .4mm print nozzle. This allows it to print extremely thin. The Z resolution is .0025mm, the XY resolution is .0011mm, and the layer thickness ranges between .04 and .35mm. This allows you to print with extreme precision and make some awesome projects in a tiny size.
Printing Done Fast and Smoothly
One aspect everyone looks at with 3D printers is print speed. Getting something that can take your ideas from concept to reality as quickly as possible is key. The KOKONI does a great job of this, especially for how small it is. It can reach a top speed of 80mm/s. It also does this while avoiding clogging in the high-quality hot-end. When printing a small vase with medium precision on the EC-1, you could go from start to finish in only an hour. This is a great device for making small projects really quickly.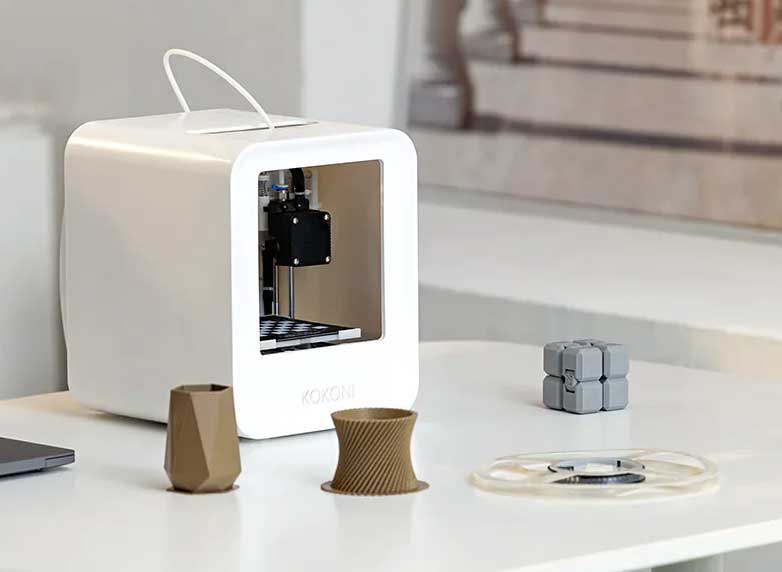 Extremely Quiet Printing, Only 30dB
Another concern with many 3D printers is the noise they create. Since they're usually located somewhere in your home, and they have to be running until the project is done, a noisy printer can be a deal breaker.
The EC-1 doesn't have that problem. It utilizes a silent drive to create projects while producing a maximum of 30 decibels of noise. You can even put this printer next to your computer on your desk and have it start printing without distracting you from your work with loud noises. For reference, 30 decibels is about the same amount of noise as the average person whispering.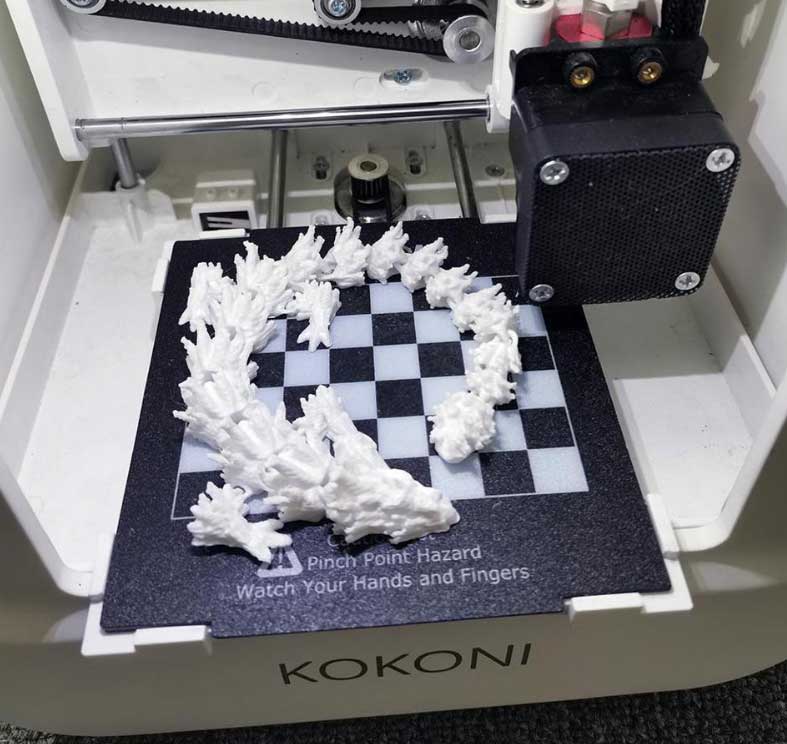 Designed to be Used With KOKONI PLA Filament
The filament used in the KOKONI EC-1 must exclusively be PLA. Furthermore, it works best to use PLA developed by KOKONI in order to make the printer work at optimal levels. This isn't a big deal, however, as their PLA is extremely smooth, precise, doesn't clog, and is non-toxic. This makes it safe to print whatever project you can dream up. If you want to use a different brand of PLA, you can do so, but you run the risk of having worse results in printing and can also end up damaging the printer.
Assuming you stick with KOKONI filament, you have 8 color choices to choose from. They include:
White
Yellow
Orange
Red
Green
Purple
Black
Blue
KOKONI is also hard at work creating more colors all the time.
Plug and Play Ready
While some 3D printers on the market require a bit of assembly and setup in order to work, the KOKONI doesn't. This printer can simply be plugged in straight out of the box. All you have to do is load the filament, pick a design, and start printing your first project. The overall print experience is simple as well, and you don't have to do any leveling or maintenance in order to operate it.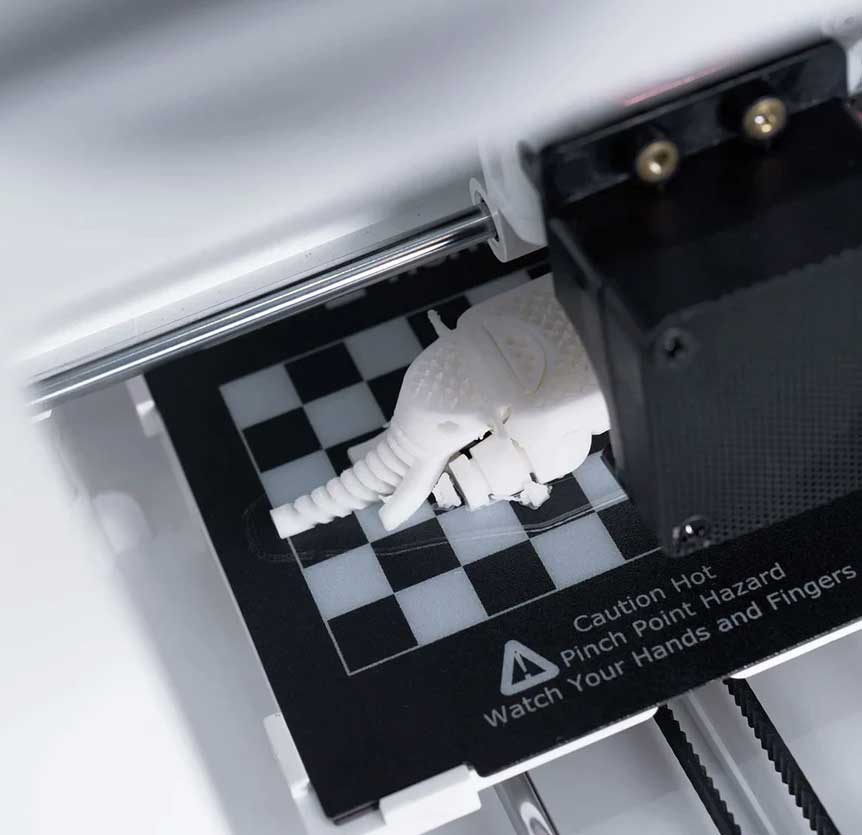 Perfect for Children and Beginners
The KOKONI EC-1 is the perfect 3D printer for beginners and children alike. They designed this printer with fun and creative experiences in mind. Rather than be a barrier to unlocking creativity, this is the perfect printer to help you take an idea and easily create it.
It's especially great for kids who are just learning about shapes, colors, and hands-on design to help them have fun while creating whatever they can dream up. Its small size can also be great for allowing them to print their own toys.
Environmentally Friendly Measures
Not only is this a solid 3D printer, but there are a couple of different measures taken to ensure it's environmentally friendly. The first is with the printer's energy consumption. The power supply used complex with multiple energy consumption standards in the US and Europe. There's also no heated bed required to make printing possible, so it has an overall energy savings of 80% while also reducing carbon emissions.
Another area of environmentally friendliness is the PLA filament they make. It's a special formula of starch raw materials, corn, and other natural ingredients. These ingredients give it a biodegradation created in 180 days, up 94.3%. Under specific conditions, this filament can completely degrade naturally with microorganisms. This leads to the eventual production of carbon dioxide and water without environmental pollution.
Extremely Compact and Perfect for Minimalists
Many 3D printers on the market today are big and bulky. There are a lot of moving parts that have to go into one of these machines, and that usually leads to taking up a lot of space. These larger machines aren't ideal for printing smaller projects, as their size can make them a bit overkill. That's what's nice about the EC-1.
This is an extremely compact and lightweight printer. It only weighs 6.83 pounds and has total dimensions of 7.44 x 10.7 x 9.09 inches. The internal print area is 101 x 101 x 58mm. Its tiny size is also complemented by its overall aesthetic. It's minimal and sleek, with an all-white colorway and a clear front to see its printing in action. Everything you need to get started is included right in the box, with items such as:
Kokoni EC-1 Printer
Power Adapter
70m White PLA Filament
Tweezers
User Manual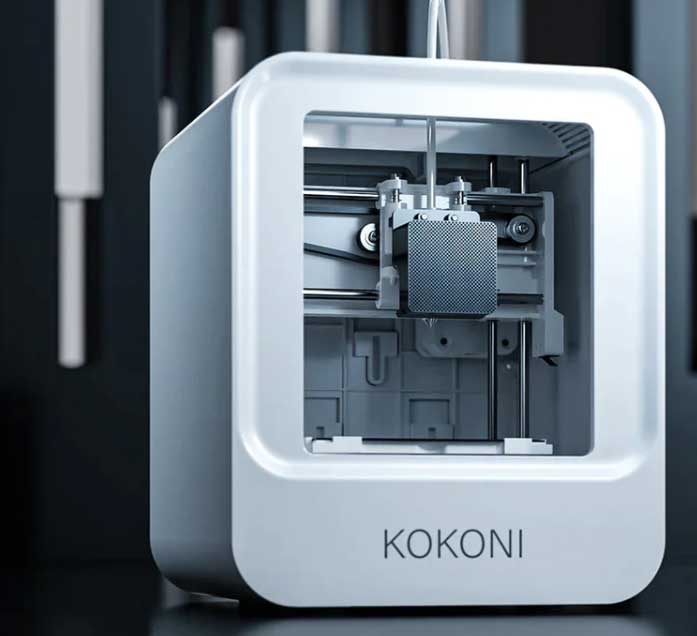 Final Thoughts
We absolutely love the KOKONI EC-1. It's a 3D printer designed with beginners in mind. Whether you're an adult just getting into this activity or you're buying it for a child to give them another creative outlet, this machine is great. It removes the need to have design experience by using AI modeling to simply photograph or video record an object and make it printable.
If you do have modeling experience, you can upload your own files, or you can choose from over 2000 pre-made projects straight from KOKONI. You also don't have to worry about connecting to the printer via wires or flash drives, as everything you want to do with the EC-1 is possible over WiFi and the companion app.
It's small enough and quiet enough to set right on your desk without disrupting your normal workflow. This isn't the most versatile printer out there, but it isn't intended to be. It's meant to get allow users to create projects and start seeing the magic of the 3D printing world on a small scale. If that sounds like something you've been looking for, then the KOKONI EC-1 may be the best printer for you to take a further look at.