Overall Design -

8.5/10

Game Compatibility -

9/10

Control Precision -

8/10

In-Game Performance -

9/10
Summary
LeadJoy's M1B mobile gaming controller is a powerful addition to any iPhone gamer's arsenal. It delivers a significant upgrade to the typical mobile gaming experience, bringing console-level controls and extensive game compatibility to the table. Although the lack of phone case compatibility and reliance on a wired connection might be viewed as drawbacks by some, the overall performance and feature set of the device make it a standout choice in the realm of mobile gaming accessories.
Pros
Extensive game compatibility
Console-level controls
Ultra-low latency
Supports cloud gaming
Cons
No phone case compatibility
D-pad could be better
In the realm of mobile gaming, the controller can make all the difference between a passable experience and one that truly captivates and draws you into the game. The LeadJoy M1B aims to elevate your iPhone gaming sessions to new heights, promising to transform your device into a portable gaming console.
While there have been and still are a plethora of similar devices on the market, very few achieve what LeadJoy promises with the M1B. So we put this unique pad to the test, picking apart its features, performance, and overall value. Does it live up to its claims?
Unboxing and First Impressions
There's nothing special about the packaging. But it's what's inside that we were eager to get our hands on. You get not only the controller but also a rubber cushion (more on that later), a quick start guide, and a product certification. The controller's measurements come in at 196.5 x 95 x 32.5 mm, or 7.7 x 3.74 x 1.25 inches. As such, it's compact enough for easy portability yet substantial enough to feel firm in the hands.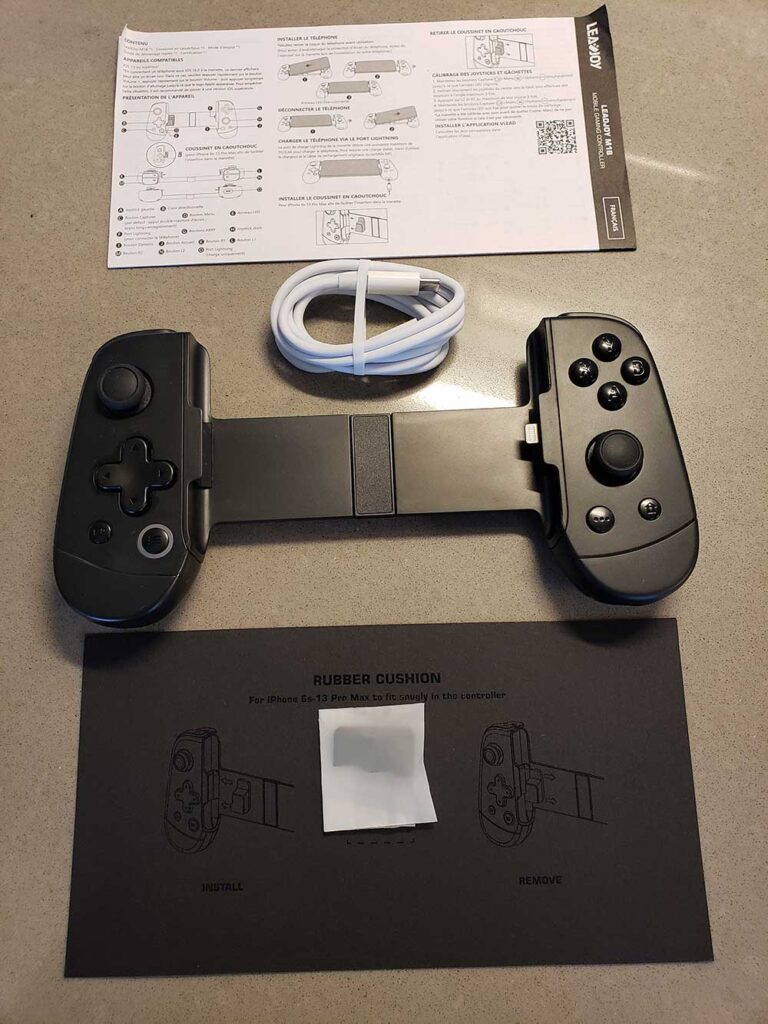 Tipping the scales at a mere 140 grams (5 ounces), the device offers a lightweight solution to mobile gaming without compromising on durability or functionality. It's an impressive balance, actually, and one that deserves commentary. Oftentimes, gamepads this lightweight are cheap and worrisome. That's not the case here at all. The M1B feels like it's made to be played extensively, and that's a very good start. It only gets better when it's plugged into your iPhone.
Compatibility and Setup
The setup process is straightforward, requiring no additional software or complex instructions. It's designed for iPhones operating on iOS 13 or above, ensuring wide-ranging compatibility.
The controller doesn't offer phone case compatibility, so you'll need to remove any protective casing before plugging it directly into your iPhone's Lightning port. The wired connection not only simplifies the setup but also promises ultra-low latency, a significant advantage for those high-stakes gaming moments.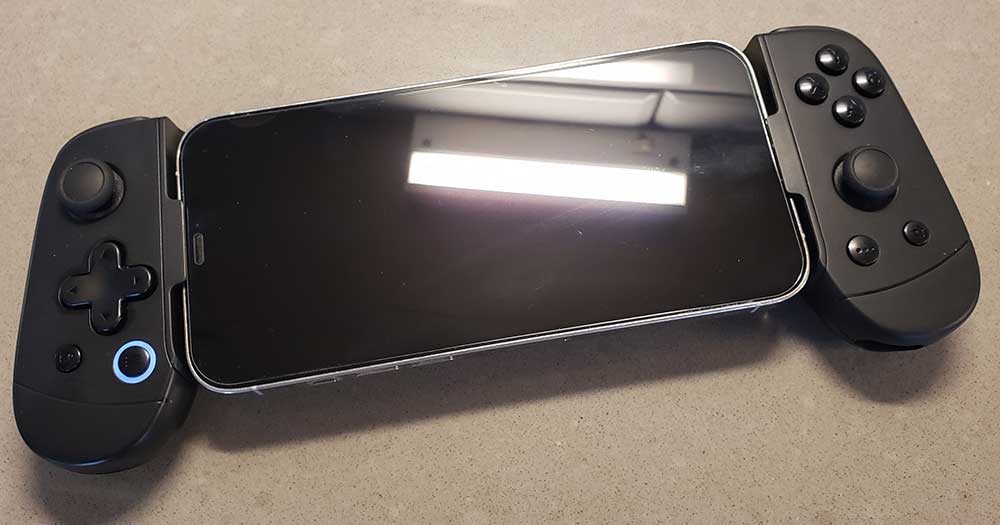 Game Compatibility
One of the greatest strengths of the LeadJoy M1B is its extensive game compatibility. It works flawlessly with a range of controller-supported iOS games, including popular titles like Genshin Impact, Diablo Immortal, and Call of Duty.
But that's not all. It supports numerous IP games for 3DS, such as numerous Super Mario titles, Monster Hunter, Pokémon, Zelda, and more. This flexibility opens up a new world of gaming possibilities, from action-packed adventures to immersive RPGs.
So, how does that work, you ask? Well, it's actually quite simple. First, you need to download EGG-3DS, an emulator designed for the iPhone. From there, follow the Quickstart Guide to get it set up. You will need to have your own legal 3DS ROMs (a format many emulators use).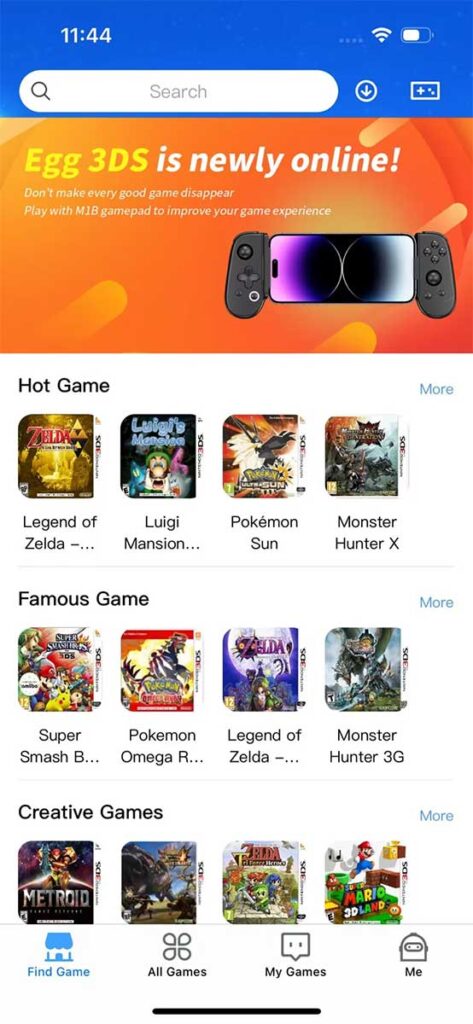 There is a wealth of how-to guides available that will walk you through the process of sideloading your ROMs to play through your iPhone. It's all quite seamless once you get it up and running. And because the pad supports split-screen layout, it's perfect for the 3DS and a ton of other games.
We found the controller to be perfect for shooting games that demand precise aim and quick reflexes. During our testing, it performed exceptionally well in these genres, transforming the often clumsy touch-screen controls into a seamless, console-like experience. In fact, we'd wager that it's a must-have accessory if you wish to experience many games the way they were meant to be played.
Console-Level Controls
Speaking of console-like experiences, the LeadJoy M1B truly delivers with its sophisticated control system. It's equipped with Hall Effect analog triggers, offering an enhanced trigger feel that closely mimics a traditional gaming console.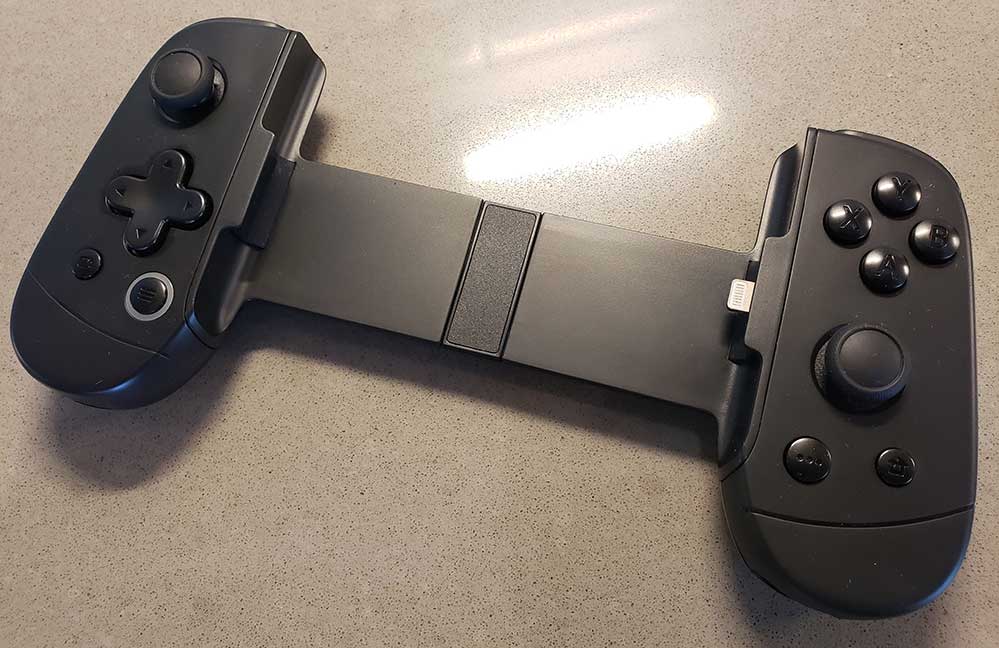 The mechanical buttons, with a reduced actuation distance of 0.6 mm, provide responsive and accurate feedback. The clickable analog sticks add a new level of control precision to the mix, catering to even the most demanding gaming scenarios.
But perhaps more importantly, Hall Effect tech is virtually failsafe. The problems that usually plague conventional analog technology are virtually gone for good. That means a longer-lasting controller and more bang for your buck. If you're tired of buying a new controller every few months or so due to trigger failure, the M1B is an investment worth making.
Cloud Gaming and Remote Play
Further enhancing its versatility, the pad offers compatibility with a wide range of popular streaming services, such as Xbox Cloud Gaming (Beta), Amazon Luna, Xbox Remote Play, and Steam Link. This means you can enjoy not just mobile games but also PC and console games anywhere, anytime.
We tested this feature with several streaming services and found it to work really well. It offers a seamless transition from traditional gaming hardware to the iPhone platform. There's no latency, which is a big deal for this form of gaming. Our button presses responded without delay, so you can now look forward to playing remotely without issue.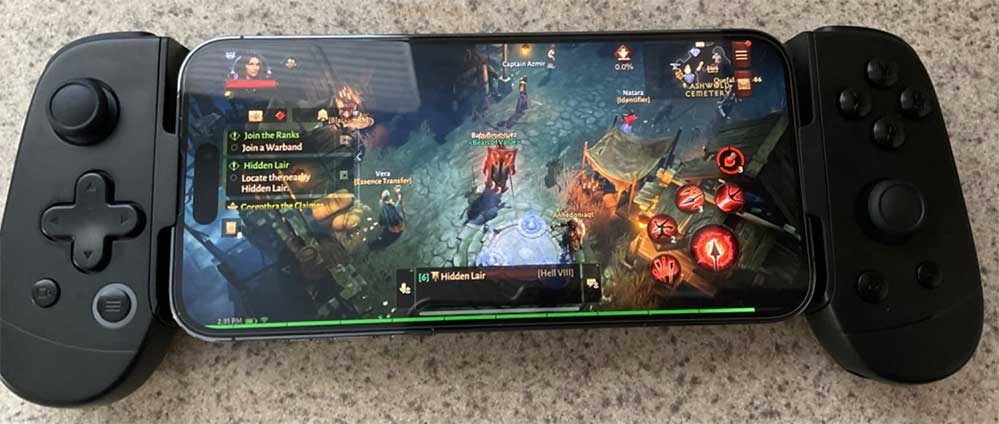 LeadJoy also incorporated an easy-to-use capture button that lets you capture videos and screenshots of your gameplay with just a few simple presses. This is a welcome addition; a feature that lets you easily share your gaming triumphs and memorable moments with the world.
We enjoyed using this feature during our testing, finding it a fun and convenient way to document our gaming experiences. It's more in line with modern gaming controllers anyway, as this feature has been present on everything from Xbox to Switch for some time now.
Battery Life and Charging
While the controller itself doesn't house a battery, it offers a pass-through Lightning port that allows you to charge your iPhone during your gaming sessions. It's a smart design feature, and one that really needs to be on all devices like this. There's also a USB-C cable included for pre-charging before gameplay.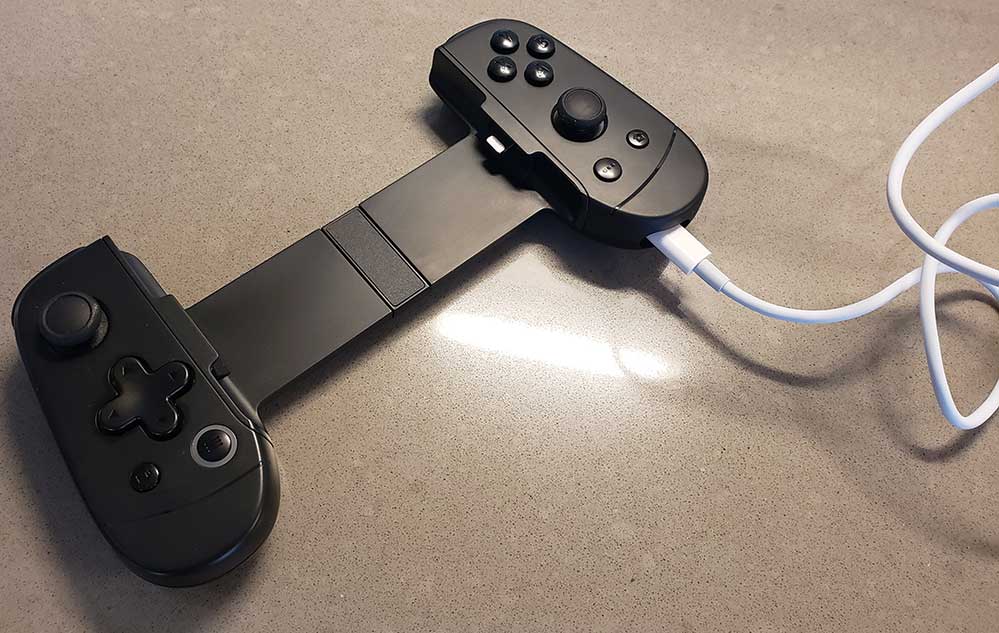 With it, you have the assurance that you never have to deal with the annoyance of a low battery interrupting your gameplay. We had no issues with it in our testing. It enabled us to enjoy extended gaming sessions without any concern for battery life.
Hardware Overview
In terms of its functionality, versatility, and overall gaming performance, the gaming controller makes a strong case for itself. It offers a comprehensive solution for iPhone gamers, elevating mobile gaming to levels previously only associated with console or PC gaming.
The controller's side curvature is quite subtle, so if you're used to more pronounced palm grips, the LeadJoy M1B might require some adjustment. Nonetheless, it provides a non-slip pattern on the rear side, ensuring a secure grip. Additionally, it is ergonomically designed for easy access to all the buttons.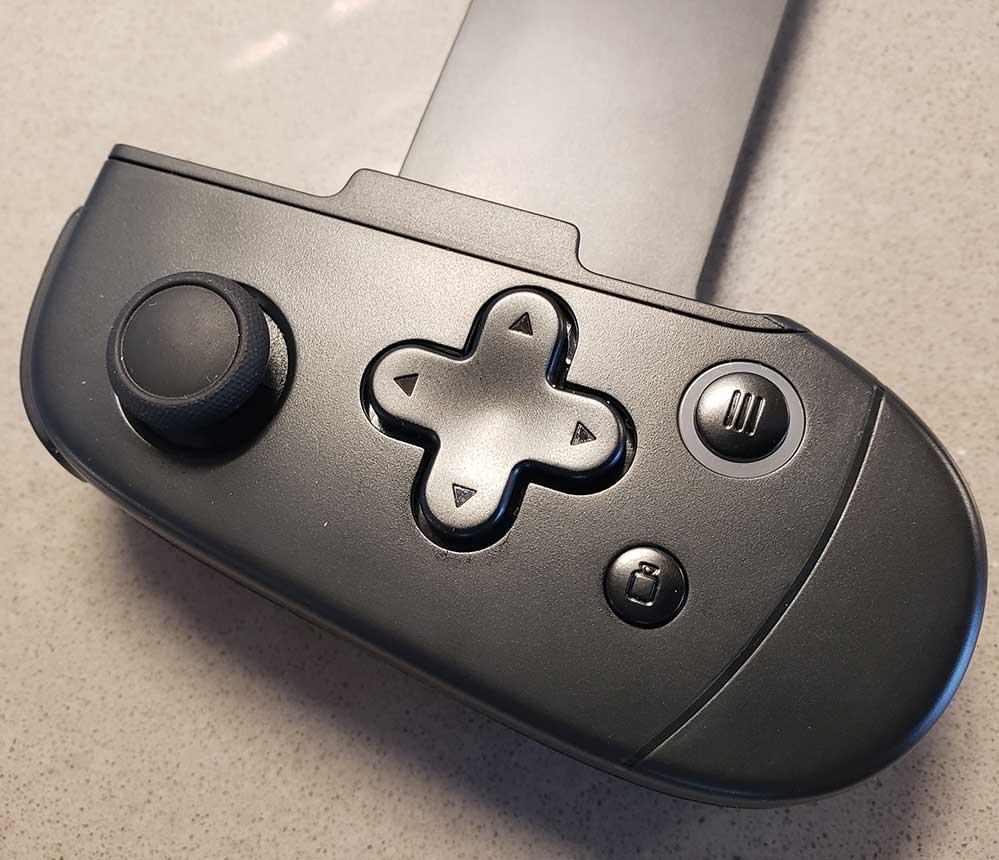 And speaking of buttons, LeadJoy opted for a more traditional design, forgoing the fancier features of its competitors. The unit features two thumb sticks, one on each side, which are textured for improved grip and are highly responsive. On the left side, you'll find a D-pad, while the right side houses the ABXY buttons, both of which offer satisfying feedback upon pressing.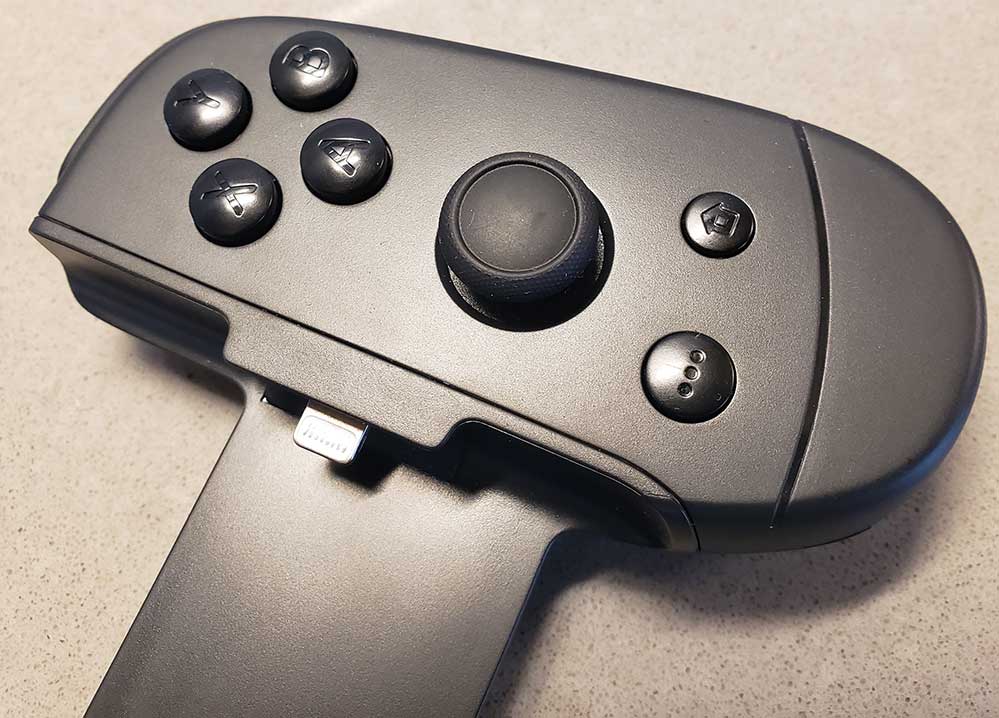 Additional buttons for menu navigation and screenshot/recording features are also available. Two sets of shoulder buttons (L1, L2, R1, R2) are provided on each side, with the L2/R2 buttons delivering particularly commendable performance.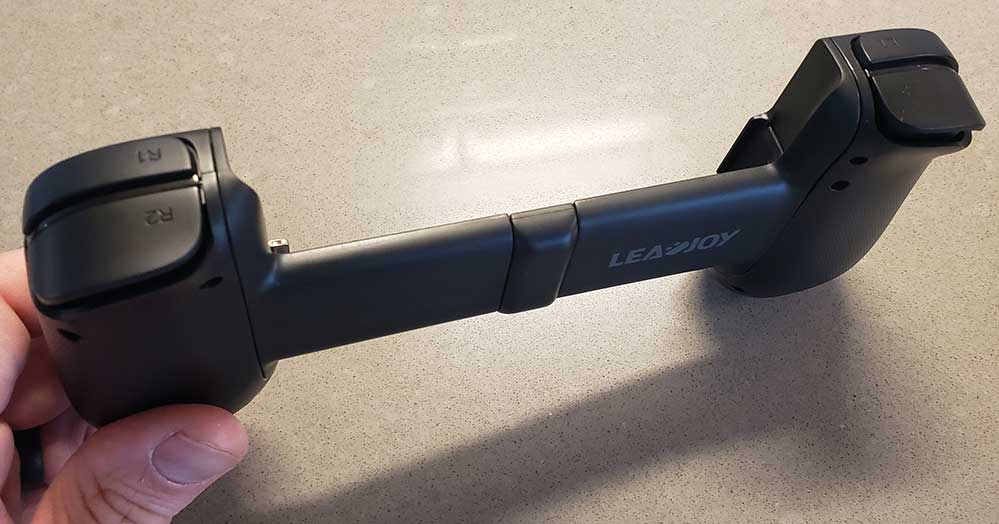 While the iPhone holder does feature some silicone cushions for protection, it's important to note that the protruding Lightning cable might not accommodate thicker phone cases. In terms of heat management, we detected no significant heating issues, which is a huge plus. And as for the rubber cushion mentioned earlier, it's included to give users a snug fit for larger iPhone models like the 13 Pro Max.
We got the best result with an iPhone 12, but using an iPhone 13 Pro Max without the included cushion will likely give you problems. Thankfully, this is a moot issue as long as you use the rubber piece.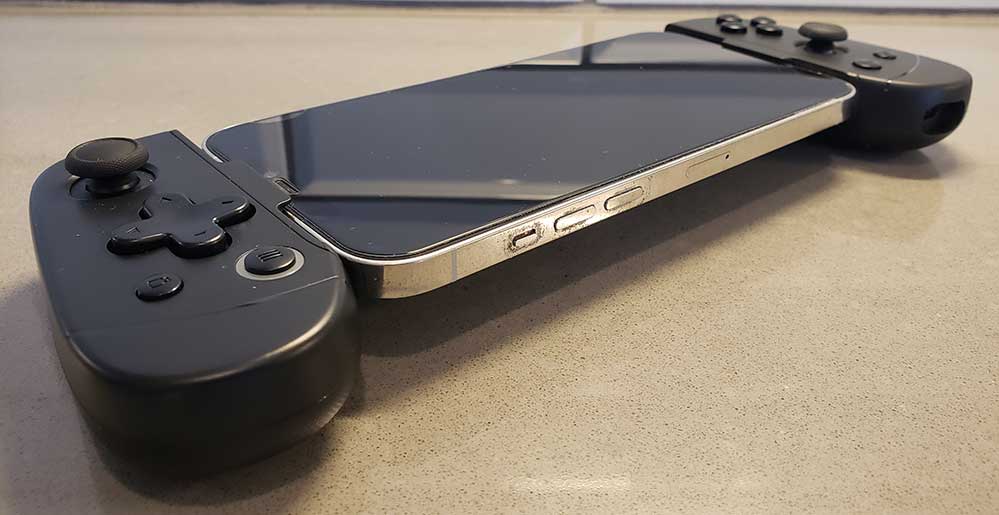 User Experience
For the most part, the user experience is exemplary. As we stated earlier, we found it to be incredibly responsive, with ultra-low latency enhancing the overall gameplay. The wired connection, while potentially seen as a drawback by some, completely eliminates any issues with signal delay or connection interruptions.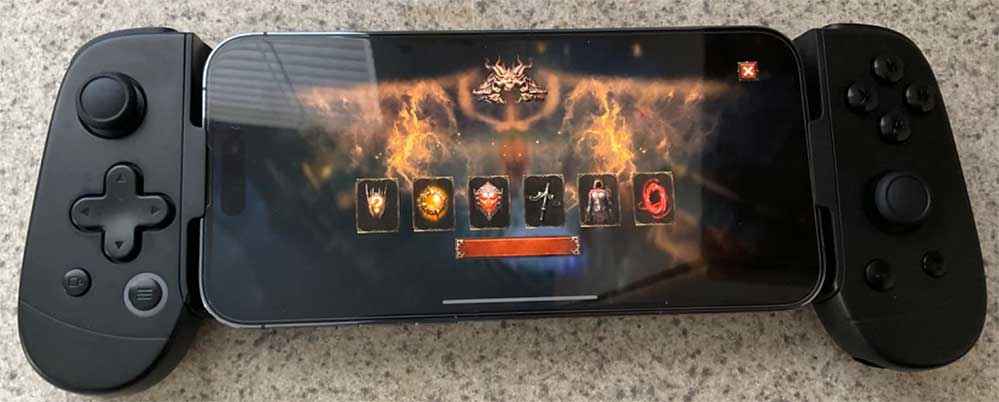 The controller's compatibility with a broad range of games across multiple genres is another major plus point. It managed to deliver a smooth, seamless gaming experience consistently, regardless of the game we were testing. And the ability to capture and share in-game moments is nice to see, adding an extra dimension of fun to the gaming experience. All of that is great, but there are some minor complaints worth addressing, the most notable being the D-pad.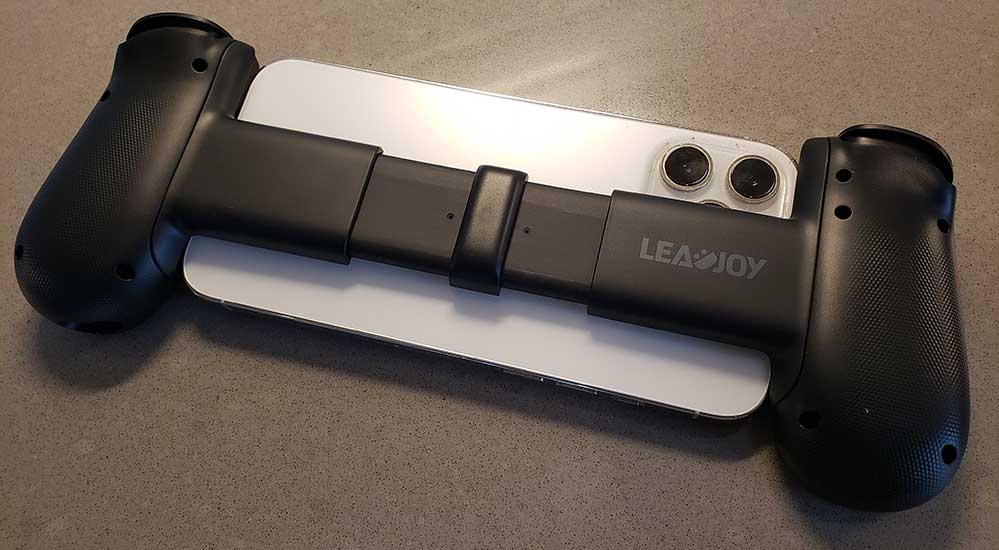 It certainly works, but it's nowhere near perfect. It's likely due to its shape, but it just doesn't deliver the kind of gaming experience one expects when playing 2D platformers. Maybe we've played too many classic NES games and expect the same feel. This one's close, but it's definitely up to NES pad caliber. Still, it gets the job done, and that's ultimately all that matters. If you don't plan on playing a lot of old-school titles that make use of the D-pad, this won't be a big deal.
Most people are probably going to play more modern games that use the analog sticks. So if you're in that camp, you can expect a near-perfect gaming experience. The analog triggers and mechanical buttons provide an authentic console-like feel, delivering accurate and responsive feedback. This level of control precision is a necessity for modern games, and you will feel right at home with the M1B. This is especially true if you're used to playing on an Xbox One or PS4/PS5 pad.
Final Verdict
LeadJoy's M1B mobile gaming controller is a powerful addition to any iPhone gamer's arsenal. It delivers a significant upgrade to the typical mobile gaming experience, bringing console-level controls and extensive game compatibility to the table.
Although the lack of phone case compatibility and reliance on a wired connection might be viewed as drawbacks by some, the overall performance and feature set of the device make it a standout choice in the realm of mobile gaming accessories.