In the realm of home entertainment, the evolution of technology has culminated in the Home Theater PC (HTPC). This hybrid device delivers the best of both worlds, merging computer capabilities with a television's user-friendly interface.
However, navigating this hybrid environment necessitates a unique kind of remote control — one that combines the functionality of a traditional TV remote with the versatility of a keyboard and mouse.
To assist you in finding the ideal companion for your HTPC setup, we've tested and reviewed four of the top HTPC remote controllers currently on the market.
Whether you are a seasoned HTPC user or a newbie, the remote controller you choose can enhance your experience dramatically. Let's delve into the specific features, advantages, and minor shortcomings of each remote.
Pepper Jobs W10 GYRO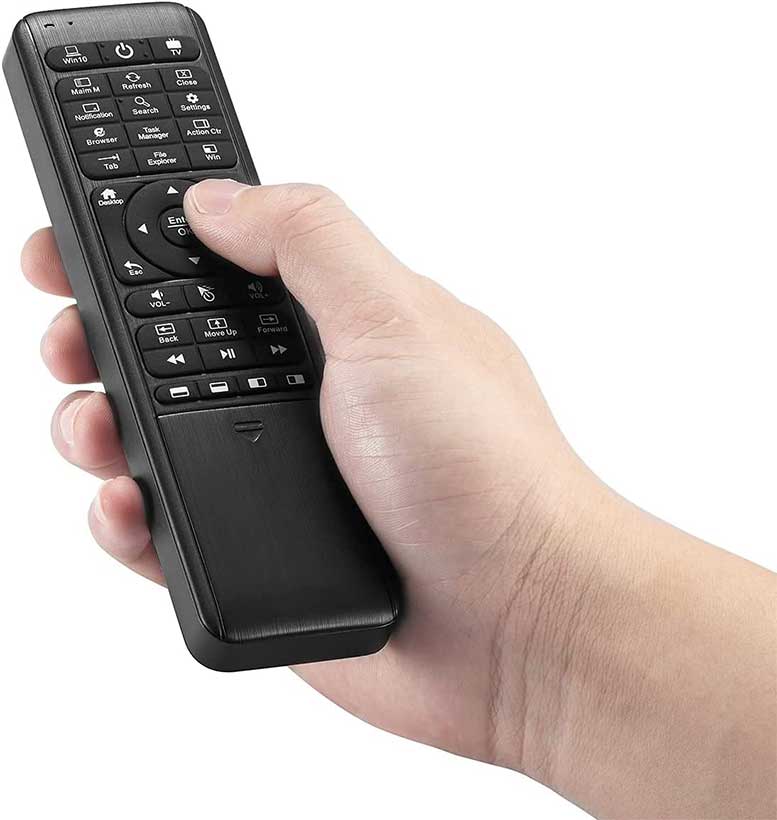 Key features:
3-in-1 control design: remote, mouse, keyboard
Backlit LEDs for low-light use
IR learning up to 34 keys
Plug-and-play with a 30-foot range
Pepper Jobs takes the top spot with the W10 GYRO. Aptly named, this HTPC remote comes equipped with an internal gyroscope, enabling mouse-like controls from afar. As a multifunctional device, this remote boasts an impressively innovative design that redefines control for Windows 11 and 10-based HTPCs. The 3-in-1 arrangement serves as a TV remote, mouse, and keyboard, all combined into one sleek, pocket-sized device. It measures 6.38 x 1.77 x 0.59 inches and weighs a mere 2.92 ounces.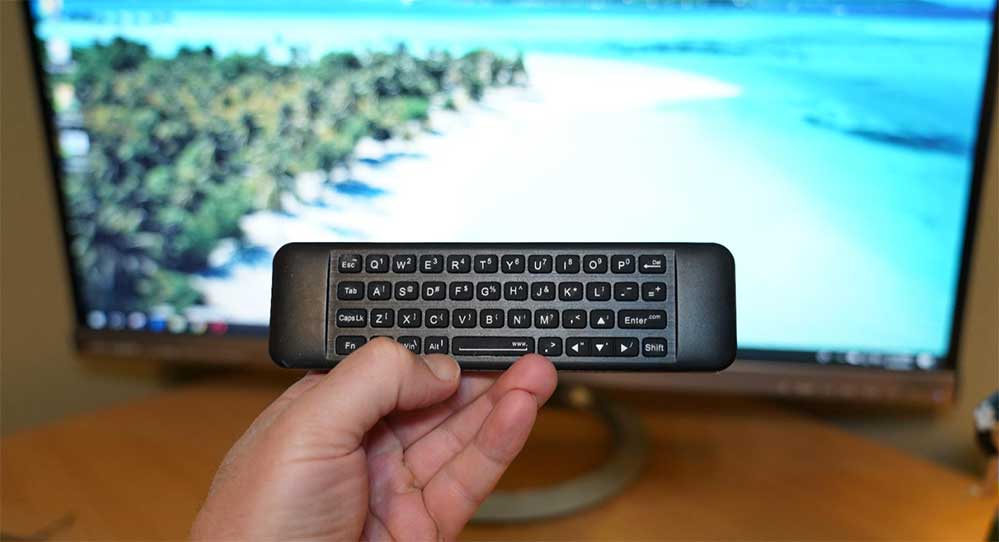 This affordable remote stood out in our tests for its versatility and ease of use. We particularly appreciated the backlit LEDs that adorn the full QWERTY keyboard on both sides. This feature performed excellently in low light conditions, activating at the touch of a button and going into power-saving mode after five seconds of inactivity.
Design-wise, it shouldn't take you long to get acclimated. If you're old enough to have used the candy bar-style mobile phones that filled the market back in the early- to mid-2000s, you'll easily get the hang of the GYRO. On the front face are typical TV-related buttons. And on the back is the QWERTY keyboard. Some basic keys are missing (like Page Up and Page Down), but it's nothing that hurts the overall operation.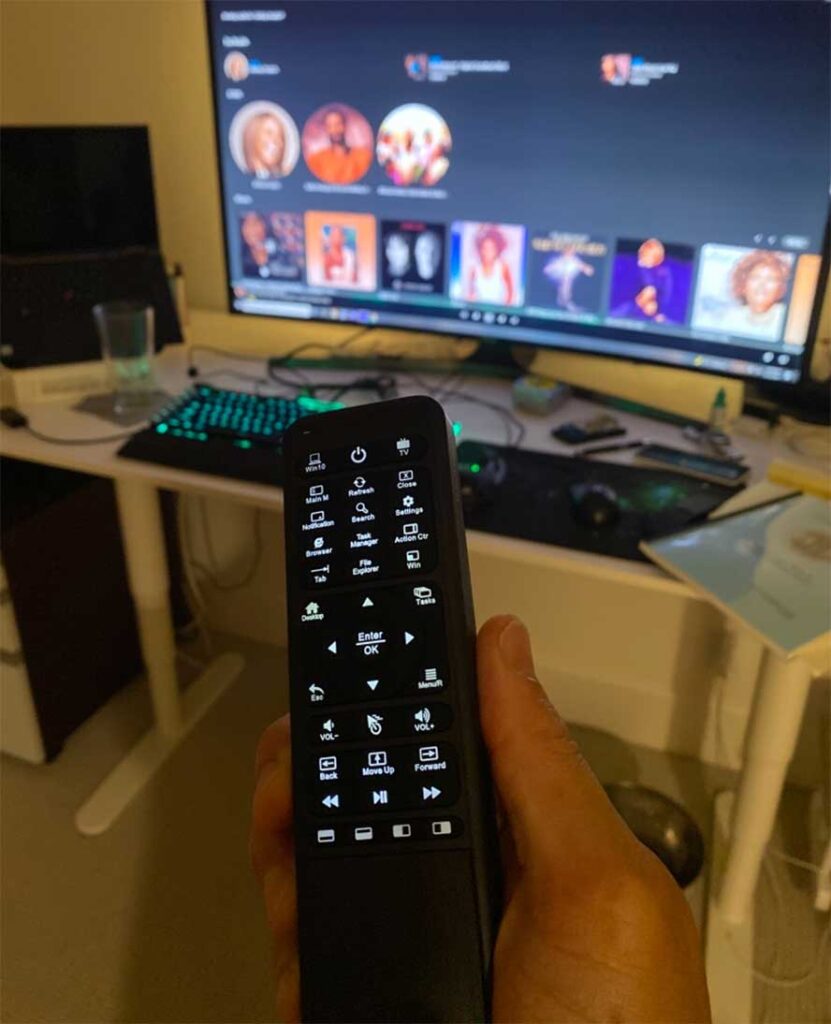 As for the integrated 6-axis gyroscope, it proved to be quite advantageous. Thanks to it, the remote can learn up to 34 keys from your TV's IR remote, thus consolidating control of multiple devices into this single unit. The transition between TV remote and mouse/keyboard modes was seamless in our tests, thanks to a handy switching key. There is a slight learning curve, but it's not anything that you can't learn in a few minutes of use.
In terms of connectivity, it pairs via Bluetooth, infrared, USB, or RF (Radio Frequency) and has a reliable operating range of up to 30 feet. The plug-and-play feature worked well during our setup process. We love the fact that no driver installation is necessary. As a result, the W10 GYRO facilitates swift and uncomplicated use right out of the box.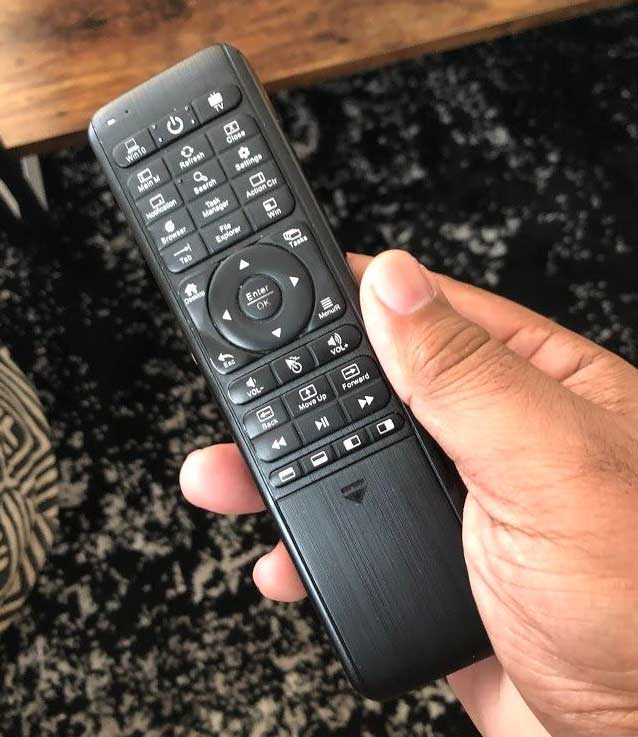 It's noteworthy that, unlike the WeChip W1 and Rii X8 featured below, this remote is optimized for Windows 11/10, enhancing its compatibility and usability. However, it doesn't offer the multiple-device control function that the WeChip W1 possesses.
As stated, there are some basic keys missing, something ILEBYGO's Air Mouse gets right. But despite these minor shortcomings, its compact, lightweight design and versatility make it a top choice.
What we liked:
Optimized for Windows 11/10
Power-saving timer on backlit LEDs
Compact and lightweight design
Versatile connectivity options
What we didn't like:
Missing some basic keys
No quick scroll function present
WeChip W1
Key features:
2.4GHz RF technology
2-in-1 wireless keyboard and remote
Auto sleep and wake-up function
4 Axis gyration motion system
Introducing the WeChip W1 Remote, a multifunctional wireless keyboard and remote control. Backed by a potent 2.4GHz RF technology, it can achieve up to 30 feet of wireless control, ensuring a seamless and stable connection. We put it through extensive testing, focusing on compatibility and functionality. It connects easily with a variety of devices, from Android TV Boxes and PCs to projectors and all-in-one PCs. However, it's noteworthy that certain brands like Samsung, LG, Sony, TCL, and Roku are not compatible.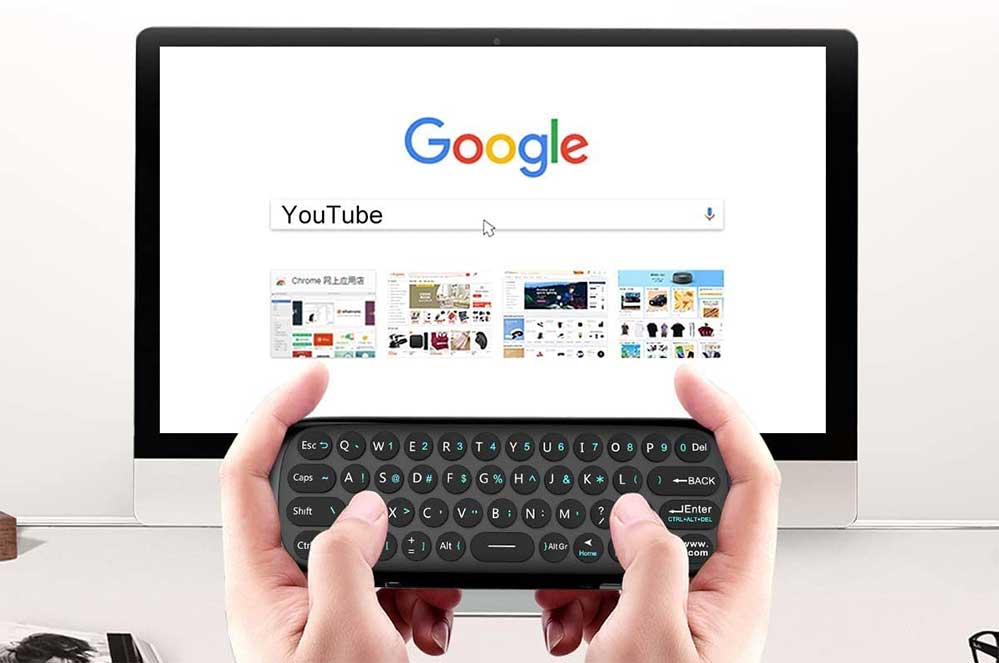 It's disappointing, as those brands are responsible for some of the best TVs on the market. But for the TVs that are compatible, you'll find this to be a capable and versatile HTPC remote. For one, we appreciate the 2-in-1 design – the mini wireless keyboard combines with a 4-axis gyroscope motion system.
With just 45 keys and measurements of 6.22 x 2.17 x 0.65 inches, it offers a lightweight solution for device control. WeChip cleverly integrated all characters, making typing and gaming a breeze. Its motion-sensing capabilities are quite accurate, enhancing both horizontal and vertical gaming experiences.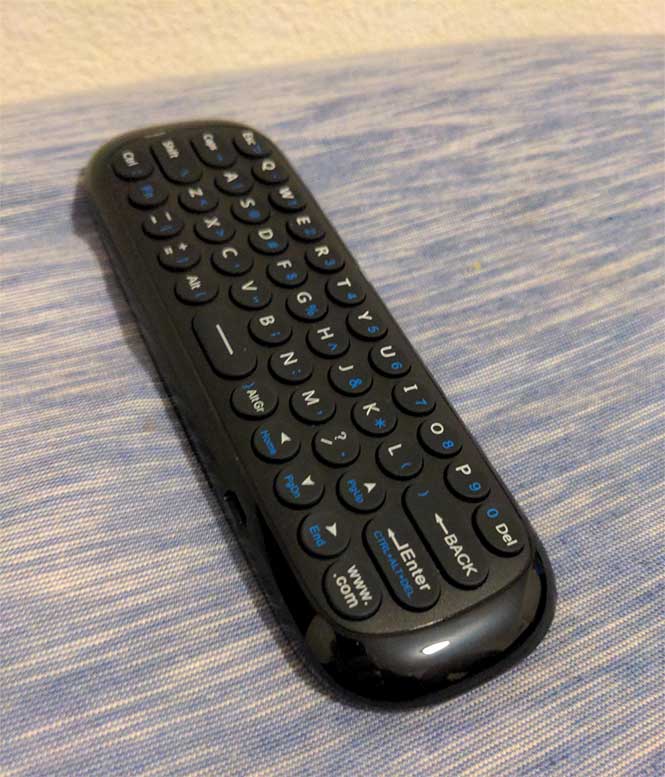 Another feature we appreciated during our trials was the auto sleep and wake-up function. If it remains idle for 15 seconds, it powers down to conserve energy and wakes up instantly with a single key press. We determined that you can get about 2 months of use before needing to recharge. And since it comes with a lithium-polymer battery built-in, you needn't worry about the added expense of conventional batteries. That also means it's lightweight, with a total weight of just 3 ounces.
In comparison to the Pepper Jobs W10 GYRO, it isn't compatible with certain popular brands, which may limit its utility for some users. Plus, it only supports one device at a time, in contrast to the Pepper Jobs W10 GYRO, which can learn and control multiple devices. If you can overlook these shortcomings, however, WeChip's W1 is a functional and capable HTPC remote.
What we liked:
Broad device compatibility
Lightweight and compact
Responsive customer support
Accurate motion sensing
What we didn't like:
Not compatible with some brands
Only supports one device at a time
ILEBYGO Air Mouse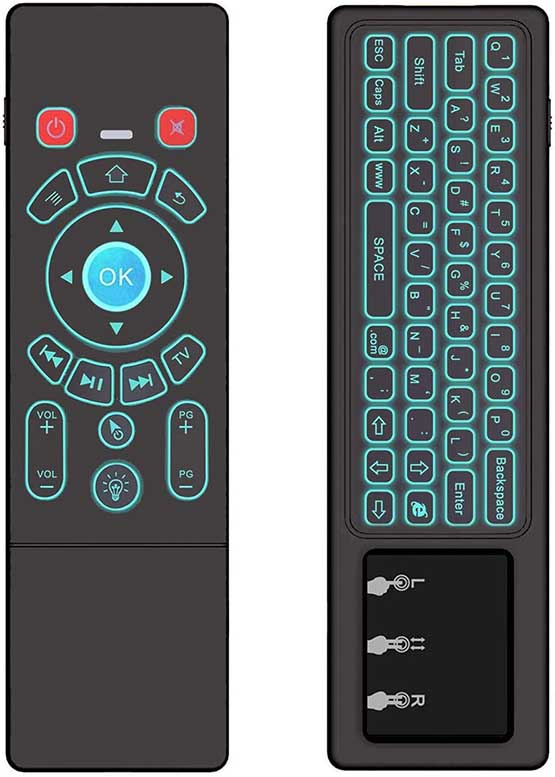 Key features:
Rechargeable lithium battery
Multi-finger operation support
RGB backlit buttons
2.4G wireless connectivity
The ILEBYGO Air Mouse is a versatile control solution, exhibiting notable performance with a variety of devices, including Android TV Boxes, PCs, Projectors, and HTPCs. A standout feature is the built-in lithium battery. Recharging takes a mere 4 hours, yet it can run for 5 to 6 weeks – a testament to its energy efficiency and a big plus in our book.
Better yet, it isn't just an air mouse; it's also a mini wireless keyboard. The mutual-capacitive touch chipset allows multi-finger operation, providing a tactile and responsive experience akin to using a smartphone screen. At a size of 6.9 x 1.9 x 0.4 inches and weighing in at 4.7 ounces, the Air Mouse is compact, lightweight, and portable.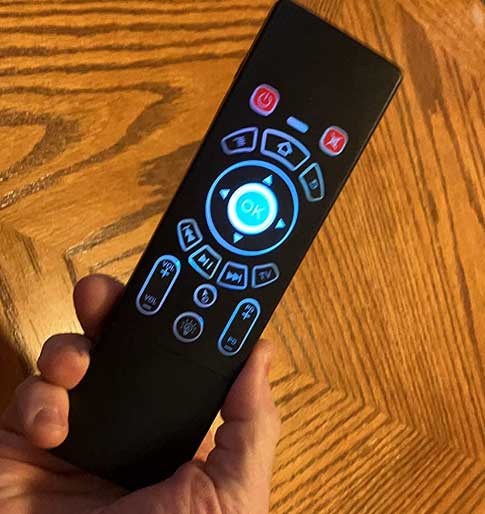 Additionally, ILEBYGO equipped it with RGB backlit buttons. We really like this addition, as it ensures that it remains usable even in low-light conditions. Moreover, it boasts 2.4G wireless connectivity, 6-axis somatosensory technology, and infrared remote control, bringing you a multitude of ways to interact with your media devices.
To connect, you get a USB receiver, a recharge cable, and a user manual – everything you need to get up and running. The ease of setup and overall user-friendly design makes this one a top choice for those seeking a multifunctional remote control solution.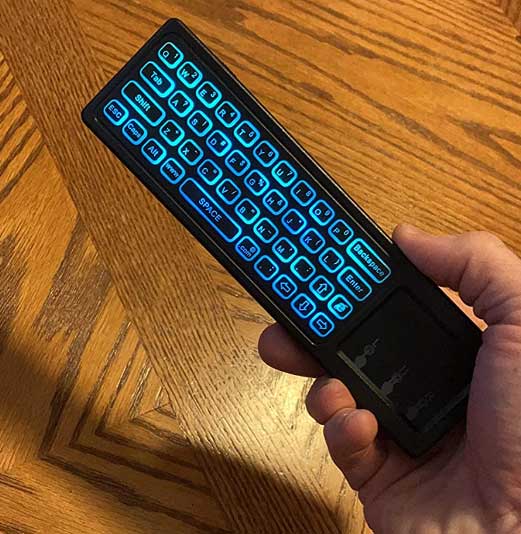 Compared to the Pepper Jobs W10 GYRO and WeChip W1, the ILEBYGO outshines the competition with its energy efficiency and multi-finger operation functionality. While it offers a user-friendly interface and compact design like the others, it does lack the auto-sleep function of the WeChip W1. However, the lack of customization options doesn't hinder its performance as a strong HTPC remote controller.
What we liked:
Lengthy battery life
User-friendly interface
Compact and lightweight
Multifunctional (mouse and keyboard)
What we didn't like:
Enters auto-sleep mode too quickly
No customization options
Rii X8 Mini Wireless Controller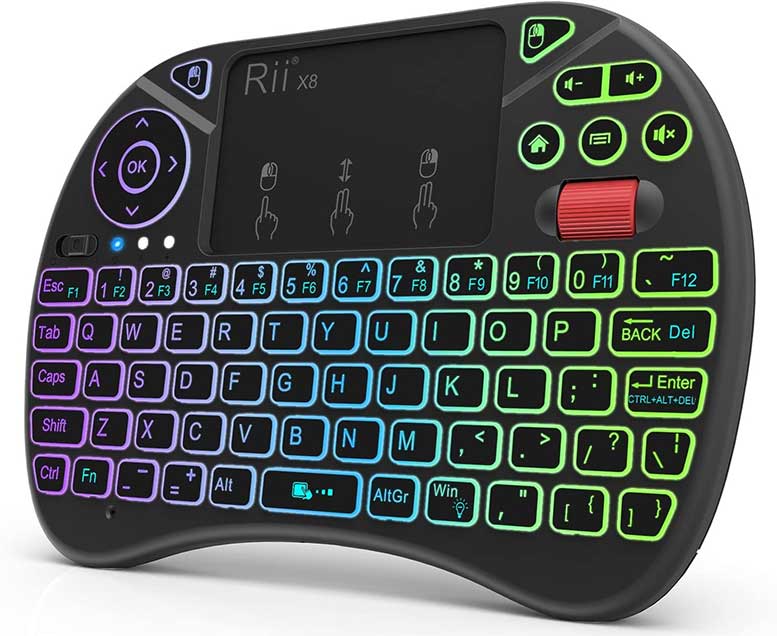 Key features:
2.4GHz wireless QWERTY keyboard
8-color RGB backlit
Rechargeable lithium-ion battery
Touchpad with multi-touch function
Last on our list of top picks is Rii's X8, a compact and innovative wireless keyboard controller that offers 2.4GHz radio frequency connectivity. This is achieved through a USB dongle, so it's universally compatible with a variety of devices, including PCs, gaming consoles, Android TV boxes, and even Raspberry Pi series.
Right out of the box, the most notable difference with this remote is its gamepad-like shape. It sports a built-in touchpad, complete with multi-touch function, and mouse buttons that are designed to provide seamless navigation.
There's an appealing 8-color RGB backlight feature that serves to add a splash of color to your typing experience. It has an ergonomic design that we really like, too. This makes it easy to hold and use for prolonged periods. It is fairly small, but that's not a bad thing in this case. Its measurements are 7.17 x 4.21 x 1.06 inches, and it only weighs 6.4 ounces. As you can see, it's an extremely portable choice among HTPC remote controllers.
Another plus is the rechargeable built-in lithium-ion battery. It provides respectable longevity – you can get 2 to 3 weeks of use before needing to recharge. While that's not the best in the world, it incorporates a smart auto sleep and wake-up function to conserve power when idle. The performance during our tests was solid throughout. It has excellent range of up to 30 feet, and the keys respond effectively to inputs. What's more, it just feels wonderful in hand. If you're a gamer, this is the HTPC remote for you.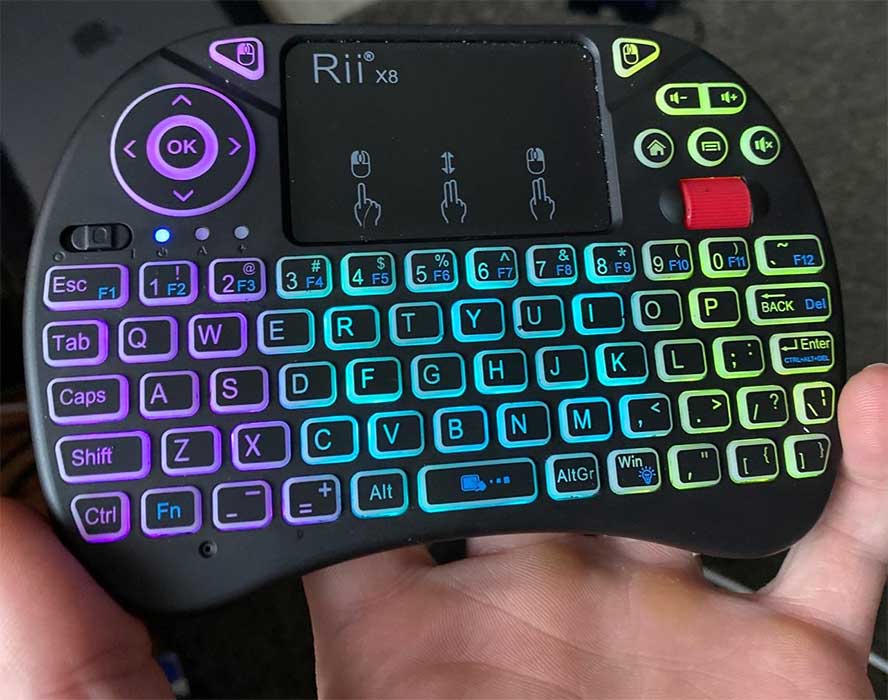 All that said, it's worth noting that for compatibility with certain devices, such as Amazon Fire TV 4K and Amazon Fire Stick, you may need a Micro USB host OTG cable. This may add a little to the hassle, but it's a small trade-off for the functionality that this mini keyboard offers. You might need some time to get used to the smaller keys, but they work well once you get the hang of them. Minor hiccups aside, this is a serviceable – and affordable – remote control solution for your HTPC setup.
Unlike the others, this controller is more akin to a gamepad, making it the premier choice for gamers. What's more, its 8-color RGB backlight feature adds a flair not seen in the other options, enhancing its aesthetic appeal. While the rechargeable lithium-ion battery doesn't last as long as the ILEBYGO Air Mouse, it provides sufficient use.
The extra cable for needed compatibility with certain devices is a hurdle not present in the Pepper Jobs W10 GYRO and WeChip W1. And the smaller keys may be challenging for some users, making Pepper Jobs' W10 GYRO a better option if ease of typing is a priority. Despite this, its broad device compatibility and compact design make it an appealing choice.
What we liked:
Compact and lightweight
Broad device compatibility
Auto sleep/wake-up function
30-foot transmission range
What we didn't like:
Extra cable required for some devices
Small keys may be challenging for some users
HTPC Remote Controller FAQs
What is an HTPC remote controller?
An HTPC (Home Theater PC) remote controller is a device that allows you to control your home theater system from a distance.
How does an HTPC remote controller connect to my devices?
HTPC remote controllers typically connect to your devices using one or more wireless technologies, including Bluetooth, infrared (IR), USB, or Radio Frequency (RF).
Can I use an HTPC remote controller with different operating systems?
Yes, most HTPC remote controllers are designed to work with a variety of operating systems. However, some may be optimized for specific operating systems, like Windows 10 or 11.
Final Verdict
Our top pick, the Pepper Jobs W10 GYRO, earns its crown for its multifunctional design that efficiently combines a remote, mouse, and keyboard in one handy device.
WeChip's W1, although not compatible with certain brands, delivers impressive performance in terms of broad device compatibility and accurate motion sensing. Its auto sleep and wake-up function, combined with a lightweight and compact design, makes it a noteworthy option.
Next, we have ILEBYGO's Air Mouse, lauded for its multi-finger operation support and energy-efficient built-in lithium battery. Despite lacking an auto-sleep function and customization options, it stands out as a strong contender with its user-friendly interface and compact design.
Last but not least, the Rii X8 Mini Wireless Controller sets itself apart with its gamepad-like design and functionality. It's easily the go-to solution for gamers who want optimal versatility.
Whether you prioritize device compatibility, energy efficiency, or a gamepad-like design, there's a controller here to enhance your HTPC experience.