While spy glasses with built-in hidden cameras may seem like an extremely niche market, there are a surprising amount of professional and amateur uses for them. Especially for those who want to record high quality video, the existence of an integrated camera can be either a blessing or a curse, due to the fact that the image quality can be stunningly clear and detailed or a blurred mess.
Another important concern for any set of spy glasses is the fact that you need a method to store or transfer your data. Especially when recording video, any serious limitation can be a major constraint, as it's better to have access to storage space on demand.
In this review, we're also going to be focusing critically on the hidden aspect of the camera, as well as how simple and inconspicuous carrying out a variety of commands are for each model. Many will seem very similar, but we're going to break down each feature to detail, and explain the advantages each can offer for a wide user base.
Forestfish Sunglasses
The Forestfish Sunglasses are a relatively simple model with some limitations that the previously mentioned spy glasses don't have, but they do provide unique advantages as well. While they may not be able to record in full 1080P like the other two, they still provide plenty of value and have highly rated reviews to prove it.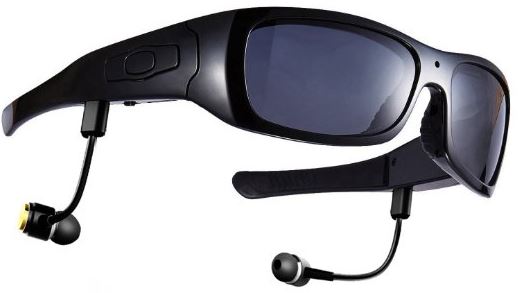 Two Recording Modes
Like the Corprit Spy Glasses, this model has the ability to record both videos and still shots, however there isn't a burst mode, or the ability to record audio. The video resolution is set to capture high definition at a 720p resolution. Although this is a bit lower than others, it's still high enough that they would appear impressively clear on platforms like Facebook and other social networking services throughout the web.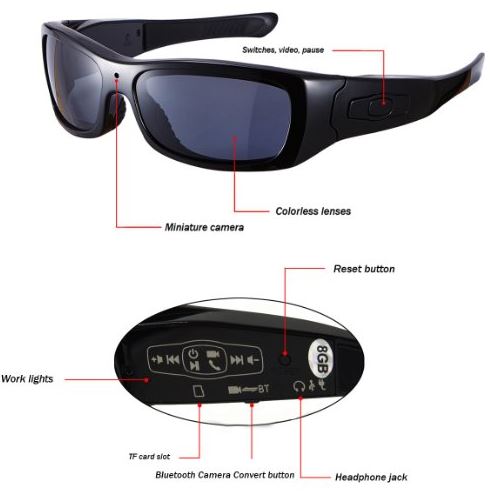 It uses a 5 megapixel sensor as well, so that clarity will carry on in dimly lit environments, and provide a comparable frame rate to the other models. This is a high enough resolution to capture plenty of detail in virtually any shot.
Durable Frame with Specialized Lenses
The Forestfish spy sunglasses offer your choice of plain black, blue or clear lenses, however the latter versions come at a very small additional expense. The black lenses come stock with every pair.
The frame is made of Swiss Grilamid polymer, which is flexible, lightweight and durable, and the lenses are all polarized to reduce glare. They offer a UV protection of 400 as well, which make the dark lenses more valuable overall since they can actually be used genuinely as a pair of sunglasses – designed to fit right in.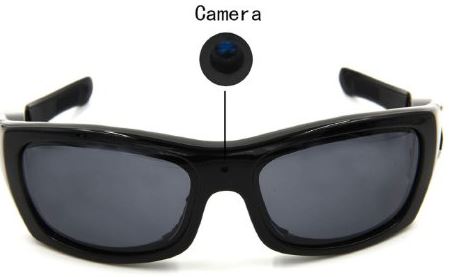 With the included case, bag and 1 year warranty, you're given a tremendous satisfaction conviction. If they don't perform as operated you have nothing to worry about. You can also take advantage of the 30 day money back guarantee if you end up being completely unhappy within the first month of ownership. Although this shouldn't be the case for most individuals, it's nice to see that they offer a sturdy guarantee to protect your investment.
Superior Battery and SD Card Storage
The 500mAh rechargeable lithium polymer battery is a definite advantage over the other models, as they both use a smaller battery. The Forestfish Sunglasses provide an entire 128 hours of standby time, but also 3 hours of continuous recording time, making them much more reliable on this end and more-ideal for longer days.
Simply put, because these spy glasses require less out of the battery, it's capable of lasting much longer for you. At anytime you can recharge them using the included micro USB cable, similar to the other spy glasses, however you cannot record video when the battery is at a 15% or lower charge.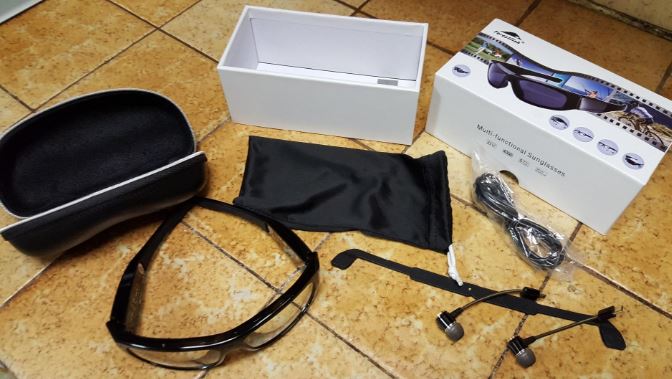 Videos are saved in AVI format and photos are saved in JPEG format, and with the built-in microSD card slot, you can use cards of up to 32GB in size. There's also an 8GB card included, which isn't huge but offers a simple way to save a decent amount of footage before investing in a larger capacity card.
While you can transfer files to any computer or device that uses microSD cards, the playback software is only compatible on Windows 7, XP, 2000 and Vista, as well as Mac OS10.5. This is actually a very acceptable amount of compatibility and really not that big of deal. Like we said before, the included media players that come packaged with these spy glasses aren't the best choice of software.
Joycam HD Spy Sunglasses
The black tinted Joycam HD Spy Sunglasses provide a good combination of performance and ease of use, with particular focus on how you're able to record and transfer your image data. They boast an impressive resolution that captures secretly in excellent detail and are extremely easy to use while being built to last.
1080p HD Video Capturing
Each of the models reviewed provide HD video, however these deliver a resolution of 1,920 x 1080 or 1,280 x 720 pixels, depending on the specific setting you have it set to. In terms of video, the frame rate is roughly 25 fps with a 16:9 aspect ratio, which means both a smooth and fast video capture as well as a wide frame of view. This way, you can capture a variety of situations, even those with rapidly moving subjects.
For those more professional users, you'll be able to achieve some pretty impressive first person point of view shots, especially if you require a solution that allows your hands to be free, so they "blend in" just like a normal pair of shades.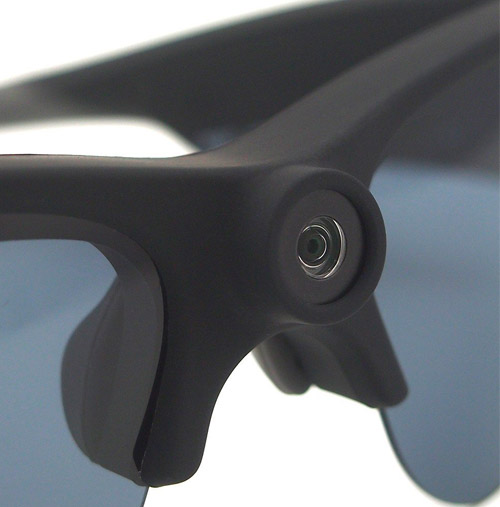 The image quality of still shots is actually a much higher 4,032 x 3,024 pixel resolution. This is ideal for those interested in taking purely high quality images, at a fixed focal length, at any moment, in virtually any situation.
Built-In microSD Card Slot and USB Playback
For local storage, there's a built-in TF card slot (microSD) as well as an included 16GB card, however it's compatible and upgradable to 32GB in capacity. Because the Corprit Spy Sunglasses don't have a microphone and don't receive audio input, the video is coded with the MJPEG compression format which records each frame as a JPEG, and then saves it as an AVI file. Images are also recorded as JPEG files, which makes intuitive sense.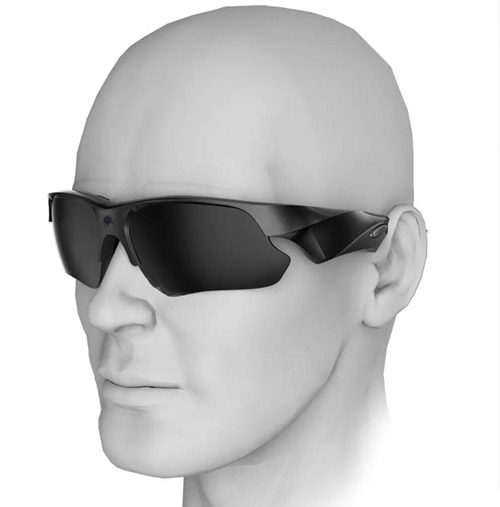 Additionally, there's a built-in MINI 8-pin USB port, which allows you to connect them directly to your computer for instant playback or transferring files. One limitation here is that the playback media player only supports the specific Windows Operating Systems 2000, XP, 2003 and Vista and anything newer. It's not compatible with Mac, although you can transfer files just fine. Regardless, you can choose to use any media player to play the files, you're not limited or restricted to use solely theirs.
One nice thing is that they've included a memory card adapter. It lets you can readily access your media simply by sliding the microSD card into the adapter and plug it directly into any card reader.
Contemporary, Unisex Design with Two Buttons
Other than being a slim and modern design with comfortable nose pads and hyperbolic lenses, there are some effective hidden aspects as well. First, the pin-hole camera blends in well with the black color and the micro USB port features an attached black cover, and is also located on the bottom of the left arm. The TF card slot is located at the hinge and is accessible when you fold the glasses closed.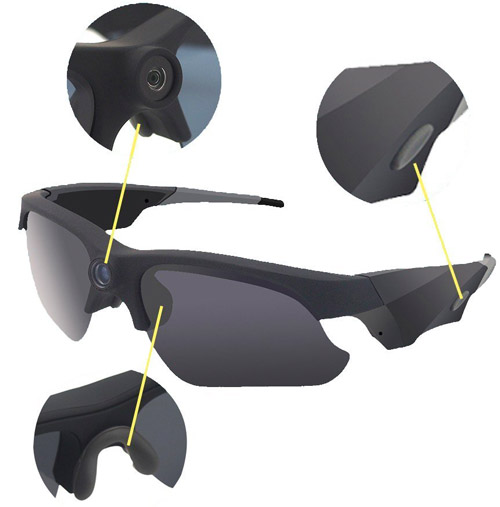 There are two buttons located on the right arm, one for each capture mode. All you have to do is subtly press a button, and you can select between video, still shot and burst still shot modes.
As you know, there is a charging requirement for the 300mAh lithium polymer battery, provides a continuous video recording run time of just under and hour, and can be recharged via the included micro USB cable. There's also a carrying case included, allowing you to keep the spy glasses, cable and cleaning cloth in a safe, compact place for travel.
ENKLOV HD Polarized Spy Sunglasses
The ENKLOV HD Polarized Spy Sunglasses is another contemporarily designed set of spy glasses that use clear lenses, which focuses primarily on the ability to record both audio and video, among other features. Although they're not necessarily sunglasses and aren't designed for eye protection, they do a fantastic job at staying hidden, secretive and undercover.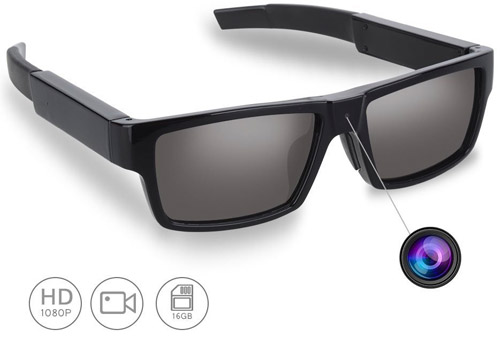 HD Video Recording and Audio Support
This feature is both a blessing and a curse, depending on your individual preferences, as there isn't an audio only mode – you must record video as well. This is actually a very minor setback in any case, as a microphone could be better hidden than in a pair of glasses, if you only wanted that functionality. With that being said, there is a pinhole camera that's hardly noticeable even at close range, as it blends in well with the black frame. The standard video quality is 1080p resolution in high definition, which is a great benefit.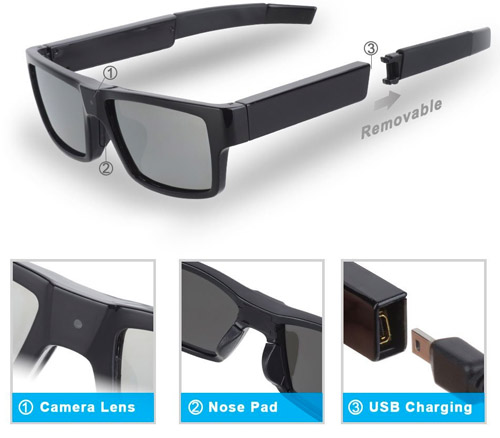 These spy glasses also record video with the MJPEG video compression format and saves them as AVI files. It provides a frame rate of about 25 fps, which is fast considering how relatively inexpensive these glasses are. While you must wait 3 minutes between video recording sessions and there isn't a still shot mode, these glasses provide a consistent video quality which is a decided advantage.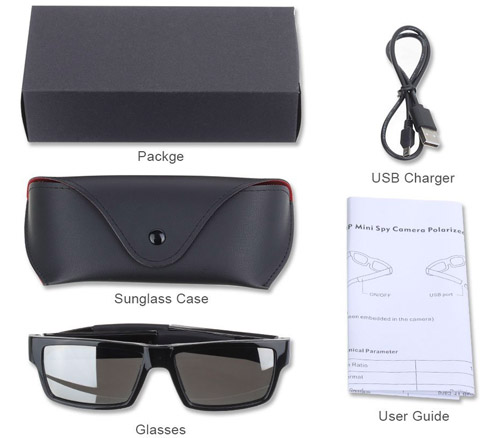 Durable Build with Rechargeable Battery
One of the unique benefits of the Toughtsty Smart Spy Eyewear is the fact that they're not only designed to look stylish and inconspicuous. Additionally, they have a guaranteed operating temperature of between 0 and 60 degrees Celcius, a humidity rating of 15-85 %RH and a storage temperature of between -20 and 80 degrees.
Essentially, they're prepared to endure cold weather when stored and are backed by a 90 day money back guarantee, no questions asked. The 300mAh rechargeable battery lasts just under an hour on a single charge, and takes only an hour to charge due to the requirement of using a dedicated power charger.
Final Thoughts
There are a few distinct differences between each of these best-rated spy glasses for 2017-2018, however the built-in cameras all seem to provide excellent quality recording overall. In terms of price, all three are quite similar, but there is a noticeable trade between superb video quality and the operating time of the internal battery. However, their simplicity and long standby times make them readily available and accessible at all times.
While neither of them come pre-packaged with any valuable media playback software, it's really not that big of deal. You can use any standard media player to play the video files. If you want our recommendation, go with VLC player – it's a multi-platform, free piece of software that you can download online at anytime. It'll play virtually any file extension and does a fantastic job with compatibility.
Although spy cameras and glasses can be somewhat controversial, it goes without saying that you need to make sure you're safe and legal in your practices. Don't get into any trouble by recording something you shouldn't! After all, these are ideal for undercover and covert situations but can still be used in any regard.