What used to be reserved for spy movies like Mission: Impossible is now a reality in the modern era. We're talking about spy glasses with hidden cameras, and we're bringing you the best of the best.
Whether you are an adrenaline enthusiast looking to record your outdoor adventures or a private investigator seeking to follow in the footsteps of Ethan Hunt, there's a pair of spy glasses here to meet your needs. To give you a preview of what's to come, here are our top picks:
Join us as we investigate each of these models to understand their key features, advantages, and potential drawbacks, so you can make an informed buying decision.
Sheawasy 4K Spy Camera Glasses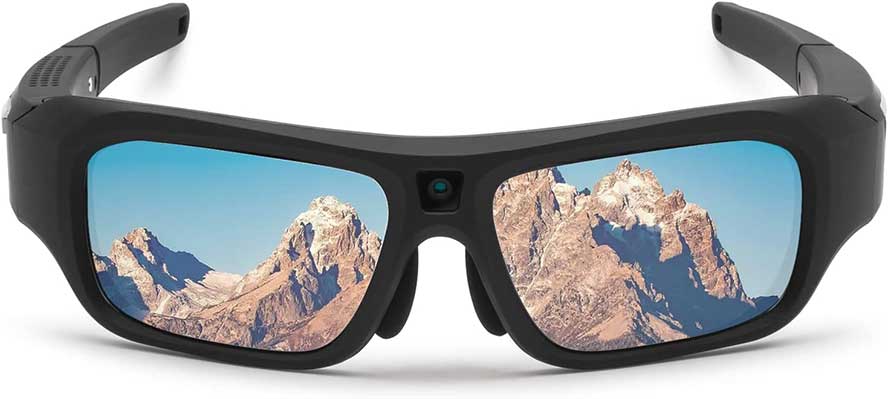 Key features:
4K UHD video recording
Point-of-view camera perspective
Video output to phones via OTG
Polarized lenses with UV400 protection
Sheawasy's 4K UHD Video Sunglasses are an innovative blend of tech and style. This gadget boasts a powerful built-in 4K video camera capable of recording at a resolution of 3840 x 2160 pixels, significantly higher than the standard 1080P. The high-quality footage captured reflects a similar perspective to the human eye, providing a POV (point-of-view) experience that lends itself perfectly to outdoor adventures, driving, and hiking.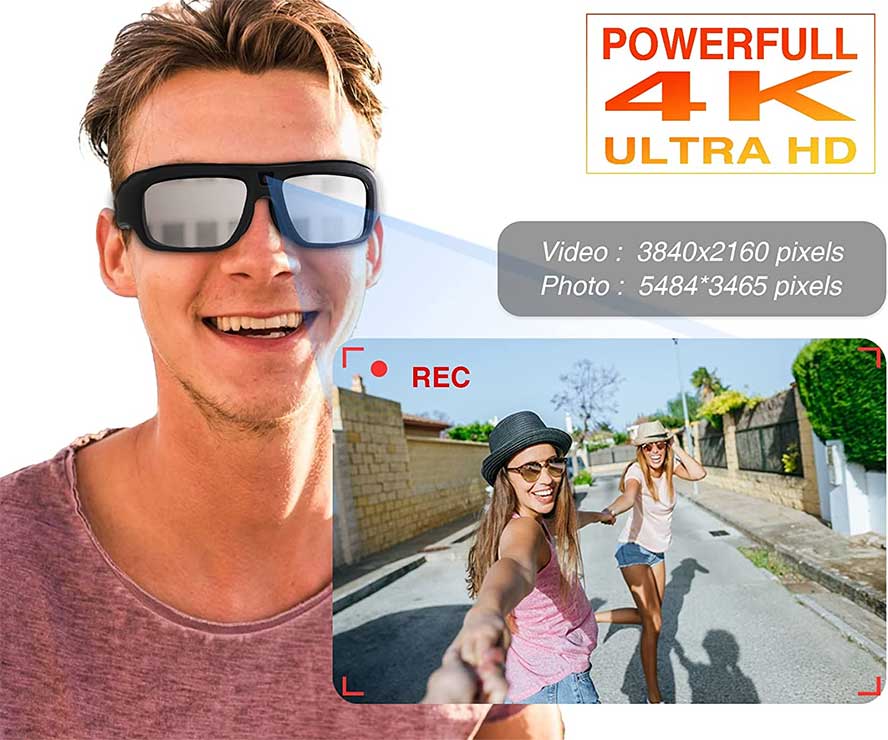 Content creators will surely benefit from these shades. In addition to their impressive video capabilities, they also feature a snapshot function, producing high-resolution photos at 5484 x 3465 pixels. However, please note that these shades are not equipped for audio recording. Convenience and ease of use are at the core of these camera glasses. The included OTG card reader facilitates seamless output of videos to both Android USB Type-C and iOS devices, allowing users to quickly share their adventures. The battery lasts about 75 minutes, and getting a full charge takes just 60 minutes.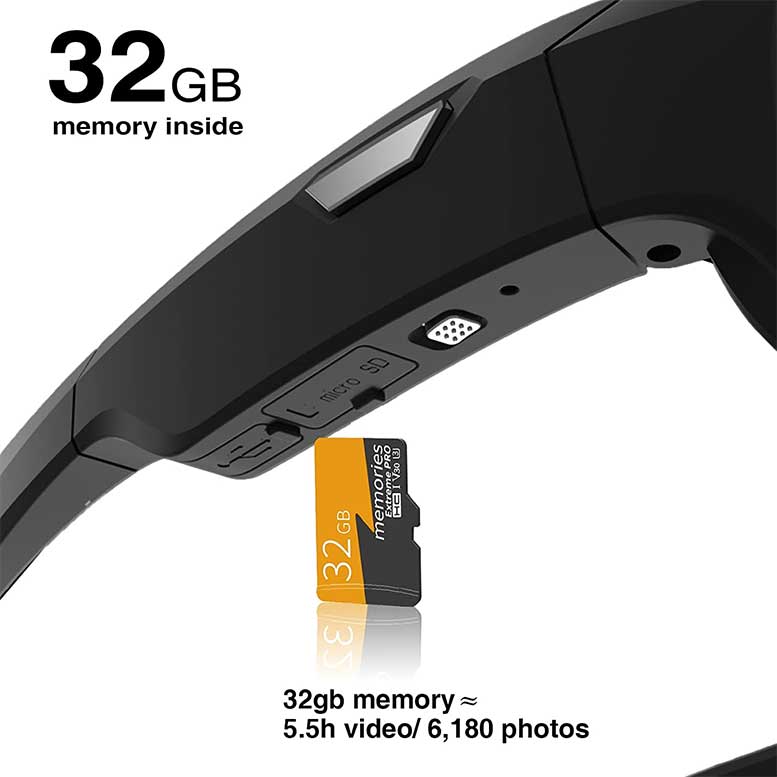 In addition, the glasses contain 32GB of included memory, enough to store approximately 5.5 hours of video footage or 6,180 photos. Despite the technical prowess, these glasses don't sacrifice comfort and protection. They are fairly light, weighing just 6.7 ounces, and measure 7.17 x 3.23 x 2.83 inches. Polarized lenses reduce glare and offer UV400 protection to shield your eyes from harmful UV rays, making these shades a perfect companion for outdoor activities. Nevertheless, potential users should note that they can warm up during use. While this is normal, it's worth keeping in mind for extended use.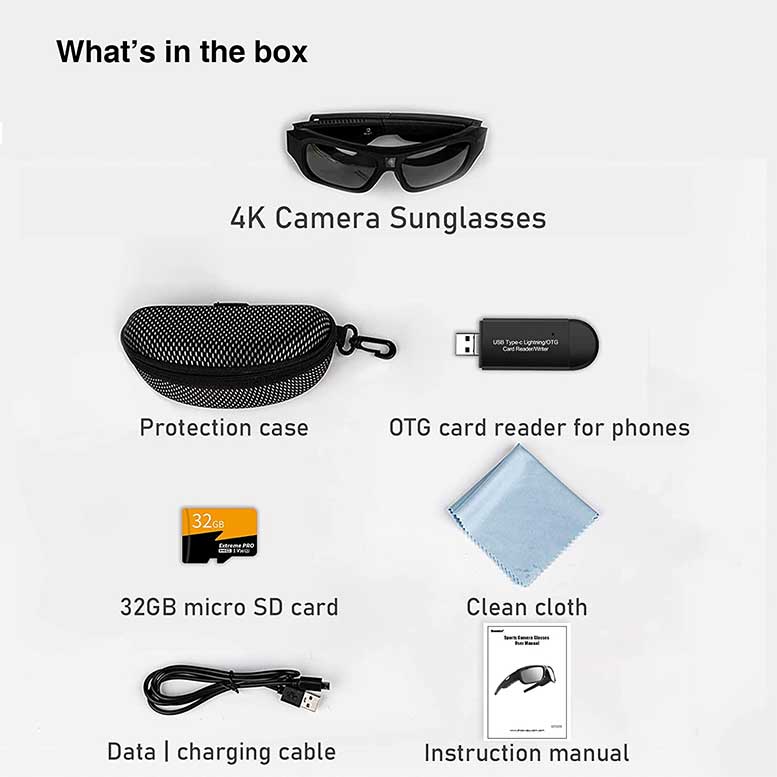 Comparatively, Sheawasy's glasses offer superior video and photo quality due to their 4K UHD recording capability, which exceeds the 1080P standard set by the other glasses in our review. This is especially noteworthy for those seeking high-definition POV footage for content creation. However, unlike the other entries, they lack an audio recording function. The glasses provide convenient video output to mobile devices and a sizable 32GB included memory, similar to the KAMRE glasses.
What we liked:
High-resolution video and photo capabilities
Convenient video output to mobile devices
Sizable 32GB included memory
Comfortable and protective for outdoor use
What we didn't like:
Gets warm during use
No audio recording function
NANIBO 1080P Spy Camera Glasses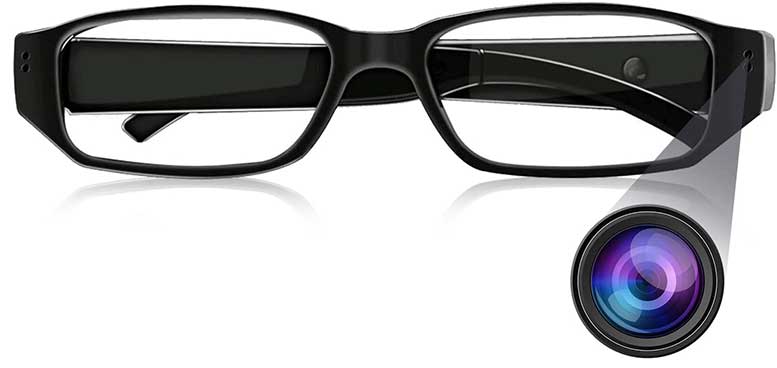 Key features:
Lightweight and wearable design
Full HD 1080P recording
Straightforward operation
Supports up to 32GB SD card
The NANIBO Camera Glasses combine practicality and innovation in a stylish yet unobtrusive design. Equipped with an HD 1080P camera discreetly placed on the left side of the frame, the glasses offer an intriguing mix of tech and fashion. The lightweight ABS plastic construction ensures comfort and wearability, making them ideal for various outdoor activities like cycling, driving, or even fishing. The fixed-lens camera records videos at a full HD 1080P resolution, offering a decent 70-degree viewing angle.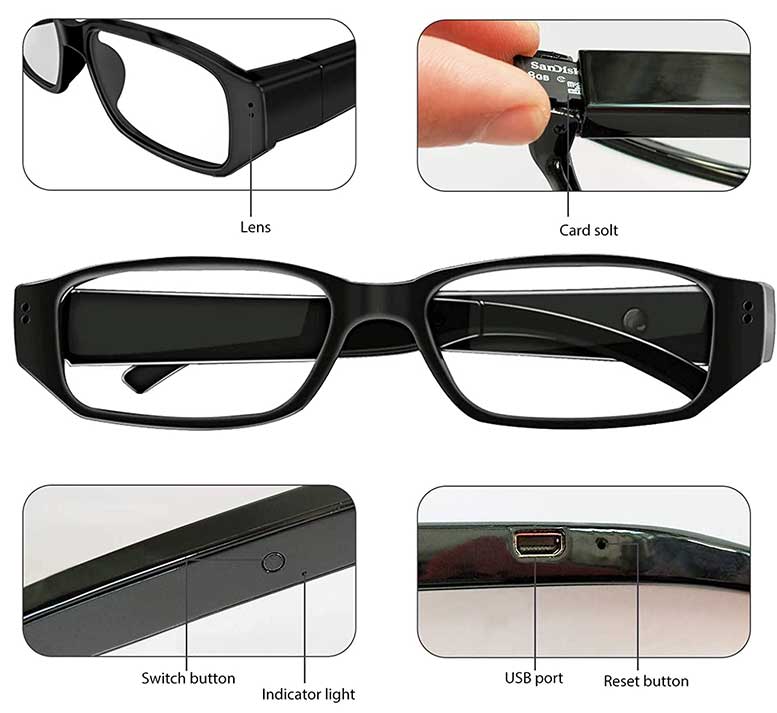 Although the camera's perspective might not be as wide as some might prefer, it's focused enough to capture what's directly ahead. The video quality, while not comparable to that of a smartphone, is satisfactory for spontaneous recording. Operation is straightforward. Just insert an SD card (up to 32GB, not included), power on the device, and press either long for video recording or short for photo capturing. The device overwrites old footage when the SD card is full, and videos can be accessed through a card reader or direct PC connection.
In terms of portability, these glasses are lighter than Sheawasy's at 5.6 ounces, with dimensions measuring 7.09 x 2.76 x 2.64 inches, ensuring they're not cumbersome for extended wear. It's worth noting that a full four-hour charge is recommended before first use, from which you'll get around 50 minutes of working time. Lastly, despite not having image stabilization, the glasses camera's portable and wireless nature adds to its convenience.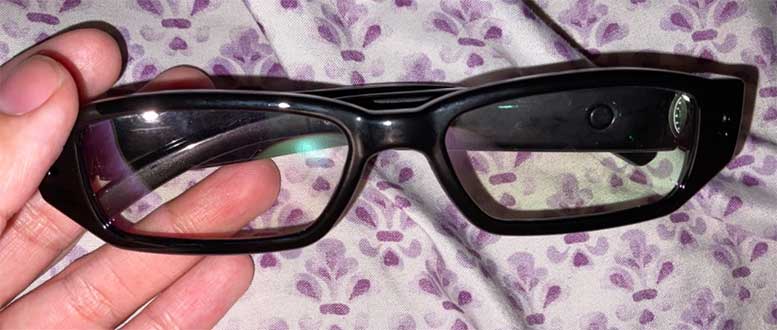 The absence of a wide lens and lack of image stabilization might deter some users, but for those seeking an unassuming wearable camera for everyday activities, the NANIBO Spy Camera Glasses could be an intriguing option. Compared to other models we reviewed, the narrow lens view is indeed a downside, limiting the scope of what can be captured. However, they feature straightforward operation, similar to the KAMRE's one-button operation system. And when put up against other entries, there's no built-in storage like some other models. You'll have to provide your own storage card.
What we liked:
Discreet camera placement
Comfortable for extended wear
Easy video access
Adequate battery life
What we didn't like:
Narrow lens view
No image stabilization
KAMRE 1080P Spy Camera Video Sunglasses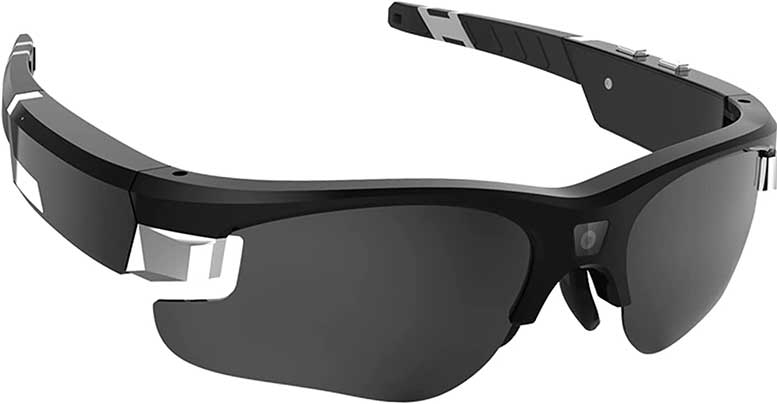 Key features:
High-definition 1080P integrated camera
One-button operation system
Supports a 32GB MicroSD card (not included)
Ideal for various outdoor activities
Sporting a fusion of sleek design and cutting-edge technology, the KAMRE Camera Video Sunglasses redefine the concept of smart eyewear. These glasses come pre-equipped with a high-definition 1080P camera, making them an ideal companion for outdoor activities ranging from mountain biking and fishing to scouting and skateboarding. It's impressive how the KAMRE manages to package robust capabilities into a compact design. With dimensions of 6.4 x 6.3 x 2.5 inches and a feathery weight of just 2 ounces, you're afforded a near-perfect balance of portability and functionality.

The integrated camera provides crisp, clear video capture, with our tests confirming the claimed 1080P resolution. Footage showed no signs of blurring, even during quick head movements, highlighting the glasses' utility for high-speed sports or rapid-action scenarios. Equally noteworthy is the one-button operation system, streamlining the user experience for both novices and tech enthusiasts. Simply pressing a button on the side of the frame initiates recording. Thus, capturing those spontaneous moments is easier than ever. You'll need to give the battery 2 to 3 hours to fully charge, but after that, you can get 1.5 hours of continuous recording.
Moreover, the KAMRE doesn't come with a 32GB MicroSD card included. This is something to be aware of. On the downside, we found that these glasses don't operate without an SD card inserted, which could potentially be a point of confusion for users. Additionally, despite the stylish form factor, the sunglasses may feel slightly bulky to some users, which could detract from comfort during prolonged wear. However, these issues are minor considering the overall performance and the unique concept of them.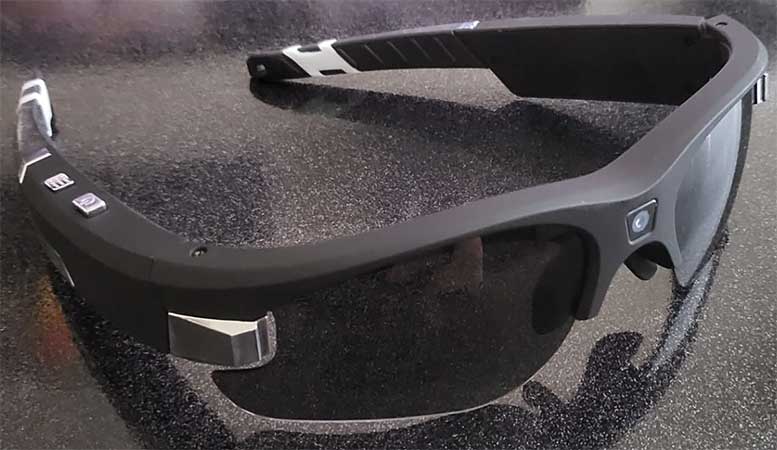 So, how do they stack up against other entries? KAMRE's sunglasses provide high-definition 1080P video capture, comparable to the NANIBO and OhO models but inferior to the Sheawasy's 4K capability. But they stand out with its one-button operation system, which offers convenience for users of all levels.
What we liked:
Excellent video quality
Easy to operate
Built-in storage convenience
Records audio
What we didn't like:
Doesn't function without SD card
Slightly bulky design
OhO 1080P WiFi Camera Spy Glasses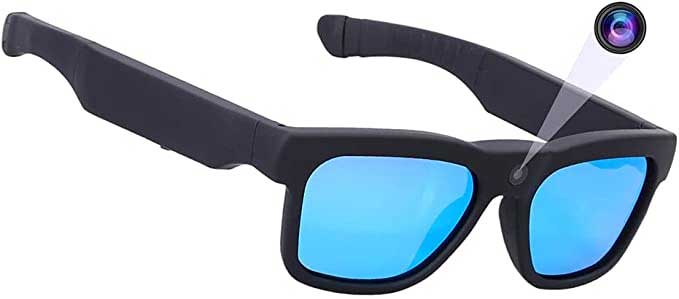 Key features:
WiFi live streaming
Ultra full HD 1080P recording
Compatible with prescription lens
Video recording during charging
As the lightest and most versatile of the bunch, OhO's WiFi Camera Spy Glasses measure just 1.57 inches in lens width and weigh an airy 1.6 ounces. They exhibit a sleek nylon frame, housing a discreet and cleverly integrated camera. The glasses present a TAC polarized lens with UV Protection Coating, ideal for outdoor sports and recreational activities. Battery life is also good, as you can get up to 80 minutes on a full charge. Fast than many others, charging takes just 60 minutes.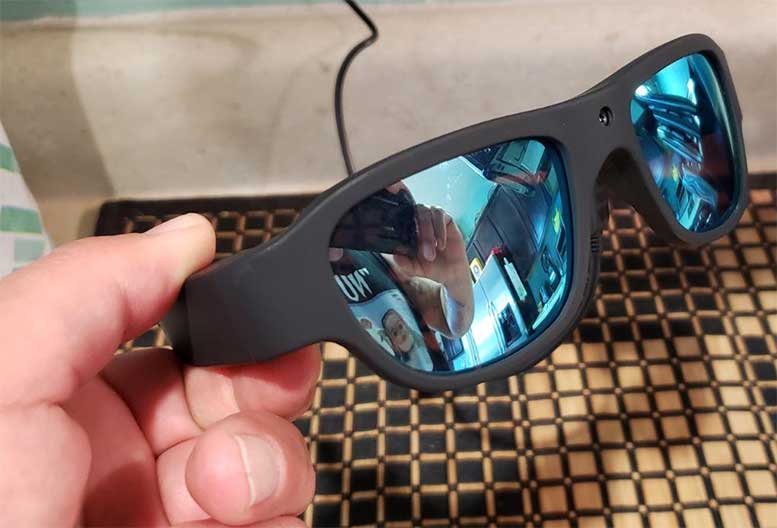 But the standout feature is the WiFi live streaming capability. The glasses communicate with your mobile device using the Vizen Cam app, available on both Android and iOS. This enables you to playback, delete, or download videos and photos directly to your phone. Sharing these captured moments on social media becomes a simple, streamlined process.
A simple button press activates the video recording functionality, with a quick double-click enabling the WiFi feature. On testing, we were able to capture smooth, high-quality 1080P videos with audio and sharp photos. It showed promise in fast-action shots, offering consistent and fluid capture, making the device a companion for our testers who are keen on recording their adventures.
The glasses also allow video recording during charging, which is a welcome feature when you need to record in a pinch when you're low on battery. The built-in 256GB memory is generous, storing approximately 42 hours of video content. You can playback the content on a computer or a TV via the included USB cable. Despite all their features, we noted that they did not come with comprehensive instructions, which may cause some initial usage confusion.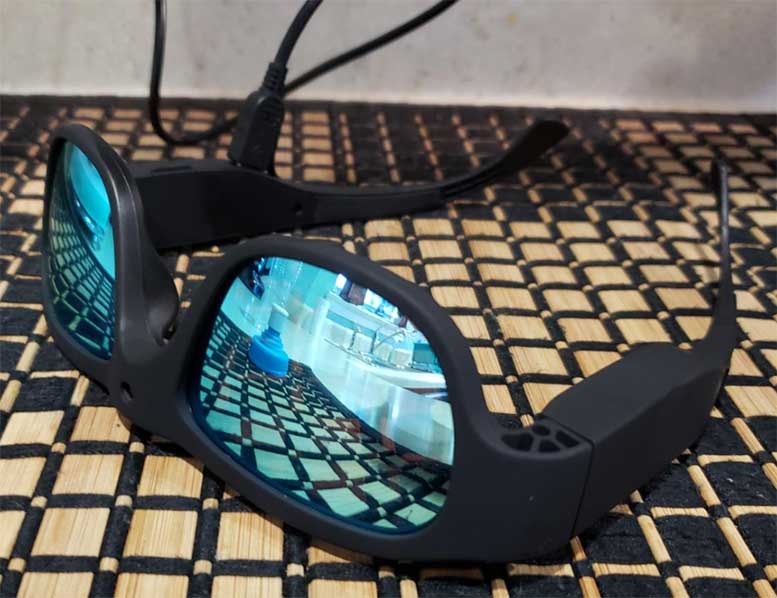 These glasses differentiate themselves with their WiFi live streaming feature, which is not offered by any of the other models reviewed. They provide Ultra Full HD 1080P recording, similar to the NANIBO and KAMRE models, but fall short of the 4K capabilities of Sheawasy's glasses.
A unique feature of the OhO glasses is the compatibility with prescription lenses, enhancing their usability for those requiring vision correction. And the ability to record video while charging also sets them apart from the others. Like the Sheawasy and KAMRE models, these glasses provide ample storage with built-in memory. Although that onboard storage is much greater here.
What we liked:
Lightweight and stylish design
Generous built-in storage
Convenient social media sharing
One-touch button operation
What we didn't like:
Limited usage instructions
Possible difficulty with button operation
Spy Glasses FAQs
Can spy glasses record audio as well as video?
Yes, but not all models come with this feature. Be sure to double-check our reviews, so you can be sure to invest in the right glasses for your needs.
What is the battery life of spy glasses?
The battery life of spy glasses can vary significantly based on the specific model and usage. But on average, you can expect about an hour's worth of use on a single charge.
How does one access the video recordings on spy glasses?
This depends on the model of the glasses. Some spy glasses offer a convenient video output to mobile devices via OTG or WiFi. Others allow you to access the videos through a card reader or direct PC connection. Moreover, some models provide built-in memory, while others require an external SD card for storage.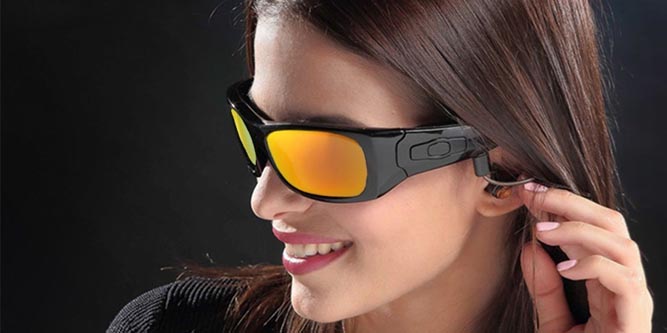 Final Verdict
Each entry was chosen for its unique set of features that cater to different user needs. Sheawasy's Spy Camera Glasses, for instance, are the perfect fit for those in need of high-definition 4K UHD video footage, boasting superior video quality and a comfortable design.
For those prioritizing light weight and simplicity, the NANIBO Spy Camera Glasses are a smart buy. They're ideal for capturing spontaneous moments in high definition.
KAMRE's Camera Video Sunglasses are unique in their own right, providing a balance of functionality and portability. They stand out with their one-button operation system and generous built-in storage.
Finally, if live streaming is a must-have, the OhO WiFi Camera Spy Glasses are the way to go. With an app-compatible interface and generous storage, they are the most versatile option for those who require vision correction and the ability to share their recorded adventures on the go.
Whether you need advanced recording capabilities, a discreet design, or live streaming to your device, these spy glasses offer a range of options to choose from.