When it comes to crafting perfect crimp connections, a high-quality ferrule crimping tool is an absolute must-have. For your convenience, we have researched and tested the market's top options and have narrowed down four exceptional ferrule crimping tool kits.
Our in-depth reviews will ensure you invest in a quality kit suited to your needs. Here's a quick peek at our top picks:
These kits were chosen based on their design, functionality, and the diversity of tasks they can handle. Let's dive deeper into each one to see how they stand out and stack up against one another.
1. KAIWEETS Ferrule Crimping Tool Kit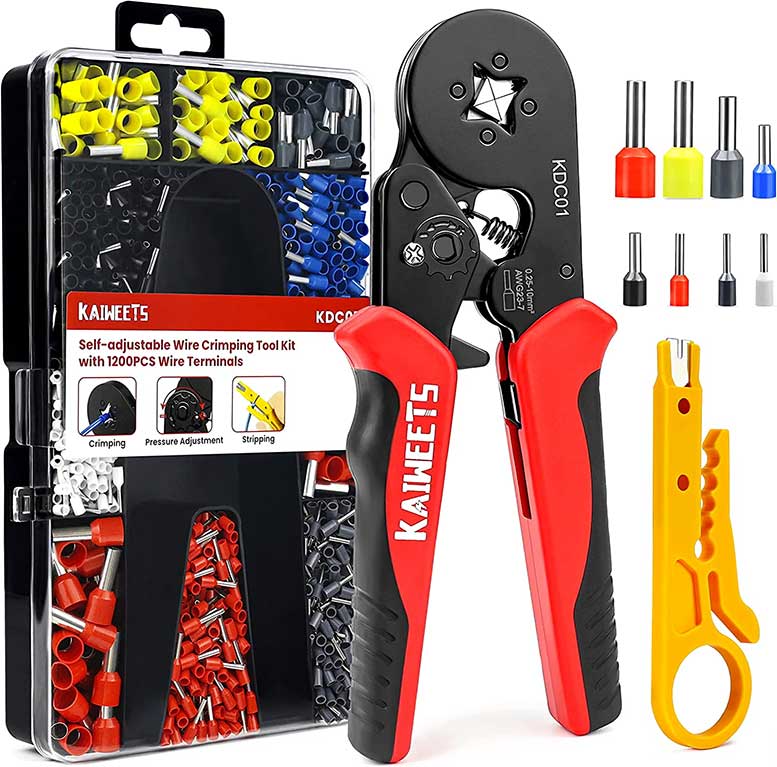 Key features:
Self-adjusting wire crimper (23-7 AWG)
Includes 1,200 high-quality wire crimp terminals
Ergonomically designed, comfortable handle
Equipped with self-adjusting ratchet mechanism
The KAIWEETS Ferrule Crimping Tool Kit (10% discount code: NT10) is a comprehensive solution for wire crimping needs, exhibiting both finesse and strength in performance. The centerpiece of the package, a self-adjusting wire crimper, stands out in particular. Its versatility extends to handle a wire range from 0.25 to 10 mm² (23-7 AWG). The tool's resilience is unquestionable, with the knife edge and surface going through numerous processes to enhance durability.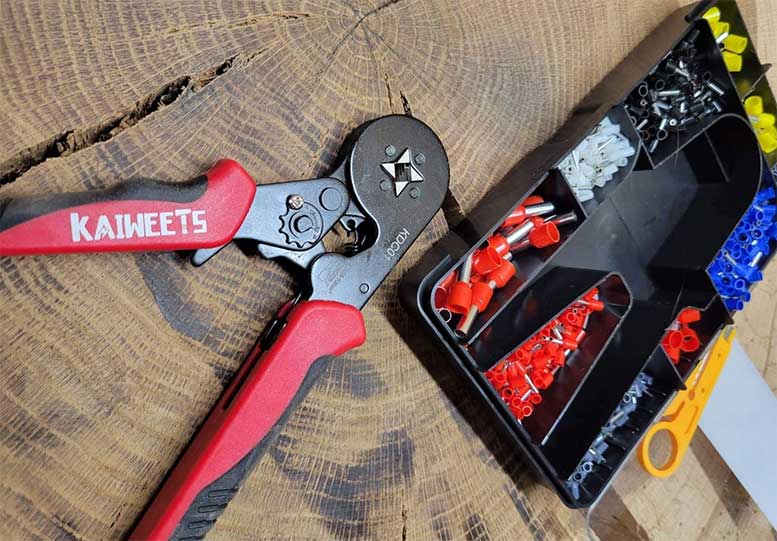 The self-adjusting ratchet ensures the crimper adjusts to the appropriate diameter for stripping terminals, significantly improving crimping accuracy and reliability. This smart design reduces the chance of wasting terminals, adding to its practicality in diverse situations. The tool kit comes complete with 1,200-piece high-quality wire crimp terminals and a Mini Wire Stripper, demonstrating readiness to tackle multiple tasks.
Portability is hardly an issue with this kit, weighing in at just 1.52 pounds and measuring 8.5 x 5.51 x 1.46 inches. Furthermore, its ergonomically-comfortable handle deserves appreciation. Made from polypropylene and PRT material, it offers a non-slip, comfortable grip. Aligning with the principle of leverage, the handle design not only facilitates efficient crimping but also helps alleviate hand fatigue, which proved to be highly beneficial. With the assurance of 36-month after-sale service and lifelong technical support, the KAIWEETS kit exemplifies not just quality but also customer-oriented service.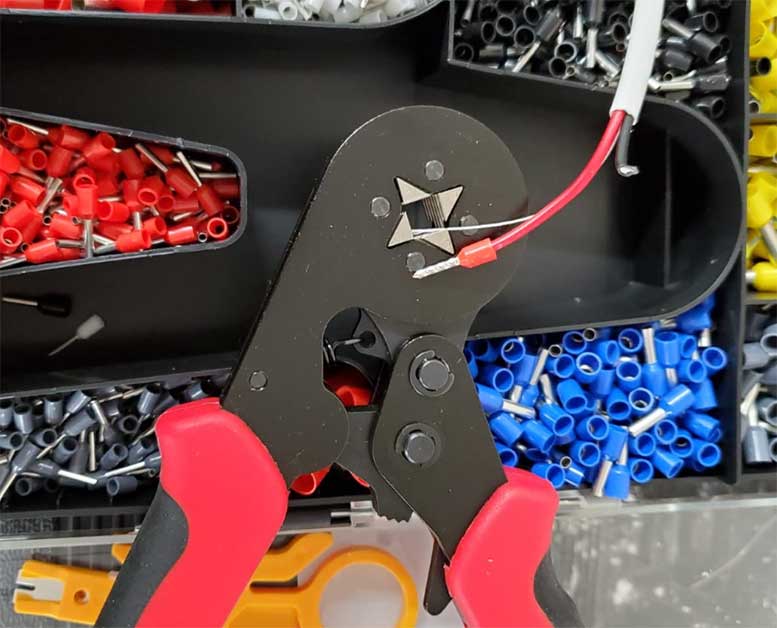 The KAIWEETS Ferrule Crimping Tool Kit ranks highly due to its robust design, versatility, and overall ease of use. Its key advantage over other entries is its ability to accommodate extended tasks. However, unlike the iCrimp and TICONN kits, this kit may require an initial learning curve and is not the best option if you're dealing with larger cables. Don't forget to use the 10% discount code: NT10.
What we liked:
Lightweight and portable design
Reduces hand fatigue and increases efficiency
Ensures crimping accuracy and reliability
Long-lasting, durable construction
What we didn't like:
Cuts aren't always clean
Not suitable for larger cables
2. iCrimp Ferrule Crimping Tool Kit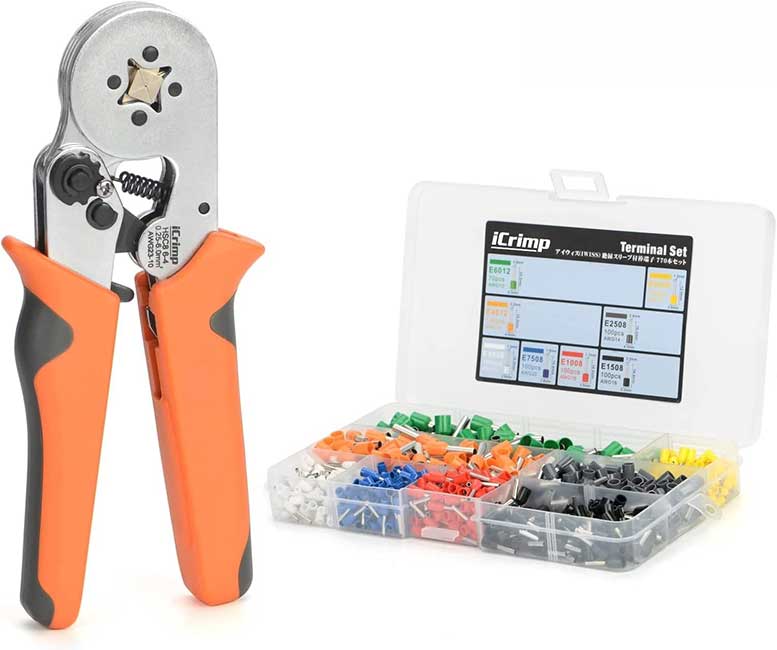 Key features:
Wide crimping range AWG 23-10/0.25-6 mm²
High precision, self-adjusting ratchet
Ergonomic, non-slip nylon handle
Compact size and lightweight
The iCrimp Ferrule Crimping Tool Kit from IWISS stands out as a convenient and reliable solution for electrical wiring tasks. This handy kit is compact, with dimensions measuring 7.17 x 4.09 x 1.89 inches, and weighing just 0.8 pounds, so it's easy to carry around for on-site jobs. Designed for versatility, the kit encompasses a ferrule crimping range of AWG 23-10/0.25-6 mm². It proved highly effective in our testing, accommodating wires of various sizes, from household appliances to intricate electronic components.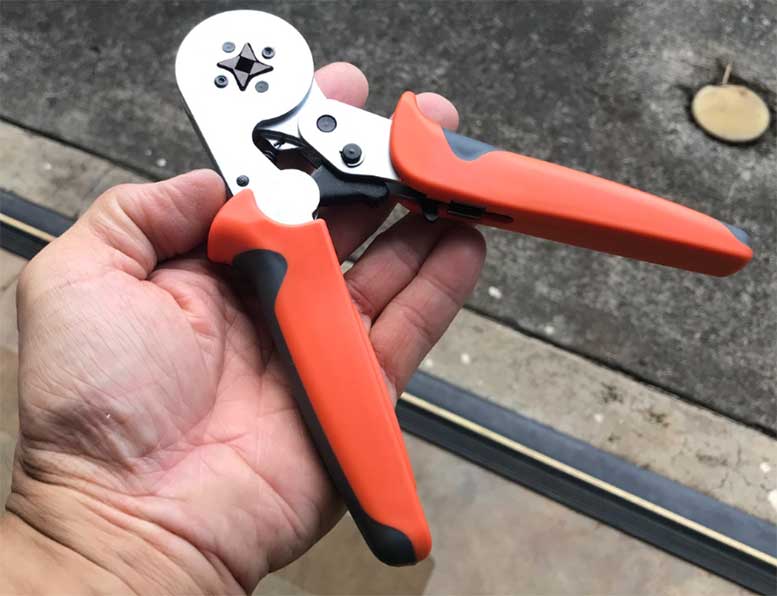 Included in the package are 770 wire ferrules, catering for AWG 22-10, demonstrating its comprehensive coverage of wire sizes. Notably, the high-precision ratchet automatically adjusts to the correct diameter for crimping terminals. And during our performance tests, it consistently delivered accurate and reliable crimps. We were also particularly impressed by the labor-saving ratchet device, which allowed for efficient and easy operation, even in repetitive tasks.
For comfort during use, you get an ergonomic, non-slip nylon handle. This design detail certainly enhanced our handling and control during testing, leading to sturdy and secure crimps. We found this feature especially beneficial during extended use, minimizing hand fatigue and ensuring consistent output. Overall, this one stands as a highly portable and functional set for anyone requiring a reliable tool for efficient wire crimping.

The iCrimp Tool kit is remarkable for its lightweight and compact design, making it a reliable solution for on-site jobs. This contrasts with the KAIWEETS and Lytool kits, which are slightly larger and heavier. Although it doesn't come with a wire cutter, it does include 770 wire ferrules. Thus, it gets an edge over the Lytool kit, which includes fewer wire ferrules. Nevertheless, like the KAIWEETS kit, it does require a learning curve for beginners.
What we liked:
Accommodates diverse wire sizes
Ensures consistent, reliable crimps
Comfortable and easy operation
Portable for on-site jobs
What we didn't like:
Does not include wire cutter
Learning curve for beginners
3. Lytool Ferrule Crimping Tool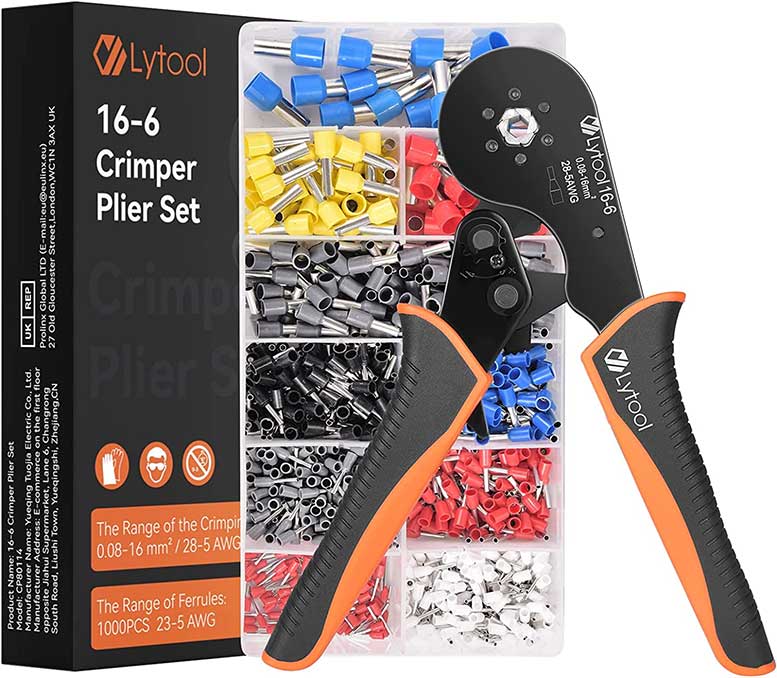 Key features:
Hexagonal crimping tool kit
0.08-16 mm²/28-5 AWG range
Self-adjustable ratchet
Ergonomic handle design
The Ferrule Crimping Tool by Lytool is a robust and precise contender, ideal for various wiring tasks. This kit boasts a hexagonal design that ensures a tightly crimped wire within the ferrule terminal, significantly reducing the chances of strand fraying – a big deal if you need professional quality. This ergonomic design principle extends to the handle, fashioned from thermoplastic elastomer (TPE) and employing a lever mechanism, making operation easier and reducing fatigue. This tool kit covers a wire range from 0.08 to 16 mm² (28-5 AWG), providing adaptability across different wire sizes.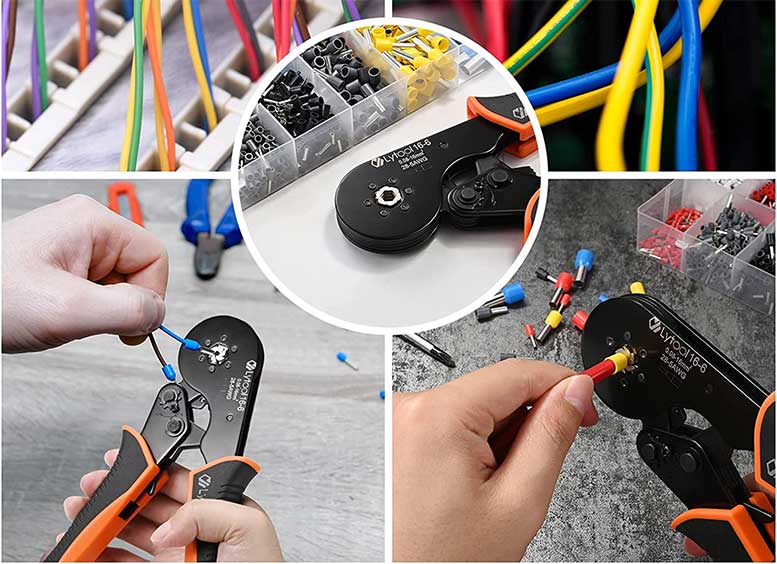 Included are a crimping plier and 1,000-piece wire ferrules, ready for immediate use. With an overall length of 210 mm, this compact tool is easily portable without compromising on functionality. Testing the device, we appreciated its self-adjustable ratchet feature. This feature adapts automatically to the proper terminal diameter, improving accuracy and reliability during the crimping process, thereby reducing terminal waste. Despite its weight at 28 ounces, the crimping tool felt manageable and reliable.
It definitely proves itself to be a versatile asset, useful for tasks related to various equipment switches, batteries, automotive, and household electronic components. It truly shines when it comes to enhancing wiring speed. Electricians, renovators, and builders will find its efficiency a significant time-saver. It also comes with Lytool's commitment to after-sale support, promising a meticulous approach to product quality and customer satisfaction. What's more, all the contents neatly fit within the package dimensions of 8.62 x 8.27 x 1.42 inches, making it convenient to transport and store.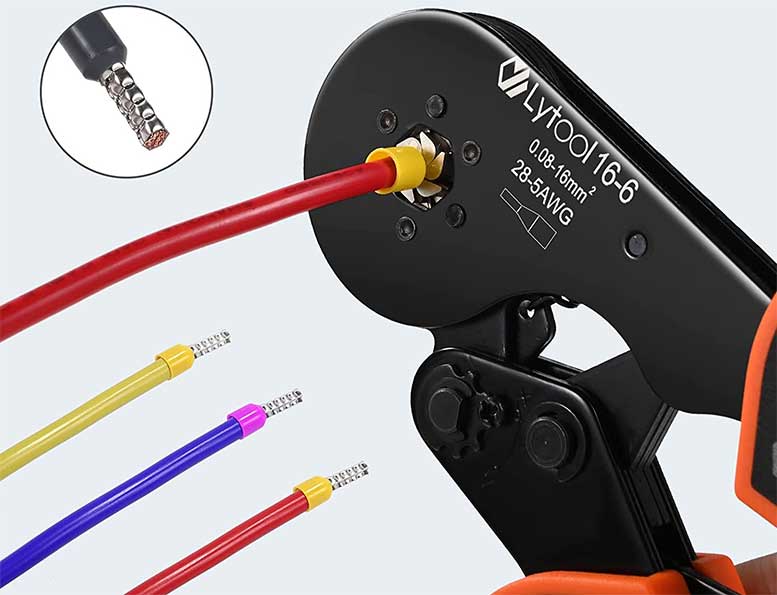 The unique hexagonal crimping design sets the Lytool Ferrule Crimping Tool apart from a lot of other tools on the market. This design promises tight and secure crimps, and its wide wire range gives it an edge over the iCrimp kit. And though it might feel complex for beginners, its customer service is on par with KAIWEETS. Just keep in mind that it might not be suitable for heavy-duty crimping tasks, unlike TICONN's kit.
What we liked:
Highly versatile tool
Effective labor-saving design
Portable and lightweight
Impressive after-sale support
What we didn't like:
Pins may be too short for some applications
Not suitable for heavy-duty crimping
4. TICONN Ferrule Crimping Tool Kit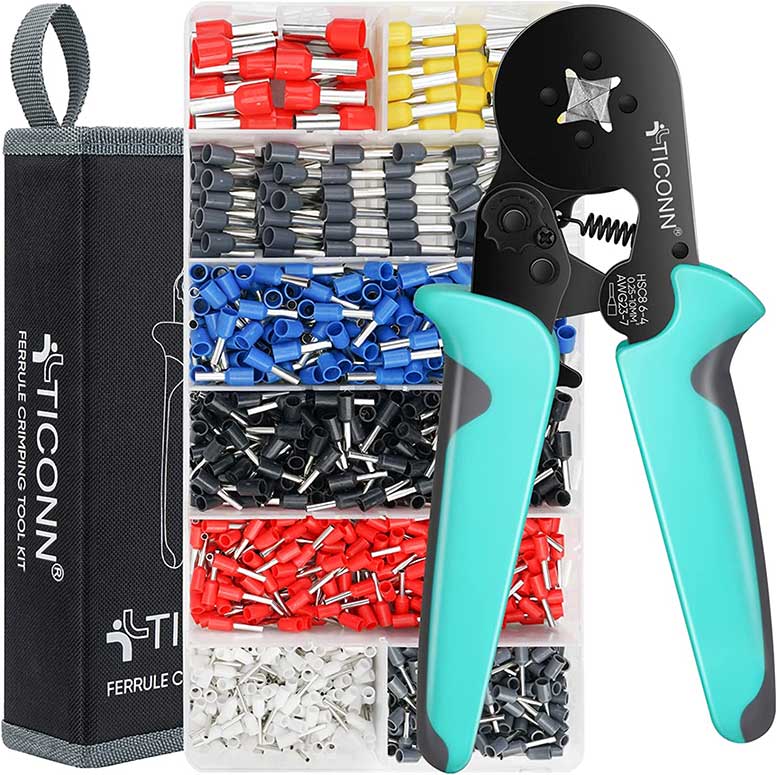 Key features:
Efficient ratcheting mechanism
Adjustable crimping force
Wide AWG range (23-7)
Comes with 1200 wire terminals
From the stable of TICONN comes this impressive Ferrule Crimping Tool Kit. Unpacking the kit reveals a host of bonuses: the tool itself, an assortment of 1,200 wire terminals, and a convenient storage bag. In terms of heft and size, the tool weighs in at 1.74 pounds and measures 9.37 x 5.28 x 2.8 inches, making it relatively portable and easy to handle. One of the highlights is its efficient ratcheting mechanism, designed for consistent, precise crimps.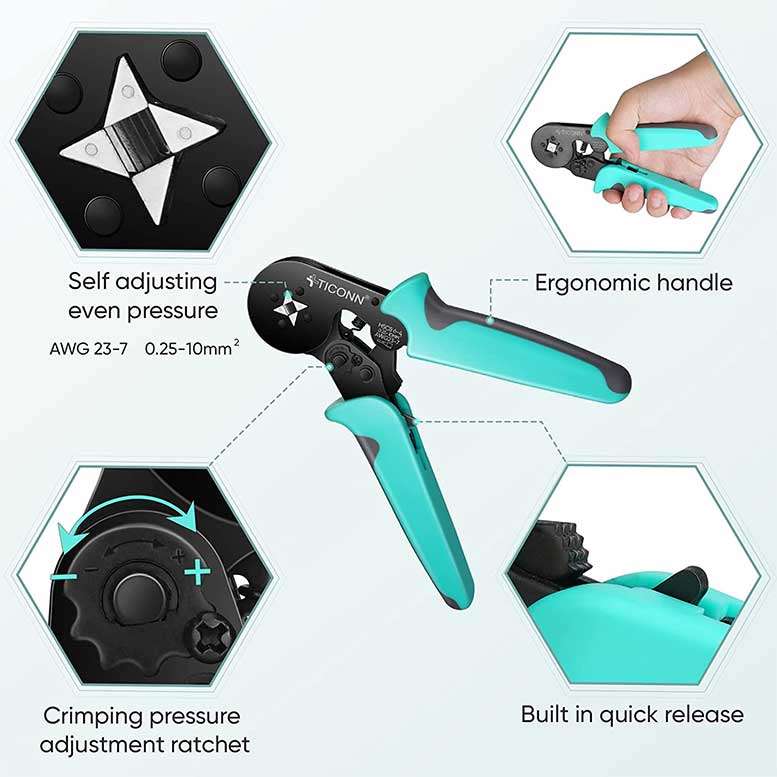 The action is incredibly satisfying – the firm squeeze of the ergonomic handle, the smooth ratcheting cycle, and the automatic release once the crimping process is complete. This ratcheting feature gives users the ability to secure a wire connector, thus freeing their hands to insert the wires into the crimp, a fantastic enhancement that vastly improves ease of use and efficiency. It also excels in versatility, catering to a wide array of wire ferrules ranging from AWG 23 to AWG 7. Additionally, it boasts a cleverly integrated star wheel for adjusting the crimping height, allowing the user to fine-tune the crimping force to match the task at hand.
On the materials front, it sports a durable, professional-grade crimping die and comfortable handles made of polypropylene. The included wire terminals are crafted from copper and polypropylene, ensuring reliable, long-lasting connections. And when the day's work is done, everything neatly fits into the provided storage bag for easy transport and safekeeping. All things considered, this is an invaluable tool kit for both professional electricians and hobbyists alike. However, it's worth noting that the kit requires a degree of technical knowledge for best results, and beginners might find the array of wire terminals initially overwhelming.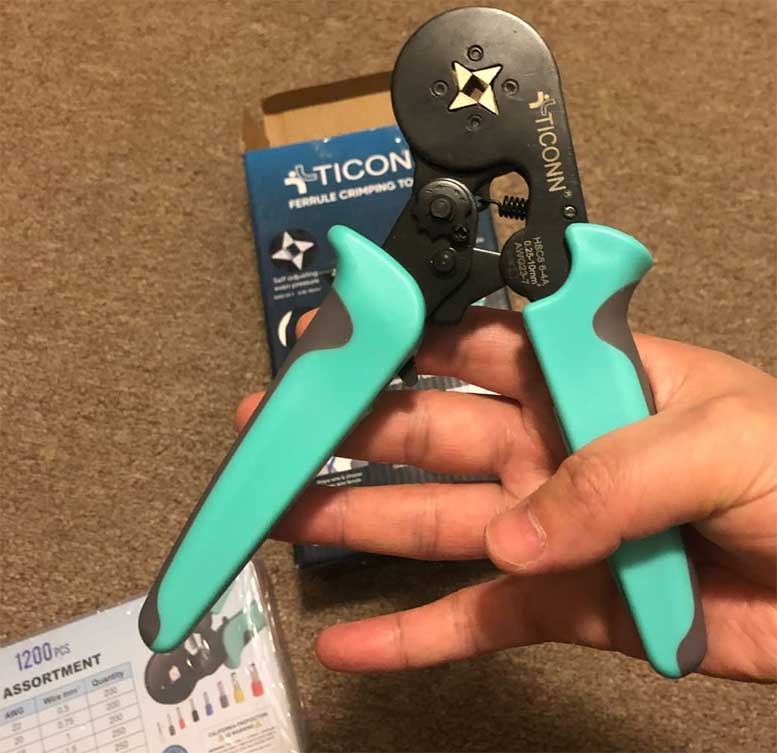 It has a wider wire ferrule range compared to the iCrimp kit, providing impressive versatility. And unlike the other kits, you get a storage bag, which we found to be a welcome touch. But as with the KAIWEETS kit, this one has a learning curve that might dissuade the less experienced from using it. Despite this, the TICONN kit's capacity for hands-free wire insertion sets it apart as a uniquely user-friendly option once you get the hang of it.
What we liked:
Durable and ergonomic design
Comprehensive kit for various tasks
Easy storage and portability
Hands-free wire insertion
What we didn't like:
Adjustment function takes some practice
Crimper gets stuck occasionally
Ferrule Crimping Tool Kit FAQs
What is a ferrule crimping tool kit used for?
A ferrule crimping tool kit is used for creating secure, reliable connections between wires and terminals or connectors. Ferrules, which are metal sleeves, are placed over the stripped ends of wires, and the crimping tool is used to tightly compress the ferrule, ensuring a solid electrical connection.
What features should I look for in a good ferrule crimping tool kit?
A good ferrule crimping tool kit should offer a wide range of wire sizes (usually indicated as "AWG"), an adjustable or self-adjusting ratchet mechanism for accuracy and consistency, and durable, high-quality construction. Ergonomic design, ease of use, and portability are other important considerations. Some kits also come with a selection of wire terminals or connectors, which can be a valuable addition.
Are all ferrule crimping tools the same?
No. While they all perform the same basic function – crimping ferrules onto wires – they can vary greatly in terms of design, functionality, and quality. Some tools offer special features such as adjustable crimping force or unique crimping designs. Others are designed to handle a wider range of wire sizes or come with additional accessories like wire cutters or a selection of wire terminals.
Final Verdict
After detailed testing and comparison, we found each of the chosen ferrule crimping tool kits excelled in different aspects.
The KAIWEETS Ferrule Crimping Tool Kit is one to watch for its versatile wire crimper and high-quality wire crimp terminals. Its self-adjusting ratchet mechanism improves crimping accuracy and reliability, making it a top-notch choice for both professional and hobbyist applications.
The iCrimp Ferrule Crimping Tool Kit shines with its compact, versatile design, ensuring accurate and reliable crimps with its high-precision ratchet. Its ease of use and portability make it ideal for on-site jobs, especially for electricians or repair personnel.
Lytool's Ferrule Crimping Tool is applauded for its unique hexagonal crimping design that ensures tight and secure crimps. Its labor-saving design and wide range of wire sizes make it a time-saving asset for all kinds of projects.
Finally, TICONN's Ferrule Crimping Tool Kit impresses with its efficient ratcheting mechanism and the ability to fine-tune the crimping force.
It's an invaluable tool for both professionals and hobbyists looking for a comprehensive kit that can handle a broad spectrum of tasks. In the end, the best ferrule crimping tool kit for you will depend on your specific needs, whether it's versatility, portability, unique crimping designs, or comprehensive functionality.