For fans of crafting, having a powerful laser engraver is essential. An even better way to take your crafting to the next level is to have a machine that can also function as a cutter. It has a variety of great features that allow it to cut and engrave with a lot of power and efficiency. There are also features to improve the outcome of your project and keep everything safe while in use.
If all of that sounds great, then the Creality Falcon2 is a laser engraver and cutter that you may want to learn more about.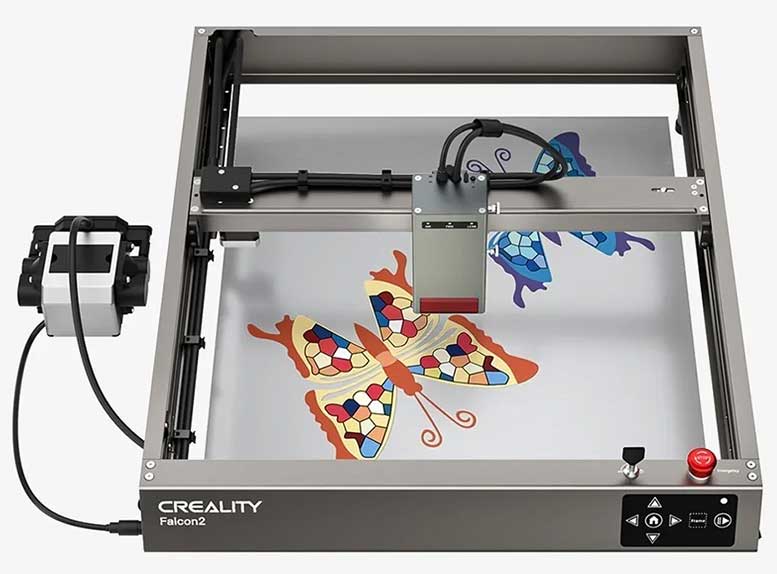 40W of Ultra-High Power
The Falcon2 utilizes 40W of power to create a powerful laser. This laser is used for both cutting and engraving a wide array of materials. You can easily craft with wood, stainless steel, acrylic, plywood, leather, and other materials with high hardness ratings.
It's capable of cutting .15 mm of stainless steel sheet, 20 mm of wood, and 30 mm of acrylic board. This laser is created using 8 powerful laser diodes compressed together into one powerful beam.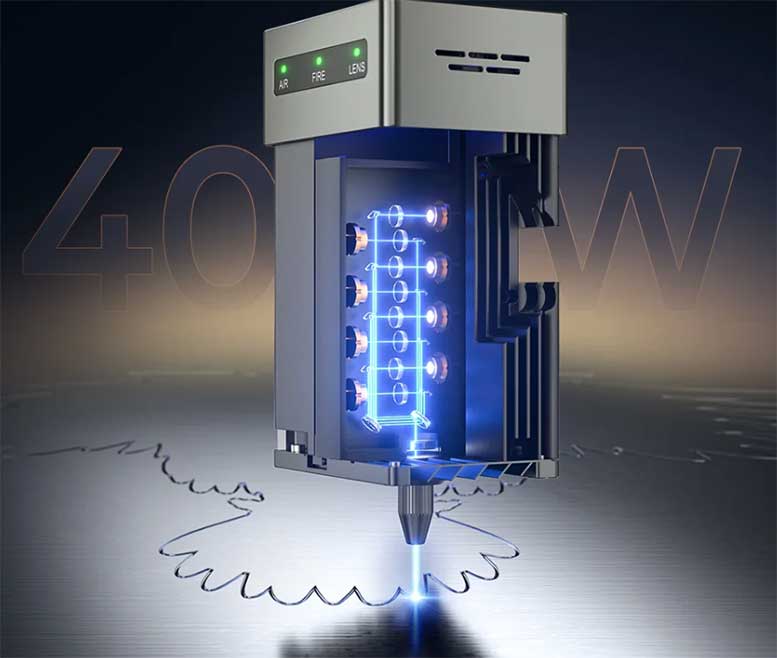 This beam is also cool for engraving on stainless steel. It can be used to create a variety of colors on steel. This is done as the laser heats the metal to different temperatures, permanently leaving a vibrant hue of colors.
Adjustable Light Spot For More Control
Intricate designs require precision whether you're cutting or engraving. The Falcon2 has an adjustable light spot. This changes the beam thickness to help you control exactly how much of the material is cut or engraved.
In normal mode, the beam is thicker, making it better suited for work on thicker materials. The beam size can be reduced to make more precise cuts. This is more desirable for engravings or cutting thinner materials. The adjustable light spot is what makes this such an awesome, versatile piece of machinery that can both cut and engrave your next crafting project.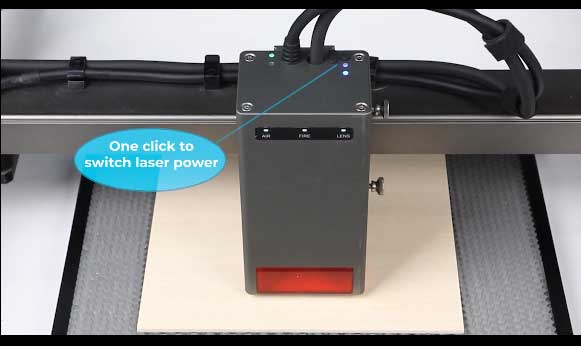 Quick Cutting Speed Sets It Apart From The Competition
One of the most important features of a laser cutter and engraver is how quickly it can perform its function. Faster machines allow you to turn out your projects quicker and bring your dreams to reality without having to wait as long.
The Falcon2 is leading the way in efficiency, providing speeds of 25,000mm/min while cutting and engraving. This is a 100% increase over the capabilities of some leading competitors, letting you cut or engrave twice as much in the same amount of time.
Groundbreaking Integrated Air Assist For Cleaner Projects
The Falcon2 has brand-new technology integrated to bring your projects up a notch in quality. It uses integrated air assist to provide airflow to the surface of the materials you are working on. This allows you to keep a cleaner space and create better cuts. Smoke and dust are easily blown away to protect the materials as well as the laser lens.
While cutting, it's recommended that you have strong airflow activated. While engraving, weaker airflow is preferred. To change the intensity, you can use an adjustable knob on the device, or change it using LightBurn software.
For an example of what this technology can really do, here's a description. If you were to create wood without air assist, you run the risk of having a burned and yellowed surface. However, with air assist turned on, this problem is eliminated and you'll have a great-looking end result.
Triple Monitoring Systems Keep Your Device And Projects Safe
When using lasers to cut and engrave, you can run the risk of damaging your materials or the machine itself. Overheating can lead to fires, and in worst-case scenarios, you could cause a house fire. That's not something anyone should have to go through, so the Falcon2 utilizes multiple monitoring systems to keep you, your materials, and your machine safe.

The first system goes hand-in-hand with the airflow system. This helps you monitor airflow volume so you can adjust it accordingly depending on what actions your machine is performing.
The second system is flame monitoring. If a flame is detected and the indicator will begin to flash red. Additionally, an alarm will begin to sound and the machine will stop itself. This helps keep fires from starting and spreading.
The final monitoring system is the lens monitoring system. This triggers an alarm when the lens is too dirty. This can help you avoid lens breakage and frequent replacement.
Additional Safety Features
There are additional safety features included to help even further. It has a security lock design as well as an emergency stop button. The stop button will stop everything in the machine as soon as you press it in case of a huge problem.
In addition, there's a laser protective cover. This cover is made out of high-efficiency colored filter glass. This filters out harmful light from the laser and protects your eyes from being damaged. There's even an active stop function pre-programmed into the machine.
This makes it stop running whenever an accidental tilt, flip, or drop happens. It emits an alarm sound to let you know what's happening. There's also a bidirectional limit switch to set boundaries for the laser. If the laser head breaks these limits, it will stop the machine and sound an alarm.
Wide Compatibility, Even Offline
The Falcon2 is compatible with a wide variety of systems. Whether you use Mac or Windows you can run the required software such as LaserGRBl and LightBurn. If you prefer to create offline, that is also supported. There is a place to put an SD card on the side where you can upload your designs and your creations.
Final Thoughts
The Falcon2 is a great piece of machinery for beginner and professional crafters alike. Featuring a powerful 40W laser to let you cut and engrave on a multitude of materials, you can't really go wrong. It's extremely fast in operation, cutting and engraving up to 25,000mm/min. The adjustable light spot allows you to cut thick materials and engrave thin materials alike.
Air assist technology is revolutionary, and lets you create even better-looking projects. When you combine all that with top-notch safety features, you get a laser cutter and engraver that can really do it all. Don't forget to use code FN40NER for a discount when ordering from Creality's official website.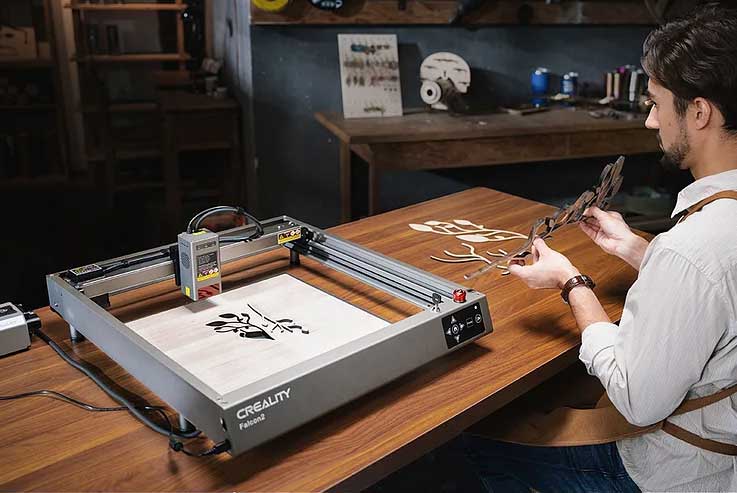 The pre-order period is from June 1st to June 8th. All you need to do is put down a $100 deposit to secure pre-order. By waiting until June 9th to 16th, you can redeem a $500 discount voucher with a pre-order deposit.
The product will ship within 5 business days of full payment. The first 50 orders will be offered an extra honeycomb. Although installment payments are supported, those who pay in full will receive a free rotary roller. And be sure to remember to win the $50 cashback by sharing your own work.
Please also be aware that the honeycomb, roller and protective cover are sent to creators to test the machine so they can have a better user experience.