Overall Design -

9.5/10

Portability -

8.5/10

Ease of Use -

8.5/10

AI Features -

9.5/10
Summary
The CZUR Fancy S Pro is a carefully designed, high-performing tool that significantly enhances productivity in a variety of settings. The device's portability, coupled with its inspiring array of features and capabilities, positions it as a game-changer in its category.
Pros
Excellent document camera and scanner capabilities
High-quality 4K HD webcam
Advanced AI technology for OCR
High degree of portability and versatility
Cons
May be pricey for some
Learning curve for advanced features
Our digital world is becoming increasingly versatile, and the CZUR Fancy S Pro is a prime example of this shift. As a 3-in-1 device, it fuses a document camera, webcam, and scanner into a single unit. It doesn't simply perform these three functions; it excels at them.
Its user-friendly design, high-resolution output, and impressive speed transform how we work, teach, and learn. Our time with Fancy S Pro was spent taking it to its limits, testing every facet of its features to help you decide if it's for you.
Design and Portability
The Fancy S Pro's initial appeal lies in its compact, sleek design. Measuring 345 x 155 x 105 mm, or 13.6 x 6.1 x 4.1 inches, and weighing just 0.82 kg (29 ounces), it has an attractive form factor that's sure to be a pleaser. This lightweight, slim profile makes it extremely portable, fitting comfortably into most backpacks, briefcases, or even large purses. As we unpacked the device for testing, we were immediately struck by its design simplicity, which doesn't compromise functionality.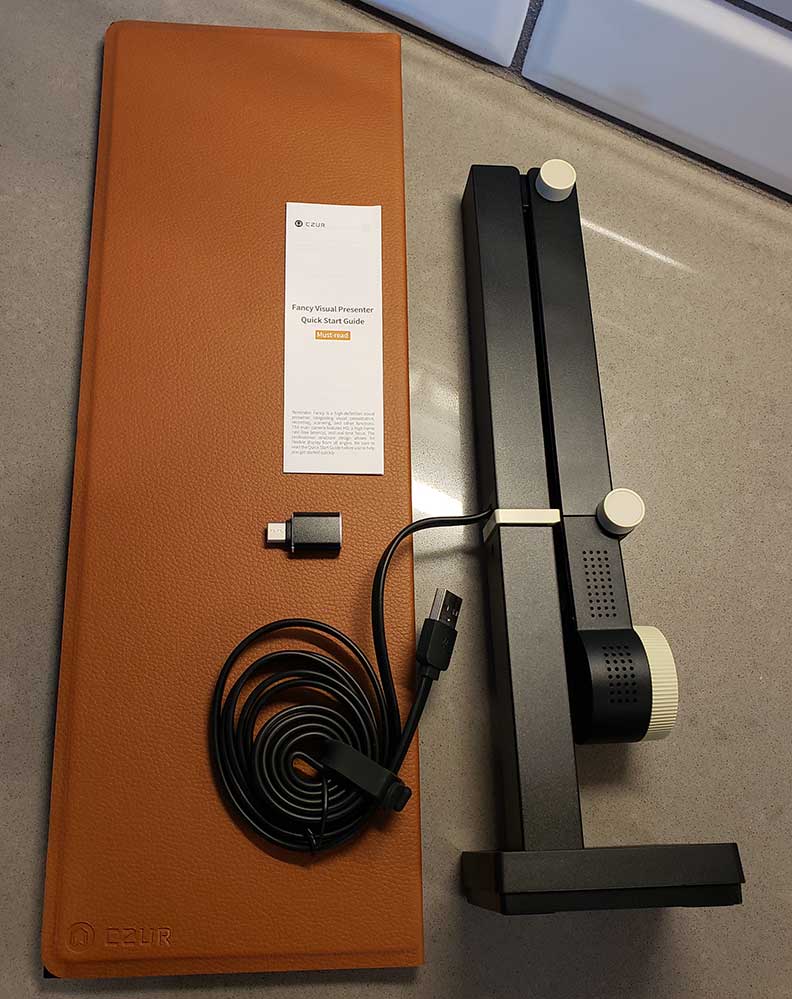 The gadget's aesthetic appeal, combined with its sturdiness, suggests that it is well suited to both professional and personal environments. An ingenious feature that enhances the device's appeal is its flexible, multi-jointed arm. This feature allows users to change the angle and height of the camera effortlessly, tailoring it to their specific needs. It already stands over 13 inches tall. But you can get about 6 more inches of height with a simple action.
To put its versatility to the test, we set up the device in various scenarios, from a busy office space to a kitchen counter. During a simulated business presentation, we found that its flexibility made it simple to capture clear, real-time images of 3D objects. A model skyscraper used as a demonstration piece was easily captured from different angles, thanks to the adjustable arm, providing viewers with a comprehensive understanding of the model. Of course, this is sure to apply to virtually any object, so you can see the potential it has, as well as its boundless application.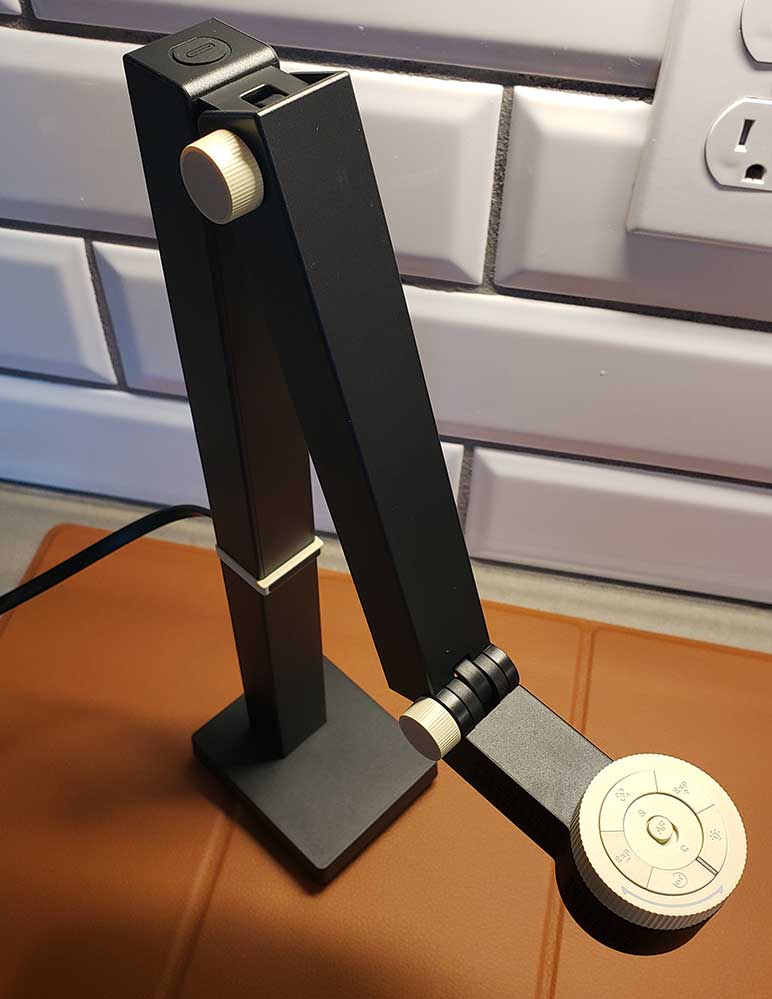 We tried more than just 3D objects, though. In one instance, we used it to present a historical document. Thanks to the adjustable arm, we had zero issues changing the camera's angle to focus on specific areas of interest. Teachers, this could very well be the ultimate tool for interactive teaching in your classroom. The sheer number of ways one could use this camera appears to be limitless. Remember that it doesn't have to be affixed to a table or stand. With that in mind, you can get a pretty good idea of its versatility.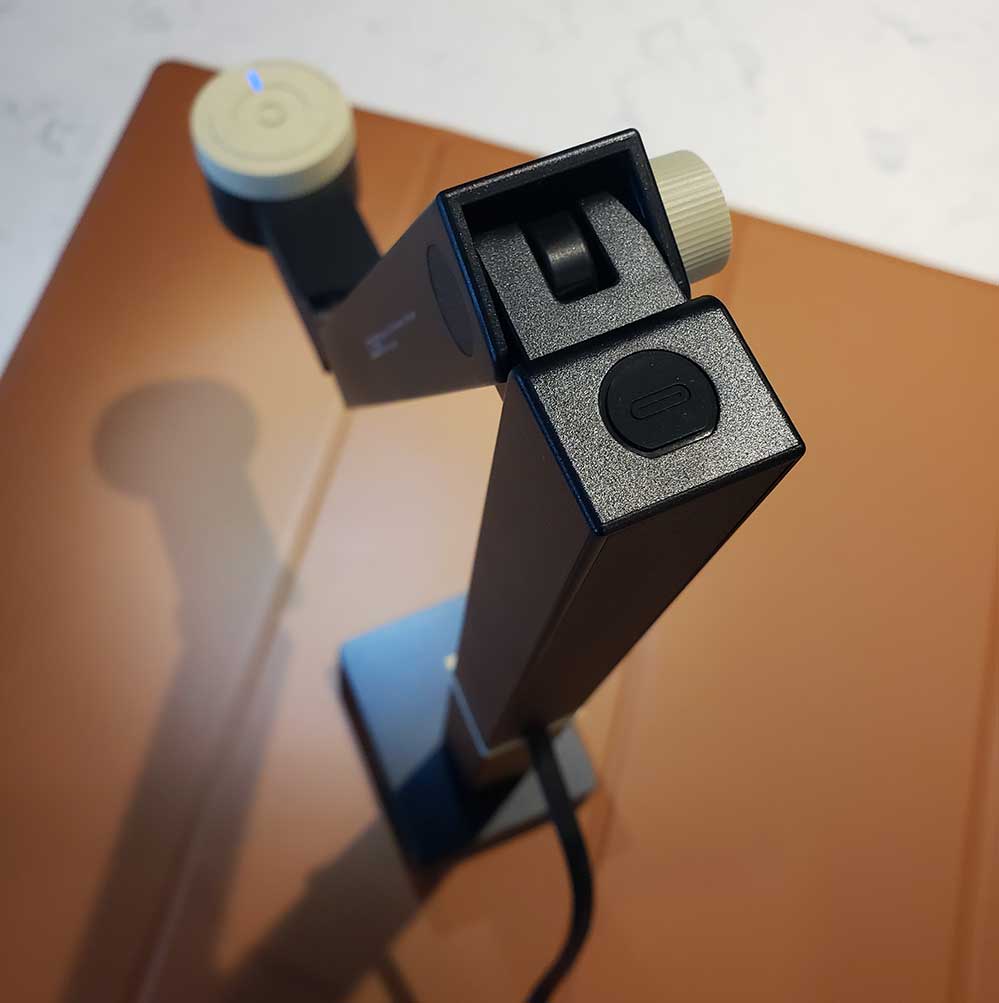 And speaking of which, the portability factor opens up a whole new realm of possibilities. Case in point, one of our team members took it along for a weekend trip. Its compact size and lightweight construction made it a breeze to transport, and setting it up for a quick video call was hassle-free. Overall, its design and portability make it a highly adaptable tool that can easily fit into various environments and uses.
Document Camera & Scanner: Beyond the Basics
The Fancy S Pro's core lies in its ability to function as a high-quality document camera and scanner. Equipped with a 12-megapixel camera, the device swiftly digitizes a broad range of materials, from books to cards to photographs. In our testing, we put the device's scanning capabilities to the test with different materials. The results were consistently high-quality, high-resolution digital files.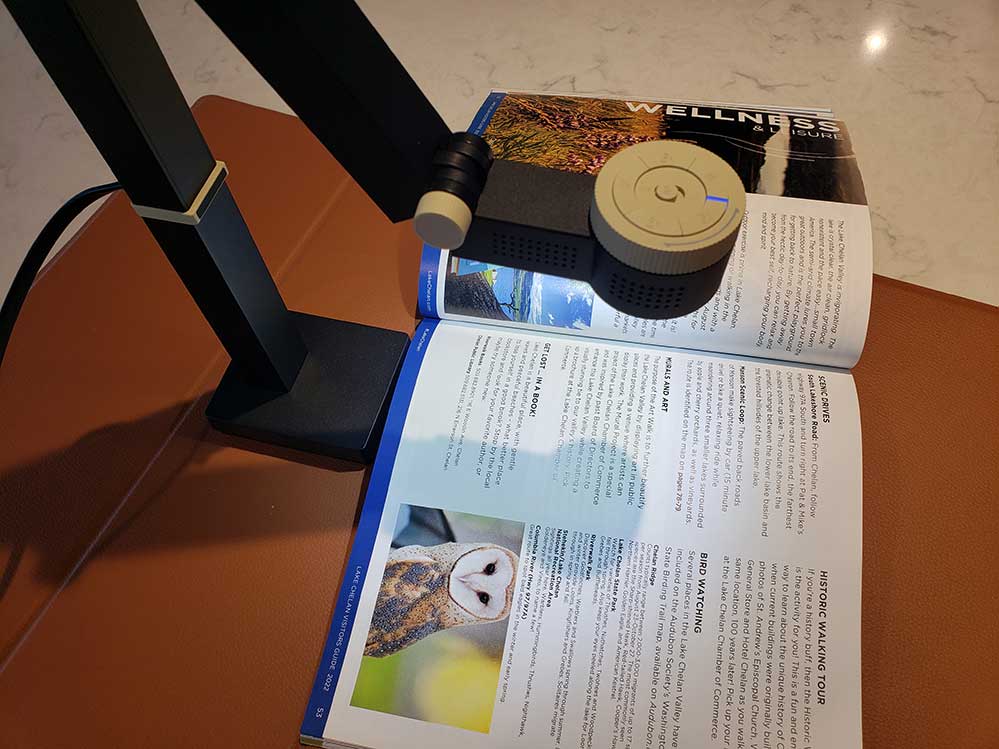 Its scanning speed of 1 second per scan enables the swift conversion of materials, reducing the time spent on digitization tasks. Whether for archival purposes or digitizing personal memories, the camera device delivers beyond expectations. And that's really where a lot of the excitement for it comes from – the vast potential for creativity. Even if you're not the most creative person in the world, you've likely envisioned various uses for it in your mind as you read this review.
Advanced AI: Revolutionizing Scanning
The already impressive scanning capabilities are further enhanced by its advanced AI technology, ABBYY. This technology can process high-resolution files and make them searchable in over 180 languages almost instantaneously.
During our testing, the AI performed admirably. We could search for specific words or phrases in the scanned documents, a feature that holds significant potential for research or data extraction. The speed at which the AI completed these tasks was remarkable, with almost no noticeable lag between command and execution.
CZUR claims ABBYY is the "world's most advanced AI." While that might be a stretch, there's no denying how good it is. It's a very welcome addition to what has already proved to be an extraordinary device. Together, you're looking at a highly-capable camera with loads of potential. There are so many applications for it, and many that we most certainly haven't even dreamed of. Creatives will have a field day with it.
Webcam Capabilities: Crystal-Clear Communication
In the era of remote work and learning, the importance of a high-quality webcam cannot be overstated. The Fancy S Pro excels in this area, offering 4K HD webcam capabilities that deliver crystal-clear images. This feature is particularly noteworthy, as it provides an enhanced experience in virtual interactions, whether for remote learning, live demonstrations, or virtual meetings.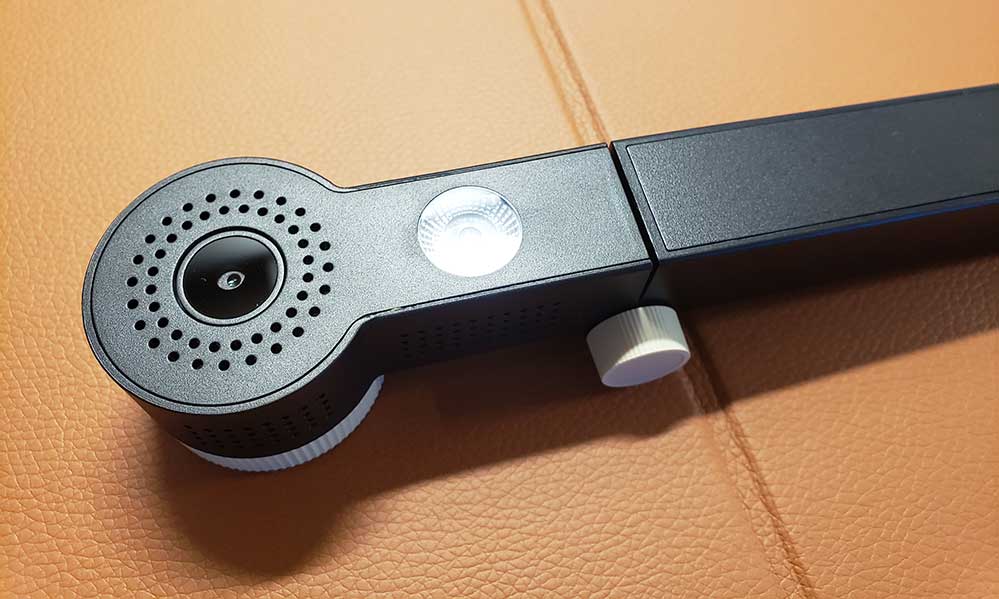 As we frequently participate in virtual meetings, we had to see how it stacked up against other webcams. The video quality was consistently clear and crisp, significantly improving communication with colleagues. Even in lower-light conditions, the image quality remained striking, thanks to the unit's 3-level adjustable fill light.
We experimented with different lighting conditions, ranging from a well-lit office to a dimly lit room. In each scenario, the adjustable fill light proved to be very effective, allowing us to optimize the lighting according to the environment. The three distinct lighting levels make a substantial difference, particularly in poorly lit conditions.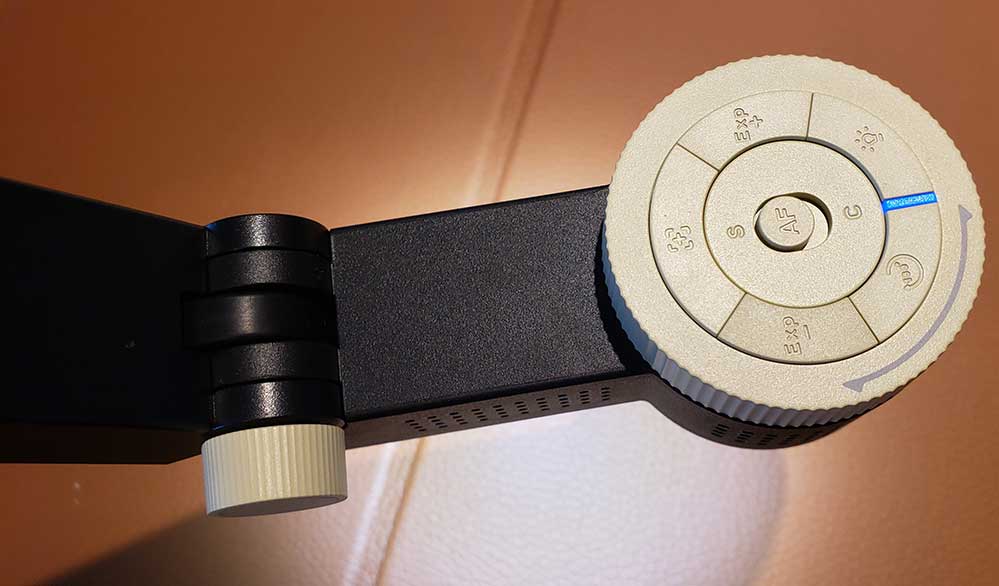 The 180° mirror rotation button also adds to the unit's webcam prowess. This feature is designed to allow users to adjust the camera angle easily, ensuring the best possible view for their needs. We tested this during a simulated remote learning session, where a tutor was explaining a complex mathematical problem. The ability to rotate the camera provided the flexibility to focus on the tutor's face or the problem on the paper, providing a more engaging and interactive learning experience.
The Fancy S Pro's webcam capabilities go above and beyond, offering not just a means of communication but a way to enhance and improve virtual interactions. Its ability to deliver clear images, combined with the flexibility of lighting and angle adjustments, sets it apart from many webcams on the market.
Software Enhancements
All of the impressive features are excellent additions, to be sure. But they're made even better by a suite of CZUR software. For example, the visualizer software enables digital zoom, image annotation, and tone adjustment. It's intuitively designed and simple to use, adding value to its overall functionality.
Another winner is the Picture-in-Picture function. With it, up to three cameras can be turned on at the same time, providing an enhanced visual experience. Whether you're conducting a remote lesson, a business presentation, or a virtual conference, this function allows for more dynamic and interactive visual communication.
Performance of Features
Performance is a crucial metric for any device, and the Fancy S Pro passes with flying colors. With support for continuous autofocus, Full HD 1080P at 60 FPS (max), and 4K Ultra HD at 15 FPS (max), it ensures top-notch video streams. Moreover, its compatibility with various image formats, such as JPG, TIFF, BMP, and PNG, adds to its versatility. And as mentioned, the 180+ language recognition feature is particularly impressive.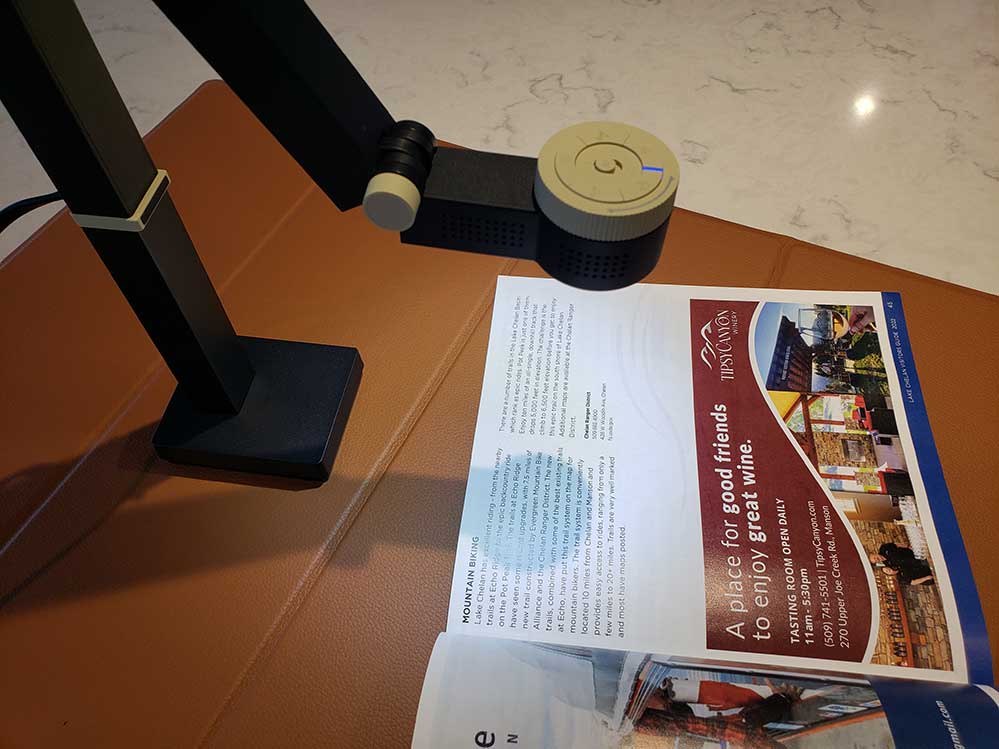 But this device isn't just about creating digital files; it's about making them accessible and usable. And the OCR (AI language) functionality supports this fact in spades. It's also important to note the compatibility with various operating systems, including Windows 7 through 11 for both 32- and 64-bit systems, as well as MacOS. We're pleased to see that both Microsoft and Apple fans can experience all that the Fancy S Pro has to offer. Simply connect the included USB-C cable to your computer's USB-A port, and you're ready to go.
Customizable Features: Tailoring to Your Needs
Customizability is a significant advantage of the camera, as it offers a range of adjustable settings that enable users to tailor its operation to their specific needs. The spinnable camera, adjustable exposure, and real-time picture annotation are just a few examples of its flexible features. What's more, you can easily control essential camera functions via a handy dial affixed above the camera. Its physical buttons include light control, exposure, focus, and rotation.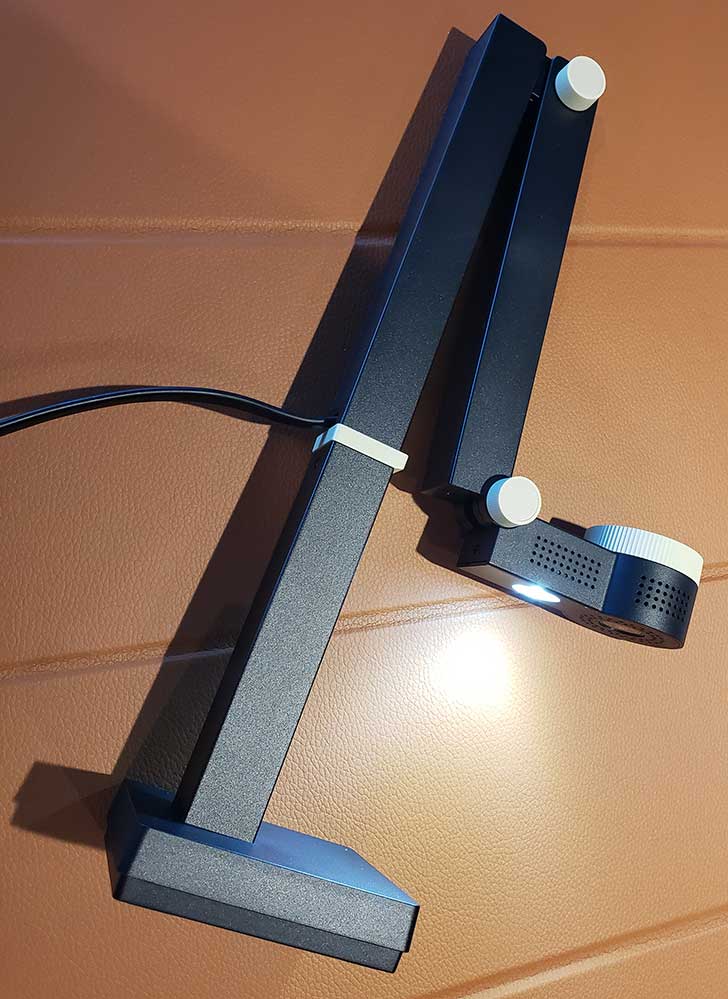 We also tested some of the advanced settings, like the automatic page turn scan and the watermark addition features. We found them to be very effective, further enhancing the device's utility. The automatic page turn scan, for example, can be a great time-saver for scanning large documents or books, while the watermark addition can be useful for protecting your digital documents. It's all of these nice features that add to the charm and flexibility of the camera.
Final Verdict
In conclusion, our extensive testing and review of the CZUR Fancy S Pro reveal a device that is much more than a combination of a document camera, scanner, and webcam. It's a carefully designed, high-performing tool that significantly enhances productivity in a variety of settings, from classrooms and offices to homes. The device's portability, coupled with its inspiring array of features and capabilities, positions it as a game-changer in its category.
Its high-resolution output, lightning-fast speed, and advanced AI technology redefine how we approach tasks like scanning, presenting, and video conferencing. The CZUR Fancy S Pro is not just a tool but a solution – a solution that caters to the evolving needs of educators, professionals, students, and anyone in need of a comprehensive digital tool. It's a testament to how technology can transform the way we work, learn, and communicate.