It's hard to imagine that only ten short years ago consumers were often paying $500 for a 19" LCD monitor. Technology has evolved very quickly, and today the screens that are available to us are better quality and more affordable than ever.
While there is a plethora of budget-brand LCD monitors available, finding one that is good can be a challenge. Consumers want monitors that are high quality, affordable, and look good. Conventional wisdom suggests that only two of these qualities are possible. A monitor that looks good and is affordable is not going to be high quality. A monitor that is high quality and looks good is not going to be affordable.
LG wants to put this concept to rest. They believe that you really can have it all. Is LG's massive 32" display really as high quality as they say? Let's take a look and find out.
First Look
Every monitor we review seems to be a little thinner than the last. The LG 32MA68HY-P 32 Inch IPS Monitor is no different. Using a similar design to many modern displays, the upper portion of the monitor is razor thin. Towards the bottom, there is a compact enclosure that houses all of the primary electronics as well as the video ports. Looking at the monitor from the front is just as attractive. It features a compact bezel and an appealing curved stand.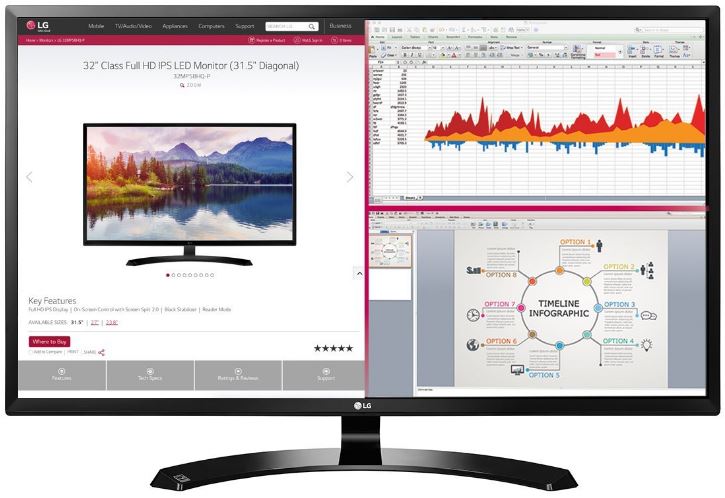 Connectivity
The monitor includes all standard connections to ensure that you can hook it up to almost any device in your household. Display Port and HDMI are the ideal connections, as both offer a very high quality digital signal. VGA connections are also offered, but it's important to remember that this is a very outdated analog connection. Because this display is so clear and sharp, you'll notice a lot of noise and flaws if using this analog input.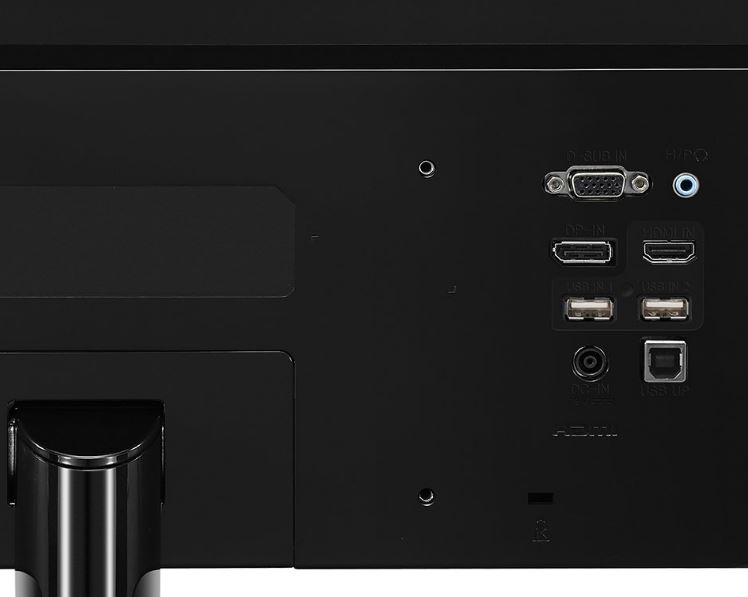 The monitor also has a USB hub built right in. Just plug the USB cable into your desktop, and you'll be able to plug devices right into the back of the monitor. This is especially useful if you have an inexpensive wireless mouse. If your computer is quite far away from the mouse, some inexpensive models might have signal dropouts. With this monitor, you can just plug the receiver into the back and kiss range issues goodbye.
The only thing that is really missing from this monitor is a DVI port. DVI has gone a little out of fashion lately, but if you're using an old computer that still uses this port, you can still use this monitor. DVI and HDMI are fully compatible, so all you need to do is pick up an inexpensive adapter.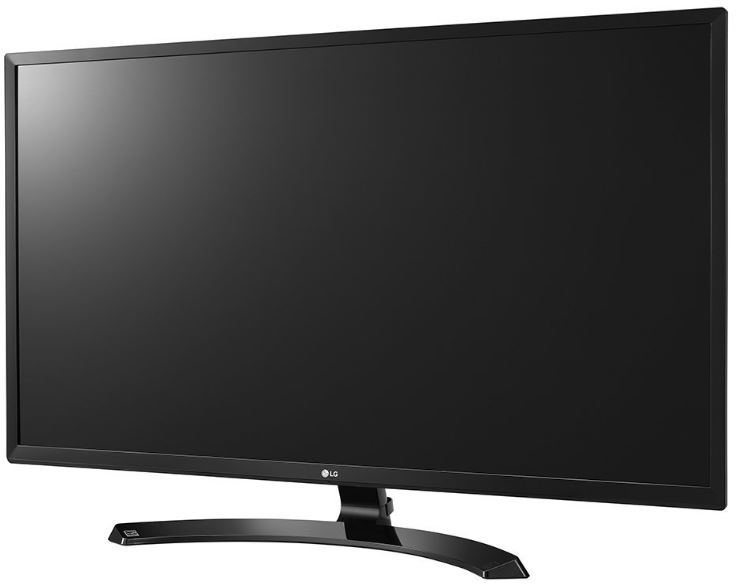 IPS Display Technology
"IPS" is a term bring thrown around a lot lately. Why exactly would you want an IPS display? There are a few key reasons why IPS is a requirement for users who want the best image quality possible.
Most displays on the market are TN panels. TN stands for Twisted Nematic. These displays have a thin film of transistors spread across the display. When electricity is applied to a specific portion of the screen, the crystals actually twist and rotate as if they were a door opening. This allows the light from the panel below to shine through, causing the pixel to light up.
Unfortunately, it's difficult to control exactly how much light can get past the crystal, so the color reproduction is not as accurate as it could be. These pixels also are only invisible if you're looking at them dead on, if you're viewing the monitor from an angle the colors can shift and become inaccurate. This is why TN monitors look so strange when you view them from the side.
IPS panels, on the other hand, aligns the pixels in a grid that is flush to the actual panel. Electricity is applied from both ends. Instead of twisting a crystal, it's opacity can be carefully controlled by applying a very specific current. This means that colors are significantly more accurate, and viewing angles are excellent.

Image Quality
So now that you know why IPS is a superior display technology, how does it look in this specific monitor? In one word, excellent. We were a little skeptical, as it's rare to see an IPS monitor for such a low price. But surprisingly, LG didn't cut any corners. The screen has a gloss style finish that is so popular on televisions. This means that colors are extremely vibrant, and the contrast is razor sharp. Unlike many TN gloss panels, the colors are not overbearing of fatiguing to look at for a long time. If you're a professional who spends a lot of time behind the monitor, this LG display is a great choice.
We found that this monitor performs best with multi-media use. Although editing spreadsheets is a breeze on such a large display, this monitor really shines when you're enjoying full color video. We watched the latest Game of Thrones, and were absolutely blow away by the level of production quality HBO put in. When watching Sharknado, on the other hand, you really notice a lot of the flaws in the film. That's why this monitor is a bit of a double edged sword. It's so clear and precise that you'll be well aware of every little detail of the image quality.
If you're looking to do any type of analytical work, for example editing photos or video, this monitor will help you perform these tasks more accurately and with ease. If you're looking to enjoy high quality media, you'll be able to appreciate all of the fine details you may not have been able to notice on a smaller, cheaper display. However, if you're just planning to look at funny cat photos on the internet, you may be a little disappointed.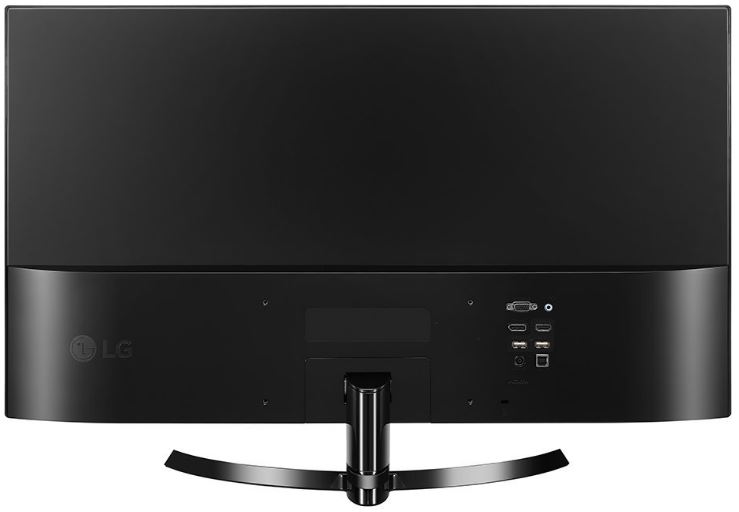 Gaming Performance
Gamers expect a lot from their monitors. Often, their needs are much different from casual users. We thought it was prudent to cover those details in a separate section.
Many gamers shy away from IPS monitors. Although they have excellent color reproduction, many of them have a slow response time. This means that the time between you hitting a button and seeing the result can be up to 10ms. For competitive gamers, this is simply unacceptable. Fortunately, the LG 32MA68HY-P has a lighting quick response time of under one millisecond. This is pretty much as good as you can get.
That's not all this monitor has to offer gamers. The 1080p resolution is also a huge asset. Graphics cards have not quite developed to the point where gaming at 4k resolution is viable. With 1080p, there are less pixels to push. This means that, provided you have a good graphics card, you can crank the graphics up to max and enjoy an immersive, high quality gaming experience.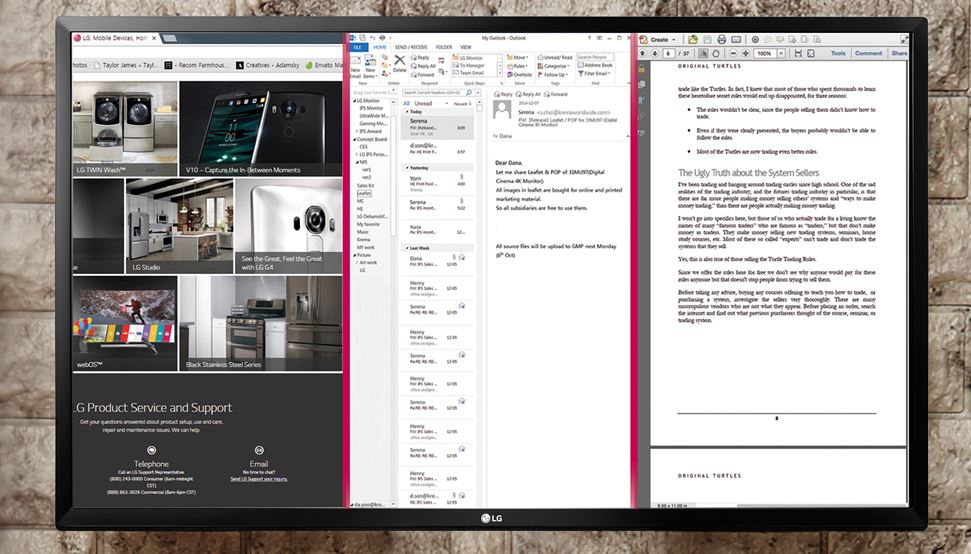 Screen Split
Office users have a bit of a tough decision to make. Should they go for dual monitors, or a single large one? The benefit of dual monitors is that it's easy to separate documents into their own area. However, if you ever want to maximize something you've got an annoying border in the middle where the monitors bezels meet up. LG has a very unique solution to this problem.
Screen Split allows you to divide your one large monitor into several smaller ones as needed. Drafting up a document? You can have two portrait displays. On one site you put your document, on the other you can place your reference material. Or maybe you want to divide the screen into four landscape displays. One large portrait on the left, and two landscape displays on the right? No problem! This is an incredibly versatile feature, and has over 14 possible combinations.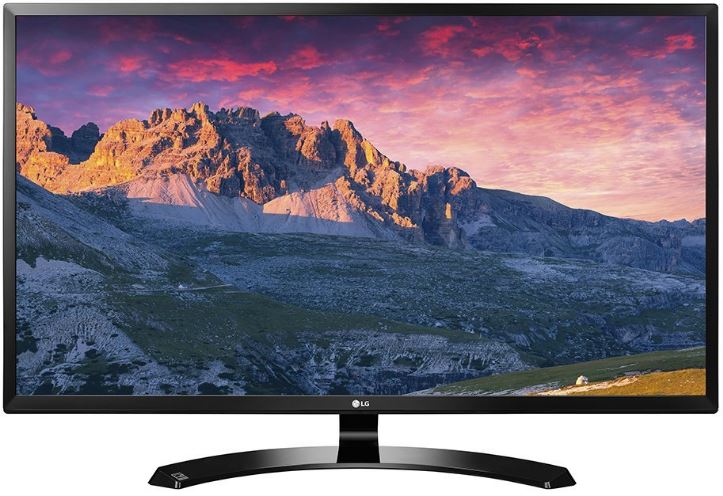 Final Words
The LG 32MA68HY-P 32 Inch IPS Monitor is an incredibly high quality display, ideal for anyone who needs a lot of screen real estate. Normally a large IPS display like this one would cost significantly more money than what LG is charging, so it's also an incredible value.
Is there anyone who shouldn't purchase this monitor? Really, the only thing that it's missing is 4k display. Sadly, these high resolution displays are still quite new to the market and often cost a pretty penny. If you're using a monitor primarily to edit or watch 4k video, this LG may not be the best choice. However, for everyone else it would make a great display.
More of a dual monitor person? If you're not happy with the split screen options and feel a little restricted by the 32" display area, perhaps a pair of 27" LED monitors is more your style?
Meet Derek, "TechGuru," a 34-year-old technology enthusiast with a deep passion for tech innovations. With extensive experience, he specializes in gaming hardware and software, and has expertise in gadgets, custom PCs, and audio.
Besides writing about tech and reviewing new products, Derek enjoys traveling, hiking, and photography. Committed to keeping up with the latest industry trends, he aims to guide readers in making informed tech decisions.