For all their benefits, one of the biggest hurdles of running a projector is simply getting it setup. Depending on the amount of horizontal and vertical adjustment available to the device, you may need a near-perfect installation to get the best performance out of a mounted projector. After that, you've got to start running wires from your ceiling! It's easy to see why it's not uncommon for people to pay professionals to setup their equipment for them.
And in the era of wireless streaming content, by itself, having to run a bunch of wires can be a high price to pay. Especially if you end up with a projector that lacks many of the essential features which have come to define modern smart TVs. But what if you didn't have to go through all the hassle of a mounted installation? What if you could use a projector and still wirelessly stream all your favorite shows? That's the kind of ease-of-use which gets people to make the switch from flat screen panels to projectors.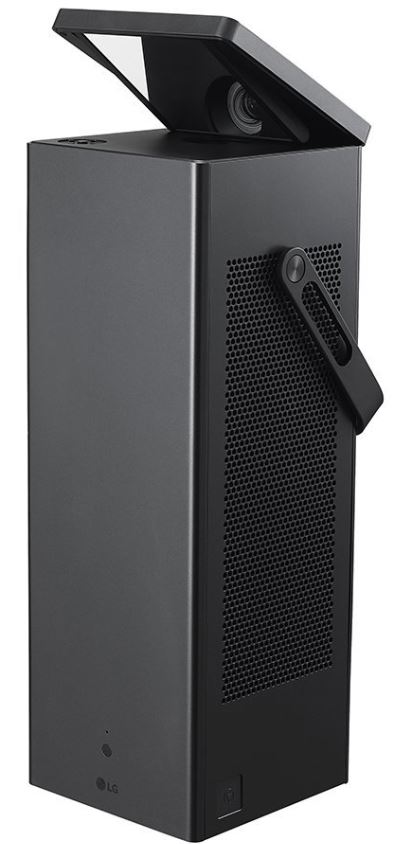 LG HU80KA 4K UHD Laser Smart Home Theater CineBeam Projector
The HU80KA is LG's first 4K projector. As the first of its kind, it has quite a bit to offer. But it can also be somewhat difficult to compare to other video equipment. Although it can be hung or horizontally oriented like an ordinary projector, the HU80KA is actually most at-home while sitting on the ground. It uses an upright build, giving little outwards indication it's a projector at all. Only after powering it up can you really see what you're dealing with.
Build & Design
The innovative design of the HU80KA is such that the further you pull-back from the wall, your larger the screen becomes. The projection distance ranges from 45" to 171", which is equivalent to TV screens sized between 40" and 150". Naturally, it's possible to adjust your resolution settings upwards and downwards to accommodate different screen sizes, but the native resolution of the HU80KA is 3840 x 2160.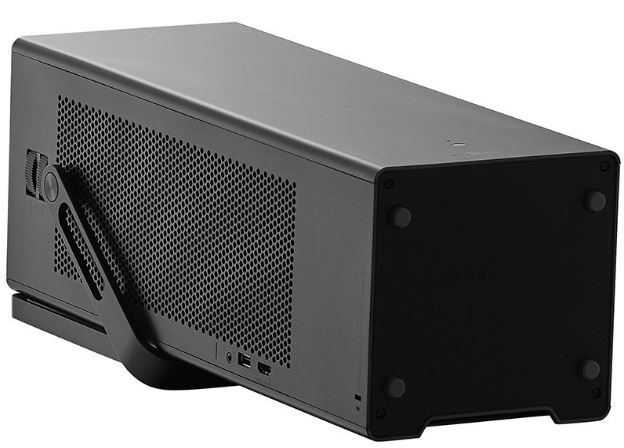 The small-bodied HU80KA stands at 18.5 x 6.4 x 6.4-inches, which is about as tall as a coffee table. Like a hanging projector, its relatively small size allows the HU80KA to have essentially zero room presence while powered down. Unlike hanging a giant 70" televisions screen in your home, the HU80KA is nothing if not discreet.
Carrying handles are integrated into the unit into the top of the unit for incredibly easy transportation. And the easy to carry form factor is just the beginning for its portability, as the HU80KA weighs only 15 lbs. For moving from one location to another, or storing the HU80KA between use, the handles quickly come in handy.
High portability pays off quickly each time you use the HU80KA. Within the base of the device, the necessary power cord pulls out from the base of the body. After you're done using it, the cord can be smoothly retracted back into the body of the HU80KA. The end result is a near-wireless home entertainment c enter which fits into a room much easier than mounting a giant television on your wall.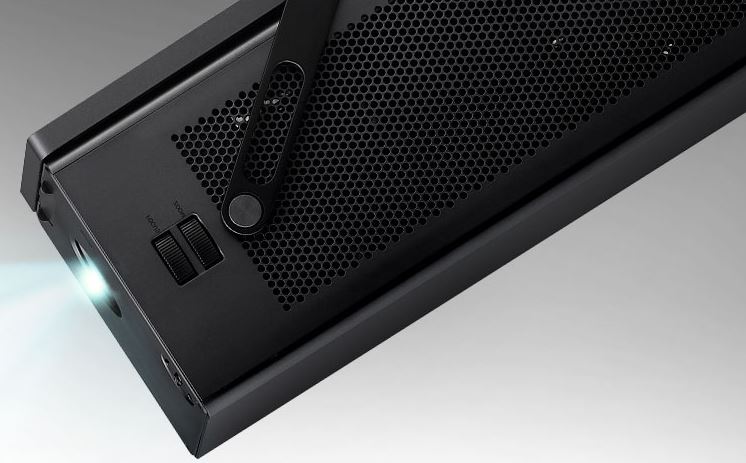 Unusually High Audio Quality
Examining the outside of the HU80KA, one of the first things you'll notice is the speaker vents along either side of the device. LG packaged this projector with dual 7-watt speakers. When audio equipment is packaged along with video equipment, one of the two is usually not very impressive. Just consider the average speakers built into the backside of a computer monitor. Even an $800 monitor can sound terrible because great sound isn't what the monitor is trying to do.
To be certain, these 7-watt speakers aren't going to compare to a full home audio system. But they're definitely much better than anything you'd ordinarily see packaged with a projector or TV. Part of the reason why is that slightly-above-average wattage, and part of the reason why involves the physical build of the HU80KA itself. The resulting audio can comfortably fill a big room with rich sound. For whatever it's worth, this could be the best sounding projector anywhere near this price range.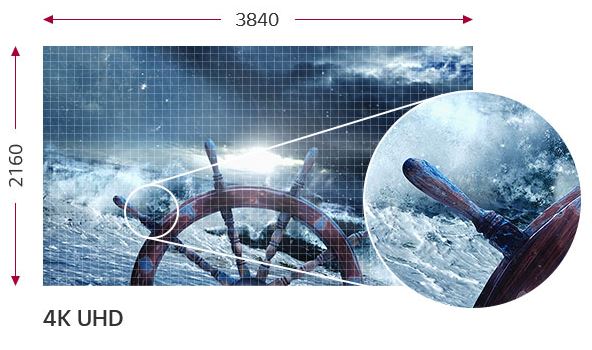 Image Quality
One distinctive feature of the HU80KA is its use of a laser phosphor light source. Relative to the types of bulbs usually used with projectors, lasers can help improve one of the most widely known weaknesses of projectors: weak black contrast. The laser also provides a reasonably bright 2,500 lumens. The resulting laser-produced images have great spectral highlights, and perform much better in sub-par lighting conditions than typical projectors.
In its brightest mode, the LG HU80KA 4k Smart Home Theater Projector promises 20,000 hours without needing a bulb replacement. That's roughly five times longer than projector bulbs run on ordinary settings. You can get even more lifespan if you're not using the brightest mode. Regardless of the brightness mode you select, you'll notice incredibly good uniformity of the brightness in the picture. Even on the wider angles of the zoom, uniformity of brightness is quite high.
As you might expect, HU80KA supports color temperature settings which can be selected independently, and run through preset modes. Those presets include natural cool, warm, medium. And each can be calibrated to your tastes. To top it off, the HU80KA also supports HDR10. That is no doubt related to the 150,000:1 contrast ratio you'll see posted on the box.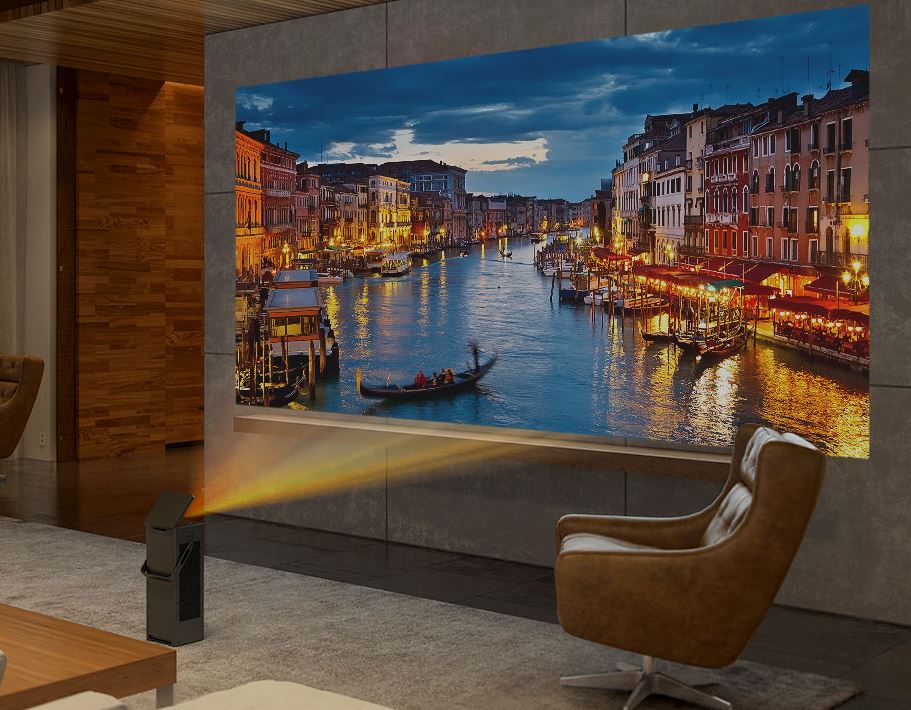 Ease of Use
The LG HU80KA's remote is about average for a universal TV remote. It's built to help cover control over everything you might want to adjust, which means quite a few buttons clutter up its face. Thankfully, the volume and channel buttons are enlarged, and the media buttons are color-coded and positioned at the base of the remote so they're easy to find. The numeric key part portion of the remote adds more clutter than many people might appreciate, but it's essential for entering channel numbers.
The LG HU80KA is based on a Smart TV platform, which makes it easy to get started streaming Netflix, YouTube, and similar sites. From the backside of the HU80KA, the included HDMI 2.2 and HDCP 2.2 input makes this projector ready for Blu-ray and gaming consoles. Smart TV connectivity prevents you from having to hook up a bunch of cables, which is great for people intent on making the most of wireless media. You just need the on-board power cord, which pulls out and retracts for easy transportation.
Although you probably won't spend much time in physical contact with this projector, the analogue buttons are simple and well labeled. Within the central console, the power button is surrounded by two volume buttons and two channel control buttons. There are four clearly labeled buttons for changing input, clearing on screen display windows, and opening the settings. Along the backside of the CineBeam projector, you'll find an HDMI ARC port, USB port, 3.5mm antenna port, 3.5mm headphone jack, optical digital audio out, and an Ethernet port.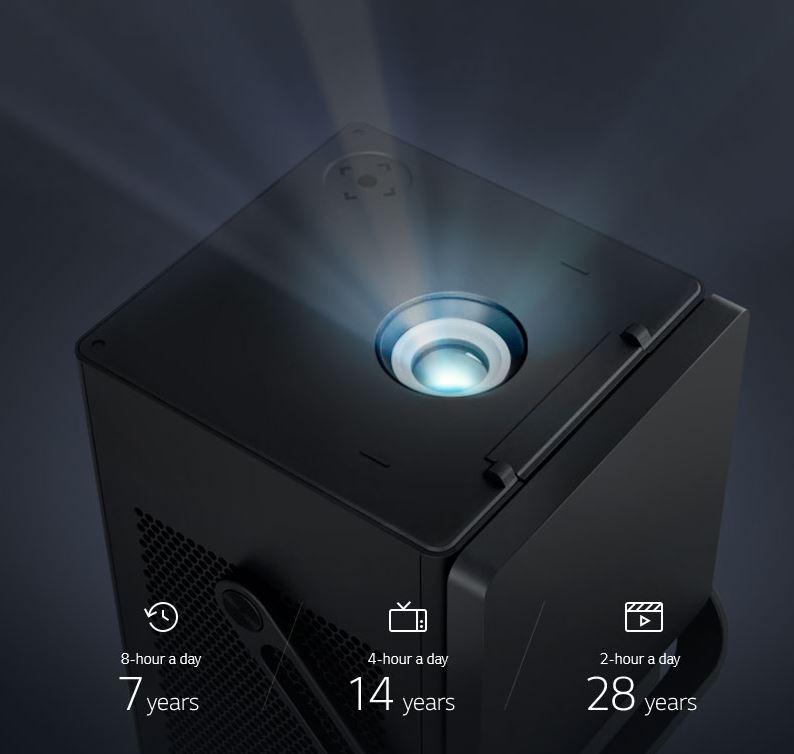 Performance
People who are considering using the HU80KA for gaming will want to draw their attention to its input lag. A variety of the HU80KA's imaging features, like True Motion, can be disabled to help minimize input lag. With the right settings disabled, input lag drops towards 71ms. That's about twice the delay of a gaming TV. If you're playing a competitive game and instant reactivity is necessary, then the kind of minor input lag can be grating. But for every other type of game, the HU80KA works exceptionally.
Another thing to note is how the HU80KA has a variety of energy saving options. Even in its loudest mode of operation, the HU80KA scarcely approaches 30dB, which you may have to place your ear next to the projector to even hear. That sound can be reduced further towards 23dB or less as you enter the other energy settings. What noise does come out of the HU80KA is quite low pitched and not bothersome in the least.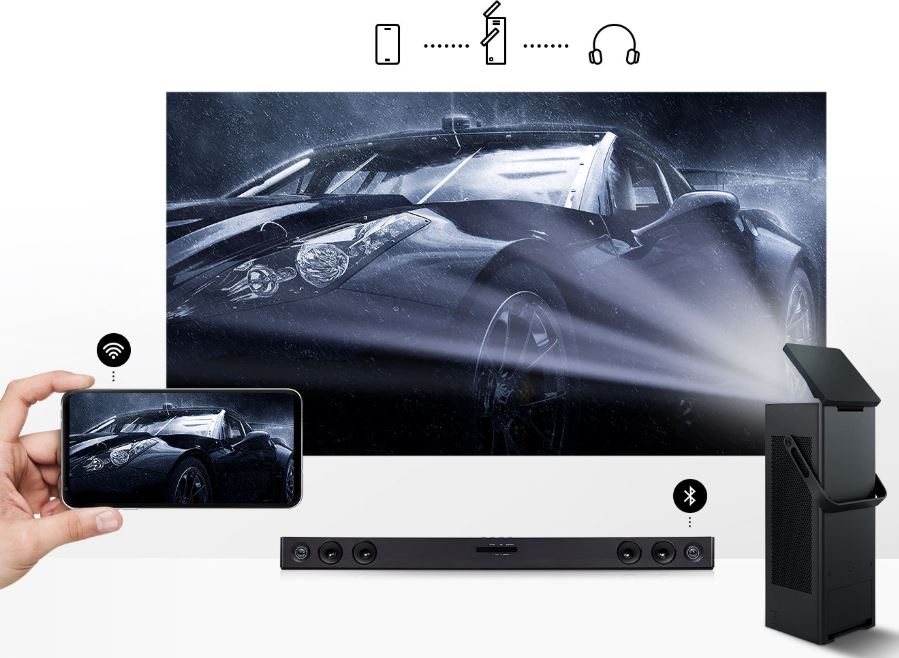 Other Considerations
The HU80KA uses a 1.2x zoom, and that provides some limitations. It isn't a short-throw projector. For optimal screen size, the HU80KA needs to be placed about the same distance as your seating area. Visually speaking, the best position is between seats or immediately behind them. Because of the close proximity to the seating area, you're going to be tempted to place this LG CineBeam projector slightly in-front of your seats. That would allow a generally better audio experience than having the sound produced by your side or behind you. If you place the projector just in front of seating, you'll have to sit back further from the screen than many people find preferable.
That can be frustrating for people who are intent on not using any independent audio equipment with the LG HU80KA, but it shouldn't disturb those who planned on pairing their projector with audio equipment anyway. Bluetooth connectivity means you can send sound from the LG HU80KA wirelessly, which is all you need anyway.
Another positive thing to note is the 250W consumption is considerably less than midrange projectors, largely due to the laser design. That consumption drops further with the aid of three energy modes, with the alternative modes causing a 28% and 52% reduction in lumen output. While the HU80KA has every modern feature to ensure it will still be a highly relevant device in ten years. While LG won't cover this projector for a decade, the included 1-year warranty is a good start.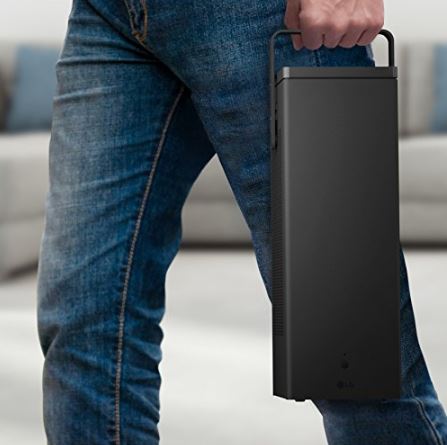 Who Should Choose the LG HU80KA Laser Home Theater Projector?
The HU80KA is a successful attempt by LG to bring projectors into the modern era with 4K UHD and support for Smart TV streaming services. It's laser-based design does well in rooms where projectors typically underperform. Its floor-based configuration makes it easy to set up projector on walls, ceilings, anywhere. That makes it a great choice for people who don't want to endure the installation and alignment of an ordinary projector.
It's hard to talk about features the HU80KA might lack because there's nothing else like it. For a moment in time, LG has no true competitors for their HU80KA. But there are some things to notice which aren't present. You won't find compatibility for 3D content, and it's not about to replace a gaming TV for responsiveness. But if you can forgive those limitations, then the HU80KA can do almost anything else.
All its subtle details are all right, from its low-sound operation to the quality of its onboard audio. For people who want modern features like 4K resolution and HDR images, the LGHU80KA is a great choice. And for people who want a projector that's as easy to set up as placing it a room, the LG HU80KA is a great call.