Home theater systems have taken on a considerable amount of advancement in a short period of time, both in terms of performance and ease of use. With the advent of 3D and super high definition audio with many new media releases, in areas such as movies, music and video games, although we're only beginning to notice the benefits of them, they're quickly becoming defining features of any high quality AV receiver.
While some of the following requirements may seem idealistic, it's made possible by the latest in technology, and must be considered thoroughly. Unlike stereo receivers that must continuously improve the reliability of their hardware, AV receivers like the Marantz NR1607 are showing that these high standards are becoming more available, affordable and easy to use.

For this reason, this review will focus primarily on the qualities of performance and comfort, however durability, economy and even appearance will be covered, to provide an in depth analysis of its overall value. In terms of specific features, among the most important and valuable are the following:
Range and versatility of high resolution audio channels.
Advanced HD and 3D video support.
Dolby Atmos and DTS:X 3D Surround Sound Technologies
Audyssey MultEQ Dynamic Volume
Home networking capabilities and ease of use.
Economy in price and total cost of ownership.
Range and Versatility of High Resolution Audio Channels.
You'll notice that the Marantz NR1607 Ultra HD AV Receiver is one of many different models that support 7.2 channels. There are two important aspects to this that provide superior audio performance.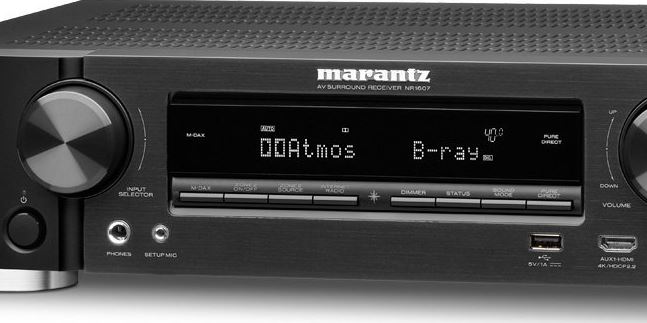 For starters, there are seven main audio channels for an entire surround sound speaker setup, including, center, right, left, and two surround speakers for both the rear and front, and all are rated for 50 watts of output and compatible with 4 ohm speakers.
You can also use the sixth, seventh and second sub channels to support two speakers and a subwoofer in another room, for more versatile enjoyment the amplification quality from the NR1607, via two output zones.
Depending on where your subwoofer is placed in your room there will be distortion, making your home theater system deliver less of a cinematic experience and demanding more from your hardware. This is why the NR1607 comes with two sub channels for optimum placement and sound, also providing for many of the advanced features which are discussed below.

Advanced HD and 3D Video Support
The amount of video devices you can use without messing around with cords depends on the number of HDMI inputs available, however they also determine the quality of video that your system is capable of. The Marantz NR1607 has eight HDMI inputs which is pretty high for its class. Each one offers an excellent amount of performance and video support.
First and foremost, they're HDMI 2.0a certified, which is a big standard that ensures a high dynamic range (HDR) and is meant to provide a huge amount of color shades and lighting specifications without requiring expensive, high end cables.
It also supports 4K Ultra HD video at 60 Hz and features 4:4:4 pure color sub-sampling, so that whether you're watching an intense football game or playing a professionally crafted game, it's realistic and displayed exactly as intended, down to the last pixel.
In terms of data pass through, the NR1607 is rated for BT.2020, which provides a deep and immense color palette for the latest 3D, 4K Ultra HD and 21:9 video standards.
Dolby Atmos and DTS:X 3D Surround Sound Technologies
Recently, the existence of five and seven channel receivers, either with one or two sub channels, has taken a basic home theater and turned it into an audio experience akin to professional movie theaters, due to advanced surround sound technologies.

The Marantz NR1607 is at the forefront of this innovation with the leader in this area, Dolby Atmos, which is compatible with both 5.1 and 7.1 channel systems and creates a 3D soundscape, even simulating overhead objects with precision and intensity.
Another ground-breaker in this field, DTS:X is used for media that is coded with it, to produce object-based 3D audio, and is part of a suite of DTS audio technologies available on an ongoing basis via firmware updates. Both of these technologies are complemented by Dolby Surround and DTS:X upmixing as well, allowing you to get the most out of your speaker setup even with basic stereo sound.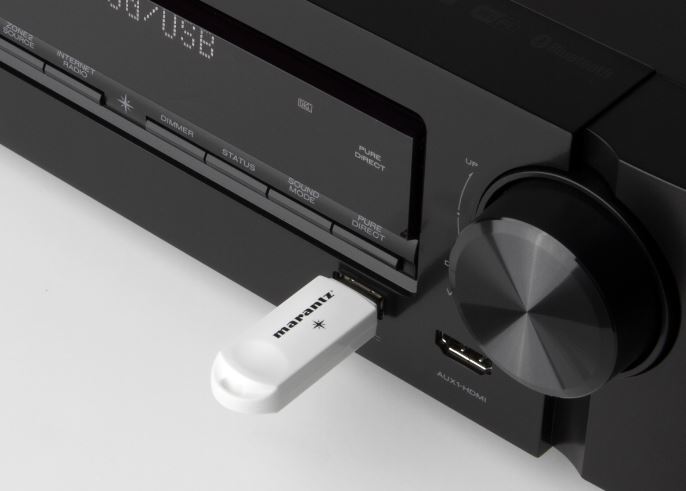 On top of decoding both advanced and basic Dolby and DTS encoded media, the NR1607 is compatible with the following audio formats, even when streamed wirelessly or accessed via USB:
Lossless AIFF, FLAC and WAV files (up to 24 bit/192 kHz).
Lossless Apple ALAC files (up to 24 bit/96 kHz).
SACD-quality (105 dB) formats (2.8 MHz).
Double DSD formats (5.6 MHz).
MP3s and other common formats.
What this allows you to do is seamlessly listen to high as well as low resolution audio, quickly and effectively enough to play without loss of quality.
Audyssey MultEQ Dynamic Volume
There are several forms of distortion that cannot be corrected by conventional receivers, such as vibration of sound off of solid surfaces, and the equalization and compatibility of the types of speaks you use. For this reason, the NR1607 comes equipped with a sound measuring microphone with its own stand, which is capable of analyzing extremely precise DSP room acoustic correction filters.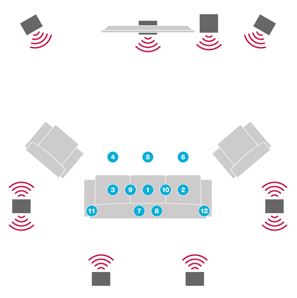 Once your speakers are connected during setup, a frequency is sounded by each speaker and subwoofer, allowing the MultEQ technology to analyze the exact equalization settings for perfect balance in your room, at any volume you choose.
Home Networking Capabilities and Ease of Use
The NR1607 has integrated functionality to provide a more comfortable and comprehensive home theater setup, at the level of complexity that you choose, and with as much freedom and flexibility as possible.
For starters, the receiver is both WiFi and Bluetooth compatible, allowing you to stream media wirelessly, however without adequate transmission of data, the quality of performance is reduced dramatically. The NR1607 solves this issue with a dual band transceiver antenna system that's capable of 2.4/5 GHz data transmission, due to a focused frequency transmission and receiving, as well as the option to connect directly to your network via Ethernet cable.
It also comes with AirPlay technology which allows you to connect to Apple devices instantly, and begin playing music from your iTunes library.

In terms of controls, this is complemented by the Marantz 2016 AVR Remote app, compatible with iOS and Android smart phones and tablets, providing basic and advanced functionality with an intuitive graphical use interface. You'll be able to access everything, from your home network, power, input and volume settings and more, all from a single remote app.
If you own a smart TV, it may have an HDMI Consumer Electronics Control option, and the NR1607 is fully compatible with it as well, providing surround sound, source, set up and configuration options.

Looking at the basics, it's a breeze from setup to regular use with quick start guides and assistance. There's also a simple to use remote that features smart select buttons that automatically configure the optimum input, volume and Audyssey configuration settings, no matter the media that you're listening to.
Everything from the color coded audio inputs, to the front panel HDMI and USB ports have been designed to make setting up and using the NR1607 as easy and efficient as possible.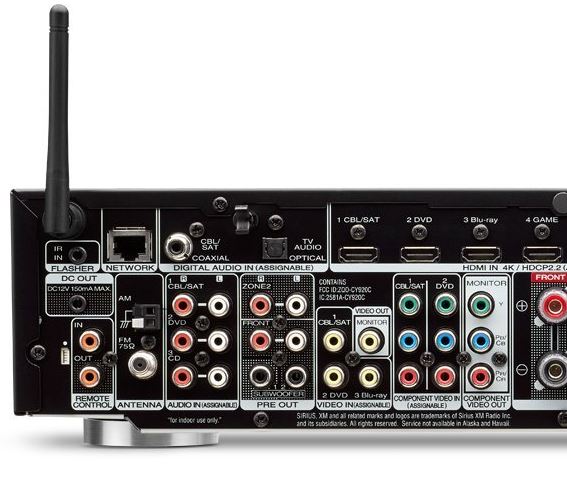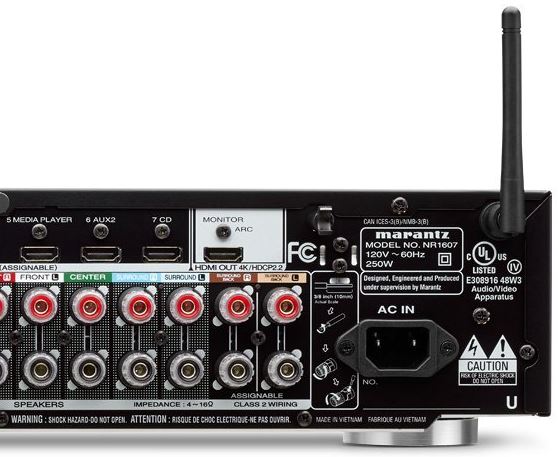 Economy in Price and Total Cost of Ownership
While price is a huge consideration for any home theater system, not every bit of value in this area is built into the upfront cost, as expenses and complications can occur over time.
Like many high end AV receivers, this one has been built with an Eco mode for lower power consumption, however the NR1607 does not eat into the sound quality in order to do so, thus raising its performance quality at the same time. This is made possible by an accessible power saving mode that either reduces the power output limits or changing the advanced amplification settings to a more basic output, in a way that is customizable your preferences.
For its class, it's about average in price and offers the latest technological advantages, however it's made even more valuable by the fact that media creators are only now beginning to use advanced Dolby and DTS coding across the board. This means that it inherently serves better than stereo receivers, holds its own in the AVR market, and will continue to provide value for you for many years to come.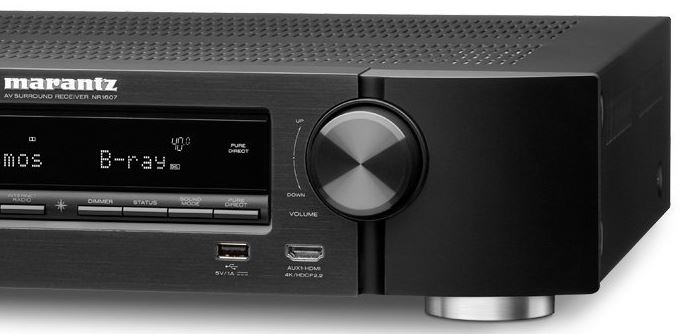 Conclusion
Performance and ease of use are blended masterfully to make the Marantz NR1607 Ultra HD Network AV Receiver, and although it doesn't hold much uniqueness in its class, the innovation and value are undeniable.
You'll likely be hard-pressed finding a better AVR for your home at this price for many years to come, as it provides both 7.2 channels and 8 HDMI inputs, as well as ground breaking amplification and pass through capabilities that will transform your expectations.
For those who are looking to achieve a simpler setup with a greater amount of networking capabilities, this is provided for as well, since these technologies are backwards compatible, and deliver consistent results across a broad range of media. Overall, a great choice for those who need an effective, feature-rich, reliable and high-quality built AV receiver at an acceptable price point.