When looking for a speaker that is great for entertaining at an affordable price, it can sometimes be hard to sort through the thousands you will find online. When do you find one you like, it's hard to tell what it actually looks like – the size, shape, and most importantly you won't know how it sounds.
We've done quite a few speaker reviews, but when we had the pleasure of receiving a complimentary Oittm RealSound Wireless Bluetooth Speaker for an honest review, we we're pretty excited to tell you about it.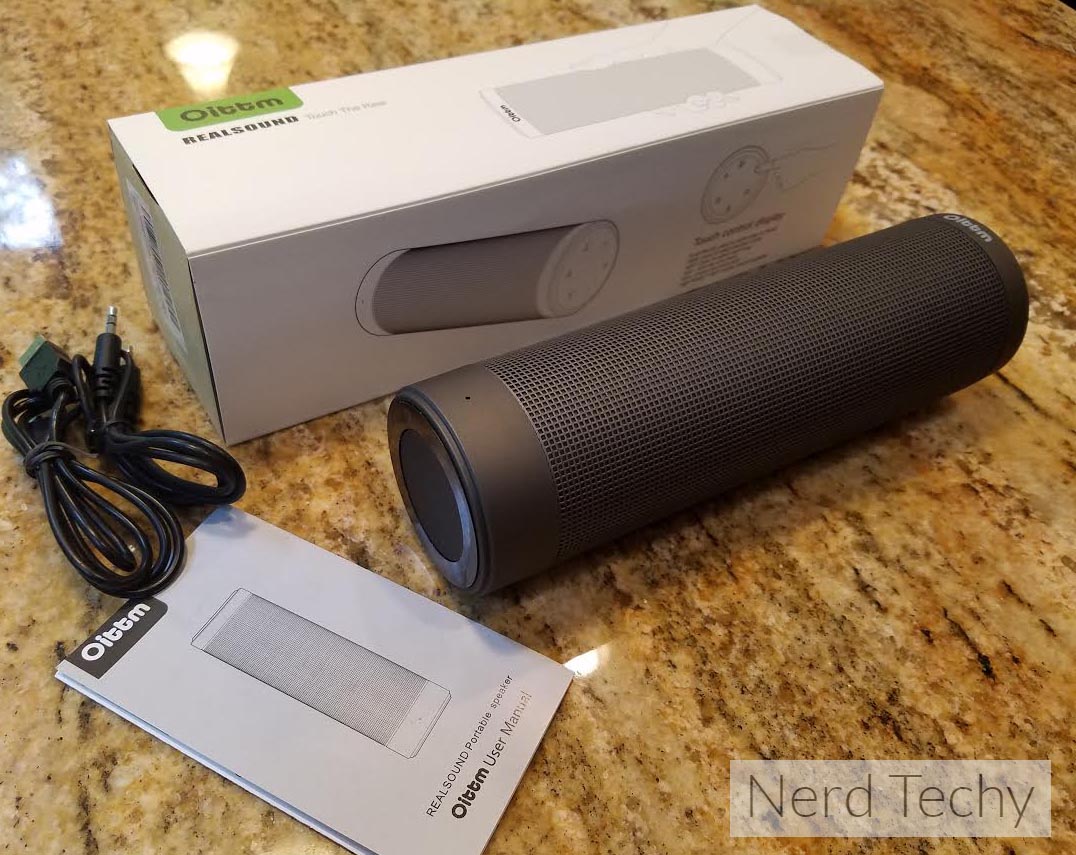 Quality
The speaker is a good size, not too bulky, but a tad heavier than others – which is welcoming to find when looking for a speaker that is made well. The cheaper speakers that are lighter tend to break a little bit easier, and may not always be the best when it comes to crafty workmanship.
As soon as we took the Oittm RealSound Speaker out of the box, you can tell it's built with good quality, and made with reputable materials. Aluminum and strong plastics create a more modern look, but just a few things that set this speaker apart from others is the sound quality, LED light show display, and extremely long lasting battery.
Dynamic Sound
The sound on the Oittm was quite impressive when it comes to how powerful it can be. They use 18 core dual tone circle magnetic frequency speakers making the sound very clear, even on the highest volume settings creating a speaker that's very versatile. Whether you're listening to music, or watching videos/movies, you're going to get a great clear connection – and a fantastic audio experience.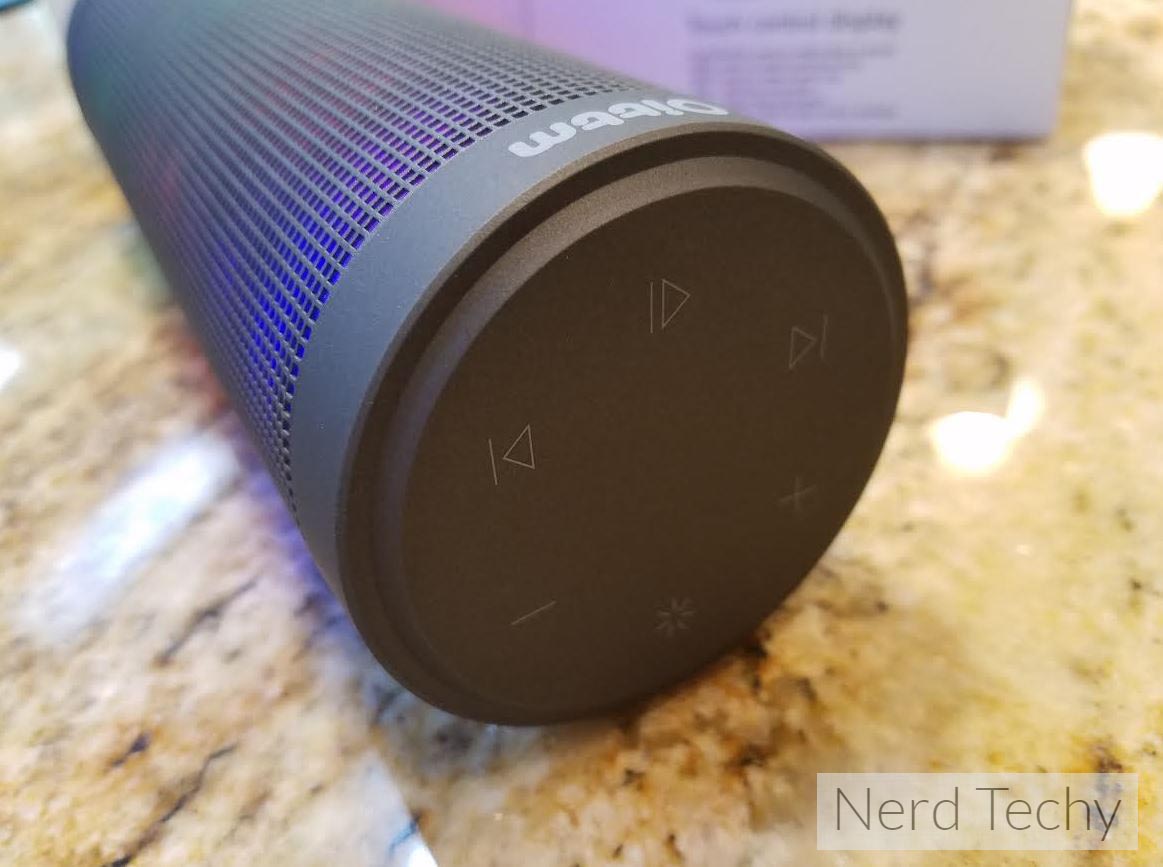 The bass is pretty good when it comes to adding that extra oomph, but it's not as good as it could be as if you were buying a $200 Bluetooth speaker. For the price point, we would say the bass is pretty great if you're looking for a small affordable speaker that will have great sound, without having to worry about it distorting on the highest levels, or breaking the bank.
The Oittm RealSound has dual stereo speakers made by Harman, one of the top brands available, giving it exceptional 360 degree sound domination. What that means to you, is that whether you're throwing a huge pool party, or just a small get together – placing a few of these speakers around your house will work almost like surround sound. No matter where your guests are, they will receive the best quality bass, and sound projection from every direction.
LED Light Mode Display
After realizing the sound was pretty great, we found the next feature that really captivated us was the 360º mesmerizing light show it displays. If you're looking for a speaker that's a little more aesthetically pleasing, and want something to really help set the mood, the Oittm could be perfect for you!
The box it comes in can be a little misleading for the fact that it says 5 light modes – but in reality, we looked through, and tested it ourselves finding that the listing on Amazon was correct insisting the speaker has 6 colorful LED light modes.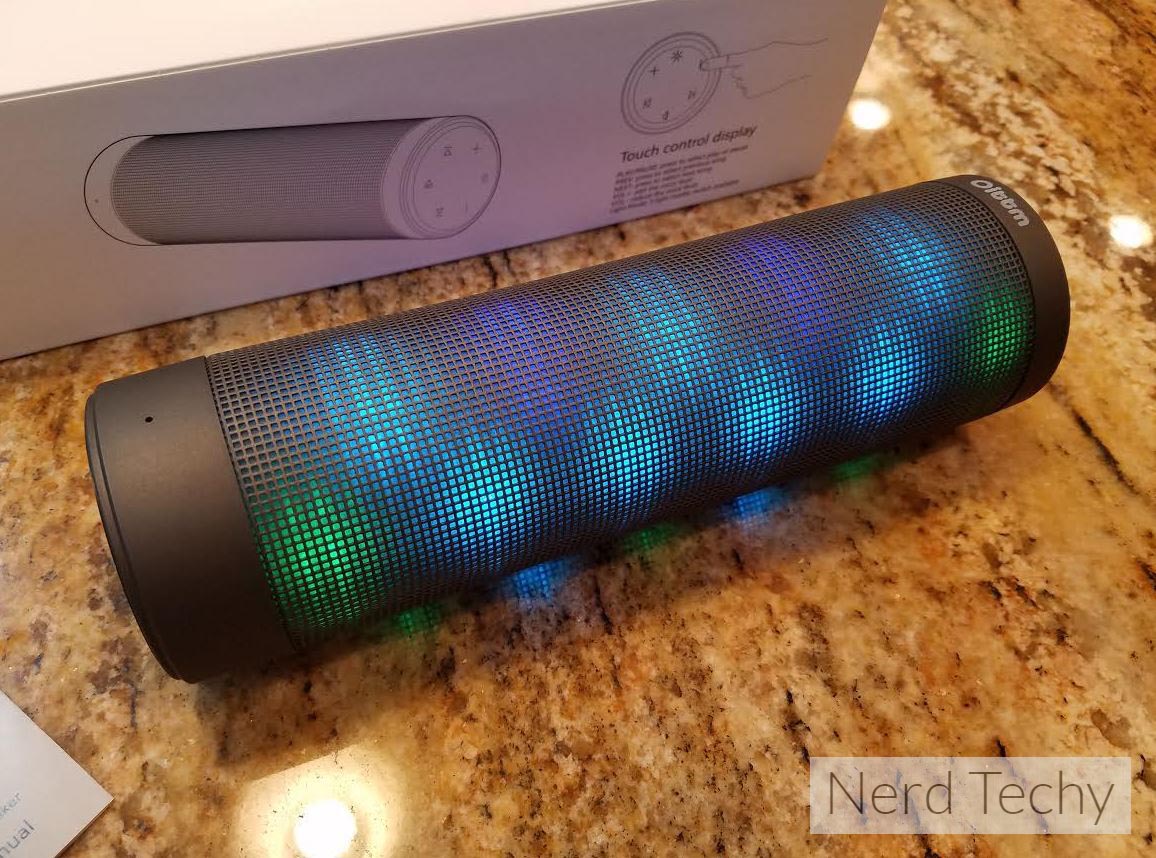 They range from a multitude of 6 different music pulsating displays great for outdoor parties, family get-togethers, camping, or even fishing. The light modes include:
Rainbow
Firefly
Party
Stroll
Nightlight
Pulsation
The lights are extremely fun, and easy to turn on – but if you wanted to use your speaker without the lights – you have the option to do that as well. All you have to do is hold down the light mode display control, which we will explain how to do that next!
Touch Control
The touch controls for the Oittm RealSound Bluetooth Speaker are extremely easy to adapt to using, and are very sensitive. You don't need to press on them for a very long time, or try clicking them since they are touch activated. The interface is very easy to figure out – start with the play button at the very bottom and the + and – button on the top left and right.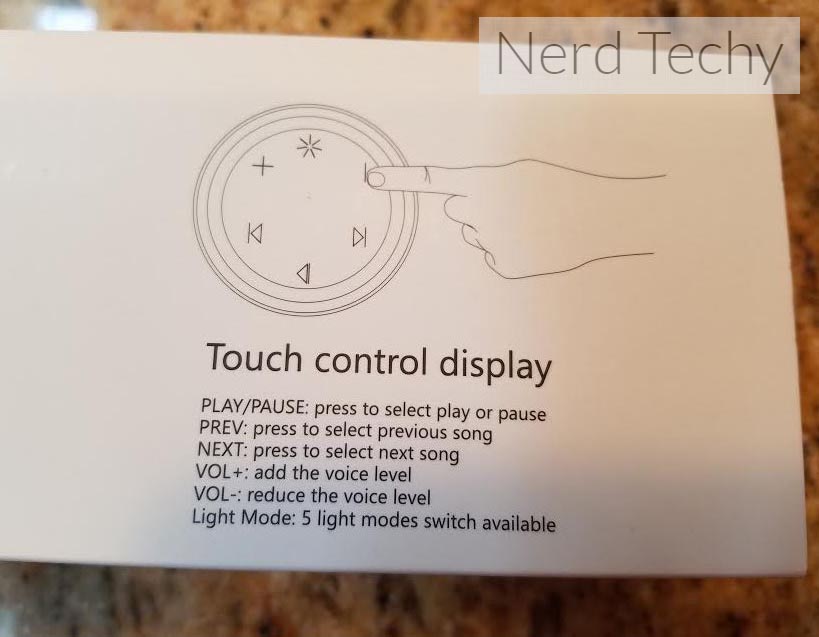 When looking at it this way – the very top touch control that looks kind of like a snowflake is the light mode control. This control will switch through the 6 different LED light mode displays available. The + will turn the volume up, and the – will turn the volume down, giving you complete control over the sound, without having to worry about the quality.
The on and off button is on the back, lower rear of the speaker. It is discreetly placed next to the AUX input, and Micro-USB charging port. It is a small circular button you will have to push to turn the speaker on and off.
The ►| will select the next song, and the |◄ will go to the previous song – this way you can listen to the tunes you want to, but still skip the ones you don't. It also allows you to go back if you accidentally skipped a song you like, so you don't have to worry about missing your favorite one. If you're watching a movie these will fast-forward or rewind whichever part of the movie you were watching, as well.
The ◄ means to play the song/movie you have selected. You will press this if it is paused, but you want to be able to turn it back on to play again.
Long-Lasting Battery
The Oittm Speaker was created to be more eco-friendly, making it rechargeable via Micro-USB. The lithium ion battery with 3600-4600mAh capacity gives it a very long lasting life on a full charge. On the lower volume levels, your speaker will hold a charge lasting as long as 10-15 hours. On the higher volume levels, your speaker will more than likely last you 8-10 hours.
The biggest tip to remember when charging your speaker is to not leave it on the charger for a significantly long time. When it has a full charge take it off the charger – otherwise it will start to rely on the charge, and every time you take it off it will only last a few hours.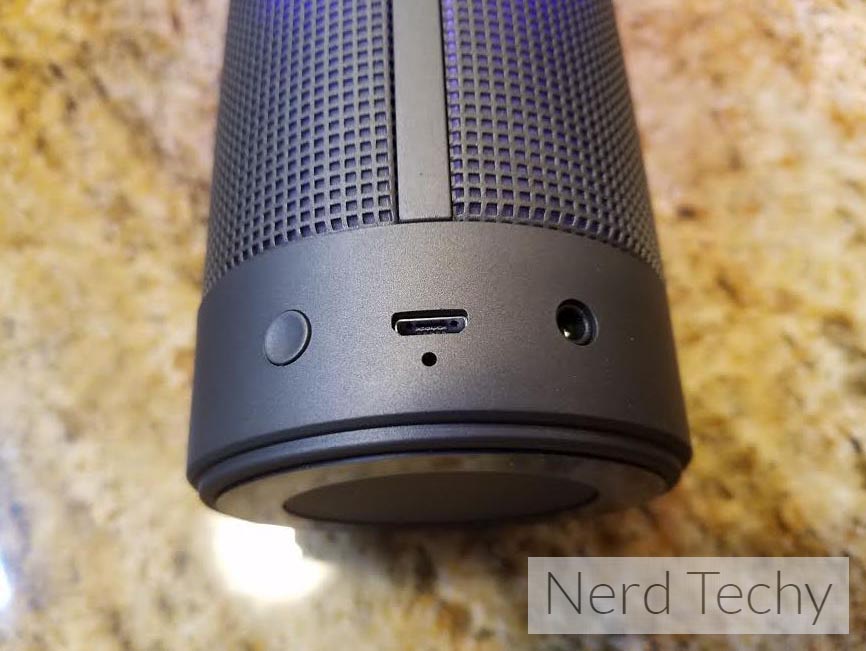 Just like if you leave your laptop, or cell phone plugged in all the time to charge when it doesn't need it – they start to die faster, and in no time you realize your phone only lasts you 8 hours when it used to last you 15 – this could happen to your speaker as well.
Charge the speaker when you first receive it for a long time, around 8 hours – this sets the life of your battery. Every time after that first initial charge, only put it on the charger for 3-4 hours or so – then take it off. It is very important to take the speaker off the charger when it is fully charged, and not left on the charger consistently.
Built in Microphone
No matter whether you're in the middle of a party, or midway through a movie, we understand the importance of staying connected no matter what you're doing. The built in microphone ensures that no matter what – even mid party, if someone is calling you can still answer.
There are always those times when you get an important phone call, but you didn't know because you're phone is playing the music, and didn't put the phone call through. This speaker makes sure that if someone calls it will let you know, and gives you the ability to talk through the speaker with a built in microphone in case you don't have time to get to your phone if there is an emergency, or if your friend just can't find your house.
Features
Thin, portable, and easy to bring with you wherever you need.
Dual speaker gives full 360º sound projection making it an enjoyable experience all the way around the speaker not just in front.
Mesmerizing light display makes this speaker amazing for entertaining guests at a big party, or having fun with family.
Great, powerful sound. Higher volumes are quite intense without having to worry about the sound distorting, or cracking.
Touch control Display is easy to use, and makes maneuvering through songs, and volume extremely easy.
Great for entertaining guests, listening music, or even watching movies!
Connects via Bluetooth to iPhones, iPads, Androids, Tablets, PC's, MP3, MP4, and others – as long as they have Bluetooth enabled.
Built in microphone keeps you connected, no matter what you're doing.
Extremely long lasting battery – 10-15 hours of playtime when fully charged.
A little heavier than other speakers, we noticed it was made with good workmanship, and quite durable.
Bass was good for the price point of the speaker, but if you're looking for a lot of strong, amazing bass – we would spend a little more and check out the UE Roll .
18 month worry free warranty – 100% customer satisfaction intended! If you have a problem with your speaker contact Oittm and they promise to try to give you a satisfying solution.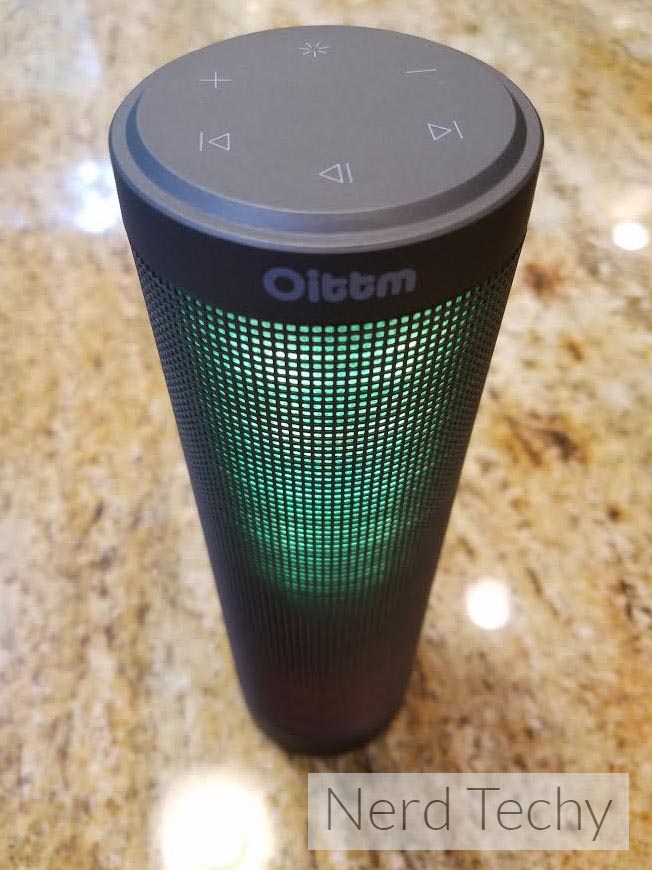 Bluetooth
The Oittm RealSound Bluetooth Speaker can be configured with a multitude of different devices from iPhones and iPads, Andorid phones and tablets, PC's. MP3, MP4's, and so on as well as the other's have Bluetooth enabled devices. With range up to 33 feet (10 meters) it gives you the ability to move around freely while staying connected to the speaker, so you never have to worry about feeling tied down to a 10×10 foot space.
Bluetooth connection stays strong upon moving around large groups of people with the device your streaming from. We tested it while at a party with at least 50 people, and had no issues maneuvering around the room greeting guests while holding the strong Bluetooth connection without having to worry about it going in and out, or distorting the sound.
What's in the Box
Oittm RealSound Bluetooth Speaker
3.5MM AUX Cable
Micro-USB Cable
User Manual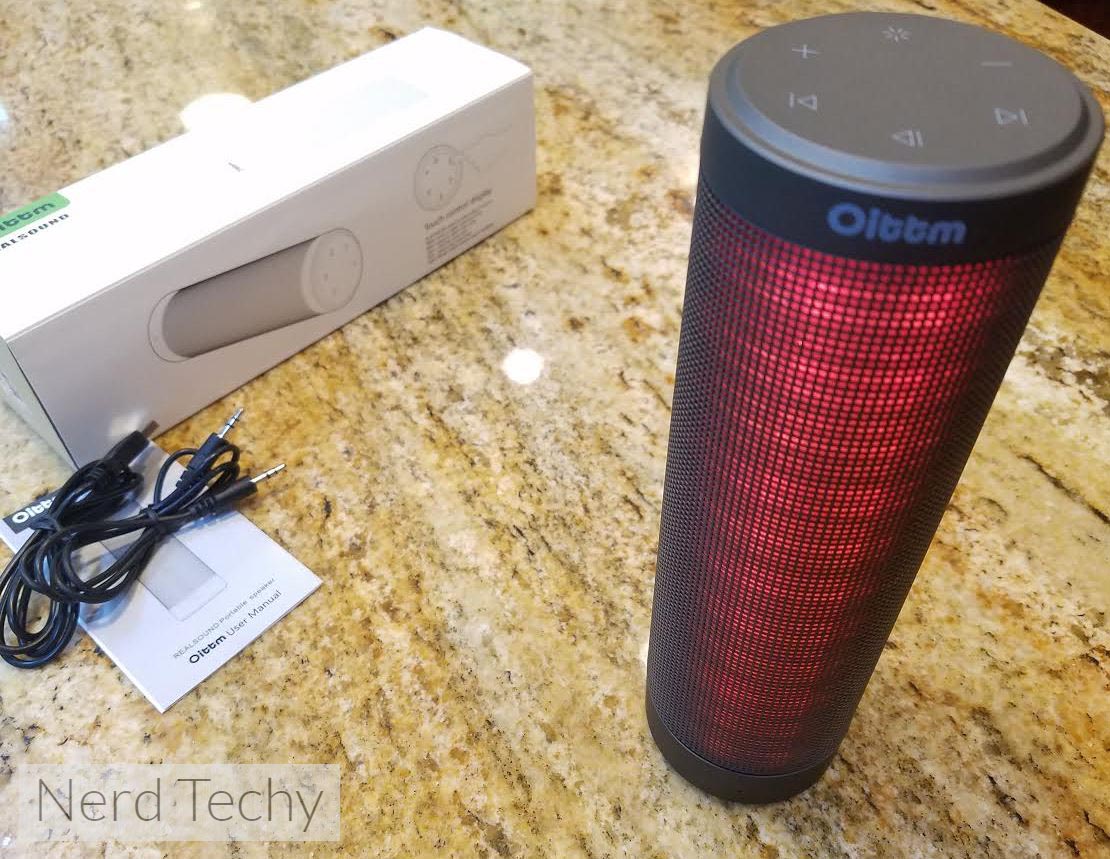 Final Thoughts
Overall, the Oittm RealSound Bluetooth Speaker is powerful, built well, and filled with a wide array of impressive features. The unique effects of the built in LED's give an entertaining touch to your favorite songs, while bringing a new fun energy to every party or get-together.
Easy to use with multiple different light show options, and enough range for you to move freely around while staying connected, are just a few features that make this one shine. If you're looking for an affordable Bluetooth speaker with powerful 360 degree sound projection, we think you'll love it!
Thinking about purchasing an Oittm RealSound? Be sure to use the following coupon code on Amazon to get a full 20% off discount: 6QAODWHD.