There used to be a time that choosing headphones was relatively simple. Once you had a budget in mind you could simply choose a pair that fit comfortably and had good sound quality. Every pair generally worked in the same manner and used the same audio jack for personal, portable devices. Most pairs even threw in a larger adapter if you needed to connect to higher end stereo equipment or audio gear.
Those days are long gone. Today you have a plethora of form factors to evaluate in addition to considering advanced features, Bluetooth quality, and even battery life. The simple, analog headphones of days past have given way to complicated pieces of advanced technology.
Note: At no extra cost to you, we may earn a commission for purchases using our links. Learn more.
Now, to clarify, we love technological advancement and we love choice. In exchange for a bit of time spent researching and evaluating the wide array of options, more choices mean you can find an option tailored more specifically to the way you'd like to use your devices.
The Mpow A1 Bluetooth Neckband Headphones look to strike a good balance between the ultra-compact form factor of many new Bluetooth wireless headphones and the extended use and functionality of a larger pair of headphones.
Let's explore what Mpow has to offer and you can decide if the A1 sounds good to you.
Design and Specifications
Likely the first thing you'll notice about the Mpow A1, the neckband plus earbud design can seem odd to users who have never tried it. We'll discuss the reasoning behind this design choice shortly.
The Mpow A1 has an ergonomic, flexible, lightweight neckband with larger plastic pieces on each end. These pieces rest against the collarbone area and house the control buttons, charging port, and indicator LED. From each end, a short cord leads up to the actual earpieces which look like triangles with rounded ends on the back.
While this means the headset technically has a wireless connection to your device, it does have wires connection the earbuds to the neckband. For this reason, other manufacturers specify "true wireless" or "wire free" earbuds on products that contain no wires whatsoever.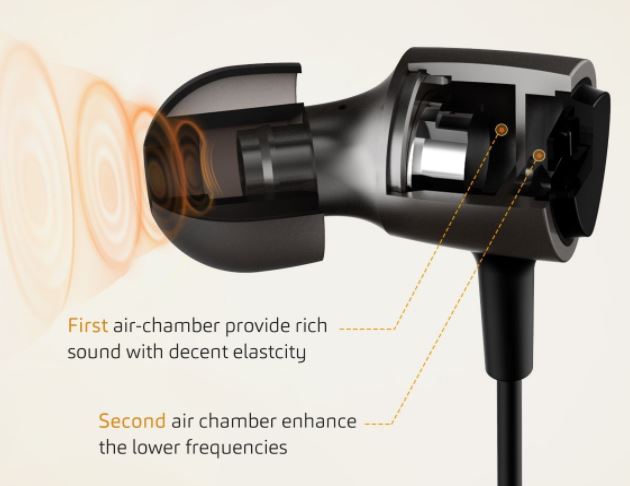 Stylistically, the A1 only comes in a single color option. The earpiece housing and the ends of the neckband have a greyish silver color with a matte finish while the neckband, cords, and ear tips come in standard black. While some people may prefer more color options, the classic grey and black coloring will blend into any environment whether personal or professional.
Mpow certainly means it when they say lightweight. At a mere 4 ounces, even if you're unsure about the neckband design you're likely to forget you have it on after a few minutes. While 4 ounces is light for a neckband, it wouldn't feel particularly light if these were "truly wireless" earbuds. By shifting the weight into the neckpiece, Mpow can fit a larger battery and keep hardware for the Bluetooth connection and Digital to Analog conversion out of the earpieces. As a result, the actual earpieces feel incredibly light which provides more comfort for longer listening sessions as well as reduces the likelihood they'll try to fall out of your ears.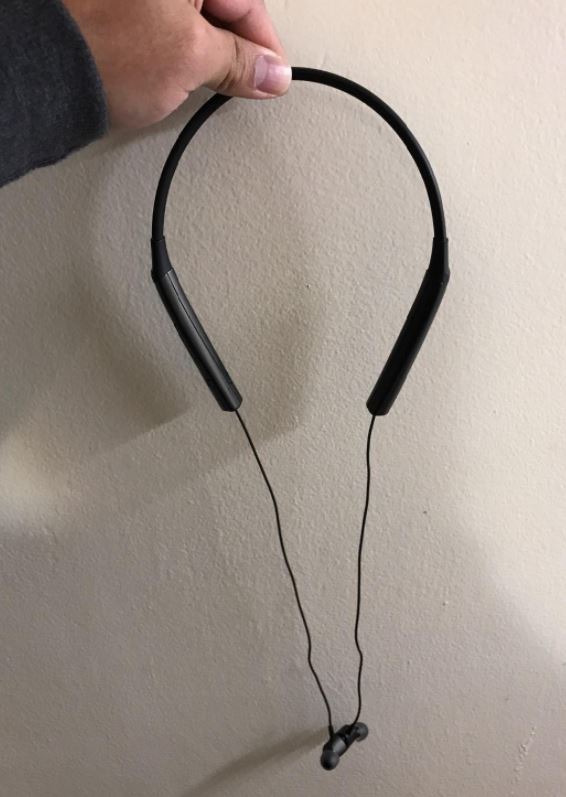 Features
While the design itself may be the most significant feature, let's look at what else this headset has to offer.
The Mpow A1 doesn't yet employ the new Bluetooth 5.0 standard, but instead uses the tried and true Bluetooth Version 4.1. We do look forward to the new features in the updated standard, but for the time being most equipment will stick with 4.1. This gives the A1 an estimated operating range of 10 meters, or 33 feet. The integrated microphone allows you to use the A1 for hands free calling with your Android, iOS or other Bluetooth compatible devices.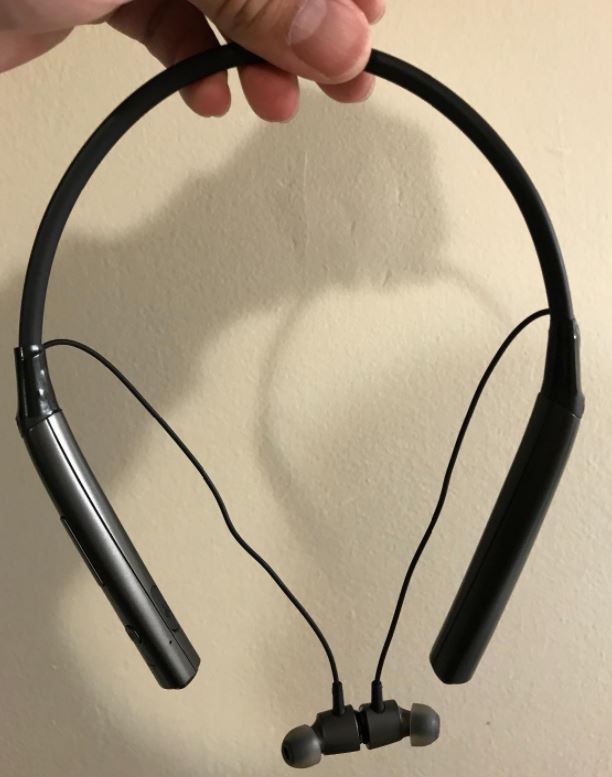 At first glance, it appears the buttons on the A1 can only control power on and off along with volume. Fortunately, Mpow designed these buttons with multiple functions depending on the length of time you press them. The volume buttons also allow you to skip tracks forward and backward while the power button also works to play and pause music and answer, end, or reject phone calls. These controls add a lot of functionality so you should rarely need to remove your phone from your pocket or bag.
Mpow had ergonomics in mind, and in addition to the lightweight design, the earbuds come with three different sizes of tips and feature an angled design to ensure optimal fit and maximum comfort even during all day usage.
While it may seem like a small feature, the earbuds snap together magnetically back to back. This helps prevent the cords from tangling once you remove the headset and place it in a bag or drawer.
On the audio front, Mpow uses drivers with 20 Ohm impedance. Inside each earpiece, a unique dual-chamber design helps to enhance lower frequencies and add richness and depth to your audio.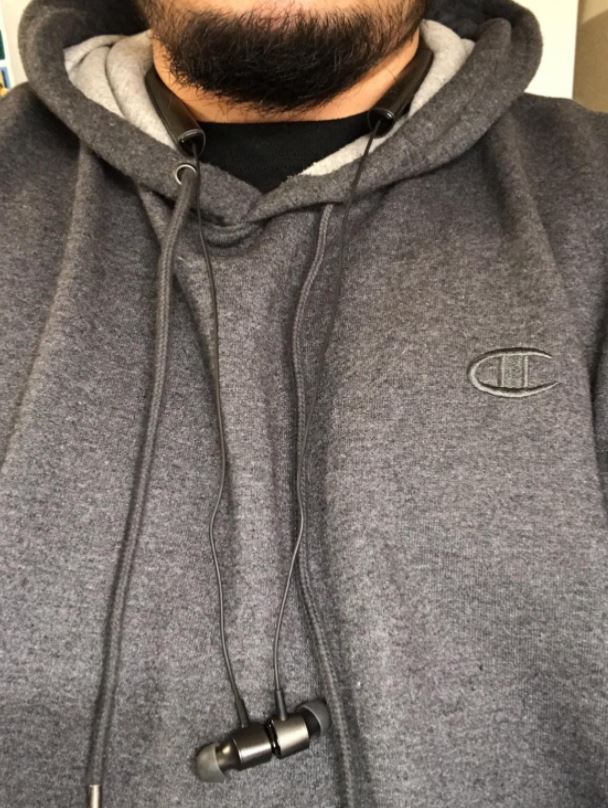 Usage and Battery Life
With the rise of Bluetooth headphones and headsets, battery life enters into the discussion in a way it never did in the past. Corded headphones draw the energy required via the device they're plugged into, but wireless headphones must have their own internal power source. To make matters worse, in addition to merely powering the audio drivers, wireless headphones have Bluetooth radios and other electronics to keep energized.
With the big push toward truly wire free listening devices, manufacturers have brought tiny earbuds to market with meager battery life of 4 to 5 hours or less. While this may work for some people, if you like to travel or listen to music throughout the day you're likely to run out rapidly.
The Mpow A1, due to its neckband design, achieves 8 hours of talk time or 10 hours of audio playback. While this alone is an improvement, the real surprising feature comes from the extreme rapid charge. With just 5 minutes plugged into its 5-volt micro USB charger, the A1 gets a huge boost to 2 hours of playback time.
We found this rapid charge quite reassuring. We could never use most wire free earbuds as our primary pair due to battery limitations. Any wire free earbuds we've tested could only work if we knew we only needed them for a couple of hours. With the A1's ability to last 10 hours plus a mere 5 minutes for a 2-hour rapid charge boost, we feel confident we could leave the house in the morning without fearing a dead battery by lunchtime.
Also, while not exceedingly ruggedized, the A1 does achieve an IPX4 rating which indicates resistance to splashing water. Basically, you can't jump in the pool with them but you don't have to fear raindrops or a little sweat.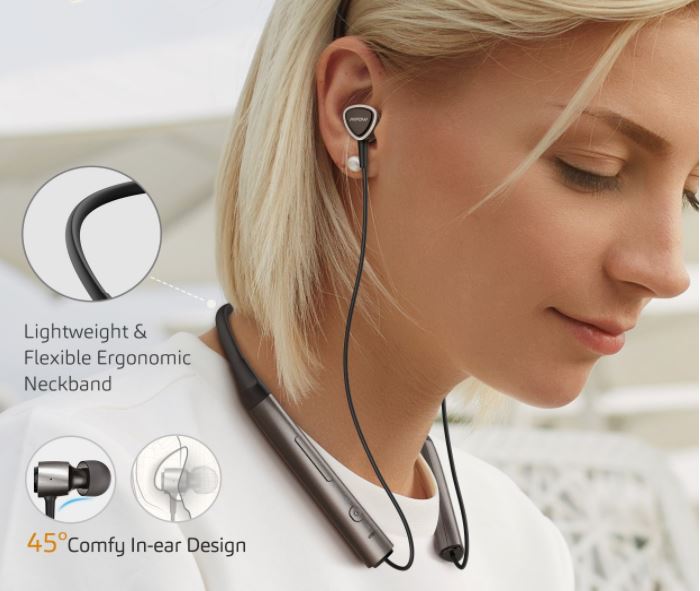 Performance
Generally we were quite pleased with the performance of the Mpow A1 Bluetooth headset. Audio was clear and rich for earbuds despite lacking a bit on the low end. While it may not rank as the best pair we've ever tested, it certainly performed well enough. Given the low price, we'd consider the A1 an exceptionally good value.
Though some people may oppose the neckband design in principal, it's actually quite comfortable. The lightweight, flexible band contours around your neck and you'll soon forget you're even wearing it at all.
Granted, the A1 may not be the best choice if you plan to work out or perform other strenuous activities while listening. We found that the multiple ear tips enabled a secure, comfortable fit, however the neckband would certainly bounce around if you were doing much more than walking.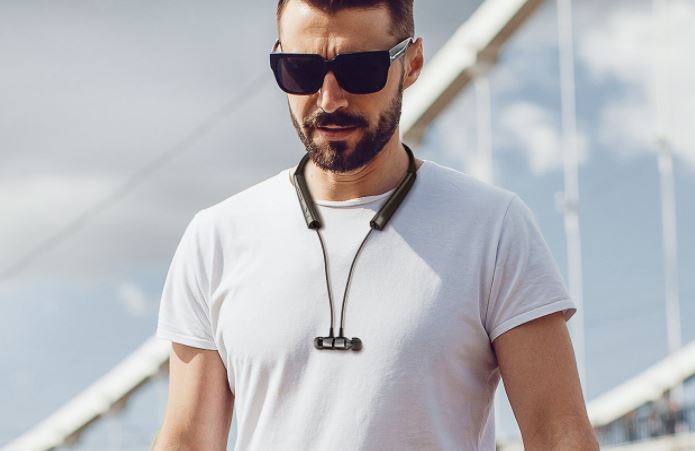 Bluetooth performance was adequate although we did experience minor issues. After leaving the connection range, the A1 sometimes struggled to reconnect automatically. We were able to re-establish the connection shortly, but it's worth noting that you should attempt to stay in range.
Battery life was strong, although we rarely expect to achieve the manufacturer's rating. Those numbers usually involve a best-case scenario with low sound volume. We did test and confirm a very solid boost to the battery with just the 5-minute rapid charge.
We also tested the A1 as a headset. When making calls, our helper on the other end was able to hear us adequately but said our voice lacked the clarity of some other headsets we've tested. Since the A1's microphone rests in the body of the neckband, it's possible for it to pick up ambient noise that interferes with call clarity. We certainly appreciate the option to use it for phone calls, but you'll want to ensure you're in a quiet environment if you plan to talk extensively.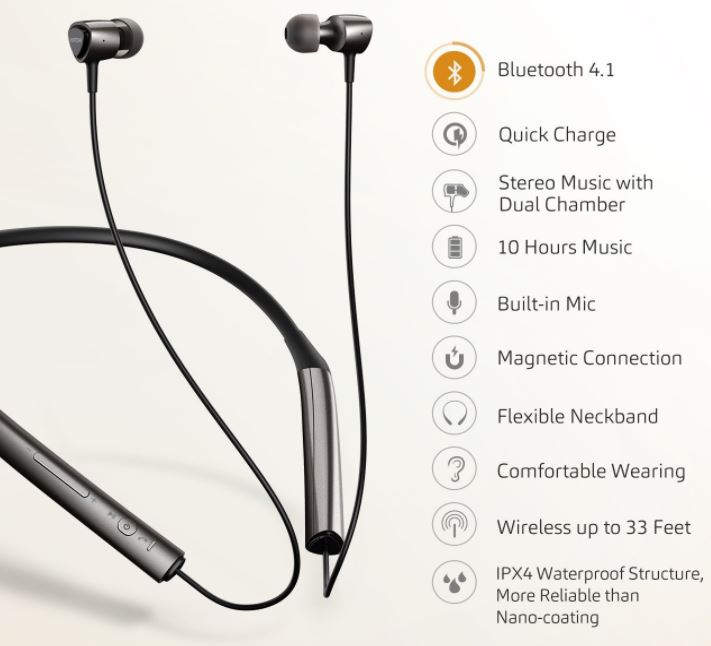 Conclusion
Despite a few minor issues, Mpow has a quality product on their hands that competes at a much higher level than its price would imply.
While headphone manufacturers explore a variety of new form factors allowed through the advancement of Bluetooth technology, it's interesting to evaluate the options as a consumer. Many of us aren't completely ready to give up our trusty wired headphones in exchange for a wireless Bluetooth earbud like the Apple AirPods. These tiny devices just seem prone to getting lost or damaged.
Unfortunately, with a number of phone manufacturers dropping physical analog ports, you may find yourself in the market for a Bluetooth headset sooner than you might have expected. A device like the Mpow A1 represents a good intermediate step.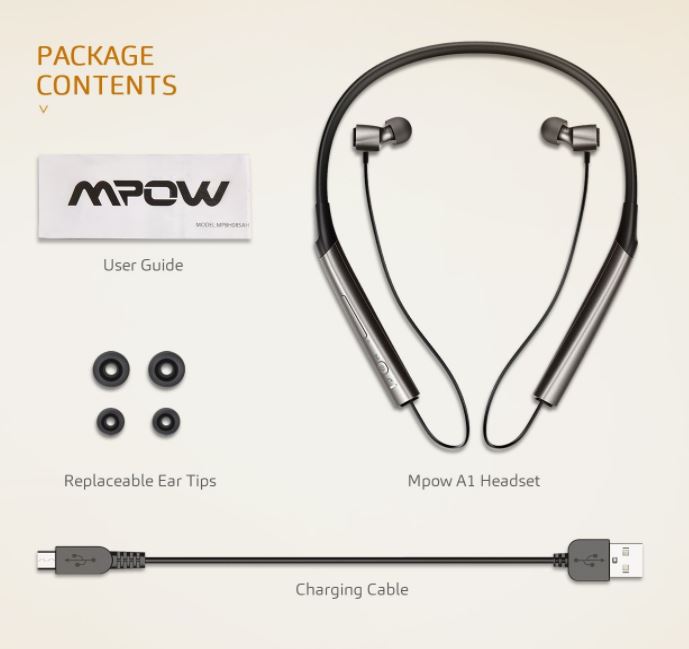 While you're still cutting the cord to your device, Mpow's neckband design allows for all day comfort and extended battery life that truly wireless earbuds have yet to achieve. Of course, there are many Bluetooth headsets in a more traditional headphone format with even superior battery life. These represent the biggest competition to devices like the A1. People really need to try a neckband device to understand the experience. It's far easier to remove a single earbud and maintain situational awareness compared to a traditional headphone.
Ultimately, the neckband style may either fade away as truly wireless earbuds improve, or it may remain a more capable, powerful alternative for users who like that style.
If you're one who prefers a neckband style headset, the Mpow A1 delivers high quality at a surprisingly low price. Even if you're just curious to test it out, there's no better way to get an inexpensive introduction to this type of product.
Who knows? You might just discover you like it more than you expect.
Please consider sharing:
Note: At no extra cost to you, we may earn a commission for purchases using our links. Learn more.