Choosing great Bluetooth headphones begins with knowing exactly what you're looking for. Different headphones are made for different types of use. Some of this easy to see, like with athletic headphones. But judging between gradients of general-use headphones is another matter entirely.
Some headphones are made with sound profiles that favor bass. Others are built specifically for call clarity. And headphones intended for walking won't necessarily do great if you start running. It's not only that some headsets are better than others, it's that different headsets can do different things.
Mpow H7 Bluetooth Headphones
The Mpow H7 are value-oriented headphones. None of their features go above-and-beyond the expectations of decent headphones within this price range. Instead, value based headphones focus on making sure nothing about your experience is underwhelming. From the battery life, to the comfort on your head, the Mpow H7 are aiming for the middle.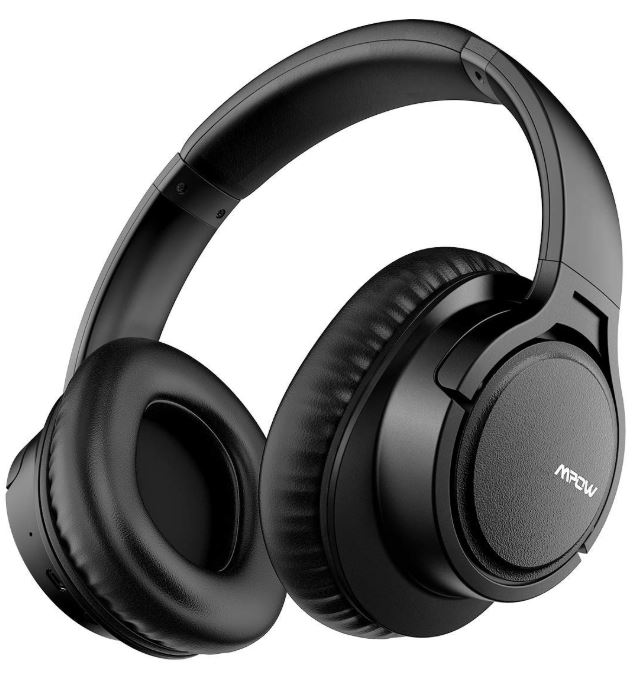 The H7 enjoy universal compatibility with just about anything you might want to plug them into. That includes Android and Android phones, Google Pixel, tablets, and so on. You don't even need Bluetooth to make a connection, though we'll look closer at connection features later on.
Build & Design
By their very nature, over-ear headphones are the largest variety of headphones. The H7 are designed to be slightly more compact than typical over-ear headphones. The ear-cups which cover your ears are marginally smaller. The ear padding is slightly slimmer. Internally, even the 40mm audio drivers are slightly more compact than their 50mm counterparts.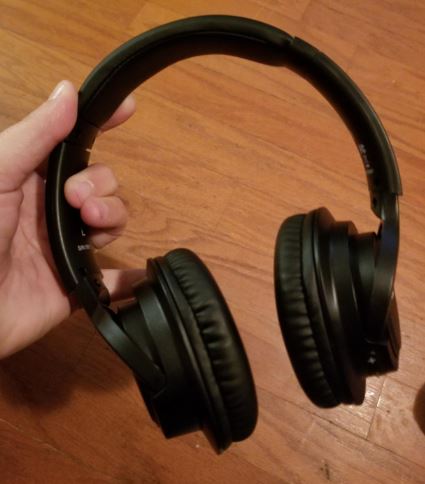 One problem with making over-ear headphones more portable is they tend to lose its adjustability. The Mpow H7 avoids those issues entirely. Though these headphones are on the smaller side, they haven't abandoned the ability to fully adjust the height of the headband, or given up on swiveling from the ear cups.
A stainless steel slider allows for four additional inches of space, which adds considerably to both adjustability and options for comfort. And the ear-cups themselves make use of a closed design, preventing environmental sound from entering the Mpow H7 while you're listening to them.
This design also helps prevent audio from bleeding out into the environment around you, potentially bothering others. Though the amount of sound isolation is not phenomenal, it's both noticeable and significant.
On the bottom side of the right ear-cup, there are touch controls for volume. There's also a small circular call button beneath the volume console. Being separated from the other media controls makes it easy to find and press the right button. Adjacent to the media controls, you'll find a small LED used to indicate the status of the battery, and a 3.5mm audio jack.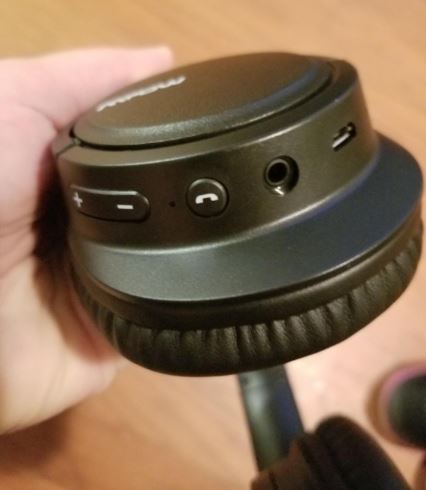 Worn Comfort & Adjustability
Simply by the merit of being over-ear headphones, Mpow H7 Bluetooth Headphones are automatically among the most comfortable type of headphones you can choose. They don't press against your ears, like on-ear headphones. They don't press against your ear canal, like in-ear headphones. And they don't violently squeeze against your head like a pilot's headset.
Nearly every pair of over-ear headphones makes use of some type of memory foam. The memory-protein earmuff foam seems slightly denser than ordinary memory foam. And the headband uses a similar foam material. Though it's a fairly thin layer of the foam, it provides enough padding for the headset to be comfortable against your skin. Covering the foam is a faux leather material that's quite smooth, and rather easy to wipe down.
People have an intuition that expensive things should be heavy. It's an intuition that fails us from time to time. When choosing headsets, a heavier pair can translate to shoulder and neck pain. These types of weight issues are especially important if you intend on using the headset for more than a few hours.
Mpow H7 Bluetooth Headphones weigh about half a pound. That's almost a bullseye for perfect weight for a headset. The design allows you to wear the H7 literally all day without them becoming tiresome. It also doesn't hurt that the ear cups swivel freely in either direction.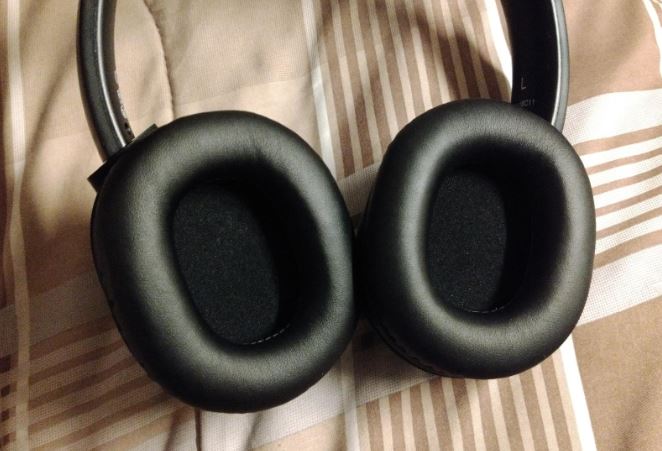 Portability
The primary purpose of the swivel design is to help provide equal comfort and noise isolation, no matter who's wearing the headset. But for that purpose, you really only need a few degrees of adjustability. The Mpow H7 Bluetooth Headphones have almost a full range of swiveling capabilities.
You can even lay them flat against a table, or flat on your neck while you're not listening. For carrying them around or storing them away, it's a design that can be very useful. And if you throw them in a bag and they're handled a little roughly, designs this are drastically more durable.
Microphone Quality
When you're choosing budget Bluetooth equipment, most components will have terribly average levels of performance. For the Mpow H7 Bluetooth headphones, few components are as mediocre as its microphone.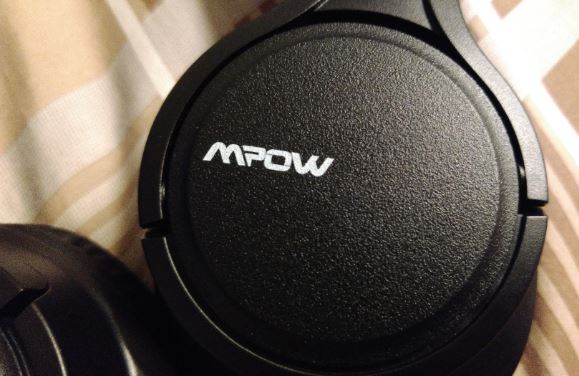 If you've used many Bluetooth devices, then you know that even mediocre Bluetooth microphones are pretty good. They provide audio quality that tends to match or exceed what you pull from a smartphone. And that's essentially what you can expect from the microphone here.
It's not that the microphone isn't good. It's simply that it has no special features to distinguish itself. There aren't any extra noise cancelling technologies used, or any special care paid to ensure the microphone is anything but functional. Provided you don't have unusually high expectations, the H7 and its microphone does get a passing grade.
Battery Life
The Mpow H7 are constructed with a built-in 3.7V 420mAh lithium-ion battery. That's actually fairly small, but still rather powerful. Playtime from one charge is about 13-hours. Talk time is slightly longer, reaching about 15 hours.
With lowering your volume settings, or by disabling Bluetooth with a wired connection, you can expect to reach as much as 20-hours of playtime from one charge. Once empty, recharging the battery takes about 4hrs. That's quite the wait, but when the battery isn't totally empty, charge times are a bit more reasonable.
One more thing to keep in mind. Though you can technically play the Mpow H7 while they're charging, this will trash the longevity of the battery. You want to keep them off while charging unless absolutely necessary.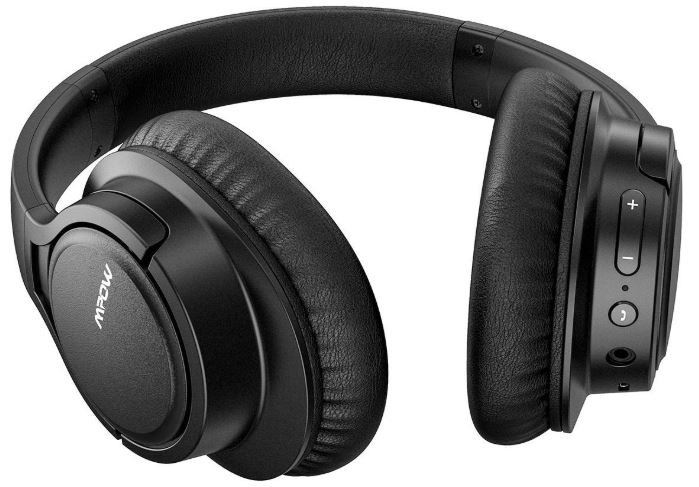 Audio Quality
The Mpow H7 has many essentials working in its favor. Because these are over-ear headphones, their sound quality is assuredly better than almost any pair of in-ear or on-head headphones in this price range. Having more air to manipulate and having larger audio drivers aren't small advantages when it comes to the task of creating excellent sound quality.
But beyond these comparative advantages, the Mpow H7 doesn't offer much. When you start to compare these over-ear headphones to similar headphones in the same price range, you'll find almost all of them sound quite similar. With few exceptions, sound quality in this price range is primarily software-driven.
Which means having support for basics like Bluetooth can do much of the heavy lifting. And the included CSR chip allows you to enjoy music that's tuned with an equalizer to match your personal preferences. The resulting audio can then enjoy a little extra kick to its bass. But average sound quality is something you've really got to expect within this price range.
Connectivity
The H7 connects through Bluetooth, and is capable of connecting with two Bluetooth devices simultaneously. Offering 30-feet of stable connectivity is again terribly average, especially as many similar headsets have started to push towards 50-feet or 100-feet of connectivity. On the other hand, 30-feet is still about 20-feet more than most people will need.
The inclusion of a 3.5mm audio port means you can keep playing music without Bluetooth, which can save you considerable amounts of battery life. It also allows the Mpow H7 to connect with devices that don't support Bluetooth, but do have audio jacks. That might include console controllers, CD players, old mp3 players, and so on.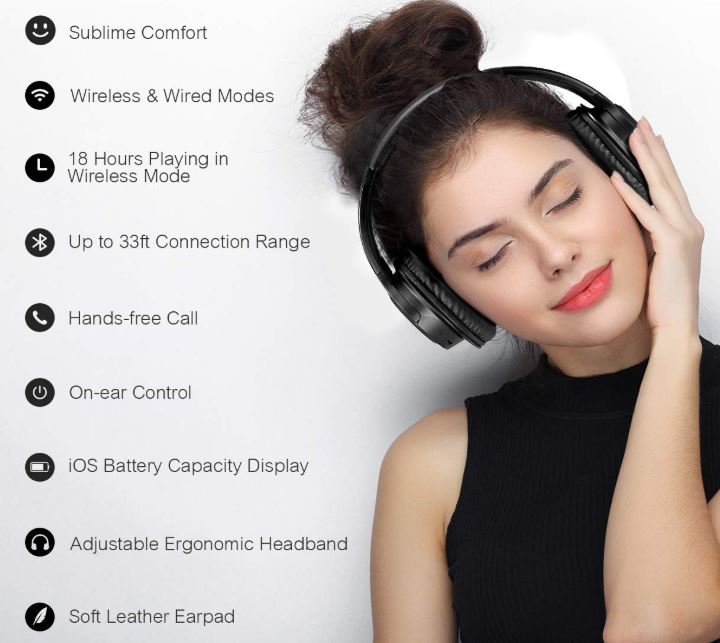 Longevity
Take a look at any decent pair of wired earbuds in the $20 to $30 price range. Their average lifespan is probably fairly close to six months. Wires are extremely vulnerable to damage, and are involved in the cause of death for most wired earbud headphones.
Being wireless, the Mpow H7 has a different bottleneck for its longevity, and it's the lithium-ion battery. Because it can't be replaced, you can anticipate about three years of heavy use from the H7. With more modest use, their lifespan could be stretched further. But that's a reasonably lengthy lifespan relative to their price. And it's about six times as long-lasting as earbuds.
Other Considerations
Because it's so easy to attach the 3.5mm audio cable, it's equally easy to imagine many people will end up using semi-wired listening. With that in mind, it's worth mentioning that the microphone only works while you're using the wireless mode.
The H7 includes two 3.5mm audio cables, two carrying bags, and a user manual. The audio cables are of slightly varied length, which is actually quite convenient. There might be a circumstance where you need to stretch the first cable extra-far, to reach your TV. At another time, you may prefer to use the shorter cable while you're walking. In addition to those extras, the H7 includes a two-year warranty.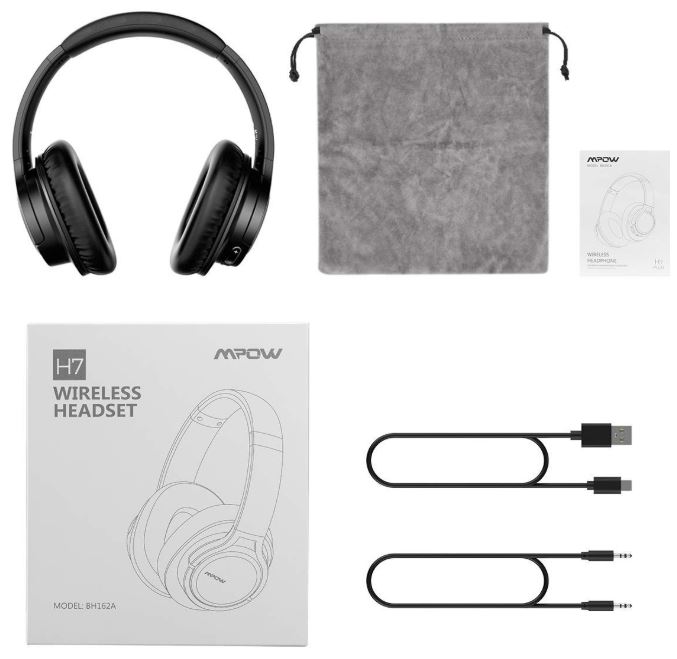 Who Should Choose Mpow H7 Bluetooth Headphones?
Many of the best qualities the H7 offers are easy to overlook. That's because many of their qualities are average. The quality of their construction matches their price. The microphone won't impress you.
But the battery life might. And compared to most portable Bluetooth headphones, the H7 and their over-ear design are among the most comfortable within this price range. Though portable, they didn't sacrifice one bit of adjustability.
If you're looking for portable audio on a budget, over-ear headphones like the H7 are among your best options. Their comfort, sound quality, and battery life will outshine virtually any variety of more-portable headphones. They offer everything you need for portable audio in abundance. For someone on a tight budget, Mpow H7 Bluetooth Headphonesare worth a close look.