Finding a good projector can be difficult, especially compared to choosing a TV. Even if you know what you're doing, you still have to put some thought into how you want to setup the projector. Once you have all the basics in mind, it's actually not that difficult to recreate a cinematic home theatre experience.
Creating that experience can be worth the effort. A 200" television might cost a couple thousand dollars, and still fail to truly recreate the feeling of being in a theatre. But a decent projector can help you recreate that experience with a fraction of the cost.
VANKYO Leisure 510 Full HD Projector
Among their extensive lineup of projectors, one of the most popular in the VANKYO Leisure series was the VANKYO 410. In fact, the VANKYO 510 is essentially the same projector. The 510 simply places slightly less emphasis on budget and value, and slightly more on creating a flawless visual performance.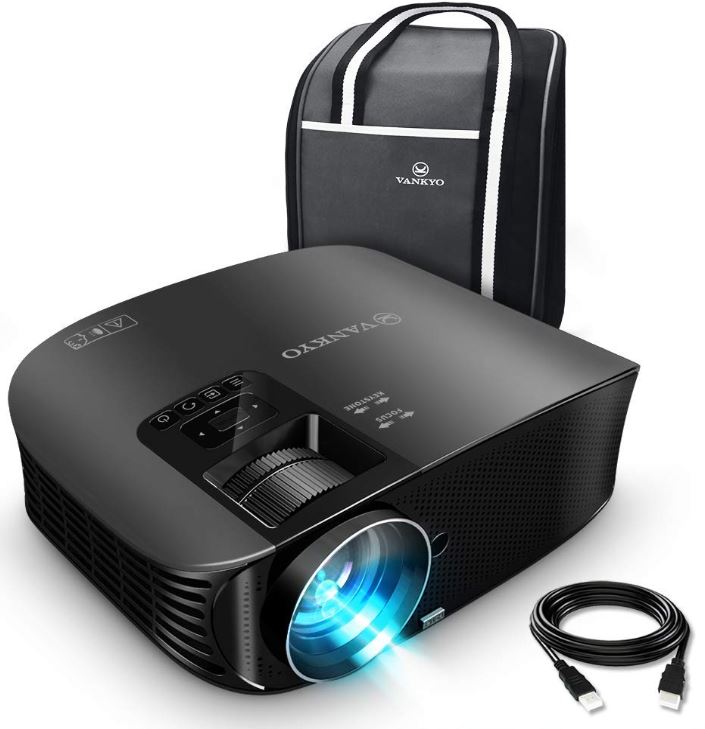 Compared to similar projectors in the same price range, you'll find the 510 is far brighter than average. While brightness isn't the end-all and be-all of projection, it's almost as important as high resolution is for televisions, and it's a promising starting place for any entertainment oriented projector.
Even the least portable projectors are still fairly portable. Compared to intentionally portable projectors, the VANKYO Leisure 510 isn't exactly what you would call a portable device. But if you're trying to find a projector to play games, stream videos, and connect to mobile devices, then the Leisure 510 can probably provide everything you're after.
Build & Design
The VANKYO Leisure 510 measures 13.8 x 13.1 x 6.2 inches, making it comparable to the size of a small computer case. It weighs nearly five pounds, which is about 20% heavier than the similarly-sized 410. Its black aluminum chassis is primarily highlighted by the extra-large design of VANKYO's distinctive front lens.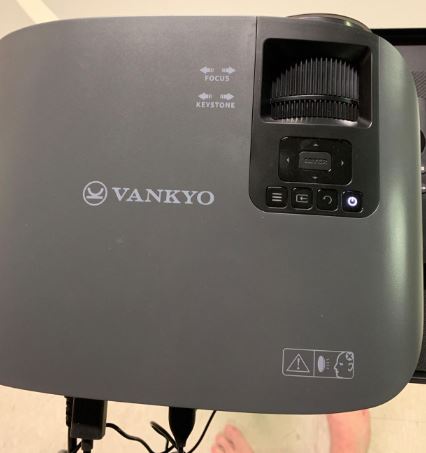 Along the edge of the chassis, there's ample venting to prevent heat from becoming an issue. That's extra important for a powerful projector like the Leisure 510. Unfortunately, there are also noise issues that come along with the improved airflow, but that's an issue we'll examine later.
With respect to its physical design, the VANKYO 510 is almost identical to its predecessor. The topside features an enlarged manual focus wheel. Adjusting the wheel is a fairly intuitive process, and it provides firm tactile feedback you operate it. The keystone correction wheel rests just behind the focus wheel, though about half the size.
Some information about the VANKYO 510 suggests it is capable of being ceiling mounted. It does not have any built-in mounting brackets or drill holes. That means without augmenting the projector or using an aftermarket mount, you won't be putting it on the ceiling.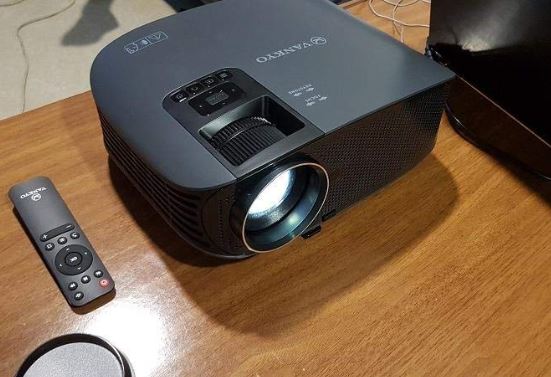 There's one more thing to note. Along the topside there are some simple control buttons. Arrow directional keys combined with four different function buttons provide all the basic controls you need to operate the projector. Their intuitive layout makes using the controls quite simple, with easily identifiable power buttons, and decent labeling for most of the other buttons.
Visual Presentation
Projecting screen sizes between 44" and 200", the Leisure 510 Full HD Projector doesn't struggle to fill a bigger wall. Finding the right viewing space for those distances will land you approximately at 8-feet and 18 feet respectively.
The Leisure 510 has a native resolution of 1270 x 768 with a 16:9 aspect ratio. For the sake of comparison, that means this projector's native resolution is about the same as 720p. Unfortunately, VANKYO makes a point of implying this is a 1080p projector. Even its name, the VANKYO Leisure 510 Full HD Projector, suggests that it's a 1080p projector. That's because it's capable of playing 1080p content with digital upscaling.
You can take a 1080p television and place a 4K image on the screen. Does that make it a 4K television? Of course not. Likewise, calling this projector 1080p because it can play 1080p content is preposterous. But it's also missing the point. Because the supported 720p native resolution is actually quite impressive, especially for a projector in this price range.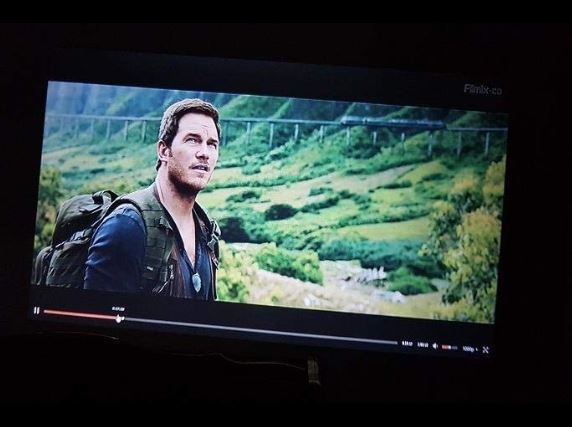 Image Quality
At the core of its presentation, the Leisure 510 Full HD Projector is built around an upgraded LED light source. The VANKYO Leisure 510 pushes out a maximum of 3,600-lux. And that's what allows it to almost double the luminosity of comparable projectors. Compared to similar home theater projectors, its performance certainly stands out.
The 16.7-million color LED bulb takes advantage of the full chromatic range of this technology. Aided with the MStar Advanced Color Engine, colors are dynamically delivered to create beautifully high contrast images.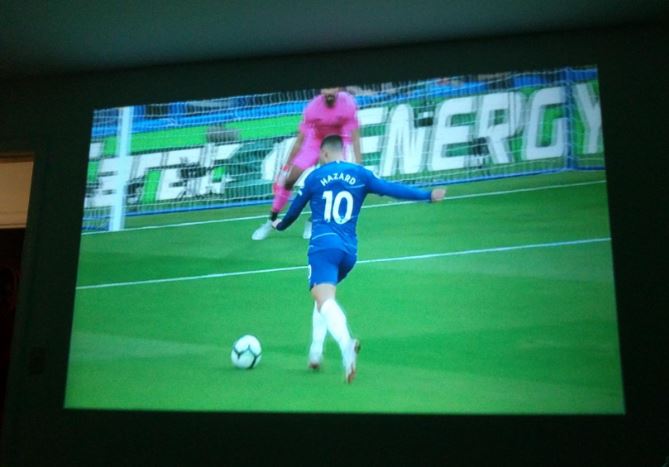 The 3000:1 contrast ratio gives you an idea of the Leisure 510's cinematic potential, and it's yet another factor which makes the Leisure 510 primarily designed to deliver cinematic experiences. Though this isn't exactly equivalent to HDR, it does make for a fairly compelling presentation, in the right circumstances.
Noise and Sound Issues
Powerful electronics tend to run hot. The VANKYO Leisure 510 Full HD Projector is equipped with a pair of modestly-sized 40mm cooling fans. To their external credit, they do manage to do a great job of keeping the Leisure 510 cool while you're playing video. Because they're not especially tiny fans, they don't create any high pitched whirring sounds.
However, they do create noise levels which approach 33dB while in operation. That's close to a hushed tone, but if you don't have any sound playing, the projector is audible. And that's a sin for an entertainment projector. But it's something you generally have to forgive unless you're willing to greatly increase your budget.
Adaptable Connections
The VANKYO Leisure 510 provides a large range of inputs options, including HDMI, VGA, AV, USB, Micro SD. There's actually a pair of two HDMI and USB ports, which keeps many doors open. For example, you could easily use a USB-based wireless card to connect with the VANKYO Leisure 510 through USB. That would effectively transform it into a streaming device.

These connections also ensure the Leisure 510 is compatible with essentially any smartphone, tablet, or PC that's been made or updated in the past five years. Likewise, the built-in video engine can handle essentially any video format. Though if you really go out of your way, you can always find formats that won't work.
Audio Support
Almost every quality of the VANKYO Leisure 510 is intended to help this projector serve within a home theatre. The built-in sound is an exception. Within the Leisure 510, a pair of 3W speakers create a total 6-watts of audio output. It's comparable to the kind of sound you'd get with a 40" television.
Which is by no means a bad thing. But even some small speakers in the $50 range could drastically improve sound output, and instantly make the VANKYO Leisure 510 Full HD Projector far more suitable for its intended purpose. It's generally a good idea to expect little from built-in speaker, and if you can do that, then you'll find little disappointment here.
Remote Controls
App-based control has replaced many projector remotes. But the VANKYO 510 is more traditional, and it includes a remote. The design of the remote is almost an exact copy of the control panel on top of the VANKYO Leisure 510.
That makes ease of use simple because once you've learned one, you've learned both. The only unique buttons added to the remote include a nine-digit keypad, and some channel and volume buttons. And figuring those out generally takes a fraction of a second.
Just a few more things to keep in mind. The remote works with infrared. It needs to have line of sight with the projector for operation. You'll also need to supply a few AAA batteries because none are included with the VANKYO Leisure 510 Full HD Projector. That's probably for the best, the free batteries included with remotes are almost always terrible.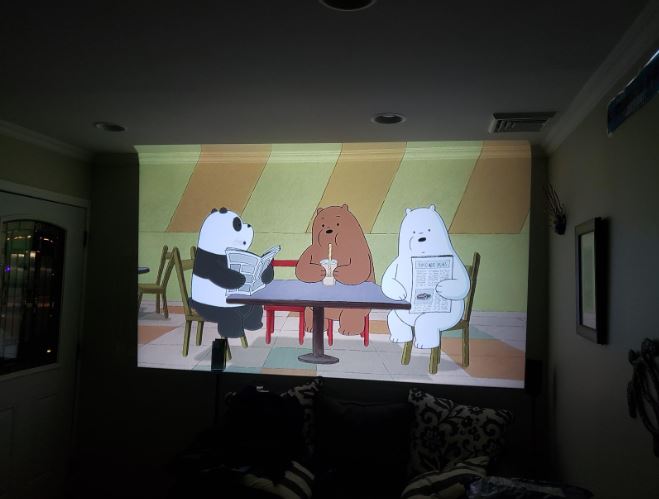 Other Considerations
The technology used here is just as vulnerable to poor lighting conditions as nearly any projector. For the best viewing experiences, you want to create a dark space. When you provide the VANKYO Leisure 510 with reasonably dark conditions, it has everything it needs to impress you.
Though technically speaking you can keep this projector on 24-hours a day, the Leisure 510 isn't intended to be played continuously. After 3-4 hours of use, taking a short thirty-minute break can greatly improve the longevity of the LED bulb. These bulbs are generally easy and inexpensive to replace, but it's something worth keeping in mind if you're trying to squeeze value out of each one.
The Leisure 510 includes a carrying bag, power cable, HDMI cable, AV cable, user manual, and the remote. Though it doesn't add much physical protection from damage, the bag is waterproofed, and allows you to carry around the Leisure 510 with a handle. And VANKYO offers a 3-year warranty, which doesn't hurt.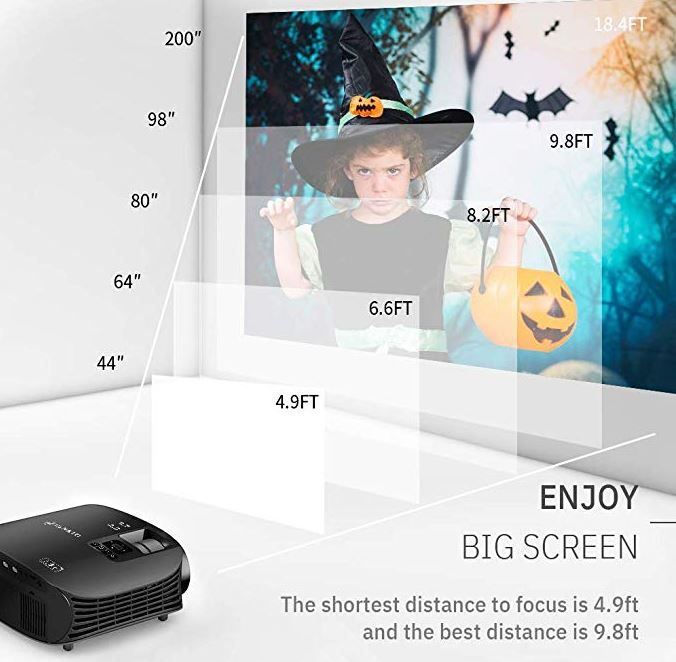 Who Should Choose the VANKYO Leisure 510 Full HD Projector?
The Leisure 510 Full HD Projector is not actually full HD. If it were, this projector would cost three times as much as it does. Its native resolution is much closer to 720p. When you're viewing from the right spot, the Leisure 510 performs magnificently. For this equipment, the right spot would be in the ballpark of a 100" screen viewed from 10-15 feet.
Relative to its cost, the VANKYO Leisure 510 offers quite a bit. It has just about everything necessary to create a powerful presentation within a home theatre. It's intuitive to use. It includes every cable you could possibly need to get started, and even a carrying bag to keep it all together.
The Leisure 510 can easily be adapted to become a far more powerful streaming-based projector. Though rather specifically made for entertainment, it seems just as capable for small meetings. If you're willing to greatly increase your budget, you could find features like built-in wireless. But relative to its cost, the VANKYO Leisure 510 Full HD Projector is an amazing value.