Projectors are tough. When it comes to finding a good TV, it's usually about as simple as looking at screen size and resolution. But projectors can be a bit more complicated. For starters, you've got to consider how they're setup for projection, and that involves about half a dozen different factors on its own.
Fortunately, it's usually not too hard to know a great projector when you see it. But it does help if you know precisely what you expect of the projector in terms of performance. That's because unlike televisions, projectors tend to have a highly specific focus-of-intent within their design.
VANKYO Leisure 410 LED Projector
Sometimes, things are popular for a reason. The VANKYO Leisure 410 LED Projector is nothing if not popular. Over the past year, it's rapidly become one of VANKYO's best-selling models, and with good reason. Comparing this projector to others within the same price range, you'll notice it's about 60% brighter than most of its competition.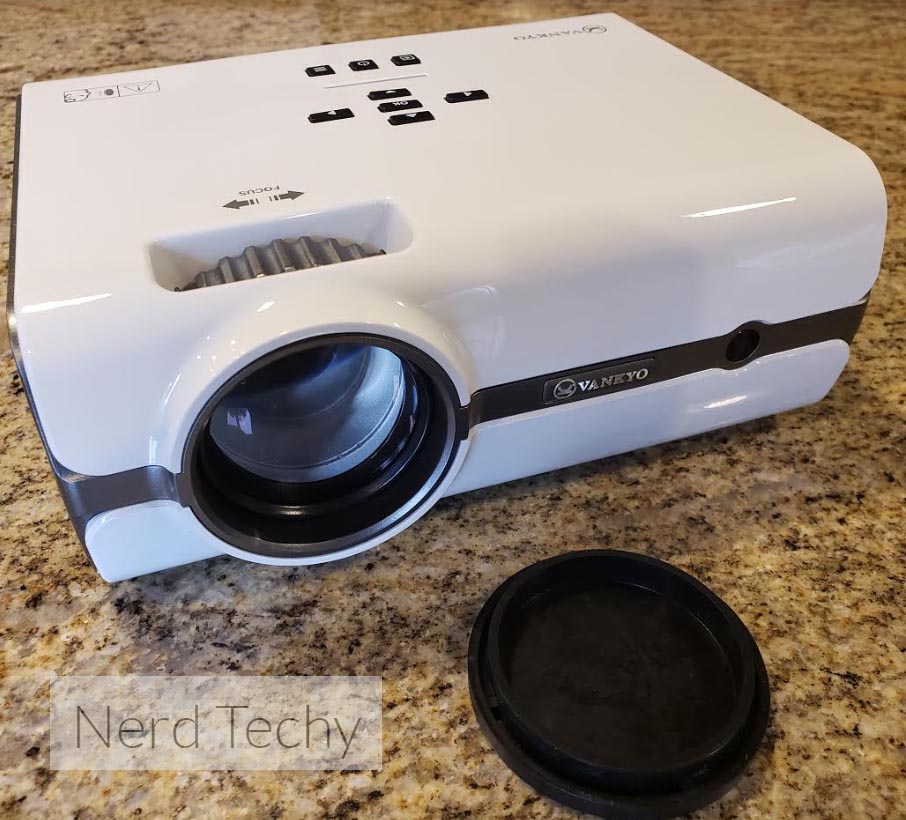 The VANKYO Leisure 410 is not an optimal projector for business presentations or professional use. While it's not too hard to carry around, neither is it exactly the most portable projector on the market, even with the addition of the included carrying case. But if you're more concerned with streaming movies, playing game consoles, and connecting from mobile devices, then this projector is probably right up your alley.
Build & Design
Measuring roughly 12 x 9 x 4.4-inches, the VANKYO Leisure 410 LED Projector is about the same size as a small desktop PC. It's 4-pound weight is about average among projectors of this size, although somewhat lighter than you might expect from looking at it.
The VANKYO 410 LED Projector is constructed with a fairly standard white-bodied chassis, only made distinct with gray highlights. Equally standard, it's powered by the included 100V-240V power supply. The power cord can be detached from the projector for storage, and it runs a reasonably lengthy 5-feet, which helps preclude the need for an extension cord.
Adjustment and Use
Along the topside of the VANKYO 410 is a manual focus wheel. It's intuitive to use, and its large size gives a fine degree of feedback as you turn it from one setting to the next. Likewise, keystone correction is manually adjusted in a range of ±15 degrees.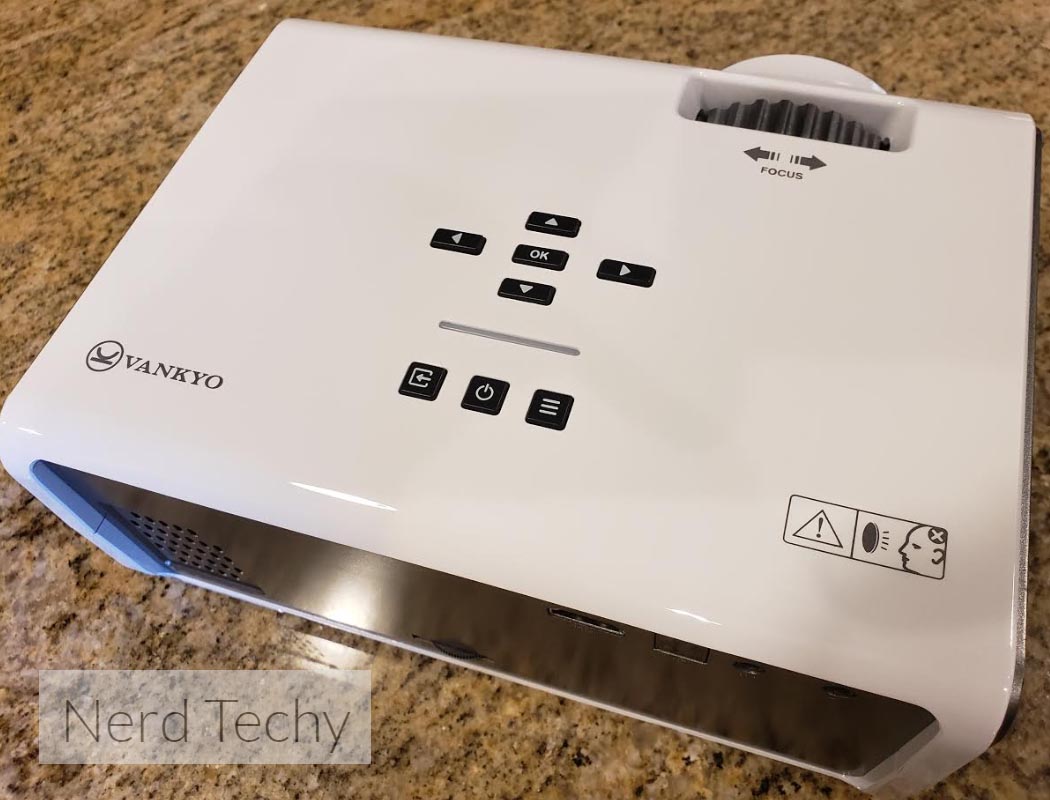 That's a somewhat standard range of adjustment, helping to adjust-away the distortion caused by height differentials between the point the projector is aiming and the point its body is placed. Again, you don't need to be an expert to make the adjustments, but it does help to have the remote handy.
Before getting to the remote, however, you'll want to turn your attention to the center of the projector. Along its face, there are four directional arrow keys, surrounding a central confirmation button. Beneath that bundle of buttons, there are only three more. The input source, menu, and power buttons.
These buttons aren't particularly well-labeled, but their configuration is simple enough to understand with either experience, or trial and error. In either case, you can essentially master using the VANKYO 410 LED Projector in only a few minutes.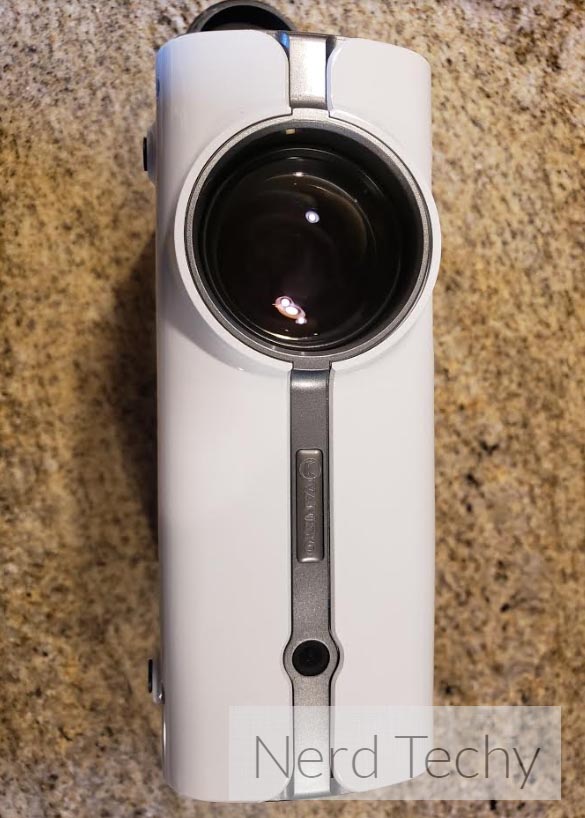 Video Quality
The VANKYO 410 is constructed to create a front-to-rear ceiling projection, spanning between 33" and 170". The appropriate distance for your projector for those sizes is 4.9ft and 16.4ft respectively, but most of the time you need about 7-feet of distance between the screen and your projector for the optimal picture.
The reason the optimal picture is down towards 7-feet is because the VANKYO Leisure 410 LED Projector operates with a native resolution of 800 x 480. Also known as 480p, it's the standard resolution for analogue broadcasts. With the help of downscaling, the VANKYO 410 is capable of playing 1080p and 720p content.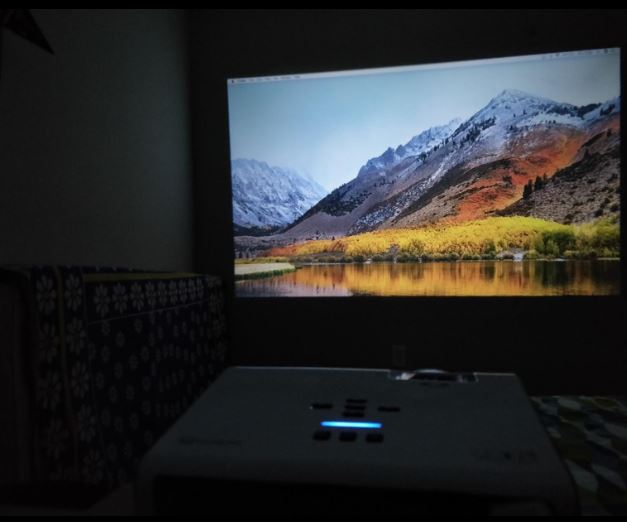 Helping push its cinematic appeal, that resolution comes through brilliantly thanks to a robust 16.7 million color display. That range is nearly identical to the full chromatic range of an LED computer monitor. And the MStar Advanced Color Engine works to deliver those accurate colors, as well as build a higher color contrast.
It's certainly what contributes most to the VANKYO Leisure 410 LED Projector achieving a formidable 2000:1 contrast ratio, which is great for cinematic viewing. Another factor that keeps the VANKYO 410 in-line with cinematic viewing experiences is its use of 4:3 and 16:9 aspect ratio. Unlike the focus and keystone correction, the aspect ratio is something that the projector can automatically detect and adjust on your behalf.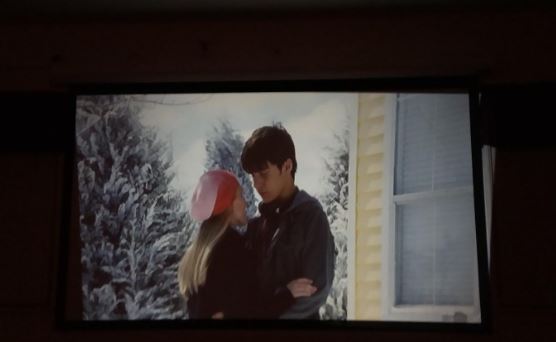 Last but certainly not least, the VANKYO 410 pushes out an impressive 2500 lumens. That's a high-average figure compared to similar home theater projectors, and certainly on the higher side for this price range. You may not want to bust out the VANKYO Leisure 410 LED Projector in the full brightness of day. But when lighting is more projector-appropriate, the VANKYO 410 can stand up to both inside and outside conditions.
Noise and Sound Issues
One disadvantage that's inherent to almost all projectors is that they tend to be loud. Packed into such a relatively small frame, it's necessary for projectors like the VANKYO Leisure 410 to use internal fans for cooling. Smaller fans tend to be louder than larger ones, and the higher-pitched tones they produce are potentially more disturbing as well.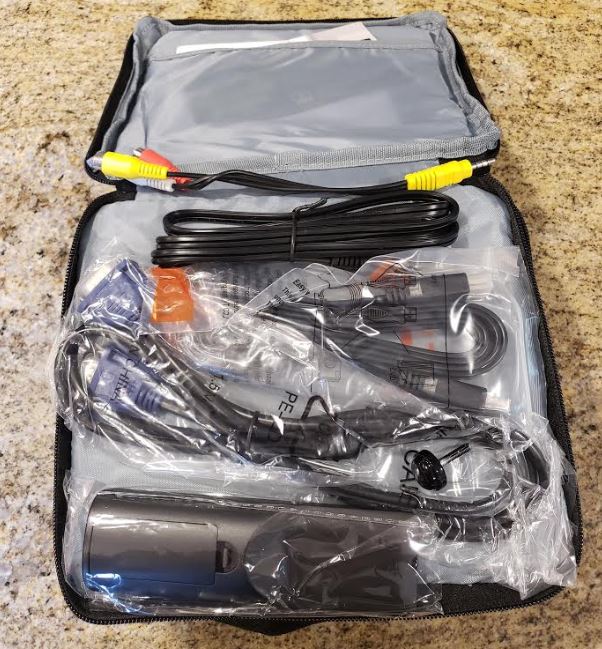 The VANKYO Leisure 410 LED Projector mostly gets around the majority of these issues. One way it does that is with the help of a fan noise suppression system. It works to help keep both heat and noise down at the same time. And the results speak for themselves, in a literal sense. Their system effectively cuts the noise of the fan in half.
There's another problem faced by virtually all projectors, as well as televisions, PC monitors, and smartphones. And that problem is audio performance. The VANKYO 410's speakers are reasonably clear and intelligible, but they're ultimately as limited as the speakers on almost any projector. The only way you're going to get crisp, high-quality audio is with the addition of a separate audio source.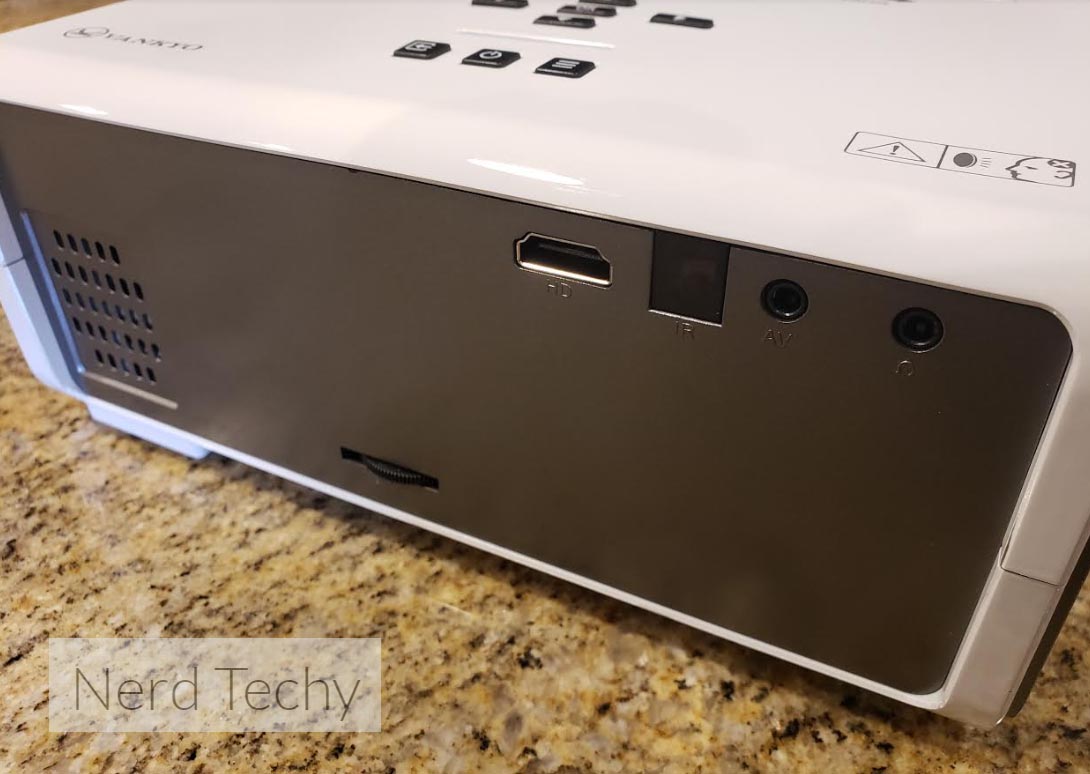 Adaptable Connections
Adding media to the VANKYO Leisure 410 LED Projector is a fairly straightforward process. The primary method is with an SD card, and essentially all common video file formats are supported. But you can also connect with VGA, AV, and HDMI cable. These connections make the VANKYO Leisure 410 LED Projector widely adaptable for streaming services, gaming consoles, mobile devices, and the like.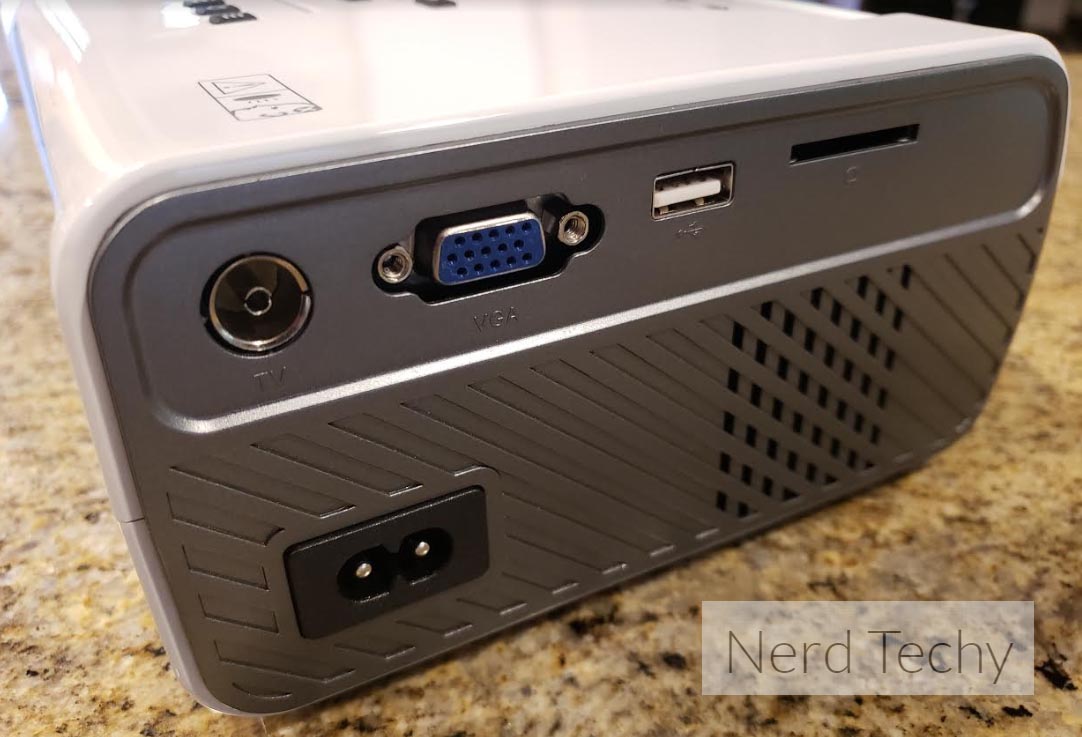 Remote Controls
On many high-end projectors these days, the remote control has been replaced with app-based control. That's okay if the app is well designed, and you always have a smartphone you can connect with, and it's always got power. Otherwise, you probably still want a standard remote around.
The VANKYO Leisure 410 includes its own basic remote. Showing smart design, the remote closely mirrors the controls on the body of the VANKYO Leisure 410 LED Projector. So familiarizing yourself with one set of controls allows you to master the other. Just about the only additions unique to the remote is a nine-digit keypad, and a pair of channel buttons, and a pair of volume buttons.
One thing to keep in mind is that this remote is an IR remote. Much like a television remote, you need to be pointing it directly at the projector for operation. Once you've got it, you'll find the remote is actually quite responsive, but line of sight is essential.
Other Considerations
The VANKYO Leisure 410 LED Projector is not ideal for office presentations or PowerPoint. That's not to say it's incapable of taking on those types of activities, or that they're entirely outside of its wheelhouse. It's simply that, relative to screen size, the resolution of the VANKYO 410 is somewhat low. And that can have a deleterious impact on the clarity of text, especially small-point fonts.
Constructed properly, LED bulbs have impressive lasting power. The bulb used by the VANKYO Leisure 410 LED Projector is designed to last for 40,000 hours, which is roughly five years of continuous operation. Spaced out with only one or two movies per day, it works out to decades of cinematic experiences. Having said that, you do want to take a break after 3 hours of use to maximize the lifespan of the bulb.
And as the bulb approach the half-way point of its life, you may consider changing it. That's just because LEDs gradually lose luminosity with ordinary use over time, and its impressive output may shamble its way downwards after some years of use. Fortunately, these types of bulbs aren't especially difficult or expensive to replace.
The BANKYO Leisure 410 LED projector includes an AV cable, HDMI cable, power cable, VGA cable, carrying bag, remote control, and use instructions. The carrying case is soft-shelled, and provides two layers of zippers to help store both the projector and its numerous assorted cables independently. VANKYO also includes a 3-year warranty, backed with tech support. The only thing missing to get started is a couple AAA batteries for the remote control.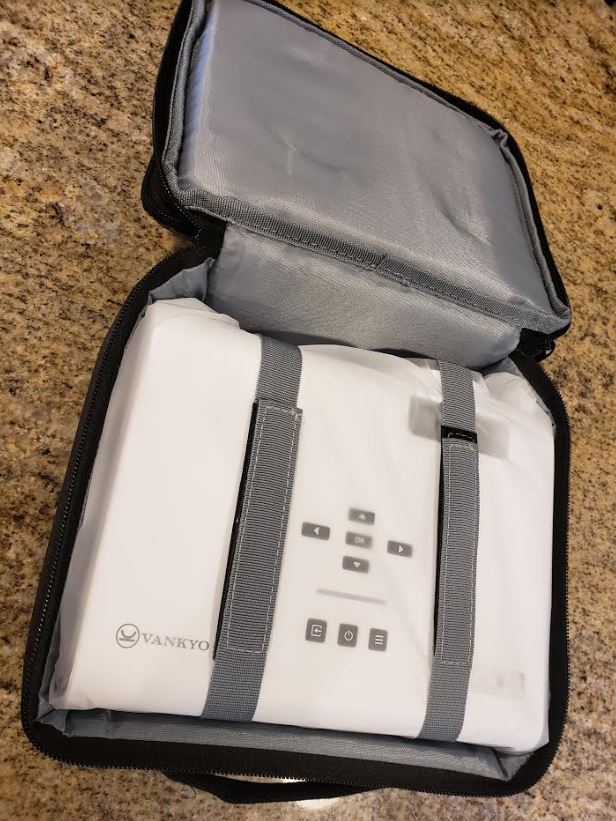 Who Should Choose the VANKYO Leisure 410 LED Projector?
Relative to cost, this projector is phenomenal. It gives you all the tools you need to create an excellent cinematic experience. With respect to ease of use, just about the only place for complaint involves the manual focus. And with all the extra cables it comes with, you can start setting up from scratch in only a few minutes. Above all, this projector is about delivering on a clear cinematic experience.
The VANKYO Leisure 410 is adaptable enough to become a powerful streaming machine with minimal assistance. If you're willing to double your budget, you can start to find projectors that will automatically focus for you, or will have streaming features built-in. But for this price point, the VANKYO Leisure 410 LED Projector provides an insanely good value.
Meet Derek, "TechGuru," a 34-year-old technology enthusiast with a deep passion for tech innovations. With extensive experience, he specializes in gaming hardware and software, and has expertise in gadgets, custom PCs, and audio.
Besides writing about tech and reviewing new products, Derek enjoys traveling, hiking, and photography. Committed to keeping up with the latest industry trends, he aims to guide readers in making informed tech decisions.