There's no such thing as the perfect speaker for every person, in every circumstance. Sound equipment performs different from one room to the next, or from one type of song to the next. And those issues are then layered over what is already the subjective nature of enjoying music.
It makes choosing audio equipment hard. But if you know what you're getting into, and how something might work for your circumstances, it's not too difficult to make an informed choice.
ZoeeTree S3 Wireless Bluetooth Speaker
People have certain expectations from small objects like the ZoeeTree S3. And shattering those expectations is probably a big part of the reason why so many people seem to love the S3. Within its stylish exterior, the ZoeeTree S3 has all the hardware necessary to provide barking loud audio.
Relative to its price, this is one of the loudest Bluetooth speakers on the market. Of course, like all niche audio equipment, the S3 isn't for everyone.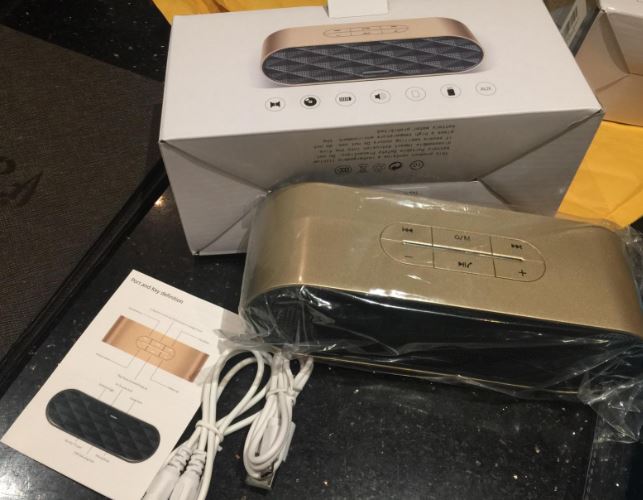 Build & Design
The ZoeeTree 3 is constructed with a shiny metallic chassis, fairly fashionable aluminum housing with a golden sheen that glistens under direct light. It measures 7 x 2.5 x 2.3-inches, weighing just over one pound. That depth allows the weight of the S3 to be fairly evenly distributed towards the bottom-side of the speaker. In turn, the S3 rest-easy once you've set it in place. But it does make holding the device in your hands slightly more awkward.
Internally, the S3 is composed of fairly large 40mm drivers. That's roughly the size of the speakers you see inside a pair of over-ear headphones. But unlike over-ear headphones, these drivers are made to play to rooms. Each driver is pushed to 5-watts, and with a pair of them, the S3 creates a total sound output of 10-watts. It's the inclusion of a passive bass radiator that really makes those 10-watts sing, as we'll see later.
Control Buttons
Along the topside of the ZoeeTree S3 Wireless Bluetooth Speaker, you'll find six analogue multifunctional control buttons. They're gently seated within the bezel of the ZoeeTree S3 instead of protruding above it, which makes operating them in pitch-black conditions somewhat difficult. But the buttons provide a firm tactile feedback as you press down, and give a gentle click accompanying each press, helping to affirm your command was received.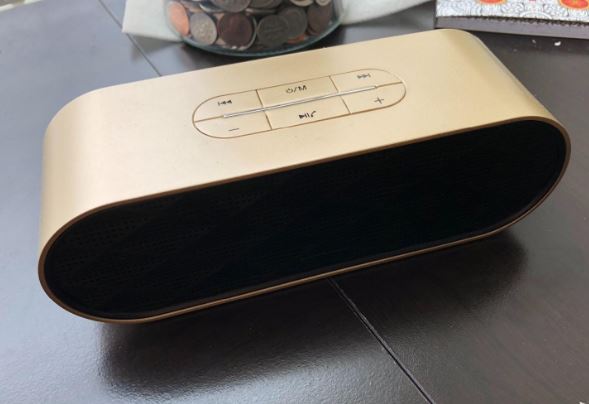 On the top row, wrapped around a central power button, are a pair of skip/rewind buttons. On the bottom row, the central button provides pause, play, and call-interactions. And wrapped around that button are two volume buttons, well labeled with a plus and minus sign. Although there's no LEDs to highlight the buttons, their positioning is fairly intuitive. After a short time using it, you can just-about operate the S3 without looking at it.
Flipping to the bottom side of the ZoeeTree S3, there's a number of common connectivity options. Most notably, you'll notice a 3.5mm AUX input port, a TF card port, and USB port. There's also a 5V DC charging port, pinhole sized microphone, and an almost equally small blue LED. It's also worth quickly noticing the rubberized surface on the bottom, helping keep the S3 from sliding around once you've got it in place.
The LED can give you a variety of feedback information, relating to you about the status of your Bluetooth connection, remaining battery, and its status while being charged. Most of this is somewhat intuitive, but it's further spelled out in the user manual. As with nearly all user manuals, the manual for the S3 is mostly uninformative, but it does provide a handful of insights about the battery operation that can help your equipment last.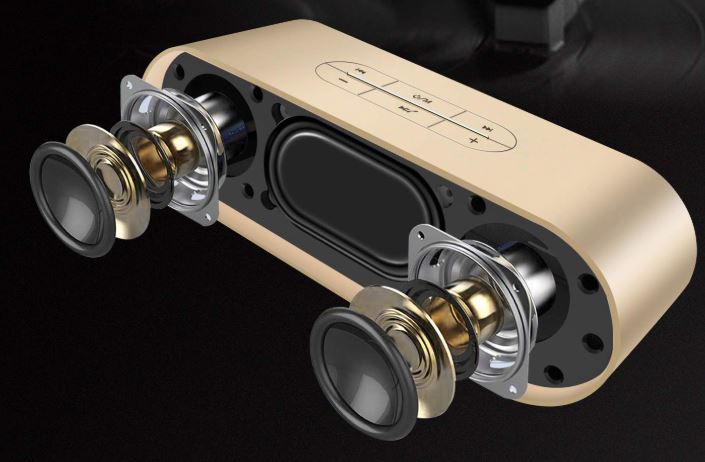 Comparative Portability
The ZoeeTree S3 Wireless Bluetooth Speaker's portability is almost entirely result of its somewhat compact size. In other words, it's handheld, and that means it's not a chore to carry, store, or otherwise manage. But that's it. There aren't any handles, and about half the device is covered in smooth metal.
The bottom side has the previously mentioned anti-slide sticking surface, which is good for getting a solid grip on the ZoeeTree S3. But the S3 has pursued style above raw utility, and in doing so, carrying it is slightly more difficult than it needs to be.
To the credit of the S3, it's well equipped for being taken outside. Technically speaking, the ZoeeTree S3 is not weatherproofed. If the weather is so bad that you wouldn't want to take out your laptop outside, then you probably wouldn't want to take out the ZoeeTree S3 either.
With that said, the equipment isn't particularly delicate by any means. The S3 isn't about to fall to piece the first moment it gets hit with a few drops of rain, but you certainly wouldn't want to leave it out unattended overnight, and it's not an ideal shower companion.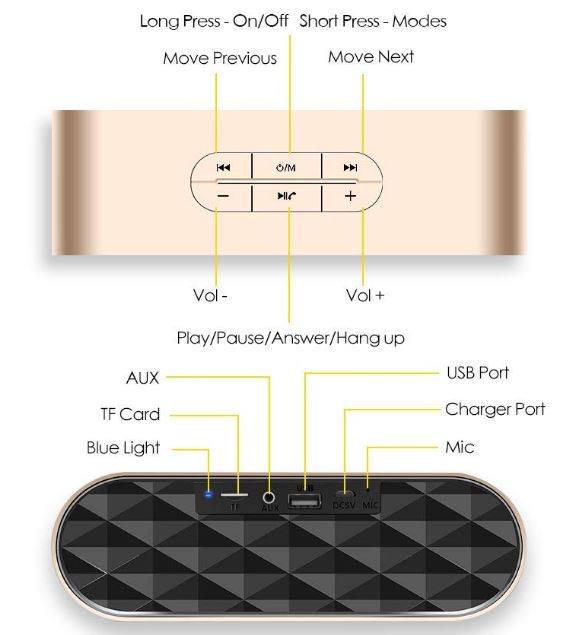 Sound Quality
Portable audio equipment has always struggled with bass. The ZoeeTree S3 makes titanic efforts to try and address these problems. One way they've done so is with the addition of a bass chip, giving the S3 some boost on the software-side. But at the center of its effort is hardware. It's double layer bass diaphragms working as a type of passive non-powered subwoofer.
The result isn't nearly as good as an actual powered subwoofer. But it is a stark improvement over equipment that has to rely on software alone, or provides no boost whatsoever. As a result, with respect to sound quality, the S3 has several things working in its favor. It manages to maintain fairly strong tonal clarity. While bass excels, the treble range is somewhat weak by contrast, but it limps along without slowing things down.
More importantly, the 10W audio capacity is capable of being louder than you might expect. Internally, an amplifier helps boost the audio to heights that is actually shocking to many first-time listeners. It's somewhat like hearing a deep voice suddenly come out of a baby's mouth, simply unexpected.
Connectivity
The S3 makes use of Bluetooth 4.2, which provides a few nice benefits. One place where the ZoeeTree S3 won't blow you away is with its connectivity range, which is roughly 33-feet. That's about low-average, but then again, it shouldn't be a concern for most people in most circumstances.
It's A2DP compatible with Android, Echo Dot, Kindle, iOS. That includes support for hands-free calling, further backed with a reasonably strong albeit simple microphone. The microphone performance is nowhere near as good as the multiple microphone setups used by an Echo Dot, and you can encounter issues when you're trying to use the verbal commands in noisy environments.
But the S3 redeems itself in other places. Bluetooth isn't your only option for making a connection. The 3.5mm AUX port allows for wired playing, and ZoeeTree even includes the cable to help you get started. And using the cable connection as opposed to using Bluetooth can provide an opportunity in relation to your expected battery life.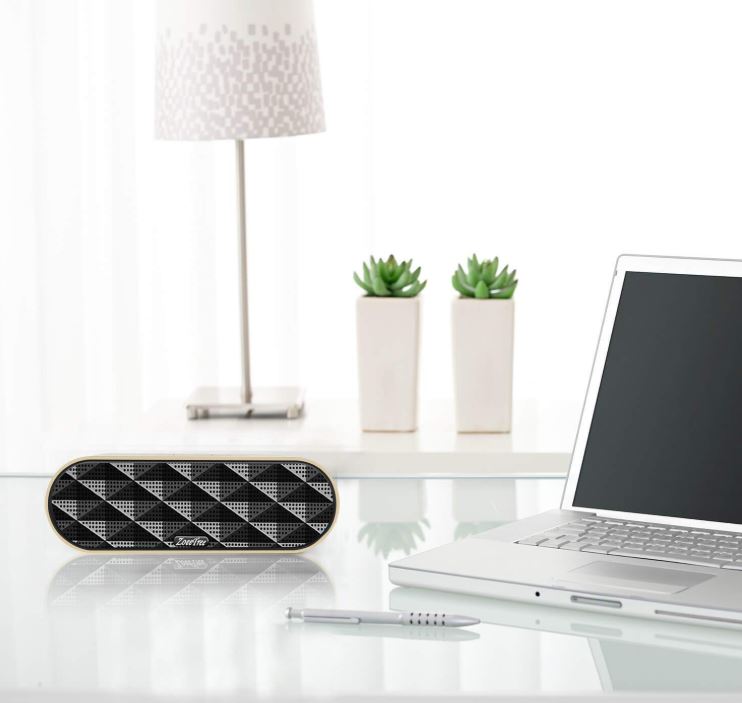 Battery Life
The ZoeeTree S3 is powered with a 2000mAh lithium ion battery. That provides about 10 hours of battery life when you're using the Bluetooth, or closer to 12 hours when you're using the wired connection. Those types of estimates vary depending on the music you play, your volume levels, and so forth.
If you spend the full day hitting the higher levels of volume, the 10 to 12-hour mark slips slightly towards 8 or 10 hours. Between uses, the 2000mAh battery is useful for about 400-hours of standby time. That's slightly more than two weeks, fairly impressive by any measure. Additionally, charging time is about three hours, but that's plus or minus half-an-hour depending on the source of your charge.
Other Considerations
Some of the ZoeeTree S3's marketing claims the S3 provides surround sound, but that's misleading. The S3 doesn't use directionality to its speakers, and you can't pair it with another Bluetooth speaker to have them play from the same device. As with just about any pair of Bluetooth speakers that cost under $100, the S3 provides stereo sound, not surround sound.
The ZoeeTree S3 is widely adaptable, it works well with smartphones, game consoles, televisions, and just about anything else you can manage to connect with. Given its versatile connection options, between Bluetooth and AUX, it's easy to connect to mostly anything. It would've been nice to be able to run data from USB as well, but that's currently a feature too premium for this price point to allow.
The S3 includes one charging USB cable, one 3.5mm aux cable, and a slightly useful user manual. They offer 24-hour customer service through their email, but given how rarely problems occur with speaker equipment, it's unlikely you'll need to deal with customer service at any point. But if you do, it's nice to know ZoeeTree includes a 2-year warranty.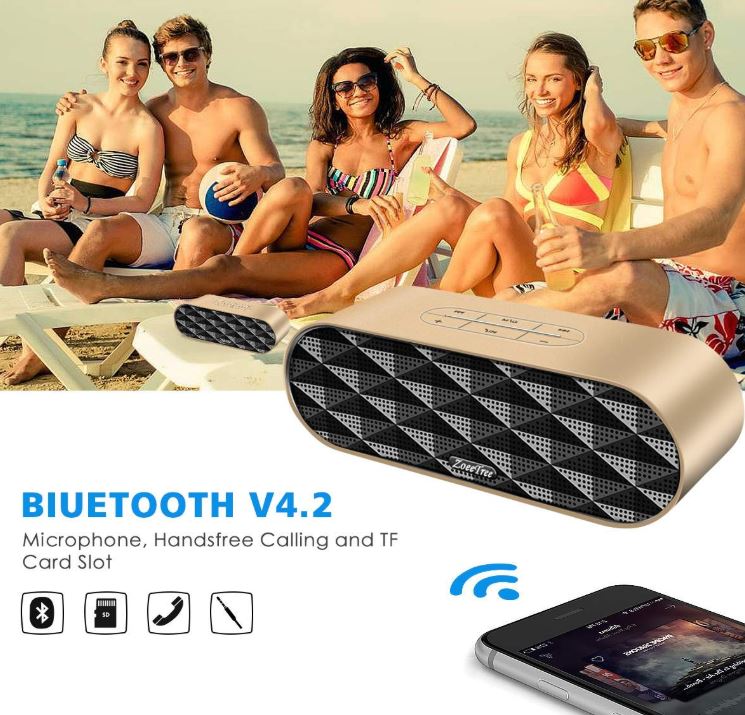 Who Should Choose the ZoeeTree S3?
The S3 doesn't have hoops for hanging, and while it's small enough to hold in your hand, it's not exactly a hand-held device. And that's because it's not trying to be – it's doing something else entirely. Once you know what it provides, and you develop the right expectations, it's easy to like the ZoeeTree S3.
It's a great handheld companion to replacing the unimpressive speakers on the back of your smartphone. It's a nice addition for traveling, whether you're in your vehicle, or you're camping at night. While you don't want to throw it in a pool, you can throw it into just about any environment where you'd want to be outside.
All in all, the ZoeeTree S3 Wireless Bluetooth Speaker is a fairly safe choice for most people. And it's a far more obvious choice if you're satisfied with its 10-hour battery life. Providing above-average bass performance, high volume, and a style of its own, the S3 is nothing if not unique. It's worth a look for just about anyone shopping in this price range.
Meet Derek, "TechGuru," a 34-year-old technology enthusiast with a deep passion for tech innovations. With extensive experience, he specializes in gaming hardware and software, and has expertise in gadgets, custom PCs, and audio.
Besides writing about tech and reviewing new products, Derek enjoys traveling, hiking, and photography. Committed to keeping up with the latest industry trends, he aims to guide readers in making informed tech decisions.