The latest of NVIDIA's Maxwell Generation GPU, which is the world's fastest graphics processing unit today, is present in MSI's GTX 980. This MSI GTX 980 Gaming 4G review explores the GPU in detail, providing you the best overclocking capability with the new Twin Frozr V cooling system. It promises to bring your computer the latest breakthrough technology and intelligent power consumption. To understand better how this particular graphics card for gaming is different than others, you need to get a good grasp of the engineering behind it – that is if you are fairly new in the field.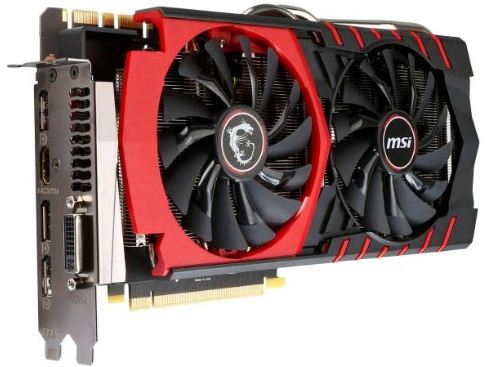 Certain video games and programs like video editing require a stable and durable video card to be able to render graphics efficiently. Aside from the latest processor and operating system, the video and audio card needs to compensate for the demands of the game, which are now created using state-of-the-art technologies.
What is Overclocking?
Ten years ago, overclocking graphics card was nearly a serial crime in the computer industry. The concept is similar to jail breaking in smartphones to maximize the potential of the device. Back then, manufacturers like Intel would automatically void the product warranty once they knew that the GPU was overclocked.
Today, overclocking is a standard practice for hardcore video game enthusiasts. Manufacturers also use overclocked GPUs to sell them at a premium price. Instead of buying low to mid-range graphics card priced below $100 to $200, serious gamers invest on the more expensive ones like the MSI GTX 980 for longevity and stability.
A card like this can easily last up to five years of constant operation lasting from 12 to 24 hours per day. The faster the video game technology updates, the shorter the lifespan of your graphics card.

Twin Frozr V
Torx fan. Maximizes airflow and dispersion. MSI's new design of the Torx fan allows the heat to flow directly to the heat sink, making it a better cooling system when using the computer full time. Each of the 10-centimeter fans will spin off once the temperature hits 60 degrees Celsius before it turns off and then restart again. The Torx fan provides massive airflow and reduces noise by 5% as compared to previous generation designs.
SuperSU architecture. Improves dissipation efficiency through special heat pipe layout. The design is noticeably different from typical graphics card available; however, it gives a unique aesthetic appeal.
Zero Frozr. Fans stop spinning in low load to keep the card quiet and increase lifetime. This is a preset function to avoid overheating and failure of the machine. But once the graphics card cooled off after a few minutes, it will resume operation.
Airflow control technology. Deflects airflow towards heat pipes to improve thermal efficiency. Unlike other graphics card, the MSI GTX 980 can stand up to 70 degrees Celsius before it starts to produce heat sound coming from the two 10-centimeter fan.
Smart design. Housed with a red and black casing synonymous to hardcore gaming. It also resembles MSI's company colors.
Gaming App
Easy tuning. OC, Gaming, and Silent modes adjust graphics card settings based on user requirements. When you want to switch from gaming to something less resource-intensive.
Eye rest. Dedicated color profiles for gaming, movies, and eye rest; custom color, gamma, brightness, and contrast settings from within the Gaming application. It also houses two AVI outputs and a mini HDMI port.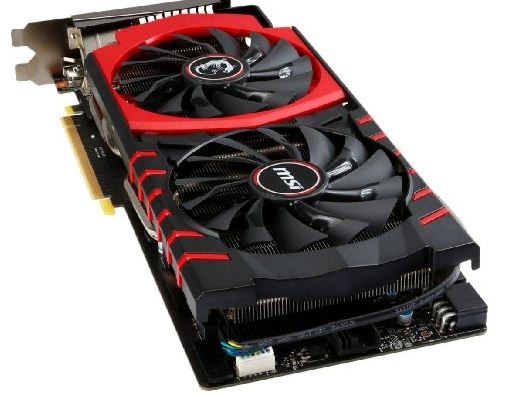 Military Class 4 Components
Certified to MIL-STD-810G standards for top stability and quality. The cover is made of synthetic, heat-resistant plastic that is not easily breakable when dropped. It is military grade ideal for gaming purposes.
Built with Hi-c CAP, Solid CAP and New SFC requirements. MSI's material adheres to international standards, so you are assured that no toxic materials are included.
After the testing methodology, experts observed that after 65 degrees Celsius of constant operation, the MSI graphics card started to throttle. The overclocking process pushes power consumption up to 122% or a 125MHz increase in Core Clock and 450MHz increase with 100% fan speed.
Consumer Reviews
When taking a closer look at the consumer reviews of the MSI GTX 980 Gaming Graphics Card, one person commented that it runs smoothly, very cool, and quiet. However, it maxes out around 70 degrees Celsius with graphics settings at 60fps and 1080 pixels. On processors rated at 4.6 GHz, the MSI GTX 980 went 4790k after being overclocked. A lot of consumer reviews from Amazon UK gave positive feedback and highly recommended the video card to gamers. You can also purchase high-definition LED screen for ultimate visual experience.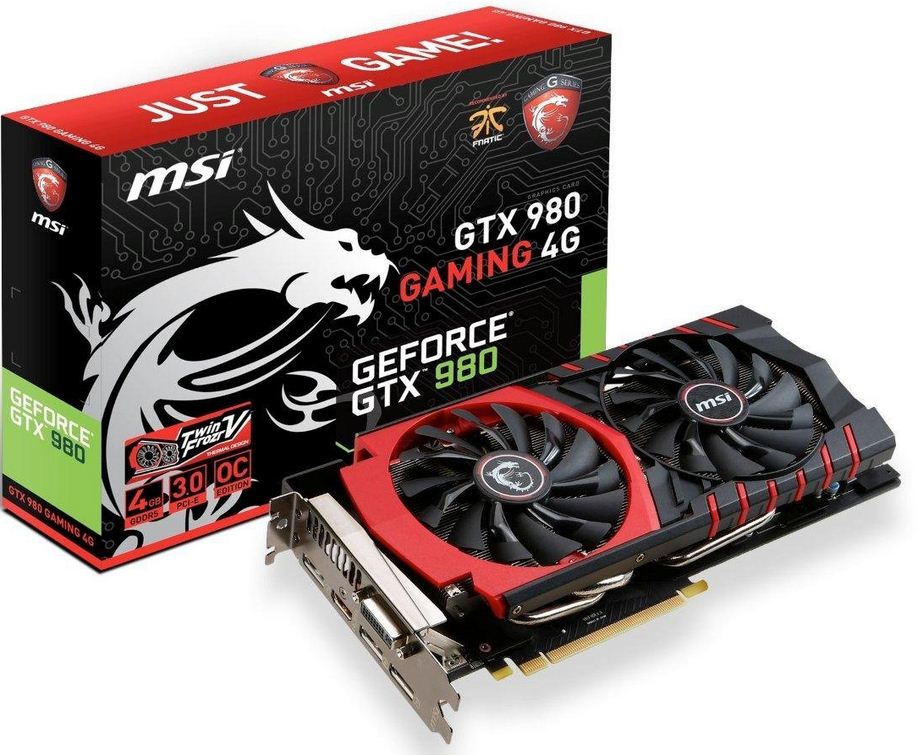 Price
The MSI GTX 980 Gaming Graphics Card is priced at just over $600 on Amazon.com and comes included with a driver disc, user quick setup guide, a six-pin power connector, mouse pad, and a VGA to DVI connector (some package may not include this). Should you buy it or not? Well, it depends on your expectations as well as the programs you intend to load. This is ideal for those who tend to play a lot of RPGs, MMPORGs, first person shooters, as well as other massive online multiplayer games that demand steady system support.
Conclusion
Overall, the MSI GTX 980 Gaming Graphics Card offers the fastest single GPU to date. Benchmark tests such as Batman: Arkham Origins and Metro: Last Light rated the card fairly closely against the GPU MSI R9 295X2, which is impressive based on expert standards.
Another advantage of purchasing the GTX 980 is the 410 watts of power consumption. It's highly efficient and powerful. Measuring 279mm by 140mm, MSI is able to stylishly package it whilst protecting the two fans in a unique manner. Overall, a very smart investment if you're looking for a high end graphics card upgrade.