People tend to look for rather specific things from gaming headsets. A higher quality microphone, to allow for smooth communication with friends and teammates. Accessible media control buttons, so you can easily manage audio while switching between games and apps. And a slight emphasis on bass, due to the cinematic nature of many games, and the importance of bass tones to creating a sense of depth perception.
Unfortunately, absolutely everything you want on a gaming headset is more difficult to achieve with in-ear headphones. Using a physically smaller body, in-ear headphones offer fewer places to position those important media control buttons. In-ear audio drivers seated only millimeters away from your ear canal. That leaves only a tiny volume of air the drivers to manipulate, and makes achieving good bass response particularly difficult.
Nevertheless, when you're mobile, nothing beats the portability of in-ear headphones. The challenge to finding a good pair is searching for one that can address the laundry list of problems inherent to in-ear gaming headsets.
MSI Immerse GH10 Earset
When products were first being branded as having "gaming features", it usually meant they were packed with utility and raw power. These days, when people think about gaming features, things like LEDs probably come to mind. But when the MSI Immerse GH10 Earset claims to be a gaming earset, it's using the classic definition of the phrase "gaming features."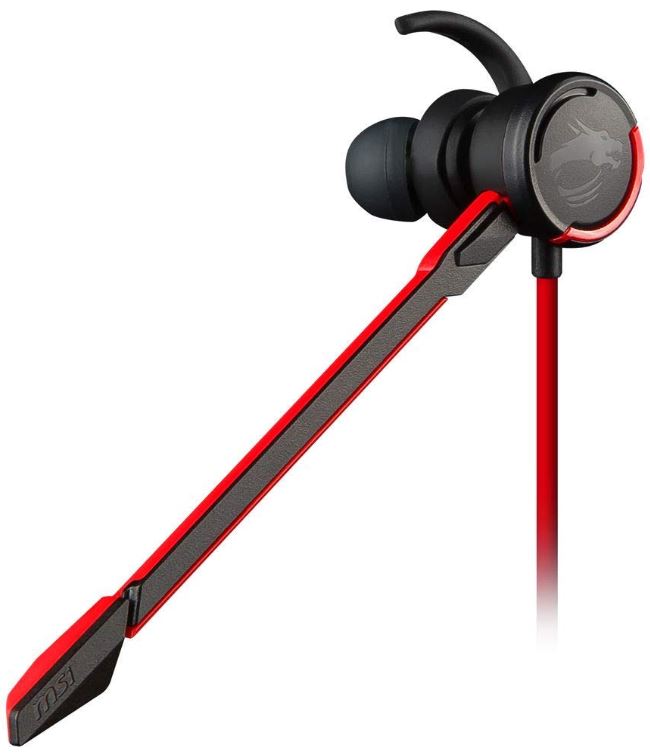 First and foremost, this headset is made to deliver high quantities of utility. Like with a gaming PC, this high level of utility ensures the GH10 are capable of doing things outside of gaming. Though specifically specialized for gaming, the GH10 are nearly just as potent applied to music and movies. Consequently, there are at least four things that make the GH10 quite interesting.
Build & Design
Its physical construction is not one of those things. Using the distinctive coloring pattern of MSI, the Immerse GH10 is constructed with a black-and-red chassis. The MSI dragon logo is printed on the faceplate of each earbud. Though dressed up to look nice, the construction of the GH10 is rather ordinary. Nearly the only detail that stands out is the inclusion of gold plated audio jacks.
To keep them within your ear, the GH10 make use of an ear-hook design. The hook presses against your ear, keeping the earbud anchored in place. Like most in-ear headphones, the Immerse GH10 uses a closed-ear design to block sound from your environment. It also helps prevent sound from your headphones bothering others around you.
The GH10 uses tangle-free cabling that's been slightly flattened, which can prevent tangles from knotting-up your headphone wiring. Along the wiring, an in-line remote allows you to play/pause your audio, and skip through tracks.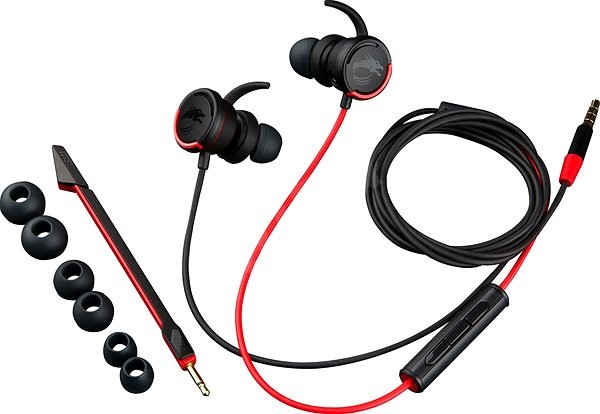 In-line Controls
The in-line control is positioned towards the very end of the connection cable, about three inches from the 3.5mm audio terminal. That might seem like a strange place to put the controls. On athletic headphones, in-line controllers are usually positioned closer to the top of the wire, so you can reach them while in-motion.
Though you could wear the MSI-Immerse GH10 Earset and go for a walk, it wasn't truly intended to be used in that way. The GH10 expects that you're either sitting in-front of a computer, or you're holding a smartphone in your hands. In either case, the connection terminal where you plug in the audio is within reach. It's a subtle difference, but one that makes sense for gamers.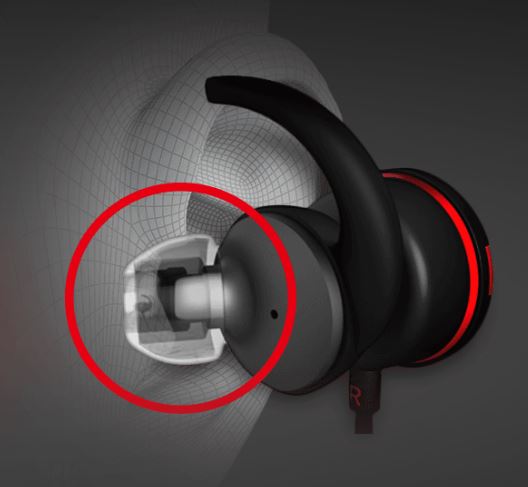 Sound Quality
In-ear headphones are typically constructed with tiny 6mm audio drivers. One of the many issues with small drivers is poor bass performance. Bass is critical to a variety of games, and just as important to cinema and music. However, the GH10 address this problem is a rather unique way.
The MSI Immerse GH10 Earset placed the drivers themselves slightly further away from the ear canal. This allowed for the GH10 to expand the size of those drivers out to 13.5mm, creating far more exceptional audio performance. The result is far better bass than you can get with in-ear headphones under most circumstances.
Bass is an essential component of helping you pinpoint the location of an enemy with sound. You often don't know how important bass can be for sound-location until you've played without it. Bass is also a big part of immersion in games and movies.
The GH10 and its enlarged drivers can't make bass that's on par with over-ear headphones, but they're a full step ahead of the bass you'll find in almost any pair of in-ear headphones around this price range.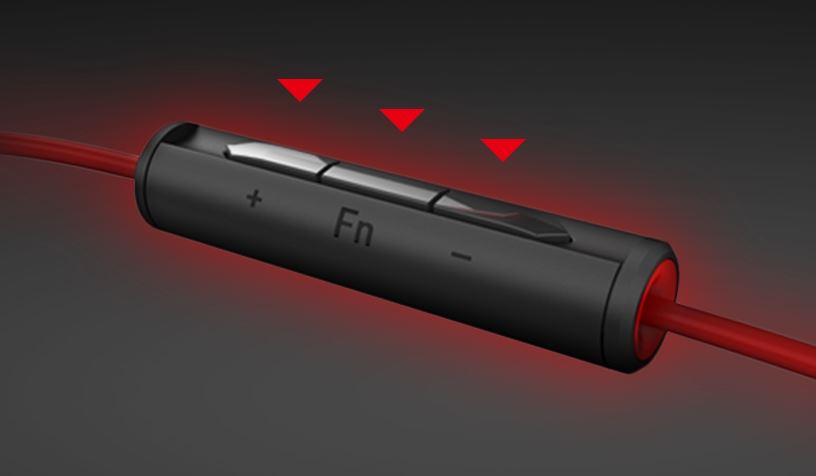 Microphone Quality
A big difference between the MSI Immerse GH10 Earset and generic alternatives is the quality of its microphone. Just about every Bluetooth headset in this price range will have a microphone, but usually it's positioned directly on the earbud. That positioning allows for reasonably clear communication. But a microphone can do far more if it's given a forward position.
The GH10 uses a 4" microphone boom, placing the mic right where it wants to be. Another big difference is this microphone can be attached and removed. That's actually fairly useful when it comes to storage and portability. Being able to remove the microphone creates many options with respect to portability and adjustability. However, the microphone can only attach to the left side of the headset, it cannot be swapped to the right earbud.
Because the microphone boom is one solid 4" piece, and it attaches to a tiny earbud, there's virtually no adjustability on the physical location of the microphone. From a practical standpoint, that's not an issue because the microphone is infinitely better-off in the forward positon than up against your ear.
The hardware itself is an omni-directional boom microphone, so it's doesn't need to be positioned perfectly in-front of your face. The mic can do a fantastic job of picking up sound as long as you're wearing the GH10 Earset. Though non-gaming headsets have almost always provided passable quality for gaming activities, the GH10 and its microphone are near the very top of what an earset can provide.
Microphone Sensitivity
For many gamers, having a microphone is nearly as important as having sound. Whether you're playing competitively or you're screwing around with friends, a decent microphone can be a necessity. And the GH10's on-cable omnidirectional boom microphone boom is surprisingly effective. It's made to offer 42dB sensitivity, and a 58 dB signal to noise ratio.
Putting that into practical terms, it means the microphone's acoustic input can capture roughly 80% of the dynamic range of sound. And you've got to be within at least 18" of the microphone for sound to get picked-up well. That can help make your voice clearer when you're playing in crowded and noisy areas, like a LAN center.
But it also means the microphone is "missing" is the upper heights of the treble range. That's actually not much of a problem because most of the human voice is found within mid-tones. And even when the human voice contains treble, it tends to be in the lower treble range. But it does mean this headset might not be the best platform for listening to certain female vocalists.
Comfort Options
Finding comfort with in-ear headphones is largely about finding the right ear-tips. The GH10 makes that somewhat easier because they provide two replacement sets of ear-tips, and three sizes to choose between.
Like with almost any pair of in-ear headphones, once you take the time to find the ear-tips, the comfort of silicone provides to be quite reliable. But endless adjustability isn't a feature to search for from the GH10. For example, you cannot change out the silicone ear-hook. Though the universal ear-hook design employed by the MSI Immerse GH10 Earset should have no issue fitting virtually everyone.
Other Considerations
It's worth noting the weight of the detachable microphone is absolutely miniscule. It doesn't seem to have any effect on the comfort or security of the earbud to which it's attached.
The MSI Immerse GH10 includes a carrying pouch, three sizes of replacement ear tips, and a signal splitter. The carrying pouch is pretty standard for an earset like the GH10. It's small enough to shove into a pocket or bag, and large enough to contain the GH10 Earset, its detachable microphone, and the replacement ear tips. The signal splitter is somewhat useful for connecting to a PC, and easily fits within the case as well.
Often times, MSI has great warranties. The GH10 Earset offers a three-month warranty, which isn't particularly special. But it actually provides more protection than you might think. The majority of headphones that die from a manufacturer's defect will do so within the first few days of operation.

Who Should Choose the MSI Immerse GH10 Earset?
Earbuds typically last about six months. Frankly, it's because many earbuds are designed to fail quickly. It's also because people often don't take good care of their equipment. If you take care of the GH10, you could realistically squeeze two or three years of regular use out of this earset. Their tangle-free design doesn't just prevent the frustration of tangled wires; it actually protects the longevity of the wiring itself.
The large 13.5mm drivers are ideal for a gaming earset, and they've allowed for sound quality to be measurably boosted without equal increases in price. And the GH10 Earset is about as portable as you can make a gaming headset. The in-line controls let you regulate essential functions, and the microphone can be removed when you're not using it.
With so much going for it, the GH10 is a fairly compelling choice for two types of gamers. The first is gamers who prefer in-ear headphones over all other types, and enjoy far more media than games alone. The second is gamers who are constantly mobile, and want to bring a gaming-grade microphone along for the ride.