You can find Bluetooth speakers small enough to fit in your hand. You can find them large enough that you'll want to carry them with both hands. Which one is right for you? It just depends on your circumstances. Sometimes portability really matters. Maybe you plan on carrying the speaker by hand most of the time. Maybe you'd like to be able to shove it away inside your jacket.
People who are considering a smaller speaker are usually seeking a replacement or supplement to their smartphone. To that end, you generally want something that's roughly as portable as a smartphone. Though admittedly the sound quality of a smartphone is a low standard to measure against, it does get you thinking in the correct space.
Cambridge Soundworks OontZ Angle Solo
Among a wide spectrum of portability, the OontZ Angle Solo is about as portable as Bluetooth speakers can be. The Cambridge Soundworks OontZ series is composed of five members. They range from the ultra-small OontZ Angle Solo to the quite large OontZ Angle 3XL Ultra. Each shares essentially the same physical design. But they are all made for unique circumstances.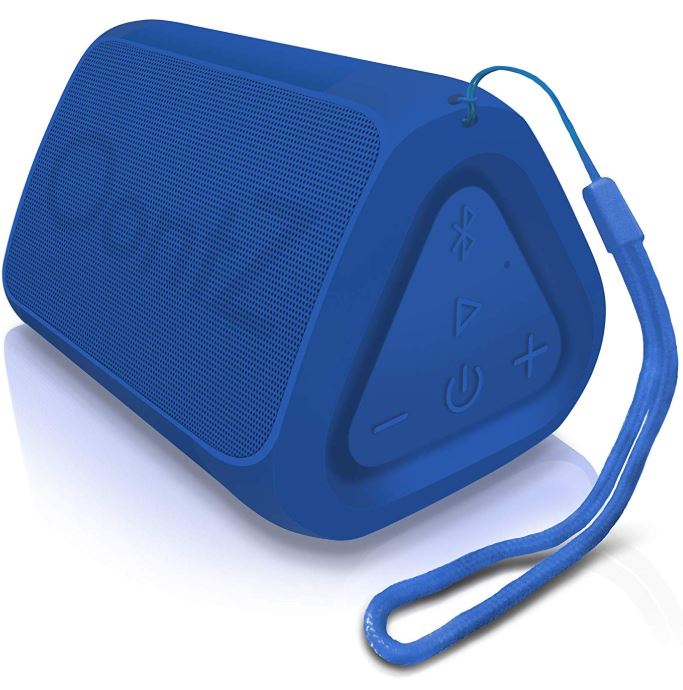 Being the smallest and most portable of the series, the Angle Solo is intended to be something you can shove in your pocket. Or a speaker you can wear around your wrist and barely notice it's there. Though every smaller speaker faces unique design challenges, the Cambridge Soundworks OontZ Angle Solo can provide equally unique solutions.
Build & Design
Measuring 2.8 x 3.9 x 2.75-inches, the OontZ Angle Solo is nothing if not portable. Made with a triangular design, the Angle Solo is both resistant to being knocked over and resistant to rolling. Its lightweight body weighs about half a pound. On its outer edges, the OontZ Angle Solo has two mounting loops that can also be used with a carrying strap.
Portable audio equipment isn't tucked-away inside a dusty cabinet, it's something you carry around with you. That being the case, your Bluetooth speaker might border on becoming a fashion accessory. The Cambridge Soundworks OontZ Angle Solo is available in black, red, blue, and white. And the entire OontZ series uses a similar color scheme.
The exterior chassis of the Angle Solo is mostly composed of ABS plastic. That allows the OontZ Angle Solo to be impact resistant, but it's not certified as shockproof. It's most likely going to survive from hands-distance or table-distance falls, plus or minus some minor scratching. The exterior feels smooth in your hands, but isn't intended to hold up against abuse.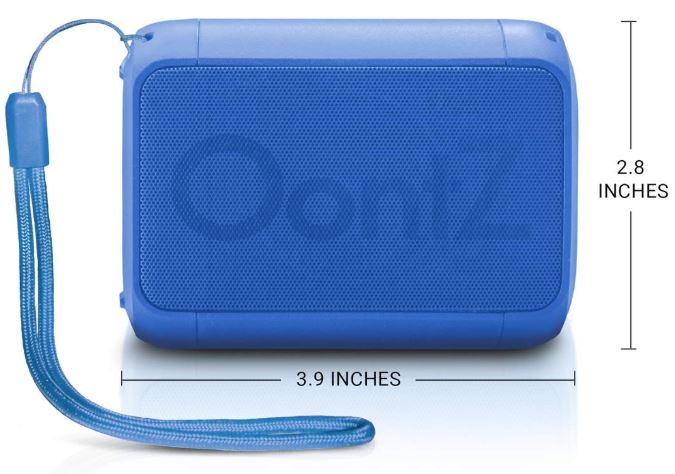 Waterproof Protection
Toughened plastic casing allows for the Cambridge Soundworks OontZ Angle Solo to provide an IPX5 certification. That indicates a design which is protected against splashes, rain, sweat, dirt, dust, grit, and similar minor agitations. You could even take the OontZ Angle Solo into the shower with you.
But IPX5 does not indicate protection against submersion. If you dropped the speaker in a deep puddle and picked it up promptly, it would most likely survive. You just don't want to tempt fate by intentionally submerging it. Nevertheless, the IPX5 protection allows the OontZ Angle Solo to be a fairly good choice for taking to the beach, and a reliable companion for unpredictable weather.
Analogue Control Buttons
On its left side, you'll find some easily identifiable analogue buttons. Buttons labeled as +/- can be used to adjust volume levels and skip around through tracks. The play button, power button, and Bluetooth button are just as easily identified. Though none of these buttons are particularly special, they do provide all the control you need for a Bluetooth speaker.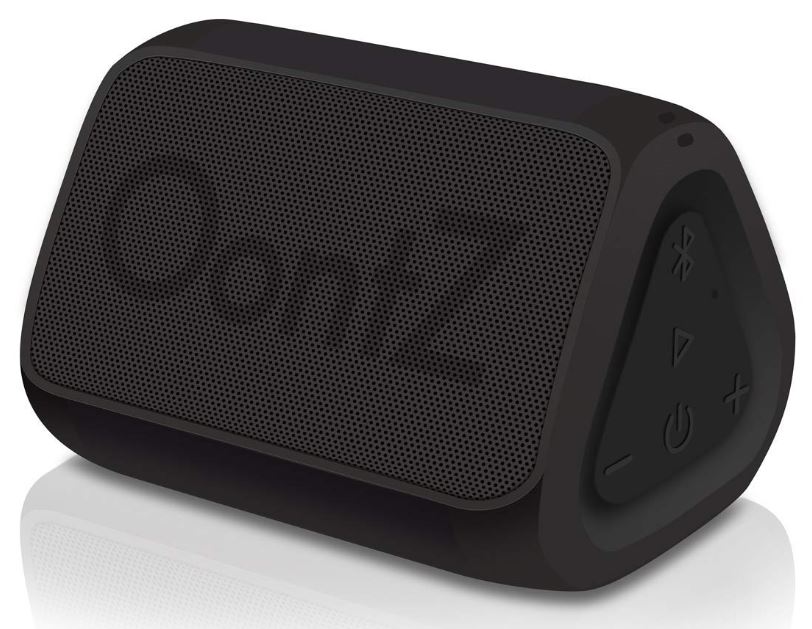 Microphone Quality
Adjacent to the control buttons, Cambridge Soundworks OontZ Angle Solo has smartly positioned its onboard microphone. Unfortunately, the OontZ Angle Solo uses a microphone that's somewhat underwhelming, or terrifically average. It brings absolutely zero special features to the table. There's no adjustable mic gain, no built-in support for additional services, no special noise cancellation abilities.
There's really nothing special about the microphone at all. With all that said, when you're inside the kind of environment where you could take a phone call, you'll find the included microphone is perfectly adequate. With respect to call clarity, Bluetooth and the Angle Solo speakers can do most of the heavy lifting. It's only when you begin to expect more from the microphone that you'll face disappointment.
Connectivity
The OontZ Angle Solo makes a wireless connection through Bluetooth 4.2, allowing it to quickly connect to your smartphone, tablet, and similar Bluetooth enabled devices. Most Bluetooth speakers in this price range will restrict your connection distance to about 30 feet. That doesn't sound so bad, until you realize that the distance drops in half when you place an object between the speaker and transmitter.
The OontZ Angle Solo provides connectivity up to 100-feet. While you need line of sight to really achieve 100ft connections, this wider connection distances also translates into much more consistent connectivity at with modest distances.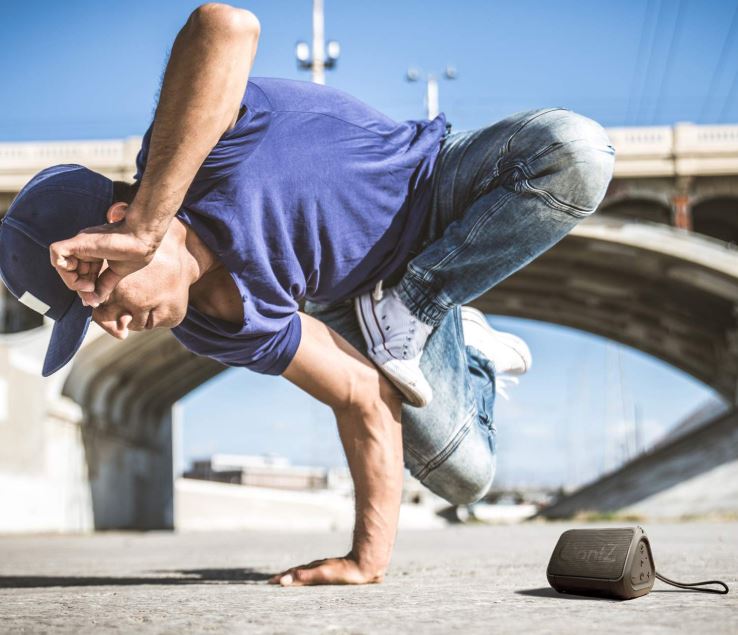 Sound Techniques
People have rightfully come to have low expectations from small speakers. Nobody has ever opened a singing birthday card and felt as though they were experiencing movie-theater audio quality. When you're dealing with smaller equipment, a smaller power source, and a lower budget, there's only so much that can be done with audio quality. But there are things that can be done.
The Bose brand may serve as a good example. People who criticize Bose often make the same point. What Bose does is take inexpensive audio components, which are really nothing special, and try to make them sound great. Instead of fine-tuning the hardware itself, they do this with software enhancement. Or they use psychoacoustics to develop audio tricks.
Cambridge Soundworks takes a somewhat similar approach with the OontZ Angle Solo. The underlying neodymium drivers within this speaker are unremarkable. But the sound they pull from their design seems to exceed the sum of their parts.
Audio Quality
And that's achieved in a number of simple ways. Using their own proprietary bass radiator design, the Cambridge Soundworks OontZ Angle Solo manages to put a real thump into its bass. It's an especially high bass output relative to the compact design. Bass is the tone that's typically least developed on portable Bluetooth speakers.
But with the Cambridge Soundworks OontZ Angle Solo, the weakest link is actually in the treble range. Which isn't to say that treble performance is poor, only that it's outshined by comparably stronger bass. The lack of tweeters does put some soft limits on treble performance to begin with.
Another thing the OontZ Angle Solo can deliver is volume. Relative to its size, it's actually quite loud. You can gauge your expectations by knowing its peak power output is 5-watts. That's pretty close to twice the wattage of speakers on the backside of a monitor, or more than twice the output of a two gaming smartphones combined.
Equally important, distortion doesn't become a severe problem as you maximize the volume. A tiny degree of distortion creeps in, but it's not enough to deter anyone from using the upper limits of the volume settings. That's tough to achieve with a smaller, lower wattage speaker like the Cambridge Soundworks OontZ Angle Solo, which is a small part of what makes this speaker so impressive.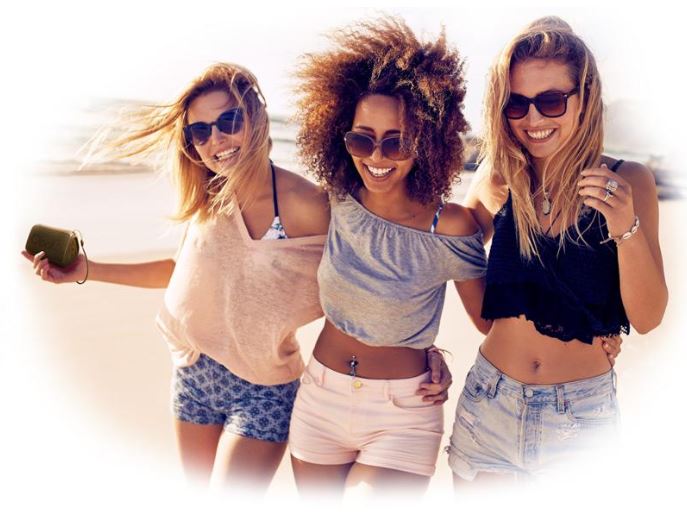 Battery Life
The Soundworks OontZ Angle Solo can provide an estimated ten hours of battery life. These estimates always vary, and can be affected by any number of different factors. The genre of your music, whether or not you're using Bluetooth, volume settings, these things can all affect battery performance.
But the 10-hour battery estimate isn't far off. It assumes you're using about two thirds of the total volume, and that's a reasonable estimate for most people in most circumstances. If you were using closer to half of the volume, you could see the battery life stretch out much further.
Additionally, the Oontz Angle Solo was built with an onboard 3.5mm audio jack, allowing you to make a wired connection. When you're making a wired connection, you don't have to use Bluetooth, which can save you quite a bit of battery life. You might reasonably expect up to another two hours of playtime from using a wired connection.
Other Considerations
Though the Cambridge Soundworks OontZ Angle Solo is thoughtful enough to include a 3.5mm jack for optional wired play, the Angle Solo does not include its own audio cable. However, it does include a Micro USB cable to help you to recharge the battery. And it includes a lanyard that can be latched onto either side of the chassis for easy carrying.
The lanyard matches the color scheme of the OontZ Angle Solo to which it's attached, so it doesn't particularly stand out while in use. It provides enough adjustability and tactile strength to allow you to confidently hang up the speaker, or wear it on your wrist. But you might consider switching to a carabineer for a stationary mount of the Solo.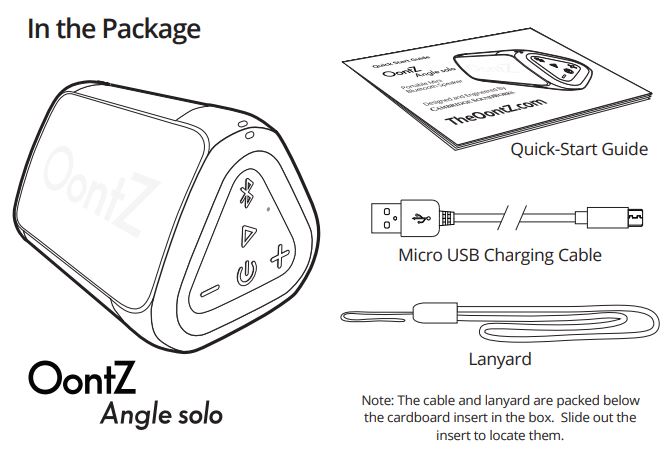 Who Should Choose the Cambridge Soundworks Oontz Angle Solo?
There are many things to like about the Solo. Its intuitive design is easy to use, though its interface is so small that it was necessary to create multifunction buttons. It's competitively priced, especially relative to its comparatively high value. Its battery life doesn't disappoint. When you have the right expectations for its sound quality, that won't disappoint you either.
Just about the worst thing you can say about this speaker is it's better than average. If you're digging into sound preferences, the soundscape has a modest bias towards bass performance. But preferences aside, this speaker will outclass the speakers on essentially any tablet or smartphone by a longshot.
That's really what matters most to most people, which makes the Cambridge Soundworks OontZ Angle Solo is a solid choice for someone who truly needs their Bluetooth speaker to be as portable as possible.
Meet Derek, "TechGuru," a 34-year-old technology enthusiast with a deep passion for tech innovations. With extensive experience, he specializes in gaming hardware and software, and has expertise in gadgets, custom PCs, and audio.
Besides writing about tech and reviewing new products, Derek enjoys traveling, hiking, and photography. Committed to keeping up with the latest industry trends, he aims to guide readers in making informed tech decisions.