With all of the latest advancements in technology, homes are quickly being paired with new technology that integrates "smart" features into an otherwise everyday, normal living situation. One such is the Nucleus Smart Home Intercom. Its been specifically designed to make your life at home a bit easier by connecting rooms in your home with a small monitor and an assortment of helpful features.
Set to release in August of 2016, we're really looking forward to it, mostly for the fun benefits it's designed to offer. Although it seems like a lot of fun to use, it can actually save you a lot of time and help you keep in touch with others in your home a bit easier, especially if you have kids.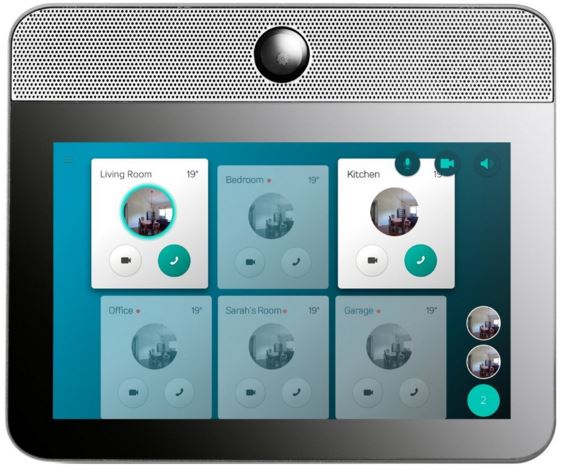 When it comes to home intercoms, your options are few and far between. If you opt for full blown security systems that require professional installation, you'll end up paying thousands of dollars. That's one of the reasons that Nucleus was created. It packs a ton of practical value, even if you don't currently live in a "smart home".
How Does Nucleus Work?
The Nucleus Anywhere Smart Home Intercom is a relatively new concept and it may take some time to get a feel for the way it works. The idea is to let families converse via multiple Nucleus units that you install throughout your home. With the integrated touch-screen, all you need to do is press a picture of the room you're trying to connect to, and you'll be able to communicate directly, both visually and audibly. This gives you the ability to have face-to-face conversations between different areas of your home or even aay from home since you can connect to your Nucleus through virtually any smartphone.
Two units can be enough if you simply need an easy communication device between two points, but we recommend you purchase more if you want to develop a Tony Stark-like "smart home" feel. Also, video can also be disbanded in favor of audio-only for those who prefer the old-school way.
One major advantage Nucleus has over a standard or outdated intercom is its wireless ability and the fact its reach extends beyond the household. You can place one in your office, one at home and one at your parent's place. The idea behind it is to create an on-the-spot communication service, thus saving you a lot of time irrespective of whether the other person is located in the next room, house or if they're in a different state. Nucleus can be ideal for small business environments as well if you need to directly communicate to the office with the tap of a screen.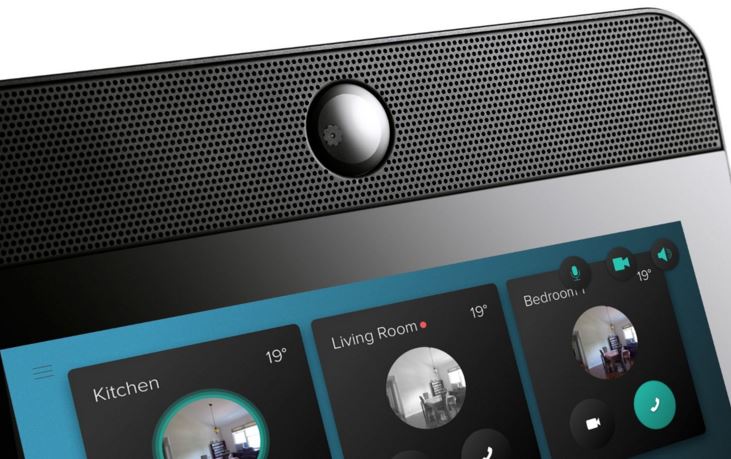 Smartify Your Home
If you look at the small Nucleus unit, you'll notice it has a built-in webcam, microphone and WiFi connectivity options. The units are connected in such a way that as long as you're connected to the Internet, you can access them from anywhere on the planet. This is where one of the most noteworthy feature kicks in. You activate it with your voice so if you're chopping up onions in the kitchen all you have to do is say "Nucleus, call office" and you'll be instantly connected to your office. Additionally, there's an App that supports smartphones across the board (iOS/Android), giving you access to manage all your connected devices that way.
Maximum Privacy
Unlike devices that fully break down without internet connectivity, Nucleus conversations within your home never leave your home network and data does NOT travel on the internet or through a cloud. This offers the best in both privacy and security. The only time Nucleus utilizes Internet data transmission is when your units are setup remotely from each other, in different homes, offices, or areas – even then, all data is secured via heavy encryption.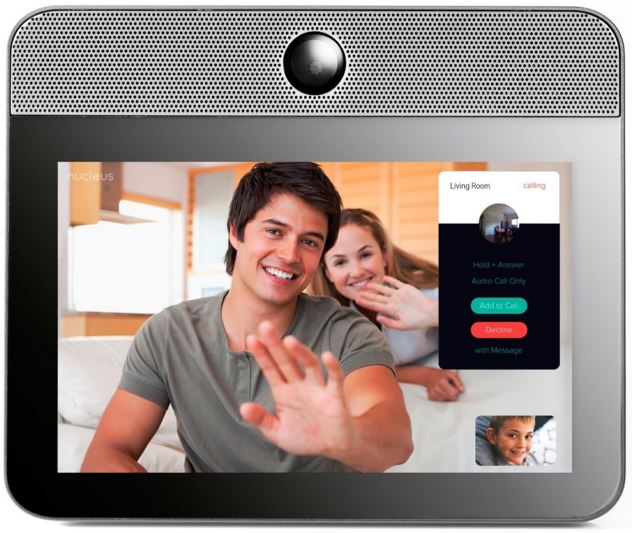 You can rest assured knowing that none of your conversations or personal data will ever find its way into the wrong hands. You'll be able to fully open up in your conversations knowing you're secure and protected against this. Additionally, the camera shuts down when it's not in use (and can be covered with its shutter) so there's no observing or recording without prior activation.
Nucleus is not merely a communication device for video and its practical uses are fairly universal. For one, each unit can become part of your smart home with simple integration to platforms like OpenHome and can you can even set them up to stream music/general sound across the entire network. This is a great feature if you're working in a small business environment and you want to prompt everyone about a task without having to drag them out of their designated work place. Bear in mind this is a new release – in time, they may soon start offering their SDK which would make developers expand on the software end.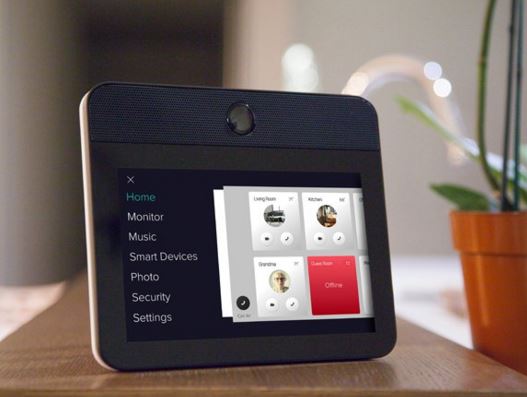 Minimalist Design
Small size is definitely an advantage with intercoms, mainly because they can easily be attached to walls. Each Nucleus unit is only 200mm x 170mm x 22mm (8 x 7 x 0.85 inches). You can either prop it up on your desk or simply attach to any wall you see fit since it's completely wireless. However, keep in mind that you'll need to plug it into an outlet or use POE (power over Ethernet) to run it.
If you prefer to connect it the old fashioned way, or if you don't have a wireless network setup, there's an Ethernet port in addition to Wi-Fi and Bluetooth. The front-facing camera provides a viewing angle of up to 120 degrees (enough to capture a room) and 5MP resolution which is quite impressive for the size, offering high resolution, full-clarity vision with an excellent field of view. The interactive touchscreen display appears bright, colorful and vibrant, measuring 8 inches across.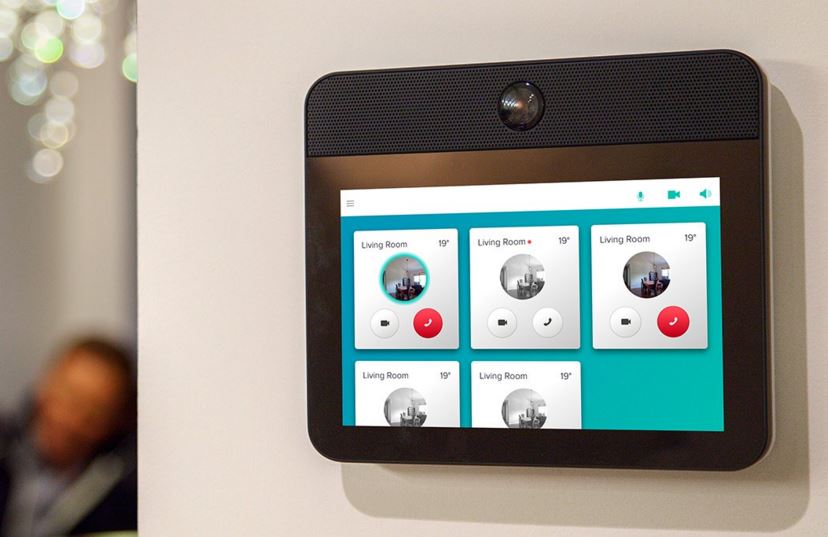 100% Hands-Free
When people think of smart technology, the first thing that often comes to mind is technology that does all of the work for us. Unfortunately, very few products live up to those prerequisites. One of the key advantages that creates the much-desired "smart tech" feeling is having hands-free communication and functioning everything with voice control. If you're at work and you placed another unit in the living room, all you have to do is say "Call Home" and you'll instantly connect, letting them immediately see what you're up to.
One of the biggest concerns people have with long-distance communication is lag or poor latency. This is considering most devices don't have a track record for fast data transfers. However, Nucleus uses the latest in .11ac WiFi to offer both video and audio calls in <200 milliseconds. The quick connection time and instant accessibility sets it apart from your typical phone or webcam call. Keep in mind that if you don't want to rely solely on voice control and you prefer to manually do everything, you can simply press an icon for the person you're trying to reach and it will connect you the same.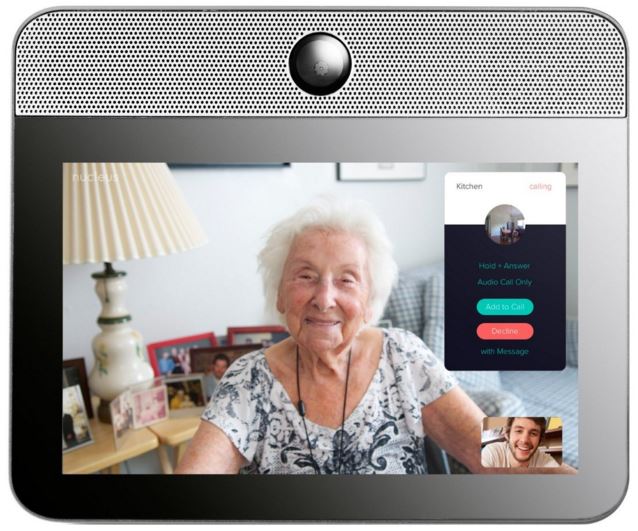 Connect To Your Phone(s)
In order to provide maximum connectivity between devices at home, Nucleus created a smartphone app that allows you to connect to each unit, irrespective of their location. Obviously the uses for this are pretty universal since this offers a use for security purposes as well. If you want to check up on your kids, pets or others that are at home when you're not, the app offers the best of both worlds.
Is The Company Reliable?
Nucleus is not actually a very big company, but it's not small enough that they didn't make waves in the tech industry. After the idea for the device was released to the public, they managed to secure series-A funding equal to around 4 million dollars. This was enough to produce the first units and make the idea come to life. They're currently making improvements to the software and finishing up on the final touches.
Conclusion – Is Nucleus Worth It?
Set to release in August, the Nucleus Anywhere Smart Home Intercom is now available for Pre-Order on Amazon.com. It's been thoroughly designed to make the life of the average person a bit easier and boost communication between two or more locations. Large homes, distant locations, and both families and offices can bring a refreshing communication platform into their daily life. It's designed to bring instant communication between the most important people in your life and increase the safety and peace of mind about your most important assets at the same time.