With all of the smart devices and media that our kids are connected to on a daily basis, we hope that they're being influenced positively to become responsible, confident and contributing members of society. You can't control the type of information and content that other people produce, but the Octupus serves to present such an influence for your kids with subtle yet powerful concepts.
The overall message with it is that daily habits, such as bathing, brushing teeth, doing homework and going to bed at a good time will strengthen your children's self-reliance. It's a watch that uses unique icons, alerts and key times to encourage proper development of a wide range of habits.
One of the positive aspects of the Octopus's concept, as pointed out by their Kickstarter campaign, is the fact that simplicity is really the key. If a child is impressive and sees something as some sort of influence, it can have a dramatic impact on their patterns and who they grow up to be. These are the three basic utilities that it provides:
Telling the time.
Scheduling events and providing alerts.
Providing access to controls and relevant data to parents.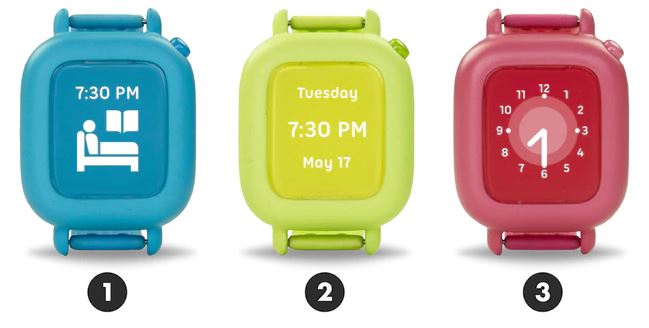 Basic Habit Influencing Technology with Personalization Options
One of the psychological concepts that early computer developers grabbed on to, and which is still used today, is icons. Comparatively, it's ingeniously simple to understand exactly what a trash bin icon does on a computer screen, where new users might never figure out so much as how to use it if it weren't for that one powerful, visual aspect.
You can store up to a total of 600 icons at a time on the Octopus, which is more than enough to schedule daily, weekly and even monthly habits. This provides a little bit of variety, and takes advantage of some fun features like games and a reward systems.
The Octopus features three different modes based on the development of your children. The first mode displays a simple digital clock as well as an icon, depending on the scheduled habit that you'd like them to carry out. This will allow your child to learn the concept of time in the simplest format, and help instill the daily actions that you program into it, in a way which they're willing to co-operate with.
The second mode will display the day of the week and the day of the month as well. The third mode simply displays an analog clock, so that as they develop they don't grow out of it and it still supports their development.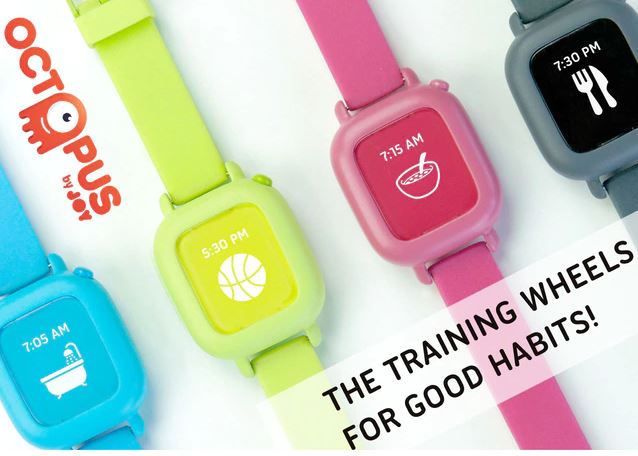 Smart and Security Features
Octopus features a companion smart app for your smartphone or tablet and is compatible with both Android and iOS. This is really where the rubber meets the road for both kids and parents. The initial setup requires syncing Octopus with your device, where it allows you to program scheduled events with a three step process.
You can create or schedule a previously created task right from the home page. What you do is select the icon of your choice, give it a name like 'take out the garbage' or 'brush your teeth', and set a time. There are also options for vibration upon alert, a validation requirement for when the task is done, as well as the ability to repeat the event at selected time. There's a handy note feature that you can use for anything you'd like to personally record about your child's habits and requirements.
Once a task is set, you just sync in to the Octopus and you can sync and control multiple watches at the same time, as well as control each watch from multiple devices. This uses advanced Bluetooth 4.1 technology for faster speeds and lower battery consumption over a wireless connection.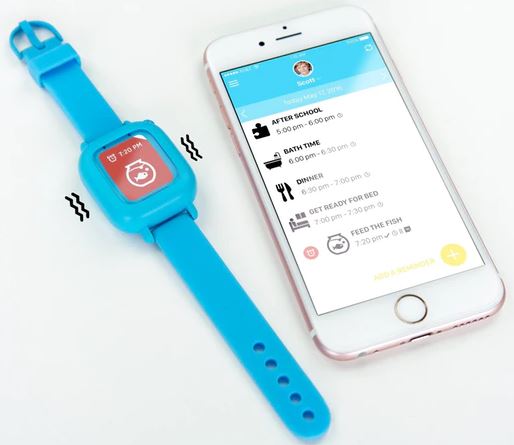 As you probably know, there are definite security concerns with this even if there isn't personal data shared that others can gain unwarranted access to, because they could potentially give your children unwanted commands and put them at risk. For this reason, it provides peace of mind to know that you have the final authority on any device that is synced to your child's Octopus watch by means of a secure username and password.
In keeping with the 'grow with your child' concept, you'll be able to provide your children access to the app when they reach a certain age or responsibility level. This way it appeals to much older children as a personal time management device.
Reward and Progress Tracking Features
In addition to programming chores and basic daily events such as school, dinner and homework, you can also use Octopus to provide encouragement and recognize your children for their accomplishments.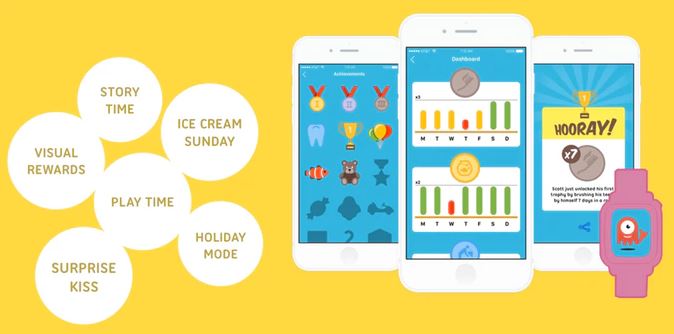 For example, you can create timelines, milestones and points systems, so that as your child progresses, they unlock rewards set by you. These could be as simple as compassionate surprises from you as a parent. However, there's also a game aspect to keep them engaged and influence them to carry out tasks, rather than fighting and struggling with them.
First, you can give them icons on their Octopus watch's display, and there's also a smart phone element for parents, which you can share with your kids, with achievement screens. There's also a progress tracking option that graphs out your child's progress in different areas, so that you know where they're strong and doing well and which areas need more improvement. You'll also receive tips and information in ways that you can utilize Octopus to better achieve goals, as well as alerts each time an event happens, with detailed information and notes.
Durable Design with Rechargeable Battery
The fact that your kids can carry their Octopus watch with them means that they have virtually constant access to it throughout the day. This further instills a level of authority and will lead them to carry out goals on a consistent basis.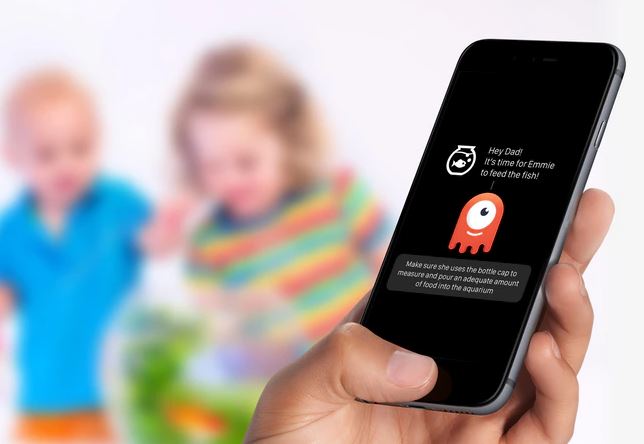 On the other hand, children like to go outside and play which involves a risk of damaging it and potentially wasting not only your money, but the amount of time and effort you've put into utilizing this system. For this reason, it's good to know that it's made of strong plastic which is water resistant, and will protect the internal electronics from damage from moisture.
With this in mind, be aware that it's not completely water proof, so that while it can withstand rain and similar environments, you should be sure that it isn't fully submerged in water such as when swimming or taking a bath.
In terms of the rechargeable battery, it's a relatively simple and reliable process. For starters, it'll run for up to 96 hours on a single charge, so you don't have to worry about it running out of power for at least a couple of days.
The basic watch package includes a charging cable to charge the watch directly via cable plug in, so it's relatively simple overall, but it does require an electrical outlet. There's also an optional magnetic charging base with an electrical outlet requirement that weighs 75 grams in total and measures 95 x 108 x 95 millimeters. It's also capable of fully charging the Octopus watch in about 3 hours. It features a handy night light as well, that turns on when the watch is connected to it and charging.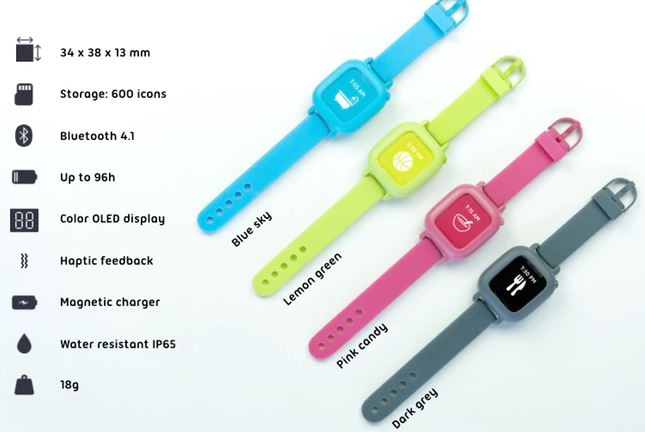 Multiple Color Options
The watch is quite compact, measuring 34 x 38 x 13 millimeters in size, and weighs a very light 18 grams in size. This ensures that it'll fit comfortably on varying sizes of children's wrists and won't prove to be much of a burden to them throughout the day.
In terms of appearance, the watch uses a simple OLED screen display, which is fully capable of producing the vast array of interesting icons in dynamic light settings. This is especially important because otherwise it would be very difficult to see in broad daylight.
There are four color choices as well, so it's not gender specific and provides a little bit of varying style for your child's preferences. These include light Blue Sky, Lemon Green, Pink Candy and Dark Grey options. The backlit screen will also produce various colors.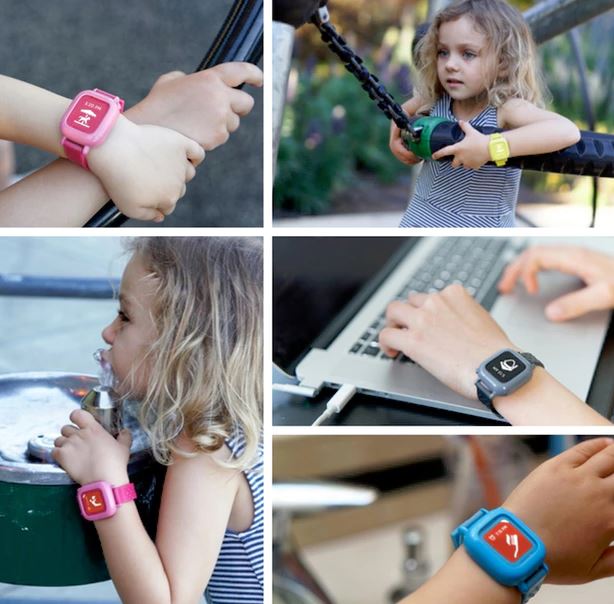 Final Thoughts
This is definitely not the first time we've seen solutions to working with your children and helping them to develop positive habits. While not discounting any other product, the Octpous uses simple yet surprisingly simple psychological concepts like involvement and positive reinforcement, which makes it an effective stand-alone tool.
There isn't any need to make things overly complicated. Other than the reliability of the hardware, where the battery charge life of 3 hours can seem like a little or a lot depending on the person, even the advanced features are relatively easy to use.
One of the limitations with it is that you can't constantly monitor your child's progress, as there is a Bluetooth connection requirement for your smart phone, which limits the range to about 30 feet. That being said, it's meant to provide your child with an opportunity to develop self-reliance, and it does help achieve that.