High definition surround sound isn't only a matter of having nice speakers. In the process of creating high quality audio, distortion can weasel its way into a signal at countless junctures. About half of the responsibility of creating high quality sound goes back to the receiver you're using to send sound signals to speakers.
But in many cases, quality isn't the issue at all. Instead the issue is capability. When it comes to high quality surround sound, whether or not a receiver is capable of doing what you want isn't something you can take for granted. And it requires a close look at a receiver and its features to truly understand what you're getting yourself into.
Note: At no extra cost to you, we may earn a commission for purchases using our links. Learn more.
Onkyo TX-NR686
Onkyo isn't a household name like Sony, but within the audio industry, they have essentially the same degree of respect. Onkyo has established a reputation for making some of the best sounding home cinema receivers on the market, and for making reliable products that seem to get better with each generation. Granted, major advancements in audio technology tend to occur slowly. As a result, most stereo receivers don't receive many huge improvements from one generation to the next. But the Onkyo TX-NR686 is different.
From a consumer standpoint, the TX-NR686 is a mid-range receiver with strong specifications on both the audio and video portions of its design. It's made distinct from previous Onkyo receivers with its native support for both of the latest and greatest formats for surround sound, DTS:X and Dolby Atmos. It's also THX certified, and uses up-mixers to help boost legacy content to digital 3D surround sound. Even for content that wasn't specifically designed to be heard with surround sound, you can end up with stunning recreations.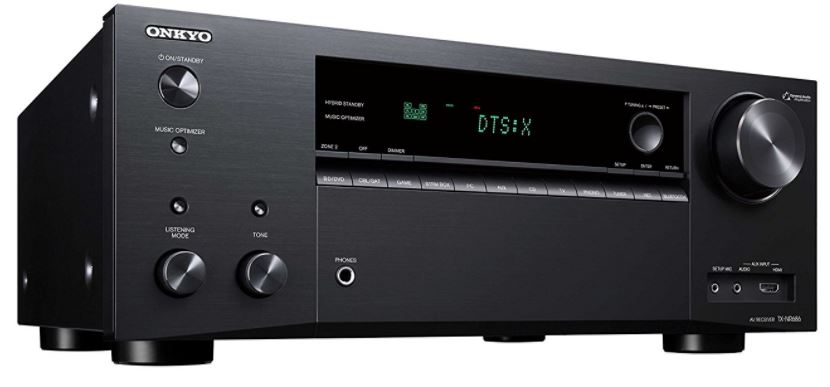 Device Connectivity
Along the back of the device, you'll find six HDCP 2.2 HDMI inputs, which are suitable for 4K content and other high definition formats. Those ports are also suitable for HLD, Dolby Vision, and HDR10. In the interests of convenient and quick installation of your sound equipment, the various ports are visually broken into two separate zones of operation. Each distinct zones allow you to rig-up and run separate speakers for multiple rooms. You can then do playback of both zones simultaneously, or even use independent audio sources from each zone of operation.

Onkyo includes a fairly inclusive support for music networks, including Amazon Music, Deezer, Spotify, TuneIn, Tidal, and Deezer. Each are easily accessible through the Onkyo Controller. Already it sounds like every base is covered, with a range of wireless and wired connectivity. But the TX-NR686 also supports Bluetooth, AirPlay, Google Chromecast, and a number of other streaming services. Absolutely every connection you could want is present, with the exception of some legacy ports.
Sound Quality
Listening to the TX-NR686, you can immediately tell that audio quality is beyond the range of what you'd expect, likely thanks to an auto-calibration feature. That feature helps you measure the resonance of your room, allowing you a greater degree of fine-tuning the sound to accommodate your unique surroundings. Not all sound settings will sound equally great in any space, so being able to make those kinds of adjustments adds a great deal.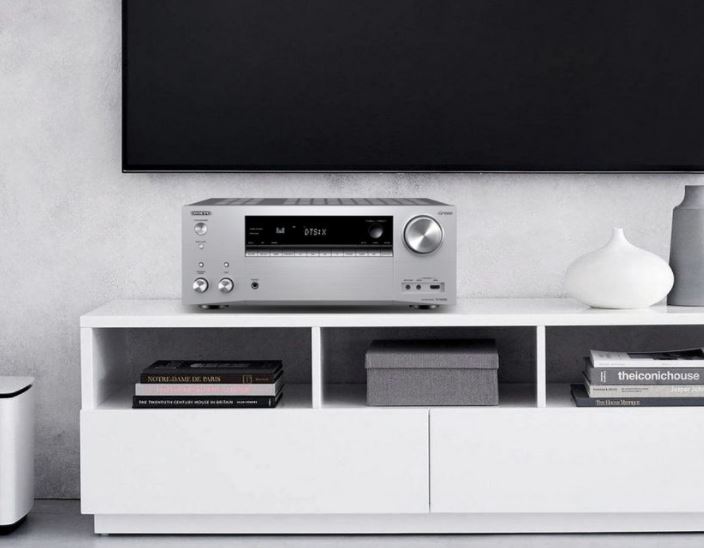 The TX-NR686 runs at 100W, a slight bump over its 95W predecessor. With a 100W load there's as little as 0.08% electronic distortion. From a hardware perspective, the TX-NR686 compares favorably with low-end audiophile equipment. It may not earn any awards from audiophiles who are snobs about sound quality, but neither would it earn their scorn. The supported 24-bit 192kHz playback is perfect for keeping noise down and clarity up, helping your speakers achieve their fullest potential.
The receiver itself supports 5.2.1 channel sound. You've probably heard of 5.1 channel sound, and if you understand what that term means, then the additional decimals in 5.2.1 description will sound rightfully confusing. But confusion is needless because the 2 refers to the supported additional height channels, while the 1 refers to a subwoofer. Those extra height channels are what make Atmos possible. Technically speaking, a totally complete surround sound experience would require four height channels, but expanding beyond two would drastically increase the cost of the receiver.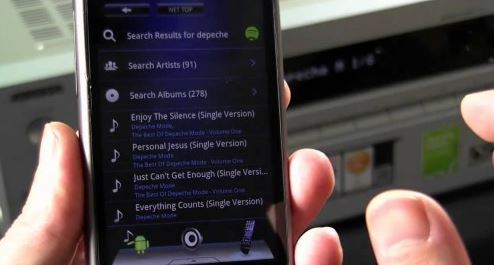 Surround Sound Support
DTS:X and Dolby Atmos are object-based surround sound formats. For people creating audio content, they provide better control over the placement of various effects within the soundscape. They're also what's responsible for the height speakers, sending sound downwards from above. Large movie theatre chains often use one or both formats, helping them to provide the distinct immersive sound quality you'll find at the cinema.
Unfortunately, Dolby Atmos and DTS:X aren't yet massively compelling features because they're relatively new formats. But almost daily, more films supporting one of the two are released. With time, surround sound support may be just as standard as the Blu-ray format. It doesn't matter if you're talking about physical formats like VHS tapes, CDs, DVDs, or digital formats like Dolby Atmos, either way adoption takes time.
When you have a Dolby Atmos setup, the TX-NR686 allows you to take called of AccuEQ calibration software. Specifically, you'll want to look for a feature called AccuReflex, which can phase-match the non-directional and directional sound on an Atmos system. Even though the resulting sound isn't as accurate as sound that's been specifically programmed for Dolby Atmos, the imitation is quite passable. Support for DTS:X and Dolby Atmos isn't only about futureproofing your sound system, you can immediately see improvements in listening to old favorites.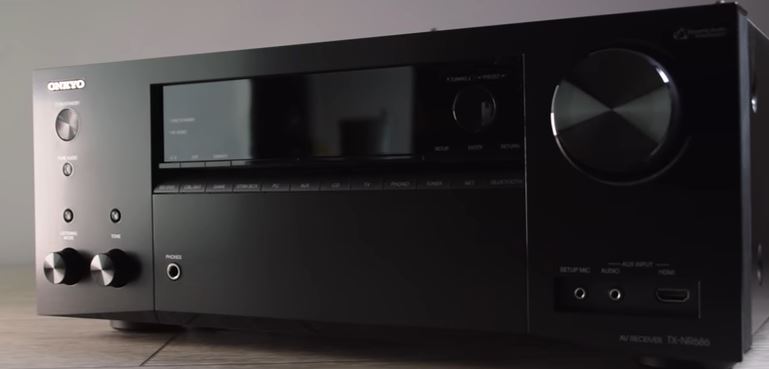 Build & Design
Most AV receivers are intended to sit at the bottom of an entertainment console, neatly resting out of sight and out of mind. Onkyo's receivers embrace that fate, and don't make much of an attempt to jazz-up the aesthetic of their design. Even the LEDs used to provide track information are composed of a muted green that could at best be described as unassuming and simple. It looks incredibly generic and non-descript, resembling one of hundreds of similar receivers.
The receiver itself stands just over 17-inches wide, 7-inches tall, and slightly over 12-inches deep. That's the bulky build you ordinarily see on midrange stereo receivers. On the face of the device, the LCD menu is the same menu system used on Onkyo's much earlier units. The green and black background may have a familiar feel to those who've used Onkyo products in the past, but will seem ancient and minimalistic to everyone else.
If you're a fan of vinyl, you'll appreciate the magnetic stage along the backside of the TX-NR686, which allows you to attach a turntable. Onkyo recognizes there's a huge range among turntable quality, and have consequently decided against including a turntable along with the TX-NR686. That's probably a smart design decision because if they'd added an ordinary-quality turntable, people who care about vinyl wouldn't approve of the quality. And if they added a higher quality turntable, the TX-NR686 would've seen a price increase that would scare away consumers who didn't care about vinyl.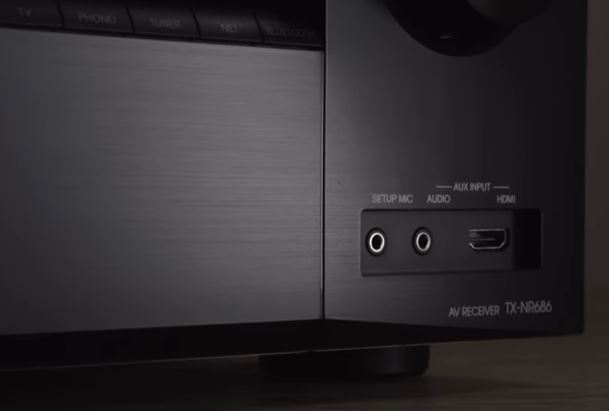 Other Considerations
The remote is genuinely terrible. It's covered with nearly 60 buttons, so using it is more confusing than operating an aircraft. The buttons you'll use the most, like the volume and menu buttons, are far too small to be convenient. Important buttons are often no larger than less important buttons. Although you can press a button and it will do what you expect, it can take weeks of use to feel truly comfortable using the remote.
If you do open the options, the settings you find are mostly the usual suspects. You can use an equalizer to help fine-tune your sound, even from speaker to speaker. If you're looking for something quick and dirty, there are three presets you can switch between. Whether you're trying to get great sound for your movies, or you're jamming out to some music, you can toggle between your saved presets to get the right sound for any activity.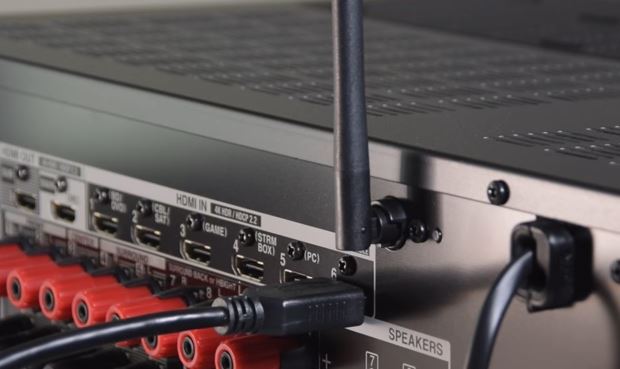 On the video side of things, the 4K pass-through ensures that your sound quality and video quality can match, and it works flawlessly. Supporting 4K content helps ensure this receiver remains relevant now and in years to come, as the popularity of higher resolution content continues to build and spread. Even if you're not currently using a 4K setup in your home, it's nice to know your receiver is equipped for it in the future.
Unfortunately, the Bluetooth feature is input only. That means you won't be able to directly connect to the receiver through Bluetooth headphones, but creating a work-around for that kind of problem usually isn't difficult. One limitation you can't easily work-around involves subwoofers. Unpowered subwoofers won't work because this receiver isn't equipped to provide power to them, so you'll need your subwoofers to provide their own power source.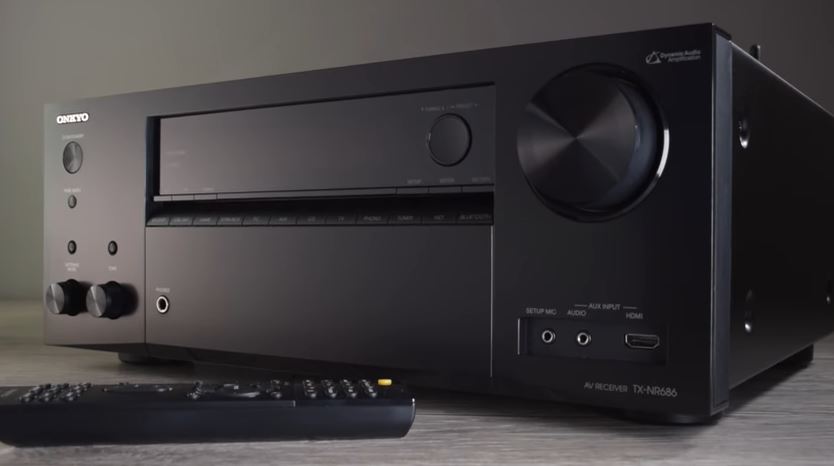 Who Should Choose the Onkyo TX-NR686?
The Onkyo TX-NR686 delivers on the latest and greatest technologies in sound formatting, especially DTS-X and Dolby Atmos. With the addition of wireless services like Wi-Fi, Bluetooth, and AirPlay, you'll have no problem making quick and easy wireless connections from essentially any device. The hardwired connections are just as easy, and include eight HDMI inputs, a phono input, and two outputs.
If you're willing to spend hundreds more, then you find a top-shelf receiver that supports four height channels instead of two. And if you're only interested in creating sound in one space, then you can probably find a smaller receiver with fewer connection options. But for what it does, you'll have a hard time finding a better 5.2.1 channel receiver at this price range.
For a future-proof sound system that supports both of the latest and greatest surround sound technologies, the TX-NR686 is a great choice. It offers high-tech sound processing that's ideal for movies and music alike. And for the purposes of providing sound in two large rooms, it's offers the perfect amount of power and connectivity. It's a great pick for just about any audio enthusiast on a budget.
Please consider sharing:
Note: At no extra cost to you, we may earn a commission for purchases using our links. Learn more.