The technical specs for home theater AV receivers can sound overwhelmingly complex to a non-audiophile. In fact, micro-specs can even sound overwhelming to seasoned tech product reviewers like us. Why should we care about ohms and Total Harmonic Distortion? The truth is, the small details do matter, but ultimately the most important question is: How does the speaker system sound? Everyone has different sound preferences, and all of those little, seemingly insignificant numbers and features are extremely important to a receiver's sound reproduction.
If this is your first foray into the world of AV receivers, it's understandable to be a little frazzled. There's a whole lot of words being thrown at you that you've probably never heard before, so being confused is understandable. When it comes down to it, all of the terminology sounds more complicated than it actually is. When you're in the market for an entry-level AV receiver, it's more important to focus on overall performance than the intricacies of the specifications.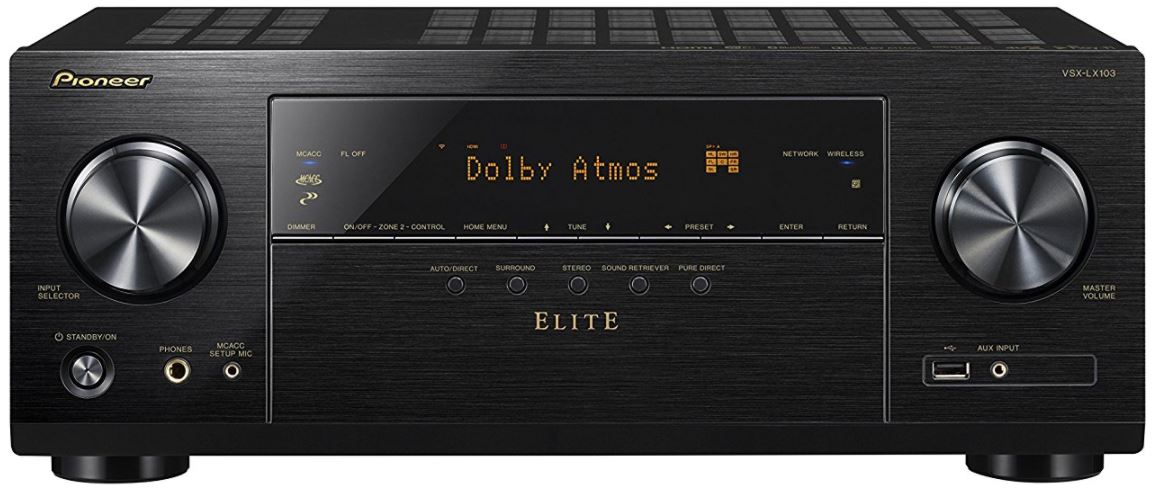 First Impressions
If you're looking for a good place to start, the Pioneer Elite VSX-LX103 combines the affordability of a budget 4K AV receiver with the features of a higher-end device. Featuring a combination of support for several different surround sound codecs, 4K pass-through, direct energy amplification, intuitive upmixing and built-in Chromecast support, the LX-103 is a versatile hulk of a machine with high performance at a great value. Over the past few weeks we had a chance to thoroughly review the LX103 in all of its media management glory. Here is our honest review of the Pioneer VSX-LX103.
What's in The Box?
The Pioneer LX103 packaging includes everything you need to get started. Included in the shipped package is the main unit, a remote control with 2 AAA batteries, a speaker set-up microphone (which is used during the initial set-up and calibration), an indoor FM antenna (for radio reception), an AM loop antenna (for all of those sweet local access radio shows) and the power cord. Imagine how disappointed we would have been if they forgot about the power cord. That definitely would have called for a sternly written letter.

Speaker Setup
Depending on the system you're using and the sound that you prefer, there are several different speaker setups you can choose from. If you prefer a 7.1 channel (this means you have 7 speakers and one sub-woofer) Dolby Atmos system, you're going to have a different set-up configuration than a 5.1 channel system. Different layouts call for different ports. The included instruction manual is easy to follow, but if you are still having problems figuring it out, there are a countless number of video demonstrations available on YouTube. After calibrating the receiver with the included set-up speaker, setting up the speakers is pretty easy.
Surround Sound Formats
The LX103 features support for 5.2.2 channel Dolby Atmos and DTS:X surround sound codecs. Because of the combined codec compatibility, the LX103 provides object oriented sound for all of your surround-ready media. Modern sound formats produce smooth three-dimensional sound, featuring realistic curves and accurate locational audio. When testing our the LX103, we were truly impressed with the sound depth, considering how affordable this receiver is compared to some competitors. The soundscape felt truly immersive, with audio that washed over us like a blanket. There were moments where we had to do a double take, just to make sure that the sound wasn't coming from a real source inside our own house. You know an audio receiver is good when the sound is so realistic that it makes you think you're getting robbed.
Upmixing
The inclusion of DTS Neural: X and Dolby Surround upmixing allows the LX103 to create three-dimensional sound from audio sources that do not typically feature sound that is so immersive. The surround sound system you use is really a matter of personal preference. The good news is that no matter what your preference might be, the LX103 features the upmixing technology to compensate for any digital audio. The DTS Neural: X system can upmix Dolby formats, while the Dolby Surround system can upmix DTS audio formats. You might need to play around with the settings a bit to figure out the sound that you prefer. We happen to be Dolby Atmos fanboys, but the 3D focus of DTS:X is certainly preferable for some.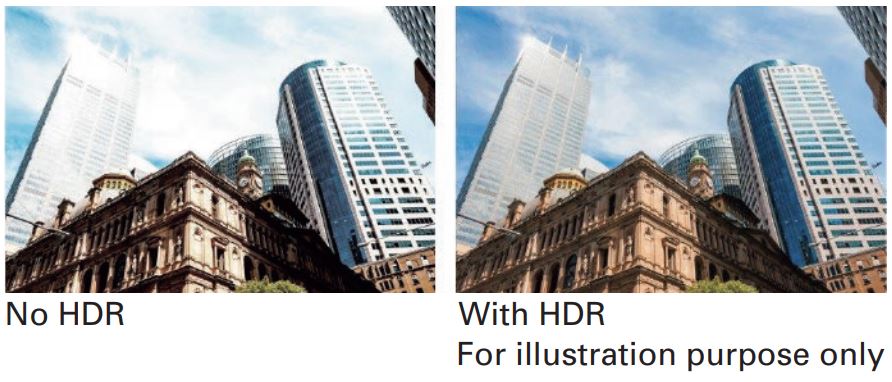 Video Support
With 4K quality video rapidly becoming the new standard, it's important to have an AV receiver that is prepared to handle the video of tomorrow. The LX 103 features pass-through for 4K HDR10, HLG (Hybrid Log-Gamma), and Dolby Vision signals. Pass-through means that the visual data will transfer right through the receiver without any interference that could potentially reduce the visual quality.
You'll also be happy to hear that every single one of the LX103's HDMI ports support 4K (60p / 4:4:4 / 24-bit), Wide Color Gamet (BT.2020), and HDCP 2.2, which means that once you're ready to upgrade your devices, your receiver will be ready to support them. You'll also need these ports if you're planning on watching any digital copy protected media. During our testing, the 4K pass-through was evident. There was no reduction in resolution or video quality, despite the majorly improved audio.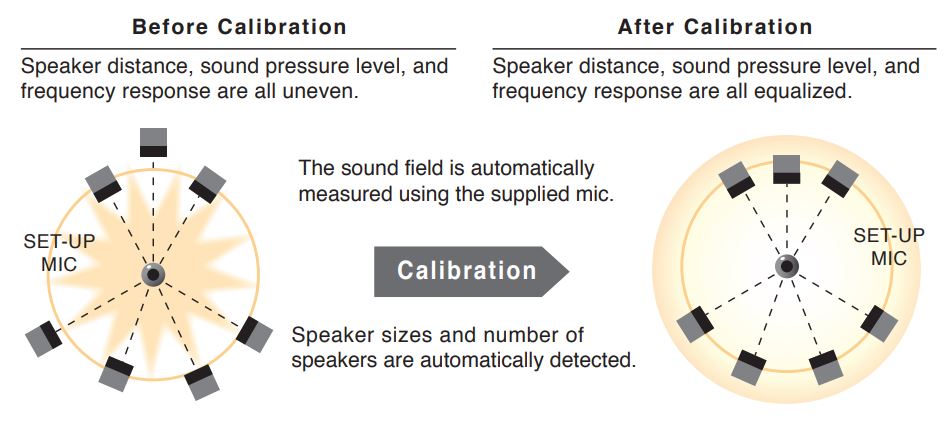 Calibration
We've always been a fan of Pioneer's speaker calibration system. Their own proprietary MCACC (Multi-Channel Acoustic Calibration System) was developed using technology adapted from professional recording studios. If you recall from earlier in the review, we mentioned that the packaging included a special set-up microphone. Using this special microphone allows the LX103 to measure for different speaker sizes, level and distance. The receiver than uses this information to automatically customize the equalization features. The result is a truly impressive acoustic experience. Pioneer has done a great job with the development of the MCACC system. When we tested out the calibration system we noticed a huge difference between different calibrations. All of the audio sounded spatially optimized and clear as crystal.
Bass Delay
Even the slightest of tweaks can make the biggest of differences. The LX103 features a synchronized sound system that helps avoid any phase shift between the main channel speakers and the subwoofers. Typically, this delay is caused by the bass management filter. Pioneer's Phase Control compensates for any delayed bass and synchronized the lows with the rest of the frequencies. Even when you can't consciously point out the issue, delayed bass can make surround sound sound slightly off putting. The LX103's syncing features do a great job at eliminating any bass delay. During our testing of the subwoofers we measured near perfect synchronicity with the main speaker channels.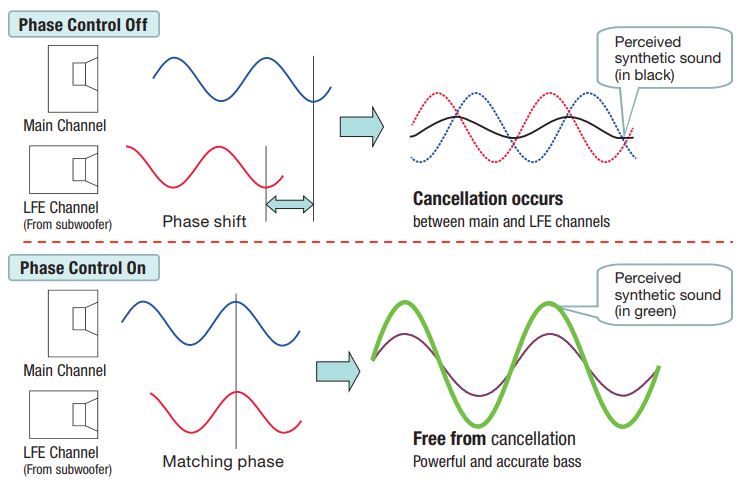 Phase Control
Much how delayed bass can sound off putting, Dolby Atmos-enabled speakers are so highly directional that the way they make sound bounce around your room can cause a sound delay which is even more uncomfortable than any bass issues. This is especially true when high directivity sound bounces off the ceiling, while low directivity sound travels directly into your ear holes. Pioneer's Reflex Optimizer uses phase control technology to adjust the shift. The Reflex Optimizer aligns the sound frequencies with the floor speakers, resulting in improved localized sound. Despite the low-end price of the LX103, we experienced very little to no phase shift delay with the Reflex Optimizer running in the background. The feature is super-intuitive and does all the work without you even having to ask.
Multi-Room Audio
The Pioneer LX103 offers multi-room audio through a few different methods. For starters, the reciever offers support for FlareConnect wireless multi-room technology, which allows you to share audio from a networked or external audio source, including your record player, CDs, streaming services… pretty much any external source you can think of. Pioneer offers several FlareConnect wireless speakers which you can place in any room in your home. We can't tell you how nice it was not to run wire all the way through our home. FlareConnect is such a time-saver.
The LX103 is also compatible with DTS Play-Fi, which allows you to stream music from any compatible mobile device, including iOS, Android and Windows, right into your multi-room sound system. Play-Fi is even compatible with Alexa, so you can use your Echo to stream music through your multi-room surround system. Welcome to the future!
Mobile Support
The Pioneer LX103 is Chromecast and Google Assistant compatible. With Chromecast built-in, you can use your mobile device to stream any of your favorite media directly to your receiver. This is especially helpful if you're already a Google product user. Having all of your gadgets on the same page is always nice. Chromecast also lets you control the LX103 from anywhere in your home using apps on your smartphone. Google Assistant support allows you to control the receiver via voice commands through Google Assistant-ready devices, such as your phone or Google Home devices. The Chromecast and Google Assistant integration felt very seamless. Controlling the receiver from across the house using only are voice was pretty neat, and certainly a great feature for people as lazy as us.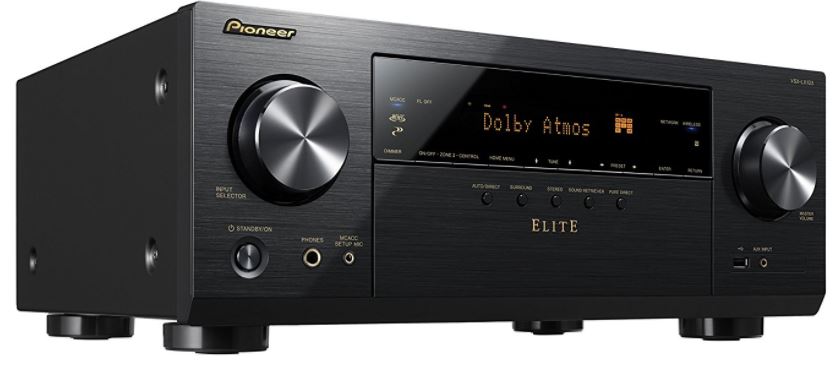 Dimensions
The LX103 isn't what you would consider a real space saver. This receiver has some girth to it, which is pretty standard with receivers that pack in so much power and can control so many speakers. The receiver measures in at 17 1/8 in. x 6 13/16 in. x 14 ½ inch and weighs 20.7 lbs. So, as we said, the LX103 has some meat on its bones, so you might want to make sure you make some space before making the jump. There's nothing more frustrating that making a big audio purchase, only to realize the device doesn't even fit near your TV.
Final Thoughts
The Pioneer VSX-LX103 is a phenomenal entry-level receiver. For the price point, the LX103 packs in some killer features, including 4K HDR10 pass-through, support for Dolby Atmos and DTS:X systems and Dolby Surround and DTS Neural:X upmixing. If you're new to the world of AV receivers, or are simply looking for a relatively low-cost addition to your home audio system, you can't do much better than this device.