Some people feel that the camcorder is the 'dad joke' of gadgets. As fathers' ourselves, our best advice for you is to suggest you look at the whole picture (heh, heh, heh). We know what you're thinking; if you have to listen to another terrible dad joke, you're going to 'snap' (heh, heh, heh). Well, stop being so darn 'negative' (heh, heh, heh).
But seriously, when people think camcorder, they think white tennis shoes, calf-high tube socks, khaki shorts and yacht rock. Now, as much as we love a little Michael McDonald and Hall and Oates from time to time, we'll admit that it's not the hippest of musical genres, just as camcorders aren't the hippest of gadgets. Here is the thing about camcorders: they know what their job is and they do it right. They are designed to document your most cherished memories; to create a moving, living, breathing archive of your life and the events that surround it.
The best dads understand that not all camcorders are created equal, and not all life events occur under optimal filming conditions. Sometimes the lighting isn't going to be just right. If you want to make high-quality video, you need a device made for doing the job. Smartphones are not designed for documentation. They are a fine option in a pinch, but if you want high-quality video and feature-rich capabilities, you're going to need to invest in a camcorder.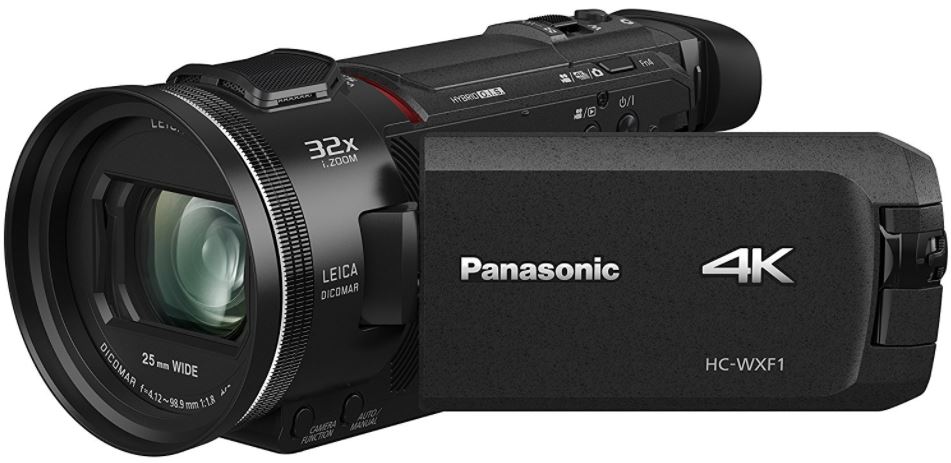 First Thoughts
The Panasonic HC-WXF1 4K UHD camcorder isn't your daddy's video recording device. Announced at CES along with the HC-VX1K and the entry-level HCV-800K, this camcorder packs a serious punch. A combination of twin and multi-cam capture, a gorgeous Leica Dicomar optical zoom lens, three optical image stabilization systems and a 1/2.5" BIS sensor makes the HC-WXF1 a camcorder designed for the video professionals and gadget geeks.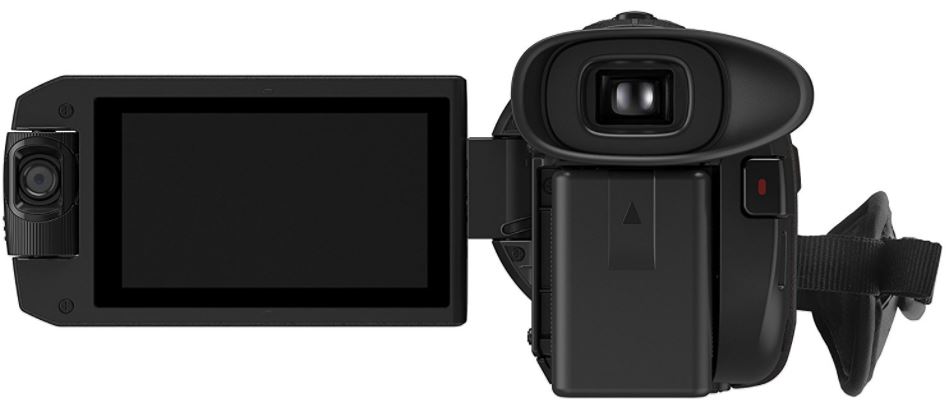 Low-light Settings
If you're sick of having your video quality look crummy in low light settings, then you're in luck. One of the highlights of the HC-WXF1 is its low-light performance, which can be mostly attributed to the Leica Dicomar 24x optical zoom lens that Panasonic has chosen for their newest device. The 24x Leica Dicomar is a 25-600mm f1.8-4.0 lens with a massive 1/2.5" BSI MOS sensor for capturing great video in low light settings. This makes life a lot easier for people who record a lot of events, such as weddings, bar mitzvahs and other events which often take place in less than stellar filming conditions.
During our hands-on review of the HC-WXF1 we tested the camcorder under a variety of light conditions and it did not disappoint. The quality of the picture remained sharp and distinct even in low light conditions. According to Panasonic, the WXF1's hardware improves low-light performance by 70% compared to other 4K models. By suppressing artifacts and noise, Panasonic creates a spectacular experience for videographers and amateurs alike.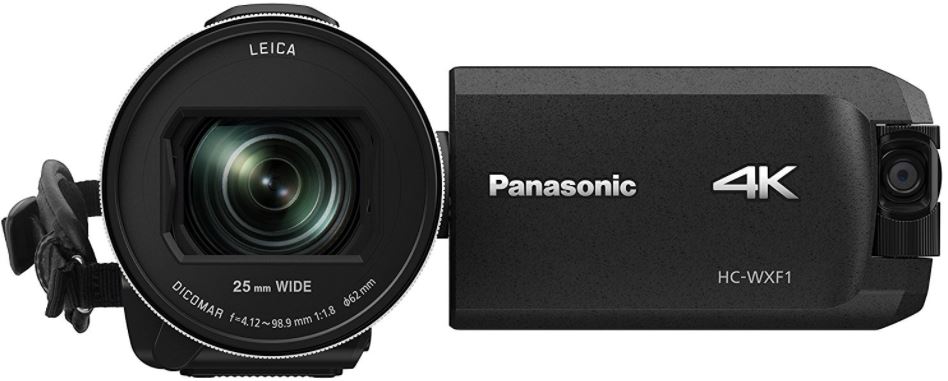 Video Quality
The HC-WXF1's Leica Dicomar lens isn't only effective in improving low-light performance. You'll also notice a marked improvement in resolution and contrast, with much less flaring and ghosting. One of our biggest regrets is that we didn't have better video recording equipment for our most cherished events. When we watch old family videos, we can't help but be distracted by the poor quality. Some people find vintage home videos to have a nostalgic charm. For us perfectionists, poor video quality is nothing except an eye sore. The Leica lens would have saved us a lot of trouble.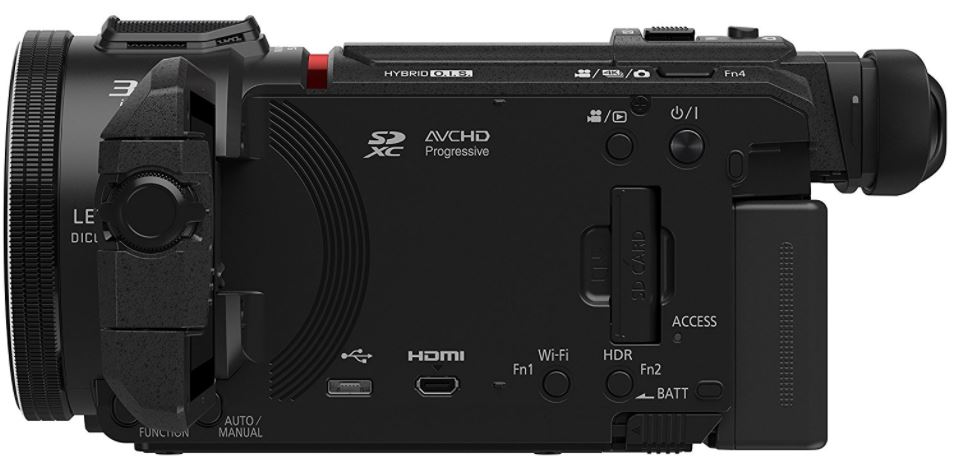 Image Stabilization
Panasonic's optical image stabilization has always been known as one of their camcorders' strengths. Their O.I.S. features have gotten even better with the release of the HC-WXF1. Instead of the mere 5 axis Hybrid image stabilization system featured in their previous models, Panasonic has added a ball image stabilization feature and an adaptive image stabilization system. The two additional stabilization features make a significant difference. The ball feature is primarily used to reduce small-amplitude handshake—basically movements that are typically out of your control. As an added feature, the ball also reduces wear on the camcorder's drive area.
The Adaptive stabilization feature automatically adjusts the camera's mechanical control system based on user characteristics, shooting conditions and positional data. You'll notice the new stabilization features the most when you are using the zoom functionality. Anyone who has ever recorded a video knows how flaky the video quality can become once you're zoomed in. Panasonic's O.I.S. works wonders on zoom footage. It's like a poor man's Steadicam.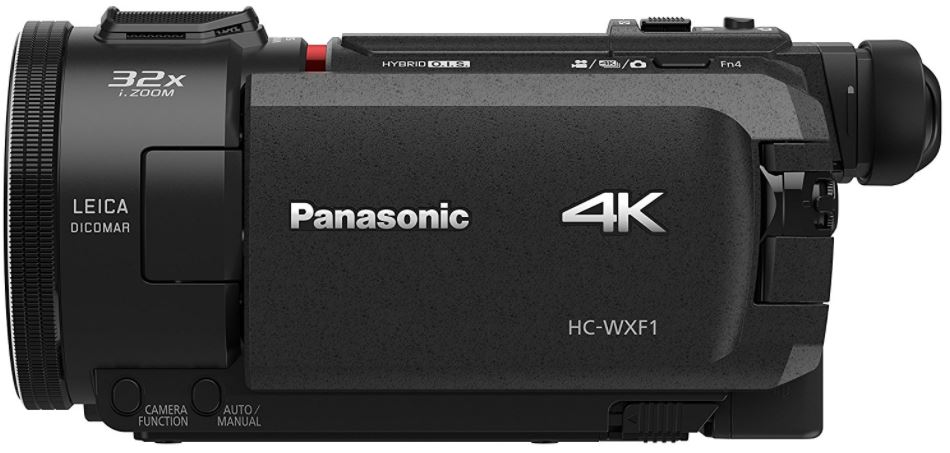 Form Factor
As a higher-end model, the HC-WXF1 features several optimized design changes to help us video nerds have more control over our filming. Panasonic's tilting electronic viewfinder makes it much easier to film from unique angles—angles that would otherwise be very awkward. The camcorder's Manual Ring knob gives the videographer some much needed customization options, with the ability to manually adjust the focus and iris. We know a lot of people like to use the camera's preset focus features, and as versatile as they are, they don't work for every situation. That is why being able to micro-manage is just as important. The addition of the tilting viewfinder and manual ring make the camera feel a lot more professional. While it's always nice to have a hinged video monitor as a recap, we feel way more cinematic when our eye is pressed up to a viewfinder.
Image Control
The HC-WXF1 features a new Active Control system that equalizes the contrast, resulting in a much more natural image. If you're all about the hyper-realism and bold color statements, Panasonic has you covered with the HDR Movie mode, which allows the lens to capture a much wider ranger between bright and dark area, resulting in an almost surreal realism. If you enjoy HDR photography, you'll like the HDR Movie feature.
The added sensor and lens features produce a much more cinematic-feel than any other similarly-priced camcorder we have ever tested, especially if you use some of the lesser advertised features, such as Dolly Zoom mode. The camcorder also features a Level Shot Function which automatically corrects any tilting that might occur when you are capturing images. An automatic Variable White Balance feature offers an adjustable range between 2000 K and 15,000 K. Making sure your white balance is right is an important, and often overlooked element of videography. The Panasonic white balance adjustment feature ensures that any unrealistic coloring is removed from the shot, ensuring that your whites look white. Think of it as Shout spray for your videos.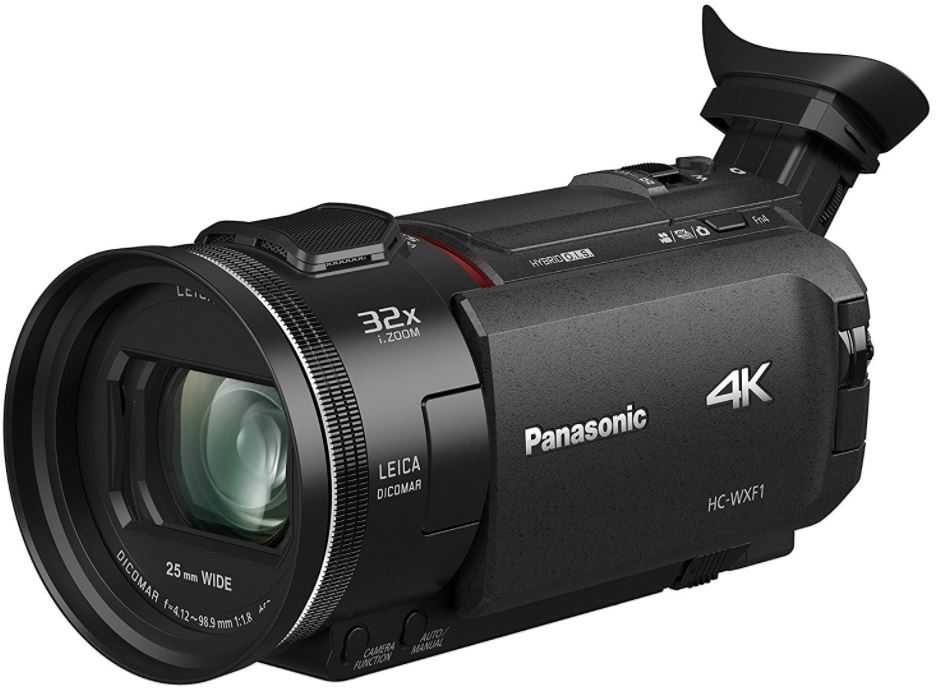 4K Cropping
The HC-WXF1 also features some cool 4K cropping features which really help get the shot that you want. The Post Auto Tracking allows for extraction of full-HD footage without the need for any framing out. Not only can you record fast motion in 4K and in wide screen format, but you can do so without having to worry about image stabilization or resolution changes. The Post Manual Tracking feature allows you to manually select your subjects, which is particularly helpful if you're filming an active event, such as a wedding, rather than a static YouTube video or interview. The Post Close-Up features allows you to crop your surroundings at 4K resolution if your footage does not feature a lot of movement.
Design
The design of camcorders hasn't changed much over the past decade or so. The only difference you might be able to point out in modern camcorder design is the tendency for the form factor to have sharper edges. Ten years ago, the tech world was obsessed with curves. Today, we have returned to the days of sharper lines, as evidenced in the design of the HC-WXF1. The effect of the sharper edges makes the new camcorder looks more compact. The camera feels great in your hand. It feels like a natural extension of your body, which is what you want out of any handheld device.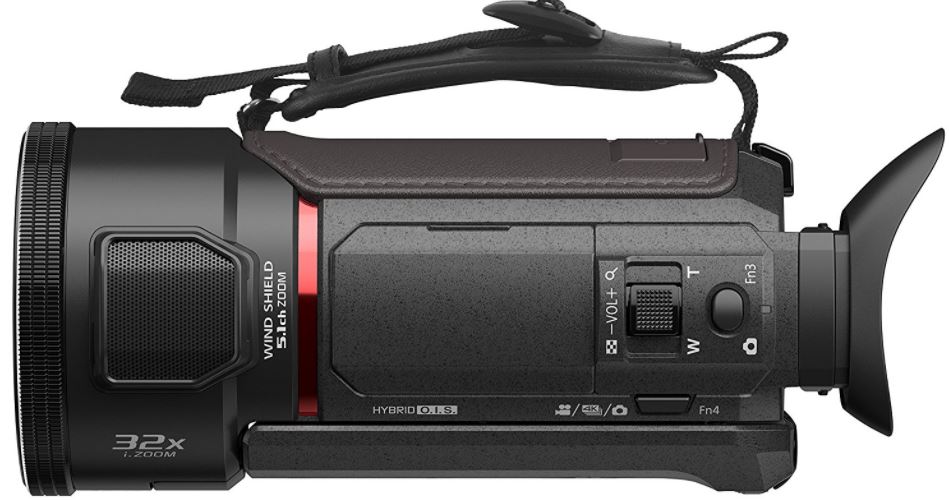 Final Thoughts
The HC-WXF1 is shaping up to be Panasonic's new flagship camcorder. With its combination of solid hardware, including a killer Leica lens, and its intuitive algorithms and sensors, this camcorder is a solid choice for anyone serious about their video footage. It's a bit pricier than some of the competition, and certainly more expensive than most other Panasonic camcorder devices, but you can see where the extra money is going. If you're looking for a camcorder just to diddle around with at home, you might not be super interested in the HC-WXF1, as it might have more features than you actually need, but think of it this way: there may just be features you don't need you know yet.
When compared to the 4K camcorder competition, notably the pricier Sony FDR-AX100/B and the Sony FDRA53/B, the HC-WXF1 holds its own among the pack. The HC-WXF1 is a good bang for your buck, and serves as an awesome alternative to the super-expensive and the mid-upper range camcorders. The biggest win for the Panasonic camcorder is their image stabilization and their focusing. Sony's camcorders have a reputation of having focusing issues at times. We never had a similar problem with the Panasonic HC-WXF1.
Whether you're filming a baptism, a bar mitzvah or a wedding, the HC-WXF1 is a solid choice. It is a great first step for producing professional grade video content without the massive expensive of completely professional equipment. This camcorder strikes an important balance between customization and micro-managing, allowing the device to take the reins when you're not in the mood.
The next time you're poking fun at a dorky dad with a camcorder, think about all of the amazing things a good camcorder can do. One day, you too will be a Hawaiian shirt wearing, safari hat bearing, yacht rock listening, sandals and socks rocking, proud owner of a dad bod and a camcorder. That is the American Dream.