If you're using a standalone camera instead of your smartphone, it's probably because you want the kind of features that you still can't find on phone-based cameras. You're looking for things like a large mechanical zooming lens, better shots in low-light conditions, a rapid shutter speed, and so forth. And anyone doing outdoor photography will probably want a camera that can handle rugged environmental conditions.
With the widespread popularity of smartphones, many types of compact cameras have become less popular. But the waterproof camera market is actually exploding. People who become interested in photography through their smartphone then move on to buy cameras which do things their phone can't. And a fully waterproof, heavily rugged design isn't something you'll find on an ordinary smartphone.
Panasonic DC-TS7K LUMIX TS7 Waterproof Tough Camera
Panasonic is no stranger to the waterproof camera market. The Lumix TS7 is their latest high-end waterproof compact. It's a fairly distinct improvement over the TS5, its predecessor. Part of the reason why the TS7 is such a formidable upgrade over the TS5 is because its Panasonic's first revision to their waterproof design in about half a decade. And in this leap forward, the TS7 has a handful of features you've probably never seen on a waterproof camera.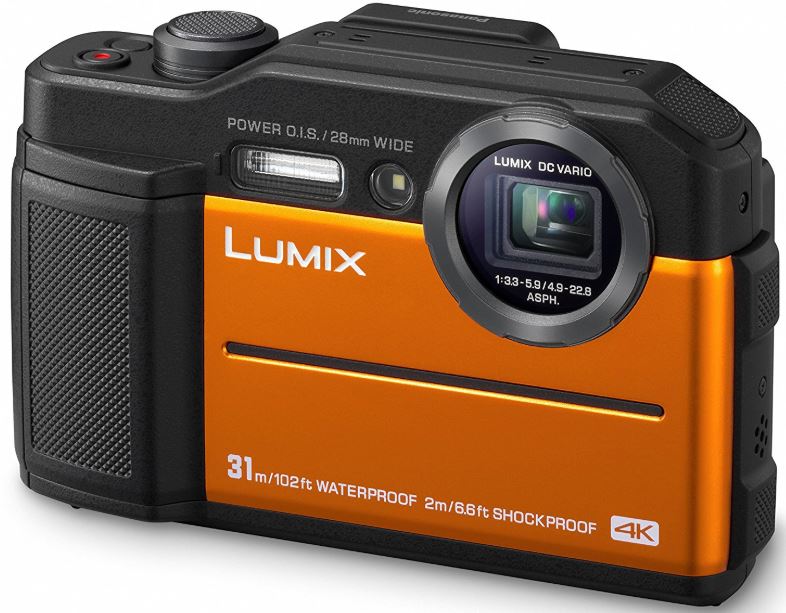 Features
The most prominent features of the TS7 are its built-in electronic viewfinder, its 4.6x optical zoom lens, and the impressive waterproof rating. The waterproof rating is a good place to begin. The TS7 can handle 31 meters of depth, which is about 102 feet. Ignoring cameras with dedicated housing, that's deeper than all other waterproof cameras on the market currently. And it's certainly much deeper than you can go on nearly all recreational dives. You really have to strain yourself to find circumstances where 31 meters isn't going to cut it.
But you don't have to be an ocean photographer to make good use of the Panasonic TS7. If you don't plan on getting wet, you'll appreciate that the TS7 is quite shockproof. It's built to survive drops of up to 6.6 feet. In other words, a tall person could hold the TS7 above their head, accidentally drop it, and the camera would be expected to survive. It's also crush-proof for 100 kilos of force, which means it would likely survive a strike from a hammer. That's certainly reflected in the tempered glass they've used. And like similar waterproof compact cameras, the TS7 works in low temperatures like 14°F.

Image & Video Quality
The electronic viewfinder is another key feature that better enables you to get the shots you're trying to take. The built-in electronic viewfinder is rather unique for a camera of this type, and a welcome addition for photographers of all skill levels. However, running the EFV persistently does have a steady drain on the battery. The focusing area is 30-cm and beyond, which is about average for an EFV.
It used to be the case that all anyone cared about was megapixels. That's largely not true anymore, which is why many of Panasonics recent cameras have used a modestly sized 1-inch sensor. By contrast, the TS7 uses a 1/2.3-inch MOS sensor. If you're not intimately familiar with the camera industry, that means Panasonic is going essentially the opposite direction of competitors like Olympus. They're continuing to drive towards a high-megapixel design, and opted to take the TS7 to 20.4 megapixels with this sensor.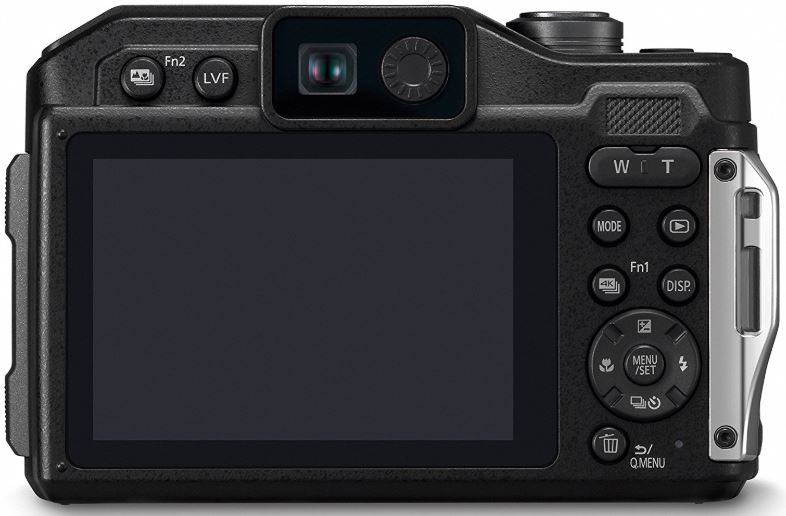 The final key feature of the TS7 is the 4.6x zoom, covering a 28-128mm field of view. That coverage is essentially unchanged compared to Panasonic's previous cameras. Panasonic's philosophy here seems to be "if it isn't broke, don't fix it." Consequently, you can expect to continue to see more of the 4.6x zoom from their next generation as well.
The TS7 sports a highly adjustable shutter speed, ranging from 1/16000 to 4 seconds. That makes it exceptionally equipped for a variety of different types of photography. But these days, cameras aren't just cameras, they're video cameras as well. With respect to video, the TS7 can handle 4K resolution with 30FPS. The TS7 provides continuous autofocus during video recording. And while maintaining the full 20.4 megapixels, you can take burst shots at 10FPS.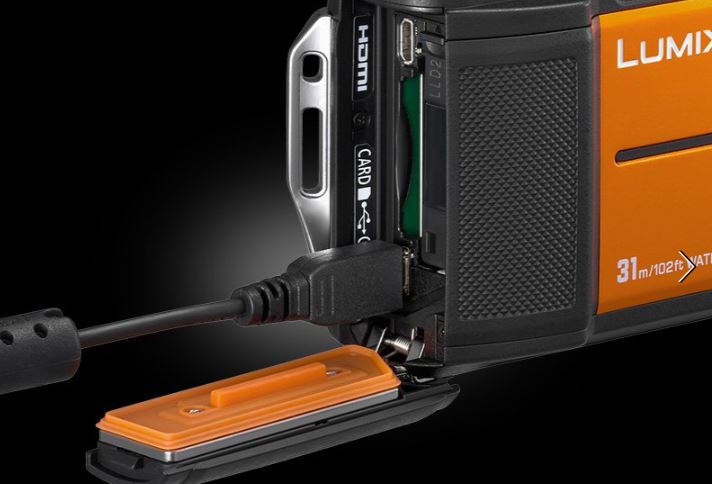 Battery Performance
The TS7's battery is one area where Panasonic hasn't made any improvements over the previous model. The battery in the TS5 actually performed about 20% better than the TS7. That's due to all the added features within the newer model, especially the electronic viewfinder. Consequently, the TS7's battery is good for about 300 shots. That 300 shot total drops down towards 250 if you're perpetually using the EVF.
One more thing to note about the battery is the TS7 offers in-camera charging. Unlike many of Panasonics earlier cameras, you won't have to pop out a battery to be charged, or otherwise jump through hoops for a recharge. It's a small extra, but it's a nice convenience that adds to the overall quality of the camera.
Ease of Use and Portability
In the TS7, Panasonic has built something that's sturdy enough to be used underwater in scuba gear, and versatile enough to be used on land. And whether you're in the rough or not, the TS7 remains as easy to use as a toy. If you've ever used a camera in your entire life, you're already 90% of the way to mastering use of the TS7. Every design decision seems to have been made to make ease of use a little bit easier. Even the shutter button is particularly large, making it easy to operate with precision, even if you're wearing thick gloves.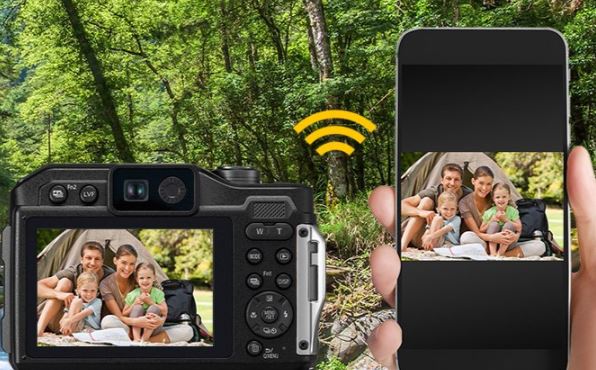 The TS7 is built to 4.6 x 3.0 x 1.5-inches, making it compact and easy to take with you. It weighs as little as 11.3oz with batteries and SD card inside. On the backside of the camera, you'll find a full 3" display. While 3" isn't especially large, but it does provide you plenty of options. And images look crisp and clear on it, thanks to a sizeable 1,040,000-pixel resolution. The entire screen is further protected with tempered glass, but that protection unfortunately means there is no touchscreen control.
Within that display you'll be able to find the built-in altimeter, as well as the built-in compass. And here is where you can toggle on the LED light that's on the camera to help improve poor lighting conditions. Unfortunately, it can only be used during videos, and not while shooting stills. The inclusion of an altimeter and compass clearly shows the direction Panasonic has taken with the TS7, and who they intended to build this camera for.
Then there are standard features. The TS7 supports SD cards, and it has a USB 2.0 port for 480 Mbit/s connections. Aesthetically, the TS7 is available in blue, black, and orange. Coloring actually has a distinct impact on the overall appearance of this camera. Moreover, the front panel has plenty of places where it it's conceivable the TS7 might end up taking marks and scratches. But the sturdy casing seems to take rough handling with no problem.
Finally, it's worth noting that the TS7 supports Wi-Fi connectivity. As you'd expect, the Wi-Fi connection makes it a breeze to quickly move your photos from one device to another. After you've punched in your router's information into the camera, connectivity is fast and simple. The only drawback is that you do have to spend those initial few moments setting up your connection in the settings menu of the TS7.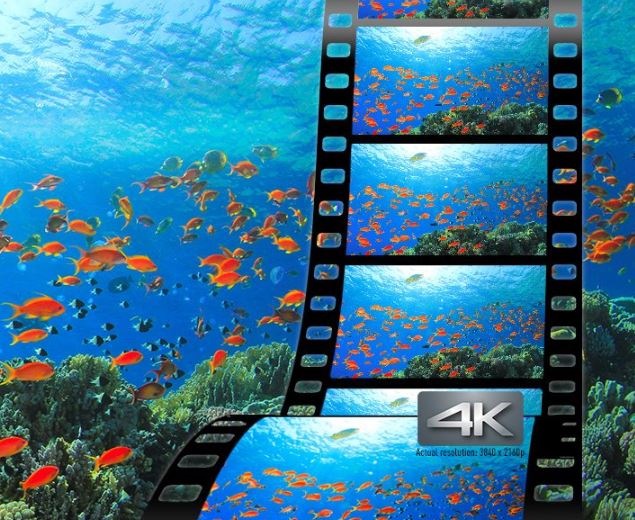 Other Considerations
While most people will find the Wi-Fi is enough, but it's worth noting the TS7 doesn't have NFC or Bluetooth. If you spend hundreds of hours using your camera, there are certain circumstances where you'd want the convenience of Bluetooth, especially between devices that aren't on the same Wi-Fi network. And it's not unusual to see Bluetooth bundled with Wi-Fi for cameras at this price range, so its absence is noteworthy. Likewise, the compass and altimeter have a lot to offer, but you won't find a built-in GPS.
Mechanically speaking, there's almost no drawbacks to the design of the TS7. One complaint you might make is that in particularly bright conditions, it can be difficult to make use of the rear display. In most ways, the TS7 is as big upgrade over the TS5. The battery life is the biggest exception to that rule. While the TS7 has an acceptably powerful battery life, it's certainly not one of the stronger features of the device. And while few people may have expected this feature, the TS7 doesn't support RAW capture.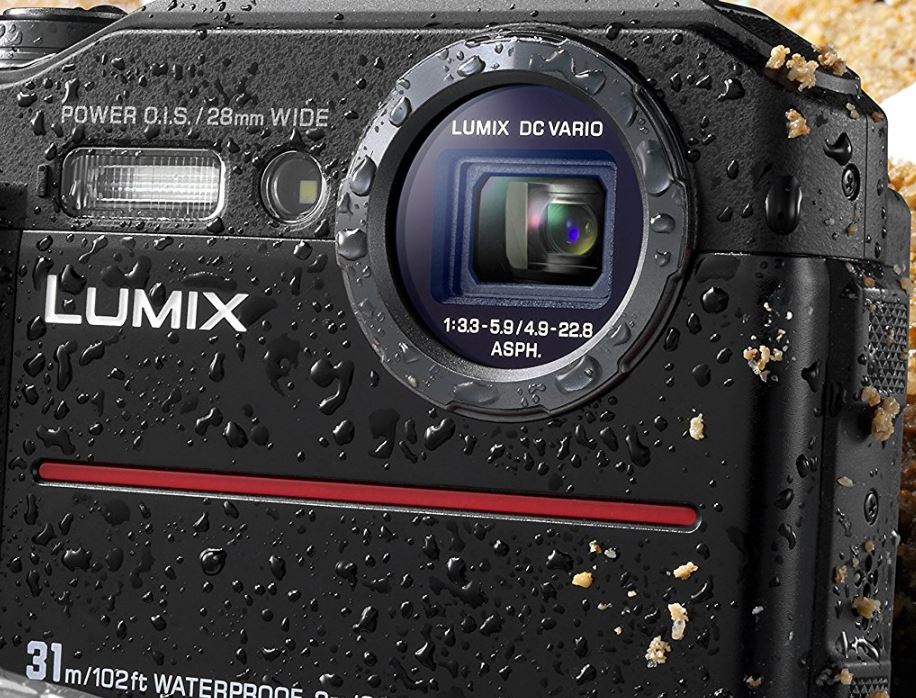 Who Should Choose the Panasonic DC-TS7K LUMIX TS7 Camera?
There are plenty of things to like about the Panasonic Lumix TS7. It's versatile, durable, and competitively priced compared to its competition. For anyone doing aquatic photography, it's easy to say this camera is a great pick. Unless you plan on renting a submarine, the waterproof protection is more than you'll ever need.
It's an excellent choice for taking shots during kayaking, skiing, or on a beach trip. The 20.4-megapixel sensor provides you plenty of pixels to work with, and the electronic viewfinder works great at helping you find your next shot. The TS7 feels as easy to use as playing with a child's toy, all the while producing great photos.
Independent of its durability, the TS7 is a highly capable device. However, the rough-and-tumble design of this camera is virtually one third of the entire set of features. If you're extremely careful with your equipment and you don't need waterproofing specifically, you can probably find a camera better adapted to your needs. If nothing else, you could find a camera with a greater battery life.
But anyone taking outdoors shots in tough conditions will love this camera. If you need a waterproof, shockproof camera that's ready to be used in below-freezing weather, then the TS7 is an excellent choice. Even if you're not going on a wildlife expedition, it's easy to take advantage of a device the durability of the TS7. It's clear that Panasonic is attempting to reestablish themselves in the waterproof camera market, and the TS7 will do just that.