For many of us, there are very few things in the world that can fill the place reserved for our pets. If you're a dog owner, you can't help but feel a little guilty every time you leave the house. Most of us know that they'll be waiting patiently for hours until the moment you arrive back in the door. If you're a cat owner, then you could probably use some reassurance that your cat still remembers that you're even alive.
Regardless what type of pet you prefer, the Petcube Play is a unique little toy that's designed to address the disconnect we feel when we're out of the house. Once again, technology has brought us closer together. But this is much more than just a simple webcam. The petcube play has some unique features that you just can't find in any other pet toy. With such an incredible response on Kickstarter, we couldn't wait to see how this unique little toy performed in real life.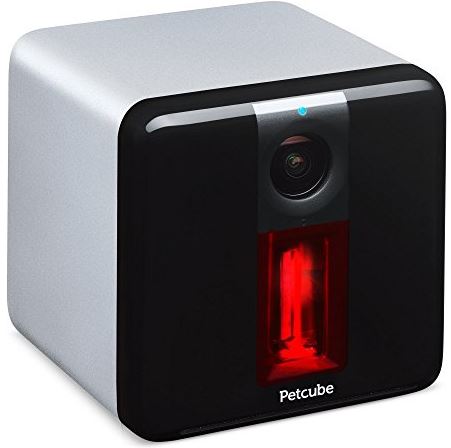 First Look
This compact little box might not look like much from the outside, but it's a window to a whole new world on the inside. Considering that they managed to jam everything into a compact 3″ x 3″ x 3″ box, we were really surprised at all the features they crammed inside. If you've seen the original Petcube before, then you have a rough idea what this unit is going to look like. While the original had sharp lines and a recessed face, the Petcube Play obviously went for a more playful look. They rounded off the edges and extended the face of the camera, designing the flat black front to contrast with the bright white case. If you want something a little more sleek and unassuming, you can select a black model.
Functionality
So, how exactly does this thing work? The Petcube Play uses a combination of three technologies to bridge the distance between yourself and your pets. It connects wirelessly to your home network and creates a server so you can access it remotely. From anywhere in the world, you can live stream real-time video of your pets at home. But you're not just watching them, you also have the ability to interact! Using the downloaded application, you can talk to your pets using either your voice, or play with them using the included laser pointer. To understand how these features work, we'll have to look at them individually.
Application
When you first purchase the Petcube Play there's a brief setup procedure. You start by connecting it via Wi-Fi direct. In a few moments, you'll be asked to input the Wi-Fi password for your network, and you're ready to go.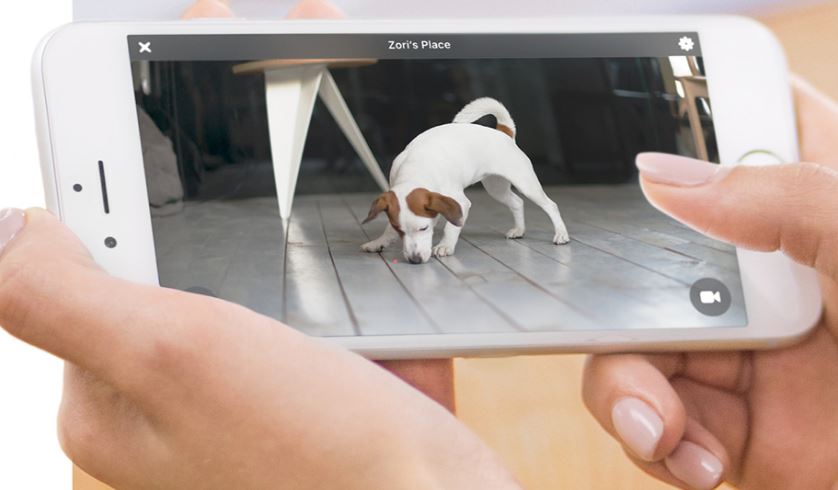 You'll then be brought to the mobile interface. The mobile app is very intuitively designed. It's one of those programs where it just works, without you having to think about it. There are barely any options or navigation on the menu. Most of the controls only require that you interact with the screen as normal. For example, adjusting the focus just requires a simple tap on the subject. Using the laser pointer is as simple as touching the screen where you want it to go, and the device will automatically translate your commands into reality. There's a button on top that turns on the microphone. Once tapped, you'll be able to hear what's going on through your phones speakers, and respond by talking naturally.
The app is completely free to use for real time video. There is an optional cloud recording service, which you're provided with for the first 30 days, free of charge.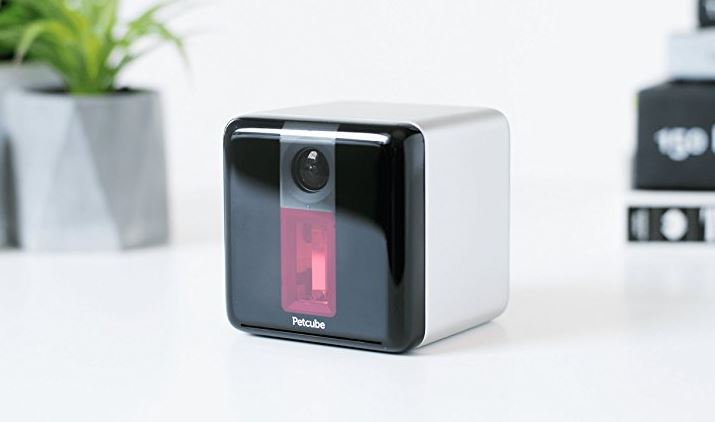 Video Quality
Perhaps the most impressive upgrade with the newer model Petcube products is the impressive HD camera. Although the last model was 1080p as well, it's clear that they've done some serious upgrades. The video was absolutely crystal clear, among some of the best we've seen from such a compact unit. There is no distortion or blurring, even during high motion events. (Something you'll see a lot of with the laser pointer!)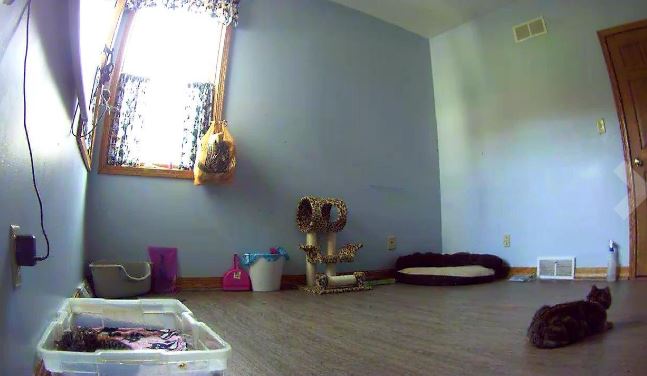 The camera is also capable of taking videos during the night. It uses an infrared camera to illuminate the surrounding area, even when it appears dark to us. The night camera is best used in smaller rooms, as it's not quite bright enough to illuminate a large area. But if you do have the pleasure of using it at night, this is the best time for playtime!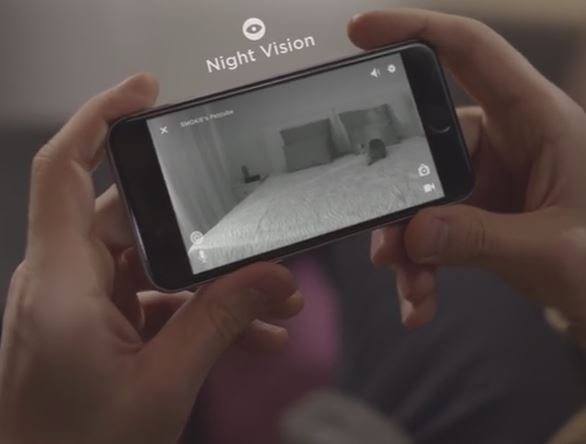 Laser Pointer
The main feature of the entire system is the built-in laser pointer. I'm sure that we've all seen firsthand how excited our pets get when we bust out the laser pointer. Just a small flick of the wrist will have our cats and dogs racing around the room to try and catch it.
With the Petcube Play, the laser pointer is both powerful and safe. The dot is bright, focused, and easy for anyone to see, but doesn't run the risk of harming them in any way. It's attached to a little motor which can adjust the position. When you place your finger on the screen, the laser pointer will dart around the room with it. There is no better way to help your pets burn some energy.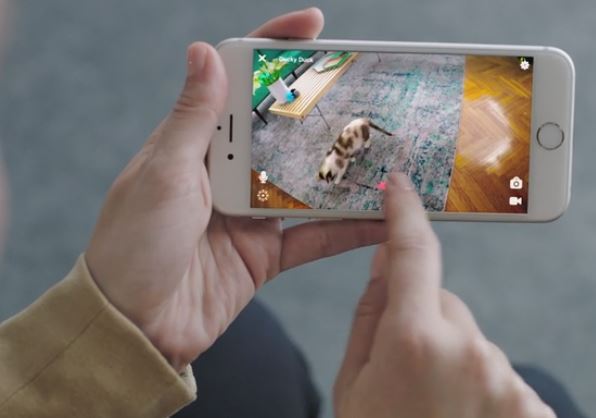 If you're too busy during the day to check in, you can still give your pets a little workout. The included autoplay mode allows you to set pre-configured time to switch the laser pointer on. You can even use a recording of your voice to call your pet over! If your pets are anything like ours, this autoplay feature is sure to save house from getting damaged when your furry friend needs to let off a little steam. But the best part of it all is that this session is recorded, so you can review it at a later time.
Sound Quality
For such a compact little device, the sound quality was surprisingly impressive. Naturally, how good your voice sounds will depend a lot on your smartphone. Most modern models support HD voice, allowing your voice to come through in an incredibly realistic way. Pets are very sensitive to the sound of their owner's voice, so the fact that they used a high-quality speaker here is essential.
The microphone is also quite impressive. While the subtle nuances of your pets excited yelps and meows aren't quite as essential, the sound quality is still much better than what you'd expect through your smartphone.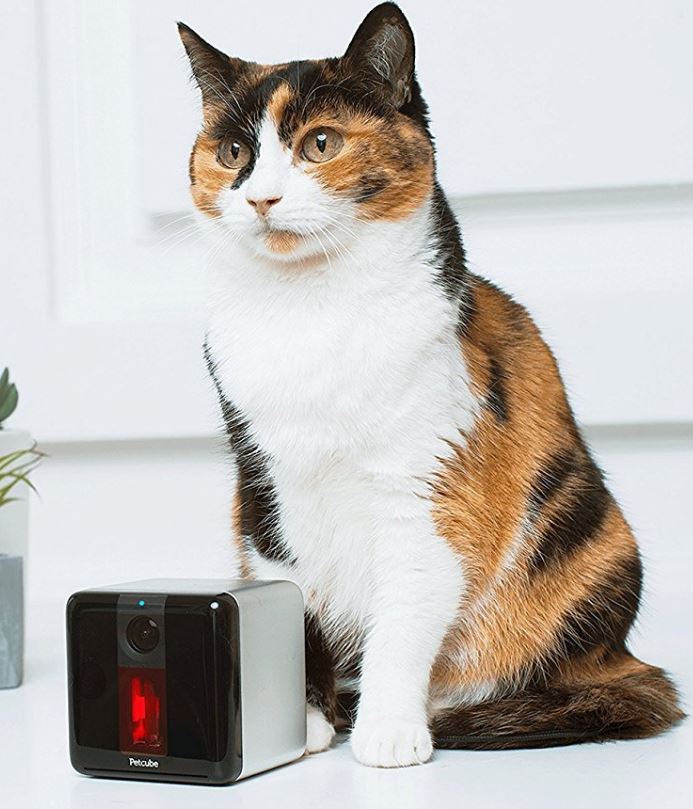 Social Connectivity
There are two ways that this system helps you stay connected. First, you'll have the option of getting notifications whenever your pet is in frame. Just like when you receive an email, your phone will buzz and you'll be able to open a real-time video to begin interacting. You can save these videos to your phone, and share them with your friends and family.
Another option is the Cloud storage service. Thanks to the included trial, we got to try this out ourselves for a little while. Haven't we all, at once point or another, wondered what our pets get up to at night? Now we can find out. Anytime motion is detected, the Petcube Play will silently record. In the morning, you can log into your cloud account and review the videos. What you'll find will often surprise you!
Should I Own the Petcube Play?
At least for us, the Petcube Play took all the anxiety out of leaving our pets at home. We can check up on them whenever we start to worry, and comfort them with the sound of our voice if they seem distressed. I'm sure that we've all, at once point or another, come home to find something has been destroyed by a dog who's got just a little too much energy. With the built in laser pointer, we can help them burn off steam in between the time we leave and come home. For this reason alone the Petcube is a worthwhile investment. All the fun you're going to have with it is just a nice little bonus!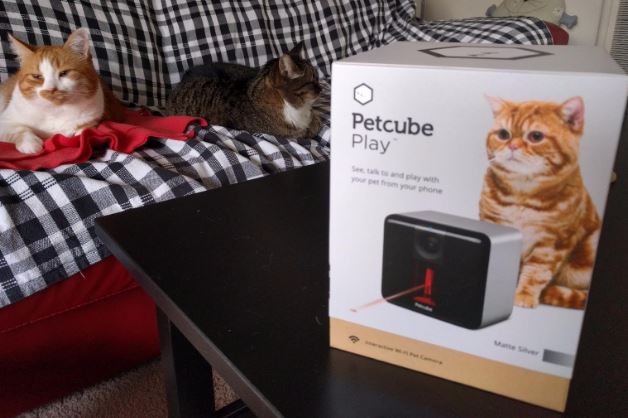 Want a Little More?
For some, the Petcube play is a nice idea, but not quite enough to warrant a purchase. You might also want to consider the Petcube Bite. It's very similar in nature to the play. The difference is that in place of a laser pointer, it's got a motorized treat flinger. Just tap your finger on the screen, and a dog or cat treat will launch from the lower hopper into the willing mouth of your furry friend.