Proscreencast SC01
Pros
Cast your phone, PC, or tablet to any HDMI display.
Supports most streaming services.
Easy, app-free setup.
No local WiFi network required.
Cons
Cannot cast some streaming services from iOS devices.
4K configuration is a bit of a headache.
Nowadays, screen casting is standard on smartphones as well as tablets and computers. But if you have an older TV or monitor, you might feel like you're left out of the loop.
Thankfully, you don't have to be. Instead, you can use the Proscreencast SC01 Miracast Dongle. It's a small device that attaches to your "dumb" TV and turns it into a smart TV.
The SC01 intrigued us in part because it's manufactured by Arylic. Not long ago, we reviewed the Arylic A50+. It's a wireless amplifier that can play audio from almost any source, and link together to cover multiple rooms.
All in all, we were impressed, and Arylic has a good track record. But that's not a 100% guarantee that the SC01 will meet our standards. Let's take a closer look, and see how it performs!
What is the Proscreencast SC01 Miracast Dongle?
The concept behind the Proscreencast SC01 is straightforward. It allows you to cast your phone or tablet to any HDMI display. This can be anything from a monitor to a TV to a projector. If it accepts an HDMI input, you won't have to worry about it not being able to play your video.
But what exactly does "casting" mean in this sense? There are actually three different modes, and each of them works a little bit differently. Here's a quick breakdown:
Screencasting mode – Screencasting works like a standard smart TV. You use your streaming app to cast to it, which allows you to do other tasks without interrupting your video. This mode will work with any app that has a casting function. Most major video and music apps these days have this capability. That said, some more niche apps lack casting support.
Direct screen sharing – In this mode, the dongle creates an exact copy of whatever is on your screen. You can use direct sharing if your streaming app doesn't support casting. It's also useful if you want to give a presentation, since you can show slides directly from your phone.
Desktop mode – Desktop mode is a special mode that's available on some Samsung, Smartisan, and Huawei phones. Your phone will appear on your TV, but the display will be much larger, similar to a PC. This isn't much use for movies and videos. But if you use your smartphone for work, it can come in handy.
When screencasting or direct sharing, you can switch between portrait and landscape modes. This is essential for apps like TikTok that use a portrait orientation. Otherwise, your video would be sideways on your TV. For apps that use a standard landscape orientation, this won't be necessary.
Overall Design
The SC01 dongle is manufactured from black ABS plastic, which is common for electronics. It should blend right in with the standard black of a TV. The matte finish wipes down easily, and it doesn't collect fingerprints.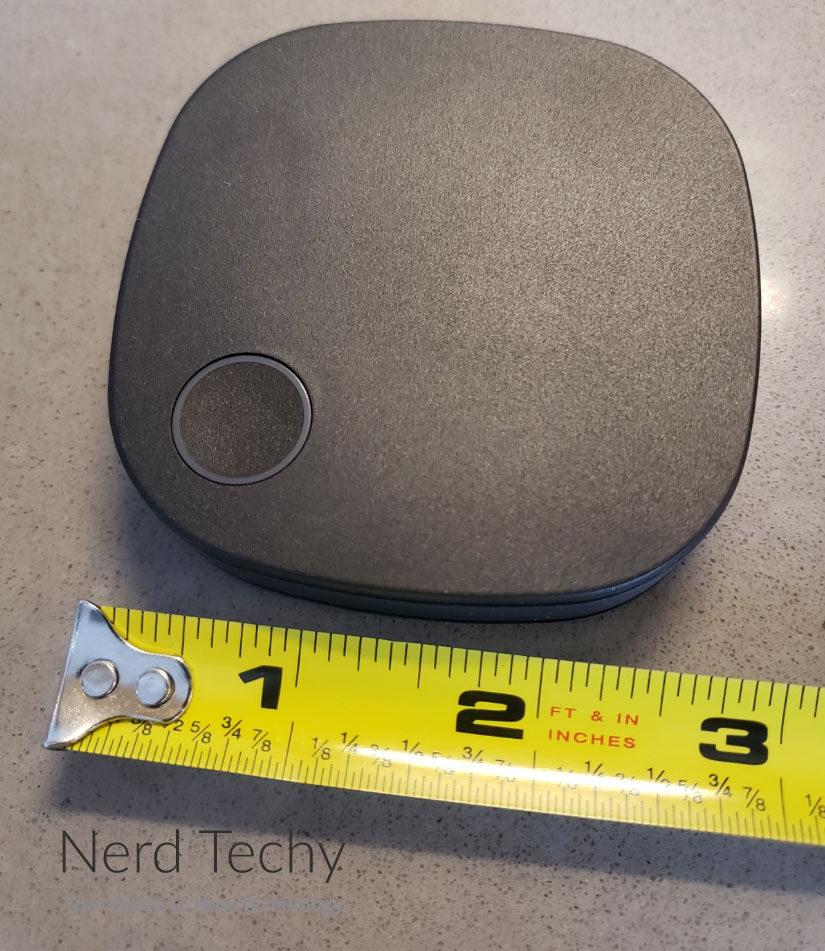 It's approximately square in shape, although the corners are significantly rounded. The total size is 3 inches square and 1 inch thick, with a weight of 7 ounces. This light weight allows it to dangle freely from an HDMI port without causing any damage.
The design is reasonably tough, and won't easily get damaged by adverse conditions. It will function between 32 and 122 degrees Fahrenheit, and between 10% and 80% relative humidity. If your living room somehow exceeds those parameters, you have more pressing concerns than a screen casting dongle.
On the top surface of the dongle is a large circular button. It's concave, and surrounded by a white LED light ring. This button switches between landscape and portrait modes. Just press it once to change modes, and press it a second time to switch back.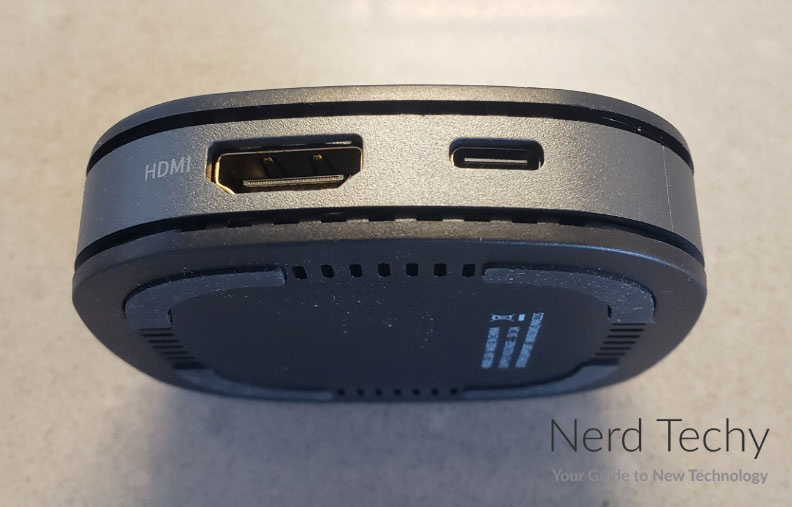 On one edge of the housing are two ports. There's an HDMI port for connecting to a display, and a USB Type-C port for connecting to a power supply. The kit includes a short HDMI pigtail, as long as a slightly longer USB Type-A to Type-C cable. You can plug this into your TV's USB port, if there is any. If there's not, you'll need to provide your own charging block. This may require the use of a longer aftermarket USB cable.
One last thing we should mention is that if you replace the HDMI cable, the replacement must support HDMI 2.0. Otherwise, you won't be able to get 4K video.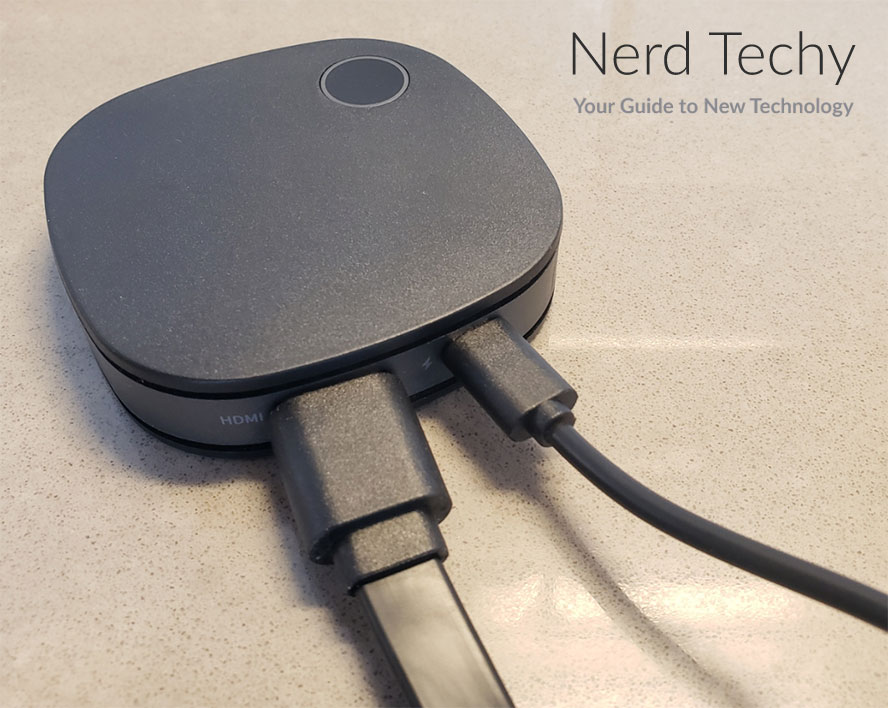 Compatibility
The Proscreencast SC01 is compatible with all major operating systems. You can cast to it from Android and iOS, as well as Windows and MacOS. If that's not enough, it also supports casting from the Google Home app and the Chrome browser. So if you're using a Chromebook, for example, you'll still be able to cast.
In addition to supporting most operating systems, you can use most popular formats. Airplay and Chromecast are standard on pretty much any smart TV, and they're supported here. However, the SC01 also supports the Miracast and DLNA standards.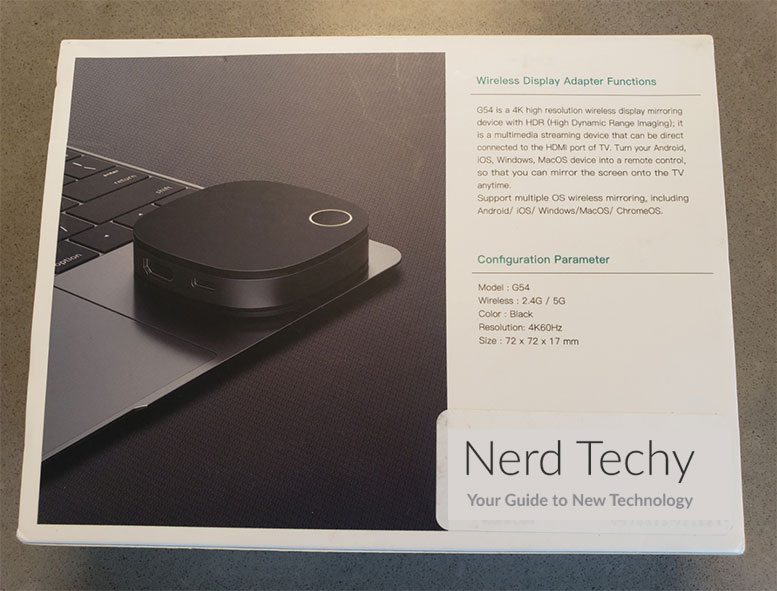 As we mentioned, you can use most streaming apps to cast directly to the dongle. However, there are some significant limitations when you're casting from an iOS device. For copyright protection reasons, you can't cast video from a number of the most popular apps. These include Netflix, Hulu, and Amazon Prime. You can use screen sharing to circumvent this, but then you have to keep the video open on your phone, too. If you're an iPhone user, you'll want to check the complete compatibility list.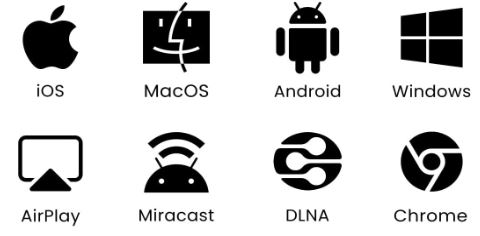 The dongle supports 720p, 1080p, and 4K resolution. 1080p and 720p video plays at 60 FPS, while 4K resolution can be 30 FPS or 60 FPS. 720p and 1080p resolutions will work automatically right out of your box. You'll get the maximum resolution based on the video and your display. However, 4K video will not cast at 4K automatically. By default, it will downscale to 1080p. To fix this, you'll need to manually change the settings. We'll get into the specifics momentarily.
Initial Setup
The Proscreencast SC01 supports both 2.4GHz and 5GHz wireless networks. 5GHz is ideal, since you'll have a higher bandwidth and better video quality. But 2.4GHz will work if that's what you've got. Even then, you'll be able to cast in 720p without any hiccups.
Better yet, the dongle can operate on its own, without connecting to WiFi. It has a built-in WiFi access point that you can connect to with your phone. Then watch videos using your phone's data plan, and cast them to the TV. This is the easiest way to go, since you don't have to worry about other traffic using up bandwidth.
That said, you'll need to connect to your home network to perform the initial setup. What you won't need is any kind of app download. All you have to do is plug the dongle into your TV, and plug the USB cord into a power supply. At that point, a series of instructions will appear on your screen. You'll be prompted to scan a QR code, or log the dongle into your WiFi network manually. After that, you'll be free to cast.
Note that you'll need to perform this pairing process any time you want to cast from a new device. That way, other people can't accidentally hijack your video.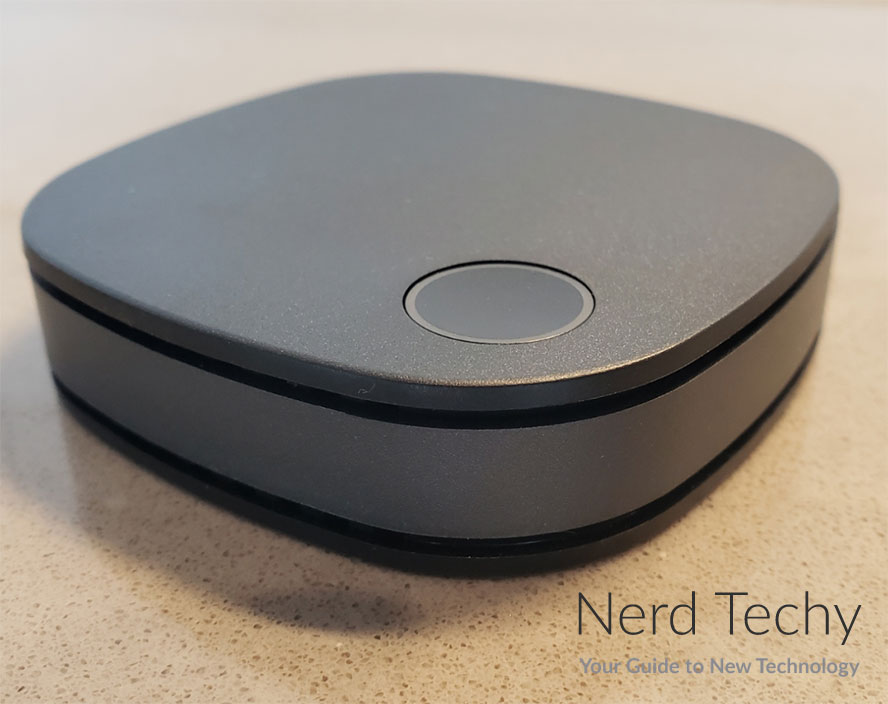 4K Configuration
As we mentioned, 4K screen casting won't be available out of the box. In fact, you'll be hard-pressed to find a reason to use it. For one thing, most streaming services don't support 4K video. And even those that do almost never deliver a consistent 4K feed in real time. The only reliable source of 4K video is a Blu-Ray disc or footage you've shot yourself.
Note that this feature is only available on iOS and Android. It won't work on a PC, Mac, or Chromebook. You also need to make sure that all of your hardware is 4K-capable. This means using an HDMI 2.0 cord if you've replaced the pigtail, and you need to have a 4K display. That said, if you want to set up 4K casting, here's how it's done.
On iOS:
Open your phone's WiFi menu, and connect directly to the dongle's WiFi receiver. It will be called "ProScreenCast-" followed by a series of six characters. When prompted for a password, enter "12345678."
You can either scan the QR code at this point, or enter "192.168.203.1" in your browser's address bar. You'll see a few options on the next screen. Select "Resolution." The 4K options are listed as "3840*2160_60P" for a 60 FPS framerate, or "3840*2160_30P" for 30 FPS. Choose the one you want, and you can start streaming.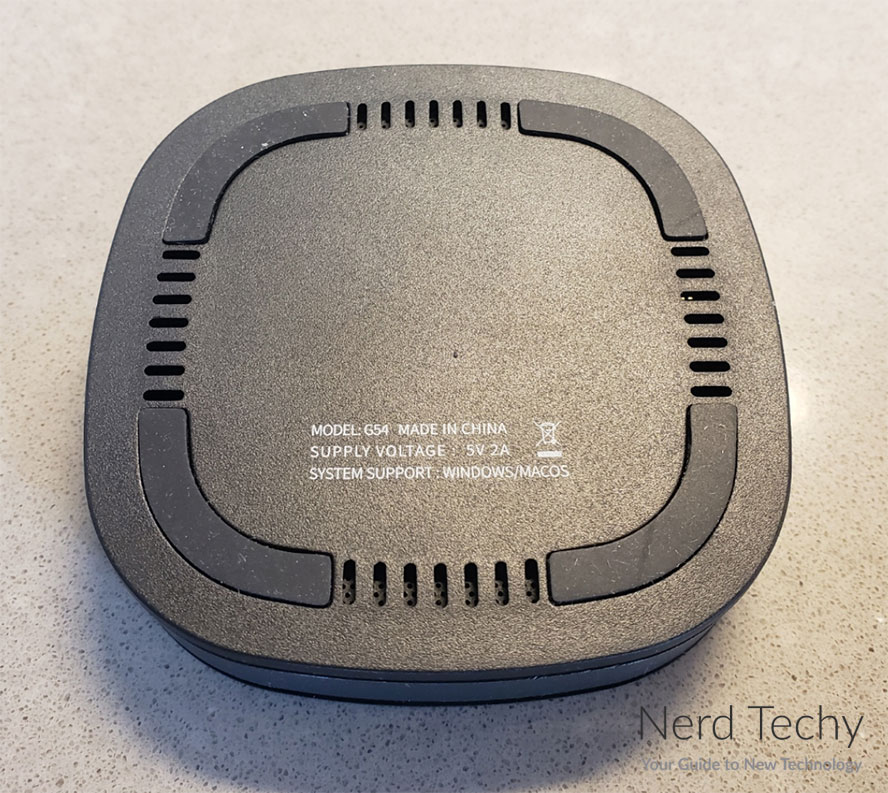 On Android:
Open your WiFi menu, and connect to the dongle the same way you would on an iPhone. Then go to your browser and enter "192.168.203.1" in the address bar.
There will be a page that says "WiFi setup." Click the arrow in the top left to close this, and you'll see an icon that says "Resolution." Select it, and choose one of the 4K options.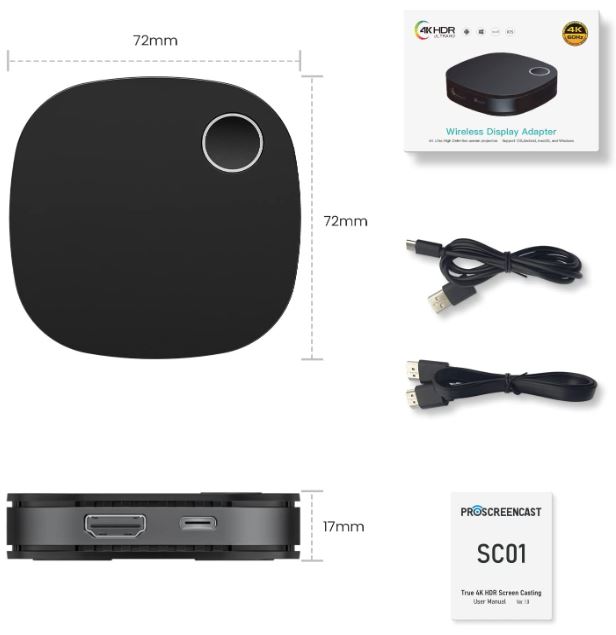 Final Verdict
The Proscreencast SC01 is a unique little device. You won't need it if all your TVs are already "smart." But if you want to cast to a display that's more than a few years old, it can be incredibly handy. It's also great for projectors and other devices that lack native WiFi capability.
Setup is simple and straightforward. It takes 2 minutes to pair your phone or other device, and after that casting is instant. The three different casting modes give you plenty of flexibility, including the ability to give presentations. This makes the SC01 viable in the office as well as around the house.
iOS support is a bit lacking, and 4K setup can be a bit of a pain. But other than that, you're looking at a top-quality screen casting tool.