Back in the day, you'd need an expensive kit consisting of a high end SLR camera, an array of films and lenses, and a whole lot of photo know-how if you wanted to call yourself a photographer. After all, this was the bare minimum needed to produce great looking photos.
Today, photography is a much more accessible passion. "iPhoneography" is Americas favorite hobby, and the 20 billion photos uploaded on Instagram prove this.
What if you want to view your photos without holding your phone in front of your face? In this case, you need to get them printed. Sure, you could download the app of your nearest photo center and pick up your prints the next day, but there is an easy way.
Pocket photo printers are becoming increasingly popular, as they're the most exciting way to create wallet sized prints in the comfort of your own home. There are already plenty of contenders on the market, thanks to a hot new technology called Zink.
Not all Zink printers are created equally. The Print Pocket is the latest contender on the market. Today, we'll be taking a look at their popular Pocket printer. We'll go hands on to show you what this little printer can do, and help you decide if this is the right printer for you.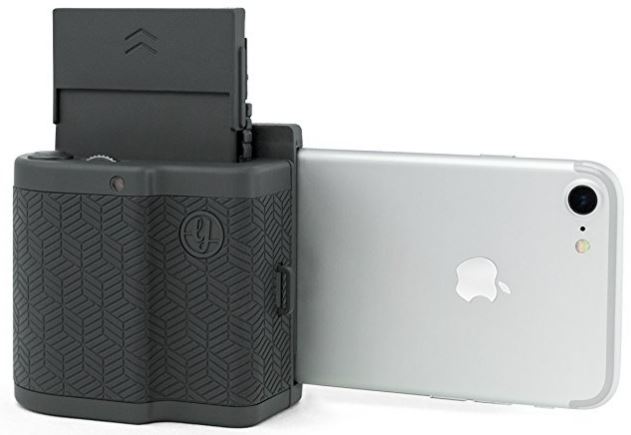 First Look
Unlike most photo printers, this isn't a stand alone device. It clips onto the bottom of your phone, turning it into a modern day Polaroid. It works with iPhones as old as the 5, all the way up to the latest iPhone 7 plus. If it's got a lightening connector, it will work.
The Prynt Pocket camera comes with it's own free app – a complete suite of tools designed to help you capture and edit your digital photos. In many ways, this kit is a lot like Polaroids modern instant print cameras. The difference is that this model harnesses the power of the iPhone's powerful camera, and doesn't force you to work with a comparatively limited image sensor. If all this isn't enough for you, the printer even has a way to turn your photos into augmented reality video. Interested? Read on to see what we found.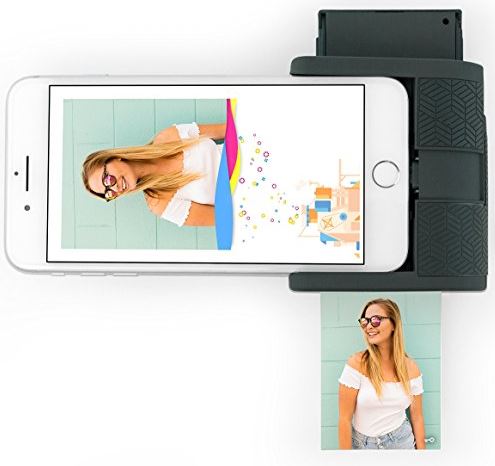 Design
Compared to the previous version, the new Prynt Pocket case is smaller, more portable, and much more attractive. It looks as if somebody took a knife and chopped the grip off of a real camera. You've got a large textured surface, and molded grip that fits to the form of your hand, and a shutter button that can be used to take shots.
The Prynt Pocket is available in three colors. Both black and white were expected, but the energetic lime green option was certainly a nice surprise. Even though there is no cohesiveness between the design of your iPhone and the case itself, it doesn't look out of place. That being said, there is a very clear indication that the design was tipped towards "functional" rather than "fashionable".
For example, consider the mounting mechanism. With the Prynt, you've just got a large clamp. The clamp holds your phone firmly, and is easy to install. It might not be the sleekest, or most elegant solution on the market. But where other vendors chose form-fitting designs, Prynt's clamp style mount allows you to use the printer with a case on your phone. Having to remove our case is often our biggest point of frustration with these types of accessories, so we were extremely happy to see Prynt use something easy rather than something pretty.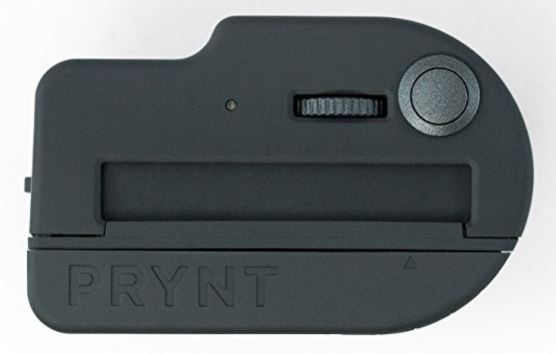 Printing
In 2003, Outcast encouraged listeners to "shake it like a Polaroid picture". Sure, the technology use in this printer may be Polaroid derived, as may be the concept. But when you print your photos with the Prynt Pocket, no shaking is necessary. Zink stands for zero ink. Your prints aren't caused by the transfer of material from one place to another, but rather a chemical reaction between the film and the print head. From the very second they come out of the printer, they're dry and ready to handle.
Like all Zink based printers, the Prynt Pocket produces wallet sized photos measuring 2 by 3 inches. This one prints edge to edge, so there are no bars or borders. Zink sheets come with peel and stick backs, so it's easy to add them to your locker, bedroom wall, or to the back of your laptop.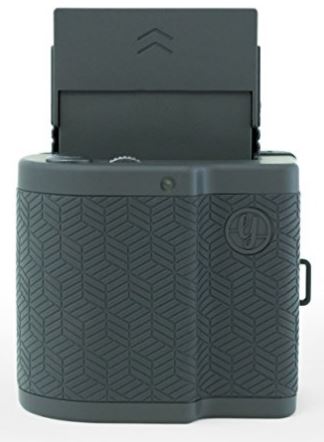 While size and functionality is identical from Zink printers, print quality is not. The head needs to be tuned, much like the strings of a guitar. This means that the appearance of the images says a lot about the manufacturer. Some go for an ultra saturated, vibrant look. These might be the most eye-catching, but aren't exactly true to life. Prynt Pocket's photos are a little more muted. Holding them side by side against ones created by a Polaroid, at first glance, could seem a little washed out. However, we found that they were much more accurate than other ones.
Where we really noticed the print quality was when comparing them against the images we saw on our screen. What you get looks very much like whats on your screen. This means that the print head is well calibrated, and there are no surprises. Since Prynt gives you a full photo editing suite, you can use filters and adjustments to add more vibrancy to your pictures, if that's what you prefer. But in our opinion, the most natural looking photos were straight from camera to paper.
While it's not too expensive to run this printer, it's not free either. You can buy the paper in packs of 50 or 25, with costs running about 50 cents per page. For a keepsake that you can potentially treasure for many years, we consider this to be pretty affordable. But if you're looking to print your entire library of images, the cost could be prohibitive.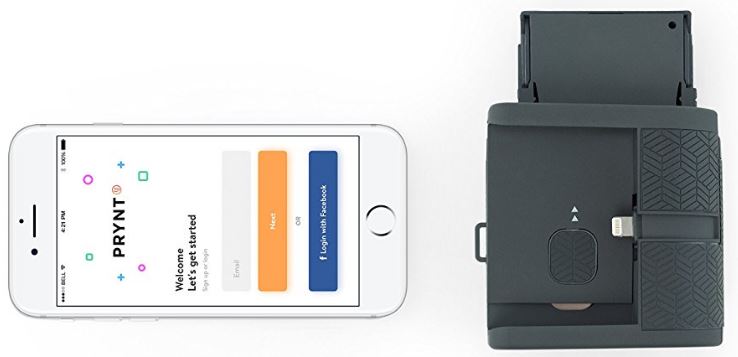 Augmented Reality
The AR features are one of the key selling points of this printer, and one of the things that set it apart from the competition. When you select a photo for printing, you're asked if you'd like to tie it to a video. In our test, we took a photo of the dash of our car, and tied it to an in-car video from our road trip. Once the photo is printed, there was a tiny symbol on the top right corner of the photo.
When you are in camera mode in the Prynt app, all you have to do is point the camera at your printed photo. Then, instead of the photo, you'll see a movie in it's place. From the phone display, it looks as if you've printed a video.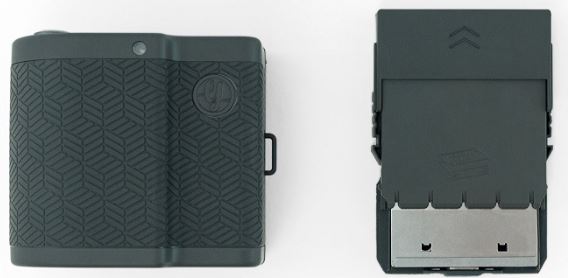 At first, we considered this more of a gimmick. But after using it for a bit, we started to see how a feature like this could be used. You could create a photo album and give it to your friends. With the Prynt app, this album is now an exciting and tangible way to share video. You can stick your favorite memories in your room, and fire up the Prynt app when you want to revisit them. It's a lot of fun, and makes us look forward to the day when this technology is a staple in our everyday lives.
Disadvantages
The Prynt Pocket is being promoted as a printer case. This isn't a reasonable reality. Unless this printer is part of a retro-throwback phase that includes a pair of JCNO jeans, there is no way that you'll want to carry your phone around with the printer installed at all times.
Yes, it's much smaller than its predecessor. Yes, it's portable. But it will never be a permanent fixture on your phone.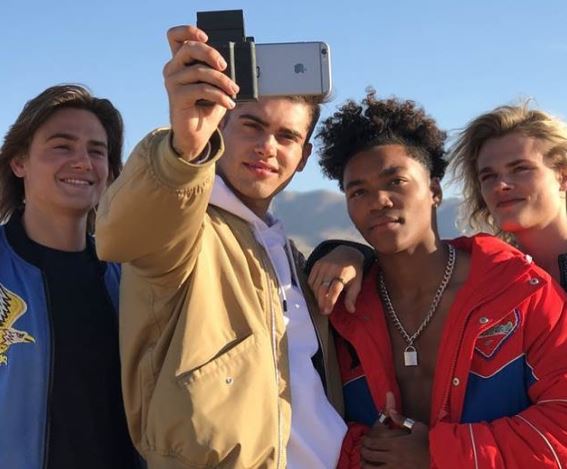 Final Verdict
Is the Prynt Pocket worth the money? Well, as far as pocket printers go this is definitely one of the better models. It's much easier to use, combining the functionality of an external pocket printer and an all in one unit. There are a few compromises made between the two designs, but in the real world it turned out to be highly functional.
That being said, this printer isn't going to be for everyone. If you're looking for a professional grade tool, there are better options. For larger prints, we'd recommend the Kodak Dock. But the Prynt was never designed as a professional tool. It's a fun little printer that helps you create tangible keepsakes of the memories that you'll treasure for a long time. In that regard, it's one of the best on the market.