3D Printers are one of the most incredible pieces of technology that we have at our fingertips. The fact that you can imagine something, design it on a computer, and bring it to life in a matter of hours is amazing. There are tons of options out there to choose from.
However, there is one new one that has some great features. If you're looking for a printer with a massive print area, hyper-fast print speed, auto-leveling, and more, then you might want to check out the QIDI Tech X-Max 3.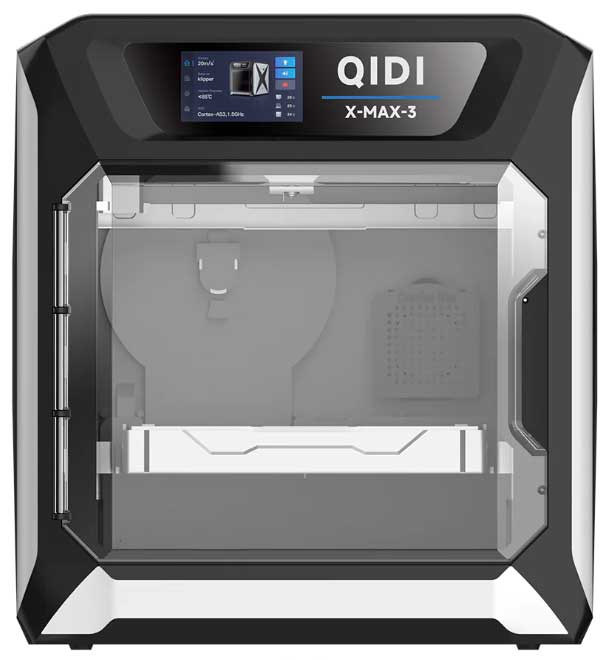 Huge Printing Area
The printing area is one of the key components of any 3D printer. Without a good amount of space, you'll be limited to the designs you can bring to life. However, on the X-Max 3, you shouldn't have any issues. It has a total print area of 325 x 325 x 315 mm to give you all the space you need for small to mid-sized prints. This is much larger when compared to many of the on-desk smaller models available on the market.
The printer itself has a size of 553 x 553 x 601mm and a weight of 66.56 pounds. Its large size means you'll likely have to dedicate a large specific area within your home or office for the printer.
Temperature Controlled Chamber
The X-Max 3 has a fully enclosed temperature-controlled chamber. This allows it to operate as a drying box as well, with its own independent heating device. This heating device can hit max temperatures of 65 degrees Celsius. One of the main benefits of the heating chamber's capabilities is the fact that by using it, your projects will have virtually no warping while being created. The temperature-controlled system also allows for high-efficiency printing. With this temperature-controlled chamber and drying box system, you should end up with higher-quality prints every time you use it.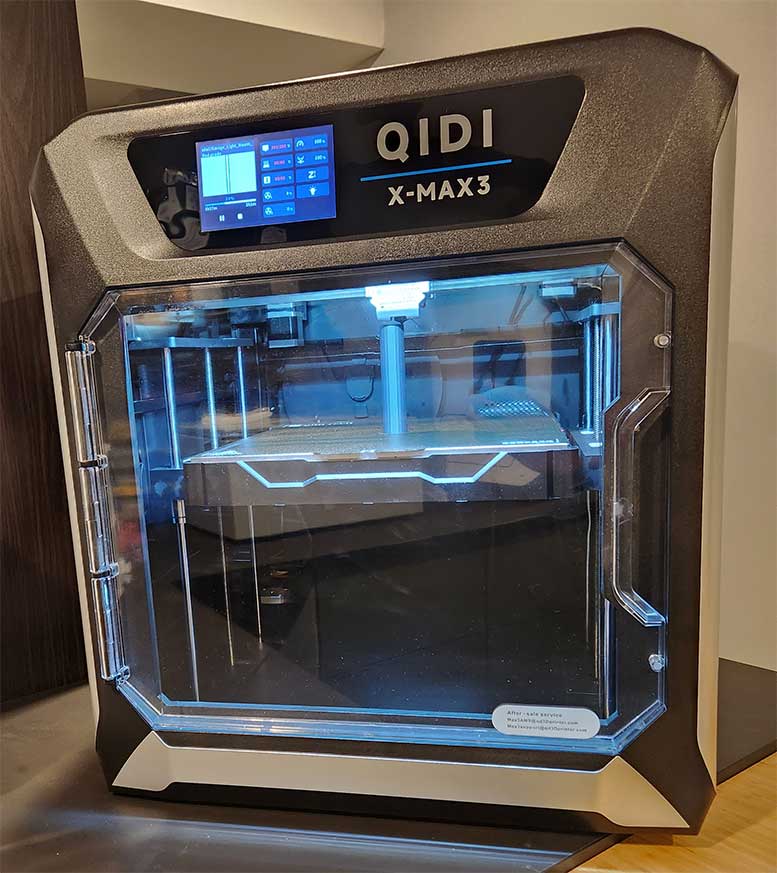 High-Grade Hardness Steel Linear Hollow Optical Axis
One of the parts that stands a high risk of breaking on a 3D printer is the optical axis since it's one of the pieces that's constantly moving while in use. However, with the X-Max 3, that problem should be almost eliminated. QIDI Tech used high-grade hardness steel to create a linear hollow optical axis.
Each rod is hollow and about 10mm thick. They also have improved surface straightness, with a 60% lower error deflection. Since the axis is made of high-grade steel, it's extremely durable, won't need frequent maintenance, and will likely last for the entire lifetime of the 3D printer.
New All-Metal Frame
To further ensure this 3D printer won't let you down, QIDI Tech constructed the X-Max 3 with an all-metal frame. Having this type of frame helps give peace of mind that no matter where you set this printer up, it won't easily break from use or from external factors.
The frame also makes it ultra-stable when paired with metal crossbeams on the bottom of the printer. All of these features help prevent the deformation of the system. Best of all, the bottom plate within the print area is made of 6mm thick metal to further improve durability.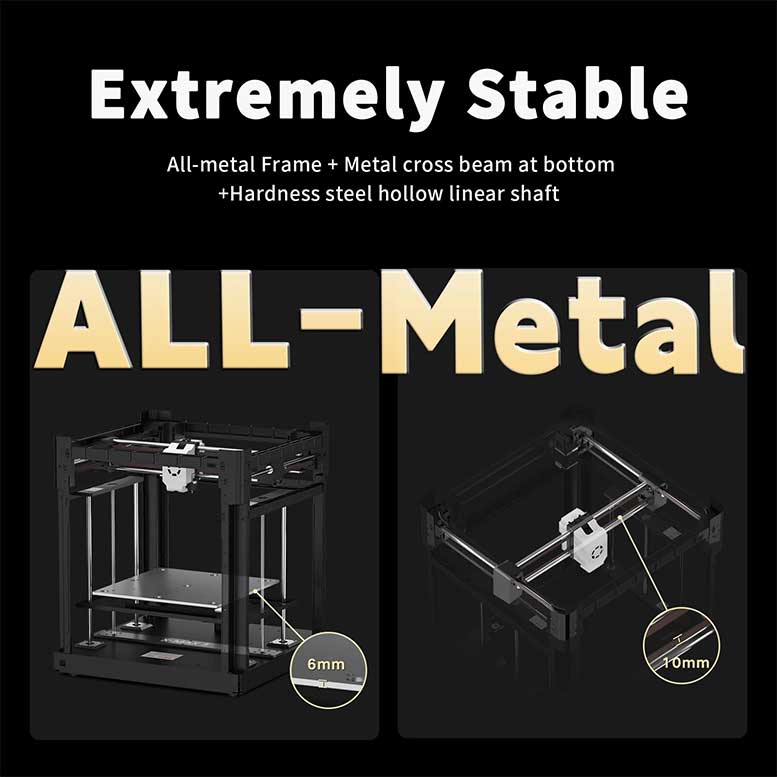 Revolutionary New Cooling System
One of the most annoying things that can happen while using your 3D printer is a clog in the print nozzle. The X-Max 3 has a great solution to prevent this. Using a revolutionary new cooling system, there are multiple fans and cooling features that lower the temp on the print nozzle itself while in use.
This further reduces the risk of clogs and also ensures a smooth extrusion. Using this cooling system, you should have a much higher success rate on your prints, saving you both time and money.
High-Performance Materials For Printing
The best way to utilize the X-Max 3 to the fullest is to pair it with high-quality materials. QIDI Tech has three options that are great to use.
The first is ABS-GF. This material contains 25% glass fiber-reinforced ABS filament. It's best used for FDM printing. This gives your print smoother surfaces, low moisture absorptions, high interlayer bond strength, and high heat resistance.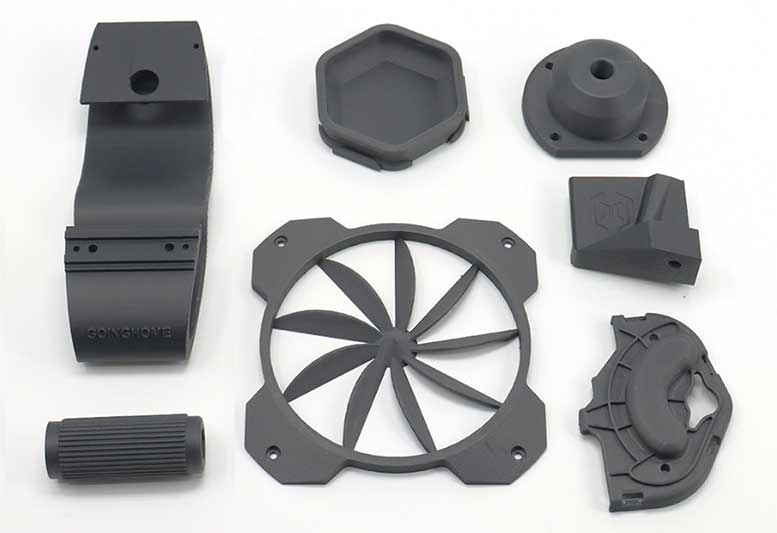 The second material is PET-CF. This material contains 15% carbon fiber combined with polyester. This makes the material a great all-around option, with heat resistance up to 120 degrees. It's also very budget-friendly.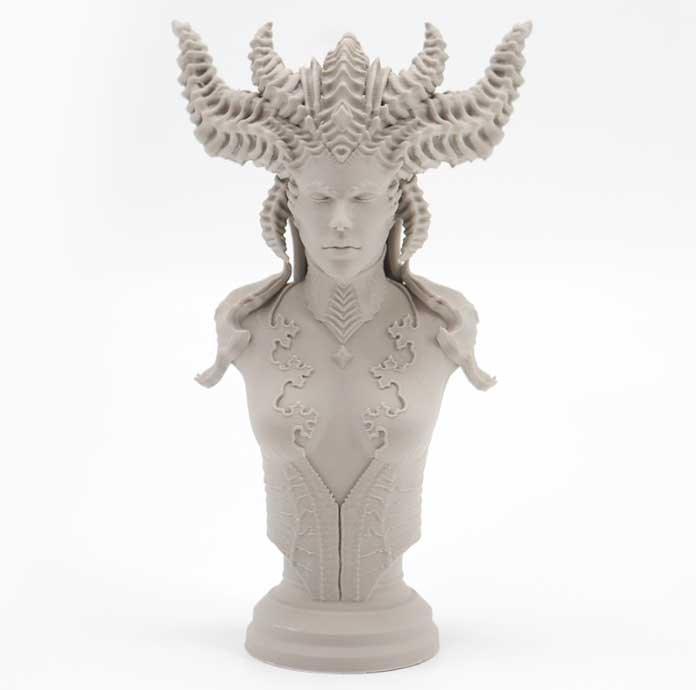 The third option is PETG-Tough. This material is designed specifically to combat issues with high-speed printing fluidity. It also greatly limits problems with material temperature cracking, giving you quality prints every time.
Hyper-Fast Print Speed
Another annoying issue with many 3D printers on the market is print speed. When you design something, the last thing you want to do is wait for over a day to bring it to life. With the X-Max 3, that shouldn't be a common problem anymore. It can reach a maximum print speed of 600mm/s. This is hyper-fast, especially when paired with a high flow of 35mm³/s and an acceleration speed of 20,000mm/s².
New Automatic Levelling and Resonance Compensation
To help give you the best chance at having a great print on the first try, QIDI Tech included multiple great features in the X-Max 3. Automatic leveling is one of those features. This allows the system to level itself before printing anything so that you're starting off correctly from the beginning. This system combines with the Klipper Adaptive Meshing and Purging system to further ensure that the first layer of your print comes out flawless. Klipper is enabled by a 64-bit processor using Cortex-A53. It runs at a main frequency of 1.5 GHz and has 8G of EMMC and 1G of DDR3.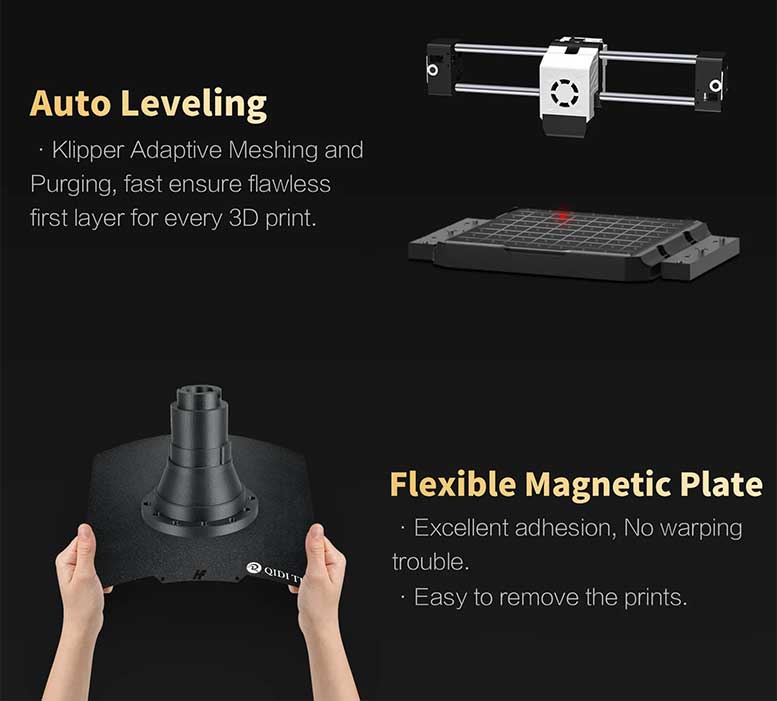 The X-Max3 also has resonance compensation and pressure advance. The resonance compensation system keeps all your prints extremely smooth, eliminating the rough edges seen in layers on many prints. The pressure advance system helps print smoothly no matter what speed it's going. When accelerating, the system will push out more filament to help compensate for elasticity in the print materials.
Chamber Circulation Fan With Activated Carbon Air Filter
Another great component that QIDI Tech added to this 3D printer is the chamber circulation fan with an activated carbon air filter. This allows the machine to move air around within itself with ease. The carbon air filter is also a great touch for a few reasons.
This filter will help filter out harmful fumes that would otherwise be pushed out into your working environment and potentially cause you harm. It will also help reduce odors created by the 3D printing process, which further improves your indoor air quality.
Bendable HF Printing Plate
There's nothing worse than your print finally being complete, but then it's messed up by the printing plate you printed it on. QIDI Tech has used a flexible HF plate on the X-Max 3. This allows you to easily remove the plate from the printer with your project still attached and bend it to release the two from each other.
While it's being printed on, however, there shouldn't be problems with the project not sticking, as this plate has excellent adhesion. Additionally, the plate helps reduce issues with warping while your project is printing. Best of all, the plate is double-sided and magnetic. This makes it simple to take out of the printer, put it back in the printer, and give you two places to print in case something happens to one side.
Two Different Hot Ends for Two Different Purposes
To help even further improve the printing possibilities on the X-Max 3, QIDI Tech includes two sets of hot ends with each printer. The first hot end has a copper alloy nozzle. This helps provide better thermal conductivity, which creates smooth printing and makes it more durable. The second nozzle is made from hardened steel. This nozzle is best used with abrasive materials or for long-term usage. Regardless, each nozzle can be used with a 350-degree Celsius maximum print temp. This should be plenty for the bulk of your printing needs.
Easy Installation And Setup
When you buy the X-Max 3, you get everything you need to get started printing with it. The entire machine is shipped right to your door and included in the pack. You'll also find plenty of other items included, such as:
Dryer Box
500g Filament
Filament Spool Holder
Holder Cover
3 Allen Keys
7mm Spanner
Flat Head Screwdriver
.4mm Nozzle Cleaning Tool
Desiccant
Power Cord
Ethernet Cable
Scraper
Glue Stick
USB 2.0 Flash Drive
Spare Parts Kit
Two Hotends
Setting up the printer is simple; all you need to do is follow the instructions, put it together, and plug it in. From there, you can easily upload your first design and get to printing!
X-Max 3 is a Step Up from the Previous Generation MAX2
The previous generation Max2 was a great printer. However, the X-Max 3 takes everything to the next level. One of the main areas it does this is with accuracy improvements. The X-Max 3 has a 20% increase in print accuracy when compared to the Max2. This is a big step forward, ensuring you have the best possible print every time you use it.
User-Friendly Software Ties it All Together
While all the hardware on the X-Max 3 is certainly high quality, to make it function as good as it looks, you need great software. Luckily, QIDI Tech delivers just that. To use this printer, you pair it with the highly acclaimed QIDI slicer software. This software has both a normal and expert mode so that you can use it regardless of skill level and experience.
Fluidd Console is included to further improve functionality. This software is based on the latest PRUSA, and is also what allows the hardware to achieve such high-speed printing. To further improve the functionality of the printer and software, there is an included 5-inch screen on the front. This screen allows you to monitor and control various functions right from the printer itself.
Quality Products and Service You Can Trust
QIDI Tech has done a great job on the X-Max 3 by creating one of the best industrial high-speed printers on the market. They also provide some of the best customer experiences available. They've been creating printers like this for nearly a decade, and with each device they make, they focus on the user. Everything they create is high-quality, including multiple iterations on the Max series of printers to give you the X-Max 3 available now.
Comparing To The X-Plus 3
The X-Max 3 is a great 3D printer, but how does it compare to its related product, the X-Plus 3. The X-Plus 3 features the same print speed, as well as the same flow and acceleration. It's a bit smaller, however, as the internal print area is only 280 x 280 x 270mm. The device itself is smaller, too, coming in at 53 pounds instead of 66 pounds, like the X-Max 3. Overall, they're extremely similar, with the X-Plus3 being a smaller device at a slightly lower price point.