Whether you're building your own PC or just setting up your workstation at home, cable management is important. Without proper cable management, you end up with cords and cables everywhere, getting in the way of everything and causing constant stress about the mess in your work area. A cluttered workspace makes it hard to focus and work, right? So, there has to be a way to help eliminate this issue. That's where cable management ties come in.
What are cable management ties?
Cable management ties are an amazing yet simple piece of material to add to your setup. They're typically either fabric or plastic material that is used to bundle multiple cables together and route them in an organized way.
Which types of cable management ties are available?
There are tons of different kinds of cable management ties on the market. Some of the most common include:
Velcro strips that you loop around your cables.
Plastic Clips
Hard plastic channels
Plastic hooks with screws
Soft-sided tubing
Silicone loops
Zip ties
What's the best kind of cable management tie?
The best kind of cable management ties will depend greatly on what you're planning on cable managing and how you have to do it. Typically, the best all-around option is going to be velcro strips that you can easily wrap around multiple cables. However, in specific scenarios, there may be something that makes a lot more sense to use.
Should I use more than one type of cable management tie with my setup?
In all likelihood, it's not a bad idea. If you're only trying to hold a few cables together, then no, it's not necessary. However, if you have a setup that consists of a computer, multiple monitors, speakers, mix amps, microphones, and more, then having multiple kinds of cable management ties will make organizing everything a lot cleaner.
How do I actually use cable management ties?
This will depend on the type you get, but they all function pretty similarly. You first have to figure out which cables need to be managed and organized. Then figure out where they have to go and how much length they need to do their job. Then you simply put them all together and wrap them up in a cable management tie system to keep them together. This keeps everything nice and clean on, behind, or under your desk.
What if I already put my setup together without cable management ties?
You should definitely plan on getting some cable management ties and fixing that problem. Would it have been easier to do it from the get-go? Probably. But that time has passed; the next best time to cable manage your setup is right now. It's not too late to do so; it may just take a bit more time to figure out where every cord goes and what makes sense to group with what. It may be a bit of a process, but in the end, it will definitely be worth it.
Best Overall: SOULWIT Cable Management Kit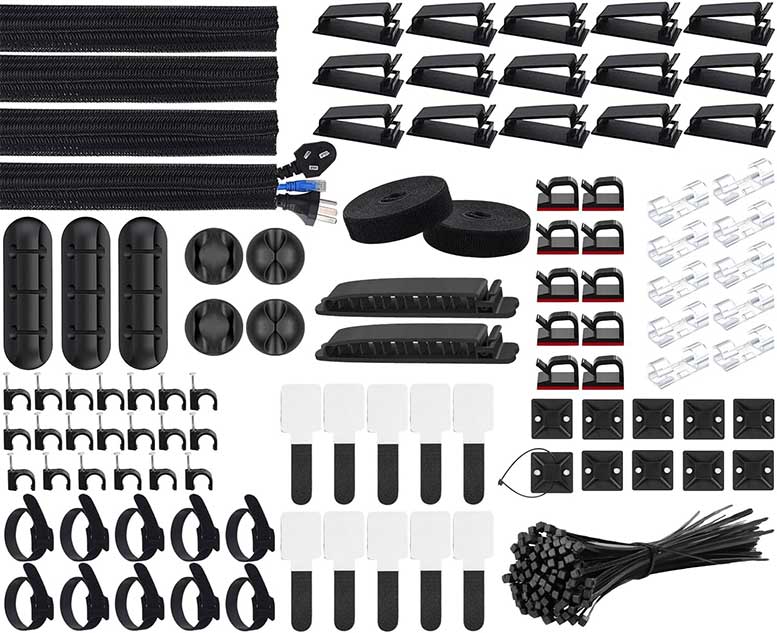 Key Features:
Various types of cable management ties
Plastic, velcro, and soft-sided fabric are all included
200 total pieces
The best overall cable management tie kit is the SOULWIT cable management kit. There are 13 different kinds of cable ties included, all with varying materials, including silicone, polycarbonate, acrylic, velcro, and more. Each type of tie is extremely durable and can do a great job of holding together even the bulkiest cables in your setup.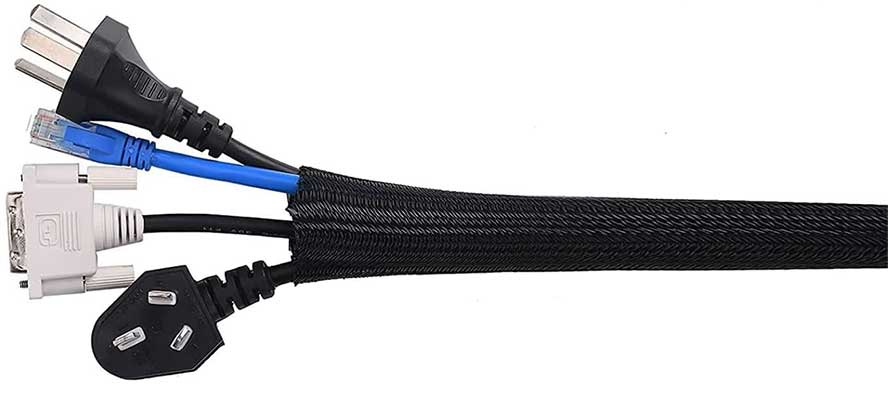 The sheer amount included in this kit is what really sets it apart. There are 200 individual pieces in the box that are split between 13 different styles. This is plenty to cable manage multiple setups from the contents of one kit. Some of the larger ties have a lesser amount, but you should still have plenty to organize whatever you need to.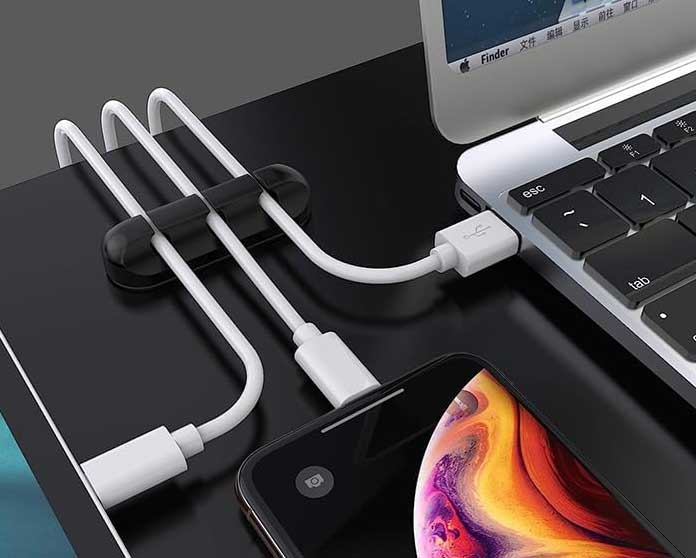 The overall design of this kit varies. Some of the different styles include:
cable sleeves
plastic cable clips
soft cable holders
zip tie adhesive mounts
cable clip nails
acrylic-gel cable ties
cable fastening ties
hook and loop cable ties
cable tie rolls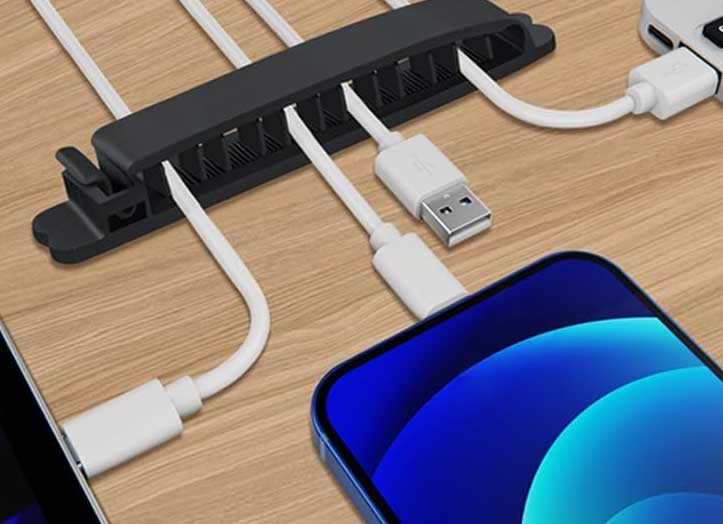 As if it weren't enough that you had so many options to choose from, SOULWIT took it a step further and included two color options. The standard kit has each piece in a black color. The alternative is to choose an all-white colorway. This gives you options to choose from to further blend your cables into your setup, depending on your aesthetic.
Pros:
200 total pieces for the organization
13 different types of ties
Two different color options are available
Plenty of items to manage multiple setups
Budget-friendly
Cons:
Some of the cable ties that work really well aren't as abundant in the kit
Best Hook and Loop Ties: HMROPE 60-piece Fastening Cable Ties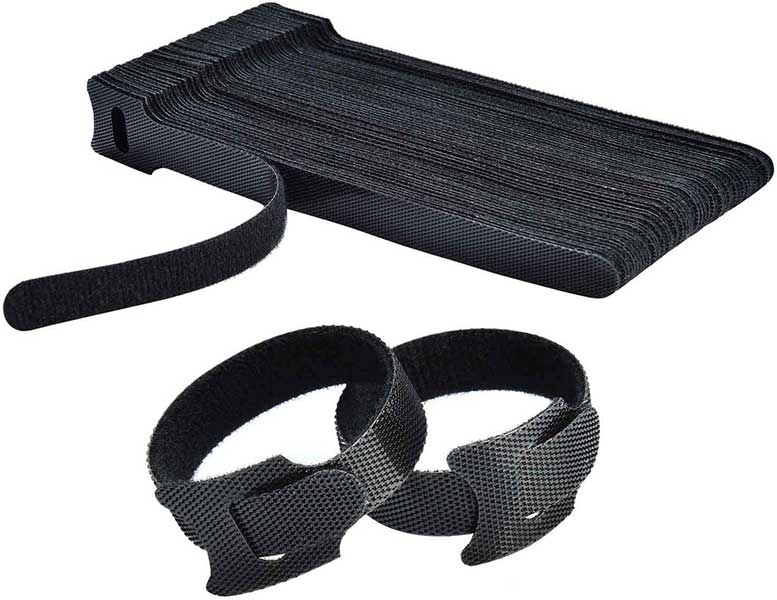 Key Features:
Hook and Loop style
Microfiber cloth material
60 pieces
The HMROPE cable ties are the best out there for hook-and-loop style cable management. These ties are made from a reusable microfiber cloth material with a hook and loop fastening system that everyone knows and loves. These ties are extremely tough, somewhat stretchy, and easy to use for a long time in your setup.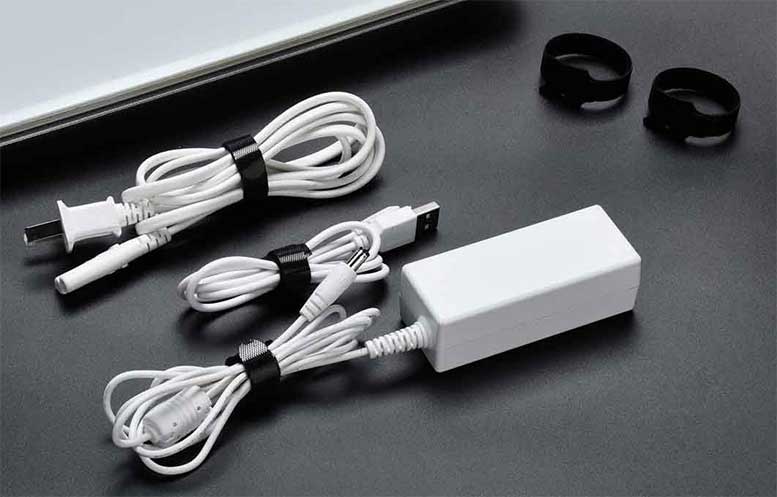 This pack includes 60 individual pieces to use. Each cable tie is 6 inches long but can be completely adjusted to your required size under 6 inches while in use. Best of all, these ties have a lifetime warranty for a full refund if something happens to them or you're not satisfied with them.
These ties use hook-and-loop technology to hold them together. To fasten on your cords, simply gather the cables, wrap these ties around, and loop one end back through the opening on the other end to make it tight. This ensures your cables won't go anywhere once fastened. One downfall of this design, however, is that you can't really route the cables anywhere with them. They need additional items to stick to the underside or back side of a desk.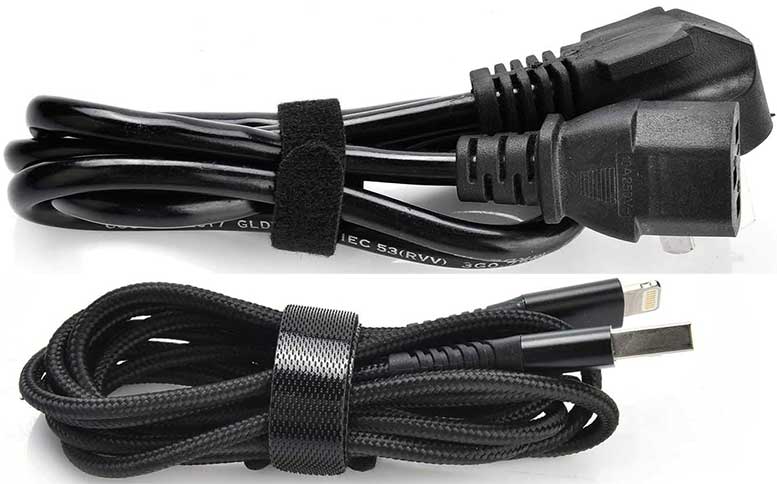 HMROPE keeps things simple with your color options, with these ties only available in black. However, that isn't a downfall, as they're small enough that you likely won't notice them while in use anyways. Overall, we love these for those who want to organize cables with a hook and loop style cable tie.
Pros:
60 included ties
Easy to use, and they last a long time
Extremely budget friendly
Cons:
No included way to fasten them to your desk for additional organization
Best (Alternative) Hook and Loop Ties: VELCRO ONE-WRAP Cable Ties [100-pack]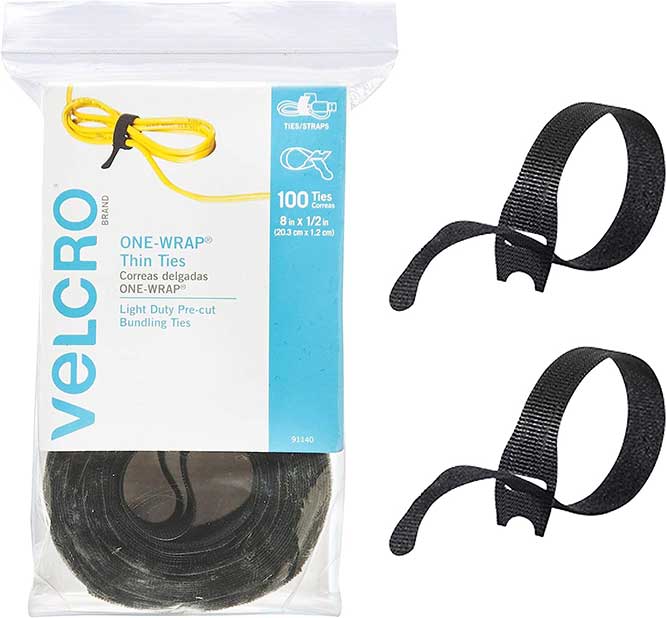 Key Features:
Hook and loop style
Velcro Brand material
100 individual pieces
If you're looking for another solid option to cable manage your setup with a hook and loop style cable tie, then the VELCRO Brand option is a solid alternative. These are made from genuine Velcro Brand materials. This helps them be extremely strong while in use. You can also easily reuse them as needed.

This pack comes with 100 total cable ties, which is 40 more than the option from HMROPE. This should give you plenty of ties to completely organize most setups for work or gaming. There will likely be leftovers as well, so you can easily cable manage more areas of your home as well.
These cable ties follow a pretty similar design as the option from HMROPE. They are individually cut cable ties with an opening on one end to loop themselves around through. One difference, however, is that these are 8 inches long. This gives you a bit more room to play with when organizing larger cables like power cords or HDMI cables. The method of organizing is easy; wrap the tie around the cables, loop it around itself, and pull it tight.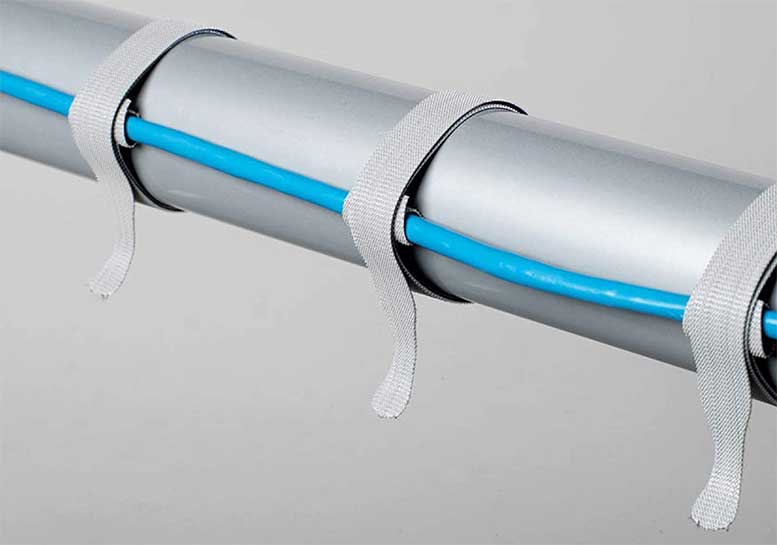 There are two different colors to choose from with these cable ties. You can go with the standard black color, or instead, go with a black and red color. Each will function the same, but one may blend into your setup better than the other. The cables can also be used either indoors or outdoors, so whether it's computer cables or outdoor extension cords, you can easily keep things organized.
Pros:
Two different color options
100 pieces to use
Each tie is 8 inches long
Velcro Brand materials
Cons:
Some reviewers note that it's relatively easy to get them to pull apart while in use
Best Silicone Ties: Nearockle Silicone Cable Ties [20-pack]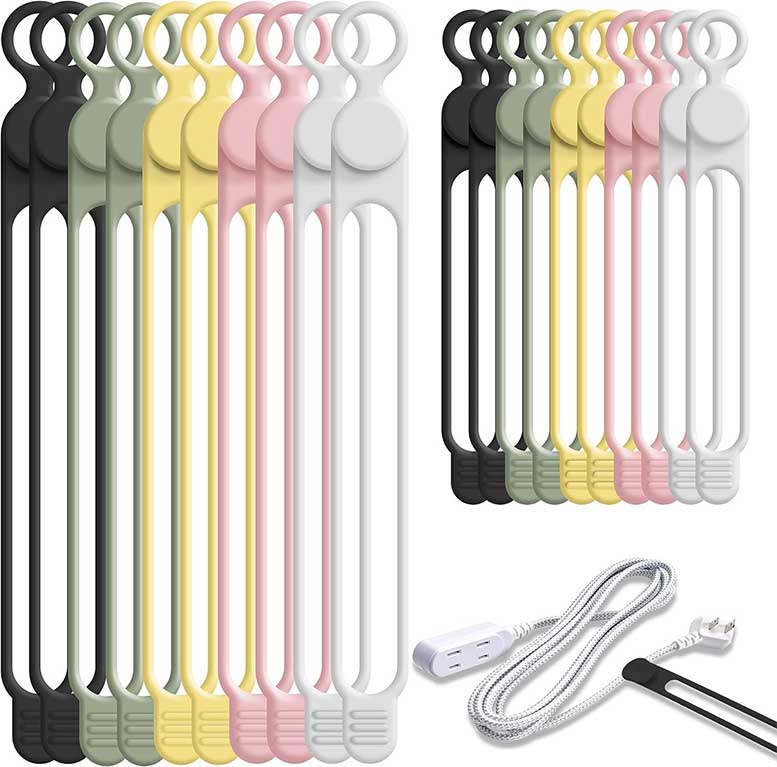 Key Features:
Unique fastening system
Silicone material
20 in each pack
The Nearockle silicone cable ties are one of the more unique options on the market. These ties are made completely out of silicone. This makes them extremely wear-resistant while maintaining the elastic characteristics of their material. Additionally, they're extremely easy to clean because of what they're made out of.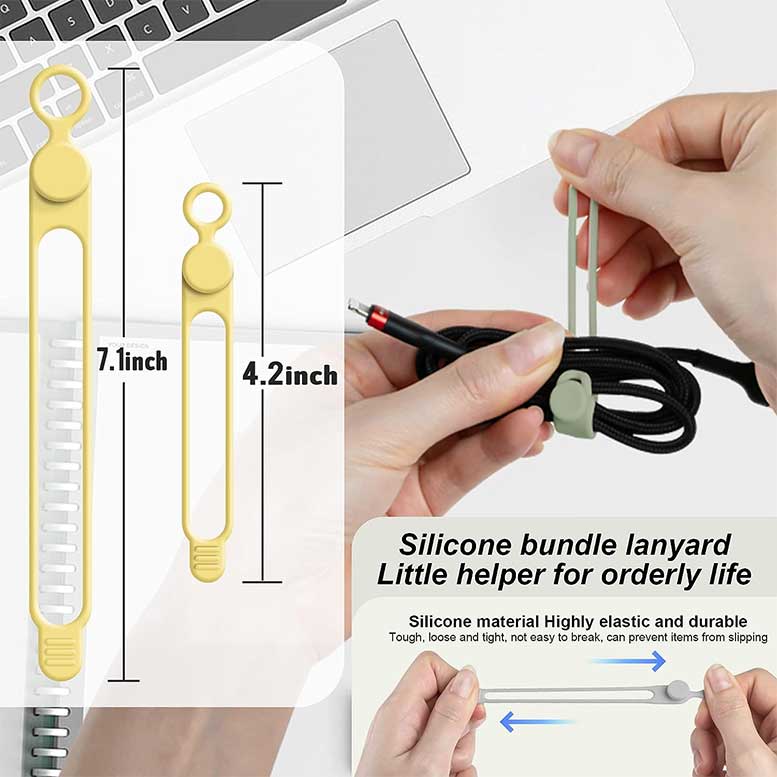 There are 20 individual ties included in this pack. This is somewhat limited compared to other options on this list. However, this is still plenty to organize a single setup or just keep loose cables together while storing them.
The design of these ties is what sets them apart. They have a buckle and loop fastening system that is simple to use, strong while in use, but also easy to take apart when needed. To tie your cables together, simply bundle them together, snap the smaller buckle end around them, loop the long part of the tie around everything, and loop it back through itself. This is further helped by two different options for lengths. One version of this pack comes with each tie being 4.2 inches, while another version has a mix of both 4.2-inch and 7.1-inch ties.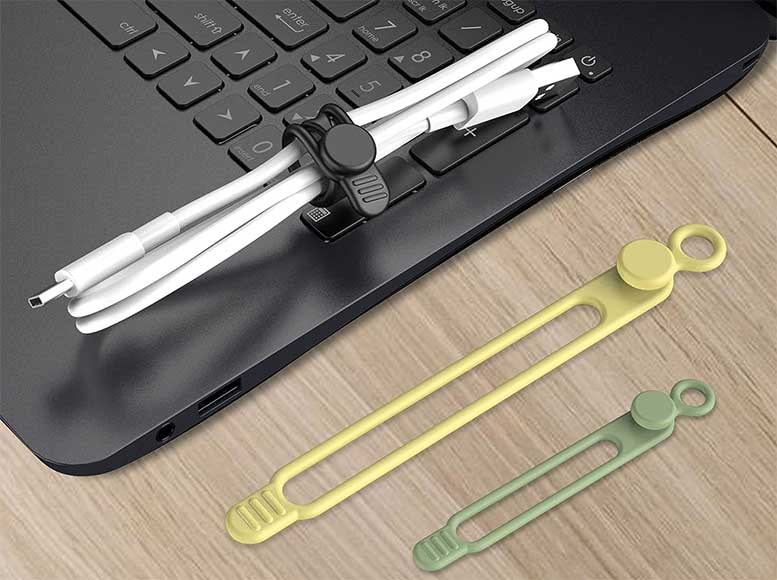 This pack also comes with an assortment of colors to choose from. You can pick between a mix of pink, black, yellow, white, and green to keep your cables organized. This helps to blend into or stand out in your aesthetic no matter what it is.
Pros:
An extremely unique fastening system
Five color choices
Strong and stretchy silicone material
Cons:
They don't work as well on thicker cables
Best Bulk: Zeapa Cut-to-Length Hook and Loop Cord Straps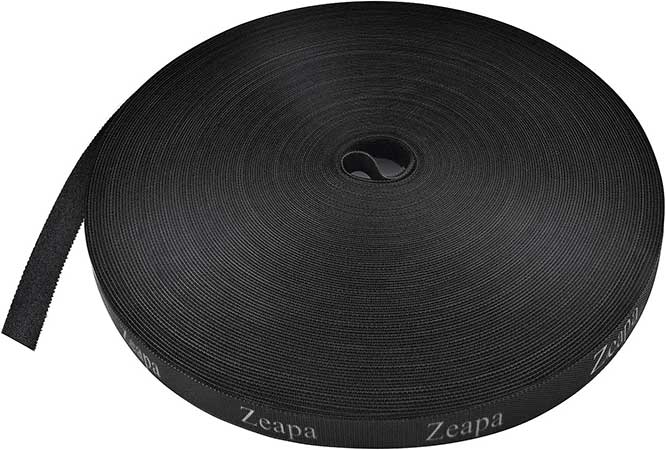 Key Features:
Bulk roll of hook and loop ties
Nylon construction
150 feet
If you're looking for something simple in bulk, then the Zeapa cut-to-length hook and loop cord straps are for you. This is a single roll of nylon cable management ties. The material they're made out of is extremely durable, so they won't break down quickly or easily. You can even use them outdoors, and they can withstand the harshest weather conditions.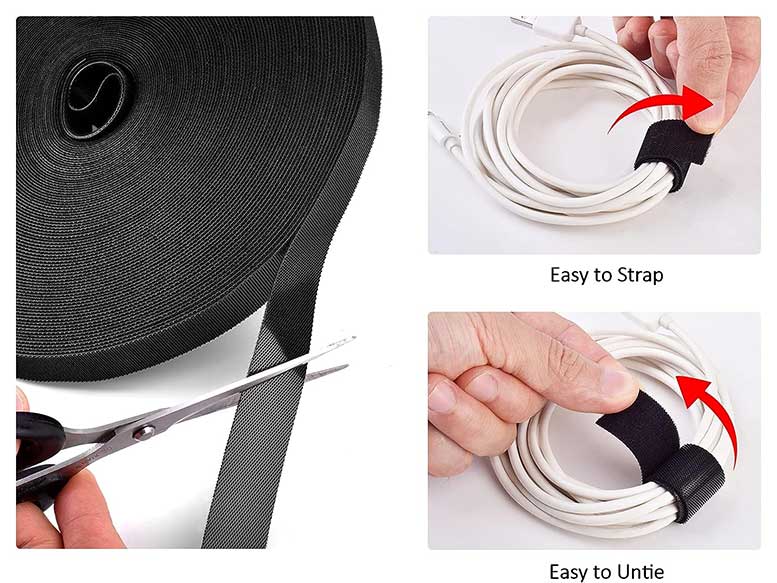 Since this is a single roll, the amount isn't listed in amount of ties. Instead, this roll has 150 feet of material included with a thickness of 3/5 inches. For reference, if you were to compare this to the HMROPE ties in terms of the amount that you get, this pack would be equal to 300 of them (that pack comes with 60). This is an incredible bulk option for cable managing as much as you will likely need. However, if for some reason that isn't enough material, there's also a roll that is 300 feet long.
The fastening system used is a hook and loop style paired with the nylon material construction. Zeapa's design is extremely strong, with the ability for a single loop of the material to hold up to 10 pounds on its own. Since it's on a roll, you can also customize the circumference to whatever you need it to be, so you can easily cable manage even the largest cords you may have lying around.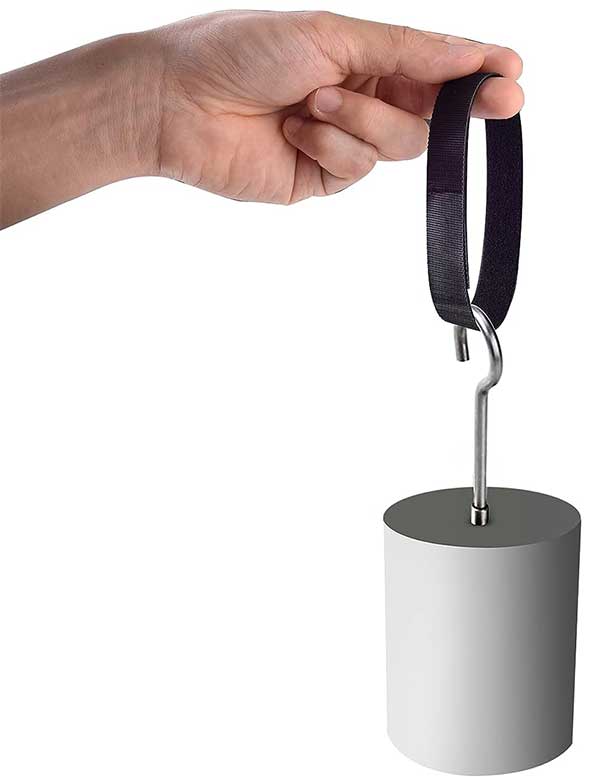 While other options on this list have multiple color choices, this cable management tie roll only comes in black. However, since it's a bulk roll that can be customized to virtually any size you may need, we don't see the lack of color choices as a huge negative. If you're looking for something easy to use and a lot of it, then this is your best bet.
Pros:
150 or 300 feet of cable management tie material
Holds up to 10 pounds
Durable indoors and outdoors
Cons:
Only one color option is available
Best Cable Sleeve: Alex Tech Wire Loom Tubing Cable Sleeve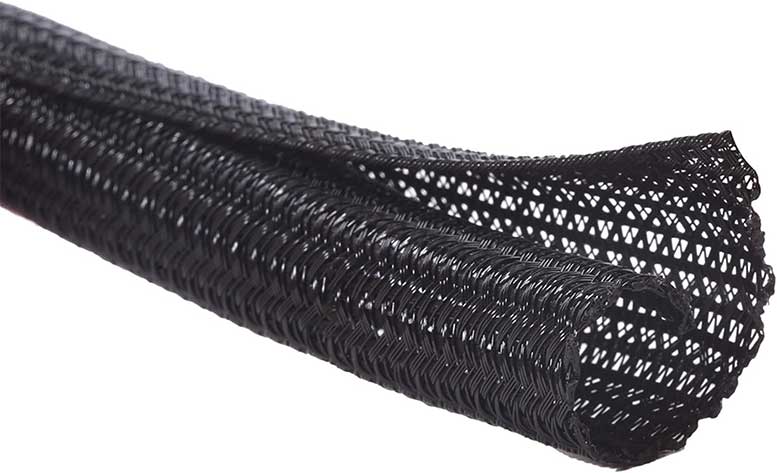 Key Features:
Cable sleeve design
Polyethylene material
Up to 25 feet of tubing
The Alex Tech wire loom tubing cable sleeve is the best option out there for the cable sleeve style. It's made from durable polyethylene. It's insulated and is safe at temperatures up to 446 degrees Fahrenheit (which is plenty).
This cable sleeve option comes in various diameters and lengths. They include:
1/2" – 10 Feet
1/2" – 25 Feet
1/4" – 10 Feet
1/4" – 25 Feet
1/8" – 25 Feet
1" – 10 Feet
1" – 25 Feet
1.25" – 10 Feet
1.25" – 25 Feet
1.5" – 6.6 Feet
1.5" – 20 Feet
3/4" – 10 Feet
3/4" – 25 Feet
3/8" – 10 Feet
3/8" – 25 Feet
The design of this cable management sleeve system is simple. It's a single tube that unrolls to allow cables to be put inside of it. Once you put the cables within, you simply let it roll back in on itself, and it keeps everything together in one spot. They're extremely efficient to use and keep your cables safe.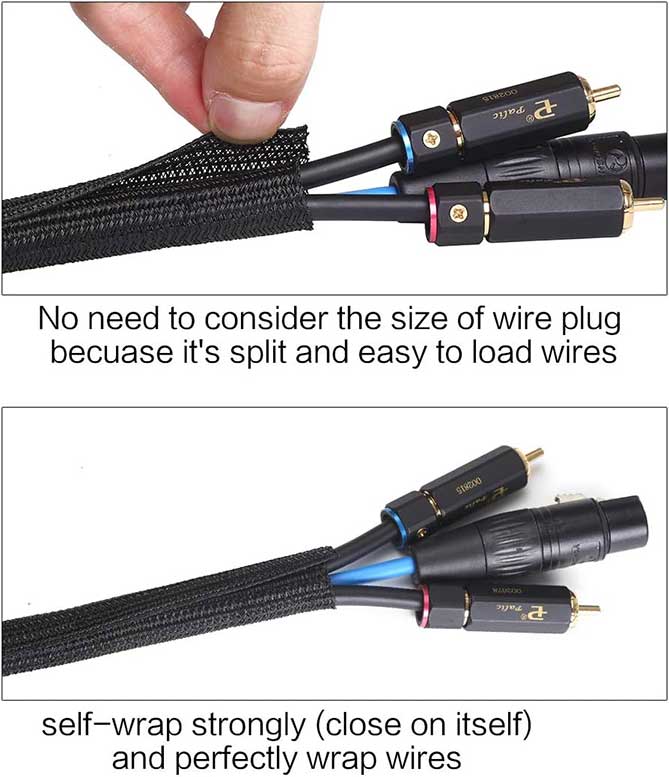 To help with using them in any setup aesthetic, you have three color options. You can go with black, white, or a black and red mix. They all look great and will blend into whatever your style is. Overall, there's a ton of variety with these cable sleeves, and they function extremely well.
Pros:
15 different size and length options
Three color choices
Super simple to use
Cons:
Some reviewers note that cutting the sleeve to a custom size can be difficult