Overall Design -

8/10

Sound Quality -

9/10

Battery Life -

8.5/10

Comfort & Fit -

7/10
Summary
After rigorous testing and careful scrutiny, the verdict is in on the Air4 wireless earbuds. Are they perfect? Well, perfection might be a stretch, but they come close. Whether you're a casual listener or a devoted audiophile, SoundPEATS offers a satisfying auditory experience. The sound quality? Rich and immersive. The fit? Comfortable for some, too loose for others. The battery life? Sufficiently robust for your daily needs. By our estimation, the pros outweigh the cons.
Pros
Superior sound quality with aptX Lossless
Comfortable design for small ears
Robust battery life of 26 hours
88ms Low Latency Game Mode for gamers
Wonderful aesthetics and visual appearance
Cons
Incompatible fit for some users
Challenges in extracting buds from the case
Lacking interchangeable ear tips
Audio enthusiasts and earbud aficionados, it's time once again to test drive one of the latest offerings to drop on the market, the Air4 Wireless Earbuds from SoundPEATS. It's a petite piece of tech that's more powerful than it looks. Could it possibly serve as your trusted go-to for all your auditory needs? Our in-depth review will help answer that and more. So join us as we share our recent trial run with the SoundPEATS Air4 wireless earbuds.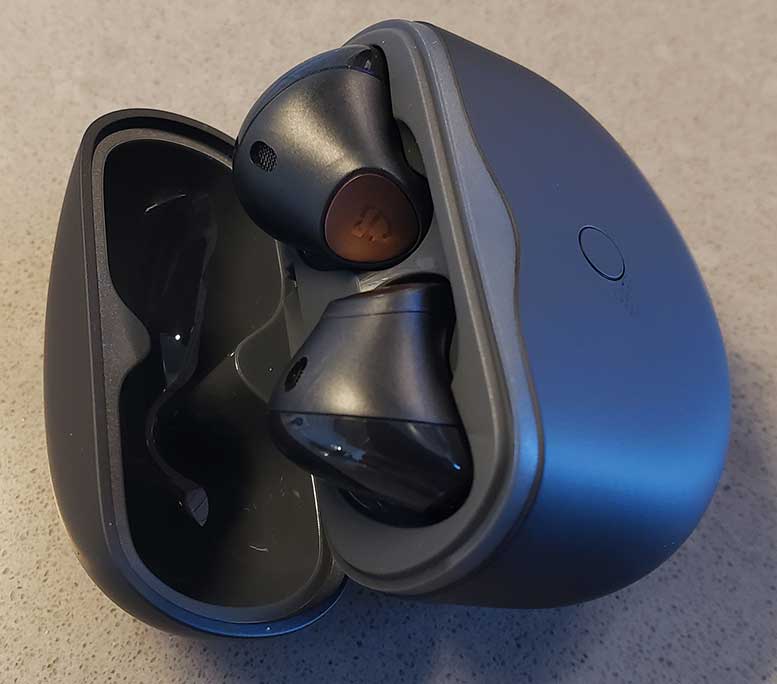 Unboxing the Air4 Earbuds
Opening the Air4 box was a treat in itself. Like similar earbuds in its class, there's nice presentation from the inside out. Inside the compact packaging is everything you need to start enjoying your new investment, and that includes battery life. Here's what you get:
Charging Case: SoundPEATS knows the importance of staying connected, and the charging case for the Air4 Earbuds ensures you're never without your tunes. Compact yet robust, this charging case provides ample juice for multiple recharges, with an LED indicator that keeps you in the know. It's like a cozy little home for your earbuds, giving them the energy to serenade you all day long.
Wireless Earbuds: The Air4's earbuds are deceptively simple in design yet sophisticated in function. They're crafted to fit comfortably in your ears, providing an auditory escape that's both immersive and intimate. The quality of sound? Crystal clear, with balanced bass and treble that cater to diverse musical tastes. These aren't just earbuds; they're your personal concert hall.
USB-C Charging Cable: Fast and efficient, the USB-C charging cable ensures that your earbuds are always ready to entertain. It's the kind of convenience we all yearn for – quick to connect and quick to charge. Your musical companion will be up and running in no time.
Quick Start Guide & Warranty Information: Fear not if technology isn't your forte. The quick start guide lays out everything you need to know in a language that's easy to understand. And let's not forget the warranty card, a symbol of SoundPEATS' confidence in their product. It's a reassuring touch in a world where trust matters.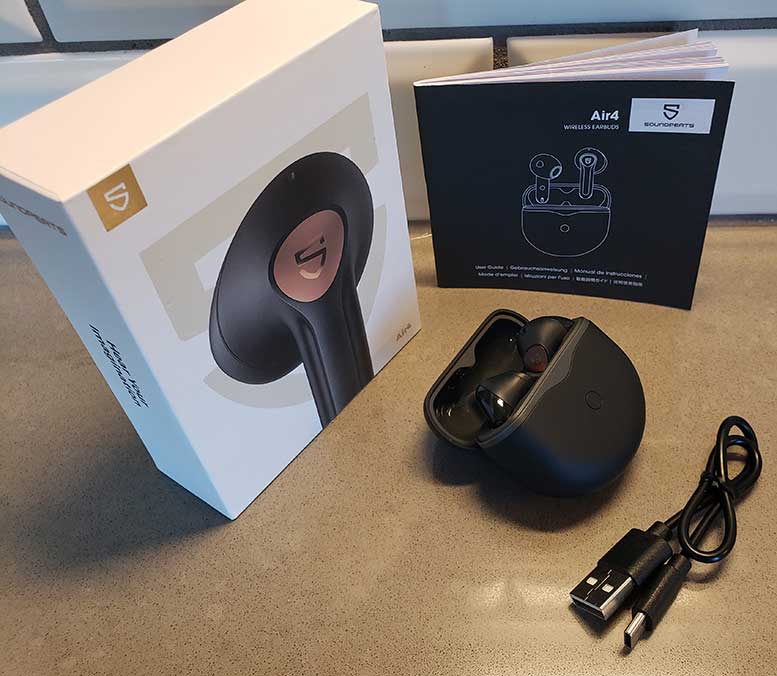 From the packaging to the product, every element of the SoundPEATS Air4 Earbuds has been thoughtfully designed. It's a testament to the company's commitment to delivering quality without compromise. If you're looking to upgrade your auditory experience without paying a premium, SoundPEATS Air4 might just be the ticket. Let's see what these buds hold in store.
First Impressions
With a sleek black design, the Air4 Earbuds don't scream for attention. But you know what they say – it's the quiet ones you need to watch out for, and that saying seems to fit these buds rather well. They feel solid in hand, comfortable in the ear, and the charging case exudes quality with its minimalistic design. In a market flooded with flashy, over-the-top gadgets, the Air4's understated elegance is a refreshing change of pace.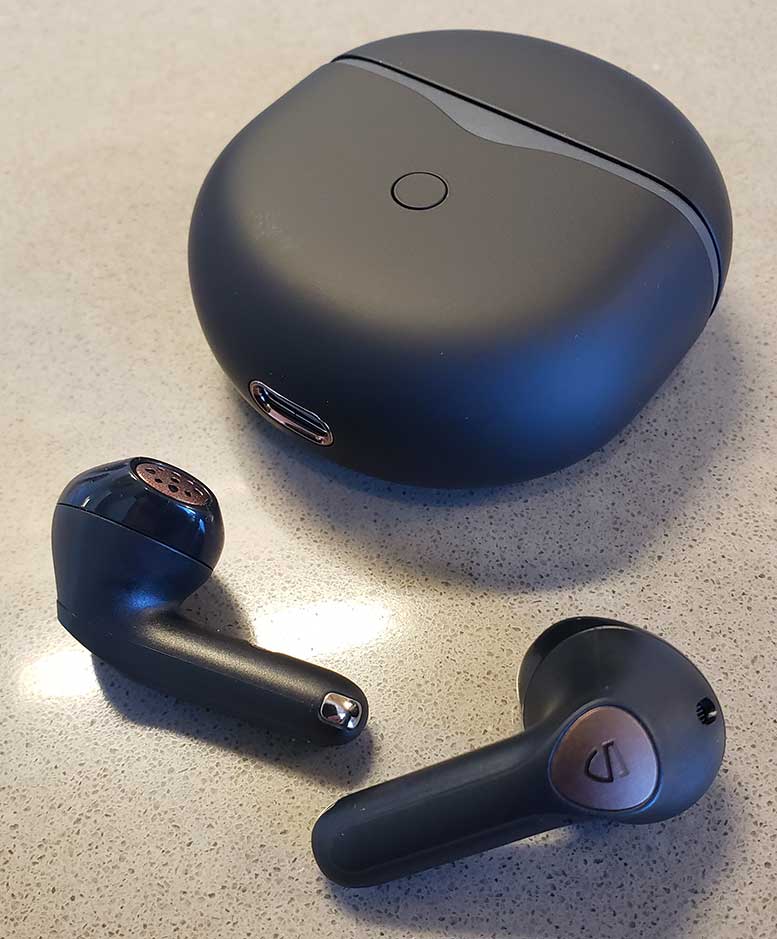 We like the black finish with the copper emblem. It's a nice design choice that works well here. And then there's the size. If you've used wireless earbuds before, you know what's necessary. You can't have large, bulky, obtrusive devices sticking out of your ears. No worries here. Each earbud weighs a scant 4 grams and has short, somewhat stubby extrusions for the Bluetooth antennae and microphones. It's always impressive to see how much they can cram into such small spaces. The Air4's are no different.
Sound Quality
The SoundPEATS Air4 Earbuds are not merely a pair of earbuds; they're a symphony in your pocket. With careful testing across various settings and features, we uncovered a listening experience that met our preferences.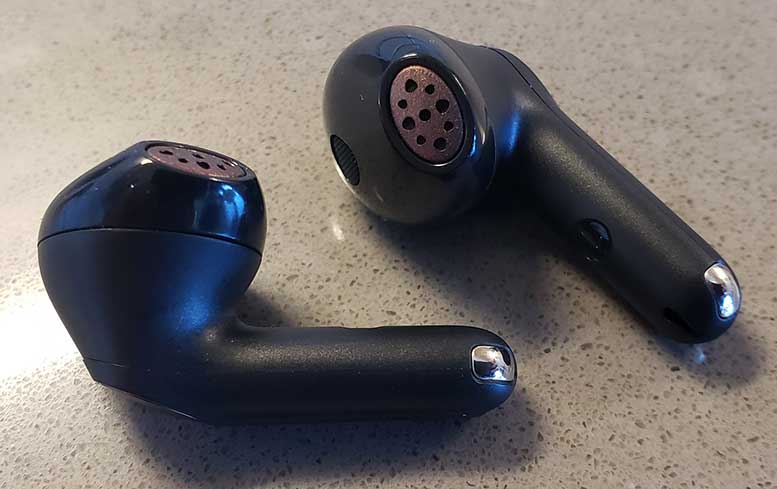 Keep in mind that your mileage may – and likely will – vary. You'll want to play around with the app to get your settings how you like them. What's important here is that you have the option, or options, to do so. And here are the features that make the sound quality so good:
13mm Dynamic Driver & Snapdragon Sound with aptX Lossless
This combination is like finding gold in the world of sound. The 13mm Dynamic Driver brings depth and body to the sound, delivering a sonic experience that's rich and resonant. Coupled with the Snapdragon Sound with aptX Lossless, every note is preserved in its purest form, allowing you to hear the music as the artist intended. We tried different genres, from classical to hip-hop, and the clarity was nothing short of breathtaking.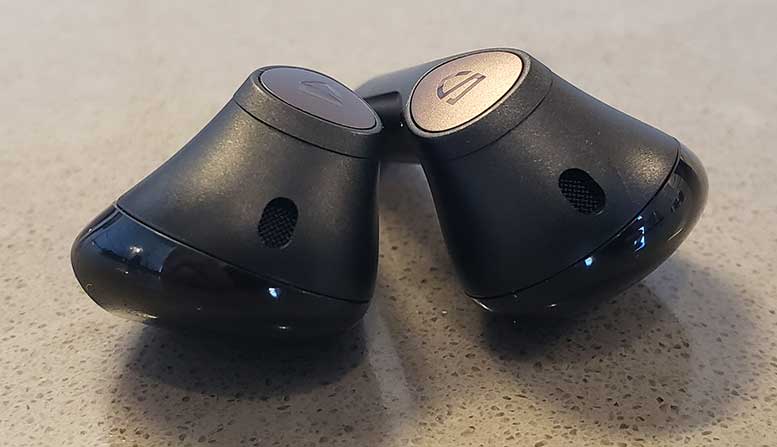 Adaptive ANC Tech & Triple Mics Noise-Cancellation
Have you ever wanted to shut the world out and lose yourself in your favorite song? With Adaptive ANC Tech and Triple Mics Noise-Cancellation, we found that the Air4 lets you do just that. During testing, external noises vanished, and what was left was a pure and immersive auditory experience. Whether in a crowded subway or a noisy café, it's just you and your music. A truly personal concert that follows you wherever you go.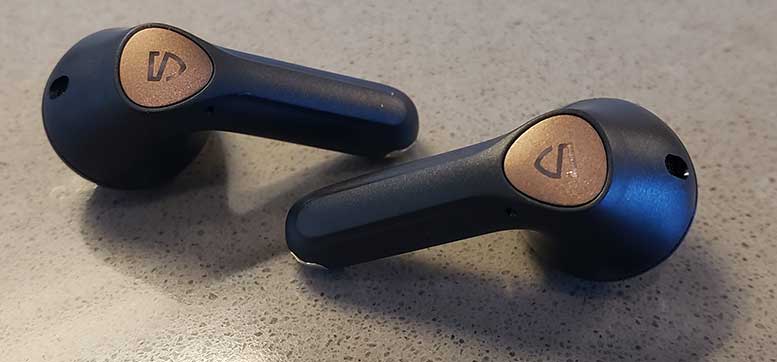 Game Mode
Gaming is not merely a hobby; for many, it's a passion. And the SoundPEATS Air4 is a gamer's best ally. These buds bring more to the gaming station than most. Sure, sound quality is just fine with games. But it's the manner in which that sound is transmitted that makes all the difference, and gamers will promptly attest to it:
88ms Low Latency Game Mode
Gamers know that every millisecond counts. During our rigorous testing, the 88ms Low Latency Game Mode proved to be a game-changer. Whether dodging bullets in a first-person shooter or executing a perfect combo in a fighting game, the sound was right there with us. The effects were sharp, immediate, and immersive. It's more than just hearing the game; it's feeling it. Victory indeed never sounded so sweet.
Through extensive testing and experimentation, the Air4 Earbuds proved to us to be a product that's more than capable of standing out in the market. They're not just an accessory; they're a gateway to a world of sound that's nuanced, enveloping, and authentic. From music lovers to avid gamers, these earbuds have something to offer everyone.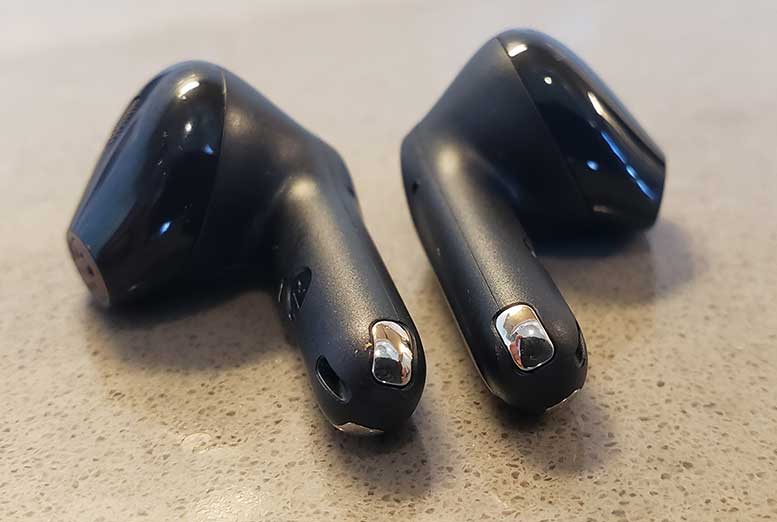 Battery Life and Connectivity
The SoundPEATS Air4 offers an impressive 26-hour total playtime. While it's not industry-leading, it's more than enough for your daily use, commutes, and even those marathon gaming sessions. The customizable app control ensures you're always in charge of your audio experience. While it leaves a bit to be desired (it's not the most supportive application), it does what it needs to do: putting you in control of your sound experience.
And speaking of control, the BT5.3 Stable Multipoint Connection is a real lifesaver. Whether you're moving around the house or out and about, your connection stays solid, and your music stays uninterrupted. SoundPEATS clearly understands that stability in connection is the backbone of an excellent wireless earbud experience.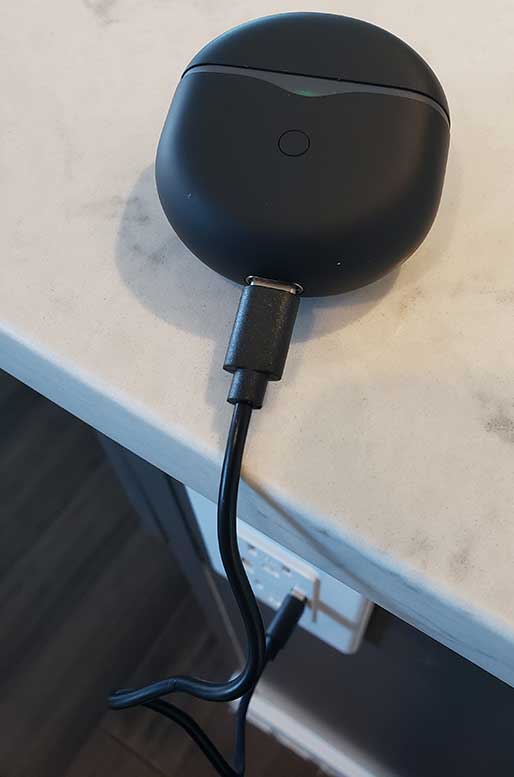 Ear Fit
Ear Fit can make or break the user's experience with a pair of earbuds. We're overall happy with the sound quality, but the ear fit experience has proven to be quite the mixed bag. Here's what we uncovered:
Designed for Small Ears: For some members of the NerdTechy staff, the Air4's suitability for smaller ears is championed. The absence of silicone tips ensures a unique fit that doesn't pressurize the ear canals, and the buds sit delicately on the folds of the ears. If you're someone who prefers a fit that's light as air, these buds may just be your match.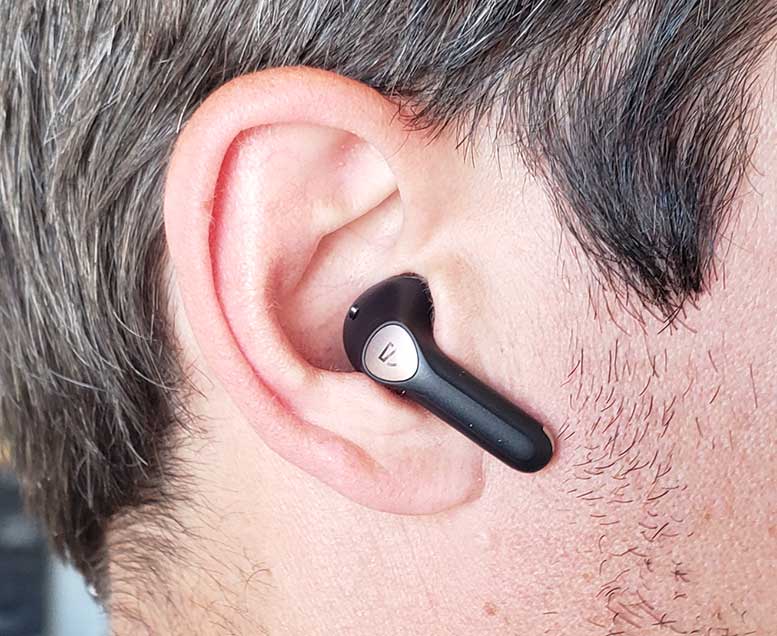 The Fat-Finger Challenge: On the other hand, others faced struggles with extracting the buds from the case. A lid that doesn't open wide enough and smooth-textured buds have led to a frustrating puzzle-like experience for some of us. If you have larger fingers, this could turn into a daily challenge.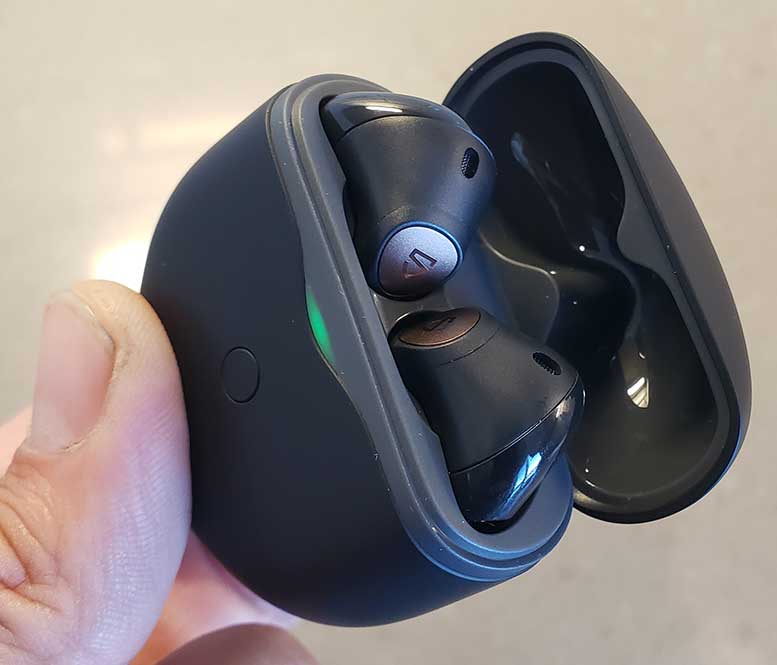 Fit and Sound Leakage: The design of the Air4 does not aim to fit snugly in the ears, which can lead to noise leakage. We're both fans and critics of the fitment. On the one hand, it's ideal for those who prefer environmental awareness. But on the other, it can be a real downer when you want to block out ambient noise during commutes.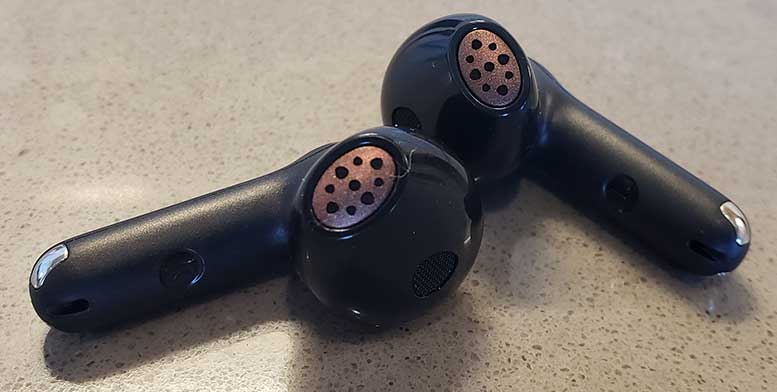 Material Choices and Comfort: The decision to replace matte plastic with glossy plastic proved to be a point of contention for us, as well. Some of us found the buds moving around and not feeling secure. Others praise the wearing comfort and long-time wearability, especially for the ability to hear the environment.
You certainly get a unique experience in terms of ear fit. While some will love their light and delicate fitting, others may find the design choices incompatible with their needs. Like a pair of shoes, earbuds must fit just right, and it seems the Air4 might be a perfect fit for some but a disappointment for others. If you're considering these buds, understanding your ear shape, finger size, and preference for ambient awareness or noise blockage will be key to making the right choice.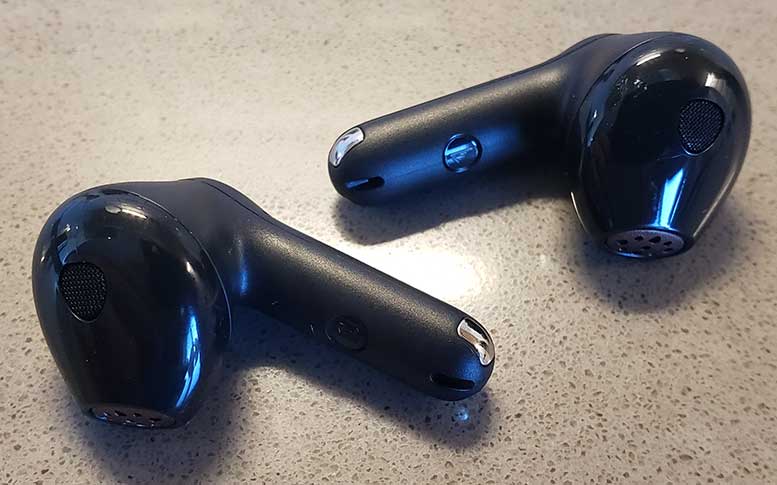 Final Verdict
When it comes to delivering crisp, clear sound in a sleek and functional design, SoundPEATS doesn't just hit the right notes; it orchestrates a symphony of auditory delight. After rigorous testing and careful scrutiny, the verdict is in on the Air4 wireless earbuds. Are they perfect? Well, perfection might be a stretch, but they come close. Whether you're a casual listener or a devoted audiophile, SoundPEATS offers a satisfying auditory experience.
The sound quality? Rich and immersive. The fit? Comfortable for some, too loose for others. The battery life? Sufficiently robust for your daily needs. By our estimation, the pros outweigh the cons. But what truly makes SoundPEATS a standout choice is its value proposition. With a price point that won't leave your wallet in despair, these earbuds provide top-tier performance that rivals more expensive alternatives.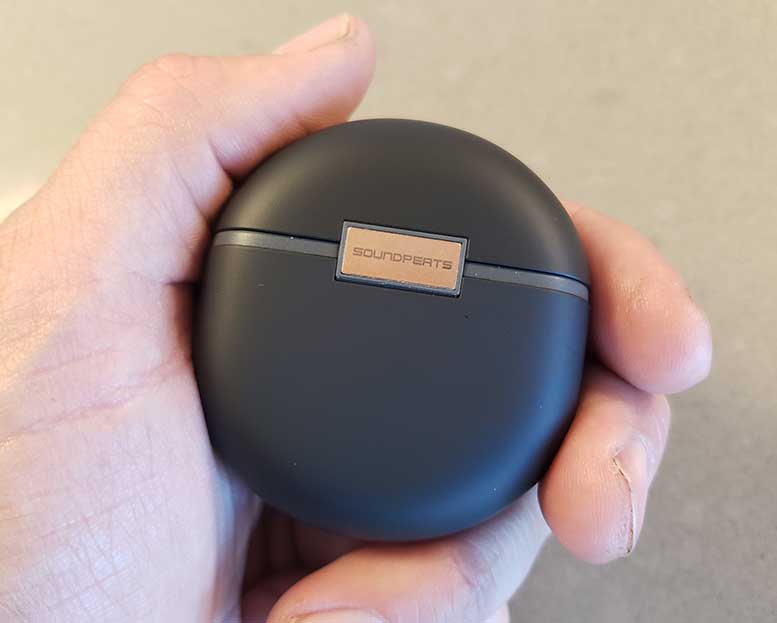 Could they benefit from a bit more bass or a more intuitive control system? Perhaps a better ear fit system? Possibly, but these are minor quibbles in the grand scheme of things. SoundPEATS has struck a harmonious balance between affordability, quality, and style, making them an excellent choice for those seeking a reliable companion for their musical journeys.