Crafters everywhere are always looking for cool new machines to unlock their creativity and take their projects to the next level. One of the best machines to get is a laser engraver. These machines are great for engraving on a ton of different materials.
If you're getting one of these, you may as well go for one of the most powerful ones on the market. Better yet, you can find one that has the ability to engrave, cut, and more at high speeds with great precision. If all that sounds intriguing, then you may want to learn more about the AlgoLaser Alpha 22W.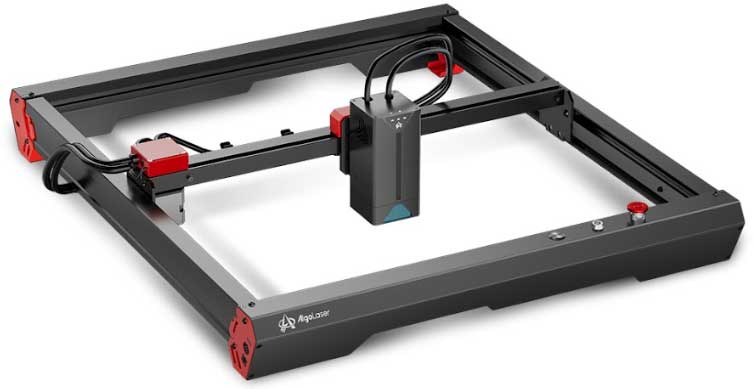 The Strongest 22W Engraving Machine
The AlgoLaser Alpha 22W is the strongest laser engraver at its wattage on the market. To do so, this machine has utilized advanced second-gen COS technology. This uses a polarized beam combination to further improve the laser beam's abilities by 40%. When compared to a standard 20W laser module, this COS technology compresses the beam to nearly a square 1:1 ratio rather than a rectangle, creating a 40% smaller spot size. When on 30% power, the beam has a size of .08 x .07mm, and at 100% power, it has a size of .16 x .14mm.
This powerful laser also enables you to create some amazing color variations in your artwork. While engraving on stainless steel, you can utilize variations in intensity to oxidize the material differently. In doing so, you're able to create over 500 shades of color.
Not only can this laser engraver engrave, but it can also cut with a single pass of the laser. You can expect it to cut through a 30mm pine board, 10mm black acrylic, and a .1mm stainless steel plate. A few examples of its maximum cutting ability are 45mm black acrylic, 20mm paulownia plant, 12mm MDF, and 20mm White Oak. The maximum working size of the machine is 400 x 400 mm.
DEAL ALERT: Top 10 Orders: Get a wonderful gift worth $139.99: one-year LightBurn free license & one 400mm x 400mm Honeycomb Panel. 11th-300th Orders: Get one 400mm x 400mm Honeycomb Panel worth $79.99 – Act Now and Order ASAP through this link to take advantage of this special event.
Motherboard & Firmware Upgrade to Improve Performance and Speed
The Alpha 22W has an upgraded, current-gen motherboard and firmware system to make it a state-of-the-art piece of technology that performs extremely well. On the motherboard, you'll find a dual-core CPU. This helps deliver a huge speed boost of 32% higher CPU performance. Best of all, it also improves energy efficiency by 50%. When compared to other laser engravers, the Alpha can load files up to 80% faster while on 2.4G WiFi. For example, some files on the Alpha may take 23 seconds to load, while those same files on other engravers take over 180 seconds.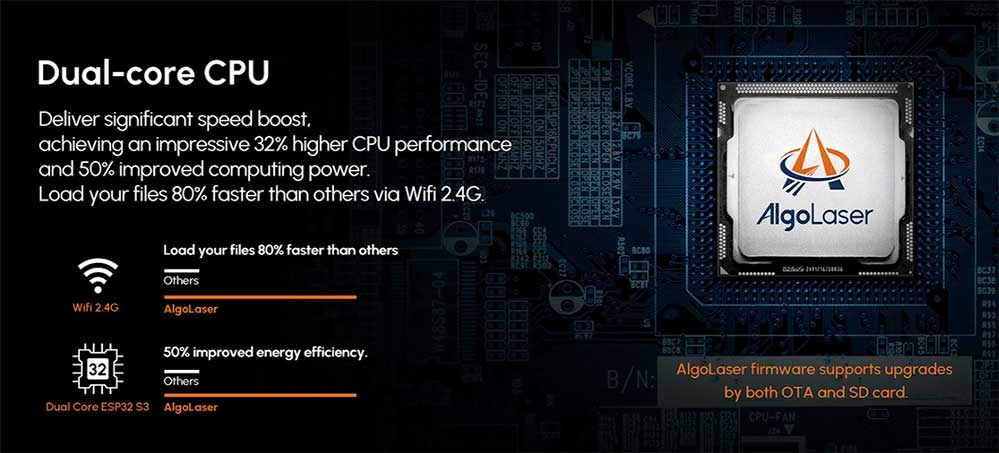 As for storage, that has also been expanded and improved. You'll find 8MB of RAM on the motherboard, along with 8MB of storage memory and an additional 32GB SD card. It's also a relatively modular system, so future upgrades are a possibility. The firmware used within the Alpha allows for both OTA and SD card upgrades.
Engraving and Movement Speed
One of the most important features of a laser engraver and cutter like this is just how fast it can complete whatever project you throw at it. Luckily, the AlgoLaser Alpha 22W is incredibly fast. While engraving, it can achieve speeds of up to 400mm/s. This gives it 7.5X faster actual performance.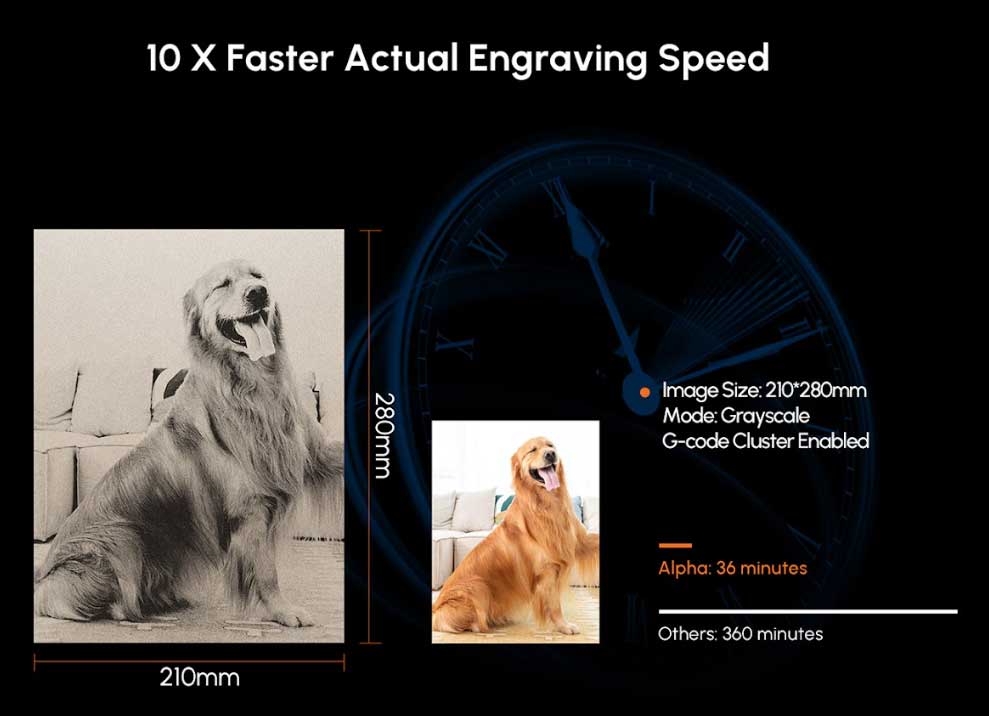 To put that in perspective, let's say you're making engraving a standard grayscale project with an image size of 210 x 280mm. Using the Alpha with G-code cluster enabled, you could finish the entire project in 36 minutes. To create that same project on other engravers on the market, you can expect it to take 270 minutes. That's time savings of nearly four hours!
AlgoLaser Smart Connect
AlgoLaser Smart Connect is another great feature that the Alpha has. This gives you a plug-and-play smart air pump. Using this air pump, you can adjust the airflow based on the speed and power of the laser you're engraving or cutting with.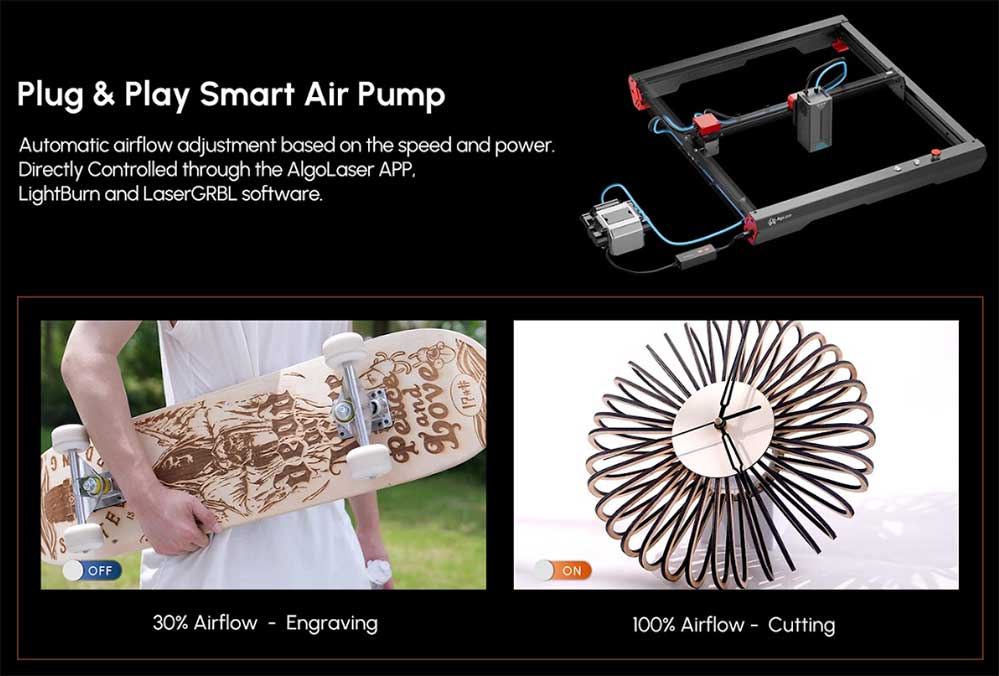 The airflow is supported by direct control through the AlgoLaser App, LightBurn, and LaserGRBL software. While doing standard engraving, you may only want minimal amounts of airflow, whereas when you're cutting materials, you may want maximum airflow. Smart Connect and the air pump allow you to take complete control of whatever project you're making.
Designed for Easy Offline Use
One downfall of devices like this is that they sometimes require the use of the internet in order to function. The Alpha doesn't have this issue, as it's been designed to be easily used offline. It's extremely easy to get started with by using either professional or beginner modes. To help further control either mode, there is an included remote control.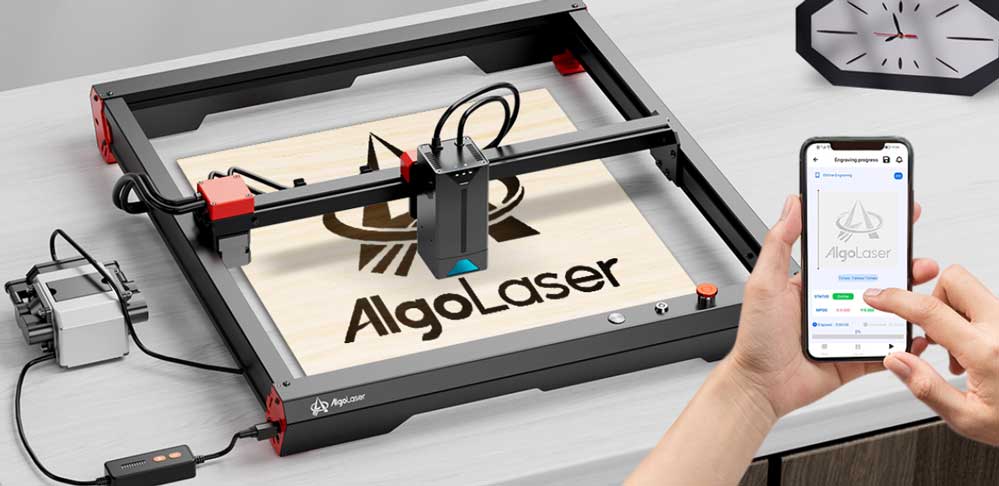 There is support for direct image import, so the internet isn't a necessity. You can also choose various fonts from the extensive library of pre-loaded options. There's also a set of built-in drawing tools and a library full of templates to get started with something already created. Best of all, there are easy batch customization abilities and built-in knowledge of cutting or engraving on over 120 different materials.
Every Detail is Refined for Easy User Experience
The Alpha has been designed with the user in mind every step of the way. This friendly design helps enhance your experience using the machine, whether you're an experienced user or just trying out a laser engraver for the first time. The first feature that helps with this is a magnetic and detachable laser metal cover. This cover makes it easy to clean the machine. Its removability also lets you utilize a deeper cutting focus while not using the cover.
Another great feature is the laser protective lens integrated within the air assist nozzle. This provides protection to the laser while its in use. Ultimately this should help extend the lifetime of the laser itself. The alpha also has a semi-automatic focus and dual-side fixture structure. The structure is used to change the dot contact to a complete surface contact. This is beneficial for using heavier bearings and creating far fewer zigzags while engraving.
Additionally, every belt for the machine comes pre-installed. This helps reduce your set-up time but still lets you adjust them as needed. The whole machine is also cable managed very well, utilizing fewer plugins to give a much cleaner look overall.
Safer and Better for Complete Peace of Mind
If you've never used a laser engraver or cutter before, they can be a bit intimidating and scary. Having a device that creates such a hot and powerful laser can bring up safety concerns and may even deter some people from ever trying one. However, the Alpha takes that all into account and helps to give you peace of mind about how safe it is.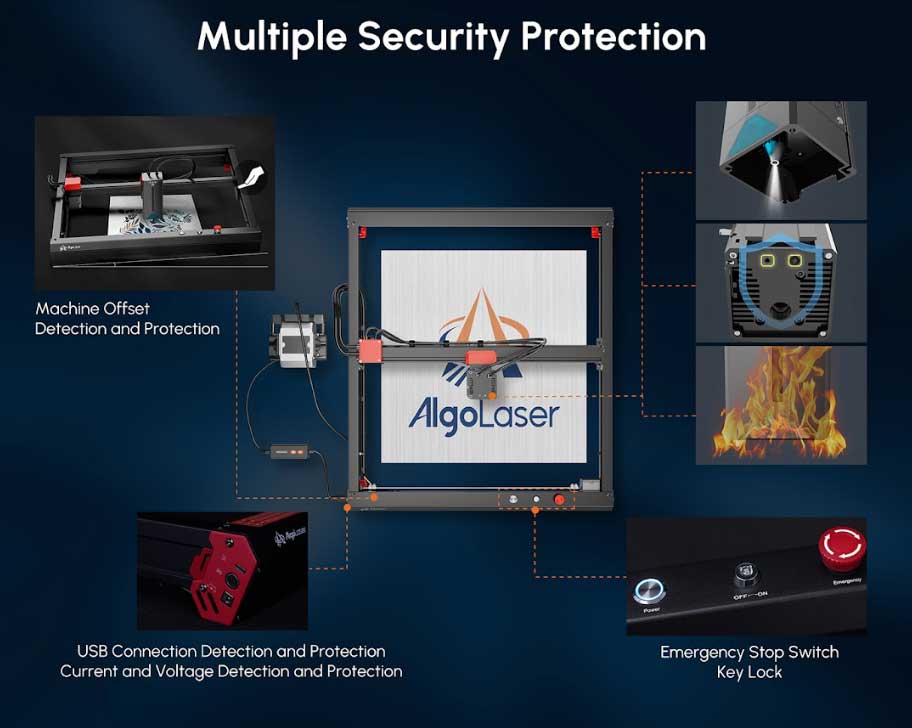 There are seven different safety precautions taken with this machine. The first is machine offset detection and protection. This lets the engraver see when it's not completely on the material it's working on, preventing any unwanted engraving or cutting. The second is machine tilt detection and protection, which protects it from getting tilted and putting the laser somewhere you don't want it. It also has USB connection detection and protection and beam detection and protection. The final detection and protection system it has is for current and voltage. This makes sure the machine doesn't overpower itself and cause damage to itself, the materials, or your home.
If something does go wrong for any reason, there's a built-in emergency stop switch. You can easily flip this switch and shut down the operation of the matching extremely quickly. While not in use, the engraver can be locked with a key to keep anybody (like children or pets) from accidentally turning it on and causing damage.
Easy to Setup with Everything Included
While the Alpha doesn't come pre-assembled, it's not a difficult machine to put together. Overall it should only take around 15 minutes or so to get it set up. Everything you need to put it together and start creating is included in the box. These items include:
Front, Rear, Left, and Right assembly
X-Axis Assembly
Motor Extension Shaft
Two Allen Keys
Assembly Screws
Machine Key Set
USB Cable
Two Couplings
Power Cable and Power Adapter
Laser Eye Protection Goggles
Brush
LB-20A Laser Module
Laser Shield
Lens Tool
Air Assist Nozzle
Replacement lens, o-ring, and nut
Lens Finger Guard
1 340mm x 220mm x 3mm piece of plywood
1 175mm x 122.5mm x 3mm piece of acrylic
2 86mm x 54mm x .2mm metal cards
The included project materials are a nice touch so that you can start practicing as soon as the machine is assembled without having to purchase extra materials to learn how to use it.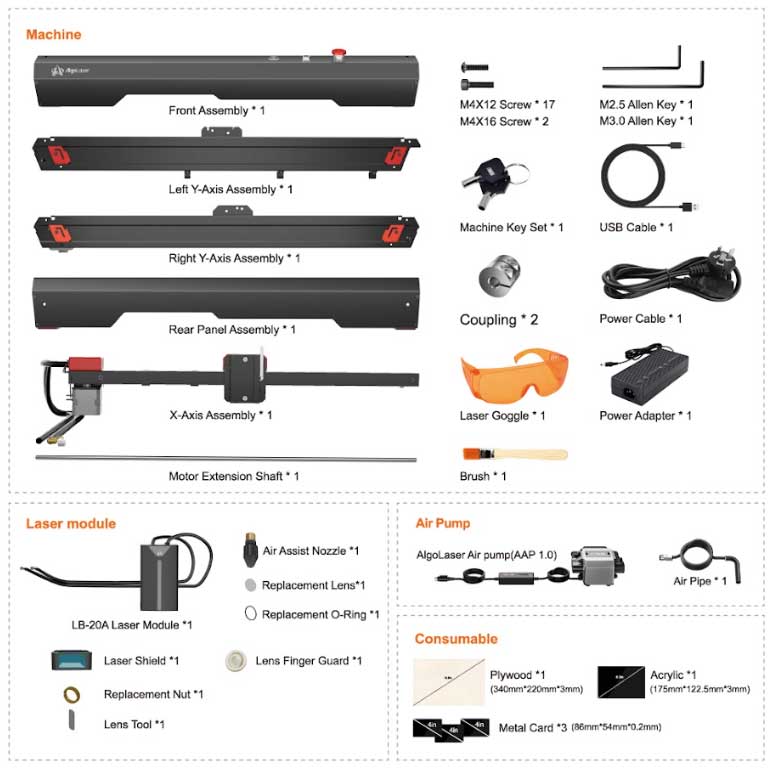 Final Thoughts
The AlgoLaser Alpha 22W is an amazing laser engraver with great additional cutting features. With a huge 400 x 400mm working size and ultra-powerful 22W laser, you're basically only limited by your creativity for what projects you can bring to life. Everything used in its construction is durable and state-of-the-art.
It also has additional safety measures to give you peace of mind both while in use or not in use. It's simple to put together, and everything you need for your first engraving or cutting is included right in the box. For all those reasons, if you've been looking for a new crafting machine to take your projects to the next level, the Alpha 22W laser engraver with cutting capabilities may be something worth checking out.