Choosing between earbuds can be tricky. Are you thinking about going for a jog? Are you going to be walking around the city with your earbuds in? Do you have any concerns for noise isolation or calling features? Those kind of details can add-up — and form a different picture of what perfect earbuds look like.
You can find a pretty good example of this from the not-so-stark contrast comparing the Rademax True Wireless Earbuds and the Pasonomi True Wireless Earbuds. In both cases, you're looking at earbud technology with a lot of similarities. For instance, both have the capacity to take advantage of all Bluetooth 5 has to offer.
But you're also looking at fundamentally different levels of performance when it comes to their microphone, battery, and even audio quality. Which can make a closer comparison worthwhile.
Rademax True Wireless Earbuds
Rademax True Wireless Earbuds have a soft focus on waterproofing and a large focus on battery potential. When you're off the grid for more than a few hours at a time, it helps if your earbuds can keep up with you. That's not often the case, especially when you're dealing with a charging case that can only replenish your buds a handful of times.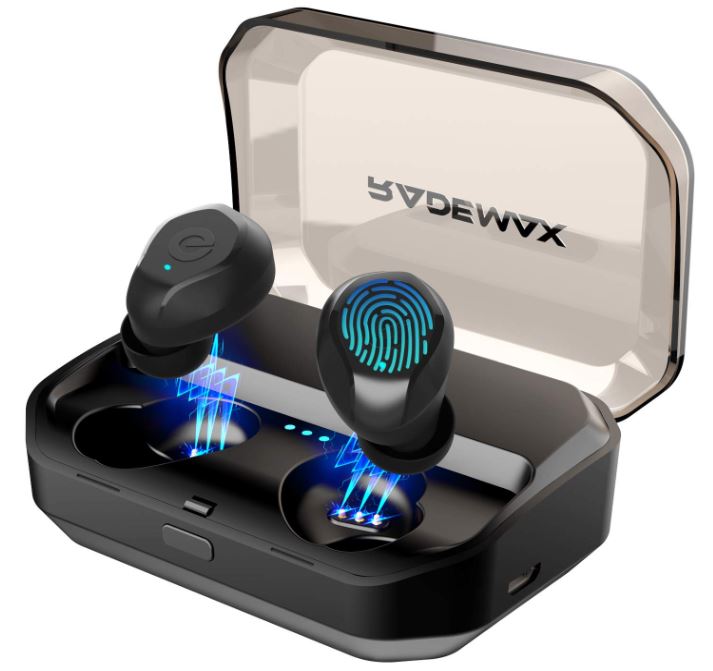 Because the Rademax Earbuds have such a powerful battery that they decided to allow you to charge other devices on it as well. Now, in a lot of cases, that's a bad idea. Since when you start recharging your phone from your earbud case, you end up with a much shorter battery lifespan from your earbuds. But the Rademax Earbud case is actually large enough for this to not be a totally ridiculous proposition. It has battery power to spare, so to speak.
Design & Configuration
Though these earbuds have a pretty straightforward looking black matte chassis, their design is a bit more sophisticated than it lets on. You'll notice the case and each earbud is protected with an IPX7 waterproofing level, ensuring you're protected against sweat and rain without question. In fact, this is one of the heavier duty waterproofing protections, and it suggests you could shower with these earbuds on, or even wash them in the sink without having to worry about it.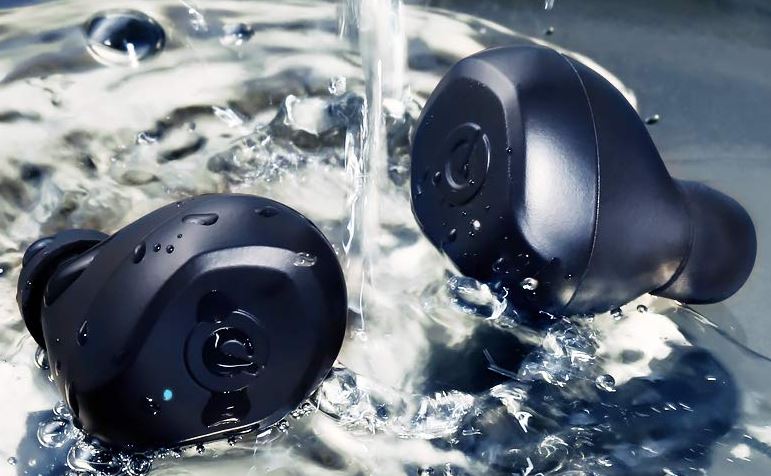 Sometimes earbuds are made with a charging case that wants to be as small and compact as possible. Other times, the charging case is given a little more room to breathe. In this particular case, you'll find Rademax True Wireless Earbuds are a part of the second category. The charging case is still fairly small, but it's actually about half of the size of a smartphone, so you can definitely feel its presence.
The Audio
Rademax Earbuds deliver a bass-oriented soundscape that slightly favors movies, and slightly favors and bass driven action. It's great for establishing a better sense of ambience within an environment, which can be critical for a variety of entertainment purposes. It's also great for clarity, again with especially well balanced bass section.
It would be an exaggeration to say these earbuds have their own distinct sound, however. They end up sounding quite similar to a number of similarly priced earbuds, mostly for reasons related to their physical construction. Nevertheless, they do deliver a great degree of clarity, inside and outside of music.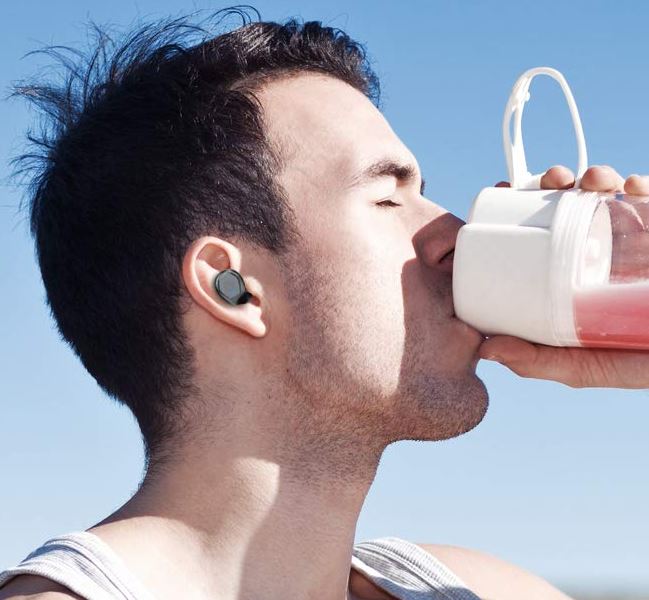 That's also true when you start to look at the microphone performance. Clarity is really the most important thing a microphone can bring to the table. There's more to it than that – but clarity is certainly among the most important traits. And the soundscape provided by the Rademax True Wireless Earbuds does deliver when it comes to clarity.
One more thing keep in mind is that these earbuds can be used in a mono mode. That allows you to continue using one while the other keeps recharging in the background. And because you're only pulling half the power in mono-mode, you can expect effectively double the total battery lifespan.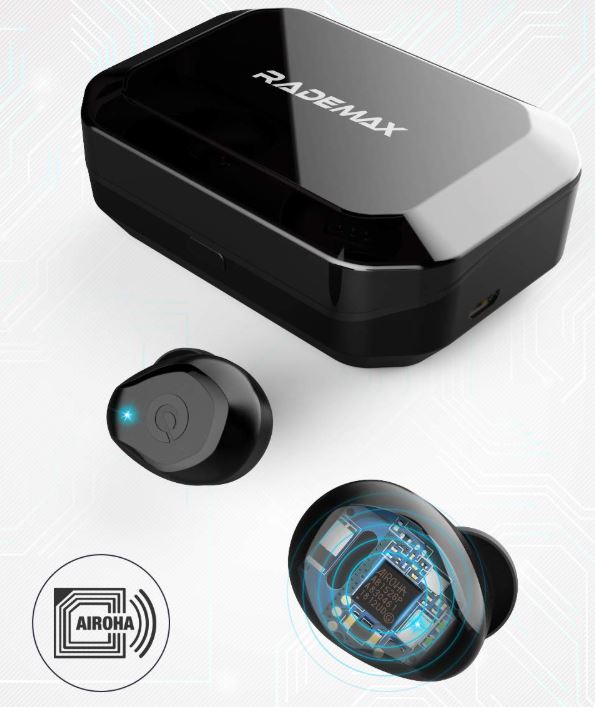 Battery Power & Wireless Connectivity
How does the battery performance look without mono? Well, prior to using the charging case, you can anticipate around 3.5 hours of playtime from each earbud. That's low-average, with many similar earbuds in this price range being able to support four hours or even four and a half hours of total playtime.
But it's not all bad news. It's slightly lower than usual because these earbuds are capable of being a bit louder. For people who really like to turn their music up high, that can be great. And for people who keep things at lower levels, battery performance can actually slip a little higher than that 3.5-hour mark. Especially if you start to take or make any calls on the earbuds. Calling tends to be a less battery intensive application.
The charging case is a pretty bulky 3350mAh battery. That large size is what makes it qualified to be used as a power bank with connecting devices through the included USB port. Once you've accounted for the charging case, you can anticipate a total of about 90 hours of playtime. You can recharge the earbuds around 30 times with that battery. You could also recharge a smartphone about one and a half times, depending on the type of phone you were trying to recharge.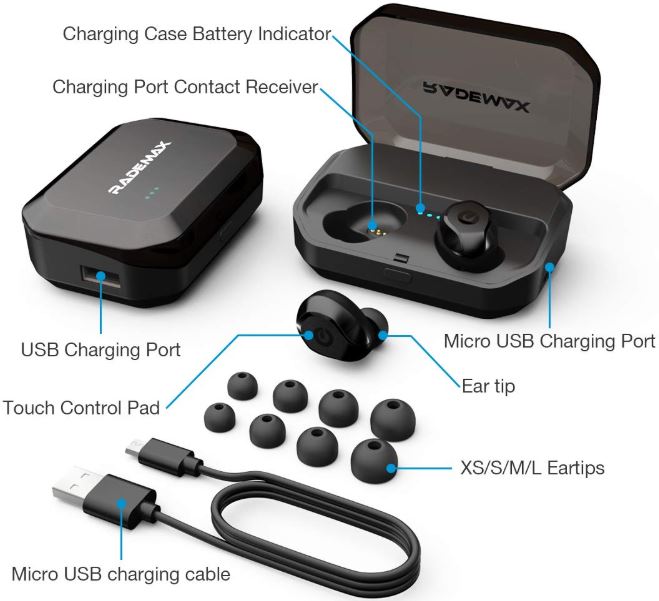 Wireless Connections & Other Considerations
As mentioned earlier, the Rademax uses Bluetooth 5.0 for a more stable connection between the buds, and between their source. Faster pairing and what amounts to universal compatibility is pretty attractive, too. Since there's a one-step pairing process, you can automatically pair from each bud the moment you remove them from their case. The earbuds are also automatically powered on and off as they're removed or added to the charging case, as well.
With respect to extras, you'll find Rademax didn't skimp on the comfort options. Rademax include four sizes of ear tips, and two replacement sets. That's an above-average assortment that pretty much guarantees you should be able to find at least one pair that fits nicely, if not two. They also include a 6" micro USB charging cable. However, there is no warranty to speak of.
Pasonomi True Wireless Earbuds
Not everybody needs a giant battery. And if you can get away with using a lighter carrying case, why wouldn't you? The Pasonomi Earbuds have many of the same essential features as the Rademax buds, except they've got a slightly different emphasis in their overall sound design.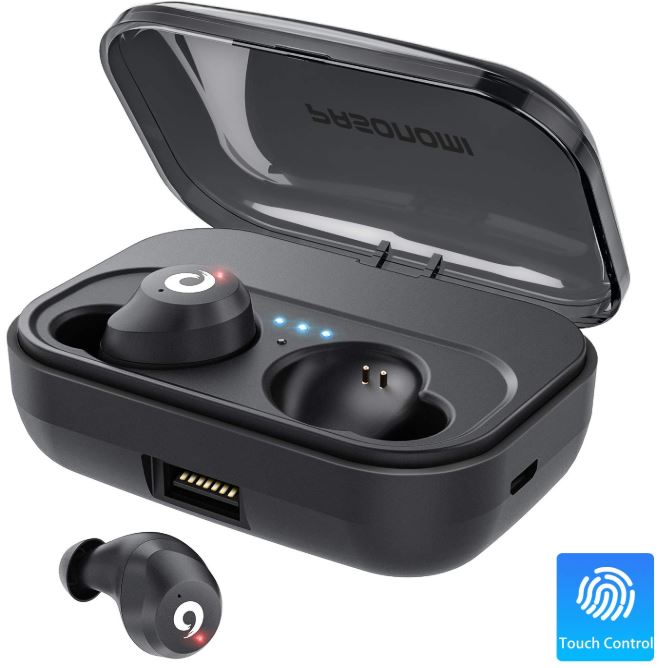 They're also made with a somewhat greater emphasis on portability. That makes them a bit more ideal for someone who's carrying them around in a day to day fashion, and a little less ideal for someone who's going camping for a week and is off the grid entirely.
Design & Configuration
Pasonomi Earbuds are available in two varieties, black and white. Not exactly a world of options at your disposal, but it's certainly better than choosing from black alone, isn't it? Both types are made with a matte plastic exterior which was made so it doesn't catch glare. And both look generally professional, though the white version will invariably end up being a little tougher to clean and maintain its appearance.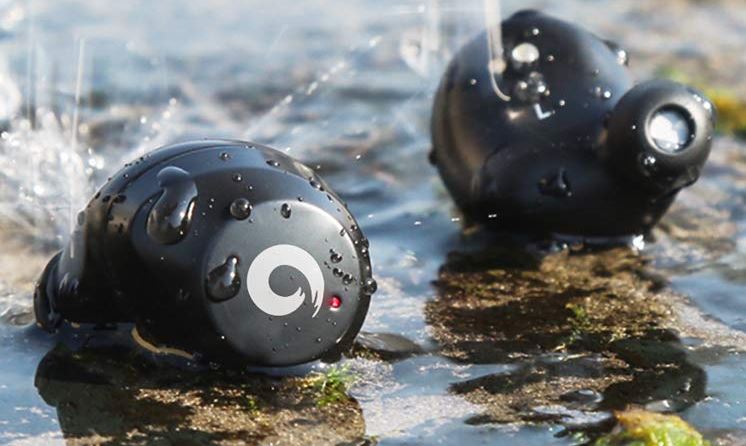 Similar to the Rademax Earbuds, Pasonomi has decided to constructed their wireless earbuds with formidable waterproofing protection. The IPX7 waterproof certification protects the earbuds from rain, water, and sweat. Again, that's one of the stronger waterproofing projection levels. You could even use these for swimming in a pool, provided you weren't going to great depths.
Audio Quality
How do Pasonomi True Wireless Earbuds sound? Well in a lot of different ways, they actually sound pretty similar to the Rademax earbuds. Except the emphasis on bass has been stripped away, which gives the soundscape more of an athletic and energetic vibe. You could say it was made specifically for the sort of active athletic music that people tend to listen to while they're working out.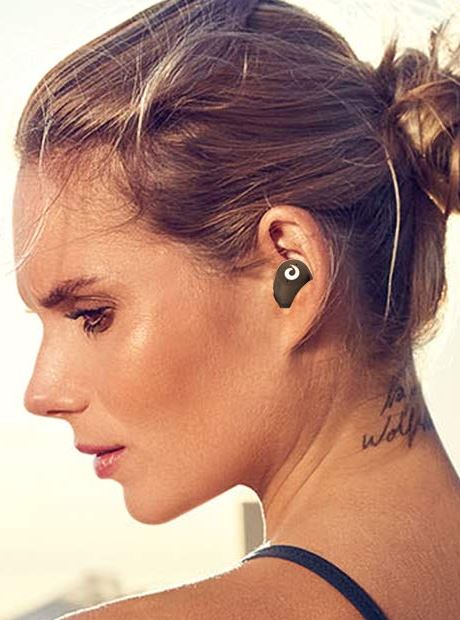 Consequently, though the difference is marginal, the Pasonomi is slightly better at constructing female voices. Mostly because its treble range isn't as muted by the bass as the Rademax Earbuds. But it's something that you can appreciate, depending on the genres you listen to. Electronic music with lots of pop to them will sound especially good for earbuds like these.
Battery & Wireless Connectivity
Another area of difference between these earbuds can be felt in their battery capacity. Here you'll find the charging case battery is as robust 2200mAh lithium-ion cell. How well does that perform? Well, you can get about 15 earbud recharges out of it.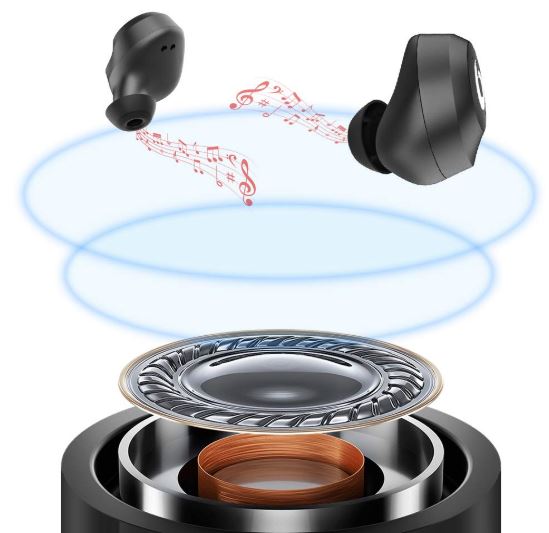 And you get about 3.5 hours of music playtime from each earbud. So all in all, you can estimate about 50 hours of total playtime. Not bad by any measure. Though, those figures can be dropped dramatically if you crank your volume all the way up.
Wireless Connections & Other Considerations
Pasonomi Earbuds use Bluetooth 5.0 for their wireless connections, enabling quicker pairing than previous iterations of Bluetooth. Pull the left earbud out of the charging case first, and then remove the right earbud, and they will automatically pair up with each other. An X9 symbol will appear on your smartphone screen, and you'll be connected. Pretty smooth stuff.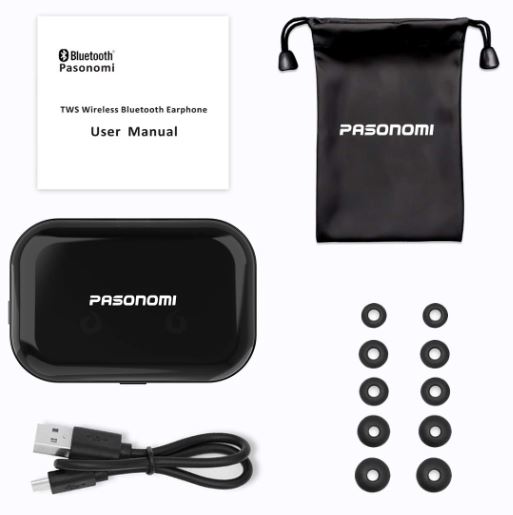 These earbuds include five sizes of silicone ear tips, and two replacement sets. They include a drawstring bag containing a charging case, and a short 6" micro USB charging cable. There is also a user guide, but that's not very handy unless you've never used a pair of earbuds like these before. Pasonomi includes a one-year warranty with their wireless earbuds.
Rademax vs. Pasonomi Earbuds – Which Are Better?
Rademax Earbuds are a great choice for someone who prioritizes battery performance. They've got an enormous 3350mAh lithium-ion battery which is capable of doubling as a source of power for your smartphone or tablet. Though the actual capacity of each individual earbud isn't much greater than the Pasonomi Earbuds, the charging case is certainly much larger. For someone who places a high value on battery capacity, and someone who values bass performance, the Rademax Earbuds will be the better pick.
The Pasonomi Earbuds are slightly stronger with respect to their comfort options. But the difference between 5 pairs of ear-tips and 4 pairs is pretty insignificant. Though, since they're available in both black and white, they've clearly have more style options to offer. For someone who isn't attracted to a bass-driven soundscape, and places a higher value on portability, the Pasonomi Earbuds will be the better pick.
Meet Derek, "TechGuru," a 34-year-old technology enthusiast with a deep passion for tech innovations. With extensive experience, he specializes in gaming hardware and software, and has expertise in gadgets, custom PCs, and audio.
Besides writing about tech and reviewing new products, Derek enjoys traveling, hiking, and photography. Committed to keeping up with the latest industry trends, he aims to guide readers in making informed tech decisions.