The future is now. We may not have flying cars, but we do have keychains with GPS, kettles with Wi-Fi, and Bluetooth-enabled LED light bulbs that play music wirelessly on command. Just how much technology can you cram into a light bulb? As it turns out, quite a bit. From changing colors to changing music, you've never been able to do more for your décor with the simple change of a light.
Whether you're looking to entertain kids, add an air of professionalism in your business, or create a modern accent in your home, what you can get done with Bluetooth bulbs is only as limited as your imagination. From Halloween and Christmas, to Valentines and Independence Day, Bluetooth bulbs place you one button away from adding festive holiday spirit to your home.
Choosing Cool Features
And the benefits aren't simply aesthetic. Bluetooth light bulbs often typically come with fully customizable features, including use timers. That makes them great for helping wake you up in the morning, or even for adjusting the color temperature over a normal color bulb over the span of a day.
Being able to change or accent the atmosphere of your home with color lighting is great, but even if you plan on using these bulbs for a plain white light, there are real benefits. With the right Bluetooth bulb, you're able to program a gradual shift in color temperature throughout the day. Roughly 60 million Americans say they suffer from insomnia, and one of the first pieces of advice given to people with sleep issues is to avoid blue light before bedtime.
Cooler color temperatures contain more blue light, which helps keep you awake and attentive. During the day that's great, especially if you're trying to wake up. But during the evening, blue light temperatures interferes with your ability to feel sleepy and ultimately fall asleep. Bluetooth bulbs can help you address that problem by switching your bulbs from blue-whites in the early morning to warmer whites in the evening.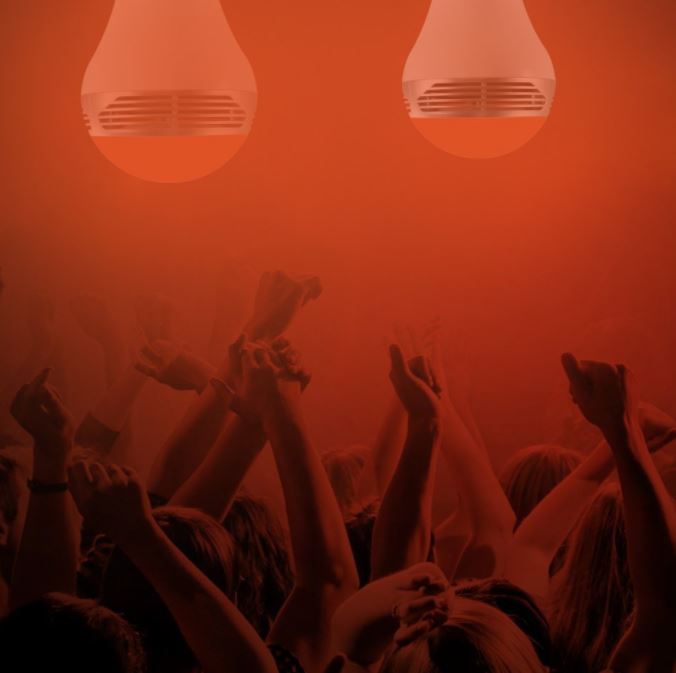 Avoiding Bad Bulbs
You can find equal amounts of good bulbs and crummy bulbs on the market. Good bulbs ooze quality, they do what you expect and more. Bad bulbs are counter-intuitive and frustrating to use, they'll require extra batteries, sound like junk, and die before the year is through. Many bulbs come with extra features, but knowing which ones you want will require you have a good idea of where you want to use the bulbs.
Sound Quality & Connection
You don't want the speaker on your Bluetooth bulb to sound like a cheap singing birthday card. While you're not going to get massive speakers on a light bulb, there are bulbs that sound okay and bulbs that don't. If you pick carefully, then you can avoid choosing products that make your music fall flat.
How do you want to control the bulb? Most bulbs operate through Bluetooth connections to a phone or tablet, but you can find some bulbs that include remotes for independent operation. Using modern Bluetooth connections, the range of transmission for music-playing is about 30 feet.
Power Use
Power use isn't just an environmental issue, and it's not just a matter of saving you money on your electric bill. The amount of power a bulb burns through is also an approximate reflection of how many lumens of light will be produced. Power use also typically reflects the quality of speakers. Speakers that use 1 watt may sound like a good idea in terms of electrical use, but they're going to sound terrible to your ears. Reasonably quality speakers should take around 3 watts. That brings the grand total wattage of the bulb to 6 or 8, largely depending on the Bluetooth connection involved.
Practical Stuff & Aesthetic
Whether you're trying to wake-up your kids, create relaxing atmosphere in your home, or make a party more festive, Bluetooth Bulbs can help you take steps in the right direction. But there are some simple practical questions you have to ask about the bulb itself.
How much light does it provide, and how much light do you need in the space you're using it? If you're looking for a setup that can give you the b rightest whites, then you'll want to consider the color temperature of the bulb. Bulbs that don't go beyond 4,000K in color temperature aren't going to offer a full spectrum of white light.
And you'll want to carefully consider the size of the bulb. Many Bluetooth bulbs have bulky heads or bodies that may interfere with installation in tight spaces. Because most bulbs have to fit inside fixtures, you'll want to pay attention to the dimensions of the bulb you pick, especially its height and width.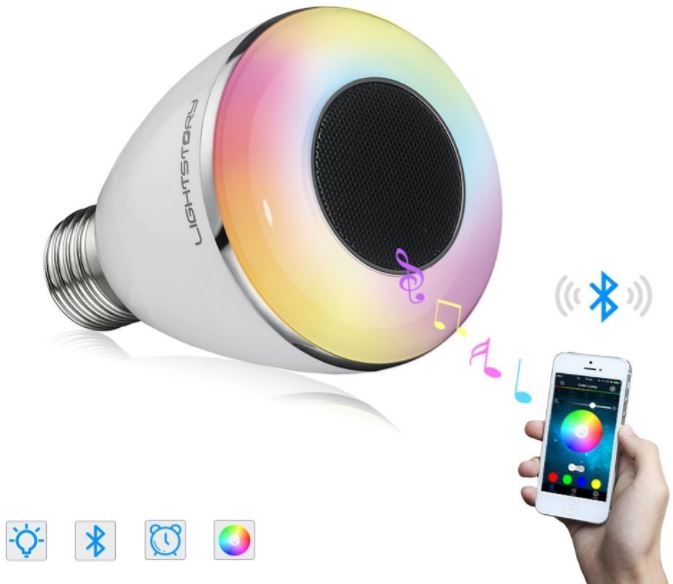 LightStory Bluetooth Light Bulb Speaker
Created with a relatively sleek 2.8 x 2.8 x 3.9 inch profile, Lightstory's Bluetooth bulb closely resembles an ordinary light bulb. Behind that ordinary appearance you'll find a fully dimmable LED with 12 preset shades of brightness. You'll also find the ease of use you'd expect from Bluetooth, and a bulb that holds up to most scrutiny. The bulb is fully color changeable, which can be changed through a Bluetooth connection to your smartphone or tablet.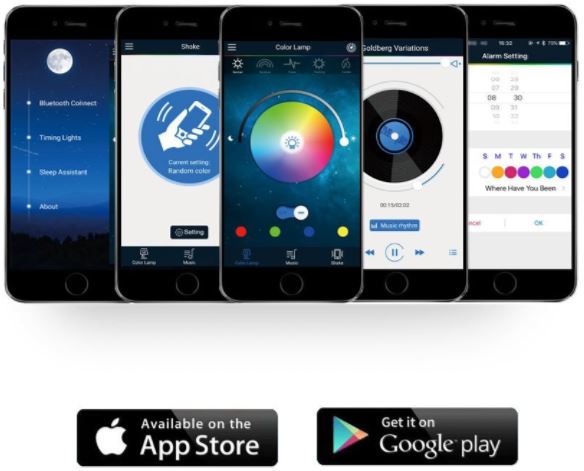 Significant Features
One thing you'll almost certainly appreciate is LightStory's bulb has a memory for the last color you've used, and will keep that color the next time you turn it on. Its small details like this that ensure you don't have to toggle your light more often than you wish. You'll also appreciate the sleep and timing alarm features, which can allow you to set the bulb to be on and off at specific times. And with a little effort, you can program this light to wake you up in the morning with gentle sunlight-quality light, or tell you to go to bed at night as subtly or overtly as you wish.
Fortunately, all the extra technology that comes packaged on this bulb doesn't make it any more difficult to install. Just screw in the bulb where you want it, flip the switch, and setup their free light control app through your smartphone or tablet. You'll be ready to play music in minutes. It's worth noting that you can only connect to one bulb at a time, so if you end up needing four or six different bulbs, you'll have to change them individually.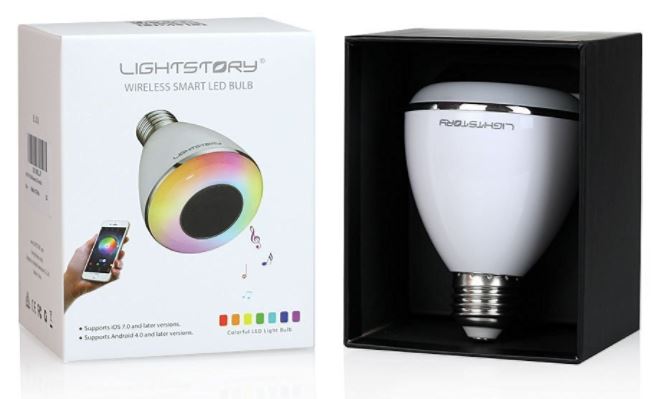 Things to Know About the Bulb
This bulb has a color temperature of 6500k, meaning it's capable of providing truly bright whites. Total power use comes in at 8 watts, including a 3 watt audio amplifier and 3 watt LED. Total light output comes to 280 lumens, which approximately the same as a 35 watt incandescent bulb. LightStory also places a one year warranty and 90 day guarantee on all their bulbs, which should be of some comfort.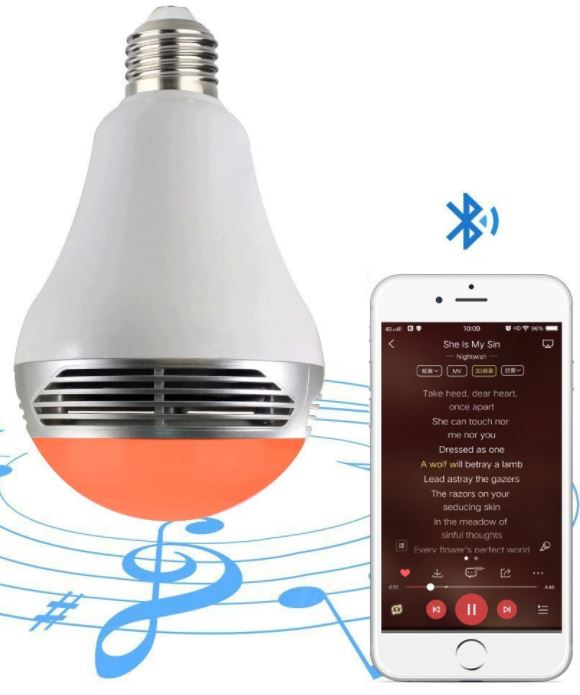 MagicLight Bluetooth Speaker Bulb – Multicolor Disco Music Party Bulb
With a lengthy design of 2.7 x 2.7 x 4.5 inches, this bulb is more transparently unique than other bulbs. Like with LightStory's bulb, MagicLight offers a fully dimmable LED and supports the standard 16 million color LED palate. And all 16 million of those colors are dimmable, so you can find the exact shades and tones you want to highlight or accent a room. That dimmable light can even help you start off the day with sunlight-white, and slowly fade towards a warm white over the span of the day.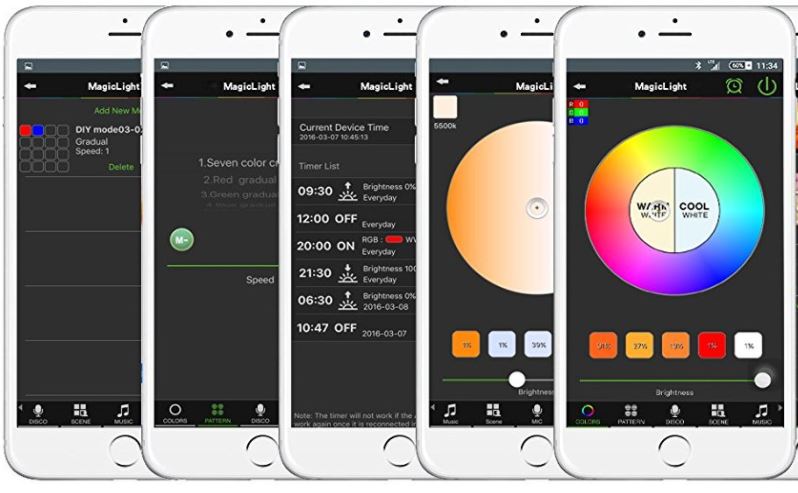 Significant Features
Using the Bluetooth speaker, you can sync up to your favorite streaming services, your TV, your music, or anything else you can play through Bluetooth. That means you can wake up with synced music and light catered to your individual preferences. Because of the Bluetooth connection, MagicLight's bulb can be made to create a call reminder. And its dimming range makes this bulb great for a nightlight.
MagicLight's bulb is another bulb that's as simple to install as it should be. From the moment you screw it in, you'll find 20 preprogrammed color settings you can use to get started. Another thing you'll quickly appreciate is how clear it is MagicLight didn't have their control app constructed by some intern. Using your smartphone or tablet, their SmartLight app lets you take control of entire groups of bulbs. The app is beautiful, intuitive, and it does everything you want.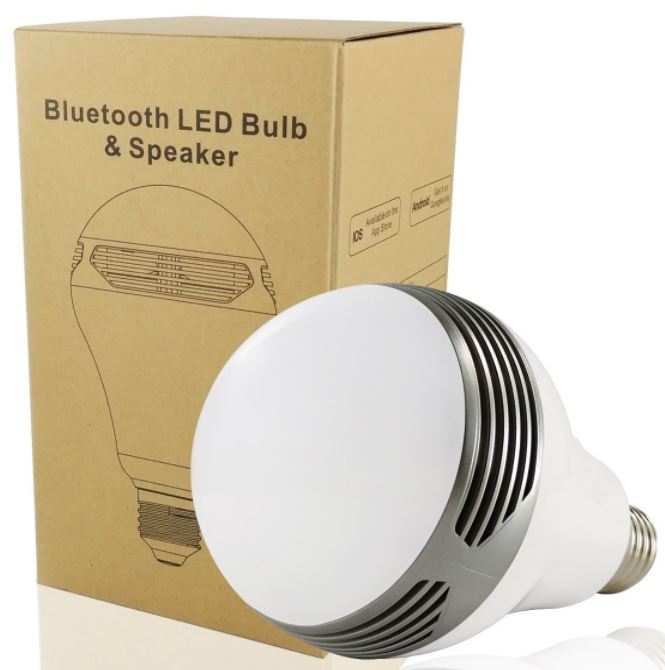 Things to Know About the Bulb
Running off as little as six watts, this bulb is rated for 20,000 hours of life. It also puts out a considerable 500 lumens, which is the equivalent of a 50-watt incandescent. MagicLight also offers another version of this bulb which runs at 10 watts, provides 800 lumens, and is equivalent to an 80-watt incandescent. Unfortunately there's no warranty, but the LEDs are rated to last.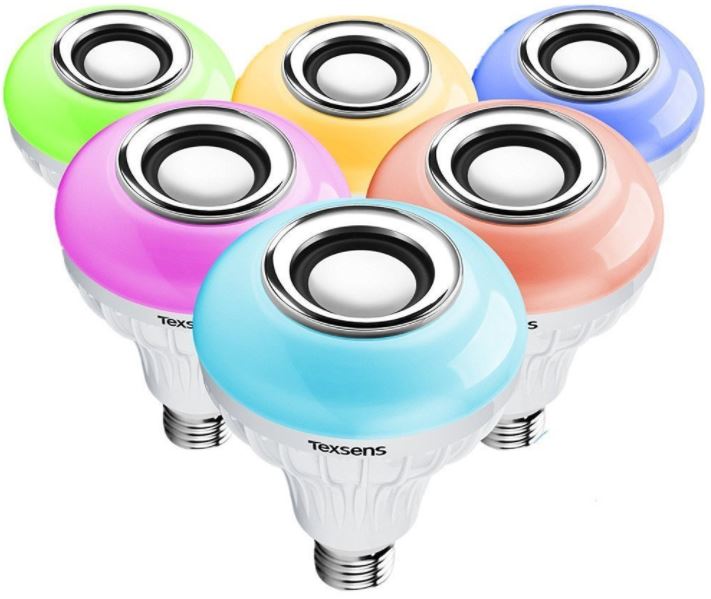 Texsens Wireless LED Light Bulb
Texsens' is another physically unique bulb, which is immediately obvious by looking at the 5.19 in x 3.7 in x 3.7 inch dimensions. That broad 5.19'' body is important to watch out for to ensure it will fit in your fixtures. If you're looking for alternatives to connect to your lights beyond Bluetooth, this bulb can help you with its own independent remote control. Beyond that you'll find another dimmable bulb that's ready to connect to your Bluetooth and help you play your music and set the mood.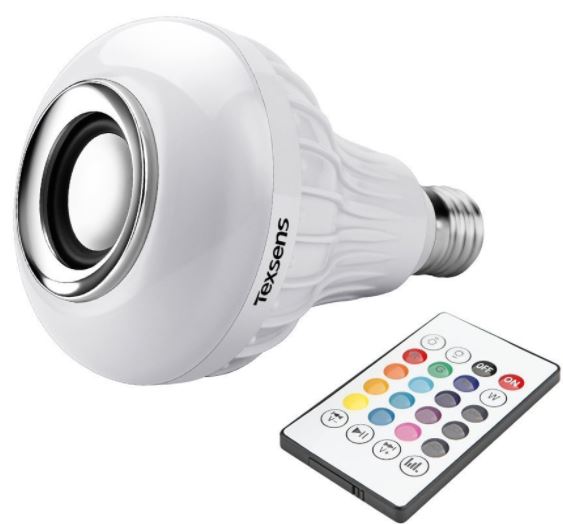 Significant Features
You'll find 13 standard color modes, as well as strobe, flash, fade, and flicker modes. In terms of setting party atmosphere, these alternative modes put the Texsens bulb in a league of its own. As its name implies, this bulb comes with a Bluetooth speaker, and you'll be able to play music through any channels you want. Unfortunately there is a one bulb per smartphone limit, so multiple phones can't connect to the same bulb.
If you don't want to run your bulb through your phone or tablet, you'll want an intendent controller. That's where the Texsens' IR remote comes in handy, enabling you to quickly toggle changes to several bulbs. But at the same time, only one bulb per device can play music. If you wanted to sync up two bulbs for music, the process would get complicated very quickly. Music connections are made through Bluetooth devices like a smartphone, but the bulb itself is controlled by the IR remote. The remote is powered by a cell battery that comes included.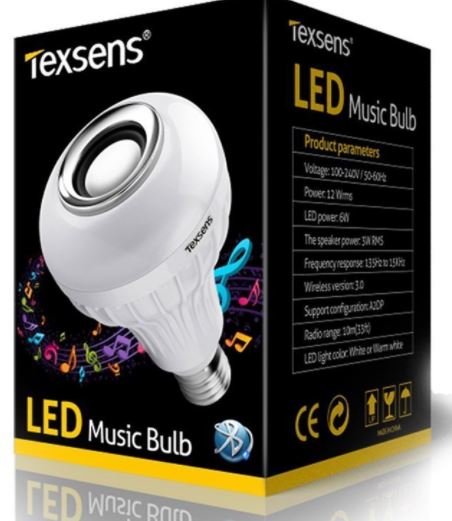 Things to Know About the Bulb
The bulb offers the whitest whites you'll find from an LED, with a color temperature of 6300k. And you'll find the speakers sound crisp and clear relative to their 3 watt capacity. But while this six watt bulb claims to be the equivalent of a 50 watt incandescent bulb, it produces 350 lumens. That's closer to a 35 watt incandescent bulb. Additionally, this bulb is rated for a lifespan of 10,000 hours, meaning it's anticipated to die after about one year of continuous use.
Finding the Right Bulb for You
If you're looking to get multiple bulbs and control them with ease, you'll want the MagicLight. It's the brightest bulb on this list, it comes with the most pre-programmed options, and it's rated to last the longest. If you're looking for something even brighter, you'll appreciate that MagicLight offers the same bulb in a slightly higher wattage.
On the other hand, if you're not looking to get your smartphone or tablet involved every time you want to toggle your lights, then you want the Texsens Wireless LED Bulb. The IR remote can help you quickly control your light, and you won't have to bother with installing or using some kind of app. Texsens' bulbs aren't rated to last forever, but should last long enough for the purposes of most people.
Finally if you're looking for a bulb that has the whitest whites, will fit about anywhere, and has all the essential features of Bluetooth, then you'll want LightStory. Their bulb offers an impressive 6500K color temperature, clean-sounding audio, and all the basic settings you're going to want from a Bluetooth bulb. Although these bulbs aren't as bright as MagicLight's offering, if you're only going to use one or two bulbs, LightStory is a well-rounded solution.