In recent years, the home automation industry has seen an immense amount of growth. These days, you can control and monitor your thermostat from your mobile device, lock and unlock your front door, and surely as technology improves we will have even more automated control of our homes. To date, however there hasn't been a safe and functional device to automate the use of garage doors – until now.
The Garadget Smart Garage Door Controller, produced by Softcomplex, is the best new home automation device on the market. It's secure, easy to install and compatible with a multitude of different devices. Have you ever been driving down the street only to have the thought pop into your head, "Did I close the garage door?" Have you ever had to let a neighbor or friend into your garage while you were at work? Garadget solves problems like these and many others, and this review will tell you all you need to know about the garage door "futurizer".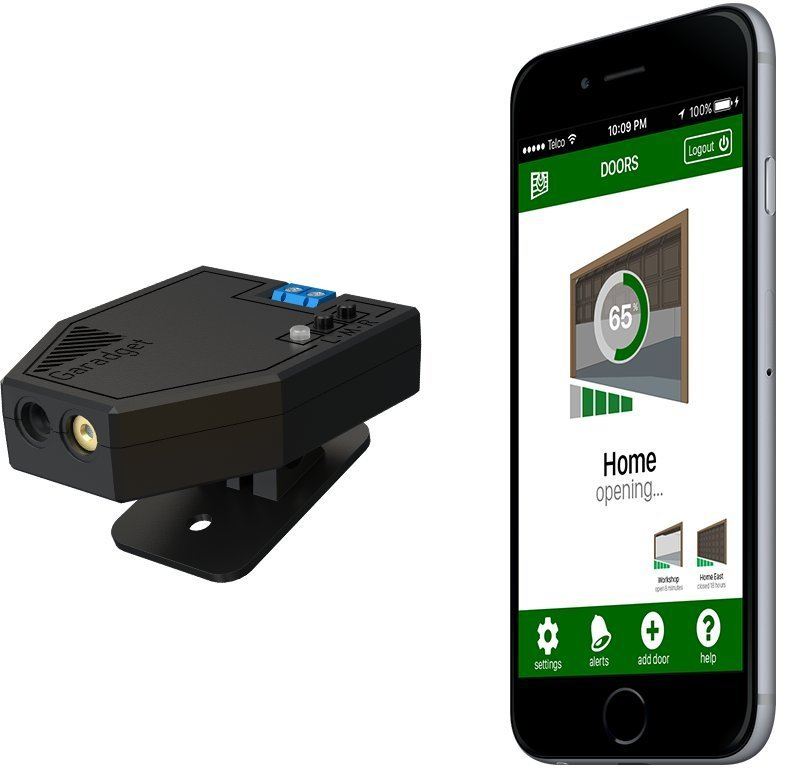 Specifications
Garadget possesses a 120Mhz STM32F205 ARM Cortex M3 processor. The device holds 128KB RAM and 1MB flash + 1MB PSI flash. The Broadcom BCM43362 Wi-Fi chip which is capable of running 802.11b/g/n Wi-Fi. A 5mW 650nm laser is mounted in the body of the unit, which is used to sense the position of the door. Additionally, Garadget runs on 5V power, typically consuming less than 100mA, so it won't add a hefty increase to your electrical bill. It's also FCC, CE and IC certified and uses a real-time operating system, FreeRTOS while connecting to Wi-Fi using a software enabled access point (Soft AP setup). Last but not least, the Cloud API is opened using REST protocol.
Connectivity
There are several ways to connect to your Garadget with whatever device better suits your preferences. Softcomplex has constructed two separate apps – one for iPhone (iOS 8 and newer) and one for Android (4.x and newer). Even if other members of your family use different devices, Garadget is still compatible with their phone or tablet. There's also a web interface for connecting to Garadget from a computer or laptop.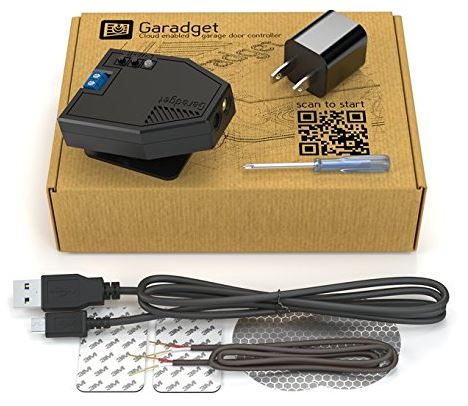 Interface
Once connected to the app or the web interface, you can control and monitor Garadget and your garage door. A visual representation of your garage door is rendered – if it's opened, closed, or in the process of either opening or closing. By tapping the button that's visible on the interface you simulate a click of the physical button on the garage door opener. Once initialized, a circular progress bar then displays the progress of the current operation using a percentage value. The strength of the Wi-Fi signal is also visualized in the app screen with a maximum of 5 bars. Because you're able to connect multiple Garadgets to your Cloud network, you're able to browse through each connected door, and name them. This is useful for when you have a scenario such as the second door of a two-door garage, a workshop or shed connected to the Garadget Cloud in addition to your primary garage door.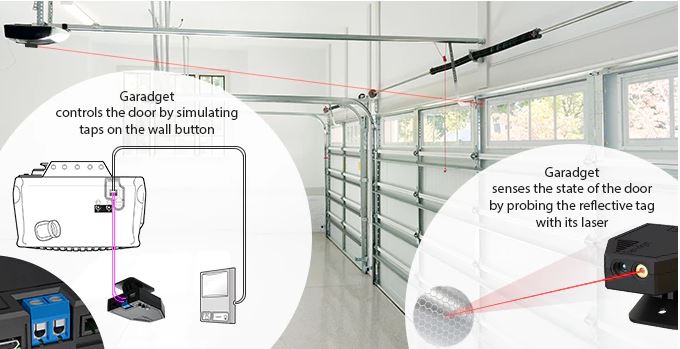 How it Works
Essentially, Garadget controls your garage door by simulating a physical tap on the wall button of your garage. Obviously, it isn't actually pressing the button, but once connected to the garage door opener, it sends an electrical signal to the opener telling the door to lift. Garadget senses the state of the door using a small reflective tag that is installed on your door, which provides real-time updates to your device of the state of the door. Garadget communicates with the cloud server using your WiFi router. Additionally, it uses cloud technology so that you're able to connect to the cloud server from several different devices.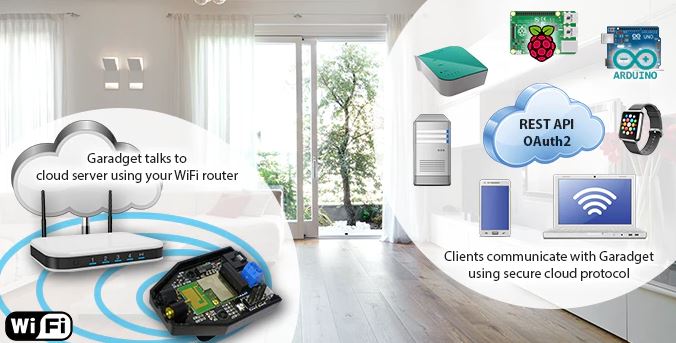 Security
If you're worried about losing your phone or having your phone being stolen, and Garadget compromising the security of your home, well don't worry. It's safer than losing your keys, since the Garadget account is password protected and the account can't be accessed without the correct password. Hopefully your phone or other device is also password protected, but regardless, without access to the account, the door cannot be opened or closed.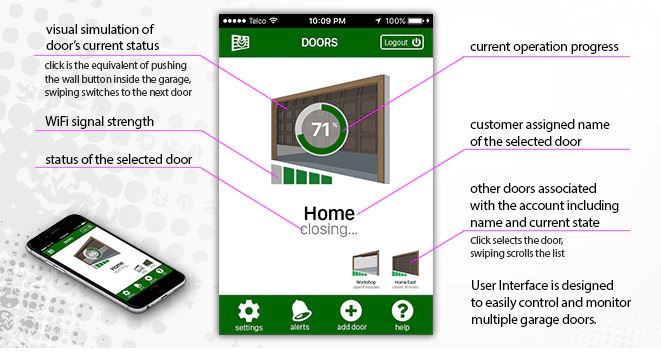 Functionality
There are several different features for Garadget that provide a wide range of benefits. Using Departure Alerts, the app will notify you if you're leaving your home (determined by your home Wi-Fi signal) and the garage door is still open, at which point you can remotely close it. Timeouts and Evening Alerts will update you if the door has been left open before a set time. If you have children, and they use the garage door to enter the home, a text message can notify you that the door has been opened so you know they've arrived home safely.
Garadget provides you or your family with Keyless Entry through the use of the app to minimize the risk of losing keys and simplify your life. Remote Access will allow you to let friends or family into your garage even if you're at work, or even out of the country. You'll see that once you have Garadget installed, there are several scenarios throughout your daily life where you will find yourself imagining "how did I ever manage without it?"
What You Get
Once you receive your Garadget, you'll find the following components in the box; besides Garadget itself, of course. You'll find a USB power adapter and a micro-USB Cable. There are two reflective tags for the laser, and two adhesive pads included to stick your Garadget on the garage door opener, wall or ceiling. A 2ft long wire is included which will be used to connect Garadget to the garage door opener. A small screwdriver is also included to fix the wires in place securely. Last but not least, they also include a QR code for quick download of the corresponding apps for iPhone or Android.
Setup
Setting up Garadget is quick and easy. There's no intricate wiring or complex software to deal with, it's straightforward and quick. Set up really only takes four steps. The first thing you will want to do is download the Garadget app, or log in on the web interface. Once you've downloaded the app, you need to make sure Garadget is configured to your Wi-Fi network.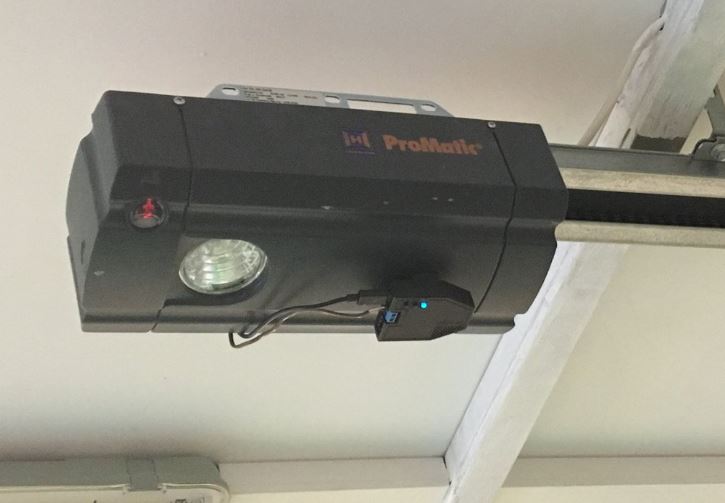 Next, you need to connect it to your garage door opener using the supplied wires and screwdrivers. For step three, you simply need to attach Garadget to your actual garage door opener, with the laser facing the garage door, using one of the supplied adhesive tabs. For the final step, you simply need to affix one of the adhesive reflective tags at the point where the laser is shining on the door. The laser making contact with the reflective tab is how Garadget keeps track of the status of the door. If for whatever reason you need to move the Garadget, you're supplied with two adhesive pads of each type – so you can move the device around as needed.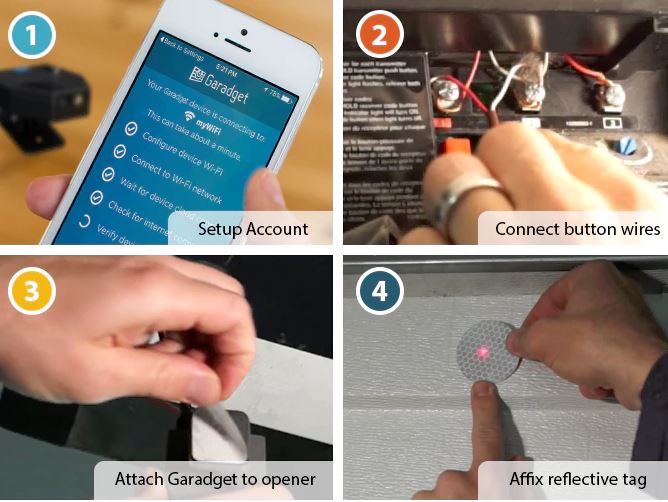 Future Proof
Garadget is an open source project, spearheaded by Softcomplex. This means that its development will be driven by an open community of developers passionate about constantly improving the product. There are several features that Softcomplex is planning on integrating into Garadget. Besides constantly improving existing functions, they're working on features such as integration with wearable devices such as iWatch, or recognition from voice control.
Is Garadget a Good Fit for Your Lifestyle?
The Garadget Smart Garage Door Controller is a brilliant new addition to many types of lifestyles and families. It's a quality-made device, with a community of developers behind it that are passionate for constantly improving. Whether you use Garadget and its apps for the peace of mind of real-time notifications, keyless entry or remote access, it fits seamlessly into your daily life.
Each member of your family can use the app to access Garadget, and with its secure Cloud technology, you can rest easy knowing that your garage is always kept safe and secure. In addition, unlike many home automation systems, this is not a monthly paid service, Garadget a one-time purchase.
This isn't a product produced by a massive corporation, but an invention produced by a single engineer, who found an opportunity to improve the daily functioning of his own family and friends. As the inventor of Garadget likes to say, it really will "futurize" your garage and life.