The term "keylogger" will strike fear in a lot of consumers. It's been hijacked by news organizations trying to create a scary headliner, or antivirus companies looking to push higher volumes of software. While there are certainly instances of hackers using software keyloggers to steal private information, software is usually used because it's easy to be controlled remotely. In reality, hardware keyloggers are far superior, and commonly used in legitimate situations.
Why would you need a hardware keylogger? Corporations often have them installed to monitor employee activity, and provide a backup of data entered. In other situations, keyloggers can be a form of protection. Having a keylogger installed on a data entry professionals computer is a good way to get a second copy of the file being entered, so any discrepancies can be verified at a later date.
Whether you've been given the task of purchasing this hardware for a multinational corporation, or you're just looking for a way to back up your own personal data, there are a few decisions that need to be made. USB keyloggers aren't the same simple devices that were available a few years ago. Today, thanks to integrated technology, there are a ton of great features that have never been possible before. Let's take a look at the three best USB keyloggers on the market. We'll help you understand the differences between them, and find the model that's right for you.
KeyGrabber USB KeyLogger
Whether you're looking for an affordable model or a top tier solution, KeyGrabber is a brand you'll want to turn to. They've got some of the widest range of offerings, with a keylogger designed to suit almost any situation. The KeyGrabber USB Keylogger is one of the most affordable options on the market, while retaining the high standard we'd like to see.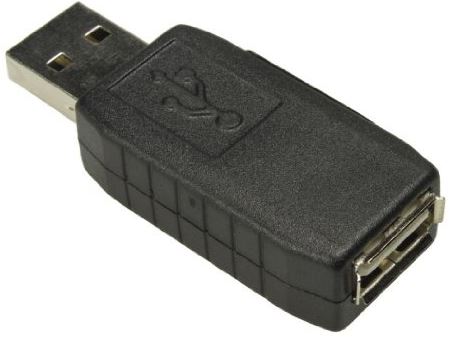 Design
The design of the KeyGrabber USB is a little spunkier than many other models on the market. It's squared off appearance is slightly tapered at each end, with a large USB logo etched onto the face. It looks very intentional, bordering on utilitarian. If someone were to look at it, it seems like it should be there. It's not this mysterious black device connected to the computer, it's some kind of adapter. After all, it's got that USB logo on it!
Personally, if we were to encounter it without knowing what it was for, removing it would be the last thing we'd want to do. It seems as if it's necessary for the keyboard to function. These changes might seem subtle to you, but it's surprising how much a few small tweaks can chance our perception of the hardware we use.
Durability is one of the key features of this particular model. The USB port is much more reinforced than we're used to seeing. You can especially tell on the female port, which has a full size metal guide that runs along the outside of the port. It's very clear to us that it's designed to handle the additional weight put on it by the USB cord coming from the keyboard.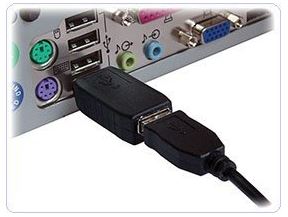 Functionality
Like most hardware keyloggers, using this model is simple. Just plug it into the back of the computer, and plug the keyboard into the keylogger. From this point on, every single keystroke will be stored in the keylogger in a time-stamped text file, with one file for each date. This organization format makes it easy to browse through the logs and find the information you're looking for.
For international users, the KeyGrabber has one unique feature that you'll be happy to see. It automatically interprets the keystrokes and finds out the locale of the keyboard. If the user is using an international keyboard or a unique key layout, the files will be automatically adjusted to use the correct locale. This can correct issues where the text is garbled due to an incorrectly detected locale.
There is 16MB of internal storage in place, which is enough for use in very high volume applications. Even when users are typing up a storm 8 hours per day, there is still enough storage space for many months, or even years of data.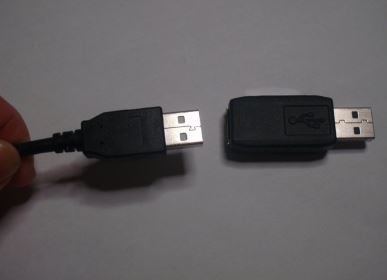 Security
The KeyGrabber USB uses security through obscurity. There is no encryption or any other privacy features built in. If you have physical access to the keylogger, you can read the data stored inside. That being said, this isn't a particularly common device. To users, it will look as if it's just a dongle for the keyboard. For that matter, the data is only reasonable when the keylogger is plugged in on its own. When there is something inserted into the USB port, it's in logging mode and will not appear on your computer. For this reason, most users will never find out it's true purpose.
Keyllama 8MB USB Forensic Keylogger
As one of the premier names in Keyloggers, Keyllama is often trusted with legal matters where reliability is crucial. They focus on a hardware centric approach, not relying on any questionable software to do the job. This keylogger is capable of storing quite a lot of data, and has an extremely low failure rate.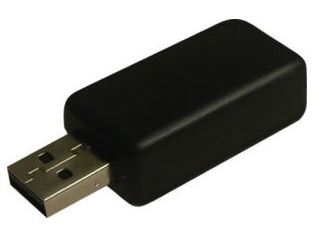 Design
Above all, the Keyllama 8MB USB Forensic Keylogger is designed to be discreet. Looking like littler more than just a tiny USB memory key, it is one of the most minimalist looking keyloggers on the market. When fully installed, it only extends 1.8" from the back of your machine.
Just connect it to any available USB port on the machine that you want to log, then plug the USB input device into the back of it. When installed like this, there is very little to catch the eye.
The black plastic enclosure is built to a very high standard, and it feels extremely durable in the hand. Both the male and female USB ports have solid feels to them, inserting with a firm "click." One of the things we always look for in USB keyloggers is a quality bond between the male USB plug and the board itself. Because there will be a little more pressure on the logger from the cord pulling on the other end, there is risk for damage. Fortunately, we found that this model was built to a very high standard.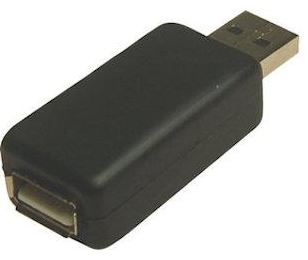 Functionality
This USB keylogger operates exclusively using hardware. It simply measures the data being transmitted by the keyboard, records it, then passes the data back through to the computer. From the software side of things, there is absolutely no way for the software to detect this system.
When you first go to set it up, you'll need to select a password. This password isn't just to allow you to access the data inside, but also to set up the complex encryption algorithm. In the event that anyone got their hands on this keylogger, they would have no idea what data was inside without the password. It would be scrambled, looking like complete gibberish. This is essential in an environment where you're working with sensitive data, as you wouldn't want any private information to get into the wrong hands.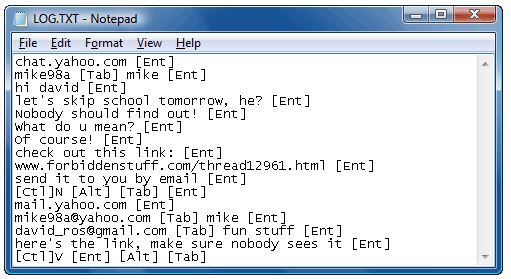 In terms of actually using the keylogger, it's very simple. Just plug it into your computer, enter the password at the prompt, and then it works just like a flash drive. There is 8MB of internal memory. Although this seems like very little, it is actually enough to store up to two years of typing information.
One of the nice features is the fact that it also records the data and time of each line. There is a small internal battery inside, so the time is kept accurate even when the host PC is turned off.
Security
The hardware encryption used in this system, in our eyes, is one of the best systems on the market. With just a single, user settable password, it's incredibly easy to use. But even though it's easy, that doesn't mean it's of low quality. The same encryption schemes are used by law enforcement agencies, making it one of the top choices.
Due to the way this keylogger works, it can also be used as an encrypted flash drive. While you won't be storing too much information in the 8MB of data, it is perfectly suitable for text files and documents.
KeyGrabber WiFi 2GB Keylogger
We mentioned earlier that KeyGrabber is has one of the most diverse product lines in the industry. If you're looking for the best of the best, look no further than this WiFi model. This is one of the only keyloggers on the market that allows you to access data without having to physically access it.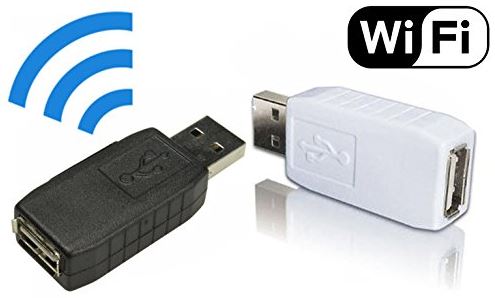 Design
When you've got something that is supposed to look discreet, it can be hard for manufacturers to differentiate their premium offerings from their affordable options. Despite these challenges, KeyGrabber seems to have pulled it off. While the design of the KeyGrabber WiFi is very similar to that of the USB model, the silver casing definitely makes it appealing.
Despite this singular visual change, everything we love about the USB version of this keylogger is back. The high quality components make for something that can last a very long time, so you don't have to worry about durability issues.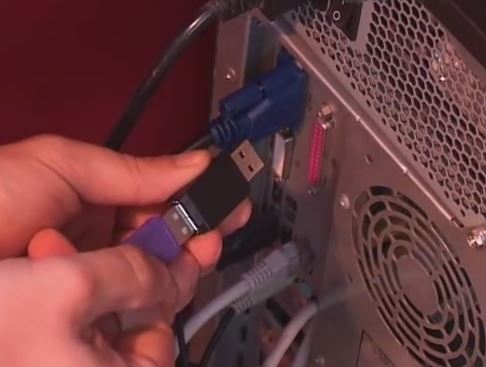 Functionality
At its core, this keylogger functions exactly like the USB version. This means that it's easy to set up, and supports a large range of external input devices from all around the globe. However, there is a whole new layer of high tech hardware on top. The 16MB of memory has been replaced with 2GB of flash storage.
At first, this seemed crazy to us. If 16MB can store an entire years' worth of keystrokes, upgrading to 2GB sounds insane, right? But the time you'd fill up the storage, we'll likely have moved on to fully virtual environments with holographic input devices.
In reality, the additional storage is for the firmware. Just like your computer, this teeny tiny piece of hardware is running a compact operating system. It uses a built-in WiFi chipset to connect to a wireless access point, so it can email the daily logs directly to you. This is very easy to get running using the included setup utility, and makes your job much easier.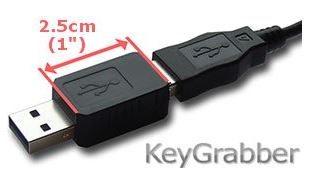 Security
Although this drive is not encrypted, none of the data is accessible through the USB port. Once you set it up using the included utility, it operates as a ghost. The only device that can access it is located on a remote server elsewhere, and anyone who stumbles across the key logger won't have any idea what it's purpose is.
Which USB Keylogger is Right for Me?
Not sure which to choose? The first thing you want to think about is the type of environment that you're going to be using it in. Will the end users know that it's being installed? Will they need to access the data? Or would you prefer to keep it secure?
Whether you're a parent monitoring your child or a business owner keeping tabs on how company resources are used, you'll likely want something that nobody can tamper with. In this case, you're best off selecting a wireless model. The KeyGrabber WiFi Keylogger is capable of transmitting all of your data remotely, so it can be used without having to interact with the logged computer. This is especially ideal in corporate environments, where you might be managing a large number of computers.
If you're logging data for auditing purposes, it's essential that you prove the data has been unaltered. In this case, the Keyllama USB Keylogger is a great choice. The data is fully encrypted, so you can prove that it has been unaltered from it's original form.
Looking to log your own computer for backup purposes? Grab yourself a KeyGrabber USB Keylogger. Not only is it one of the cheapest options on the market, but it's perfectly suited for an environment where you need quick access to the data by simply unplugging the keyboard and moving it to another USB port.