Studio microphones are all about the sound. It's about capturing your voice or music beautifully for optimal performance the way it was intended. But they can do much more than that too.
But sound quality still is nothing to gloss over. In order for a great mic to be truly valuable, it must be able to do these things and create amazing recordings. There is no exception to this, as that's the whole purpose and function of these devices. There's just more to the story.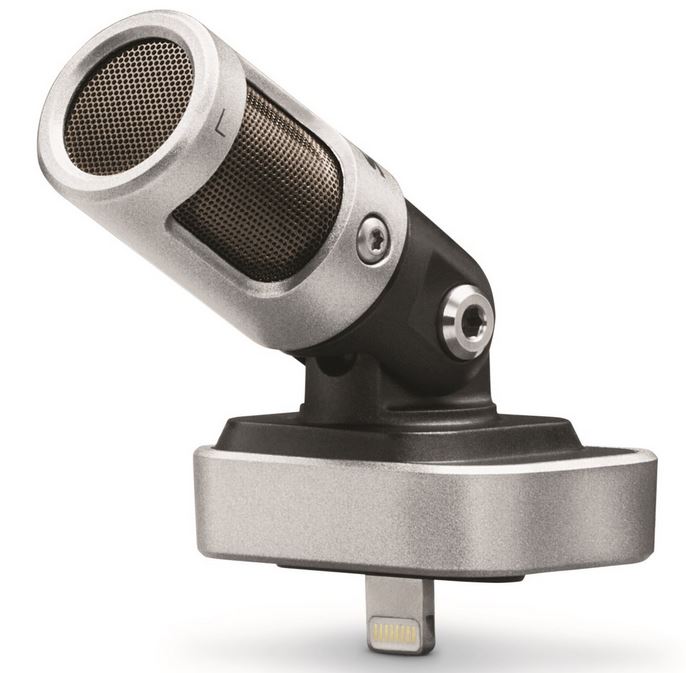 The recording world has changed. Creating opulent audio and vibrant, harmonious sounds go hand in hand with compatibility and utility. The Shure MV88 iOS Digital Stereo Condenser Microphone excels in both of these areas.
This article will discuss some of the enormous advantages that this microphone has to offer, and what makes it such a legendary recording device. Let's begin our review.
Unmatched Recording Capability
The MV88 stands out in a big way. The first area where it exceeds our expectations is combining a cardioid and bi-directional polar patterns. Let's break this down for a moment.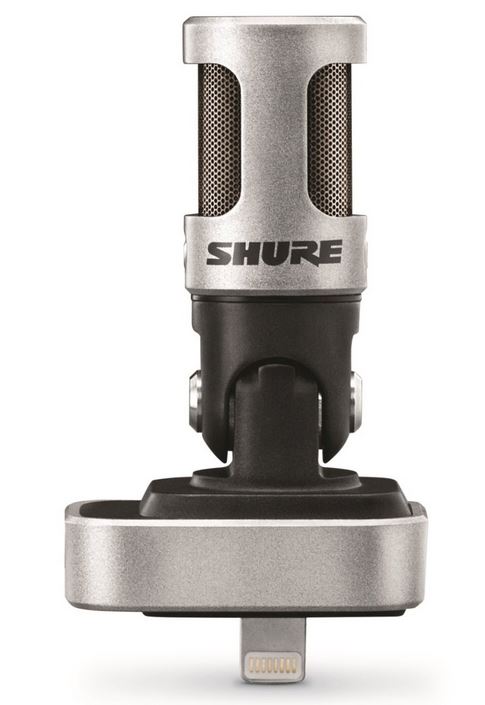 What this means is that it takes advantage of two types of microphones. One is shaped like a heart, giving greater volume and depth to sound directly facing it, while reducing these qualities at further angles. This allows you to record excellent voice and music with all of the ones and expressions.
It's also bidirectional. This way you can pick up sounds from both directions for interviews and duos without interference. You can also adjust the width for both stereo and mono sound.
But that's not all that sets it apart. There are 5 DSP modes making it perfect for whatever purposes you had intended it for. This allows you to easily switch between settings for speech, singing, flat, acoustic instrument and loud audio recording. It's quite mind blowing.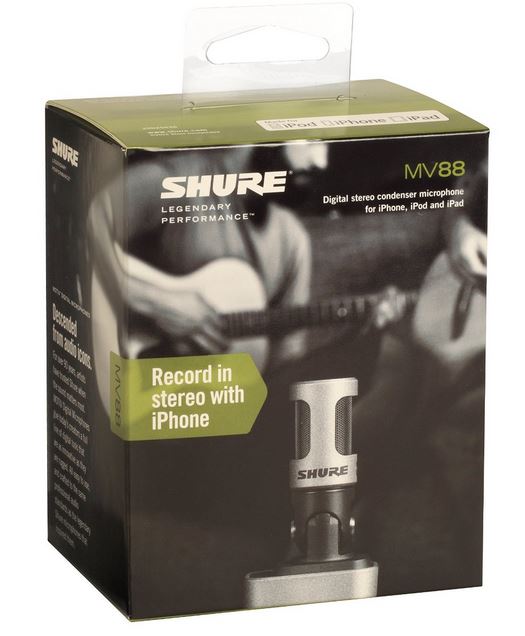 There are also some auto-adjust features. The Shure MV88 will automatically optimize EQ, compression and limiting, giving you a full range of sounds tuned to perfection. It's so hands-free and intuitive that you can't go wrong.
Perfectly Compatible with the Latest Devices
Apply makes creativity so easy. We've got laptops, desktops and a whole host of wireless devices that are designed to accommodate us and fuse our talents with technology. The MV88 complements that with some amazing features.
First, it's Apple MFi certified. This means that the MV88 will work with any and all iOS devices with a Lightning connector ready. There's some serious plug and play going on here.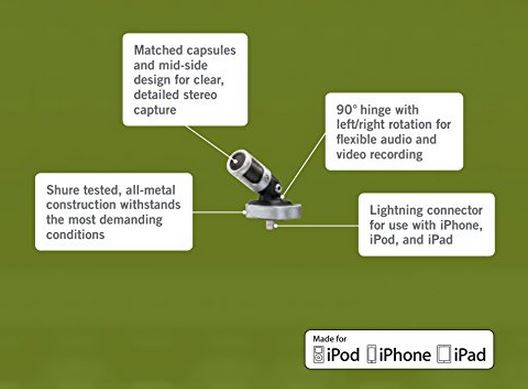 But it gets even smarter. Shure provides you with a free recording app with everything you could possibly need to make your recordings pure. This software is breathtakingly simple yet powerful.
Called ShurePlus MOTIV, you're put in command of 24-bit/48khz uncompressed recordings with all of the controls at your fingertips. Here's what it has to offer.
First, you'll be able to select the DSP mode from here. Also, you can adjust the gain of the mic, the stereo width and the raw mid-side settings for ambient sounds. But that's not all.
There's a lot at your disposal. You've got wind reduction, a left-right swap, a 5-band equalizer, compression and limiting – your audio settings are as professional as they can get. Best of all, it's all accessible from one app on your smartphone.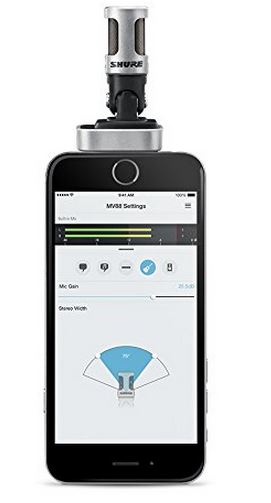 Solid Retro Design
We haven't even mentioned that this microphone is portable yet. There's so much to say about it, and it only gets better when you see that you can take the style and vibe of the studio with you wherever you go. Let's explore the design and see some of the MV88's stunning value in this area.
First it entirely constructed out of metal. Engineering a portable stereo microphone this was offers the advantage of strength and durability. We certainly don't underestimate the value of this.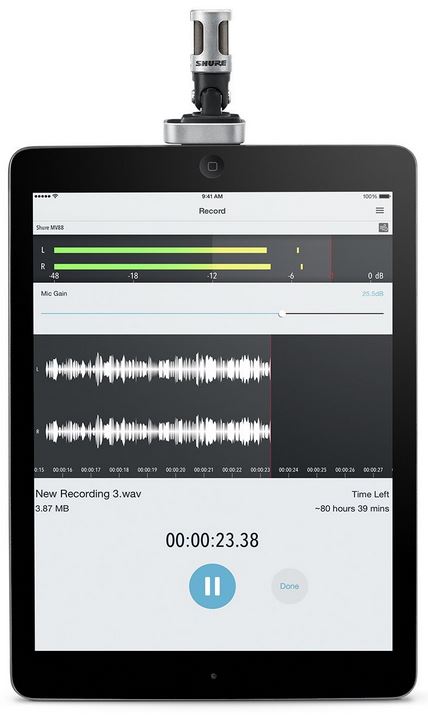 There's some added convenience to the design too. For example you can swivel and rotate the mic to record at any angle. This is great for not only optimal audio quality but also helps in the video recording process by offering limitless possibility. Here's what's more.
It's architected for performance to the last detail. Even the mid-side has been cultivated for virtually any phase and stereo image.
We're blown away by the Shure MV88 iOS Digital Stereo Condenser Microphone. It's strong and powerful enough to take with you anywhere you go, and versatile enough to get that perfect recording on the fly. You never know when inspiration will strike.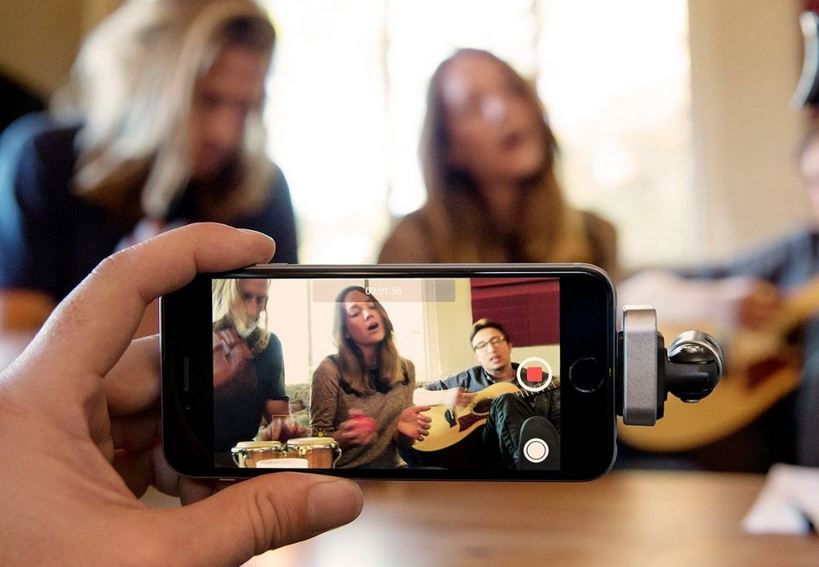 Often it gets away by the time you walk across the room. Imagine what it would be like to flip on your MV88, turn on the app, and be in a professional recording studio just like that. That alone is amazing beyond belief.
Add to it mass mobility, and you've got half of what this microphone is capable of. It puts you right in the action at any moment in time.