The Sony 4K FDRAX33 Handy Cam was just released, and we're excited to finally have our hands on it. This handy cam has already attracted tons of attention – both from tech-savvy experts and from average users. It promises to be something truly special.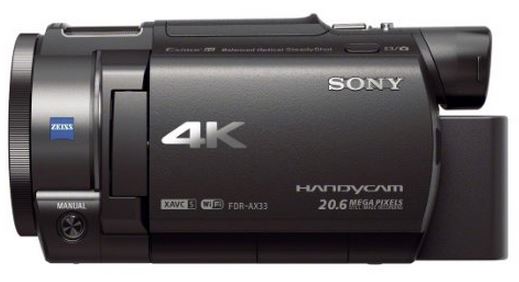 An incredibly powerful image processor, shooting capabilities that exceed HD resolution, premium optics, and outstanding image stabilization – all of these factors make this Sony camcorder a truly unique investment that's totally worth the expense for those who are serious about videography.
The Sony 4K FDRAX33 Handy Cam gives you a chance to shoot videos of the highest quality possible. Equipped with Balance Optical Steady Shot Stabilization, audio and video manual control options, the camera is perfect both for professional experts and for people who enjoy the highest quality amateur videos.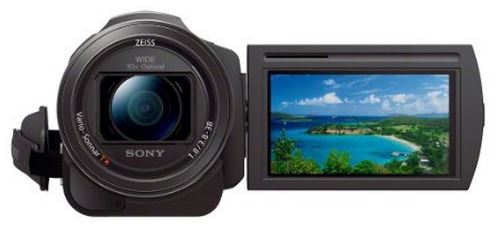 It supports several video formats and makes it possible to record everything in stunning full 1080 HD resolution. So far, few cameras within this price range offer such features. The XAVC S3 codec captures incredibly realistic images, and the advanced camera processor makes it possible to shoot videos in both 30p and 60p.
Another important feature is the Optical Steady Shot stabilization, which is a single hi-end lens, preventing your images from 'shaking'. This way, it maintains the integrity of your videos and minimizes distortion. Even though plenty of present-day cameras, including low budget ones, feature their stabilization capabilities, the Sony FDRAX33 manages to stand out from the rest.
Supreme ZEISS optics is perfect for shooting a variety of objects, including landscapes, sceneries, faces, and more. The camera features a 29-mm-wide angle lens, and is equipped with 20x clear image zoom and 10x optical zoom.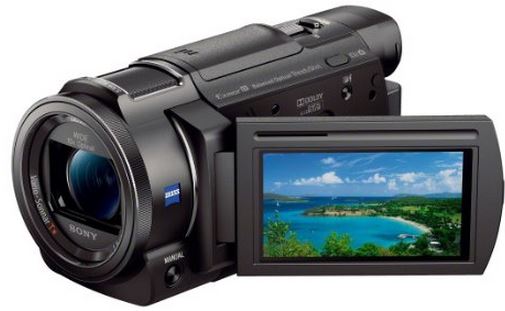 The FDRAX33 from Sony features a direct pixel readout technology that ensures smooth angles and amazing color gradation while shooting. The main concept behind this technology is to utilize the maximum width of the image sensor without binning the pixels.
This camera seems to be perfect for professionals, as well as for people who are 'deeply' into video recording. Like many advanced, hi-end models, this Sony model features manual audio and video control options, which allow users to easily adjust and readjust their cam settings anytime they feel like experimenting. A special dial gives you the chance to quickly adjust white balance, shutter speed, exposure, focus, and iris.
The Sony 4K FDRAX33 Handy Cam supports several codecs and video formats. The most advanced one is AVCHD, which is equivalent to shooting HDTV and Blu-ray videos. Alternatively, you can record in high definition MP4, which is a standard format for Internet sharing. Switching between the formats is easy; plus, you can always convert already recorded clips from one format to another without any hassle.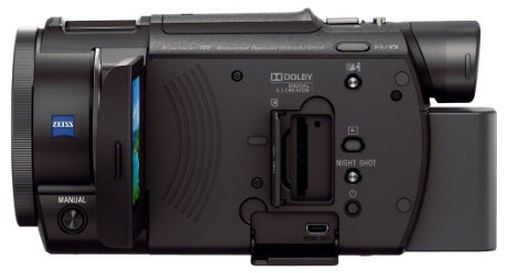 Speaking of Internet sharing – the camera is equipped with a built-in Wi-Fi feature that ensures easy transfer of all photos and movies. However, sharing is only possible via your smartphone (meaning that you cannot upload movies from the camera directly). There are certain restrictions regarding the smartphones, too.
The Sony 4K FDRAX33 is compatible with iOS devices powered by iOS7 and higher, as well as with NFC compatible Android phones and tablets. Note that to enable smartphone sharing, you will also have to install a separate PlayMemories Mobile app (free to download).
Even though you cannot upload your videos directly from the camera, you can instantly share them, if you like. The camcorder is USstream compatible and supports instant video streaming. However, the streaming setup may be a little time-consuming. You will have to register a USstream ID, make up your password, confirm registration, etc. Plus, Wi-Fi and USstream settings will have to be stored on the camcorder, too.
Another additional feature is multi camera control. The Sony 4K FDRAX33 camcorder can connect up to 5 other cameras and create movies that combine a wide range of different angles. Yet, do not forget that these other cameras should be Sony-compatible. Ideally, it would be better to stick to the same manufacturer – just to be on the safe side.
In The Box
Sony 4K digital camera recorder
6300 mAh lithium battery pack
AC adapter
Battery charger
USB cable
HDMI cable
Lens hood
Eyecup
A/V cable
N Series memory card (32Gb)
CD-ROM
Pros
4k abilities
Captures HD 1080 video resolution
Great image stabilization
Supreme optics
Stunning color gradation
Smooth edges while shooting
Manual video control options
Manual audio control options
Customized shooting
Touch screen
Can automatically create or convert videos in mp4 format
Features multi camera control
Live broadcasting over Ustream
Cons
To connect the cam to your smartphone, you will have to install a separate app
Not compatible with Windows Phones
Android sharing is only possible with NFC compatible devices
XAVC S recording requires a separate memory card
Streaming setup is a little complicated
Multi camera control requires another Sony camera (sold separately)
Currently available only in the US
Price range exceeds average users' expectations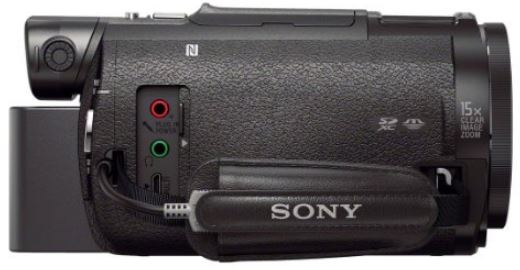 The Verdict
Sony has managed to surprise us once again. Their 4K FDRAX33 Handy Cam is a great investment in this price range. It features all possible aspects of high-end professional equipment and is sold for under $1000. So, this is a great investment for those people who shoot video professionally, and even for amateurs who just want fantastic footage.
Highest video quality, stunning image capture, impressive stabilization, smooth and balanced edges, multi-format compatibility. If you are into filming professionally, you will definitely need all of those. Plus, manual control options will give you a chance to customize the settings and readjust your recording parameters any time you want to experiment a little.
On the other hand, amateur filmmakers might find Sony's latest camcorder a little overwhelming. The camcorder may be too technical for an average user, and may have too many features that an amateur will never use. Overall though, we're fans and would definitely recommend the Sony 4K FDRAX33 Handy Cam.