We've seen a lot of Bluetooth speakers in an abundance of different form factors, from tiny clip on wearables to boomboxes. We've even seen Bluetooth speakers hidden in fake outdoor rocks, lanterns, and light bulbs.
Typically, manufacturers look to squeeze the biggest sound out of the smallest packages when it comes to portable audio. Sony had a different idea.
While the small portable units are great for sitting around with a couple friends, what happens when you want to have big sound on the go? We're talking about big parties, outdoor events, or any situation when a pocket-sized speaker just won't do.
Sony designed the GTK-XB60 and GTK-XB90 to solve this problem. While other manufacturers give you a speaker you can discretely slip into your pocket or bag, these speakers make their presence known. With Bluetooth connectivity, battery power, and party lighting, you can bring the party wherever you go, no wires required.
Of course, not everyone needs a portable party. For most consumers, sound enough for a small group would be more than adequate. However, if you do like hosting live events, the ability to do so with nothing more than the GTK-XB60 and a smartphone is undeniably easier than arranging for power, stereo equipment, speaker cables and the like.
Let's take a look at what these two speakers have to offer.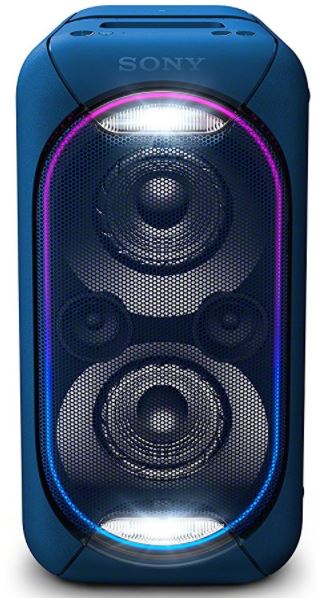 Design and Specifications
Just one glance and you'll know these aren't typical Bluetooth speakers. The GTK-XB60 measures 10.4 x 21.7 x 10.7 inches and weighs 17.6 pounds, and that's the smaller of the two. The GTK-XB90 comes in at 13.2 x 26.4 x 13.2 inches and tips the scales at a hefty 30.9 pounds. While still relatively portable, these aren't the type of speakers you toss in a backpack just in case you might want to listen to something later.
Each black-clad model features brightly colored, club-inspired lights. The XB60 has a multicolored lighting strip surrounding the speaker. It also has white LEDs that react to the music you play as well as a strobe flash for maximum effect.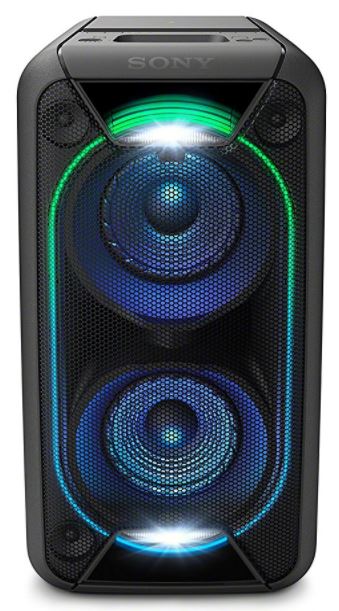 The XB90 includes all lighting effects from the XB60 but takes the visual effects a step further by featuring Infinity Mirror Lighting. Mirrors surrounding the speaker bounce light back and forth repeatedly which creates the illusion of a multitude of lights.
Aesthetically, the speakers manage to suit a wide range of tastes. If you're looking for a portable dance club, the flashing lights and colors can transform any space into a party. If you like the speakers of the feature but need to use them in a more reserved setting, with the lighting features disabled they look like any other standard black audio equipment and would fit right into even a stuffy corporate setting. While Sony clearly wants to emphasize the "dance hall" features, staying open to all segments of the market should help them make additional sales.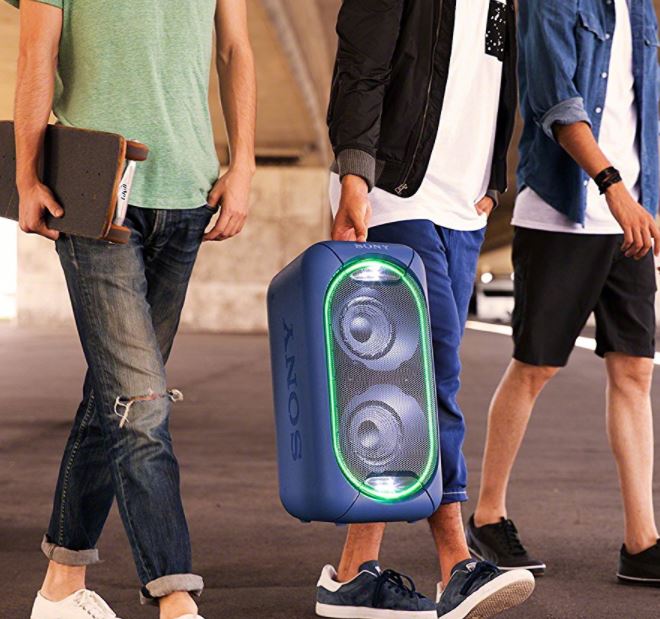 Connectivity
You can usually assume a fairly obvious connectivity choice with a Bluetooth speaker. Fortunately, Sony enables additional connection options to suit a wider variety of usage scenarios.
We appreciated the addition of standard RCA plugs for both input and output. This allows you to connect more standard audio equipment, TVs, stereo receivers, and more when Bluetooth isn't an option.
If your smartphone supports NFC, the GTK-XB60 and XB90 support NFC One-touch connectivity. With NFC enabled, once you touch your device to the speaker a simple one touch authorization will allow you to stream music without going through a Bluetooth pairing process.
During a party, you don't always want one single person choosing all of the music. Sony allows multi-device connection to pair up to three separate smartphones to the GTK-XB60 and XB90. You can each play songs, but you'll have to figure out who gets to play first.
Though each of these speakers can put out some big sound on their own, sometimes one just isn't enough. Both speakers support Sony's Party Chain feature which allows you to expand to multiple speakers. Designate one device as the "Party Host" and music will sync with other speakers to amplify your audio.
While the party chain feature does support wireless connections between speakers, in our testing we experienced some concerns with audio falling out of sync. Since Bluetooth only works a maximum of 30 feet without impedance, you can't place the speakers particularly far apart. Subsequently, even the small amount of audio lag between multiple devices was enough to irritate us as we could hear all speakers simultaneously.
Fortunately, with RCA inputs and outputs, you can physically wire multiple speakers together. While that does put a bit of a damper on the "wireless" fun, it did eliminate our audio timing problems.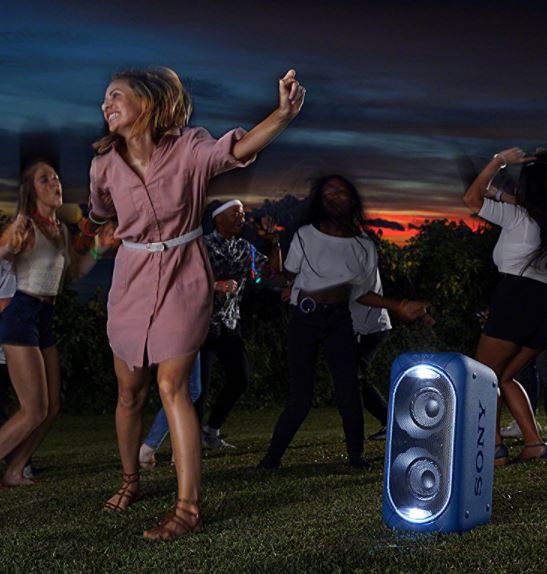 Features
Aside from the obvious feature of playing music, Sony adds a few additional tricks to the GTK-XB60 and XB90.
Microphone input greatly improves the fun and functionality of these speakers. For a business gathering, church meeting, wedding, or any other kind of outdoor event, microphone input allows your emcee to be heard by all without any equipment besides the speaker and microphone. Mic levels are adjustable on the speaker.
For more lively events, a microphone can effectively turn the XB60 and XB90 into a karaoke machine. While it may not have all the features of an actual karaoke machine, people will gladly sing along to their favorite songs anyway.
Two Sony apps unlock the full potential of these portable party starters. The first, called Sony Music Center, allows you to select tracks, create playlists, and manage sound settings from your iOS or Android device.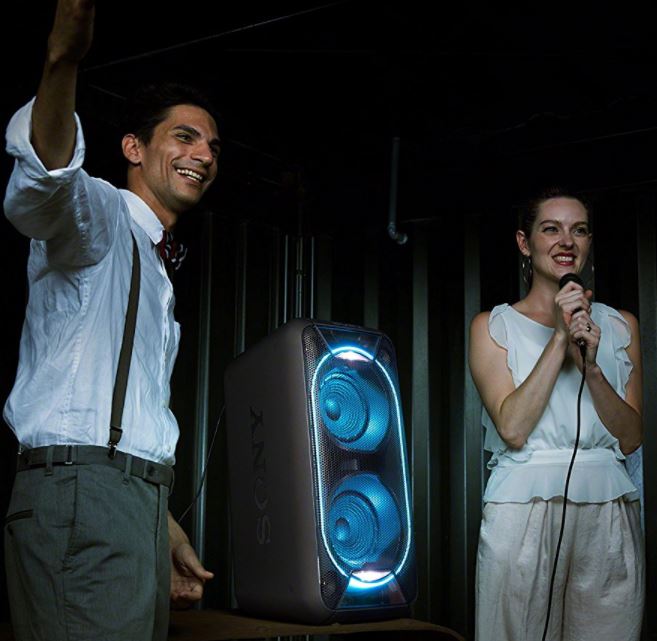 Next, the Fiestable app, also on Android and iOS, gives you control of speaker lights colors, adjust equalizer settings, and activate DJ control. Intuitive motion controls allow you to adjust with a simple flick of the wrist.
We found both apps were easy enough to use and gave us a great deal of control over the XB60 and XB90. Our primary complaint was that two separate apps were even necessary in the first place. You'd think a company like Sony, with nearly unlimited resources, could come up with a single app to manage both the lighting and music on these speakers. It's not a major flaw, but a minor inconvenience to switch between apps that Sony should have the ability to correct.
Audio Performance
Of course, all the bells, whistles, lights, and apps don't mean a thing if the speakers don't pump out some quality sound. While we definitely wouldn't say these represent accurate reference speakers, Sony knows the intended audience and has tuned them accordingly with a heavy emphasis on bass.
The GTK-XB60 contains 2 x 1.97" cone tweeters and 2 x 5.12" woofers. The GTK-XB90 steps that up with 3 x 2.36" cone tweeters and 2 x 7.09" woofers. Thought the XB60 sounds very good for its size, the larger drivers and cabinet of the XB90 allow it to generate a significantly louder sound that's also richer through the full range.
A speaker can only be as good as the audio playing through it, and Sony includes a number of feature to help improve what you're sending. The bass heavy sound mentioned before is no secret, as Sony prominently highlights their trademarked EXTRA BASS technology. Additionally, Sony's unique ClearAudio+ technology can automatically adjust sound settings to fully enhance the listening experience.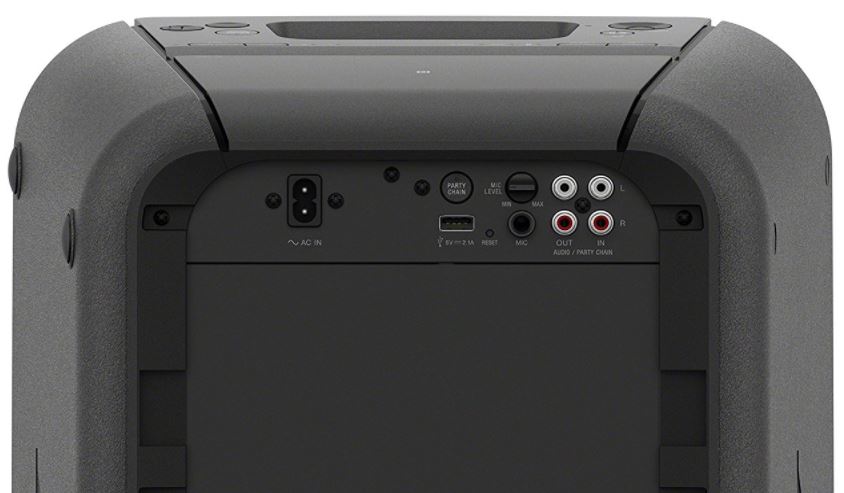 Many older audiophiles will tell you that they prefer the sound quality of an old vinyl LP to newer digital audio formats. While the superiority of analog sources may be overstated when compared to CDs, many people consume almost all of their music today from streaming sources. Depending on the site, streaming can suffer quality loss due to compression. Digital compression saves space in files by eliminating some details. The sound isn't noticeable to many people, but once you've heard it, it can drive you crazy. Sony Digital Sound Enhancement Engine, DSEE, looks to automatically restore some of the finer details lost to digital processing.
Power
Perhaps one of the most amazing aspects of the GTK-XB60 and GTK-XB90 is simply the fact that they can run entirely off of battery power. With all the features built right into one speaker, each of these models can fill a room with sound and lights without ever requiring a cord. Granted, if you're looking to party all night long, you may need to plug in, but battery life isn't too shabby.
Sony states that the XB60's internal rechargeable battery will run for up to 14 hours with speaker lights disabled and sound limited to level 16. While we can't imagine any gathering running for more than 14 hours, it's nice to know the option exists. Even at full volume, with Extra Bass, and lighting effects, the XB60 still manages to last 3 hours which is plenty enough for most parties.
While the XB60 has perfectly adequate battery life, the XB90 improves upon that further. It will last 16 hours with lights off, but still rates at 3 hours with maximum volume and lighting. While the "lights out" mode is longer, the lighted mode measures equally. This is likely due to the increased volume potential and the additional lighting effects.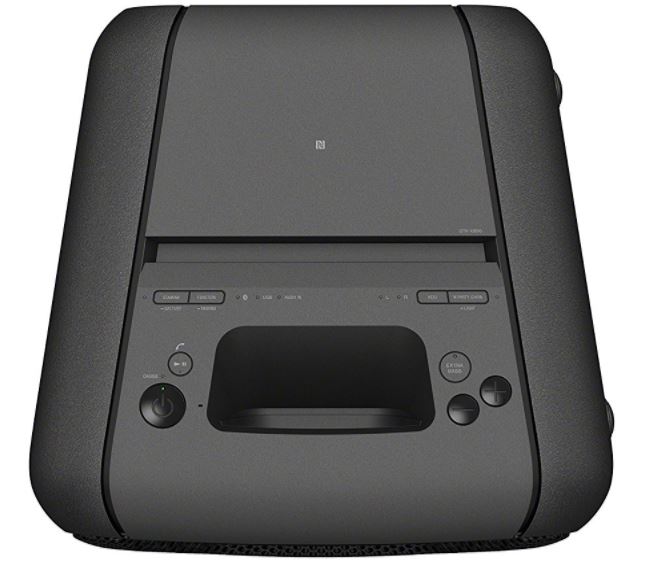 Conclusion
The Sony GTK-XB60 and GTK-XB90 are two Bluetooth speakers that pack a serious punch. A far cry from the pocketable Bluetooth mini-speakers, these two are truly a party in a box.
With flashing lights, thumping bass, and a host of other fun features, these two speakers are all you need to get the party started wherever you go.
While we initially thought we wouldn't need a device like this, after testing and usage we began to appreciate the versatility and see how it could be useful or fun in a number of scenarios, such as a karaoke night.
We did have one complaint. These speakers are not water or dust-proof in any way. While that isn't shocking for speakers of this size, given that Sony so highly emphasizes their portability and outdoor use, we could foresee problems for some users. You wouldn't exactly want to bring one of these to the beach and risk getting sand kicked inside.
Whether you need portable music, a simple PA system, or a full mobile dance party, Sony's GTK-XB60 and GTK-XB90 have you covered.