As you may already know, Bluetooth headphones have exploded in popularity over the past several years. What was once seemingly just a gimmick, is now the standard for listening to your favorite tunes. Bluetooth offers wireless freedom and a completely un-tethered listening experience that most of us crave. The only issue; it can be quite frustrating to select the right pair.
If you've scoured the marketplace or been following us here on NerdTechy, you've likely already heard about Treblab. In the past, we've had the pleasure to review each one of their new releases. Most recently, we took a look at the Treblab X2 Earbuds and fell in love with them. However, many individuals don't prefer "true wireless" and desire typical Bluetooth headphones that utilize a single cable connecting both earbuds together. Although not as minimalistic, this style also incorporates the use of "earhooks" that wrap around the backside of your ears to keep them more-secured than ever.
Building off the long-standing XR500's, the freshly released Treblab XR800 Bluetooth Headphones utilize this tried and true design but they've made a few changes. Today we're going to take a closer look at them, test them out and put them through the ringer. We'll see if the "more than double" price tag is worth it, or if you should save your money and look elsewhere.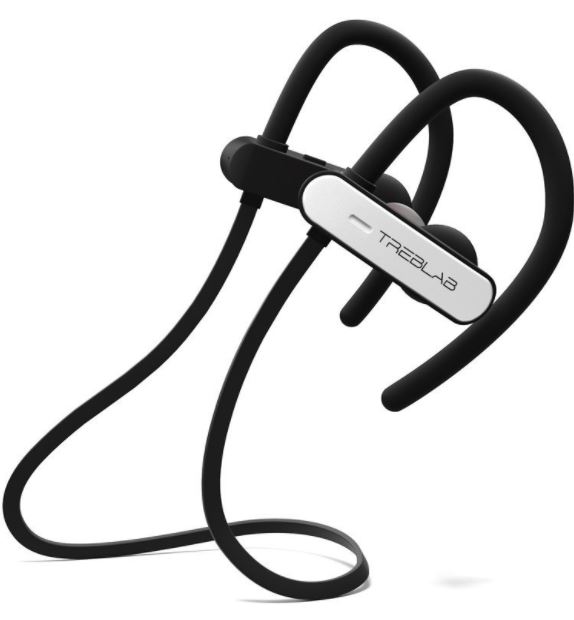 First Look
Taking a single glance between the XR500 and XR800 Headphones, you'll notice that Treblab didn't completely revamp them, but made a few slight updates. Boasting a slimmer profile, the XR800's feel a bit more robust and better-built for real-world use. While the earhook design is the same, they utilize a smaller profile by incorporating more of a "pill-shape" than a more rectangular, bulkier profile.
There are a few external controls located on the right ear-piece, just like the XR500's, with no changes to the actual functionality. By the looks of it, Treblab simply changed the build quality, but kept many aspects the same.
Holding them in your hands, they seem to have a higher-quality feel than previous versions. Utilizing more metal and better-feeling components, you can instantly tell that they put a little more effort into designing them. Even the cable feels a bit more robust and well-made. Definitely not quite as flimsy as before.
Comfort
While the look may seem overdone, the earbud and hook design is tried and true. We're huge fans of the way that the XR800's feel while you wear them. The slimmer profile is noticeably beneficial as they seem to have a more-secure and tighter fit than before. Part of this has to do with the way they fit you, so take an extra minute to adjust them before you formulate an opinion on them.
Luckily, Treblab has included several different foam ear tips that you can swap out for a more secure fit. Although they come with the "medium" sized attached, you can opt for the larger or smaller foam tips if you desire. Everyone is a bit different, so it's totally worth trying out a few different options before settling on one set of tips over the other. You'll want a snug fit, but not too tight that they cause a pressure point or poor seal in your ear canal. Not only because of comfort, but the better seal they have, the more passive noise cancellation you can take advantage of.
Overall, the comfort is right where we like it. The new slim profile is incredibly appealing for a variety of reasons as they seem to do fantastic in a workout or gym environment. Keeping as little of weight and mass on/in your ears is the key, as it seems Treblab specifically geared the XR800's towards the fitness-minded music lover.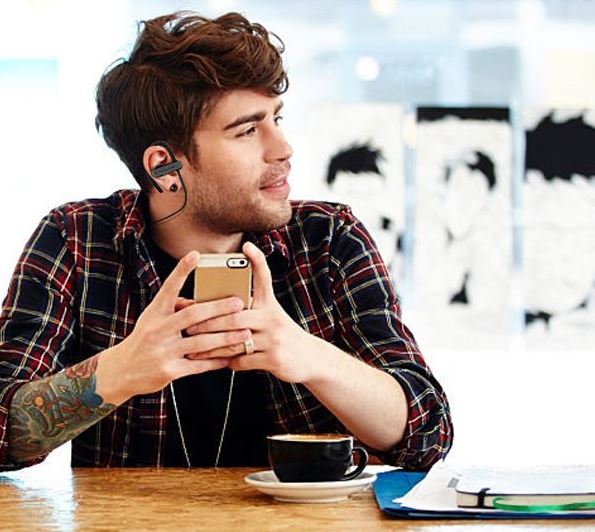 Sound
It's no secret that we loved the XR500's when they came out last year, so needless to say, we were quite excited to test out the new XR800's once and for all. Sound quality is a huge factor for us, as it should be with anyone looking for new headphones.
Taking a look at the specifications between the XR500's and XR800's it's quite difficult to discern any real differences. Both utilize Bluetooth version 4.1, and a variety of profiles to make music come to life (HFP, HSP, A2DP, AVRCP). In addition, the frequency response of 20 Hz to 20 kHz and the frequency range from 2.4 GHz to 2.48 GHz are identical. So what's the real difference? Their truly doesn't seem to be any difference to the actual components within, which we found to be quite disappointing.
Listening to the XR800's, we must say, the audio quality is definitely rich and flavorful, but it doesn't seem to be much different than the XR500's. The clarity is right where we love it, as we never had any difficulty with distortion or poor audio quality. However, the sound profile seems nearly identical.
The bass is decent, but not incredible. It seemed to do quite well, but once again, it doesn't seem to be much of an improvement over the XR500's.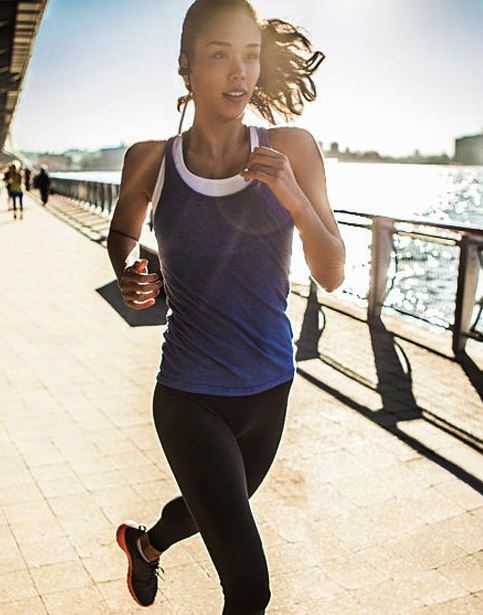 Range
Wireless range is quite important when it comes to Bluetooth headphones. But this is an area that doesn't seem to change much, year over year. Why is that? Because the wireless range is limited to the Bluetooth profile the manufacturer uses. Bluetooth 4 is what Treblab implimented, so you shouldn't notice a whole lot of improvement in this regard.
Treblab advertises up to 38 feet of signal range, but we think that's a bit overzealous. 38 feet is, in fact, achievable, but you'll have to be in ideal conditions to come near that distance. In reality, 25 to 30 feet seemed like a more realistic representation. Once you get over 30 feet, you may notice some slight choppiness or distortion occur.
So many factors need to be taken into consideration with the range. Simple objects or walls inbetween the music source and the headphones seem to negatively effect the range. However, if you have perfect line-of-sight, a signal range greater than 30 feet is surely attainable.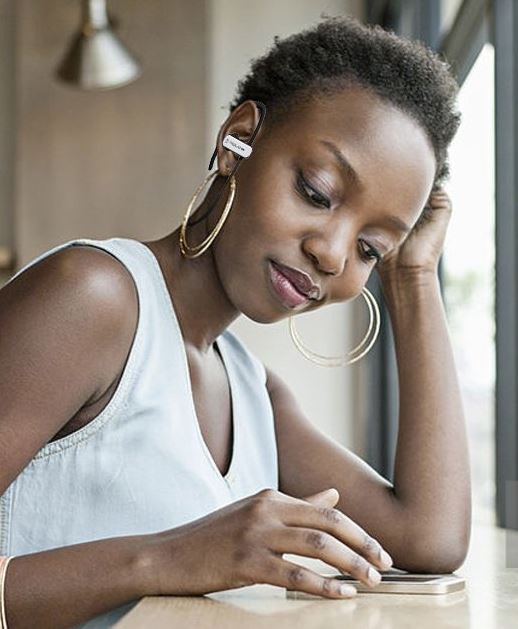 Battery Life
Although the XR800 earbuds seem to come with a decent charge, we always like to place them on the charger right out of the box, just to make sure they're fully charged before we put them to the test. To do this, simply plug-in the included micro USB cable and let them charge for at least 2 hours. After that, Treblab says that you can expect a 9 hour operation time before needing to top-off the battery again.
In reality, 9 hours is definitely generous. We think a more-realistic representation of the battery life would be somewhere between 7 to 8 hours in ideal conditions. What we mean by that is, listening to your music at a moderate volume, having minimal wireless range and making sure the environment you're in isn't too cold. The bitter-cold sometimes seems to have a drastic effect on the rechargeable battery. Ideally, you'll want to use them indoors or at a normal temperature if you're trying to squeeze every last bit of battery life out of them. Not a requirement, but something to keep in mind if you're trying to maximize the battery duration.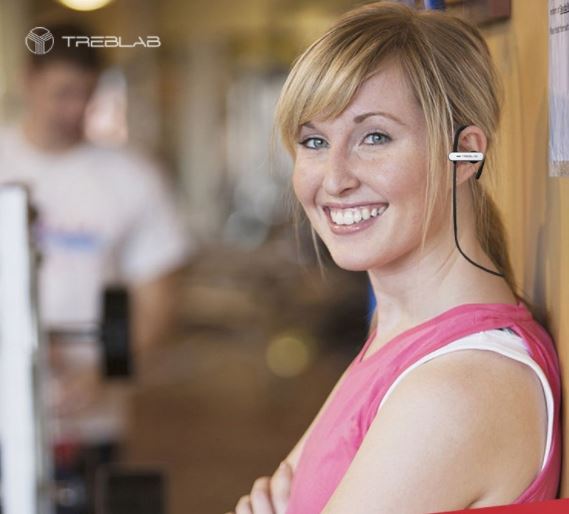 Durability
The durability of the Treblab XR800's is something that we really grew fond of. We're so glad that they took the extra time to make certain they're built to IPX7 standards. This standard defines that they have the ability to withstand immersion in water up to 1 meter for up to 30 consecutive minutes. In a real-world situation, this means getting caught in a rainstorm, splashing them in water, or exposing them to prolonged moisture isn't a problem.
Although IPX7 states that you can place them in water for up to 30 minutes, we wouldn't recommend taking them swimming or in any sort of body of water. Mostly because if you lose them and they sink to the bottom, you're out of luck!
The build-quality and feel of the XR800's feel fantastic. The slimmer profile is something we can really appreciate, but Treblab's inclusion of high-end materials really makes them shine. The cable, speaker and earhooks all feel a bit more robust and ready for real-world activities than some of their earlier releases. Even the buttons have an improved feel to them.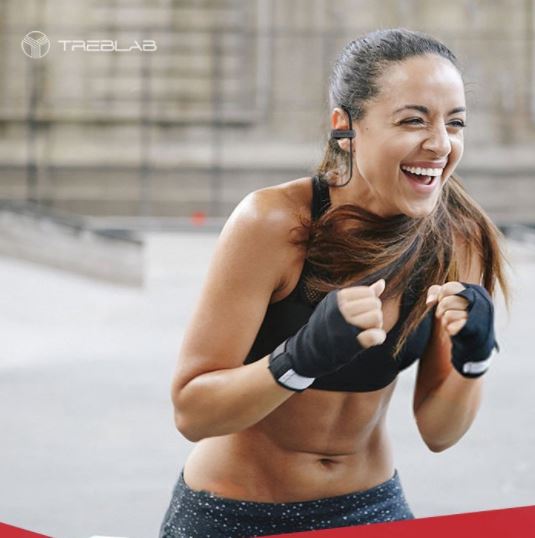 Call Quality
Integrated into their design, you may notice a small pinhole on the left earbud. This is a built-in microphone that lets you make or accept a phone call while you're wearing them.
Testing out the call quality, the microphone seems to pick-up a perfectly balanced and clear transmission of audio on the other end of the line. Phone calls made through the headphones seemed identical to if you were to pick up your smartphone and talk through it instead. The microphone is a nice inclusion, but doesn't seem to work any better or worse than the microphone that's built into the XR500's.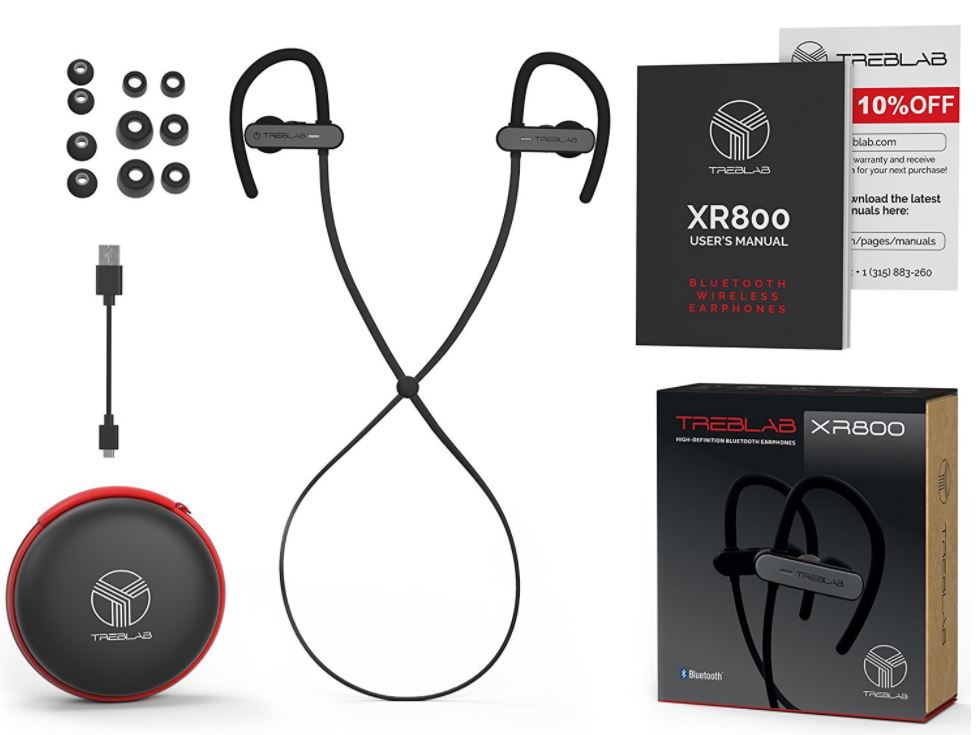 Final Words
We truly love the way that the Treblab XR800 Bluetooth Headphones fit, with a slimmer profile than ever before. The lightweight design and minimalist approach is surely beneficial in all regards. The sound is excellent with rich, vibrant and invigorating sounds, all-around. However, there doesn't seem to be a huge difference in overall sound quality when compared to the XR500 Headphones. The bass seems to be the same, and the clarity is quite comparable. Did they even make an update to the inner components, or simply revamp the way that the headphones look?
It doesn't seem Treblab has changed much over the previous model, but where they have changed, seems to make a big difference. The smaller profile and slimmer physique of the XR800's are something to love. Anytime you can slim-down the design and keep the sound from being sacrificed is a definite bonus in our opinion.
However, if you're someone who's looking for an improvement on all-fronts, we highly recommend checking out Treblab's other new-release – the X2 True Wireless Earbuds. Yes, they're quite a bit different aesthetically, but their use or Beryllium speakers makes them shine like no other.
Overall, we do indeed love the Treblab XR800's, but we would love to see more-updates to the sound profile, battery and signal range before they release another model in the future. If comfort and looks are optimal attributes, look no futher. But if you're trying to decide between the XR500's and XR800's, we're not sure that a more-than-double price-point is really worth it at this time.